Onitsuka Tiger Reveals Spring/Summer 2021 Collection
Japanese fashion brand Onitsuka Tiger has revealed its 2021 Spring/Summer Collection which combines fashion with sports, heritage, and innovation.日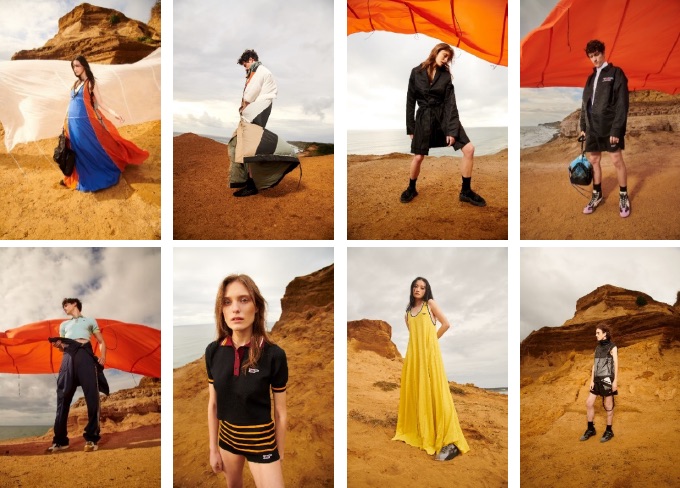 Look Book (Excerpt)
Shoes
The concept for the 2021 Spring & Summer Collection is "The Onitsuka Tiger Attitude" which incorporates the brand's attitude not only into the product details and branding but each and every collection piece. The collection is divided into four themes: "THE SAILING KITE," "THE CLEAN LINES," "THE VINTAGE IS NOW," and "THE WORKING PROGRESS." The line-up is inspired by the blowing winds and the sails of a boat on the ocean.
The shoes fuse elements from Onitsuka Tiger's footwear archive with contemporary designs to create all-new models. The "ACROMOUNT" takes inspiration from the brand's 1970's array combining fabric and leather for a vintage feel. The "DENITGRE," a popular long-selling model which also appeared in the 2020 Autumn & Winter Collection, arrives as a hybrid model in the new "DENITIGRE MX." The "TAI-CHI-REB™️ SOCK MT" features a slim form with embroidered uppers.
The collection's colour palette is a mix of highlight colours like orange and saxe blue as well as black, green, burgundy, and more, capturing that Onitsuka Tiger spirit while infusing into contemporary pieces for a fresh result.
RELATED ENTRIES
Onitsuka Tiger Releases New Autumn/Winter Sneakers in Premium Line 'THE ONITSUKA'

Onitsuka Tiger is a Japanese contemporary fashion and sports brand that combines heritage with innovation. Their simple yet timeless "THE ONITSUKA" line features hybrid design dress hoes and sneakers that match every style from casual to formal.

Many of the shoes in THE ONITSUKA line feature shoes with uppers made from internationally-renowned, high-quality leather from Kobe cattle, as well as αGEL Foam soles for high shock resistance and comfort, and shark tooth soles made from rubber sponge for added durability and comfort.


JUMPA Unisex Model | ¥38,000 (Before Tax)

Inspired by ski boots and fitted with a large tongue. Made entirely with Japanese leather.

CHUKKA-S (Men's Model) | ¥43,000 (Before Tax)

Classic chukka boots with hidden laces to give a smart appearance.

BLUCHER MT (Unisex Model) | ¥50,000 (Before Tax), BLUCHER LO (Unisex Model) | ¥48,000 (Before Tax)

Based on the first ever basketball shoes released by Onitsuka Tiger in 1950. The upper features multiple colours and materials to create an original knitted tweed look.

Onitsuka Tiger Unveils New Visuals with Brand Ambassador Willow Smith

Japanese fashion brand Onitsuka Tiger has appointed global artist Willow Smith as brand ambassador. Together, they have laughed a new brand campaign.

The campaign visuals show Willow in Onitsuka Tigers's 2020 autumn and winter collection. Oniktsuka Tiger's unique heritage and innovative spirit have been fused for a contemporary design. Together with Willow's unique style, the campaign's vision was made complete.

Some of the clothes featuring in the 2020 autumn and winter collection feature a colourful patchwork style ー a fusion of pop art and sportswear. Onitsuka Tiger's creative director Andrea Pompilio, who is director of this campaign stated:

"In this generation, we have to focus on what is happening in the world – the pressing issues such as environmental protection and saving our planet. This campaign shows Willow's natural beauty, her strength, her indomitable spirit and never-ending love for the planet. "

Onitsuka Tiger's communication team commented:

"Willow Smith is blessed with her creativity that reaches out to all of humanity. Her boundless influence is not restricted to generation Z or millennials. As 2020 heralds a new generation, we are so happy to be working in such natural harmony with Willow Smith, whose intelligence and strong faith in her opinion deliver our message to the world.

Onitsuka Tiger with Willow Smith – Official Video

 

A Statement by Willow Smith


"When working with Onitsuka Tiger, I found we were soon on the same page. We supported each other and accomplished our goal of inducing positive change in society by creating our vision. I can't wait to see just how we continue to shape the future together."

The new campaign visuals are going to be released globally on a number of platforms, including Onitsuka Tiger's official social media, from June 6, 2020. A portion of the money raised from the campaign will be donated to the NAACP Legal Defense and Educational Fund, Inc.

*All statements have been translated from Japanese.

Onitsuka Tiger x Shu Uemura Announce Unisex Sneaker and Cosmetic Collaborations

Japanese fashion brand Onitsuka Tiger and professional makeup artist brand Shu Uemura have joined up to release a new pair of collaborative sneakers and line of cosmetic products.

Since their individual establishments, both Onitsuka Tiger and Shu Uemura have hailed as pioneering brands from Japan, cementing their names across the globe. Together, Onitsuka Tigerーa brand which fuses heritage and innovation around fashion and sports in their contemporary collectionsーand Shu Uemuraーa company which inspires the millennials to bring out their unique and inner beautyーhave collaborated to release a pair of sneakers as well as 11 cosmetic items.


The new sneakers by Onitsuka Tiger are a new model that take inspiration from the company's DELEGATION EX™ pair which released back in 1964 and were worn by Japanese sports players back then. Glossy enamel has been added to bring to mind cosmetics, and matte has been used to create smooth calves. Tokyo Red is used for the colouring. The mid soles have volume and are made with spongy FLYTEFOAM™ Propel, ensuring comfort. Both ends of the spare laces, which are also Tokyo Red, bear the brand logos. The overall design screams active and urban sporty.


Unisex Shoes – ¥17,000 (Before Tax)

Shu Uemura's new collection of 11 items is made up of five different cosmetic products which come in Onitsuka Tiger's iconic key colours: Tokyo Red, Energy Orange, Indigo Blue, and others. They also bear Onitsuka Tiger's stripes. The cosmetics elicit stylishness and an energetic mood.

The new Onitsuka Tiger shoes were released on May 1, 2020 at select stores and online shops both inside and outside Japan.

Shibuya PARCOーWhere You Can Enjoy Everything: Anime, Games, Food, Fashion & More

Shibuya PARCO finally opened its doors on November 22. The shopping complex is already receiving overwhelming love and attention as Shibuya's newest tourist spot as it strives to offer itself as "a unique, next-generation facility" for the world.

Boasting a gargantuan 193 shops, spanning fashion, food, art and more, Shibuya PARCO is a place where you can enjoy just about anything. MOSHI MOSHI NIPPON has compiled a list of our own recommended places from there for you, the readers, if you ever visit Shibuya.

Mirai Sake/KUBOTA SAKE BAR (Floor B1F)

Sake is a big part of Japanese culture, and is enjoyed by people worldwide. Mirai Sake/KUBOTA SAKE BAR are serving the ultimate sake experience, where you can select the drinks that best suit  your palate. The bar will serve original drinks, rare sake from ¥500 a cup, as well as food pairings from ¥400.

There will also be 12 original cocktails judged by YUMMY SAKE. If you've found you're not too good with sake, then you're sure to find one you like when pulling up a stool here.

Mirai Sake Official Website: https://miraisake.com/

ONITSUKA (Floor 3F)

Japanese fashion brand Onitsuka Tiger has announced a new luxury line entitled THE ONITSUKA. They have created a hybrid design combining formal shoes with sneakers that goes with a variety of styles, from suits to casual.

The shoes are made from high quality leather from the brand Kobegyu Leather. The heal of the souls are equipped with αGEL Foam to offer comfort and shock resistance for dynamic movement. This line will also be available to purchase at a concept store opening in New York in March 2020.

Onitsuka Tiger Official Website:  www.onitsukatiger.com

AKIRA ART OF WALL (Floors 4F & B1F)

The new PARCO MUSEUM TOKYO and GALLERY X housed inside Shibuya PARCO both aim to promote art and culture to the people of Tokyo. Decorating them as the opening exhibition is the "AKIRA ART OF WALL Katsuhiro Otomo × Kosuke Kawamura AKIRA ART EXHIBITION." This art wall is in fact a relocation of the AKIRA art wall that had existed at the infrastructure building site in Shibuya for almost two years. Parts of it had been damaged over time, and so has resurfaced at the new museum.

You can also get your hands on a range of merchandise, from classic manga prints to posters, clothing made in collaboration with apparel brands, and more. This is a limited-time exhibition, so if you're in Tokyo this December, don't miss out.

©MASH・ROOM/KODANSHA ©Kosuke Kawamura ©︎AKIRA ART OF WALL EXHIBITION

AKIRA ART OF WALL Otomo Katsuhiro × Kosuke Kawamura AKIRA ART EXHIBITION

Locations/Times

PARCO MUSEUM TOKYO (Shibuya PARCO 4F): November 22, 2019 – December 16, 2019 @ 10:00-21:00

GALLERY X (Shibuya PARCO B1F) November 22, 2019 – December 18, 2019 @ 10:00-21:00

*Exhibitions at both sites will end at 18:00 on their final dates. Last entries to PARCO MUSEUM TOKYO are 30-minutes before closing times.

Entry Price: General ¥1,000 / High School Students and Below ¥800 / Preschoolers – Free

Nintendo TOKYO/6F

At Nintendo TOKYO, the first long-awaited official Nintendo shop, fans can look forward to purchasing games, consoles, character merchandise, and more. There is also an area where you can play games, and events are scheduled to be held at the store.

The store stocks lots of exclusive goods you won't find anywhere else. If you love games, and you love Nintendo, then this place is a must-visit if in Tokyo.

Nintendo TOKYO Official Website: https://www.nintendo.co.jp/officialstore/index.html

Pokémon Center Shibuya (Floor 6F)

Pokémon fans won't be able to resist stepping into the Pokémon Center, where they can pick up countless Pokémon merch. Upon entry they'll walk past a 2-meter tall Mewtwo.

From plush toys to bags, kitchenware, stationary, Shibuya-exclusives and moreーstock up on all the Pokémon gear you could ever want. There's even some items made in collaboration with Nintendo TOKYO which is just next door!

Pokémon Center Official Website: https://www.pokemon.co.jp/gp/pokecen/

いかがでしたか?いろいろなジャンルのお店が大集結している渋谷PARCOにぜひ足を運んでみてくださいね。

Information

Shibuya PARCO

Address: 15-1 Udagawacho, Shibuya, Tokyo

Opening Hours: Shops & Services 10:00-21:00 / Restaurants 11:00-23:30 (*Times differ between shops)

No Fixed Holidays

Official Website: https://shibuya.parco.jp/teaser/

Chun-Li Inspired Street Fighter Shoes to be Released by Onitsuka Tiger

Onitsuka Tiger will release its new Street Fighter inspired trainers―made as part of its MEXICO 66 SD line―on July 27. To promote the trainers, manga author Masakazu Katsura designed an original Chun-Li key visual for the release.

As well as Katsura's illustration, 10 other artists have also contributed their own original Chun-Li drawings, including Hikaru Chō. For a limited-time only while the shoes are available, these illustrations can be seen by heading into select branches of Onitsuka Tiger listed below.

MEXICO 66 SD: ¥18,000 Each (Before Tax)

The shoes come with a card bearing a unique product code which can be used in-game to give Chun-Li an original Onitsuka Tiger outfit as well as the MEXICO 66 SD shoes themselves.

Chun-Li aren't going to want to miss out on this exclusive opportunity.

©Masakazu Katsura / Shueisha

Information

Chun-Li Illustration Schedule
May 24, 2019 – May 26, 2019 @ Onitsuka Tiger Omotesando
June 7, 2019 – June 9, 2019 @ Onitsuka Tiger Shinjuku East
June 21, 2019 – June 23, 2019 @ Onitsuka Tiger Namba
*Schedule subject to change.

Street Fighter V Arcade Edition Website: http://www.capcom.co.jp/sfv/

Onitsuka Tiger Website: www.onitsukatiger.com

Onitsuka Tiger Unveils 2019 Fall & Winter Collection

Onitsuka Tiger is a Japanese shoe company that boasts worldwide popularity and recognition. The company has just unveiled its 2019 fall and winter collection, so let's take a look!

The theme of the collection is "Downtown Rave." It was inspired by Berlin's club scene―German's capital and a leader of fashion in Europe―and the free thinking mentality of the 90's.

1183A421.002 Color: BLACK/GLACIER GREY

CHUNKY RUNNNER LO

1183A420.001 Color: BLACK/VIBRANT YELLOW

 CHUNKY RUNNER MT 

Releasing: July 2019

These shoes are a call back to the 90's with their chunky soles and 90's retro style. The shoe uppers feature Blucher-style open lacing with only suede tape sewn onto them.

1183A422.100 Color: WHITE/VIBRANT YELLOW

CHUNKY SLIP-ON

Releasing: July 2019

The CHUNKY SLIP-ON's make use of Onitsuka Tiger's "APPIAN" uppers but rearrange them to create a new model with the cover concealed from the top. Though they are slip-on style shoes, it's possible to fit them with either the Velcro belts or drawcords making them easy to wear. These also feature chunky soles.

1183A418.750 Color: TIGER YELLOW/BLACK

KNIT TRAINER

Releasing: July 2019

The entire upper of these shoes is made in a minimalist style with the brand's logo on them. They may look heavy but they are extremely light!

1183A419.100 Color: WHITE/SHOCKING ORANGE

1183A419.001 Color: BLACK/BLACK

BIG LOGO TRAINER

Releasing: August 2019

The BIG LOGO's are based off the design of trail running shoes. These too are very light as well as comfortable on the feet. The side of the uppers features the brand's logo.

1183A396.020 Color: MID GREY/MID GREY

REBILAC RUNNER

Releasing: July 2019

These trainers are based on the adidas DNA's but have been modernised. The slit in the mid-sole makes them look much more stylish and the cushion hole at the front makes them even more comfortable to wear.

1182A127.101 Color: WHITE/WHITE

1182A127.100 Color: CREAM/CREAM

POKKURI SNEAKER PF 

Releasing: July 2019 / September 2019 Respectively

These shoes are inspired by geta, traditional Japanese wooden clogs. The thick sole is very reminiscent of the geta and gives the sneakers a cute look.

1183A525.500 Color: VIOLET/TIGER YELLOW

FABRE BL-S 2.0

Releasing: August 2019

These are a reissue of the FABRE BL-S basketball shoes released back in 1975. They have been made more comfortable wear to fit with modern standards.

Did you enjoy this collection? These and more in the 2019 fall/winter collection are available to view over on Onitsuka Tiger's official website so be sure to check them out.

Onitsuka Tiger Releases Revamped Basketball Shoes

Japanese shoe company Onitsuka Tiger will begin rolling out its new OK BASKETBALL MT and OK BASKETBALL LO shoes at branches across Japan from January 12.

Onitsuka Tiger established in 1949 from its predecessor organisation ASICS. The following year the company released its mid-cut basketball shoes. The new OK BASKETBALL MT's use those shoes as its base design while the LO's are a low-cut arrangement of those.

The form, material of the uppers, stitching, iconic metal eyelets, and rubber patches on the side of the uppers are close to the original design from 1950. The inside is also branded with Tiger's official logo.

The designs use the original model as their bases but have bee updated to fit a modern style and level of comfort. The inner soles are fitted with cushioned material for better comfort. Tiger's OK BASKETBALL models have a classic look to them while also having modern wearability – you can feel their history by wearing them.

Get your feet on a pair of Tiger's 'new' shoes to call back their classic range.

Information

OK BASKETBALL MT

Price: ¥9,000 +Tax / ¥13,000 + Tax (Leather)

Colours: Black x Black / Cream x Cream / Midnight Blue x Midnight Blue / Black x Black (Leather)

Sizes: 22.5-29.0cm, 30.0cm, 31.0cm

OK BASKETBALL LO

Price: ¥8,000 +Tax / ¥12,000 + Tax (Leather)

Colours: Black x Black / Cream x Cream / Classic Red x Classic Red / Aloe x Aloe / Citrus x Citrus / White x White (Leather)

Sizes: 22.5-29.0cm, 30.0cm, 31.0cm

Official Website: https://www.onitsukatigermagazine.com/

Onitsuka Tiger Collaborates with Sansa Sakiori to Release 2 New Shoes

ASICS Japan's shoe brand Onitsuka Tiger has released two new pairs of shoes in collaboration with Sansa Sakiori who are based in the city of Morioka in Iwate Prefecture. The new releases are available at Onitsuka Tiger company stores throughout Japan as well as on their online shop.

Sakiori is a traditional method of weaving that has made it across the Tohoku region since the Edo Period. The material used is usually made from recycled garments and bits of kimono that are neatly woven together. Because the manufacturing is usually done by hand it can be hard to replicate with machines, meaning no two products are exactly the same, giving them their own unique charm.

Two types of shoes were produced using this method: Onitsuka Tiger's popular MEXICO 66 model and the GSM 'coat type' shoes.

Scraps of denim are received for free from the marker during the weaving process which is used as a weft by the weavers in Tohoku to create the upper. Both are available in simple white or Onitsuka's iconic tricolour with blue as the base.

Look stylish with these new shoes that combine traditional methods with the modern Onitsuka Tiger – a true example of a product found only in Japan.

■Information

MEXICO 66

GSM

Price: ¥14,000 (pre-tax)

Colours: Cream / Dark Blue

Onitsuka Tiger Official Website

Onitsuka Tiger Announces Second Mickey & Minnie Mouse Collaborative Shoe Line

ASICS Japan have announced their second line of sneakers in a series of collaborations with Mickey Mouse and Minnie Mouse. They will be released under their Onitsuka Tiger brand.

Check out the first line here.

Two separate pairs for adults and children will be sold directly from Onitsuka Tiger stores in Japan and their online store from May 12.

The manufacturer's suggested retail price is ¥15,000 (+tax) for the adult pair and ¥11,000 (+tax) for the children's pair.

The base for the shoes uses the brands' representative MEXICO66 model which is decorated with iconic Mickey & Minnie designs and marks. Parents and children can enjoy wearing their own pairs together to match.

For the Mickey Mouse type the upper incorporates a grid pattern. The heel flaps have a silhouette of Mickey drawn on while the heel has a sketch of him. This pair comes in black and white.

The Minne Mouse type has Minnie Mouse's ribbon and hat on the entire upper in a polka dot design. The heel flap also features a ribbon. This pair comes in red and black.

Disney and sneaker lovers won't want to miss this special collaboration. Grab yourself a pair and look the part!

■Information

MEXICO 66 (Adults)

On Sale May 12, 2018

Price: ¥15,000 (+tax)

MEXICO 66 PS

On Sale May 12, 2018

Price: ¥11,000 (+tax)

Onitsuka Tiger Official Website

Onitsuka Tiger × Mickey & Minnie Mouse Collaborative Shoes Now on Sale

ASICS Japan have announced a line of limited edition shoes in collaboration with popular Disney characters Mickey Mouse and Minnie Mouse. The shoes will be released under their "Onitsuka Tiger" brand.

The first in a line of upcoming releases, the "Mexico Delegation" design, a representative shoe series from Onitsuka Tiger, was released on March 2nd. The "Mexico 66" design is on sale from March 10th.

The new footwear is centred on Mickey and Minnie and incorporates their iconic colours and details.

The "Mexico Delegation" design is inspired by the frills on the hem of Minnie Mouse's skirt and wraps around the laces. Her name is also embroidered on the side of the shoes.

 

For the "Mexico 66" design, Mickey's hand is featured on the heel of the shoe's upper as well as inside. The base colours of each design are reminiscent of Mickey and Minnie – black, white and red. They have a classic Disneyland vibe to them.

Get your hands (or feet!) on this stylish limited-edition shoe series from Onitsuka Tiger!

■Information

MEXICO 66 (Stock Number: D8G4L)

MEXICO DELEGATION (Stock Number: D8H0L)

Release Date: MEXICO 66 – March 10th / MEXICO DELEGATION – March 2nd

Price: ¥15,000 (+tax)

Available Stores

MEXICO DELEGATION:

Onitsuka Tiger branches – Omotesando, Lumine EST, NU Chayamachi, Fukuoka PARCO, Onitsuka Tiger Magazine Online Store

MEXICO 66:

Onitsuka Tiger company stores, Onitsuka Tiger Magazine Online Store

Onitsuka Tiger Official Website: https://www.onitsukatiger.com/jp/ja-jp

WEB MAGAZINE: http://www.onitsukatigermagazine.com/

New store selling "NIPPON MADE" shoes from Onitsuka Tiger opening in Omotesando!

ASICS Japan are opening the "world's first" shop specialising in Onitsuka Tiger's "NIPPON MADE" brand. "Onitsuka Tiger Omotesando NIPPON MADE" will open its doors on September 29th.

"NIPPON MADE" is a Japanese shoe line created by Onitsuka Tiger in 2008. The collection specialises in Japanese-made shoes with everything, down to the stitching and dyeing, being made in Japan. Each and every shoe is made with excellent Japanese craftsmanship. While pursuing to create the highest quality made-in-Japan shoe, the NIPPON MADE collection is also retro and stylish. The brand uses traditional Japanese craftsmanship as the model when producing the shoes. NIPPON MADE maintains its originality and is popular both in Japan and overseas. The brand has even collaborated with top designers.

"Onitsuka Tiger Omotesando NIPPON MADE" will open in next to the flagship store "Onitsuka Tiger" situated behind "Omotesando Hills," a landmark shopping complex in Harajuku. The shop will sell "NIPPON MADE" products from shoes to apparel and accessories.

To celebrate the opening of the shop, 250 pairs of "MEXICO 66 DELUXE" limited edition shoes will be sold with various models printed on the uppers. MEXICO 66 DELUXE is one of the many representative shoes of the brand and is also "NIPPON MADE."

The shop has also taken in the key colours from their "NIPPON MADE" collection for their "JapanxMode" design concept. The interor of the shop is white and the carpet is red making it look like a gallery. The ceiling and facade also have louvers to help complete that traditional-modern Japanese look.

Get your hands on your own pair of high quality NIPPON MADE shoes at the new store in Harajuku!

■Information

Onitsuka Tiger Omotesando NIPPON MADE

Address: 4-24-14 Jingumae, Shibuya, Tokyo

Open: 11:00-21:00

Closed: Irregular holidays

Grand Opening: September 29, 2017

Official Website: www.onitsukatiger.com