Casio Reveals New BABY-G Pikachu Watch in Collaboration With Pokémon
Japanese electronics giant Casio has announced its second collaboration with The Pokémon Company to release a Pikachu design watch as part of its BABY-G shock-resistant line of wristwatches. The Pikachu BA-110PKC watch will drop worldwide via G-SHOCK's official website on February 5, 2021.
The watch comes as part of BABY-G's 25th anniversary celebrations as Pikachu is number 025 in the Pokédex. It features classic Generation I inspired artwork of Pokémon's leading mascot.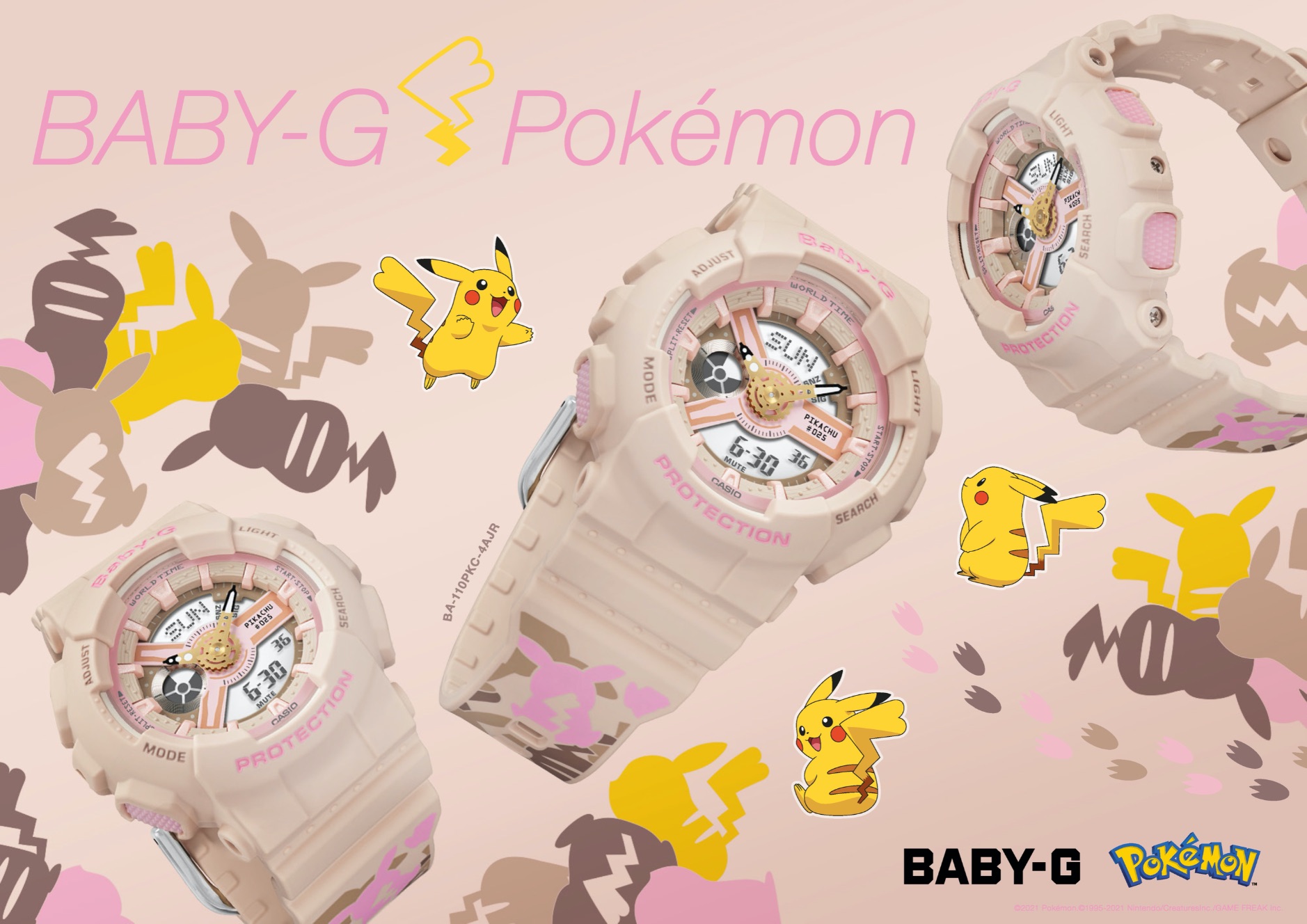 BA-110PKC | ¥19,800 (Tax Included)
Casio describes the watch: "This second collaboration is an analog-digital watch with an outdoor theme, representing the active image of the BABY-G brand. The entire BA-110PKC band showcases a camouflage pattern and female Pikachu with a heart-shaped tail. The Pikachu design is infused with subtle details like the silhouette of the pink tail on the strap keeper and the Pikachu image etched on the case back. The hour and minute hands also evoke the face of Pikachu, a playful touch that will delight the wearer whenever they check the time."
The watch is boxed with a Poké Ball inside which Trainers will find their trusty new Pikachu watch companion.
© 2021 Pokémon. ©1995-2021 Nintendo/Creatures Inc./GAME FREAK inc.
Pokémon, ポケットモンスター, and ポケモン are registered trademarks of Nintendo, Creatures Inc., and GAME FREAK inc.
RELATED ENTRIES
Pokémon x Tokyo Banana Expands Across Japan

The Pokémon Tokyo Banana confection series launched its first two products that it ever released at Yume Town, Yume City, LEC, and Yume Mart branches in the South-west most part of Honshu, Shikoku, and Kyushu on May 14.

Pikachu Tokyo Banana (Banana Flavour) | Includes 2 | ¥292 (Tax Included)

Eevee Tokyo Banana (Caramel) | Includes 2 | ¥292 (Tax Included)

Heart-shaped tail ends

Six different packaging designs each for Pikachu and Eevee

Tokyo Banana are popular cream-filled cakes and are the official souvenir sweet of Tokyo. The Pokémon series turns these fluffy treats into cute confections for you to enjoy with your favourite Pokémon during snack time.

Pikachu was the first to enter the Pokémon Tokyo Banana series who was turned into a banana custard cream-filled sponge cake. The second was Eevee with the fluffy sponge a delicious caramel macchiato flavour and filled with sweet banana custard cream

The confections are both branded with adorable heart-shaped tails, and each comes with one of six possible packaging designs.

©2021 Pokémon. ©1995-2021 Nintendo/Creatures Inc./GAME FREAK inc.
ポケットモンスター・ポケモン・Pokémonは任天堂・クリーチャーズ・ゲームフリークの登録商標です。

Ditto Pokémon Pink Gold Necklace Released by Japanese Luxury Jewellers U-TREASURE

Japan's luxury character jewellery brand U-TREASURE, which creates accessories for character-loving adults, welcomes its new Ditto Pokémon necklace coated in pink gold.

Ditto Necklace Silver (Pink Gold Coating) | ¥17,600 (Tax Included)

Ditto is known for its shapeshifting ability to transform into anything. This Normal-type Pokémon, first introduced in Generation I, has turned into a luxury pink gold necklace so you can take it with you on your Pokémon Trainer adventures wherever you go.

Poké Lid Project Lays Down New Manhole Covers in Kyoto

Five new Pokémon manhole covers were laid in Kyoto on Tuesday as part of the Poké Lid  project to place Pokémon-design manhole covers across the country.

Kyoto Original Poké Lids

The five Poké Lids are located in Arashiyama, Okazaki Park, Maruyama Park, Umekoji Park, and Nishikyogoku Athletic Park.

All of the Poké Lids placed across Japan feature completely original Pokémon designs making each individual one the only one in the world. The Pokémon Company is also working to make each one of them PokéStops for Pokémon GO.

 ©2021 Pokémon. ©1995-2021 Nintendo/Creatures Inc./GAME FREAK inc.

Mew Pokémon Diamond Necklace With Pink Gold Coating Releases in Japan

Japanese character jewellers U-TREASURE is now taking limited-time orders for a new pink gold-coated necklace based on the beloved Pokémon Mew. It's available to buy until April 13 at the U-TREASURE Concept Store in Ikebukuro and on their official website.

Pokémon Silver Pink Gold Coated Mew & Poké Ball Necklace | ¥17,600 (Tax Included)

The gorgeous necklace features Mew sat on top of a Poké Ball with its cute tail wrapped around the necklace chain. The Poké Ball has a sparkling diamond at its centre. A stylish piece that any Pokémon lover will want to wear!

Pokémon GO and the Pokémon Trading Card Game Collaboration Announced For Summer 2021

The Pokémon Company has announced a collaboration between Pokémon GO and the Pokémon Trading Card Game (Pokémon TCG) for Summer 2021.

Cross Collaboration to Commemorate Pokémon's 25h Anniversary

This year marks the 25th anniversary since the release of Pokémon Red and Blue, as well as the 5th anniversary of Pokémon GO. In celebration, The Pokémon Company has various things planned for players of both games. It has not yet revealed much, but the following has been confirmed.



Professor Willow Card Obtainable Worldwide in Pokémon TCG

For the first part of the collaboration, Professor Willow will feature as a card in Pokémon TCG worldwide this summer. The artwork and content of the card will be revealed in late May.

Further announcements regarding the cross collaboration are to be announced at a later date, so stay tuned.

Information

Pokémon GO
©2021 Niantic, Inc. ©2021 Pokémon. ©1995-2021 Nintendo/Creatures Inc. /GAME FREAK inc.

Pokémon Trading Card Game
©2021 Pokémon. ©1995-2021 Nintendo/Creatures Inc. /GAME FREAK inc.

Official Website: https://corporate.pokemon.co.jp/en/

Pokémon, My Melody, Moomin and More Valentine's Day Chocolates Arrive at Daimaru Tokyo

The Hoppe Town area of Daimaru Tokyo is currently celebrating Valentine's Day up to February 14 with the release of a selection of gift chocolates by six brands in collaboration with popular characters.

Pokémon Chocolate Set (Large Box) | ¥1,404 (Tax Included)

My Melody x Goncharoff Chocolates (Contains 21) | ¥2,160 (Tax Included)

Moomin x Merry Chocolate's Hattifatteners Chocolates (Contains 11) | ¥1,188 (Tax Included)

Dick Bruna by Morozoff: Picture Book Chocolates (Contains 15) – ¥864 (Tax Included) / Miffy Pouch Chocolates (Contains 8) – ¥1,320 (Tax Included)

Chatrois Kitten Tiny Plain Chocolates | ¥783 (Tax Included)

Katanukiya Angel Panda | ¥684 (Tax Included)

Which of these cute and tasty-looking treats has caught your eye the most?

©Nintendo・Creatures・GAME FREAK・TV Tokyo・ShoPro・JR Kikaku ©Pokémon
©1976,2021 SANRIO CO,LTD.APPROVAL NO.L613374
©Moomin Characters™

Information

Daimaru Tokyo Valentine's Sweets
Running: January 27, 2021 – February 14, 2021

Location: Hoppe Town on Floor 1F of Daimaru Tokyo
Official Website: https://www.daimaru.co.jp/

Poké Lid Project Lays Down New Manhole Covers in Nara Prefecture

Five new Pokémon manhole covers were laid in Japan's Nara Prefecture on Wednesday (January 20) as part of the Poké Lid  project to place Pokémon-design manhole covers across the country. There are now a total of 148 lids in 13 locations in Japan.

Nara's 5 new Poké Lids

All of the Poké Lids placed across Japan feature completely original Pokémon designs making each individual one the only one in the world. The Pokémon Company is also working to make each one of them PokéStops for Pokémon GO.

If you're planning a trip to Japan, be sure to check if there are any Poké Lids at your destination.

©2021 Pokémon. ©1995-2021 Nintendo/Creatures Inc./GAME FREAK inc.
Pokémon, ポケットモンスター, and ポケモン are registered trademarks of Nintendo, Creatures Inc., and GAME FREAK inc.

Pokémon Tokyo Banana Adds Special Pikachu Box Set Online

Tokyo Banana World recently added its special Dengeki Box (Electric Box) of Pikachu Tokyo Banana confections to its official website which is available to order in Japan until January 30, 2021 at 17:00 (JST).

Tokyo Banana is Tokyo's official souvenir sweets brand and it launched its new Pokémon Tokyo Banana series of confections in November last year with the first catch being Pikachu. It subsequently added Eevee to the collection in December. The Pikachu confections are also available to buy at Tokyo Station.

Pikachu Tokyo Banana – Dengeki Box | Box of 12 Packs (24 Confections) | ¥3,456 (Tax Included)

The limited-time addition of the Dengeki Box to Tokyo Banana's official website means that anyone in Japan can get a taste of the electrifyingly delicious sweet fluffy custard-filled sponge cakes without having to travel to Tokyo.

Waiting inside the Dengeki Box are 12 packages each with two cakes in and each in one of six different Pikachu designs to greet hungry Trainers, all of which are positively kawaii. The box itself also features these adorable illustrations.

Left: Front of Box | Right: Back of Box

The box even has a handle attached to it so you can reuse it after to store all your bits and bobs.

©2021 Pokémon. ©1995-2021 Nintendo/Creatures Inc./GAME FREAK inc.
Pokémon, ポケットモンスター, and ポケモン are registered trademarks of Nintendo, Creatures Inc., and GAME FREAK inc..

Information

Pikachu Tokyo Banana – Online Orders
Running: January 12, 2021 – January 30, 2021
*Available while supplies last

*Shipping not available to select islands in Japan

Tokyo Banana Group Official Online Shop
https://www.paqtomog.com/shop/c/cpk-bana/

Pokémon Shirts Releases New Customisable Sword and Shield Designs

Pokémon Shirts released three new shirt designs on Friday (January 15) of Grookey, Scorbunny, and Sobble from Pokémon Sword and Shield. These new designs are currently only available in Japan but Pokémon Shirts has stated that they will be made available worldwide at a later date.

Pokémon Shirts was launched back in February 2019 by American custom shirt brand Original Stitch—which offers over one billion design customisations—and the Pokémon franchise. Pokémon Shirts ships worldwide including Europe, Canada, Australia and New Zealand.

Japanese designer Minami Kitamura designed the Grookey, Scorbunny, and Sobble shirts, adding her iconic pop colours and style to the line-up.

Have you shopped on Pokémon Shirts yet? Which Pokémon designs are you looking to catch?

Information

Pokémon Shirts
Shipping: Japan, US, UK, Spain, Germany, Italy, France, Canada, Australia, New Zealand, Hong Kong, Taiwan, Singapore, Malaysia, Phillippines, India, Indonesia
Official Website: https://pokemon.originalstitch.com/en/

*Grookey, Scorbunny, and Sobble designs currently only available in Japan (as of January 18, 2021) but will be made available worldwide at a later date.

Limited-Edition Emerald Blue Sailor Moon Eternal Wristwatch Released in Japan

Citizen Watch brand wicca released a new emerald green wristwatch to commemorate the release of the new anime film Sailor Moon Eternal. The item was released exclusively on PREMICO's online shop in Japan on January 6, 2021, with a limited stock of just 3,000.

Wicca x Sailor Moon Eternal Special Collab Watch | ¥29,800 (Before Tax)

The watch features intricate nods to the film such as a crescent moon at the 12-o'-clock mark with a rhinestone, Pegasus and white wings on the bottom half, an emerald blue round face, the Crystal Carillon on the 6-o'-clock mark, and more.

The mesh strap is pink and gold to complete the a beautiful and feminine appearance. And since only 3,000 have been made, each watch also has its own Edition Number engraved into it. The watches are packaged in special gold leaf box with a Swarovski® crystal on it.

©武内直子・PNP/劇場版「美少女戦士セーラームーンEternal」製作委員会

Swarovski® is a registered trademark of SwarovskiAG.

JINS Eyewear Launches Official Pokémon Model Design Glasses

JINS is teaming up with The Pokémon Company to release a special collection of glasses at JINS stores and their official online shop on January 1, 2021.

Your Pokémon partner with you wherever you go

The glasses come in four different models – Pikachu, Snorlax, Eevee, and Mew – so your favourite can set out on your Pokémon journey with you and be there wherever you go.

Completely original models capture the Pokémons' designs

The JINS Pokémon Model collection feature original designs and come with an original glasses case. There are plans to launch the glasses globally at JINS stores in the US, China, and elsewhere in the future.

Flagship Model | ¥12,000 (Before Tax)

All the glasses come in four different models: Flagship, Kanto Region, Johto Region, and Kids. The flagship model frames capture the colours of Pikachu, Snorlax, Eevee, and Mew, and each features pixel art of the respective Pokémon. The inner part of the frames also have silhouettes of the Pokémon along with the logo.


Pokémon Trainers will find their stylish glasses cases with a Poké Ball in the front, and inside, Pokémon pixel art.


Kanto Region Model | ¥8,000 (Before Tax)

The Kanto models are based on the Pokémon found in the Kanto Region of the Pokémon world, with Bulbasaur, Squirtle, Charmander, and Pikachu featured on the inner side of the left temple. On the inner right are the same Pokémon including Pikachu not wanting to go into its Poké Ball. This story woven into the glasses is sure to have long-time fans feeling nostalgic.

The top of the grey case has our four pixel friends, and they're featured on the inside too in silver leaf. The glasses cloth has designs of the original 151 Kanto Pokémon.


Johto Region Model | ¥8,000 (Before Tax)

Fans of the Johto Region Pokémon will enjoy these models which are metal combination frames featuring Chikorita, Cyndaquil, and Totodile.


The white glasses case features a sleek design with the logo on it while the cloth has alternating silver and gold Poké Balls.


KIDS MODEL | ¥5,000 (Before Tax)

On the inner part of the frames you'll find Pikachu, Eevee, Mew, Lucario, and Cinderace, as well as Poké Balls on the ends of the temple parts.

Kids Anti-Allergy Models | ¥3,000 (Before Tax)

The anti-allergy models have Pikachu designs and are equipped with hoods that protect the wearer from pollen. A special laser is used to make the hoods to that the glasses feel natural and not uncomfortable on the face.

These last two glasses cases are compatible with the kids models and include a Poké Ball design and Rotom Phone.

Limited-Edition Bag

Glasses come in a special limited-edition bag. These are limited in stock.

© 2020 Pokémon. © 1995 – 2020 Nintendo/Creatures lnc./GAME FREAK inc.
TM, ®, and character names are trademarks of Nintendo.

Tokyo Banana Chooses Eevee as Next Pokémon Souvenir Sweet

Tokyo Banana World has revealed that its next sweet treat in its Pokémon Tokyo Banana series will be Eevee which Pokémon Trainers can expect to catch up and down Japan from January 2, 2021, including at the store itself as well as at 7-Eleven branches.

Pokémon Tokyo Banana Welcomes Eevee as Entry #2

Tokyo's official souvenir sweets brand Tokyo Banana launched its new Pokémon Tokyo Banana series of confections in November with the first catch being Pikachu. Now Eevee is being added to the collection.


The fluffy sponge is a delicious caramel macchiato flavour and is filled with sweet banana custard cream. It can be eaten as it is, refrigerated, or even baked to create completely different flavour experiences.

6 Designs Including a Lucky Heart-Shaped Tail

The sponge cakes come in six different designs, all of which are adorable. The one to look out for though is the one with a cute heart-shaped tail.

Fluffy Eevee Design Packaging

Eevee Tokyo Banana Caramel Macchiato (Contains 2) | ¥291 (Tax Included)

The packaging features fluffy artwork of Eevee in six different designs, such as a waving Eevee and winking Eevee.

Where Can You Catch Eevee Tokyo Banana?

Eevee will roll out at 7-Eleven stores across Japan (excluding Okinawa) at the dates listed below. Each branch will have a limited stock so don't miss out.

January 2, 2021 Release
Tokyo/Kanagawa/Chiba/Saitama

January 16, 2021 Release
Hokkaido/Aomori/Iwate/Akita/Miyagi/Yamagata/Fukushima/Ibaraki/Tochigi/Gunma/Niigata/Fuji/Ishikawa/Fukui

January 23, 2021 Release
Yamanashi/Nagano/Shizuoka/Aichi/Gifu/Mie/Okayama/Hiroshima/Tottori/Yamaguchi/Tokushima/Kagawa/Ehime/Kochi

January 30, 2021
Osaka/Kyoto/Hyogo/Shiga/Nara/Wakayama/Fukuoka/Saga/Nagasaki/Oita/Kumamoyo/Miyazaki/Kagoshima

©2021 Pokémon. ©1995-2021 Nintendo/Creatures Inc. /GAME FREAK inc.
ポケットモンスター・ポケモン・Pokémonは任天堂・クリーチャーズ・ゲームフリークの登録商標です。