teamLab Serves a Forest Sauna, Ruins Art, and Tea Experience at Mifuneyama Rakuen Hotel
If you visit Mifuneyama Rakuen Hotel in Saga Prefecture, you'll discover teamLab's permanent exhibition teamLab Ruins and Heritage: Rinkan Spa & Tea Ceremony. On Friday (February 19), the exhibition began serving EN TEA, a new brand of tea grown in Hizen.
The exhibition is an art and sauna experience by teamLab and the Mifuneyama Rakuen Hotel Rakan Bath, the winner of SAUNACHELIN in 2019 and 2020. There, visitors can clear their minds, feel the ever-expanding space through their bodies, and immerse themselves in the art and the forest dotted with ruins. After their sauna experience, they can enjoy a cup of EN TEA to wind down.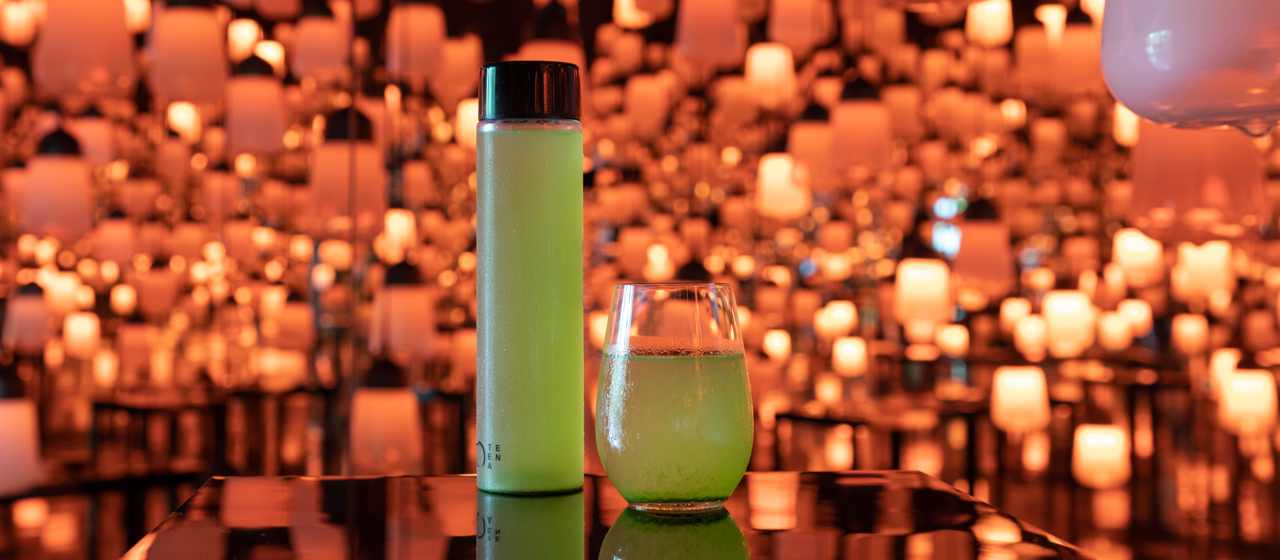 EN TEA is a brand of tea made in collaboration with tea master Shunichi Matsuo and Maruwakaya, a brand that focuses on Japanese traditional culture and brings together artisans. It's brewed at a low temperature for 15 minutes which lowers the amount of caffeine inside. After enjoying the sauna, visitors can visit the EN TEA HOUSE at Mifuneyama Rakuen Hotel for their cup.
RELATED ENTRIES
Enjoy Japanese Cherry Blossoms From Your Home With teamLab's 'Sakura Bombing Home'

Japanese art collective teamLab launched their new Sakura Bombing Home experience on March 10 which lets people enjoy Japanese cherry blossoms from the comfort of their own home using digital devices. The service is running until April 30, 2021.

Sakura Bombing Home

How to Participate

Firstly, download drawing paper at teamLab's official website. There are numerous cherry blossom designs to choose from and colour in either on your smartphone or by printing and colouring by hand.

Next, upload your completed cherry blossom illustration.

Your submitted cherry blossom art and other people's from around the world will be compiled into a single art piece to be showcased on YouTube Live.

Finally, you can download your flower art after submission. This is a great opportunity to enjoy Japanese cherry blossom without being in Japan, as well as to stay safe during the spring season if you are in Japan.

teamLab is represented by Pace Gallery, Martin Browne Contemporary and Ikkan Art International.

teamLab Reveals Sauna Art Experience in Collaboration With TikTok

Japanese art collective teamLab has announced a brand new digital art experience which fuses art with saunas. Entitled teamLab & TikTok, teamLab Reconnect: Art with Rinkan Sauna, the interactive exhibition will take place in Roppongi from March 22 to August 31. Bookings are now open.

teamLab & TikTok, teamLab Reconnect: Art with Rinkan Sauna Roppongi

"Every Life Survives in Fluctuating Space"

teamLab Reconnect is a new art and sauna exhibition where visitors experience art in their finest mental state. At the event, visitors take alternating hot and cold baths to open their minds and experience an ever-expanding physical sensation, effectively becoming one with the art.

The event will feature numerous exhibits, one which is entitled Every Life Survives in Fluctuating Space, a collaboration between TikTok and teamLab that can event be experienced at home. It makes use of the TikTok app, which is also part of the art and sauna experience at the exhibition, and so your home, or wherever you are based, can become its own art space.

Every Life Survives in Fluctuating Space captures the life cycle of a flower, which grows according to the size of the space displayed through the camera on Tiktok. The size of the flowers is not predetermined; it is instead determined by the size of the space where you are. If you're outside, the flowers can grow enormously.

If you download TikTok and sign up for a new account you can get a 500 yen discount coupon for teamLab Reconnect. Visit the official website below for more details.

Information

teamLab & TikTok 

Running: March 22, 2021 – August 31, 2021

Where: 5-10-25 Roppongi, Minato-ku, Tokyo

Bookings: Now Open

Tickets/Event Details: https://reconnect.teamlab.art/en

Buy Japanese Sento Bathhouse and Sauna Items at Tokyu Hands Yokohama

Tokyu Hands Yokohama is currently holding an event until April 19 themed around saunas and Japanese sento bathhouses where you can pick out from a specially-curated selection of related items and merchandise.

Line-Up Excerpt

SENTO FOREVER Limited-Edition T-Shirt ¥4,000 (Tax Included) / Coin Case ¥1,500 (Tax Included)

The stylish SENTO FOREVER T-shirt arrives in an exclusive green colour.

SENTOU Bracelet/Anklet ¥1,200-¥1,600

A selection of bracelets and anklets based on the locker keys you see at sento bathhouses.

BathHaus-kun T-Shirt | ¥3,900 (Tax Included)

A T-shirt featuring the character BathHaus-kun which was created from a drawing illustrated by the owner of BathHaus, a sento located in Yoyogi-Uehara.

This is just a peek at what's on offer at the event – there's much more to be seen at the scene!

Information

Tokyu Hands Yokohama Sento & Sauna Event

Japanese Event Name: 出張!湯沸かし市@東急ハンズ横浜店

Running: March 2, 2021 – April 19, 2021

Time: 10:00-20:0

Where: Tokyu Hands Yokohama Floor 7F

Address: 1-3-1 Minamisaiwai, Nishi-ku, Yokohama-shi, Kanagawa

Price: Free

Yuwukashi Ichi Official Website: https://yuwakashiichi.studio.site/

Sanrio Releases Tea Gift Set in Collaboration With World Tea Brand LUPICIA

World tea brand LUPICIA launched its 7th collaboration with Sanrio on Thursday (February 25) featuring a range of tea gift sets. Every year, LUPICIA releases a wide variety of rea-related gift sets for White Day, the spring season, Mother's Day, and more.

Four Fruit Fruity Tea With Lidded Mug

Hello Kitty LUPICIA Mug & Flavoured Tea | ¥3,300 (Tax Included)

My Melody LUPICIA Mug & Flavoured Tea | ¥3,300 (Tax Included)

Cinnamoroll LUPICIA Mug & Flavoured Tea | ¥3,300 (Tax Included)

Kuromi LUPICIA Mug & Flavoured Tea | ¥3,300 (Tax Included)

This year adds the dearly beloved Kuromi to the new collaboration which features a variety of fresh and fruity teas together with a mug that comes with a lid to keep your tea hot.

Will you be having tea with Hello Kitty, My Melody, Cinnamoroll, or Kuromi?

(c)'21 SANRIO 著作(株)サンリオ

Tokyo Nightlife Beckons With Tokyo Tower's NAKED SAUNA & SPA

It's time to strip down and relax as Japanese company NAKED announces that its 'NAKED NIGHT SAUNA' event, which is being held as part of its 'NAKED SAUNA & SPA' project, will take place atop Tokyo Tower from March 12 to 14. Visitors will also receive a relaxation drink called 'CHILL OUT' in collaboration with Endian.

NAKED SAUNA & SPA is a sauna project launched by NAKED in November 2020 to promote equilibrium of the senses. The first event was held in the village of Achi in Nagano Prefecture which is known for being Japan's best location for enjoying the starry night sky. The second event was themed around the concept 'Art of Meditation.' It was held in Ariake and had visitors becoming one with nature as they sat under the expanse of Tokyo's night sky to enjoy every gleaming speck that twinkled above them. It was an opportunity for busy city workers to reset and recalibrate.

Now, the project is set to host its third event in collaboration with Tokyo Tower. Visitors can enjoy towering above the capital's city streets as they enjoy a sauna experience inside exclusive tents. It will be a fusion of analogue and technology as people enjoy sitting by the fire, smoking shisha, and gazing at mist that will be pumped and illuminations that will be lit to create atmosphere. Of course, this entire event will be held in accordance with government guidelines to prevent the spread of COVID-19. Social distancing will be enforced which will include a drive-through system so you don't come into contact with people, and all visitors will have their own tents (groups of 4 max), and all tent saunas will be separated with partitions.

The tent saunas that will be used are MORZH SKY, a type of tent with a transparent roof made by the Russian tent company MORZH. They are provided by Sauna Camp.Inc. The tents are fitted with a stove and chimney so visitors can adjust the temperature to their liking.

To attend the event, you must register to the Facebook online community NAKED SAUNA CLUB and fill out the form that will be made available there on March 1 and 2. A select number of visitors will be chosen at random on March 3 and winners will be contacted directly on March 4 with further instructions.

If you're in Tokyo this March, then don't miss out on a chance to kick back and unwind up Tokyo Tower with a sauna treat.

Information

NAKED NIGHT SAUNA at Tokyo Tower

Running: March 12, 2021 – March 14, 2021

Location: Tokyo Tower

Address: 4-2-8 Shibakoen, Minato-ku, Tokyo

Opening Hours: 17:00-20:00

Price: ¥20,000 (tax included) for 1-day tent rental (max 4 people)

Tickets: Will be posted on NAKED SAUNA CLUB Facebook Group

NAKED Official Website: https://naked.co.jp

CoCo Fresh Tea & Juice Releases Valentine's Day Chocolate CoCo Dinosaur Beverages

Tastea Trustea Japan released two new beverages on Friday (February 5) for Valentine's Day at CoCo Fresh Tea & Juice in Japan: the CoCo Dinosaur and Tapioca CoCo Dinosaur.

CoCo Dinosaur ¥520 / Tapioca CoCo Dinosaur ¥580

The two teach beverages are made with a rich chocolate sauce and fresh milk. They are topped with chocolate and brown sugar syrup for a sweet combination of flavours and textures. An enjoyable beverage that is both refreshing and Instagram-worthy for Valentine's Day.

Information

CoCo Fresh Tea & Juice
Serving: February 5, 2021 – End of February 2021
Where: All 12 branches of CoCo Fresh Tea & Juice in Japan
CoCo Fresh Tea & Juice Japan Official Website: https://cocofreshtokyo.amebaownd.com/

Japan's First Earl Grey Shop Makes Appearance at Chocolate Mode 2021 Event in Saitama

&EARL GREY, the first shop in Japan to sell exclusively earl grey products, is appearing at the Chocolate Mode 2021 event at Isetan Urawa in Saitama which is taking place until February 14. Visitors can look forward to tucking into a sweet selection of delicious earl grey flavoured ice creams.

Double Chocolate Gelato & Macaron: Chocolate & Continental Earl Grey / Chocolate & Sunshine Earl Grey / Chocolate & Exotic Earl Grey – ¥605 Each (Tax Included)

Earl Grey Rich Milk Tea Gelato: Butterfly Pea & Earl Grey / Pistachio & Matcha / Mango Passion & Jasmine / Mixed Berries & Rooibos / Peche de Vigne & Honeybush Lavender – Single ¥495, Double ¥550, Triple ¥605 (Before Tax)

&EARL GREY has prepared a sweet line-up of rich ice creams made using high quality tea leaves from Japan, China, Sri Lanka, South Africa, and elsewhere. And for Valentine's Day, some of the ice cream options have been topped with cute macarons.

teamLab Reconnect Project Combines Art With the Sauna Experience in Roppongi

Art collective teamLab has announced the opening of teamLab Reconnect: Art with Rinkan Sauna Roppongi which will run for half a year starting this March in Roppngi, Tokyo.

Since 2019, teamLab has been combining saunas with digital art to create wholly new and unique sauna experiences never before seen.

teamLab Reconnect's aim is not to offer a luxury and high-end venue for seeing artwork, but to put visitors into a luxurious state to experience the art. Through contrast bath therapy, where visitors are placed in a hot sauna followed by cold water and then relaxation, they can open their minds and senses to a variety of artworks and in essence become part of the art itself. teamLab hopes this will enable visitors to realise their own existence―their mind, body, and environment―and in turn 'reconnect' with the world and time.

Levitation
teamLab, 2021, Digital Installation, Sound: Hideaki Takahashi

teamLab Reconnect will welcome a variety of new artworks based on teamLab's new art project 'Supernature Phenomenon' which captures different natural phenomena in nature.

Proliferating Immense Life – A Whole Year per Year
teamLab, 2020, Interactive Digital Installation, Sound: Hideaki Takahashi

This artwork captures the life cycle of flowers. It is not a pre-recorded image that is played back; it is created by a computer program that continuously renders the work in real time. The interaction between people and the installation causes continuous change in the artwork, meaning previous visual states can never be replicated, and will never reoccur.

Since opening their sauna in Mifuneyama Rakuen in Kyushu back in 2019, which won the SAUNACHELIN two years in a row in 2019 and 2020, teamLab has gone on to create new works of sauna art such as teamLab: A Forest Where Gods Live and teamLab Ruins and Heritage: Rinkan Spa & Tea Ceremony.

Information

teamLab Reconnect: Art with Rinkan Sauna Roppongi
Location: teamLab Reconnect, 5-10-25 Roppongi, Minato-ku, Tokyo
Running March 2021 – August 2021
Official Website: https://www.teamlab.art/e/reconnect/

teamLab Borderless Shanghai Opens Museum Shop Selling Eco-Friendly Folding Rice Bag

Art collective teamLab opened a shop at their Shanghai-based art museum teamLab Borderless Shanghai on Saturday (December 5). teamLab Borderless Shanghai opened its doors in Huangpu, Shanghai, in November 2019, displaying around 50 pieces of artwork by teamLab. The company's Borderless project is a 'world of artworks without boundaries, a museum without a map.'

The museum's new shop sellings a variety of items, from stickers to postcards to the official teamLab Folding Rice Bag. More items are scheduled to be added to the stock in the future.

teamLab Folding Rice Bag

The eco bag can be folded up and stored when not in use. It's a 30kg rice bag that was acquired directly from the farmer, originally used for storing rice before milling and would normally be discarded after use. It's traditionally used to store and sell rice. Still present in the Japanese countryside today, these bags are made of strong, durable materials that protect the rice inside from moisture and damage. The bag is made of paper, and it can be folded up and stored in your pocket for use at any time.

Information

teamLab Borderless Shanghai
Address: Unit C-2 No 100, Hua Yuan Gang Road, Huangpu, Shanghai

Museum hours are temporarily shortened as below:

Monday:

Closed.

Tuesday to Friday:
10:30 – 18:00 (last entry 17:00)

Saturday, Sunday and public holidays:
10:30 – 20:00 (last entry 19:00)

Official Website: https://borderless.teamlab.art/shanghai/

Tokyo Tower to Begin Morning Tea Gathering On 150-Meter Main Deck

Tokyo Tower is set to host a special morning tea gathering on its 150-meter-high main deck, which overlooks central Tokyo, from November 21, 2020.

A peaceful morning cup of tea above Tokyo

Tokyo is a communications tower in the middle of Tokyo which has its own observation deck open to the public which offers an incredible view of the capital. During the day, the tower is very busy with visitors, and so this morning tea gathering aims to offer people a chance to enjoy the tower and its view in peace and quiet, before opening hours, with a cup of Japanese tea.

An open display showcasing Japanese crafts

The event is cooperating with the Japan-France Tea Ceremony Association who is providing specially-selected traditional Japanese tea-making and serving equipment, all of which were made by traditional Japanese artisans and have been passed down since the Edo Period for an authentic.

Open to foreigners even if you don't know Japanese or the etiquette of the Japanese tea ceremony

Don't worry if you can't speak Japanese or don't know the manners or proper etiquette when it comes to the Japanese tea ceremony – the event is open to all, and you can participate without sitting in the traditional seiza positioning. The staff can speak English, French, and Spanish, so foreign tourists won't miss out on anything.

Information

Morning Tea Gathering
Running: November 21, 2020 / December 5, 2020 / December 19, 2020 / January 9, 2021 / January 23, 2021 / February 6, 2021 / February 20, 2021
Time: Meeting at 8:15am / Entering at 8:30am
Meeting Point: Tokyo Tower Floor 1F Foot Town
Sign Up: アソビューサイト

teamLab's Rinkan Spa & Tea Ceremony, Ruins and Remains Opens as Permanent Exhibit at Mifuneyama Rakuen

Japanese art collective teamLab opened its teamLab: Rinkan Spa & Tea Ceremony, Ruins and Remains series of artworks at Mifuneyama Rakuen in Kyushu as permanent exhibitions on November 10. The artworks can be enjoyed as part of a set which includes enjoying the exhibits as well as a soak in Mifuneyama Rakuen Hotel's sauna and a complimentary cup of Japanese tea.

Rakan no Yu, a sauna located at Mifuneyama Rakuen Hotel, won the Saunachelin Grand Prix two years in a row in 2019 and 2020. The sauna and open-air baths enjoy natural water from Mt. Mifune and are surrounded by the vast nature of the local area.

A sauna and new art experience fusion

Sitting on the borderline of Mifuneyama Rakuen Park is the 3,000-year-old sacred Okusu tree of Takeo Shrine, which is Japan's 7th largest. Also in the heart of the garden is another 300-year-old sacred tree. Knowing the significance of this, Japan's forebears turned a portion of this forest into a garden, utilizing the trees of the natural forest. The border between the garden and the wild forest is ambiguous, and when wandering through the garden, before they know it, people will find themselves entering the woods and animal trails.

Visitors can get their hands on a combo ticket which includes access to teamLab's exhibition as well as daytime entry to the sauna. These are limited to 40 people per day.

Below are some of the artworks that visitors can experience.

Megaliths in the Bath House Ruins
teamLab, 2019, Interactive Digital Installation

Graffiti Nature – Living in the Ruins of a Bathhouse, Red List
teamLab, 2017-, Interactive Digital Installation, Sound: Hideaki Takahashi

Butterflies Dancing in the Depths of the Underground Ruins, Transcending Space
teamLab, 2019, Digital Installation, Sound: Hideaki Takahashi

Forest and Spiral of Resonating Lamps in the Forest – One Stroke, Autumn Mountain
teamLab, 2018, Interactive Installation, Murano Glass, LED, Endless, Sound: Hideaki Takahashi

Information

teamLab Ruins and Heritage: Rinkan Sauna & Tea Ceremony
Location: Mifuneyama Rakuen
Address: 4100 Takeo, Takeo-cho, Takeo City, Saga, Japan
Opened: November 10, 2020
Buy Tickets (English): https://mifuneyamarakuen.teamlabticket.com/#/order

teamLab Borderless to Turn Tokyo's Odaiba Into Digital Winter Wonderland

MORI Building DIGITAL ART MUSEUM: EPSON teamLab Borderless in Odaiba, Tokyo, is set to welcome a world of wonderful winter artworks this year.

teamLab Borderless is a group of artworks that form one borderless world. Artworks move out of rooms, communicate with other works, influence, and sometimes intermingle with each other with no boundaries.

Sketch Christmas

This December, teamLab invites children to create a Christmas world from their own pictures. When they draw a picture of Santa Claus on a piece of paper, he will appear in a town right in front of their eyes as if by magic.

Forest of Resonating Lamps

Throughout December and into January, the lamps at the art museum's Forest of Resonating Lamps area will be changed to blue, inspired by the Blue Grotto sea cave in Italy. Going into January, they will turn red to be inspired by flames.

Proliferating Immense Life

The museum's immense flower art piece Proliferating Immense Life – A Whole Year per Year will welcome numerous winter flowers over the next few months including Jack-in-the-pulpits in December, Chinese aster in January, and Asian bleeding-heart in February. When people touch the flowers they scatter, wither, and die, before being reborn. 100,000 flowers will scatter at once, creating a breathtaking display.

Memory of Topography

This artwork installation depicts a rural mountain landscape of varying elevations. For winter, it will depict wintertime scenery starting from December, from powdery snow to snow storms, kantsubaki midwinter camellias, plum blossoms, and more.

EN TEA HOUSE GENKA-TEI

Enter teamLab Borderless's cafe where flowers bloom inside your cup. The tea house will make tea with a variety of winter flowers like chrysanthemums and cyclamens until December before switching to daffodils and plum blossoms from January to March.

Experience winter like never before at MORI Building DIGITAL ART MUSEUM: EPSON teamLab Borderless.

Information

MORI Building DIGITAL ART MUSEUM: EPSON teamLab Borderless
Location: Odaiba Palette Town
Address: 1-3-8 Aomi, Koto Ward, Tokyo
*Opening hours subject to change depending on the season, check the official website for the latest information
teamLab Borderless Official Website: https://borderless.teamlab.art/