2021 Sanrio Character Ranking Voting Begins in April
Sanrio has finally announced news about the 36th annual Sanrio Character Ranking. This year's award event, the 2021 Sanrio Character Ranking, will open initial votes on April 9 to May 24 when fans can vote for their favourite character from Sanrio's roster. As with previous years, the 2021 run will also welcome the "Collaboration Category" of the awards which will feature 27 character entries from those who have collaborated with other companies and businesses over the past year.
Ichigo Shimbun is a monthly magazine published by Sanrio. It not only includes information about the latest character merchandise, but is also the place where the Sanrio Character Ranking first began in 1986. From Sanrio's long list of over 450 characters, just 80 are entered into the awards each year. Cinnamoroll took first place for the 3rd year in a row at the 2020 Sanrio Character Ranking which we covered in detail, including the initial first round up of winners and second round up.
Normally, the results are announced in-person at a big event. This year's announcement gathering was originally scheduled for June 8, but was cancelled due to the COVID-19 pandemic. It will now be hosted online instead, and fans will also be able to vote using the new Sanrio members service Sanrio+.
This year's 80 entrants are now being rolled out over on the official Sanrio Character Awards Twitter page.
This Year's Award Theme: "The Witness of a New World – Your Support Will Change the Future"
Every Sanrio Character Awards has a theme, and this year's is, "The Witness of a New World – Your Support Will Change the Future." The "new world" refers to the future of Sanrio—which celebrated its 60th anniversary last year—that fans will bear witness to. The key visuals for the 2021 Sanrio Character Awards have the characters holding a magnifying glass with which they are peeking into that new world.
New Entrants Announce Everyday On the Official Twitter Page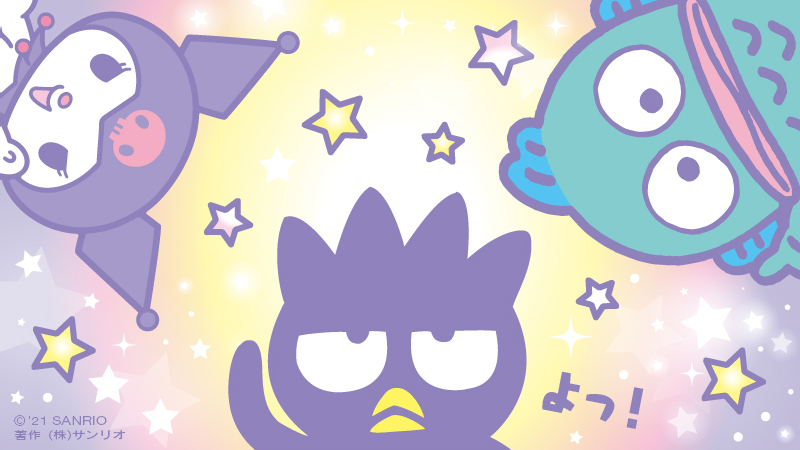 The Sanrio Character Rankings' official Twitter page will post the key visuals and personal messages from all 80 entrants on its official Twitter page between February 26 to March 31. Leading this year's awards ceremony are the popular characters Kuromi, Badtz-Maru, and Hangyodon. Voting opened on February 25.
How to Cast Your Vote
Votes for the 2021 Sanrio Character Ranking can be cast online, at Sanrio shops, and for the first time, on the new Sanrio members service Sanrio+. Votes for the Collaboration Category however can only be placed online. Last year's vote was open to all fans worldwide. It is unconfirmed whether this year will be the same, but stay tuned as we follow the event.
Online Votes (Smartphone Only) *Cannot be cast on computers or tablets

Sanrio Shops

Sanrio Online Shop

Ichigo Shimbun (May 2021 Issue, on sale April 10 / June 2021 Issue, on sale May 10).
*Ichigo Shimbun voting open from April 10
Sanrio+ Members Smile Vote (Sanrio Shops/Online Votes)

Sanrio+ Members Ticket Vote (Online Votes) *More info TBA

Other Voting Methods (TBA)
Vote With Sanrio+
Sanrio+ allows members to exchange 100 Smiles (the currency on the Sanrio Shop) for two voting chips. Members can exchange a maximum of 1,000 smiles for 20 chips in one go. The chips are spent at the voting box on the Sanrio Shop. One chip counts for a total of three votes.
Additionally, when members first log in to Sanrio+ on the voting website, they can used 50 Smiles to cast one vote. Members can vote with a maximum of 500 smiles in one day. One Smile vote counts for a total of two votes.
Stay tuned for the latest news and updates on the 2021 Sanrio Character Ranking.
Information
2021 Sanrio Character Ranking
Running: April 9, 2021 – May 24, 2021 (From April 10 in Ichigo Shimbun)
First Round-Up Announcements: April 14, 2021 at Noon (JST)
Second Round-Up Announcements: May 13, 2021 at Noon (JST)
Winner Announcement: June 8, 2021 (Online event, details TBA)
News Page: https://www.sanrio.co.jp/news/mx-ranking2021-20210225/
RELATED ENTRIES
Hello Kitty and Cosmetics Company Shu Uemura Release Holiday Collection

Japanese cosmetics brand Shu Uemura is releasing two new holiday collections in collaboration with beloved Sanrio character Hello Kitty! The first collection, featuring twelve items, will go on sale on November 1, 2021, and the second collection, featuring four items, will be available on November 15, 2021. Only limited quantities will be available. Preorders are now available on the official online store. Certain products will also be available at Sanrioworld GINZA 1F starting October 30 to celebrate the new collaboration. 

Bold, edgy, and chic makeup looks

Rich Collection Lineup

1st Collection Lineup

Rock the Party Palette (6 limited-time colors/ 4 existing colors): ¥9,900 (Tax Included) 

Discogram Eye Palette (6 limited-time colors): ¥7,150 (Tax Included) 

Unlimited Disco Glitz Lipstick (2 limited-time colors): ¥4,070 (Tax Included) 

Unlimited Satin Lipstick (2 limited-time colors): ¥4,070 (Tax Included) 

Unlimited Lacquer Shine Lipstick (1 limited-time color/1 existing color): ¥3,740 (Tax Included)

Unlimited Cream Lipstick (2 limited-time colors): ¥4,180 (Tax Included) 

Ulim8∞Sublime Beauty Cleansing Oil (Limited-time packaging) 450ml: ¥12,650 (Tax Included) / 150ml: ¥5,060 (Tax Included)

Limited-Time Channel Goods

*Available only at the official online store and Global Flagship Beauty Boutiques

Unlimited Satin Lipstick VIP Auburn: ¥4,070 (Tax Included) 

Hard Formula 9 Seal Brown: ¥2,860 (Tax Included) 

Rock the Party Premium Makeup Box: ¥35,200 (Tax Included) 

Rock the Party Mini Lipstick Set: ¥7,150 (Tax Included) 

*Available only at the official online store and Global Flagship Beauty Boutiques

The new collaborative collection is inspired by Tokyo nightlife and is perfect for creating both a glamorous rock 'n roll look or something more soft and sweet. A number of new shades of eyeshadow and lipstick appear in this holiday collection, so why not snag some of these high-quality goods before they're gone? 

© 2021 SANRIO CO., LTD. APPROVAL NO. L614617

Information

shu uemura x Hello Kitty 1st Collection

Limited-Time Release Starting November 1, 2021 / 12 Items Total

Preorders Begin October 15, 2021

2nd Collection

Limited-Time Release Starting November 15, 2021 / 4 Items Total

Preorders Begin November 8, 2021

Where to Buy: 

Shu Uemura Locations Nationwide and Online / Global Flagship Beauty Boutiques

Official Site: https://www.shuuemura.jp

Cinnamoroll Releases Second Single, Commemorative Event and Tower Records Collaboration Goods

Cinnamoroll, one of Sanrio's most popular characters, is collaborating with Tower Records to commemorate his second idol single 'Star Dome.' An event will be held, while collaboration goods will be available in 35 Tower Records stores nationwide and online.

Cinnamoroll is a male puppy who first appeared in 2001 and debuted in 2002. He is extremely popular, taking first place in the Sanrio Character Ranking four times. He made his idol debut with his first single in 2020 and is pushing forward with second single "Star Dome," which will be released as a CD on November 4.

34 Stockists / Products Available Online

Products Available in the Shibuya Store / Akihabara Store / Abeno Hoop Store / Online

Sweater

T-Shirt

Products Available in the Shibuya Store / Abeno Hoop Store / Online *Scheduled to be 

released on December 2.

Bracelet (Silver)

Bracelet (Pink Gold)

'Star Dome' Regular Edition Jacket

'Star Dome' First Press Limited Edition Jacket 

The collaboration goods scheduled to be released on November 3 will feature Cinnamoroll in his 'Star Dome' costume and the Tower Records logo in all-new illustrations. In addition, a release event will be held at the Shibuya store on November 3 and at the Abeno Hoop store on November 27. Customers who spend over ¥3,000 (Tax Incl.) on collaboration goods will be invited to participate in a mini live and photo session.

Be sure to check out Cinnamoroll's second single along with the limited edition merchandise!

Information

Cinnamoroll x TOWER RECORDS 2021

Online Products

Sales Start: November 3 (Bracelets will be sold on December 2)

Goods Reservation Start: October 14 In Store, New Year for Online Orders (*Mini live and photo sessions cannot be booked in advance. Tickets will be sold on a first-come first-serve basis in store on the day of the event. 

Details: https://tower.jp/cinnamoroll

Cinnamoroll Mini Live Shibuya: https://towershibuya.jp/2021/11/01/158634
Abeno Hoop: https://tower.jp/store/news/2021/11/118001

Cinnamoroll 'Star Dome'

Release Date: November 4

Regular Edition: ¥1,300 (Tax Incl.)

First Press Limited Edition: ¥1,800 (Tax Incl.)

Hello Kitty and Pierre Hermé Collaboration Series Coming to Sanrio Stores

Everyone's favorite cartoon cat Hello Kitty is about to celebrate her birthday! To celebrate, Sanrio is releasing a collection of limited-time goods in collaboration with world-famous patisserie Pierre Hermé starting October 20, 2021. These items will be on sale at Sanrio stores nationwide, in specific department stores, and on the official Sanrio online store. 

Collaboration with Hello Kitty's favorite sweet, Ispahan

Ispahan, a raspberry cake, is Hermé's signature dessert. For Hello Kitty's birthday celebration the creator drew the character in an elegant rose-inspired dress inspired by the sweet. This design was made with the hope that Hello Kitty will continue to bring different people and cultures together for years to come. 

Mascot Keychain  Hello Kitty/Mimmy: ¥2,530

Accessory Case: ¥3,080

Inspired by Pierre Hermé's Ispahan and Satine sweets, fans will love these colorful goods perfect for a birthday celebration. 

Hello Kitty Birthday Doll: ¥15,400 (Tax Included)

Each year a Hello Kitty Birthday Doll is released, and 2021 is no different! This year, the doll is wearing an elegant dress designed exclusively for the collaboration. Each one has an embroidered serial number on the left leg, and quantities will be limited. 

Gâteau Anniversaire Hello Kitty: ¥2,640 (Tax Included)

This special birthday dessert will be available at Pierre Hermé Paris Aoyama from November 1 to November 15. It includes a special Hello Kitty Ispahan along with a scoop of rose ice cream and a dusting of raspberry powder!

©'21 SANRIO 著作(株)サンリオ

Information

Hello Kitty and Pierre Hermé Collaboration Design Series

Release Date: October 20, 2021

Sanrio Official Goods Page: https://www.sanrio.co.jp/goodsinfo/kt-pierreherme-202110/ 

Hello Kitty and Pierre Hermé Birthday Doll 2021

Price: ¥15,400 (Tax Included)

Release Date: October 20, 2021

Where to Buy: Sanrio Stores, Sanrio Areas at Department Stores

Gâteau Anniversaire Hello Kitty 

Available: November 1 – 15, 2021 *Limited-time only

Where to Buy: Pierre Hermé Paris Aoyama 2F Heaven

Kuromi Shop Opens for Limited Time Only at Hello Kitty Japan DiverCity Tokyo Plaza

The Hello Kitty Japan DiverCity Tokyo Plaza shop is about to be taken over by Kuromi! Located on the second floor of the complex, the store will be transformed into a new concept shop starting October 8, 2021, until January 10, 2022. 

Limited-Time Sweets

Limited-Time Event Merchandise

Photo Signature

Photo Spot

 

Kuromi is the rival of My Melody and is popular among Gen-Z for her punk style and mischievous attitude. The character will cast her spell on the store as a prank, and will completely strip the location of all of its pink and red coloring, replacing it with a monotone look. 

Along with the new decorations, certain goods and sweets will only be available during the event period. A photo spot will be open for a limited time, along with a Sanrio Purikura machine imported from Korea for the first time! DiverCity will decorate the entrance and interior of the building to celebrate the event as well, so don't miss out!

ⓒ 2021 SANRIO CO.,LTD  著作:㈱サンリオ

 

Information

Hello Kitty Japan DiverCity Tokyo Plaza

Concept Shop Open: October 8, 2021 – January 10, 2022

DiverCity Tokyo Plaza 'Kuromi's Mischief Mission' 

Running: October 8 – November 11, 2021

Address: Diver City Tokyo Plaza 2F(1-1-10 Aomi, Koto-ku, Tokyo)

Access: 3 minutes walk from Tokyo Teleport Station on the Rinkai Line / 5-minute walk from Daiba Station on the Yurikamome Line

Pompompurin Celebrates 25th Anniversary with Two-Day Picnic Event

To celebrate the 25th anniversary of Sanrio's popular Golden Retriever character Pompompurin, Sanrio Puroland will hold a two-day picnic event in Tama Central Park on November 6 and November 13, 2021!

Picnic Menu


Limited-Edition Goods

The picnic will allow fans to spend some quality time with their favorite character while enjoying the lush greenery of Tama Central Park, located right next to Sanrio Puroland. Guests can chow down on the special Yellow Bun Teri-Mayo Burger, bone-in sausage, fried chicken, and a healthy salad while snapping pictures of the scenery. A limited-edition T-shirt will be available, along with a picnic mat and some cute Pompompurin figures, so don't miss out!

Information

Pompompurin's Happy Picnic at Tama Central Park

Dates: November 6 and November 13, 2021, from 12:00-13:15 

(The event will be postponed to the following day in the case of rain.) 

Location: Tama Central Park

Tower Records x Kuromi Release Second Round of Collab Merchandise

My Melody's rival Kuromi is back for another collaboration with Tower Records! 26 participating locations will begin selling the second round of original merchandise on October 14, with preorders now open! The items will also be available to purchase from the Tower Records online store. 

Kuromi made her debut in 2005 and is a popular Sanrio character for those who want something less cute and more punk. This collaboration is fitting, as Kuromi's birthday is on Halloween!

Products Available In-Store and Online

Acrylic Keychain

Pins

Mascot Keychain

Towel

Clear Folder, Set of 2

Pouch

Cushion

Bucket Hat

Acrylic Stand

Acrylic Stand

Acrylic Stand

Acrylic Stand

Acrylic Stand

Acrylic Stand

Products Available at Shibuya and Shinjuku Stores and Online

T-Shirt

Long Sleeve T-Shirt

The first collaboration between Kuromi and Tower Records came in 2020 and saw products flying off the shelves. Be sure to preorder the items you like before they're gone!

Information

Tower Records x Kuromi Round 2

Available to Preorder Now

Release Date: October 14, 2021

*Mascot Keychains will go on sale on October 28. 

Participating Locations/Details: https://tower.jp/kuromi2021

Maison de Fleur Launches Eighth Anniversary Collaboration with Sanrio's Wish Me Mell

Japanese accessories brand Maison de FLEUR is celebrating eight years with another collaboration, this time with Sanrio's bunny character Mell. A number of special items are now available to preorder on the STRIPE CLUB e-commerce site until October 3, 2021. 

Double Ribbon Tote Bag: ¥5,819 (Tax Included) 

Side Pocket Tote Bag: ¥5,819 (Tax Included) 

Mini Pouch: ¥3,949 (Tax Included) 

Face Pouch: ¥3,949 (Tax Included)

Drawstring Pouch: ¥4,389 (Tax Included) 

Lining Design

The character Mell is also celebrating an anniversary, turning ten this year. Items went on presale on September 20, which also happens to be the little rabbit's birthday. The character was designed by Miyuki Okumura, more famously known as the designer of Cinnamoroll. 

These pink bags and pouches feature a classy salmon pink color, and the adorable inner lining is sure to make any Sanrio fan smile, showing Mell and her friends from Merci Hills surrounded by balloons. The canvas material makes these perfect for everyday use. 

Look closely at Mell's bunny ears to see the Maison de FLEUR logo! Will you be grabbing any of these items?


ⓒ'21 SANRIO APPR.NO.L629405

Namco and Sanrio Team Up for Collaborative Halloween Campaign

BANDAI NAMCO AMUSEMENT has announced Namco de Halloween 2021 -Skulls Festival!- coming September 10. The campaign will take place at over 200 Namco amusement centers nationwide, and at the online crane game site Torumo. Those participating can snag some spooky and super adorable Sanrio goodies!

Namco Limited Edition Prizes

Sanrio Characters Big Plushies

Cinnamoroll / My Melody / Kuromi (In stock second week of September)

Sanrio Characters Skull Festival! Plushies

Pom Pom Pudding / Cinnamoroll / Pochacco / My Melody / Kuromi (In stock second week of September)

Sanrio Characters Skull Festival! Cushions

All characters (Back side: Blue) / My Melody & Kuromi (Back side: Pink) / Cinnamoroll, Pom Pom Pudding & Pochacco (Back side: Orange) (In stock second week of September)

Sanrio Characters Jiangshi Night Plushies 2021

Pom Pom Pudding / Cinnamoroll / Pochacco / My Melody / Kuromi (In stock second week of September)

Sanrio Characters Spooky Night 2021 Plushies

Pom Pom Pudding / Cinnamoroll / Pochacco / Hello Kitty / My Melody / Kuromi (In stock third week of September)

Sanrio Characters Dreamy Dark Halloween 2021 Plushies

Pom Pom Pudding / Cinnamoroll / My Melody / Kuromi (In stock fourth week of September)

Sanrio Characters Exciting Halloween 2021 Plushies

Pom Pom Pudding / Cinnamoroll / Hello Kitty / My Melody / Kuromi (In stock first week of October) 

Use the Namco Point App to get one limited-edition shopping bag each day. 

Exclusive Presents

Clear cards

Colorful bag

During the Torumo gift campaign, 100 winners will be randomly selected to win a special Halloween blanket. 

The prizes available during the campaign were designed for the event. Also, limited-edition plushies to appear in the past have returned in brand new colors! Those who use the Namco Point App and place ¥500 into one of the crane machines will receive one of five clear cards and a colorful bag. (Not available using Torumo.)

© 2021 SANRIO CO., LTD. APPROVAL NO. S620926

Sanrio 60th Anniversary Event Reveals Collaboration Cafe Menu

One of the most popular franchises to come out of Japan is celebrating a massive milestone! The Sanrio Exhibition: 60 Years of Kawaii Culture in Japan will be held on the 52nd floor of the Roppongi Hills Mori Tower starting September 17. The event will feature over 800 unique character products, the largest number in Sanrio history, and will allow guests to experience the charm and wonder of one of the most well-known parts of Japan's 'kawaii' culture.

Special light effects have been added to the 'Godfather of Kawaii' Masuda Sebastian's unique entrance art, titled "Unforgettable Tower." Singer and actor Aoi Shouta acts as the audio guide for the exhibition.

Comment from Aoi Shouta / Audio Guide

"I'm excited to experience the history of Sanrio together with you as the audio guide for the exhibition. I'm also incredibly honored to be a part of this project, since I've been a fan of Sanrio for as long as I can remember. Please enjoy this time with your favorite characters!"

Comment from Sebastian Masuda / Designer of the "Unforgettable Tower" 

"Sanrio characters and goods exist in a far corner of everyone's memories. For a long time, this was specifically a Japanese feeling. Now, it's true of people all over the world. Memory is an odd thing. It can be fuzzy, and difficult to capture. However, sometimes the nostalgia and feelings remain, and I've captured this strange balance in the 'Unforgettable Tower.' The Sanrio exhibition is a journey to undertake along with your own memories. I invite you to let your thoughts wander as you gaze at this work of art, and pass through the entrance gate of the exhibition."

Collaboration Menu & Photo Spot

Left: My Melody Curry with Winter Vegetables and Pork Cutlet: ¥1,580 / Middle: Pochakko's Pumpkin Stew: ¥1,520 / Right: Hello Kitty's Whole Apple Waffle: ¥1,380

Left: Pochacco's Hot Strawberry Milk: ¥1,050 / Middle: Pom Pom Pudding in a Pudding Shake: ¥1,080 / Right: Cinnamoroll's Balloon Trip: ¥1,100

The restaurant and cafe THE SUN AND MOON is located on the same floor as the exhibition, so be sure to get these delicious treats when you visit!

Left: Halloween, September 17 – October 31 / Middle: Christmas, November 1 – December 20 / Right: Anniversary, December 27 – January 10

Seasonal afternoon tea will be available during each special event period.

Restaurant Photo Spot Image

*画像はイメージです
© 2021 SANRIO CO., LTD. APPROVAL NO. SP610376

The walls of this red retro restaurant are covered with images of popular characters, making it the perfect place to snap some commemorative photos. Each photo spot will change depending on the holiday season, so don't miss the Halloween, Christmas, and Anniversary backgrounds!

Original Merchandise

Left: Square Acrylic Keychain: ¥1,210 (4 designs) / Middle: Triple Acrylic Keychain: ¥1,210 (4 designs) / Right: Bag: ¥1,650 (4 designs)

Guests can grab over 100 original items, with both modern and vintage designs.

Sanrio Puroland Announced Pumpkin-themed PURO HALLOWEEN Event

The cutest theme park on Earth, Sanrio Puroland has announced that this year's PURO HALLOWEEN event will run from September 10 until October 31. The theme for this year's event is "pumpkins," and fans will be able to pick up some special spooky merch during the celebration!

New Show 'Halloween Pumpkin Time' 

Limited-time Stage Show 'Mewkledreamy March, Gather! ☆Dreamy Mates' 

Photo Spot

PURO HALLOWEEN Special Greeting, featuring characters in Halloween costumes

Event Menu

PURO HALLOWEEN Merchandise

PURO HALLOWEEN x Gyuunyuu Special Collaboration

Gyuunyuu Collab Game 'Let's Go to the Pumpkin Party!'

Gyuunyuu Collab Food and Merchandise





This event aims to be happy and bright, something to be expected of a place with so many adorable characters. Visitors will be able to catch a new show, 'Halloween Pumpkin Time,' on the first floor of Puroland. Featuring Hello Kitty and Cinnamoroll in new Pumpkin-themed costumes, it's not to be missed!

Plenty of dancing and games will take place during the event, and the popular show 'Mewkledreamy March, Gather! ☆ Dreamy Mates' will be updated with a Halloween theme. At the end of the show, visitors can catch characters Myu, Peko, and Suu in special costumes.

Popular photo spots throughout the park will be updated for the event, and PURO HALLOWEEN Special Greeting will welcome guests to spend time with their favorite characters. (Fee required for Special Greeting.)

The PURO HALLOWEEN menu utilizes plenty of fall goodies like pumpkin and sweet potato. After eating your fill, pick up some country-style merchandise featuring Sanrio characters enjoying the pumpkin harvest! Limited-edition goods feature these new illustrations, and can only be bought during the event period. The Sanrio Puroland Online Shop will also begin selling original goods starting September 3, and limited-edition Acrylic Stands (13 varieties) will only be available online.

Sanrio Puroland is also collaborating with Gyuunyuu, a popular manga artist and illustrator on social media. The artist created an original character, Pumpkin-chan, for the event, and the little girl will be joining Hello Kitty and Cinnamoroll in various places throughout the park.

The collab game 'Let's Go to the Pumpkin Party!' will ask guests to complete an original comic strip by solving puzzles while exploring Puroland, perfect for children and parents. (Fee required for collab game.)

Which Sanrio character would you like to meet during the Halloween season?

© 2021 SANRIO CO., LTD. TOKYO, JAPAN  著作 株式会社サンリオ

7ORDER and Sanrio to Start New Collaboration Project

Japanese seven-member boy group 7ORDER is teaming up with Sanrio for a new collaboration project this September. Fans will see designs inspired by popular characters Hello Kitty and My Melody, and more collabs with various other Sanrio characters are planned for the future. 

Special pop-up shops will be open at SHIBUYA109 Shibuya and SHIBUYA109 Abeno (Osaka) starting September 3. Visitors will be able to buy specially-branded merchandise, including T-shirts and bags. 

Merchandise

T-shirt (2 designs): ¥3,190 each

Mobile Battery (2 designs): ¥3,850 each

Mini Towel (4 designs): ¥880 each

Lunch Bag (2 designs): ¥1,650 each

Tote Bag (2 designs) ¥2,200 each

*3 of each item per person maximum. The purchase limit may be changed or removed without prior notice.

Special gift for those who spend over ¥1,100 (Tax Included) on 7ORDER x Sanrio Character goods

7ORDER x Sanrio Characters Crane Game prize plushies (4 types)

Oda-chan, an official character created by Reo Nagatsuma of 7ORDER, appears as the mascot of the collab. Fans have been waiting a long time for the character to get his own merch! Each piece will include both Sanrio designs and 7ORDER member colors, making these must-have items for the group's fans. 

What would you like to buy from this collection?

ⓒ 7ORDER project
ⓒ 2021 SANRIO CO.,LTD.  著作:㈱サンリオ

Kaori's Easy Recipe: Learn to Make Two-Layer Mizu Yokan

With just a small bit of ingenuity, turn everyday food into something cute using Kaori's Easy Recipe! With just a few simple ideas, an ordinary recipe magically transforms into a cute dish. 

Today, I'll teach you how to make two-layer Mizu Yokan, perfect for a hot summer day!

You don't even need an oven to make this sweet treat–just let it chill and harden! It's great as a summer vacation snack. 

Ingredients

This recipe makes 2 cups. 

For Mizu Yokan: 

120g fine-grained sweet bean paste

100cc water

Pinch of salt

1-2g Kanten powder

For Matcha Flavoring:

5g matcha

20g sugar

100cc water

1-2g Kanten powder

1

Place bean paste, water, salt, and Kanten powder into a pot and boil until dissolved. 

⚠The Kanten powder needs to be heated for a further 1-2 minutes after boiling to harden properly. After boiling, reduce heat to low. 

2

Pour mixture into container. 

After about 30 minutes at room temperature, the mixture will start to harden. Work on the matcha flavoring when it begins to harden. 

3

Place matcha, water, sugar, and Kanten powder in a pot and boil thoroughly. 

As you did with the Mizu Yokan, reduce heat to low and continue cooking through. 

4

When the mixture is heated through, gently pour it over the Mizu Yokan and refrigerate until ready to serve. 

This is delicious with a variety of toppings, from red bean paste and fresh cream to Shiratama dumplings and fresh fruit!

Kaori Kubota (@kaopan27)

I live in Hokkaido and I love to make character themed foods, desserts and pastries♡

I want to see my family smile, so I enjoy putting in a bit of effort to make character foods and changing food into something cute♡

You can see more of my character foods and character bento boxes on my Instagram page → @kaopan72