Sumikko Gurashi transformed into Japanese sweets
The Japanese character motif sweets series Tabemasu released a new sweets collection inspired by 4 of San-X's popular Sumikko Gurashi characters on March 2 at FamilyMart convenience stores in Japan.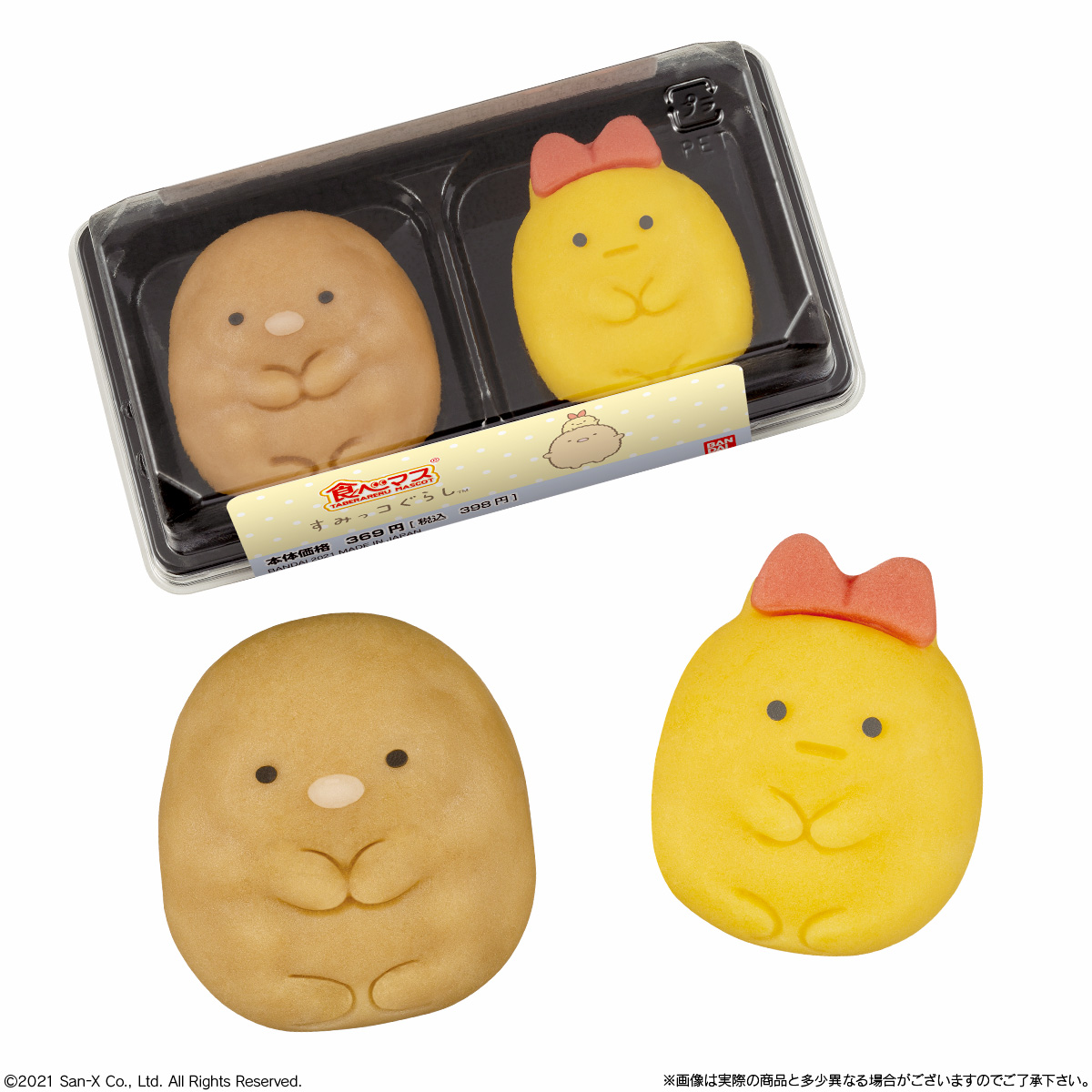 Tabemasu Sumikko Gurashi Collection: Shirokuma (Strawberry Milk) & Tokage (Peach) / Tonkatsu (Chocolate) & Ebi Furaino Shippo (Banana) | 1 Box 2 Sets – ¥369 Each (Before Tax)
The popular characters Shirokuma and Tokage's bellies are filled with strawberry milk and peach flavoured sweet red bean paste. The besties Tonkatsu and Ebi Furai are making their first appearance on in the Tabemasu series with tales filled with chocolate and banana flavoured red bean paste. Their cute and plump charms are represented as edible Japanese traditional sweets which are too cute to eat!
The newcomer Tonkatsu represents a leftover piece of tonkatsu and who dreams to be eaten someday… his longtime dream is about to be accomplished with your help! Check out these cute and delicious sweets of Sumikko Gurashi.
(C)2021 San-X Co., Ltd. All Rights Reserved.
RELATED ENTRIES
Sumikko Gurashi Cushion Collection Releases to Decorate Your Room

Kotobuki Kougei released a new collection of Sumikko Gurashi cushion from its iebito brand on Friday.

The cushions are part of the "Play Cushion" collection and come in a range of fun colours and with cute designs for making your home and rooms Japanese-kawaii. iebito has been collaboration with Sumikko Gurashi since November 30 last year.

Which pair set do you want the most?

©2021 San-X Co., Ltd. All Rights Reserved.

Zoo Themed Sumikko Gurashi Pop-Up Shop to Open This Spring

San-X, the creators of many iconic Japanese characters, are set to open multiple pop-up shops around Japan on March 20, 2021. The theme of the shops is "animal park," and fans of the cute corner-dwellers can look forward to getting their hands on lots of exclusive merchandise.

Merchandise Line-Up

Sumikko Gurashi Novelty Stickers

The collection includes plenty of plush toys to keep your company. The full list of pop-up shop locations can be found below, but two of the big venues will include the Sumikko Gurashi Shop in Osaka and KIDDYLAND Harajuku.

©2021 SAN-X CO., LTD. ALL RIGHTS RESERVED.

Sumikko Gurashi Body Soap Keeps You as Clean and Cute as the Corner-Dwelling Characters

Kracie Home Products has announced that its 100% plant-based body soap brand 'naive' will launch its second collaboration with Sumikko Gurashi on March 8, 2021.

Left: Body Soap & Refill | Right: Body Soap (Reversible Design) & Refill

Sumikko Gurashi is a series of characters created by San-X, the company behind the internationally-iconic Rilakkuma. The characters are known for enjoying living a quiet and solitary life in corners, which is what their name translates to. Sumikko Gurashi won the annual Japan Character Award in 2019. An animated film, Sumikko Gurashi the Movie, was also released in 2019, with a second film set for release this year.

naive collaborated with Sumikko Gurashi last year, and due to the rave reviews from fans of the cute characters, they decided to hold a second collaboration. This time around, naive's bubbly body soap bottles feature three different characters: the shy Neko, Penguin who is known for lacking self-confidence, and Tonkatsu who is a piece of leftover pork cutlet. The collection also includes refill bags with designs of all the corner-dwellers.

Information

Sumikko Gurashi x naive 2nd Collaboration
Release Date: March 8, 2021
Available: Drug stores, supermarkets, and elsewhere in Japan
naive Official Website: https://www.kracie.co.jp/naive/

A Dream Collaboration Between Rilakkuma and Sumikko Gurashi Announced For Hirakata Park

Hirakata Park in Osaka has announced a special collaborative event with San-X's popular characters Rilakkuma and Sumikko Gurashi which will begin on March 6, 2021.

Park entrance

Rilakkuma and friends as well as the characters of Sumikko Gurashi will both have their own special pavilions raised at the park entrance. At the Rilakkuma tent, the cute bear and his comrades where will be showcasing their three fundamental elements that go into having a leisurely and relaxing time. Over at the Sumikko Gurashi tent, you'll get a peek into the lives of these cute characters which are known for their lifestyle of dwelling in the corner.

The event will welcome a range of original Rilakkuma and Sumikko Gurashi themed food and merchandise too.

©2020 San-X Co., Ltd. All Rights Reserved.

Information

Rilakkuma & Sumikko Gurashi Festival
Running: March 6, 2021 – June 27, 2020

Opening Hours: 10:00-17:00 (Last Entries 16:30)

Location: Hirakata Park Event Hall I

Enquiries 0570-016-855 (10:00-17:00)
Event Page: https://www.ntv.co.jp/rilakkuma-and-sumikko-fest/

UNIQLO Announces Loungewear Collaboration With Pokémon and Sumikko Gurashi

Japanese clothing retailer UNIQLO has announced a loungewear collection for the holiday season in collaboration with Pokémon and Sumikko Gurashi—the latter being a set of fictional characters created by San-X. Set to roll out in Japan from November 19, the fleece line-up is the perfect gift for the coming winter months.

Pokémon Line-Up

Everybody's favourite Pokémon are coming together for this cosy collaboration. The fleece set's theme is "Night Explorer" which imagines the wearer exploring the night together with their Pokémon. The designs feature moon and star motifs with neon colouring.

When the collection launches, those who purchase one of the Pokémon fleece sets in Japan will receive a set of two clear-coloured Pokémon figurines. And if they order online via UNIQLO's website, their order will be shipped in a special Pokémon box.


Buyers will also receive a card with a code on it to participate in a special campaign.

Sumikko Gurashi Line-Up

The corner-dwelling Sumikko Gurashi character merchandise is themed on a sleepover with items made warm, fluffy, and cosy.


The three Sumikko Gurashi sets will launch online only on December 18.


Picking up either of the fleece sets or poncho blanket sets from December 18 will land you one of the above-pictured plush toys.




UNIQLO will also be selling limited-edition Sumikko Gurashi gift cards too both online and in-store when the sets are released.

Minions Confections Sneak Their Way Into Lawson Convenience Stores in Japan

Bandai Candy's character-inspired Japanese confectionery series Tabemas released a new batch of Minion-themed Japanese wagashi confections at Lawson convenience stores in Japan (excluding Lawson Store 100 branches) on August 4, 2020.

'Tabemas' is an abbreviation of the Japanese words taberareru masukotto, meaning 'mascots that you can eat.' It is a Japanese confectionery series that combines well-known characters and Japanese sweets made from ingredients like red bean paste, sugar and rice flour.

Tabemas Minions | ¥264 (Before Tax)

The line-up includes familiar faces from the Despicable Me and Minions films, namely the childish Bob, Stuart—who loves a prank—and Kevin who has a leader presence about him. The confections feature all the little details for each character, from the goggles and hair to the colouring.

Each character has its own delicious bean paste flavouring too: Bob is banana flavoured (his favourote), Stuart is strawberry, and Kevin is chocolate. Which do you want to try the most?

© Universal City Studios LLC. All Rights Reserved.

Information

Tabemas Minion
Release Date: August 4, 2020

Available: At the chilled desserts section of Lawson convenience stores in Japan

*Not available at Lawson Store 100

*Available while supplies last

*Stock date may differ from branch to branch

*Select stores not participating

Cherry Blossom Themed Sumikko Gurashi Store to Open at Ginkaku-ji Temple in Kyoto

The all-new Sumikko Gurashi Dou store is set to open permanently at Ginkaku-ji Temple in Kyoto on March 19, 2020.

Ginkaku-ji is a famous temple in Kyoto that was first built in 1490. It lives as a representation of the Higashiyama culture which flourished towards the end of the Muromachi Period. In 1994, it was designated as a World Heritage Site. The temple stands as a famous tourist spot of Kyoto.

Glasses Case – ¥1,500 / Contact Lenses – ¥1,100 / Mini Towels – ¥600 / Hanging Plush Toys – ¥1,100 / Cookies – ¥1,000 (All prices are pre-tax)

The new Sumikko Gurashi Dou store will be based entirely on the Sumikko Gurashi characters created by San-X. "Sumikko Gurashi" translates roughly to "life in the corner." The shop will take on a cherry blossom theme, where you can get your hands on exclusive and licensed products.

Sumikko Gurashi Yaki Takeout Cup (Contains 6) – ¥300 / Sumikko Gurashi Yaki Omiyage Bag (Contains 12) – ¥700 / Tapioca Drinks (3 Flavours) – ¥500 / Ice Cream (3 Flavours) – ¥500 (All prices are pre-tax)

There's also takeout food and drinks, like sweet and fluffy baby castella sponge cake, tapioca drinks, soft serve ice cream, and more.

And of course, the entire store will be adorably decorated in all things Sumikko Gurashi to ease your soul. If you're travelling to Kyoto and Ginkaku-ji Temple, then make sure you pop into Sumikko Gurashi Dou.

©2020 SAN-X CO., LTD. ALL RIGHTS RESERVED.

Doraemon Manga's 50th Anniversary Celebrated With Kawaii Confections by Tabemas

Character-inspired Japanese confectionery series Tabemas is celebrating the 50th anniversary of the Doraemon manga series with two adorable new confections which will release at Lawson convenience stores around Japan on March 3, 2020.

Tabemas Doraemon 2020 Chocolate Flavour – ¥285 (Tax Included)

Tabemas have produced Doraemon confections before to huge popularity amongst fans, and this time around he's got a new facial expression. There's also a special "Ganso Doraemon" version.

Tabemas Doraemon 2020 (Ganso Doraemon Ver.) Custard Flavour – ¥285 (Tax Included)

Ganso Doraemon, who was born in the future, is a bright yellow colour with cute ears. Both confections sit plump and adorable, and each have little Doraemon details like the bell, whiskers, and a tail.

The sweets are also made with a dough called "nerikiri" which is used in making traditional Japanese wagashi sweets. Doraemon is chocolate flavoured while Ganso Doraemon is custard flavoured. Perfect for snacks and would look great on an Instagram feed!

Information

Tabemas Doraemon 2020

Release Date: March 3, 2020

Available: At chilled desserts section of Lawson convenience stores across Japan

*Not available at Natural Lawson or Lawson Store 100

*Available while supplies last

*Stock date may differ from branch to branch

*Select stores not participating

Product Page: https://www.bandai.co.jp/candy/tabemas/doraemon3/

Cute and Chewy Pompompurin Confection Now Being Sold at Lawson Convenience Stores in Japan

Lawson, one of the main convenience store chains in Japan, has released the all-new Mochi Mochi Pompompurin Yaki, a cute and chewy confection filled with custard pudding flavoured cream.

The kawaii sweet recreates Pompompurin's adorable sleeping form. Inside of him is a squirt of purin, or Japanese custard pudding, flavoured cream, which happens to be Sanrio Golden Retriever's favourite treat. You'll find yourself reaching for your phone to snap a photo of him to post online before tucking in.

The confection will be discontinued once all have been sold, so if you're in Japan, head to your closest Lawson.

©1996, 2020 SANRIO CO., LTD. APPROVAL NO.S604266

Hello Kitty, Cinnamoroll & Pompompurin Japanese Wagashi Confections Releasing at Lawson Convenience Stores.

Hello Kitty, Cinnamoroll and Pompompurin are the latest to be picked up by character-inspired Japanese confectionery series Tabemas. These wagashi sweets will go on sale at Lawson convenience stores across Japan (excluding Lawson Store 100 branches) on January 21, 2020.

The character line-up is based on the top three winners of the 2019 Sanrio Character Awards which we covered last summer. Hello Kitty came first place at the awards, and so she has gotten a special limited edition design for the sweets series. Cinnamoroll was second on the award list, and this is his first time joining Tabemas. Third place was Pompompurin who appears once again with Tabemas due to his popularity.

The 'Tabemas' brand name is an abbreviation of the Japanese words taberareru masukotto, meaning 'mascots that you can eat.' It is a Japanese confectionery series that combines well-known characters and Japanese sweets made from ingredients like red bean paste, sugar and rice flour. The sweets are also made with a dough called "nerikiri" which is used in making traditional Japanese wagashi sweets.

In line with the Year of the Rat in the Chinese zodiac, Hello Kitty is donning a kawaii rat outfit. Cinnamoroll's charm point is his big ears and pink cheeks.

Each confection is filled with a different flavour bean paste: Hello Kitty is cheese, Cinamoroll is milk, and Pompompurin is of course Japanese custard pudding, or 'purin,' flavoured. They maintain that delicate flavour of traditional Japanese wagashi while having cute contemporary designs. You'll be happy to know that all of the colouring is natural tooーno synthetic colours were added.

Perfect as a delicious treat, but don't forget to snap a photo for Instagram first! Each of them is also limited in stock, so don't miss your chance to grab one at the nearest Lawson store to you while in Japan.

© '76,'96,'01,'20 SANRIO APPR.NO.S604062

Information

Tabemas Hello Kitty 2020 / Tabemas Cinnamoroll / Tabemas Pompompurin 2020

Price: ¥280 Each (Tax Included)

Release Date: January 21, 2020

Available: At chilled desserts section of Lawson convenience stores across Japan

*Not available at Natural Lawson or Lawson Store 100

*Available while supplies last

Product Page: https://www.bandai.co.jp/candy/tabemas/sanrio3/

Souvenirs at Tokyo Station's GRANSTA Shopping Complex Abundant For the New Year

Tokyo Station's GRANSTA and GRANSTA Marunouchi shopping complexes are holding a New Year's from December 26, 2019 to January 5, 2019 where sweets and souvenirs will be sold to beckon the new year. The items are based on the Year of the Rat in the Chinese zodiac for 2020.

Sweets and Souvenirs

Baked New Year 2020 (Contains 5) – ¥1,600 @ Fairycake Fair (Available from December 26)

Tuck into these adorable baked cookies with various celebratory designs including rats, flowers and the year 2020. They are egg flavoured and are made with caramel to create a taste similar to Japanese purin (a type of custard pudding).

 

High Grade Fresh Japanese Confection Assortment (Contains 6) – ¥1,848 @ Ginza Kanra (Available Mid-December to Mid-January)

Ginza Kanra's assortment of fancy confections are so pretty they almost seem a waste to eat, each with a variety of motifs such as a rat as well as "Gin no Suzu"ーa silver bell inside Tokyo Station that's famous as a meeting spot.

Ginza Kikunoya Fukiyose Kaiune Shikan (200g) – ¥1,998 @ Jimbocho Ichi no Ichi (Now on sale until all sell out)

This tin of assorted small sweets includes around 30 types of baked wheat bran treats and more. There's plenty to keep you going through the New Year celebrations.

Left: Eto Kokeshi Rat – ¥2,090 / Right: Mame Kokeshi Rat – ¥880 @ SHARED TOKYO (Now on sale)

Available in limited quantities only, these cute rat kokeshi dolls would look good even as decorations in small spaces. Their red and white colours add to the festive vibe as these are celebratory colours in Japan.

New Year's Card Shrimp Senbei Rice Crackers (Contains 11) – ¥1,080 @ Keishindo (Now on sale until all sell out)

Forget regular Christmas cards, hand someone one of these rice crackers instead which feature messages like "Here's to another great year" in Japanese as well as other New Year motifs.

Osechi and New Year's Bento

Houjou – ¥8,000 @ Asakusa Imahan (Available January 1 only)

Osechi is food prepared for the New Year in Japan, and this bountiful harvest includes Asakusa Imahan's famous wagyu black beef, red rice, rice with minced sea bream, and more. These are limited to 10 sets only.

Osechi Shoufuku Suzen – ¥1,800 @Sasahachi (Available January 1-3)

Another delicious mix of osechi like fish wrapped in kombu seaweed, hand-rolled sushi, and more—all of which goes down best with a cup of sake. Limited to 20 servings per day.

This is just a peek into what's available this New Year at Tokyo Station, so if you're using the station this year, be sure to stop by.

*All listed prices include tax

Information

New Year's Fair

Running: December 26, 2019 – January 5, 2020

TOKYO STATION GUIDE Official Website: https://www.tokyoinfo.com/

Heart-Meltingly Cute Olaf Confection to Arrive in 7-Eleven to Celebrate Frozen 2

Tabemas is a Japanese confectionery series of small, traditional sweets designed to look like characters. To celebrate the release of Frozen 2 on November 22, the series is releasing an Olaf confection which will be sold at 7-Eleven convenience stores across Japan from the same day as the release of the film. 


The series name "Tabemas" means "edible mascot" and as the name suggests, Olaf has completely transformed into a delicious traditional sweet from carrot nose to adorable feet. In sweet form, the 40mm-tall chubby Olaf is stood still, staring up at you with adorable round eyes overflowing with adoration.

This is a traditional nerikiri confection made from bean paste and soft mochi to a surprising level of detail. Even the snowflake pattern has been recreated. As Frozen 2 is set in autumn, Olaf has been stuffed with the most appropriate autumn flavour: maple. This small and dainty confection is the perfect treat for people of all ages.

These are in limited stock so hurry down to your nearest 7-Eleven from November 22 if you are interested. 

©️Disney

Information

Tabemas Confectionary Series: Frozen 2 Olaf 

Flavour: Maple

Recommended Retail Price: ¥258 (Before Tax)

Release Date: November 22, 2019

Available at: The chilled desserts section of 7-Eleven convenience stores across Japan

*As these are in limited stock, sales will end once stock has been depleted.

*Not available at all 7-Eleven convenience stores.

More Information: https://www.bandai.co.jp/candy/tabemas/olaf/