A BATHING APE® Releases UNKLE/MO WAX "Original Headz" Collection
BAPE will releases its new A BATHING APE® VS UNKLE/MO WAX "Original Headz" collection in Japan as well as via the brand's US site on March 20.
The Line-Up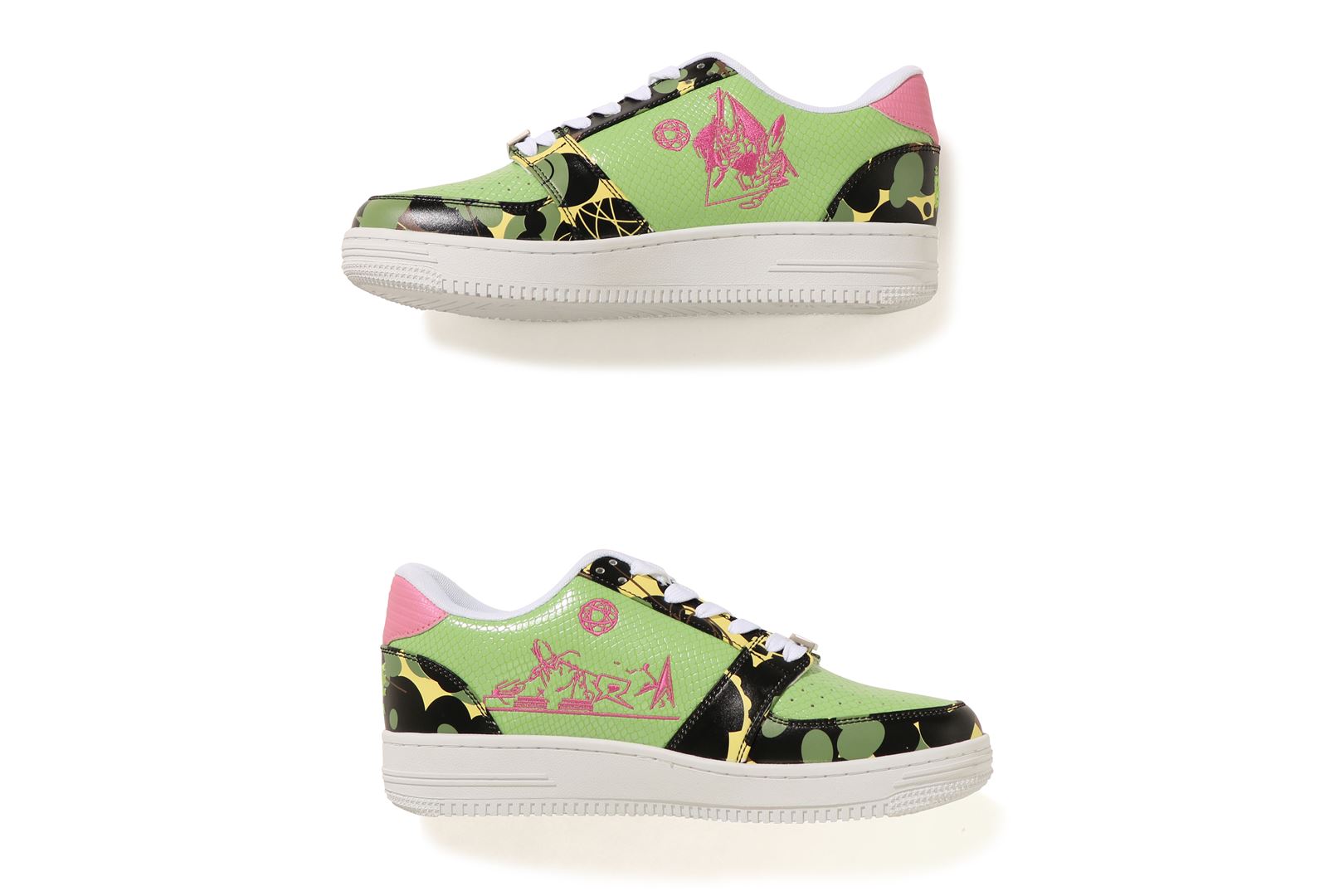 UNKLE BAPE STA™ | ¥28,000 (Before Tax)
UNKLE X BAPE® TEE | ¥8,000 (Before Tax)
UNKLE POINTMAN LOGO TEE | ¥8,000 (Before Tax)
UNKLE POINTMAN LOGO RELAXED CREWNECK | ¥21,000 (Before Tax)
UNKLE x BAPE® WIDE FULL ZIP HOODIE | ¥34,800 (Before Tax)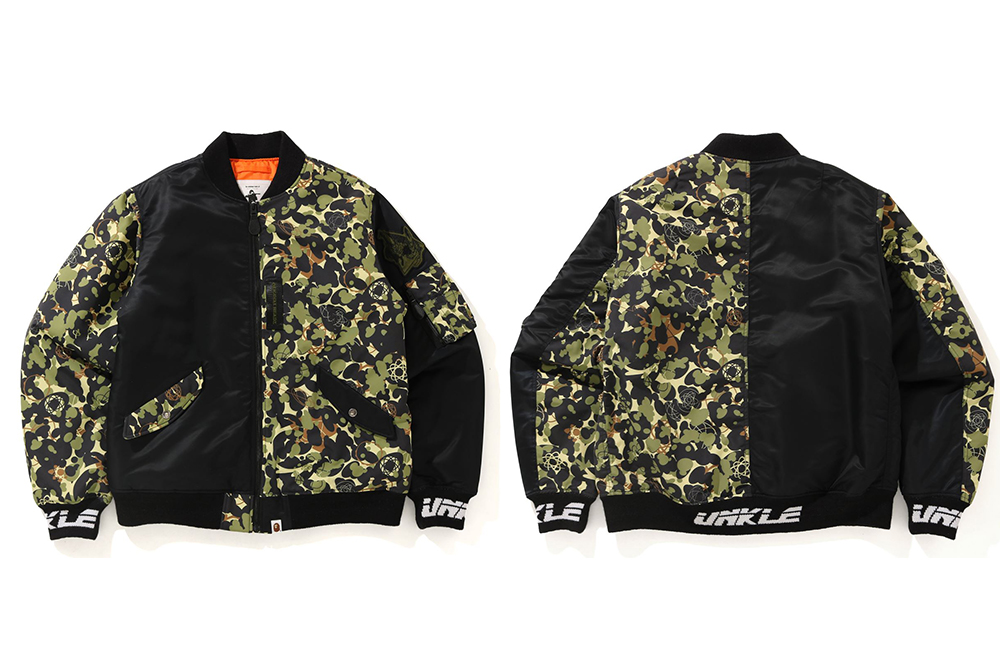 UNKLE MWA CAMO MA-1 | ¥49,800 (Before Tax)
UNKLE MWA CAMO M-51 HOODIE JACKET | ¥49,800 (Before Tax)
James Lavelle (UNKLE)
BAPE describes this collection of sneakers, sweatshirts t-shirts, and more as: "Featuring UNKLE original point men, UNKLE sounds (both by Futura 2000 ) and Psyence fiction logos, original headz slogan and M.W.A (MO WAX ARTS ) camo, which was designed in 1999 by Ben Drury and James Lavelle featuring elements by Futura 2000 (who was collaborating with MO WAX and UNKLE, creating artwork and graphics), inspired by the graphic camouflage trend of the time, the M.W.A camo has become a constant theme throughout MO WAX and Unkle's identity."
RELATED ENTRIES
BEAMS Japan Gets Involved in Crowdfunding Project to Raise Money For Tohoku Earthquake

BEAMS Japan has announced its participation in the 3.11 Fukkou ni Yorisou Project on the crowdfunding service READYFOR to help raise money for restoration efforts in places that are still affected by the 2011 Great East Japan Earthquake. The apparel brand has created the Bakabon Family Charity T-Shirt, the proceeds of which will be used as a return to supporters of the project. READYFOR launched the project on April 14, 2021, the proceeds of which will be donated to six groups working to restore Tohoku.

From the READYFOR Project page

READYFOR launched back in 2011 as Japan's first crowdfunding service. In the past 10 years, 1,529 crowdfunding pages have been set up for restoration efforts of the Tohoku earthquake, which have brought in over 1 billion yen.

The charity tee by BEAMS Japan is available in nine sizes.

Jujutsu Kaisen x WIND AND SEA Clothing Collaboration Launched

Japanese apparel brand WIND AND SEA opened orders for a new collection in collaboration with the anime series Jujutsu Kaisen on Saturday.

The collection includes t-shirts, long-sleeve shirts, and pullover hoodies featuring character designs from the popular anime series coupled with WIND AND SEA's logo.

SKY-HI Produces New 'Sexual Healing' Reed Diffuser Set

Ueni Trading has opened pre-orders for a new reed diffuser set by RADSKY, a perfume brand with SKY-HI acting as the brand ambassador. The set is available to pre-order at LOFT, both in-store and online.

RADSKY Sexual Healing Coffret Set | ¥3,850 (Tax Included)

The new fragrance gets its name from the title of SKY-HI's new song Sexual Healing. The fragrances captures the fragrance of a 'sexy man' with tempting white musk, which users can have around their home wherever they like with the sleek reed diffuser bottle which has a handwritten-style logo on it. The clear case is also made from a biodegradable material.

The first fragrance collaboration continues to enjoy sales

SKY-HI's first collaboration with the brand was the RADSKY Neon Eau De Toilette perfume which is still enjoying sales for its "Night Fruity" aroma. It's a more natural, refreshing smell balanced by sweet fruity notes.

Information

RADSKY Sexy Healing Coffret Set

Released: April 15, 2021

Where: LOFT / LOFT Online

Netflix's Devilman Anime Series Gets Online Virtual Reality Exhibition

An exhibition centred on the Devilman manga series by Go Nagai, the 1972 Devilman anime adaptation, and Netflix's 2018 DEVILMAN crybaby anime adaptation, is set to take place on the online exhibition platform Virtual Utopia from April 28 to May 31.

What to look forward to

*Visuals are of an exhibition still in development

*Visuals are of an exhibition still in development

A devilish experience split into 11 areas

Devilman has been entertaining readers and anime-lovers for almost half a decade. The exhibition will depict the comparisons between humans and demons of the series in 11 different areas, each recreating scenes that are sure to be instantly-recognisable to fans.

Main Area: Heart of a Demon / Heart of a Human

The main portion of the exhibition is split into four areas which fans will find themselves going back to numerous times, and in different orders, giving each visitor their own unique perspectives and interpretations. There's also a hidden area which can only be accessed by those who have seen the 'special exhibit.' There's also a free-to-enter area with messages from the creators.

Go deeper into the VR Devilman Exhibition with the voice guide
Forget your usual guides, this exhibition incorporates voiceover guides to walk people through the exhibition. For an extra fee, fans can have Megumi Han, who plays Miki Makimura in DEVILMAN crybaby, and Tomokazu Seki, who for this exhibition is playing Psycho Jenny, guide them through the different areas.

*Visuals are of an exhibition still in development

Users can download the Virtual Utopia app for free, and the exhibition can be attended even without a VR headset. There will also be talks by the author and other notable people in the industry which can be watched live on YouTube, so anyone can get involved.

Ground Y T-Shirt Collaboration

The exhibition is also collaborating with Yohji Yamamoto's fashion brand Ground Y on six original tees.

 ©永井豪/ダイナミック企画
TVアニメ版「デビルマン」©ダイナミック企画・東映アニメ―ション
DEVILMAN crybaby        ©Go Nagai-Devilman Crybaby Project
©VRデビルマン展実行委員会

Ray-Ban x Takuya Kimura Sunglasses Limited to 200 Units

Japanese actor Takuya Kimura is a long-time lover of the sunglasses brand Ray-Ban which has led to a collaboration between the two on a new Japan-exclusive model which will be limited to 200 units. The sunglasses will be sold at Ray-Ban Store SHIBUYA and Ray-Ban Japan's online store on April 24.

Ray-Ban x Takuya Kimura Collaboration Video

Each of the 200 sunglasses have unique serial numbers on the frames together with Takuya Kimura's initials engraved by hand. They also come in a special box featuring an original case, cleaning kit, and a card featuring the same unique serial number.

Takuya Kimura | Interview

Q: What are your thoughts and impressions on Ray-Ban?
A: For me, Ray-Ban and sunglasses are equals and inseparable. It's a sunglasses brand worn by characters in movies I've seen and by musicians I like, so I've inevitably come to like them too.



Q: What were you going for with the RAY-BAN x TAKUYA KIMURA collaboration?
A: The first thing was for the glasses to be something I would want to wear – something I'd like to own. Another thing is that in Japanese society, it's rude to wear sunglasses in front of your superior, so we tried making them lighter so even if you're wearing them someone can see your eyes.



Q: What do you like about the Aviator limited-edition models?
A: They use photochromic lenses which darken when exposed to UV. I wear them when talking in a room, and I can step outside in them as they are since they will become dark when exposed to ultraviolet rays to protect your eyes.



Q: Is there a movie scene or something where you thought sunglasses looked cool?

A: Around the time I was in middle school, I saw Ray-Ban's teardrop sunglasses in the American film Top Gun. A band member from my favourite rock band also wore them and performed in them as well as had photos of him in them on CDs and records. I really admired those things.

Columbia x SHIPS Drop Outdoor and Streetwear Style T-Shirt Collection

Innovative outdoor-wear brand Columbia and select shop SHIPS have come together to release their new limited-edition RED HILL BUTTE TEE t-shirt collection.

The line-up makes use of Columbia's Omni-Freeze Zero technology which keeps wearers cool in hot, humid, and sweaty, environments, and Omni-Wick which pulls moisture away from the body so sweat can evaporate quickly. Whether it be for camping or regular everyday use this spring and summer, the collection is a must-have for the hot weather.

RED HILL BUTTE TEE | ¥6,050 (Tax Included)

Colours: Black / Beige / Navy

Sizes: S / M / L

Embroidery on left of chest

The design weaves in Columbia's DNA, taking inspiration from their fishing gear archive.

Back print

A fusion of nature and the city, paying homage to Portland, Oregon.

OMNI – FREEZE ZERO

Jujutsu Kaisen Themed Sento Bath House Merchandise to be Released

Japanese bath house chain Gokuraku-yu, which is known for its diverse line-up of baths from open-air to jet, will launch a campaign in collaboration with the anime series Jujutsu Kaisen on April 23.

Jujutsu Kaisen x Gokuraku-yu RAKU SPA Collab Campaign

RAKU SPA Ticket + Jujutsu Plus Set

Those who buy the Jujutsu Kaisen ticket set at RAKU SPA (¥760) will receive one of 4 possible hand towels

Merchandise Batch ①

Pins (8 Designs) | ¥500 Each (Tax Included)

Acrylic Stands (8 Designs) | ¥780 (Tax Included)

Hand Towel | ¥780 (Tax Included)

Pouch | ¥1,320 (Tax Included)

Pin Set | ¥1,980 (Tax Included)

Acrylic Stands (4 Designs) | ¥1,650 Each (Tax Included)

Acrylic Key Ring | ¥980 (Tax Included)

Bag | ¥1,680 (Tax Included)

Sticker Set | ¥1,280 (Tax Included)

T-Shirt | ¥1,980 (Tax Included)

Die-Cut Postcard Set (2 Designs) | ¥1,580 Each (Tax Included)

Folder Set | ¥890 (Tax Included)

Merchandise Batch ②

Key Rings Each ¥480 (Tax Included) / Flags ¥1,080 Each (Tax Included)

Online Shop Exclusives

A1 Poster ¥1,680 (Tax Included) / A2 Poster ¥1,480 (Tax Included) / Four Posters Set ¥1,980 (Tax Included)

Themed Food (10 Items)

Drinks (4 Flavours) | ¥770 Each (Tax Included)

Coasters (12 Designs)

Fans can stock up on a range of sento bath house-related merchandise featuring both chibi and normal designs of their favourite Jujutsu Kaisen characters. A second batch of merchandise will also be added on May 14. There's even themed food to be enjoyed at Gokuraku-yu restaurants which comes with a free coaster.

Gokuraku-yu branches will be decorated with pictures and tapestries of Jujutsu Kaisen for the duration of the collaboration, and there will be photo spots where fans can snap pictures at the bath houses. The campaign can be followed on Japanese social media with the hashtags #極楽じゅじゅやすみ #極楽湯 #らくスパ.

(C)芥見下々/集英社・呪術廻戦製作委員会

Upcoming Fate/Grand Order Anime Film Paladin; Agateram to Collaborate With First Kitchen

Japanese fast food chain First Kitchen is launching a collaboration on April 19 with the upcoming anime film Fate/Grand Order: Shinsei Entaku Ryouiki Camelot 2 – Paladin; Agateram at First Kitchen and Wendy's First Kitchen branches in Japan. The film is set for release on May 5, 2021.

Exclusive limited-edition presents 

For every ¥900 spent at First Kitchen during the campaign, customers can receive a selection of merchandise freebies when they show the official campaign tweet on Twitter or the campaign's website to the restaurant staff. This includes one of 8 possible folders which are available from April 19 to May 3, and one of 8 possible pins which are available from May 3 to 16.

Additionally, if customers show staff that they are following First Kitchen on Twitter and have retweeted the campaign post, they'll be entered for a chance to win a B2-size poster.

12 branches of First Kitchen will also be decorated with pictures and posters from the anime film.

Information

First Kitchen x Fate/Grand Order Collaboration Campaign

Start Date: April 1 9, 2021

Where: First Kitchen / Wendy's First Kitchen

First Kitchen Official Website: https://www.first-kitchen.co.jp/

Stylish Bags and Sneakers Arrive at Camper's Pop-Up Shop in Isetan Shinjuku

Shoe, boots, and sneaker brand Camper opened a pop-up shop at Isetan Shinjuku on Wednesday which is set to run until April 27. The shop is a collaboration with Japanese textile designer Masaru Suzuki who has provided his iconic designs to a collection of bags and sneakers that you can get your hands on. The shop also has a display designed by Suzuki.

Pop-Up Store Line-Up

HOP STEP LIFE | ¥19,800 (Tax Included)

ANIMAL BISCUIT | ¥22,000 (Tax Included)

CHARM POINT | ¥5,500 (Tax Included)

TWINS by MASARU SUZUKI (Women's) | ¥25,300 (Tax Included)

TWINS by MASARU SUZUKI (Men's) | ¥25,300 (Tax Included)

TWINS by MASARU SUZUKI (Kid's) | From ¥12,100 (Tax Included)

Men's Building – "CAMALEON 1975" Pop-Up Store

Men's Building Pop-Up Store Original Novelty

This marks Camper's third long-awaited collaboration with Masaru Suzuki and the first in four years, and this time the series adds shoes to the mix in addition to the popular bags. Suzuki visited Camper's main office in Majorca, Spain, for detailed discussions on the designs.

Suzuki is set to attend the pop-up event on April 17. Customers who spend over ¥5,500 (tax included) on this day will receive a fabric swatch signed by Suzuki. Additionally, the men's building of Isetan Shinjuku is also opening its CAMALEON 1975 pop-up shop once again selling shoes made from recycled materials from Camper. Those who spend over ¥14,300 (tax included) at this shop will receive a free eco-friendly bag made from 100% recycled nylon.

Information

ISETAN x CAMPER Pop-Up Store

Running: April 14, 2021 – April 27, 2021

Where: Isetan Shinjuku

ISETAN x CAMPTER/Masaru Suzuku: Main Building Floors 1F & 2F

CAMALEON 1975: Men's Building Floor B1F
Opening Hours: 10:00-20:00

Official Website: https://www.camper.com/

Chibi Maruko-chan Meets Miffy in Cute Merchandise Collaboration

The beloved Chibi Maruko-chan from the manga of the same name is joining hands (or paws) with the Dutch children's book character Miffy at the upcoming Maruko Meets Miffy fair that will be held at 16 branches of Miffy Style and 19 branches of KIDDYLAND in Japan for the whole month of May.

The creator and author of Miffy, Dick Bruna, was actually a friend of Momoko Sakura, the creator and author of Maruko-chan. They first met in 1999 when Sakura visited Dick Bruna's atrium in Utrecht for an interview on her book Fujisan. 20 years later, their works come together at this special event that pays homage to their meeting and works.

Over 100 pieces of merchandise will be sold at the event, from stationery to gadgets, plush toys, and more. The exclusive cute artwork designed for the event is also sure to make fans feel warm and fluffy inside.

A small look at just some of the items on sale

<Clockwise> Socks ¥418 / Small Clear Case ¥748 / Memo Pad ¥495 / Mirror ¥1,485 / Blue Key Ring ¥528 / Yellow Key Ring ¥528/ Flat Pouch ¥1,320

<Clockwise> Square Glass Phone Case ¥3,168 / Plushie ¥3,850 / Wireless Charger ¥3,278 / Mechanical Pencil & Two-Colour Ballpoint Pen ¥550 / AirPods Pro ¥2,178 / Mascot Key Ring ¥1,980 / 4000mAh Lithium Ion Polymer ¥4,378

<Clockwise> Mug ¥1,650 / 5.5 Inch Plate ¥1,100 / 8.5 Inch Plate ¥1,760 / Bowl ¥1,210

Get a free bonus item

Fans who spend over ¥2,000 (tax included) on any of the Maruko Meets Miffy merchandise will receive this free mini notebook too!

SNIDEL x PUMA Collaborate on Clothing Collection

Japanese women's fashion brand SNIDEL released a new collection of clothing in collaboration with PUMA on April 16.

SNIDEL x PUMA Crew Neck Sweater | ¥8,800 (Tax Included)

SNIDEL x PUMA Sneakers | ¥11,000 (Tax Included)

SNIDEL x PUMA Jacquard Dress | ¥9,900 (Tax Included)

The collection features light sporty and streetwear colours and materials with feminine details added to every piece for a laid-back and stylish look.

Retro Street Fighter Clothing Collection Releases in Collaboration With HUF

Fashion brand HUF, which was established in San Francisco back in 2002, has released a new Street Fighter Collection featuring vintage, 8-bit designs.

 The collection is sure to be a nostalgia fest for fans of Capcom's iconic series, with designs featuring characters, stages, and more from Street Fighter in the form of shirts, tees, socks, hats, fleeces, and accessories.

The two resort shirts feature the background art of memorable stages from the games as well as Blanka's Electric Thunder and more. There's also a skateboard deck series for collectors which include references to the bonus stages.

A special HUF X hoodie featuring a Street Fighter arcade machine has also been added to the line-up amongst other must-grabs.