SHISEIDO MEN Skincare Collaborates With FC Barcelona and Captain Tsubasa
SHISEIDO MEN has teamed up with FC Barcelona and the popular soccer manga series Captain Tsubasa to launch the BARÇA x SHISEIDO FC Manga Player Generator App to promote men's skincare. This app shows men how to properly care for their skin with a quick virtual skin checkup. Users can also BARÇA x SHISEIDO FC, a virtual football team led by SHISEIDO MEN ambassador Sergi Roberto as well as Tsubasa Ozora, the main character of Captain Tsubasa.
BARÇA x SHISEIDO FC Manga Player Generator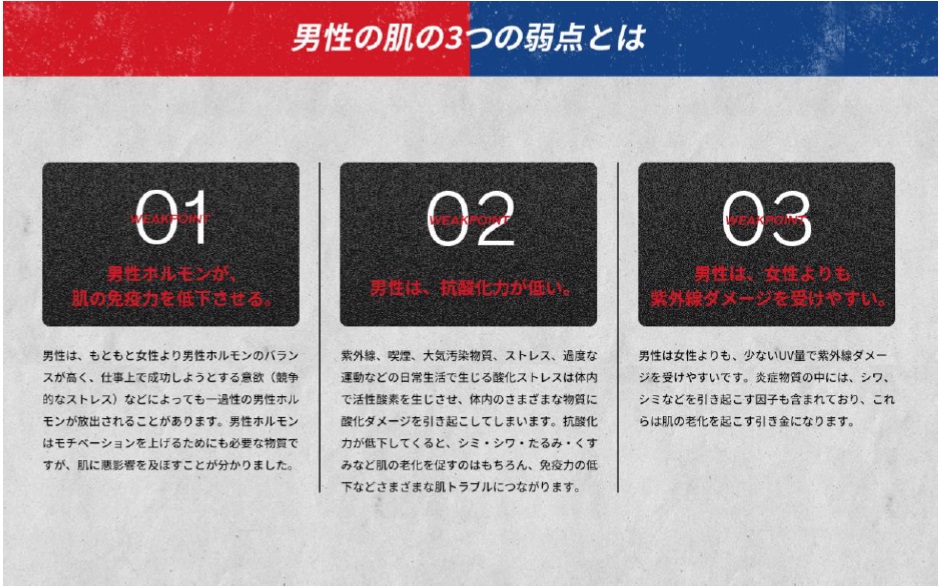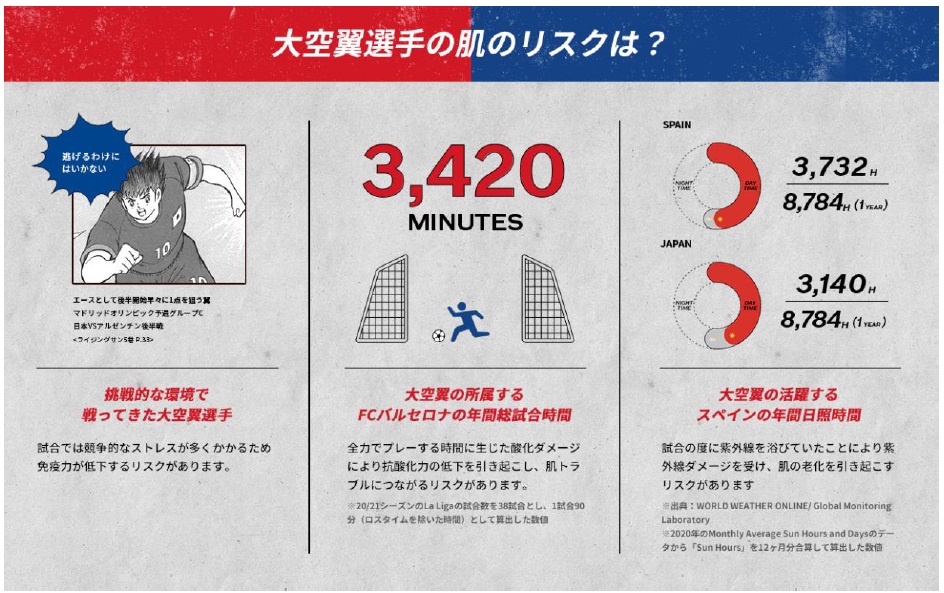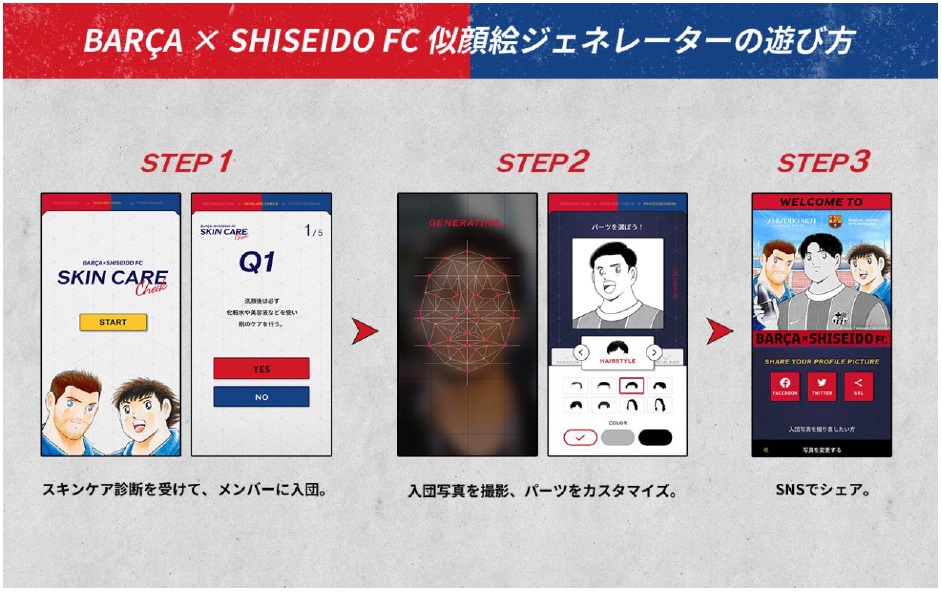 Available for a limited time now until June 29, users can take a quick skincare check-up. The collaboration aims to encourage men to learn about their own skincare concerns as well as promote the importance of skincare amongst men in a more fun and engaging way.
RELATED ENTRIES
Mister Donut Japan Releases 2nd limited- edition Gion Tsujiri Matcha Doughnuts

Mister Donut Japan released its new tasty collection of limited-edition doughnuts in collaboration with Gion Tsujiri, the famous tea shop in Kyoto from April 9. 

The Line Up

Fluffy Uji Matcha Mochi with Black Honey 

Fluffy Uji Matcha Mochi with Soybean Whipped Cream 

Fluffy Uji Matcha with Azuki Red Beans Mochi 

Pon de Double Uji Matcha

Pon de Double Uji Matcha with Black Honey Mochi

Pon de Double Uji Matcha with Soybean Whipped Cream and Azuki Red Beans 

Uji Matcha Chocolate, Azuki Red Beans and Rice Cake Balls Pie

Special Edition: Mister Donut Voucher Card with Masaki Sudaミ

The 1st edition of collection released on March 12 with the theme of colouration 

that enhances the colour of matcha. The new edition launching this time was developed with the theme of Japanese ingredients such as black honey that brings harmony with matcha.  "Fluffy Uji Matcha" series consist of 3 flavours made of luxurious Kyoto Uji Matcha with fluffy donut which marks its first appearance of this year. "Fluffy Uji Matcha with Black Honey" is a glossy doughnut coated with matcha chocolate with black honey filling. A wide variety of doughnut featuring 7 combinations of matcha and Japanese ingredients are unbearably delicious and unmissable. 

Mister Donut holds a promotional campaign in collaboration with the Japanese movie God of Kinema starring Masaki Suda, current image model of the brand. 

During the campaign, follow Mister Donut's official Twitter account and upload pictures of the collection with hashtag  "#ミスドでつや抹茶" and 428 lucky customers can win a voucher worth ¥500 with exclusive design features Masaki Suda.  Additionally, 67 lucky customers who have also participated in the 1st edition of Mister Donut ×Gion Tsujiri collection campaign previously can receive a voucher worth ¥2,000. 

Enjoy popular limited-edition doughnuts with Gion Tsujiri until your heart's content. 

Gaspard and Lisa Themed Menu to be Served in Tokyo

The popular French characters Gaspard and Lisa are getting their own themed menu at Le Cafe la Boutique du Joel Robuchon in Tokyo. The menu will be served from April 24 to May 9 and takes inspiration from Anne Gutman and Georg Hallensleben's children's book series.

Gaspard and Lisa One Plate & Cocktail Set | ¥3,300 (Tax Included)

Non-Alcoholic Strawberry & Lychee Cocktail | ¥990 (Tax Included)

Strawberry Galette (With Coffee or Tea) | ¥2,420 (Tax Included)

Coasters

Pouch

The first 500 customers who order something from the menu will receive a free coaster, and those who spend over ¥5,000 will get a special pouch.

Enter the charming world of Gaspard and Lisa with this cute themed menu.

(C) 2021 Anne Gutman & Georg Hallensleben / Hachette Livre

Information

Le Cafe la Boutique du Joel Robuchon x Gaspard and Lisa

Running: April 24, 2021 – May 9, 2021

Where: Le Cafe la Boutique du Joel Robuchon (Nihonbashi Takashimaya S.C. Floor 2F)

Opening Hours: 10:30-19:30 (Last Orders 18:30)

Reservations: 03-5255-6933

Official Website: https://www.robuchon.jp/

New Balance Reunites With Natsume Mito on New Sneaker Collection

It's been seven years since New Balance Japan launched its 'Sneaker and Me' campaign in collaboration with Japanese model Natsume Mito. The pair have now come together again in promotion of the brand's new edition of its 996 models, the 'WL996' lifestyle models for women, with Mito donning the sneakers in a look-book of outfits coordinated by Mito herself.  "Even though the sneakers and their form haven't changed since I first wore them back then," she explains, "I really felt that these 996's lend more room to look good on adults. I also understand why these shoes have been loved for so long. I want to become someone like that too, so I admire the appearance of the 996's."

Mito shows off her looks in a short interview with New Balance in the video below.

The 996 models followed the 990's which released in 1982 as the third in the 99X series. They made their debut in 1988 in the US and have long since been enjoyed not only as running shoes but everyday shoes too. They're a long seller in New Balance's books.

Japanese Illustrator Mai Yoneyama Releases Limited-Edition T-Shirts

To commemorate her exhibition "EGO" exhibition currently taking place at Anicoremix Gallery in Harajuku, Japanese illustrator Mai Yoneyama has released a collection of limited-edition t-shirts in collaboration with the sneaker brand atmos. The exhibition, which is showcasing many of Yoneyama's works, is running until April 14.

Wear Mai Yoneyama's iconic pop style wherever you go with these limited-edition tees.

Snoopy Café Opens in Niigata in Collaboration With Hoshi Tabeyo Rice Crackers

Befco is collaborating its Hoshi Tabeyo star-shaped rice crackers with the lovable Peanuts comic strip to open a themed café at Hotel Nikko Niigata. Named the "Hoshi Tabeyo x Snoopy Café @ Hotel Nikko Niigata," the café will open for a limited time from April 9 to May 9."

Snoopy and fans of Japanese snacks can look forward to an original themed menu, with every food item and drink ordered getting them a free novelty. Of course, the café will sell its own original merchandise too. The café will be decorated in all things Peanuts and Hoshi Tabeyo, and there will even be two photo booths for snapping a commemorative photo of your fun day.

The Menu

1. Snoopy Beef Stew: With a juicy meat and bouillon base, this stew is made with beef, onion, and mushrooms, all topped off with a Snoopy made from rice.

2. Snoopy Hamburger Curry: Snoopy's rice ears are topped with a hamburger, and the curry sauce is made with fruit and vegetables. There's even a little Woodstock made from cheese.

3. Snoopy Hot Sandwich: There are two different sandwiches, one with ham and cheese and the other with potato salad, and both have a different toasted illustration on them. These come in a free lunch box.

4. Hoshi Tabeyo Shaka Shaka Caesar Salad: A salad served in a cup drizzled in a Caesar dressing and with Hoshi Tabeyo rice crackers instead of croutons.

5. Thick Soufflé Pancake: Fat and fluffy pancakes combined with French meringue and served with a Snoopy cookie and sweet-tasting Hoshi Tabeyo. Enjoy together with the accompanying strawberry sauce.

6. Chocolate Parfait: A towering, chocolate-packed parfait layered with chocolate sauce, chocolate cornflakes, chocolate ice cream, and brownie. This is all topped off with a Snoopy cookie and Hoshi Tabeyo rice cracker.

7. Hotel Original Cookies (Set of 4): Crunchy cookies with various prints of familiar faces like Snoopy and Woodstock.

8. Lemonade: A sweet and refreshing lemonade beverage served with honey.

*Dishes 1-3 come with the Shaka Shaka Caesar Salad

*Ordering anything from the menu gets you one of four possible Hoshi Tabeyo x Snoopy postcards

Merchandise

© 2021 Peanuts Worldwide LLC( 短縮形 © 2021 Peanuts )

Information

Hoshi Tabeyo x Snoopy Café @ Hotel Nikko Niigata

Running: April 9, 2021 – May 9, 2021

Location: Hotel Nikko Niigata Floor 31F

Address: 5-1 Bandaijima, Chuo Ward, Niigata

Opening Hours: 11:30-18:30 (Last Orders 17:30)

Official Website: https://www.hotelnikkoniigata.jp/sys/news/detail/323

Jujutsu Kaisen Clothing Collection Releases in Collaboration With Luxury Rock Fashion Brand glamb

"Grunge for Luxury" is the concept of glamb's wardrobe, a Japanese fashion brand that fuses rock with elegance. The brand released a special collection in collaboration with the TV anime series Jujutsu Kaisen on April 1 at their stores and official website.

glamb have captured the cursed techniques known as 'jujutsu' of three characters from the show—Yuji Itadori, Nobara Kugisaki, and Satoru Gojoin—in a collection of five items.

Take a look at the line-up below.

Fushiguro reversible ska JKT | ¥38,500

This reversable satin piece is made in the style of an authentic Japanese sukajan jacket which is influenced by baseball jackets. The item features an embroidered bade of the school from the anime and a colourful collage of the demonic shikigami.

Sukuna long sleeves T | ¥11,000

These long-sleeve t-shirts represent the anime's antagonist Ryomen Sukuna with his 'King of Curses' title at the top and a demonic cave-like mouth underneath a Japanese torii gate.

Itadori T | ¥7,590

This t-shirt features series protagonist Yuji in a classic glamb-style splash paint look and with a punk-style font, capturing his personality.

Kugisaki T | ¥7,590

Nobara's tee features her hammers and has her surrounded by floating nails.

 Gojo T | ¥7,590

Finally, Satoru's tee showcases his Unlimited Void in two cuts as seen in the anime series – a memorable scene for fans.

©芥見下々/集英社・呪術廻戦製作委員会

Laid-Back Camp Anime Releases the Jackets Worn by the Characters in the Series

Japanese outdoor brand NANGA released a collection of items last week in collaboration with the anime series Laid-Back Camp, including the jackets worn by the two main characters in the series as well as their sleeping bags. If you're a camper yourself, you won't want to miss out on this.

Get a free 185mm acrylic stand when you buy a jacket

Get a free pin when you buy the sleeping bag

The items include TAKIBI-original down jackets as well as original 450DX sleeping bags as used by Nadeshiko and Rin in the anime series. Now fans can stay warm and cosy like those two when they're out camping.

©あfろ・芳文社/野外活動委員会

A BATHING APE® x COMME des GARCONS Launch Second Collaboration

After one year since their first collaboration, A BATHING APE® and COMME des GARCONS released their second collection at BAPE STORE® and COMME des GARCONS OSAKA on April 3 featuring a new line-up that emphasises everything quintessential about both brands.

The collection includes full-zip hoodies, sweat shorts, tapered pants, and more, all branded with BAPE and GARCONS' logos and serving hard, casual vibes. The brands released a look-book as pictured below with a simple yet aesthetic style.

Doraemon Daytime Umbrellas Release to Celebrate Manga's 50th Anniversary

Japanese rain wear brand Wpc. is celebrating the 50th anniversary of Doraemon with the release of its I'm Doraemon series of daytime umbrellas. The collection dropped on Thursday at Wpc.'s online shop as well as at Wpc. Shinsaibashi PARCO and LOFT, PLAZA, and Mauri stores in Japan.

Shade Doraemon Galore mini | ¥3,400 (Before Tax)

Shade 4th Dimension mini | ¥3,200 (Before Tax)

Shade I'm Doraemon mini | ¥3,200 (Before Tax)

Shade Pass Loop mini | ¥3,200 (Before Tax)

The cute mini umbrella series cutes 99.99% of UV light and offers the same amount of shade.

Cafe Product Design Brand COFFEE TIME WITH VAUGHAN Releases New Items

COFFEE TIME WITH VAUGHAN released a new collection of items in collaboration with Koffee Mameya and Rokuyosha on Wednesday.

Just how coffee serves as a tool to help create a relaxed atmosphere when people get together to chat, so too do products like handkerchiefs, bags, and other sundries play a part in people's bonds. It's this concept that gave rise to the cafe design line-up of COFFEE TIME WITH VAUGHAN, which its releasing a new collection with Koffee Mamya of Tokyo and Rokuyosha of Kyoto.

Vaughan was born in Melbourne, Australia, aka the home of coffee. He is an enthusiast of Japanese cafes and has visited countless branches for over 10 years, shining a light on them through this unique lens through a variety of media, at events, and more. And no matter what he may be doing, whether it's something new or something old, he has a profound respect for both.

COFFEE TIME WITH VAUGHAN Collection

Gauze Handkerchief | ¥1,100 (Tax Included)

Drip Coffee Bag Set | ¥1,650 (Tax Included)

A set of original drip coffees by Koffee Mameya and Rokuyosha.

 

KOFFEE MAMEYA

Koffee Mameya is a coffee bean shop that first opened in 2017 with a desire to help improve the quality of coffee we drink at home. The owner, Kunitomo, is a legendary barista and pioneer of thrusting baristas into the limelight. He has help produced many cafes throughout his career.

At Koffee Mameya, the barista hears from the customer what kind of coffee and tastes they like and choose a coffee bean for them based on that information. This creates an intimate one-on-one conversation between the barista and customer.

COFFEE TIME WITH VAUGHAN x KOFFEE MAMEYA Collection (Excerpt)

Handkerchief | ¥1,100 (Tax Included)

Tote Bag | ¥3,300 (Tax Included)

Rokuyosha

Rokuyosha is an old-time coffee shop first established in 1950. Serving classic and authentic coffees, the cafe is just a 5-minute walk from Sanjo Station in Kyoto. Its building exterior has a nostalgic feel to it that makes you instantly recognise it as a classic cafe. On the first floor, they served filter coffee that's filtered through cloth. Downstairs, customers can enjoy some in-house straight coffee blends made with paper drips. The cafe wishes has always preserved the time spent over coffee and wants to continue to.

COFFEE TIME WITH VAUGHAN x Rokuyosha Merchandise (Excerpt)

Handkerchief | ¥1,100 (Tax Included)

Tote Bag | ¥3,300 (Tax Included)

Information

COFFEE TIME WITH VAUGHAN Collaboration Merchandise

Released: March 31, 2021

Where: Department stores, handkerchief stores, and online in Japan

COFFEE TIME WITH VAUGHAN Official Website: https://www.coffee-twv.com/

Godzilla vs. Kyoto Event Begins This Spring

Kyoto Tower is set to be host to the upcoming Godzilla vs. Kyoto event which is running from April 16 to June 30. 

Key visual illustrated by Yusuke Nakamura

Stamp design

Stamp design

Stamp rally postcard

Godzilla vs. Kyoto Official Merchandise

Novelty illustrated by Yusuke Nakamura – available for the first 50 people each day

Kyoto Tower will hold a stamp rally event as part of Godzilla vs. Kyoto which will have people trying to find stamps in six locations in the tower as well as at Toji Temple and elsewhere. There is also a selection of official merchandise, a Godzilla exhibition, and much more planned.

If you're in Japan this spring, don't miss Godzilla taking over Kyoto.

TM & (C) TOHO CO., LTD.

イラスト/中村 佑介 TM & (C) TOHO CO., LTD.

A BATHING APE® Releases Collection in Collaboration With BE@RBRICK

A BATHING APE® turned 28-years-old on April 1. Every year when their anniversary season comes around, the Japanese brand releases some kind of celebratory item. This year, BAPE® is teaming up with MEDICOM TOY to release a special collection in collaboration with BE@RBRICK. The line-up is a collection t-shirts and BE@RBRICK bears in eight patterns which will be released in batches.

The first t-shirt batch will drop on April 3 at A BATHING APE stores and their online store while the BE@RBRICK bears will release at MEDICOM TOY shops and their online store.