Netflix's Devilman Anime Series Gets Online Virtual Reality Exhibition
An exhibition centred on the Devilman manga series by Go Nagai, the 1972 Devilman anime adaptation, and Netflix's 2018 DEVILMAN crybaby anime adaptation, is set to take place on the online exhibition platform Virtual Utopia from April 28 to May 31.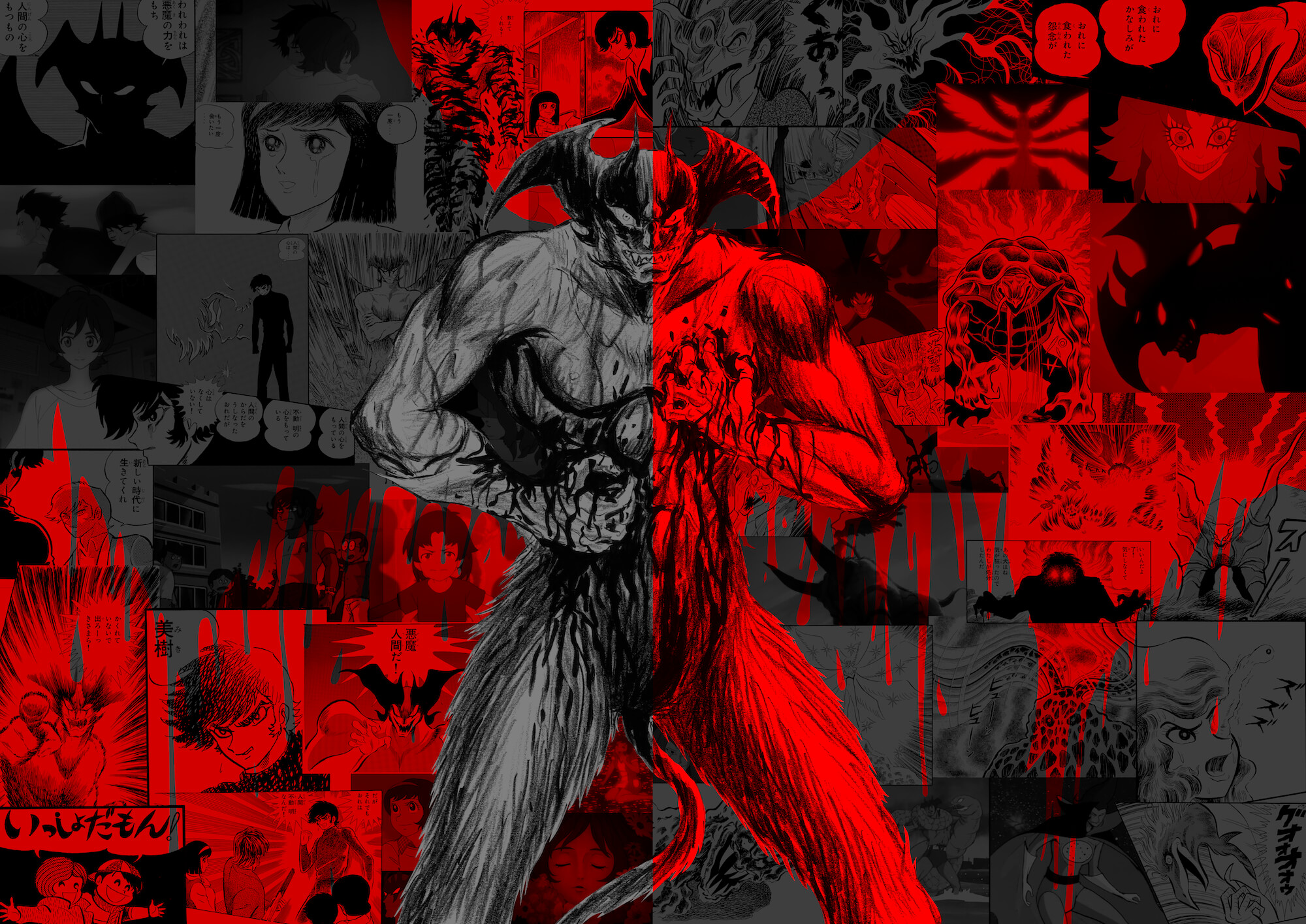 What to look forward to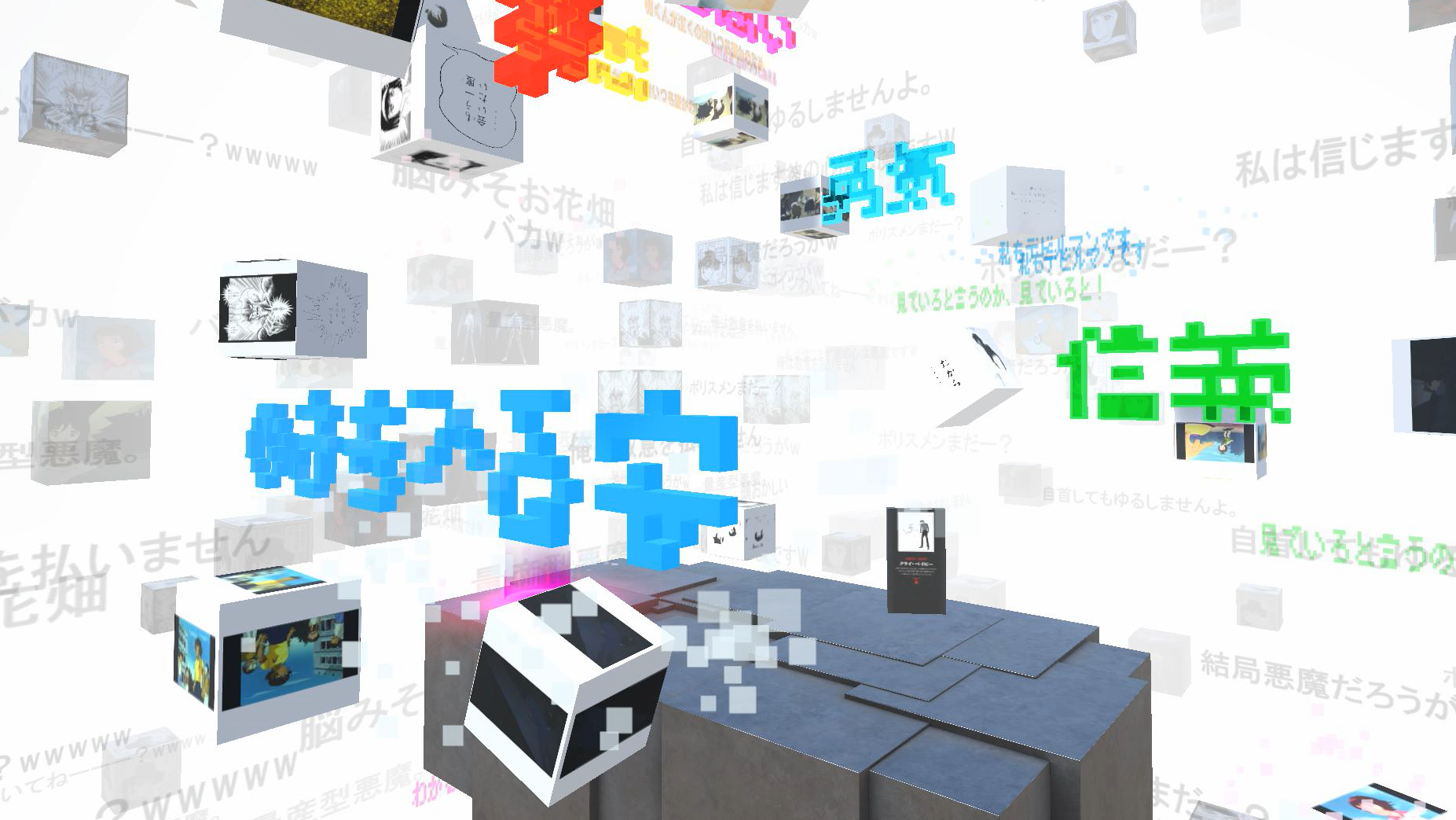 *Visuals are of an exhibition still in development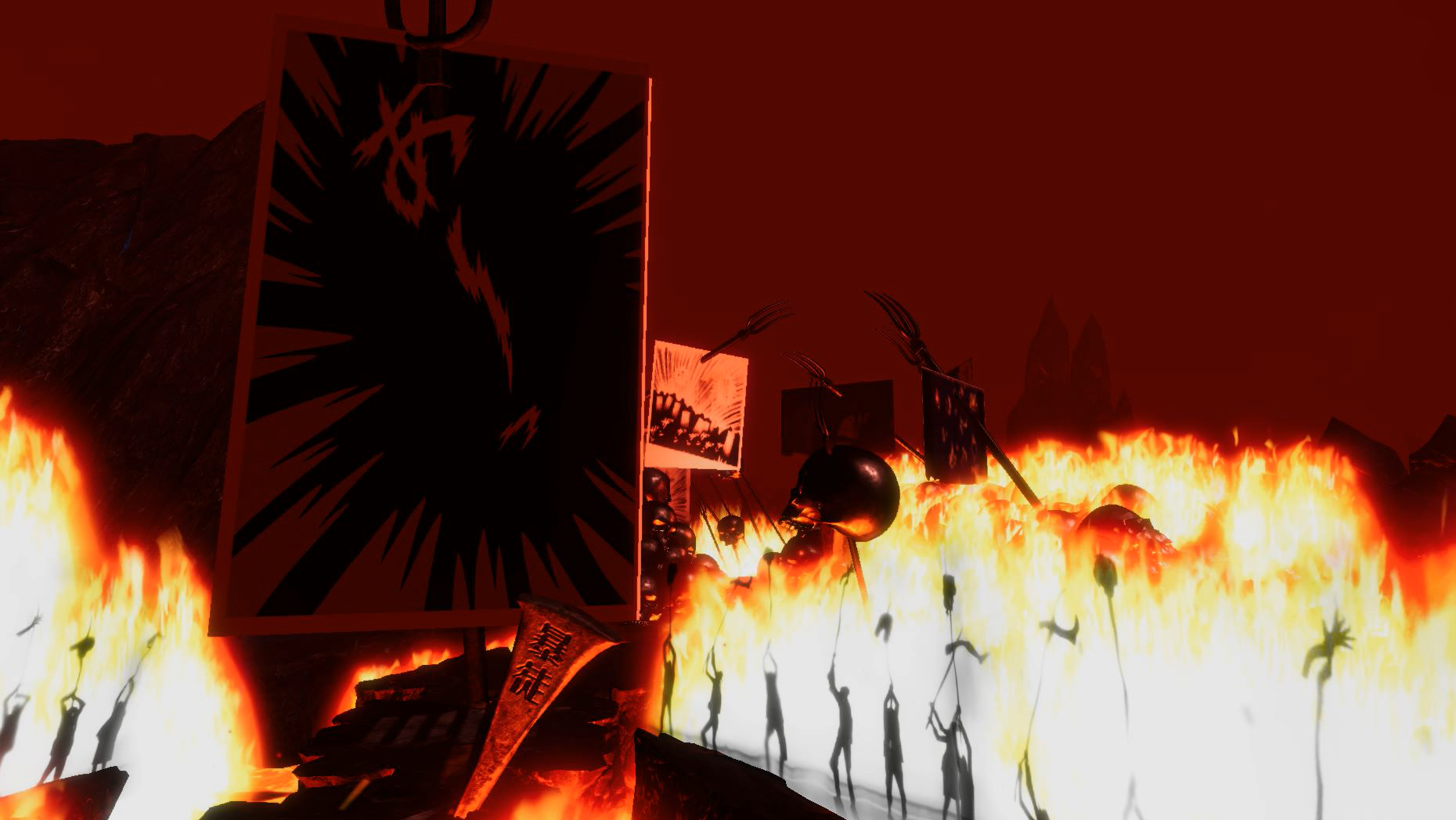 *Visuals are of an exhibition still in development
A devilish experience split into 11 areas
Devilman has been entertaining readers and anime-lovers for almost half a decade. The exhibition will depict the comparisons between humans and demons of the series in 11 different areas, each recreating scenes that are sure to be instantly-recognisable to fans.
Main Area: Heart of a Demon / Heart of a Human
The main portion of the exhibition is split into four areas which fans will find themselves going back to numerous times, and in different orders, giving each visitor their own unique perspectives and interpretations. There's also a hidden area which can only be accessed by those who have seen the 'special exhibit.' There's also a free-to-enter area with messages from the creators.
Go deeper into the VR Devilman Exhibition with the voice guide
Forget your usual guides, this exhibition incorporates voiceover guides to walk people through the exhibition. For an extra fee, fans can have Megumi Han, who plays Miki Makimura in DEVILMAN crybaby, and Tomokazu Seki, who for this exhibition is playing Psycho Jenny, guide them through the different areas.
*Visuals are of an exhibition still in development
Users can download the Virtual Utopia app for free, and the exhibition can be attended even without a VR headset. There will also be talks by the author and other notable people in the industry which can be watched live on YouTube, so anyone can get involved.
Ground Y T-Shirt Collaboration
The exhibition is also collaborating with Yohji Yamamoto's fashion brand Ground Y on six original tees.
 ©永井豪/ダイナミック企画
TVアニメ版「デビルマン」©ダイナミック企画・東映アニメ―ション
DEVILMAN crybaby        ©Go Nagai-Devilman Crybaby Project
©VRデビルマン展実行委員会
RELATED ENTRIES
Manga Series Dandadan Gets Collaboration Merch at Tower Records to Celebrate Volume 3

To celebrate the release of volume 3 of the Dandadan manga series, participating Tower Records locations in Japan will be selling some collaborative merchandise starting on December 3. The items will also be available to purchase on Tower Records Online. 

Acrylic Keychain (8 varieties): ¥715 (Tax Included) 

*This product is limited to 16 per person.

Square Pins (6 varieties): ¥605 (Tax Included) 

*This product is limited to 12 per person. 

Sticker (Momo Ayase, Okarun, Aira Shiratori & Turbo-Granny, 3 Varieties): ¥880 each

Tiny Pin: ¥660 (Tax Included) 

Sticky Note Set: ¥880 (Tax Included) 

Towel:  ¥2,200 (Tax Included) 

Reversible Reuseable Bag: ¥2,200 (Tax Included) 

T-shirt (Okarun, Turbo-Granny, 2 varieties): ¥3,850 each

©︎龍幸伸 / 集英社

Information

Dandadan x TOWER RECORDS

Release Date: December 3, 2021 *Reversable bag will go on sale December 10

Participating Locations: Shibuya, Shinjuku, Sapporo PIVOT, Sendai PARCO, Ikebukuro, Akihabara, Machida, Kawasaki, Nagoya Kintetsu Pass'e, Umeda NU Chayamachi, Fukuoka PARCO

Tower Records Online: https://tower.jp

Details: https://tower.jp

Naoki Onogawa Museum of Art in Kagawa Prefecture Holds Folklore Exhibition

The Yokai Art Museum, which often works with local artists and community organizers in the 'maze town' of Shodoshima in Kagawa Prefecture, is currently holding the 'Folklore Exhibition' at the Naoki Onogawa Museum of Art. Six new works inspired by the Setouchi region are on display until December 26, 2021. 

Naoki Onogawa creates incredible sculptures made from tiny origami cranes that are folded one by one using only 1cm paper–and they're made without tweezers! After experiencing the Tohoku Earthquake in 2011 when he was a student, he visited Rikuzentakata City in Iwate Prefecture a year after the disaster. Shocked and deeply impacted by what he saw, he began making origami cranes. The way he utilizes cranes is not as the traditional symbol of peace, but as solemn prayers to encase his feelings that have no other outlet. His works have a delicate and mysterious beauty that pulls in visitors and makes them think about the meaning of life itself. 

His new works, six of which were inspired by the Setouchi area, were on display at the Setouchi Municipal Museum of Art from March 9 to May 5, 2021.

My History with Paper Cranes | A Message from Naoki Onogawa

"Origami was my passion when I was a child. The origami crane is one of the most famous forms of traditional origami, and as I spent time making them, I started to feel that I could channel my emotions into them. It started to become a habit, then an obsession. I couldn't stop. There was no endpoint or goal in mind, I just made them as often as I could. 

In 2011, the Tohoku Earthquake happened. In April of the following year, I visited Rikuzentakata City to listen to the community's stories and to see the devastation firsthand. It was terrifying to see how helpless human beings are in the face of nature, but even still, I was struck by how strong human beings could be to persevere. No matter our age, race, gender, or status, we all face the major threats of nature, while also living in harmony with it. At that time, I was very aware that it was important to live in the moment. Beside a school building that had been totally destroyed by the tsunami, I saw a thousand paper cranes. 

It was akin to a solitary ritual. The paper cranes were used to express those feelings that had nowhere else to go and to pray for those who had been lost. I can't really put it into words, but the cranes I make now might have come from those solemn prayers. This is the place for my cranes now. When I look at them now, I think that origami cranes are incredibly precious, and hide something mysterious within them. They are the ultimate beauty in my mind. 

Each of us has our own personal journey with these paper cranes. It's up to each person to decide how he or she feels and how his or her thoughts are layered. I just hope that while looking at these works people will find their hearts moved."

Information

Naoki Onogawa Folklore Exhibition

Address: Naoki Onogawa Museum of Art (289-33 Aza-Higashi-Motohama Kou, Tonosho, Shode-gun, Kagawa)

Running: November 26 – December 26, 2021

Hours: 10:00-18:00 (Last Entry at 17:00) *Closed Wednesdays

Admission: 

Adults: ¥1,500 / Middle School Students: ¥750 / Elementary School Children and Younger: Free

Official Site: http://shl-olive.co.jp/

Art Project ART BASE ZERO next Highlights Up-and-Coming Artist CHRIS

The Human Miracle Company launched ART BASE ZERO next in October 2021 to highlight up-and-coming artists. Inspired by 90s street culture in Tokyo, their new exhibition with CHRIS, whose works are made using a decollage technique, will open at Tokyo Hinode Pier from December 4 until December 26, 2021. 

Selected Items

CHRIS is a contemporary artist inspired by Tokyo street culture of the 90s. He uses the decollage technique, which utilizes cutting, tearing and removing pieces of an original image. At first glance, his style seems to be normal paintings, when in fact he uses pasting and forming printed materials to express them in new three-dimensional ways. To get this effect, he shapes them over and over again over a long period of time. In addition to participating in domestic and international art fairs and holding solo exhibitions, CHRIS has collaborated with fashion brands such as Columbia, GOD SELECTION XXX, GUESS, atmos, and more. 

Information

CHRIS x Hi-NODE Exhibition "Love is a battlefield (It's hard to see Love)"

Running: December 4 – December 26, 2021

Hours: 9:00-21:00 

Address: Hi-NODE, Tokyo Hinode Pier (2-7-103 Kaigan, Minato-ku, Tokyo)

Official Instagram: @artbasezero_next

Online Shop: Open to the public starting at 9:00 AM on December 4

Online Shop/Official Site: https://www.thehumanmiracle.com

Pui Pui Molcar and Godiva Christmas Cake Now on Sale

Orders are now open for a Godiva Christmas Cake featuring the adorable hamster/car hybrid characters from Pui Pui Molcar! Godiva stores nationwide will accept orders until December 5, and those wanting to snag one can also put in an order at the Godiva online store. ZOZOTOWN is also selling collaborative goods based on this unlikely team. 

Pui Pui Molcar is the first animated television series directed by Asaki Misato and it instantly captured the hearts of children and adults alike with its short episodes and fluffy characters. The series began broadcasting in January 2021, and is only the first week, the official Molcar Twitter page exceeded 100,000 followers. Following a cast of tiny guinea pigs turned into cars, it's a fun watch for the entire family.

Pui Pui Molcar x Godiva Christmas Cake: ¥6,480 (Tax and Shipping Included) 

The collaborative cake features a chocolate plate with popular Molcar characters and is topped with kiwi, grapefruit, peaches, and other fruits. The chocolate cream is made with fresh Hokkaido cream with a hint of cocoa from Central and South America. Sweets and sour strawberries give the pastry a kick, and the sponge within is incredibly fluffy. The cake also comes with a limited-edition Pui Pui Molcar keychain!

Some collaboration merchandise such as bags, plushies, and apparel, are on sale at ZOZOTOWN. Check the site for more details!

 

Gundam World Contrast Touring Event Starts at Nagoya PARCO

Nagoya PARCO will host the Gundam World Contrast event from December 24, 2021 until January 16, 2022. The event will feature a deep-dive of Mobile Suit Gundam and Mobile Suit Gundam SEED from various perspectives and will show the contrasts between the two popular series. The event will then travel nationwide after finishing in Nagoya.

Plastic Model for Advanced Ticket Holders

Bonus: Gundam World Contrast Limited Design Special Promo Card

Story Wall

Special Photo Spot

Exhibition of Katsumi Kawaguchi's Contrast Diorama

Conceptual Exhibitions

Limited-Edition Merchandise

Only at Gundam World Contrast

MG 1/100 RX-78-2 Gundam Ver 3.0 (Event Exclusive)

1/100 Aile Strike Gundam Ver.RM (Event Exclusive)

ENTRY GRADE 1/144 Strike Gundam (Event Presale)

Clear Folder (Set of 2, Gundam World Contrast Exclusive)

Pop Socket (Gundam World Contrast Exclusive)

Acrylic Stand (10 varieties, Gundam World Contrast Exclusive)

Choco Crunch (Gundam World Contrast Exclusive)

Mug (Gundam World Contrast Exclusive)

Visitors can enjoy the exhibition corner, which shows the history of both works including famous scenes and the emotional growth of the main characters. The merchandise corner will feature a number of goods only available at the event including Gunpla. Fans of the franchise shouldn't miss this, as visitors will get a promo card to use for Bandai's latest arcade card game Mobile Suit Gundam Arsenal Base, scheduled to release in spring 2021.

©創通・サンライズ

Sakura Wars Celebrates 25th Anniversary With Events in Tokyo, Osaka, and Aichi

To celebrate 25 years of the franchise, a special Sakura Wars event is coming to three major Japanese cities in December and January! The Sakura Wars Art Festival 2021 will feature original artwork and newly-drawn prints by Hidenori Matsubara, the character designer for the 2000 Sakura Wars anime series. Original goods and lithographs will also be on sale at each event. At the Tokyo venue, a special talk show will be held with the voice actors of the Sakura Wars series. Most exhibited works will be available for purchase. 

Sakura Wars 25th Anniversary Logo – Colored

Sakura Wars 25th Anniversary Logo – Black and White

Ai ga Kaoru Koro ni

Kimi yo Hana yo

Are you a Sakura Wars fan?

(C)SEGA イラスト/松原秀典

Information

Sakura Wars Art Festival 2021

Tokyo Event

Address: Gallery epi cute, Sotokanda Stork Bldg. 6F (6-15-14 Sotokanda, Chiyoda, Tokyo)

Dates: December 23 – December 29, 2021

Details: https://art-eventcollection.info/sakura/index.html

Official Site: https://sakura-taisen.com

Sakura Wars Art Festival 2021 Plus

Osaka Event

Address: Breeze Plaza 8F 801・802 (2-4-9 Umeda, Kita-ku, Osaka)

Dates: January 7 – January 10, 2022

Hours: 

January 7: 14:00-19:00

January 8: 11:00-19:00

January 9: 11:00-19:00

January 10: 11:00-17:00

Nagoya Event

Address: Winc Aichi 6F 602・603 (4-4-38 Meieki, Nakamura-ku, Nagoya)

Dates: January 21 – January 23, 2022

A Sneak Peek at Sebastian Masuda's 'Yes, Kawaii Is Art' Exhibition at Kanda Myojin Shrine

The Godfather of Kawaii Sebastian Masuda will open his 'Yes, Kawaii Is Art' exhibition at the 1,300-year-old Kanda Myojin Shrine on December 4, 2021. A number of Masuda's representative works will be on display at the historical site, known as one of the most important shrines during the Edo period. 

Colorful Rebellion -Seventh Nightmare-

Kanda Myojin Shrine

 

Colorful Rebellion -Seventh Nightmare- has been shown in New York, Milan, and Amsterdam over the past few years, and will now make an appearance as part of this exhibition. Given the magnificence of the venue, the work will be presented in a unique way–in the basement of the shrine. In addition, a part of the research on Kawaii culture conducted in collaboration with Kyoto University of Arts Ultra Factory will be on display as well. Guests will be invited to ponder the nature of Kawaii, and what makes it so beloved by audiences worldwide.


 

Colorful Rebellion -WORLD TIME CLOCK-

Time After Time Capsule Art Project

Kawaii Archival Research

Near the entrance to the shrine, the Colorful Rebellion -WORLD TIME CLOCK will be on display. Clad in the cutest colors imaginable, it has become a symbol of Harajuku around the world. The Hello Kitty-shaped time capsule, which was on display for five months in New York City in 2015, will also be shown on the temple grounds. The participatory art project has made it to 12 cities around the world so far. 

Kawaii culture will blend with traditional Japanese culture during this exhibition, so keep an eye out for more details coming soon!

What is 'Yes, Kawaii Is Art?' 

Sebastian Masuda has been at the helm of the global Kawaii movement for decades. 

 In 2020, Masuda asked a number of questions to fans of Japanese pop culture around the world–what is Kawaii? Why does Kawaii cross borders, generations, and gender? This new exhibition tries to find an answer to those questions while bringing some joy and excitement to the local community. 

Information

Sebastian Masuda Exhibition 'Yes, Kawaii Is Art' at Kanda Myojin Shrine

Dates: December 4 – December 12, 2021

Hours: 12:00-18:00 (Last Entry at 17:30)

Address: Kanda Myojin Shrine (2-16-2 Sotokanda, Chiyoda-ku, Tokyo)

Admission: Free (¥500 for Colorful Rebellion -Seventh Nightmare-)

https://sebastianmasuda.com/works/tokyo/

For more details on the event, follow Sebastian Masuda's Twitter: 

MAISONdes' First Collaborative Track 'Rally, Rally feat. Pii, meiyo' Released

MAISONdes, the creator of the 'most-used song on social media' in 2021, has released a new collaborative track. The music video for Rally Rally is also available to watch on YouTube!

The new track has become a smash-hit in Japan, with the project's popularity across social media continuing to grow. MAISONdes is a unique music project. Extremely popular on TikTok, it's described only as 'a fictional apartment building somewhere,' where a different singer and creator features on each and every track. Each song is even labeled with a room number. This allows up-and-coming artists to collaborate in ways they never anticipated. Artist meiyo features on the new track, a creator who just recently made his major debut. The artist Pii remains a curious addition to the recent Japanese music scene, having never revealed her face and communicating her music through a self-animated character.

This new track will be used as the ending theme for the November edition of the morning show 'Mezamashi 8.' 

Popular artists like yama, Nakimushi, Kujira, Moka Sato, Riu Domura, Wanuka, and haruno have participated in the project.  Released in May, 'Yowanehaki feet. Wanuka, asmi' won the TikTok Song Ranking four times in a row and has over 100 million views on the app. In August, vocalist asmi appeared on THE FIRST TAKE. The song also attracted a great deal of attention on Line Music, Spotify, and Apple Music.

Art Group Mirrorbowler to Hold Mindblowing Exhibition at Shinsaibashi PARCO

Mirrorbowler will hold their first large-scale indoor solo exhibition at Shinsaibashi PARCO in Osaka from December 19, 2021, until February 13, 2022. 

Along with some truly massive pieces of artwork, the artists behind the creations will also hold workshops and release limited-edition goods at the venue to commemorate the event. Mirrorbowler is known for their expert use of light and reflection, and have participated in creating artwork for outdoor events, fashion shows, and CD jackets in the past. 

Past Works

Past Works

Beginner Origami Art (Star)

Intermediate Origami Art (Sphere)

Mockel

Space Plant

Original Merchandise

Mirrorbowler 2022 Calendar

Mirrorbowler Journey to the Stars Mirror

Mirror Ball Caricature Book

The theme for the exhibition is "to create something that does not exist anywhere, that has no proper name, that will never be the same twice, and that will never look the same to different people." 

Mirrorbowler's work features light and shadow as central themes, and guests are invited to look beyond what is in front of their eyes to find something deeper and more hidden. This imagery will be blended with sounds, scents, and hidden items just asking to be found.

While there is no set route to experience the exhibition, the creators hope visitors will wander back in forth to see things from different angles. Tickets are available to preorder now, so don't miss this memorable event!

DANDELION PROJECT Comes to Kosho-ji Temple in Uji, Kyoto for Limited Time

NAKED'S DANDELION PROJECT has popped up at seven different locations around Kyoto, including the famous Kiyomizu-dera and Heian Shrine. From December 3 until December 5, the participatory art project for peace will come to Kosho-ji Temple at nighttime. 

Kosho-ji Temple is famous for its autumn foliage and is designated as a place of scenic beauty by Kyoto prefecture. The gently sloping path from the front gate along the Uji River to the temple gate is called Kotozaka, because the flowing freshwater sounds like a Koto, the national instrument of Japan. The event will include a nighttime viewing of the temple along with lights around the grounds and gardens. The Uji Light Path will line the streets of the town with lanterns based on The Tale of Genji. 

NAKED's popular attractions–the NAKED Distanced Lanterns and NAKED Flower Cleansing–will also be available to participate in during the event.

Information

DANDELION PROJECT in Uji, Kyoto

Address: Kosho-ji Temple (27 Yamada, Uji, Kyoto)

Running: December 3 – December 5, 2021 

Hours: 17:30-20:00 (Last Entry at 19:00)

Admission: ¥1,000

Official Site: https://naked.co.jp

Hotel Koe Tokyo in Shibuya to Hold Solo Exhibition by Illustrator Kae Tanaka

Kae Tanaka will hold a solo exhibition at Hotel Koe Tokyo in Shibuya from November 26 until December 10, 2021. The artist has recently collaborated with popular girls group Nogizaka46 and actress Rio Uchida, and is skyrocketing in popularity throughout Japan.

Collaboration Goods

Overalls

Overalls

Socks

Hoodies

Tote Bag

Kae-chan Soft Vinyl Figures in Limited-Edition Color (By Lottery)

Over the past year, Hotel Koe Tokyo has been supporting the solo exhibitions of up-and-coming artists. This ima no koe (The Voices of Today) initiative is helping to highlight local talent that may otherwise be overlooked. 

Kae Tanaka is a Tumblr-based illustrator who has garnered large amounts of attention across social media. Collaborative goods created in conjunction with the hotel will be available, all of which are unisex and created by the French brand Le Pigeon Voyageur. A special Kae-chan vinyl figure will be available by lottery. 

Information

Kae Tanaka Exhibition 'Select' 

Running: November 26 – December 10, 2021

Location: Hotel Koe Tokyo 1F 'koe space' (3-7 Udagawacho, Shibuya, Tokyo)

Popular voice actors Ayana Taketatsu and Yusuke Kobayashi to feature in HAKUNA Live project MV

Social Live Streaming App HAKUNA Live released the music video teaser for the project 'Today, I'll be where you belong' in collaboration with popular voice actors Ayana Taketatsu and Yusuke Kobayashi.

 

'Today, I'll be where you belong' Project MV  Teaser (30 seconds ver.) 


Ayana Taketatsu

Yusuke Kobayashi

Mikito P

The MV teaser is a compilation of parts featuring both Ayana Taketatsu and Yusuke Kobayashi. The full version of the MV will be available soon, so stay tuned!

MV Story

A girl from the countryside lives alone in the city as she enters college, and a boy looks forward to wearing a suit to work as a new member of society.

As they embarked on a new life, they lost their normal routine of life due to Covid-19.

They are taking online classes and working remotely from home, which makes their days blur.

Then they came across HAKUNA Live and found a new "place" after spending their time alone in their room for a long time.

©MOVEFAST Company. All rights reserved.