BEAMS Japan Gets Involved in Crowdfunding Project to Raise Money For Tohoku Earthquake
BEAMS Japan has announced its participation in the 3.11 Fukkou ni Yorisou Project on the crowdfunding service READYFOR to help raise money for restoration efforts in places that are still affected by the 2011 Great East Japan Earthquake. The apparel brand has created the Bakabon Family Charity T-Shirt, the proceeds of which will be used as a return to supporters of the project. READYFOR launched the project on April 14, 2021, the proceeds of which will be donated to six groups working to restore Tohoku.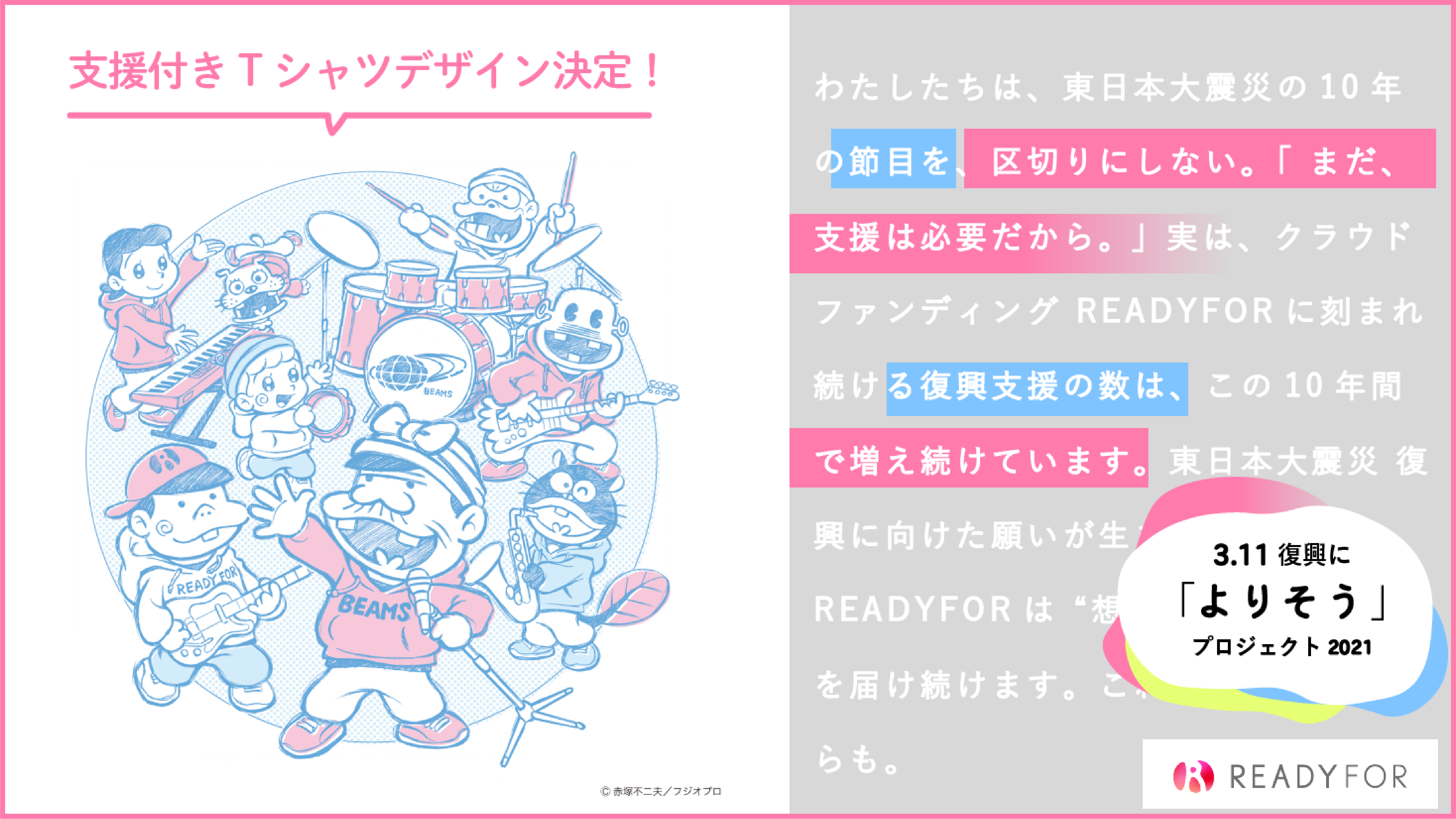 From the READYFOR Project page
READYFOR launched back in 2011 as Japan's first crowdfunding service. In the past 10 years, 1,529 crowdfunding pages have been set up for restoration efforts of the Tohoku earthquake, which have brought in over 1 billion yen.
The charity tee by BEAMS Japan is available in nine sizes.
RELATED ENTRIES
BEAMS Announces Virtual Sento Bath Experience at Virtual Market 6

BEAMS is set to have its own booth at Virtual Market 6 (Vket6) which will be hosted by HIKKY from August 14-28. At the BEAMS booth, they will be showcasing must-visit sento bathhouses. Vket is one of the biggest virtual events in the world, and uses Web to VR technology so you don't need a VR headset, meaning people can access it simply by connecting via mobile, PC, or other smart device. This will be BEAMS' second attendance at the event, and shop staff will appear inside as avatars.

Inside BEAMS 'Recommended Sento 2021' Booth at Vket 6

Inside BEAMS 'Recommended Sento 2021' Booth at Vket 6

Vket-chan wearing the free towel you get at the BEAMS booth

BEAMS is taking their ongoing 'Recommended Sento 2021' project, which is running at Kotobukiyu in Ueno, Tokyo, until September, to the virtual realm in a collaboration with COW BRAND SOAP. As well as collaboration merch, players can use Vket-chan's 3D avatar and combine it with the free towel to bathe in the bath as her.

The virtual space is decorated with sento pictures illustrated by manga artist and calligrapher Mari Yamazaki. Users can also launch fireworks, and there are various Japanese summer-themed attractions.

The official Vket merchandise will be available on the Merch by Amazon service and can be shipped to Japan, the US, UK, France, Germany, Italy, and Spain.

Shibuya PARCO's Dwiky KA Exhibition Collaborates With Japanese Brands and Artists

PARCO opened the Dwiky KA Exhibition at its Shibuya branch on Friday where it's set to run until August 9. Dwiky KA is an Indonesian artist who has collaborated with many music artists and apparel brands.

Dwiky KA x HYSTERIC GLAMOUR

Dwiky KA x BiSH

Dwiky KA x Kosuke Kawamura

Dwiky KA x Kosuke Kawamura

Dwiky KA x Tappei

Robot exhibit

As part of the exhibition, a line-up of merchandise and original items is being sold, including collaborations with brands Hysteric Glamour and balansa x YAGI, artists Kosuke Kawamura and Yappei, and idol punk band BiSH.

Information

YAGIBOY & GALLERY X presents Dwiky KA exhibition "LABRAX"
Running: July 30, 2021 – August 9, 2021

Location: GALLERY X

Address: Shibuya PARCO Floor B1F, Udagawacho, Shibuya, Tokyo
Opening Hours: 11:00-20:00
Price: ¥500 (Tax Included)
Official Website: https://art.parco.jp

MK MICHEL KLEIN HOMME Collaborates With Illustrator Orita Kei to Celebrate 25th Anniversary

In commemoration of 25 years since their debut, men's fashion brand MK MICHEL KLEIN HOMME has teamed up with the illustrator Orita Kei to release a t-shirt collection.

Left: "WHITE" / Right: "Gokigen Ikaga" – ¥5,940 Each (Tax Included)

"monotone" – ¥5,940 (Tax Included)

Available at all MK homme stores in Japan since July 23, part of the proceeds of the tees will go towards developing an antibacterial kit using BIO SHIELD as part of the brand's MIZICA PROJECT. The tees are made from 100% cotton, are unisex, and are create in a comfortable and relaxing size.

Demon Slayer: Kimetsu no Yaiba T-Shirt Collection Releases at Animo

Japanese anime and manga merch website Animo is selling a limited-edition collection of t-shirts based on the characters from Demon Slayer: Kimetsu no Yaiba. The line-up of six tees is available to buy until July 22.

Tanjiro Kamado Long Sleeve T-Shirt | ¥3,900 (Before Tax)

Zenitsu Agatsuma Long Sleeve T-Shirt | ¥3,900 (Before Tax)

Kyojuro Rengoku Long Sleeve T-Shirt | ¥3,900 (Before Tax)

Tanjiro Kamado Big Silhouette T-Shirt | ¥4200 (Before Tax)

Zenitsu Agatsuma Tanjiro Kamado Big Silhouette T-Shirt | ¥4200 (Before Tax)

Kyojuro Rengoku Tanjiro Kamado Big Silhouette T-Shirt | ¥4200 (Before Tax)

© 吾峠呼世晴/集英社・アニプレックス・ufotable

Ibuki Sakai x atmos pink T-Shirt Collection Releases

Japanese sneaker select shop atmos pink has teamed up with model and artist Ibuki Sakai to release two t-shirts at atmos pink stores and their official website.

atmos pink x sakai ibuki collaboration raglan tee | ¥4,500 (Before Tax)

atmos pink × sakai ibuki collaboration safari long sleeve tee | ¥4,900 (Before Tax)

The two tees take on a 90's design with sticker collage motifs, something which Ibuki is known for. In promotion of the release, a special installation has been set up at atmos pink's flagship store in Harajuku where it will be displayed until July 25.

The installation is a collection of handmade original accessories, stickers, and other items selected by Ibuki. Additionally, those who purchase her artbook at TSUTAYA will receive a paper doll poster, available on a first-come, first-served basis.

Information

Ibuki Sakai x atmos pink
Installation: July 16, 2021 – July 25, 2021
Location: atmos pink flagship Harajuku

Address: 6-5-3 Jingumae, Shibuya, Tokyo

Peta Peta Kai Event
Tickets: Available from July 16, 2021

Location: atmos pink flagship Harajuku

*Open to those who purchase either of the collaborative t-shirts

Event Date: July 25, 2021 @ 13:00-18:00

1st Slot: 13:00-15:00

2nd Slot: 15:00-17:00
Price: ¥1,000 (Tax Included)
*Max. 15 people per slot

Chiba's New Sento Bathhouse Collaborates With BEAMS in the Run Up to Spring 2022 Opening

Next spring will Oakland Group open the new sento bathhouse Ryusenji no Yu Spa Metsä Okata. The bathhouse is has teamed up with Japanese fashion brand BEAMS and released a collection of original items at Ryusenji no Yu's online store on June 28.

Original Items

Mesh Tote Bags: ¥2,970 Each (Tax Included)

Mesh Satchels: ¥2,420 Each (Tax Included) / Mesh Pouches: ¥1,980 Each (Tax Included)

Salt Pillow: ¥2,970 (Tax Included) / Salt Eye Mask ¥3,300 (Tax Included)

Shower Sandals: ¥2,200 Each (Tax Included)

Towels: ¥1,980 Each (Tax Included)

Socks: ¥1,980 Each (Tax Included)

Acrylic Keyrings: ¥1,540 Each (Tax Included)

Dakimakura Hugging Pillow: ¥3,850 (Tax Included)

T-Shirts: ¥2,970 Each (Tax Included)

Pins: ¥300 Each (Tax Included)

Water Bottles: ¥1,650 Each (Tax Included)

The merchandise line-up was overseen by Kazuyoshi Minamimagoe, Executive Director at BEAMS. It includes durable mesh bags, shower sandals, and other must-have items when enjoying a day at the spa. There's also a t-shirt collection illustrated by Kao Okata, a hugging pillow, salt eye mask and pillow which are said to cool you down after a hot bath, face towels, socks made in collaboration with the old-time brand GLEN CLYDE, and more.

BEAMS has held many projects and been active in creating know-how solutions for other brands and businesses at their select shops. In 2019, they created a Business Production Team which enabled them to expand their business reach by developing products, content, promotional material, and so on. Their work doesn't stop at the products featured in this article – they also create work uniforms, interior design, create signs for facilities, produce e-commerce sites, and much more.

Information

Ryusenji no Yu Spa Metsä Okata x BEAMS Original Items
Released: June 28, 2021
Buy exclusively at Ryusenji no Yu: https://www.ryusenjinoyu.shop
*Not sold at BEAMS

BABY MILO® x HELLO KITTY Collaborative T-Shirt Collection Drops

A BATHING APE's® mascot character BABY MILO® has joined paws with Sanrio's Hello Kitty to release a collaborative t-shirt collection at A BATHING APE® stores and their online store. Hello Kitty first appeared in 1974 and has gone on to become an instantly-recognisable icon and symbol of kawaii culture across the world. Merchandise of Hello Kitty is available in 130 countries globally.

Adult Tees

Shoes

Mug

Kid's Line-Up

BAPE.COM WEB STORE/BAPEXLUSIVE™ Aoyama Branch

BABY MILO® and Hello Kitty have collaborated to fans delight numerous times in the past. This cute collection is actually a re-release and features the same original graphics. There are also some exclusives in the collection along with a kid's line-up.

© 2021 SANRIO CO., LTD. APPROVAL NO. L629192

Tokyo's Jujo-yu Public Bathhouse Receives Full Cafe Renovation

Juyo-yu is a public bathhouse in Jujo, Tokyo, and remains the only one in the area. Since last year, Yutonamisha, a company specialising in the succession of bathhouses, has offered management support to Juyo-yu and has held various projects in an effort to protect the bathhouse as an important part of the town. Part of that has been to completely renovate the cafe at Juyo-ju to help it escape from closing down.

Juyo-yu's cafe space was first built in 1985 as a means to "provide customers with even more healing." It's rare for a bathhouse in Japan to have its own coffee shop, making the cafe at Juyo-yu one of its greatest strengths and features. At present, however, it is not a very well-known cafe, and it suffers from various interior design problems such as it being difficult to enter and being hardly functional – problems actually highlighted by customers themselves. By undergoing renovation, and functioning as a proper cafe, it will increase the appeal of Juyo-yu and therefore its profits. It has now transformed into a comfortable, impactful space.

The name of the new cafe is Kissa Shinkai (Cafe Deep Sea). Gorgeous, blissful decor runs from the baths to the cafe , with the tiles used in the women's bath also used for the cafe's interior design. Shinkai also has a brand new menu with the kind of food and drink people would love to enjoy after a hot bath, such as cream soda, coffee, cake, and more.

Information

Public Bathhouse Juyo-yu (銭湯・十條湯)

Crowdfunding: June 19, 2021 – July 18, 2021

Crowdfunder Page: https://camp-fire.jp/projects/view/434569

Address: 1-14-2 Jujonakahara, Kita-ku, Tokyo, 114-0031, Japan
TEL: 03-3900-4600
Opening Hours: [Mon-Sat] 15:00-23:00 (Closed Fridays) / [Sun] 8:00-12:00, 15:500-23:00

*Cafe is running on reduced hours, closing at 20:00. Currently being renovated so the cafe is closed.

Official Twitter: https://twitter.com/jujoyu_1010?s=11 (@jujoyu_1010)

DIET BUTCHER x Kendai Release Embroidered T-Shirt Collection

Apparel brand DIET BUTCHER and embroidery artist unit Kendai released a new t-shirt collection at DIET BUTCHER Flagship Shop and their online store on June 26.

T-Shirts (3 Colours) – ¥13,200 Each (Tax Included) / White Image Only Custom Version – ¥17,600 (Tax Included)

Embroidered patches made to order priced ¥4,400-¥11,000 (Tax Included)

The embroidery patch designs include DIET BUTCHER's iconic character Mr. Butcher. These large, fully handmade patches can be stitched onto the left breast of this wide silhouette tee collection. Additional patches can also be added for more customisation.

Information

DIET BUTCHER x Kendai

Released: June 26, 2021

Where:  DIET BUTCHER

Address: MS Bldg. B1, 1-19-7 Aobadai, Meguro-ku, Tokyo

TEL: 03-5728-4765

Online Store: https://dietbutcher.jp/

NO COFFEE x JARUJARU Release Special Collaborative Fashion Collection

JApanese comedy duo JARUJARU has paired up with Fukuoka-based coffee shop NO COFFEE to release a clothing and accessory collection branded with the name 'NO JARUJARU.'

NO JARUJARU T-Shirt | ¥4,620 (Tax Included)

NO JARUJARU Mask | ¥1,760 (Tax Included)

NO JARUJARU Sticker | ¥660 (Tax Included)

NO JARUJARU Key Chain JARUJARU TOWER 2021 ver. G&F | ¥1,210 (Tax Included)

Comments


Goto (JARUJARU)


"We had actually planned to collaborative with NO COFFEE back in 2020 for our live show, but it unfortunately had to be cancelled, so we weren't able to. But now our prayers have finally been answered and we get to collaborate! NO JARUJARU replaces 'COFFEE' with our name. Like coffee, we want to become comedians that are a close part of everyone's lives."


Fukutoku (JARUJARU)


"NO JARUJARU!? It's actually a wonderful piece of copy, don't you think! We want to give you even more JARU, so much you'll be saying NO JARUJARU!"


NO JARUJARU launched on June 19, the same day as the comedy duo performed their 'JARUJARU TOWER 2021' live show in Fukuoka. The collection is available at the JARUJARU MRKET online shop. NO COFFEE has collaborated with multiple brands before but this is their first time teaming up with comedians.



JARUJARU MARKET will roll out even more products in the near future, with NO JARUJARU arriving as the first release. JARUJARU's official YouTube channel 'JARUJARU TOWER' has over 600 million views, and they even have an English subtitled channel called 'JARUJARU OVERSEAS.' The duo are only continuing to expand.



Gyoza no Ohsho x JOURNAL STANDARD Releases Exclusive Kyoto T-Shirt

Gyoza no Ohsho has teamed up with JOURNAL STANDARD to release a special t-shirt featuring a design inspired by the uniforms worn by staff at Gyoza no Ohsho. The tee released on June 19.

Gyoza no Ohsho is a Japanese restaurant chain serving gyoza and a range of other Chinese cuisine-inspired foods.

GYOZA OHSHO TEE | Sizes: M-XXL | ¥4,400 (Before Tax)

These limited-edition tees are exclusive to JOURNAL STANDARD's Kyoto branch.


Supporting Japanese Sake Breweries During the Pandemic With the WAX&WANE Project

WAX&WANE is the name of a new project that has launched in an effort to support ARCADE TOKYO, an 'online shopping arcade' stocking countless must-grab products from Tokyo, due to the impact COVID-19 has had on participating businesses having to close down, resulting in a drastic decrease in shipping and consumption.

12 breweries pour 12 unique sake beverages

Pair your drinks with foods outside Japanese cuisine to change things up

Bottle clothes with designs showcasing each sakes' personality

The project was launched on June 10 via the crowdfunding website CAMPFIRE as a way to pay back thanks to 12 sake breweries in Japan who produce sake you can't get anywhere else. It aims to spread the word of Japan's sake culture the world to preserve its future and create even more brands, thereby adding new value to sake.

As part of the project, tie dye creator YUKIDYE, who has worked with many different street brands, has produced a collection of tie dye cloths which take inspiration from each of the 12 sake flavours and the characteristics of each brand.