BEAMS Scraps Vinyl Shopping Bags For Sustainable and Environmentally-Friendly Alternative
BEAMS Japan will begin selling cotton shopping bags starting on May 1, scrapping the vinyl shopping bags it has been using until now in an effort to become a more sustainable and environmentally-friendly brand. Being made from natural cotton means no throwing away of plastic, plus it can be reused for a long time.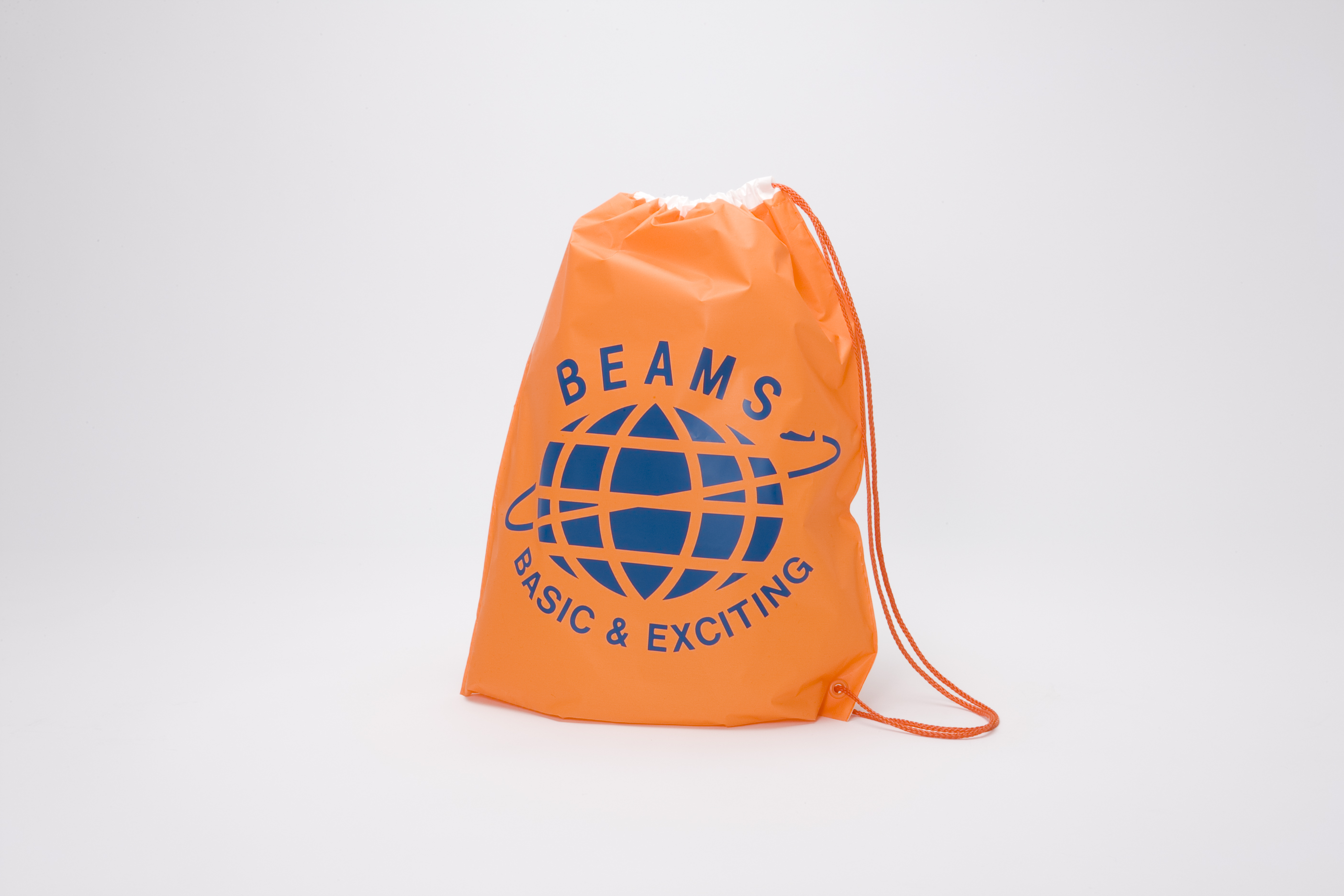 The BEAMS vinyl shopping bag has been in circulation since 1986
The new cotton bag being introduced on May 1, 2021
BEAMS-original paper water packs
The iconic BEAMS vinyl shopping bag was first introduced in 1986 and was adored for its convenient draw cord function, durability, and reusability. It became synonymous with BEAMS for etching its mark into the history of Shibu Kaji, or Shibuya's casual culture. These bags were free to customers and were made down to the finest details just like clothing attire, from the inking to the braiding. Since their release, the bags have never undergone design or shape changes. The only thing that has been changed over the years is the material used for the eyelet where the cord is strung through in order to make it easier to separate. Additionally, part of the raw materials were changed to plant-based in order to reduce the reliance on oil resources.
BEAMS, which has been in operation for 45 years now, is now getting involved with the sustainable recovery efforts that have come even more to the forefront of the international stage during the pandemic. Their vinyl bags, of which 390,000 are made every year, will be abolished, and replaced with GOTS-certified organic cotton bags and sold for ¥550 (tax included) to customers who purchase something at BEAMS.
BEAMS has been making efforts to reduce since 1999, when it first introduced its scheme to gives shoppers the option to donate ¥100 to the OISCA Children's Forest Program which "educates school children and communities about the environment through tree planting and other related environmental activities." In total, it has raised over 30 million yen. With the introducing of the new cotton bags, this scheme will continue, with 10% of all proceeds made from sales of the bags to be donated to the program.


Additionally, BEAMS introduced FSC-certified paper bags to all BEAMS OUTLET and BEAMS GOLD stores in November 2020 and January 2021 respectively. It also released paper water packs in September 2020 which has saved on 60,000 PET bottles every year.
Information
BEAMS Cotton Shopping Bags
Release Date: May 1, 2021
Price: ¥550 (Tax Included)
Available: All BEAMS stores in Japan
BEAMS Official Website: https://www.beams.co.jp
RELATED ENTRIES
BEAMS Starts Campaign to Highlight the Charms of Aomori Prefecture

BEAMS Japan has collaborated with 13 businesses to develop nearly 100 unique products to highlight the wonders of Aomori Prefecture. Under the title 'BEAMS EYE on AOMORI,' these products are now available to purchase from the BEAMS Official Online Store. They will be available at the BEAMS Japan shop in Shinjuku starting January 19, 2022. 

BEAMS EYE on AOMORI Products at a Glance

BEAMS Japan travelled to Aomori to search for inspiration and to learn more about the prefecture famous for its blue skies and apple orchards. The areas rich nature and traditions come to life in this new line of merchandise, so why not enjoy some of these products for yourself?

Information

BEAMS EYE on AOMORI

Running: December 20, 2021 – February 22, 2022
Where to Buy: 
BEAMS Japan (3-32-6 Shinjuku, Shinjuku-ku, Tokyo)
January 19 – February 22, 2022
Hours: 11:00-20:00 *Hours are subject to change. 


BEAMS Official Online Shop
December 20, 2021 – February 22, 2022
https://www.beams.co.jp/tag/211220_BJ_01/

BEAMS Japan Taipei Pop-Up Shop
February 8 – February 22, 2022
Address: Taiwan Eslite Life Nanshi Store 1F, 14 Nanjing West Road, Zhongshan, Taipei


Special Website: https://www.beams.co.jp/special/teamjapan/aomori2/

BEAMS EYE on OKAYAMA Event to be Held in Shinjuku and Taipei, Taiwan

BEAMS Japan will hold an event highlighting the wonders of Okayama Prefecture in both Shinjuku, Tokyo, and Taipei, Taiwan! The event will feature specialty products from 11 businesses in Okayama, and is now open in Shinjuku, with the Taipei event beginning in February 2022. Certain items are also available at the official BEAMS online shop.

Selected Products

Okayama prefecture is known for its mild climate and nature. BEAMS Japan has developed 81 unique products, with some highlighting the denim creation in the region and others showcasing local crafts.

As Okayama is closely associated with Momotaro, a figure out of Japanese folklore, peaches are very prominent in the region and can be seen in a number of these special products. 

Selected products from the collection will be available at the Taipei location from February 24 until March 13, 2022. Although travel has been made incredibly difficult during the pandemic, this pop-up shop was made possible by Okayama prefecture and BEAMS Japan. 

Artist Maki Ohkojima Collaborates with UpcycleLino to Create Sustainable Items

Artist Maki Ohkojima is inspired by life and the environment. UpcycleLino is creating completely recyclable products that produce zero waste. It makes sense that these two would collaborate, and their new items ask people to think more about their relationship with nature. With a theme of 'circulation,' these items will be on sale at participating shops around Japan and online. 

UpcycleLino × MANDALĀJU Big Band Collared Shirt

UpcycleLino × MANDALĀJU Sketched Tote Bag

UpcycleLino × MANDALĀJU Scarf

The 'Tree of Life' project is inspired by the theme of coexistence between the environment and all living things. It is important to protect limited resources for future generations. UpcycleLino is a completely sustainable company, using fabric scraps from other projects to create brand new clothes. 

People, animals, insects, plants, and all other living things exist in the circle of life, and this is the message conveyed through Maki Ohkojima's art. What can we do to better coexist with the planet? 

©角川武蔵野ミュージアム

Information

Kadokawa Musashino Museum 'Maki Ohkojima Art Exhibition – Perforated Spiral' 

Date: October 8, 2021 ~

Address: Kadokawa Musashino Museum (3-31-3 Higashi Tokorozawa, Saitama)

Hours: Sunday-Thursday: 10:00-18:00 (Last Entry at 17:30) / Friday, Saturday: 10:00-20:00 (Last Entry at 19:30)

Official Site: https://kadcul.com/

Collaboration Items

October 8, 2021~

Where to Buy: 

Kadokawa Musashino Museum Shop

nest Robe: https://store.nestrobe.com/nestrobe/ / CONFECT Online Shop and the following shop locations: Omotesando, Ginza, KITTE Marunouchi, Takasaki, Umeda, Kyoto, Nagoya, Okayama, Hiroshima, Fukuoka, Osaka Takashimaya

BEAMS to Sell Limited-Time Goods Based on Post-Sauna Drink Mix Oropo

Ryusenji no Yu is a chain of bath facilities throughout Japan, offering saunas, bedrock baths, and artificial hot springs. Saunas are surprisingly popular throughout the country, and recently, a beverage called Oropo has been called the perfect drink to enjoy after sitting in the heat. A mixture of the vitamin drink Oronamin C and sports drink Pocari Sweat, it's a perfect blend to refuel after all that sweating. 

The Nagoya Moriyama location will begin selling Oropo-branded goods by BEAMS starting September 16!

Merchandise sold in the odd collaboration will include mugs featuring markings to help mix the perfect amount of Oronamin C and Pocari Sweat to make the ultimate Oropo. T-shirts with pop-up store character Oropo-kun are already the talk of social media. Those who purchase a certain amount of goods will be given a bonus sticker. 

As expected, Oropo will be served during the campaign, along with Oropo Shaved Ice, created by the queen of shaved ice Asako Harada!

Information

Ryusenji no Yu x BEAMS

On sale until September 26, 2021

Where to Buy: Ryusenji no Yu – Nagoya Moriyama Location

Official Site:https://www.ryusenjinoyu.com/

10-Day Sustainability Themed Event 'Love Earth, Love Us' to Open at Sendai PARCO

Sendai PARCO will begin a 10-day event focusing on the idea of sustainability starting September 17 and concluding September 26, 2021. 'Love Earth, Love Us' will highlight sustainability-related products and services available at the shops within Sendai PARCO, and a web page has already been opened to get people thinking about this important subject. Those purchasing or using any of these products and services will receive certain added bonuses, as a way to raise awareness and give back to those making an effort to support the health of the planet. 

The main visual used in promoting the event was drawn by Toshiya Nakashima, and depicts Mount Vinicunca in Peru, often called Rainbow Mountain. The drawing was commissioned by Heralbony, an art gallery featuring pieces by those with intellectual disabilities, who will also hold a limited-time pop-up shop inside Sendai PARCO during the event. The shop will sell unique items, including hand towels featuring this gorgeous portrait of Rainbow Mountain, so don't miss out!

Japanese Lifestyle Brand athletia to Launch in UK in October

Eco-friendly Japanese skincare and lifestyle brand athletia will release its products in the UK market this October. The UK version of the brand's website, including an e-shop, is planned to be available to consumers on October 6.

athletia was launched by Kao Group's cosmetics manufacturer e'quipe in February 2020, and prides itself on using only environmentally friendly ingredients, containers, and packaging.

At the time of launch, the company will adopt the DTC model, concentrating on e-commerce and social media in order to show transparency and build trust within the community. During the following year, athletia aims to specifically include other companies' e-commerce sites in its sales strategy, due to the changes the retail world has experienced due to COVID-19.

European consumers have high standards when it comes to sustainable products, social contributions, and corporate transparency, and athletia is confident it can meet the level of excellence needed for further growth in the region. Using the UK as a foothold, athletia plans to expand to other European countries within three years.

The Meguriwa Exhibition to Touch on Sustainability in Japan

Meguriwa, a project promoting sustainability in Japan, will hold a two-day market and exhibition on November 12-13, 2021. The venue for the event isn't a large convention center, but rather an old house forgotten by time in southern Shibuya, surrounded by new development. The space blends traditional Japanese atmosphere with a modern Western style, and promises a sense of nostalgia to all who attend. 

The event will bring together a large collection of artwork, products, and materials from creators and companies all over Japan who focus on recycling-centric creation. This includes products made from wood sourced from forest thinning, as well as those using a portion of proceeds to support environmental conservation efforts. In the midst of major societal changes, humans must continue to coexist with natural phenomena like climate change, viruses, and earthquakes. With this in mind, Meguriwa hopes to share their vision of a 'circular bioeconomy,' in which mankind doesn't separate themself from nature, but instead both fears and appreciates it. 

The event is advertised as a place where people can both learn and have fun while considering our impact on nature, and how we can impact the future. An online seminar, 'The Meguriwa Study Hall,' will take place each week for a month prior to the event!

This event is for a great cause. Get to know local craftsmen and more about long-term sustainability this November!

Information

Meguriwa Exhibition

Dates/Times: 

November 12, 2021   10:30-19:00
November 13, 2021   10:30-18:00

Location: OLD HAUS (An old house with a garden near Namikibashi)

Address: 1-26-32 Higashi, Shibuya, Tokyo

Price: Entrance Free
① Free Ticket: Free
② Priority Admission (Priority Entry): ¥1,000

Details: https://peatix.com/event/1833758/

BEAMS Announces Virtual Sento Bath Experience at Virtual Market 6

BEAMS is set to have its own booth at Virtual Market 6 (Vket6) which will be hosted by HIKKY from August 14-28. At the BEAMS booth, they will be showcasing must-visit sento bathhouses. Vket is one of the biggest virtual events in the world, and uses Web to VR technology so you don't need a VR headset, meaning people can access it simply by connecting via mobile, PC, or other smart device. This will be BEAMS' second attendance at the event, and shop staff will appear inside as avatars.

Inside BEAMS 'Recommended Sento 2021' Booth at Vket 6

Inside BEAMS 'Recommended Sento 2021' Booth at Vket 6

Vket-chan wearing the free towel you get at the BEAMS booth

BEAMS is taking their ongoing 'Recommended Sento 2021' project, which is running at Kotobukiyu in Ueno, Tokyo, until September, to the virtual realm in a collaboration with COW BRAND SOAP. As well as collaboration merch, players can use Vket-chan's 3D avatar and combine it with the free towel to bathe in the bath as her.

The virtual space is decorated with sento pictures illustrated by manga artist and calligrapher Mari Yamazaki. Users can also launch fireworks, and there are various Japanese summer-themed attractions.

The official Vket merchandise will be available on the Merch by Amazon service and can be shipped to Japan, the US, UK, France, Germany, Italy, and Spain.

Art For Social Change Project Launches in Japan Using Waste to Create Art

Innovation Design launched its new 'Art For Social Change' project at haishop in Shibuya Scramble Square on July 21 which sees artwork made from waste.

According to Japan's Ministry of the Environment, 42.74 million tonnes of garbage has been thrown out since 2019. That's the equivalent of around 115 Tokyo Domes, or 918g of waste per person everyday. The waste cannot be exported, and so real action is required to reduce the amount of waste create on the island country of Japan, especially when thinking 20 years down the road.

That's where haishop comes in. Using caps from detergent, which are actually no longer sold, as well as plastic caps and other materials resulting from waste, it will create a new identity for waste together with consumers in the form of art. Art For Social Change aims to send a message to society to make real transformations in the world through the medium of art.

It's easy to imagine what happens when creating a product up to its completion, but considering what happens to it after it's been used is a lot more difficult. Every year, the available capacity at final disposal sites decreases more and more. The important topic at hand is getting everyone in Japan to really treasure the products they buy, to conceive ideas on how to prolong longevity of the things that people purchase, and construct a new society centred on recycling and reusing. And this isn't just a Japan problem – it's a global one. That's the message which Art For Social Change carries.

 

The only conditions on participating with the project is that you agree with its goal and that you use materials on sale at haishop. Everyone is invited regardless of age or gender.

The artworks in action


4th year students from Nitobe Bunka Elementary & Junior High School used waste materials to create 'souvenir' theme products which the children are helping to sell at the shop. The proceeds go back to the school itself while helping teach children about new ways of reusing and recycling.

Souvenirs created by the students of Nitobe Bunka Elementary & Junior High School

Mascara bottles made using caps from detergent bottles

Shiraraso Grand Hotel Announces Traditional Japanese Candle-Making Experience For Guests

As part of the global Sustainable Development Goals (SDGs) project, Shiraraso Grand Hotel is offering a new experience for guests to create shades for warosoku traditional Japanese candles from July 7 to August 31.

Warosoku aren't made with ordinary wax, they're produced from plant-derived Japanese wax. Wakayama was once the biggest producer of this wax. Guests at the hotel will ghet to make their own shade decorations for these candles using decorations like the sea, food, hot springs, and panda.

The hotel is also offering free panda bookmarks to those who post a photo of their shade on Instagram, Twitter, or Instagram with the Japanese hashtag #白良荘グランドホテル.

These Bangles Are Made From Edo Kiriko Cut Glass Bottles

GLASS-LAB released their new GLASS-LAB NEW PRODUCT "WA" collection of bangles made from Edo Kiriko cut glass bottles on their official website on July 1.

GLASS-LAB NEW PRODUCT "WA" Sustainable Clear | ¥18,370 (Tax Included)


GLASS-LAB NEW PRODUCT "WA" Sustainable Black | ¥18,370 (Tax Included)


GLASS-LAB NEW PRODUCT "WA" Sustainable White | ¥18,370 (Tax Included)


GLASS-LAB NEW PRODUCT "WA" Sustainable Green | ¥18,370 (Tax Included)


GLASS-LAB was opened by the Shiina family in 1950 in Koto, a city known for the production of Edo Kiriko, a traditional type of Japanese glassware. The owner eventually passed the factory onto his sons. It is now run by Takayuki Shiina who is highly skilled at sandblasting, so much so he can cut glass to a fine 0.09mm.

This new collection was made in collaboration with designer Yukio Fujita of 'design shop YU.'

Chiba's New Sento Bathhouse Collaborates With BEAMS in the Run Up to Spring 2022 Opening

Next spring will Oakland Group open the new sento bathhouse Ryusenji no Yu Spa Metsä Okata. The bathhouse is has teamed up with Japanese fashion brand BEAMS and released a collection of original items at Ryusenji no Yu's online store on June 28.

Original Items

Mesh Tote Bags: ¥2,970 Each (Tax Included)

Mesh Satchels: ¥2,420 Each (Tax Included) / Mesh Pouches: ¥1,980 Each (Tax Included)

Salt Pillow: ¥2,970 (Tax Included) / Salt Eye Mask ¥3,300 (Tax Included)

Shower Sandals: ¥2,200 Each (Tax Included)

Towels: ¥1,980 Each (Tax Included)

Socks: ¥1,980 Each (Tax Included)

Acrylic Keyrings: ¥1,540 Each (Tax Included)

Dakimakura Hugging Pillow: ¥3,850 (Tax Included)

T-Shirts: ¥2,970 Each (Tax Included)

Pins: ¥300 Each (Tax Included)

Water Bottles: ¥1,650 Each (Tax Included)

The merchandise line-up was overseen by Kazuyoshi Minamimagoe, Executive Director at BEAMS. It includes durable mesh bags, shower sandals, and other must-have items when enjoying a day at the spa. There's also a t-shirt collection illustrated by Kao Okata, a hugging pillow, salt eye mask and pillow which are said to cool you down after a hot bath, face towels, socks made in collaboration with the old-time brand GLEN CLYDE, and more.

BEAMS has held many projects and been active in creating know-how solutions for other brands and businesses at their select shops. In 2019, they created a Business Production Team which enabled them to expand their business reach by developing products, content, promotional material, and so on. Their work doesn't stop at the products featured in this article – they also create work uniforms, interior design, create signs for facilities, produce e-commerce sites, and much more.

Information

Ryusenji no Yu Spa Metsä Okata x BEAMS Original Items
Released: June 28, 2021
Buy exclusively at Ryusenji no Yu: https://www.ryusenjinoyu.shop
*Not sold at BEAMS