Stay in Harajuku's Yados Jingumae Hotel if You Love Art
Japanese company Rokuyon, which is responsible for creating a variety of hotel plans in Shibuya including at our own MOSHI MOSHI ROOMS, has launched a new project for guests of various hotels who are fans of brands and artists.
For their first endeavour, Rokuyon has teamed up with Yados Jingumae which has undergone major renovations. Guests staying in Room 202 this spring can enjoy a range of artworks as part of the room's exclusive Harajuku Night Owl Art Exhibition, while in summertime Room 301 will incorporate furniture by Sekai Class.
Yados Jingumae Room 202: Harajuku Night Owl Art Exhibition
Living room
Bedroom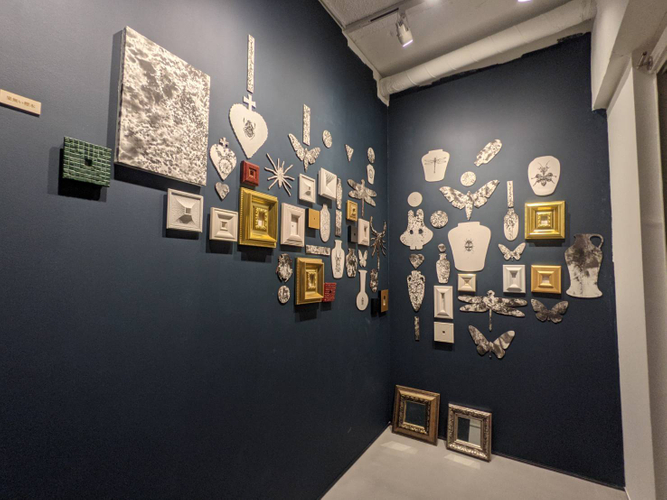 Artist room
Participating Artists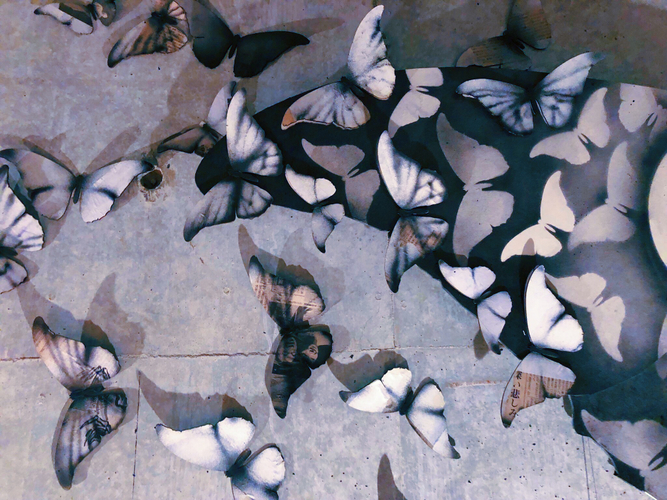 CHiNPAN | April 23, 2021 – May 30, 2021
CHiNPAN began their career as an oil painter after getting selected at the 2008 Asia Creative Art Exhibition at The National Art Center in Tokyo. They explore the possibilities of oil painting by not limiting themselves to just paper. "Fusion" is the theme of their work which has taken them to creating visuals for shops, fashion, music, and more.
BANBU | June 10, 2021 – July 19, 2021
BANBU is a 24-y-ear-old artist who studied art abroad in Canada and New York after graduating at a vocational school in Japan. Currently based in Tokyo, they create colourful and eye-catching graphics with their three-eyed character.
Hotel Stay x Artists Come Together
"Harajuku Night Owl Art Exhibition" is the theme of Room 202 which will collaborate with different illustrators, video makers, photographers, and other artists every 1-2 months, shining the spotlight on each of their unique visions.
Yados Jingumae Room 301: Sekai Class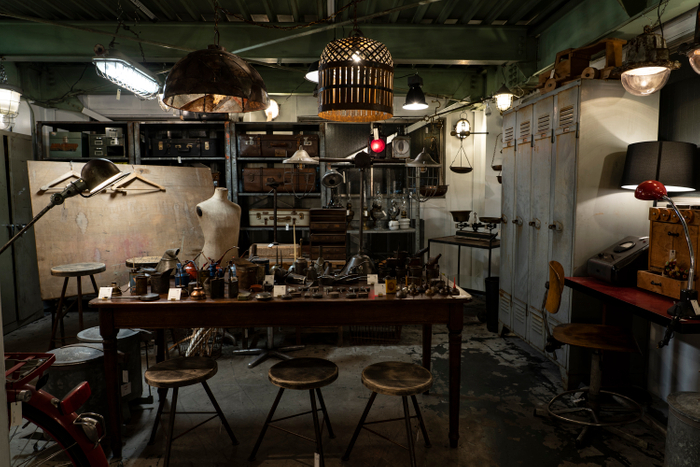 Hotel Stay x Furniture
Vintage furniture and artwork from around the world will be brought together in Room 301 so guests can experience a 'world living' experience. What's more is that all of the furniture, art, and items on display will be purchasable, and will change on a fixed schedule.
RELATED ENTRIES
A Tachikoma From Ghost in the Shell SAC_2045 Arrives at New Balance Harajuku

As a part of the brand's 9BOX series, New Balance has released a new graphic T-shirt collection in collaboration with Ghost in the Shell SAC_2045. The items went on sale November 12, and to commemorate the release, a Tachikoma from the series has arrived at New Balance Harajuku! For those who may not have seen the series, a Tachikoma is an AI tank prominently featured in the Ghost in the Shell universe.

T-Shirt

Long Sleeve T-Shirt

Collaboration Sticker

Picture Frame

Motoko Kusanagi, the main character of the series, perfectly exemplifies the New Balance brand, which promotes 'fearless independence.' Five new t-shirt designs are now available, all drawn by Ilya Kuvshinov, the character designer for Ghost in the Shell SAC-2045. The collection is available at official New Balance stores nationwide, as well as the online store and participating ABC Marts. Those who purchase items from the collection will receive a collaboration sticker, and a special picture frame will be available on the New Balance official store app NB Shop. 

New Balance's flagship store in Harajuku is celebrating its fifth anniversary this year and was the backdrop for the cover of Rolling Stone Japan to promote the collaboration. Fans of the anime series shouldn't miss out on these stylish threads!

Yoshitaka Amano Exhibition Now Open at Kikka Gallery in Omotesando

Known for his work on the Final Fantasy series, Yoshitaka Amano is one of the most beloved artists in Japanese popular culture. From November 5 until November 30, an exhibition displaying many of his works is open at the Kikka Gallery in Omotesando, Tokyo. Online lottery sales of many Amano works shown in the exhibition began on November 20. 

While overseas fans know him best for Final Fantasy, Amano is also the creator of many iconic characters such as Gatchaman, Tekkaman, and Casshan. 

The PREMONITION OF HAPPINESS exhibition boasts 111 paintings and 3D works on display, all of which are one-of-a-kind. A number of colorful works drawn on traditional Japanese paper and bamboo plates are also attracting guests, based on his fine artwork CANDY GIRL, which he has been working on since 2015. 

Hotel MIMARU Offering Christmas Room in Collaboration with Awesome Store

Lifestyle shop Awesome Store is collaborating with the MIMARU hotel chain to create a secluded and supremely cozy Christmas Room. The special room will only be available from December 1 until December 25, 2021. Each spacious room features a kitchen and is decorated with plenty of holiday goodness, making it the best place to spend the Christmas season with family and friends. 

Original tableware from Awesome Store will be left in each room, so guests can easily throw a Christmas party by having food delivered or grabbing takeout. There's no need to decorate, as the space will be completely overrun by ornaments and garlands. How would you like to spend Christmas here? 

Information

Awesome Store Christmas Room

Available: December 1 – December 25, 2021

Participating Hotels:
MIMARU Tokyo Akasaka

MIMARU Tokyo Nihombashi Suitengumae

MIMARU Tokyo Ueno Okachimachi

MIMARU Tokyo Ueno Inaricho

Reservations/Official Site: https://mimaruhotels.com/

MetaTokyo Launches First Project in the Metaverse with Genereativemasks

The Metaverse has been in the news lately, and the future is looking more and more digital. ASOBISYSTEM, ParadeAll, and Fraction Ventures have teamed up to build Japan's first pop-up museum focusing on generative art in MetaTokyo, an open cultural city in the open Metaverse using NFT. This will exhibit one of the largest NFT art projects in Japan, Generativemasks. 

Generative art refers to artworks that are generated by code, using computer software.

MetaTokyo Pass (MetaTokyo Digital Passport) 

Generativemasks

The architecture of MetaTokyo was created by MISOSHITA, a Metaverse/VR creator active not only in Japan but around the world. The interior and exterior were designed in collaboration with Generativemasks and other contributors to make a completely unique structure in the Metaverse. The NFT MetaTokyo Pass, functioning as a digital passport, is on sale now, allowing owners to access a number of activities and special privileges, including access to exclusive events and restricted areas within the MetaVerse. 

MetaTokyo is the world's first project to connect NFTs with the MetaVerse and is the first project of its kind to be implemented globally. 

Up-and-Coming Artist Rei Nakanishi to Hold Exhibition at Shinsaibashi PARCO

Shinsaibashi PARCO in Osaka is celebrating its first anniversary. As part of the celebration, young contemporary artist Rei Nakanishi will be holding a solo exhibition, VESICA PISCIS, from November 20 until November 30, 2021. 

A number of artworks were made specifically for this showing, and each will show the unique style of this up-and-coming creator. Certain pieces will be sold by lottery at the venue as well.

Comment from Rei Nakanishi

My paintings always feature two conflicting themes. 

I create my works using both digital and analog techniques, and complete them with skull and flower motifs, reminding us of the reality of life and death. 

The theme of this exhibition is 'black and white.' 

For me, using only black and white in my works was a very meaningful challenge to take on. 

By not using any color, the essence of each painting comes through more strongly and more clearly. 

The exhibition's title, VESICA PISCIS, references two circles overlapping as you see at the very beginning of cellular division. 

I hope that people will take note of the refined shapes and fluid beauty of these works in comparison to those with color. 

 

– Rei Nakanishi

Information

Rei Nakanishi VESICA PISCIS

Running: November 20 – November 30, 2021

Hours: 10:00-21:00 (*Closing at 18:00 on November 30) 

Address: PARCO Pop Up Gallery, Shinsaibashi PARCO B1F (1-8-3 Shinsaibashisuji, Chuo-ku, Osaka)

Admission: Free

Official Site: http://www.parco.co.jp

Creative Brand HAKU to Hold Stone Exhibition in Nagareyama

For two days only, HAKU, a creative brand known for its underground art experience, will feature some of its unique works at Starts Otakanomori Hall in Nagareyama City, Chiba prefecture.

The inside of the Philharmonic Hall will be transformed with lights and sound to mirror the natural environment surrounding the city. Within this immersive space, images will be projected on the ceiling, walls, and floor, and visitors will be surrounded by the sounds of the river, insects, wind through the trees, and more.

Visitors will be given sensors to track them in real-time, allowing more interactivity with the digital environment. The water flowing through the venue changes its flow based on guest movement. What do you think of this bizarre experience?

Shinsaibashi PARCO Opens Mysterious P.O.N.D. mini Exhibition Inside SkiiMa Gallery

Skiima, a community workspace operated by PARCO, will hold a limited-time event, 'P.O.N.D. mini – Let's Meet at PARCO, in a New Dimension,' to celebrate the first anniversary of the Shinsaibashi PARCO location. The event will run from November 19 until November 30 in the SkiiMa gallery on the fourth floor of Shinsaibashi PARCO. 

Participating Artists

Fumika Endo, Photographer




Hana Watanabe, Filmmaker / Visual Artist

Taketo Kikuchi, Artist

 

Yuka Numata, Contemporary Artist

Shuzo Tajima, Artist / Musician

P.O.N.D. is a cultural festival featuring up-and-coming creators from all genres, including art, fashion, music, and food. First held at Shibuya PARCO in October, the event attracted over 5,000 visitors over 10 days.

Five artists from the Shibuya exhibition will make their way to Osaka for this event, with a theme of entering a new and unexplored dimension. The keyword for 2021 is 'Transfer,' and these creators hope to transfer the meaning behind their pieces to the audience. 

Information

P.O.N.D. mini – Let's Meet at PARCO, in a New Dimension

Running: November 19 – November 30, 2021

*On November 19, the artists will visit the gallery. 

Address: SkiiMa gallery, Shinsaibashi PARCO 4F (1-8-3 Shinsaibashisuji, Chuo-ku, Osaka)

Official Site: https://pond.parco.jp/

Naked's DANDELION PROJECT to be Exhibited at Shanghai Light Festival

Naked's interactive art installation, the DANDELION PROJECT, is making a stop in China! From November 19, 2021, until January 3, 2021, the exhibition will appear at the Shanghai Light and Shadow Festival, one of the largest light events in Shanghai. The DANDELION PROJECT will be located in the Hall of the Sun.

The concept of the Shanghai Light and Shadow Festival is that light is a gift of nature, and the history of mankind and the technology we've developed has all happened as we have gathered around light. This year's event will be held at Ruihong World, a new entertainment complex in Shanghai. The location is connected to The Bund, the most famous tourist destination in the city.

This DANDELION PROJECT exhibition will, of course, be connected to consecutive exhibitions being held in Japan and around the world. Those participating in the installations are able to send their wishes for world peace on digital dandelion fluff to other locations where DANDELIONs are planted around the world, and these messages are delivered in real-time. 

Information

Shanghai Light and Shadow Festival

Location: Shanghai Ruihong World – Sun Palace (Rui Hong Xin Cheng) 

DANDELION: Hall of the Sun

Running: November 19, 2021 – January 3, 2022

Hours: 17:00-22:00 (Shanghai UTC)

Admission: Free
Official Site: https://naked.co.jp

OMO7 Asahikawa Resort in Hokkaido Offers Polar Bear Valentine's Day Girls' Party Package

Not a fan of Valentine's Day? Want to get away from all the in-your-face romance and just have a good time with your gal pals? OMO7 Asahikawa by Hoshino Resort in Hokkaido is offering a limited-time polar bear-themed Valentine's Day Girls' Party package for all of February 2022. The single polar bear room, opened in November 2020, will be transformed into its Valentine's Day version. 

Valentine's Day has been popular in Japan for many years and is a day when women give gifts to men to express their feelings. However, in recent years, it has also become a less romantic event for some–people are buying chocolate for themselves, or giving candies to friends. The polar bear room is perfect for girlfriends who just want to relax and have a good time. Why a polar bear? The Asahikawa Zoo is nearby and is an incredibly popular attraction.

The Polar Bear Valentine Room, Only Available for One Party per Day

Decorated from top to bottom in cute bears, guests can also wear matching polar bear loungewear, perfect for those Instagram shots. This will be a girls' gathering you'll never forget!

Polar Bear-inspired Snacks for the Perfect Girls' Night

When girls get together, they just love to chat. But talking so much can make you hungry, so plenty of snacks will be waiting in the guest room! If you're not in the snacking mood, they also make wonderful souvenirs. 

Polar Bear Desserts, A Must-Have in Asahikawa

The area around OMO7 Asahikawa is lined with stylish cafes where you can take a break from your daily life. After enjoying the Valentine's Room, head out into the nearby neighborhood to Fukuyoshi Cafe for some polar bear sweets. The treats are included with the price of the room, so there's no reason to miss it!

Roppongi Hills Christmas 2021 and Keyakizaka Lights, Tokyo's Signature Christmas Event, Begin

Tokyo's favorite Christmas event has begun! Roppongi Hills is a popular destination for shopping, eating, and having a good time, and the Roppongi Hills Christmas 2021 celebration brings the complex to life with plenty of holiday spirit. The Keyakizaka Lights signal the beginning of the Christmas season in the area, and this winter tradition is not to be missed! 

Keyakizaka Lights

The 400-meter-long Keyakizaka street is covered in over 700,000 blue and white LED lights, and the scene has become a popular representation of what Christmas looks like in Tokyo. This year's West Walk shopping arcade will also feature the special Bon-Bon Blossom installation, a Christmas tree made to look like bonbon chocolates.

Does this look like your ideal Christmas scene?

Information

Roppongi Hills Christmas 2021

Dates: Beginning of November – December 25, 2021

Address: Roppongi Hills (Roppongi Keyakizaka-dori, etc.)

Keyakizaka Lights

Dates: Beginning of November – December 25, 2021

Hours: 17:00-23:00

Address: Roppongi Keyakizaka Street

Bon-Bon Blossom at West Walk

Running: November 19 – December 25, 2021

Address: West Walk 2F South Atrium

Official Site: https://www.roppongihills.com

Sebastian Masuda Kawaii Exhibition to be Held at 1,300-Year-Old Kanda Myojin Shrine

Sebastian Masuda, the Godfather of Kawaii, is bringing his 'Yes, Kawaii is Art' exhibition to Tokyo. If that isn't cool enough, the event will be held from December 4 until December 12, 2021, at the 1,300-year-old Kanda Myojin Shrine, known as one of the most important shrines during the Edo period. 

Kanda Myojin, the Tokyo Venue

Work at 'Yes, Kawaii is Art' Venue in Osaka

Related Event, 6%DOKIDOKI Fashion Show

Originally scheduled to arrive in Tokyo in September, the exhibition was postponed due to the state of the COVID-19 pandemic. Kanda Myojin is known as the site of the Kanda Festival, one of the three major Shinto festivals in Tokyo started by Tokugawa Ieyasu in 1600. The shrine is very close to Akihabara, and has become a place for technophiles to pray for their electronics!

Sebastian Masuda is known as the Godfather of Kawaii, and his colorful and crazy art is known around the world. In 2020, Masuda asked a number of questions to fans of Japanese pop culture around the world–what is Kawaii? Why does Kawaii cross borders, generations, and gender? This new exhibition tries to find an answer to those questions while bringing some joy and excitement to the local community. 

Osaka's City of Art Kitakagaya has hosted Masuda's exhibition since October 30, with his works spread out across three different venues. These will be open until November 30, 2021. 

Additionally, on November 13, a street fashion show by Masuda's popular Harajuku fashion brand 6%DOKIDOKI will be held at the third venue. The brand turns 26 this year. 

Information

Yes, Kawaii is Art

Tokyo Event

Sebastian Masuda's "Yes, Kawaii is Art" Exhibition at Kanda Myojin Shrine

Running: December 3 – December 12, 2021

Hours: 12:00-18:00

Address: Kanda Myojin Shrine (2-16-2 Sotokanda, Chiyoda-ku, Tokyo)

*Details to be announced at a later date.

Osaka Event

Exhibition Pricing

Venue 1: ¥500 (Weekdays) ¥1,000 (Weekends/Holidays) 

Both Venue 1 + Venue 2: ¥1,500 (Viewing) ¥2,000 (Experience) 

Venue 3: Free

Details: https://sebastianmasuda.com/works/osaka/

Access: Close to Kita-Kagaya Station on the Osaka Metro Yotsubashi Line, Exit 4

Map: https://www.google.com/maps/placelists/list/fGC5yMFnbboXkfjYxijLmbHIzgP88w

Venue 1: kagoo

Main Work: 'Colorful Rebellion -Seventh Nightmare-

Running: October 30 – November 21, 2021

Closed Mondays and Tuesdays, November 17

Hours: 12:00-18:00

Address: 5-4-19 Kita-Kagaya, Suminoe-ku, Osaka

Venue 2: Oto Building

Main Work: 'Fantastic Voyage, Prototype II' 

Running: November 5, 6, 7, 12, 13, 14

Hours: Shows at 13:00, 15:00, 17:00 *Only at 17:00 on November 14

Address: 5-5-1 Kita-Kagaya, Suminoe-ku, Osaka

Tickets: https://sebastianmasuda.peatix.com/

Venue 3: Chidori Bunka

Main Work: 'Colorful Rebellion -WORLD TIME CLOCK-

Running: November 12 – November 21, 2021

Closed on Mondays, Tuesdays, Wednesdays

Hours: 12:00-18:00

Address: 5-2-28 Kita-Kagaya, Suminoe-ku, Osaka

Related Event

6%DOKIDOKI Fashion Show 'Colorful Riot'

Date: November 14, 2021

Time: 15:00~

Address: Venue 1 (Free Admission)

Official Site: https://sebastianmasuda.com/

Winter Scenery Coming to teamLab Forest Fukuoka for a Limited Time

The permanent museum teamLab Forest Fukuoka is bringing winter scenery to the virtual exhibition for a limited time starting November 20, 2021. Many of the virtual exhibits will be covered in fluffy snowflakes as butterflies flutter by in seasonal winter colors. Animals made of winter flowers will wander by guests as they explore this magical world. 

Works to Feature Seasonal Changes

Soft Terrain and Granular Topography – A Whole Year per Year – teamLab, 2020

Flutter of Butterflies, Ephemeral Life – A Whole Year per Year – teamLab, 2020

Shifting Valley, Living Creatures of Flowers, Symbiotic Lives – A Whole Year per Year – teamLab, 2020

Animals of Flowers, Symbiotic Lives II – A Whole Year per Year – teamLab, 2019

teamLab's works are drawn in real-time by computer programs and are constantly changing and evolving, with many changing with the seasons. This is the perfect place to enjoy the winter season out of the cold!