Enjoy a Cup of High Quality Japanese Tea in the Morning at This New Cafe in Nagoya
Mirume Shinryoku Sabo is a new cafe and tea-lover paradise that opened in Nagoya on May 10, 2021, serving high quality bottled Japanese tea, desserts, and other delicious delights.
Daifuku : Eat-In ¥250 (Tax Included)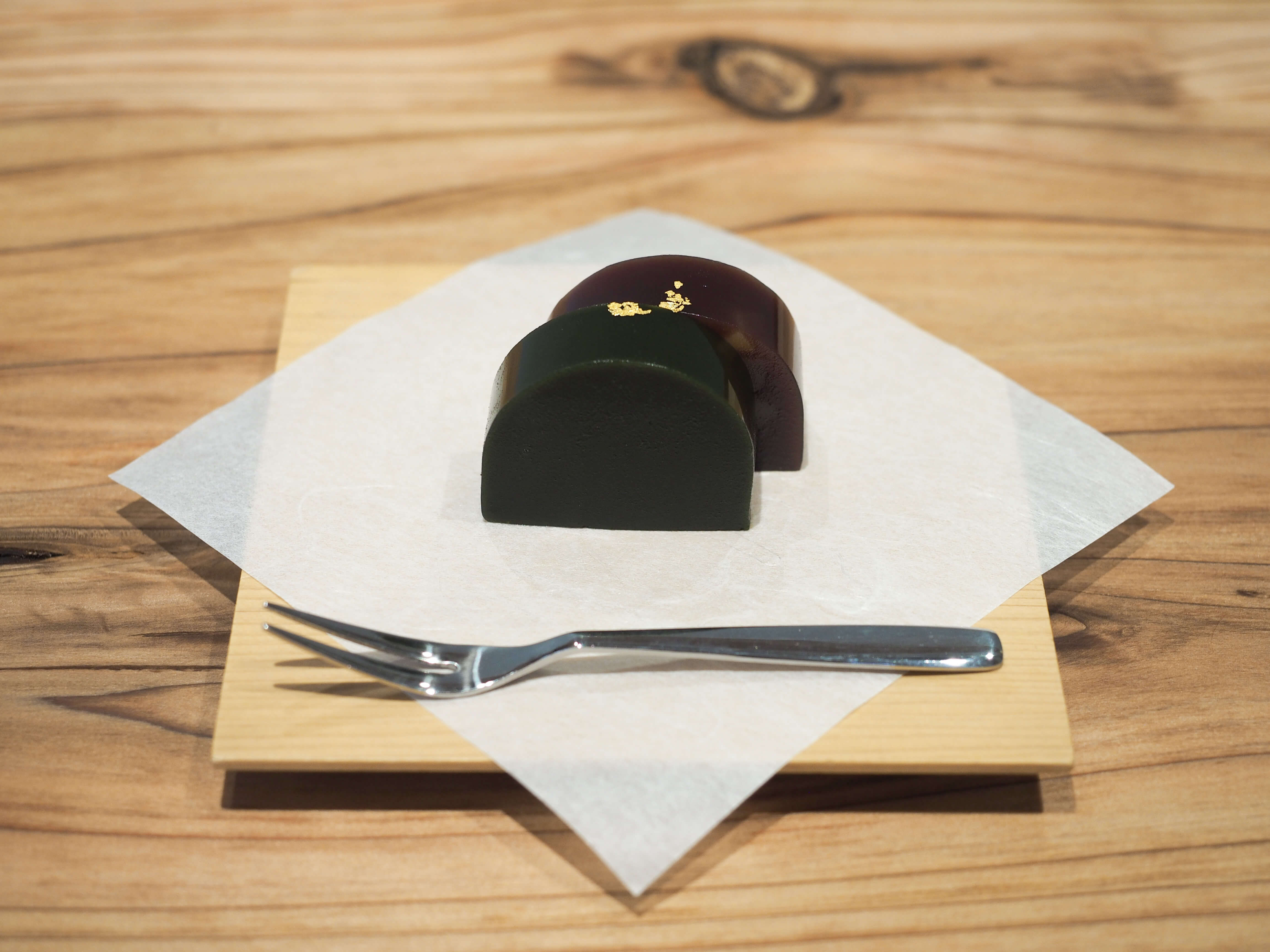 Ise Tea Sweet Bean Jelly: Eat-In ¥250 / Store ¥500 (Tax Included)
Ise Tea Cheesecake: Eat-In ¥350 / Store ¥3,300 (Tax Included)
Mirume Shinryoku Sabo is the newest cafe to be opened by Shinryoku Sabo, an award-winning tea company in Mie Prefecture. The cafe's tea experience includes using a kyuusu, which is a type of small teapot, to brew Isecha green tea. Customers can learn the best way to prepare tea from an in-house instructor of Japanese tea, who will also provide backstory on the tea leaves used. Their deliciously brewed cup can be paired with a variety of desserts like daifuku, maju, cheesecake, and more.
The cafe also sells the "Morning Bottle," its signature bottled cold-brew tea which is prepared on the day in the early morning. Bottles can be returned to the cafe to be reused, allowing for no waste. Since the tea is cold-brewed, it also contains little caffeine.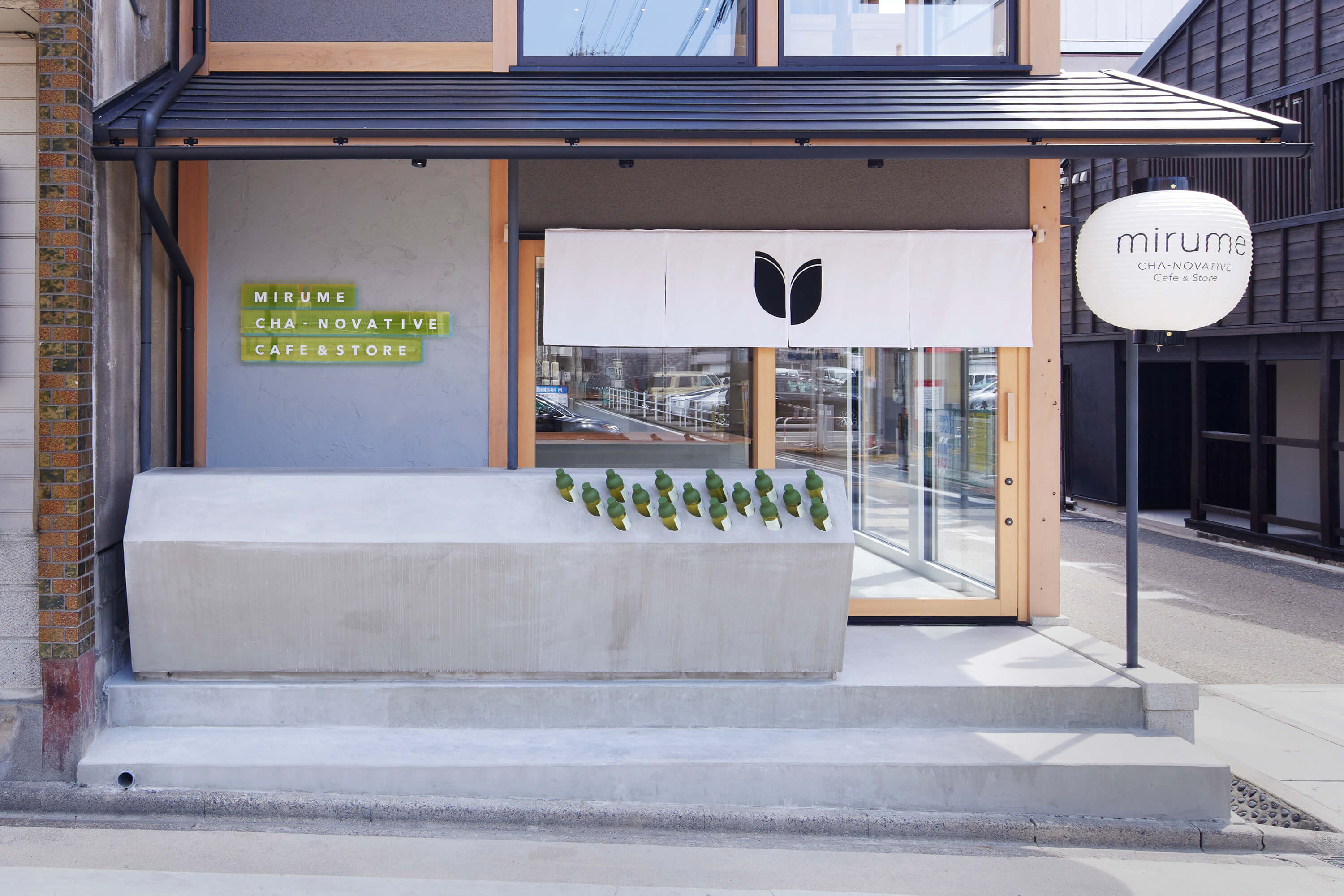 Information
Mirume Shinryoku Sabo
Address: 1-36-57 Nagono, Nishi Ward, Nagoya, Aichi 451-0042, Japan
Opening Hours: [8:00-10:00] Morning Bottle only / [11:00-22:00] Cafe & Store
Closed: Wednesdays
TEL: 052-551-3366
Official Site:https://www.shinryokusabo.co.jp/
RELATED ENTRIES
FUKUCHA to Offer Limited-Time Strawberry Desserts with Uji Tea Pairings

FUKUCHA Teahouse, a Fukujen cafe in Kyoto, will start a limited-time Strawberries and Uji Tea Fair on January 8, 2022. Last year's Matcha fair was incredibly popular, and certain items will also be available again in 2022. The new menu includes a strawberry version of the popular Herbal Tea Pairing Set, making it even more fun and elegant! Guests can enjoy flavorful Uji green tea along with a number of tasty strawberry treats. 

Mont Fraise: ¥1,150

Mont Fraise means 'mountain of strawberries' in French. This dessert is made with thin white chocolate and sponge cake soaked in matcha syrup with matcha cream and strawberries covering every inch. It is also served with a green tea chocolate sauce. 

Strawberry Pairing Set: ¥1650

The strawberry version of the popular Herbal Tea Pairing Set on the regular FUKUCHA menu.
・Ginger Blend Genmaicha and Strawberry Cheese Tart
・Hibiscus Blend Hojicha and Strawberry Chocolate Bonbons
・Cinnamon Blend Twig Tea with Strawberry Cream
・Peppermint Blend Twig Tea with Large Strawberry

Marscapone Strawberries: ¥1450

Using 10 strawberries, this parfait is designed to look like a herbarium. Putting a spoon into the light mascarpone cream will reveal the bright green color of the matcha chocolate sauce.

Information

Strawberry and Uji Tea Fair

Running: January 8 – May 15, 2022
*Limited to 10 Servings per day.

Official Site: https://www.fukujuen.com/

'It's My Color! ~Rouge Red Room~' Concept Room Allows Guests to Surround Themselves with Red

Strings Hotel Nagoya will open a new concept room from January 15 until April 14, 2022. Those who love the color red won't want to miss it!

'It's My Color' is a room completely dedicated to a person's favorite shade. Imagine dressing up in red and spending time taking photographs in this completely red room. It's perfect for Valentine's Day!

While the room may be red for now, the color may change in the future. Guests can also enjoy a special strawberry afternoon tea set in their room during this event period.

Limited Time Atami Plum Cafe Opens at Risonare Atami Resort

Hoshino Resort Risonare Atami will open the Atami Plum Cafe from January 6 until March 11, 2022. Guests can experience the early arrival of spring beneath the plum blossoms, and at the cafe space on the top floor of the hotel, visitors can feast on a number of plum-inspired dishes. 

The Atami Plum Garden, located near the resort, is one of the most famous places in Japan to see plum blossoms early. The first blossoms usually open up in late November or early December, and this event will get people excited about welcoming the warmer spring months.

A false plum tree will welcome visitors to the cafe, and the ceiling will also be covered in lavender blossoms. The tables, chairs, and garlands are all themed to welcome spring, and the terrace will feature a plum-shaped kotatsu. Guests sitting beneath it can stay warm while gazing out at the vast ocean.

The Plum Gelato Plate features three varieties made with plum pulp, jam, and paste. Why not give it a try?

Plum Gelato Plate: ¥2,000 (Tax Included) *5 available per day

Information

Atami Plum Cafe

Running: January 6 – March 11, 2022
Hours: 10:00-22:00 (Last Order at 21:30)
*Adults Only (12 and up) after 21:00
Free Entry
Capacity: 40 seats 
*Visitors must be staying in the hotel. 

Official Site: https://risonare.com/atami/

Wakura Onsen in Ishikawa Prefecture to Hold Special Illumination, Luxurious Tea Time

The Wakura Onsen Tourist Association is sponsoring a new project to illuminate Seirinji Temple, a nationally registered cultural property. Along with this light show, guests can enjoy a luxurious tea time starting on January 8, 2022. This year, the pavilion and garden will be lit up again, and the entrance will be decorated with traditional local paper lanterns. 

The historic property was built in 1909 as a resting place for Emperor Taisho. Only two such buildings exist in Japan: one in Hamada City, Shimane Prefecture, and the other at Wakura Onsen. Both were registered as Tangible Cultural Properties of Japan in 2017. 

 

Last year, the area was photographed for posters and pamphlets as part of the 'Japanese Beauty Hokuriku' campaign organized by JR East, JR West, and the Central JR Railway.

Each Saturday evening through February 26, guests will be invited to enjoy a different kind of atmosphere while enjoying a very fancy tea time. The program has been very well received by visitors, so it shouldn't be missed!


The light-up of the temple and garden, with its slowly changing colors, will transport guests to another world. The entrance to Seirinji Temple will be redecorated and lit up, and a pathway of lights will be created from the gate to the entrance of the pavilion using paper lanterns.

Information

Seirinji Temple Illuminations & Luxury Tea Time

Running: Saturdays from January 8 – February 26, 2022 

First Seating: 17:00  

Second Seating: 18:00

Address: Seirinji Temple, Wakura Onsen (61 Wakuramachi, Nanao, Ishikawa)

*Available for guests of Wakura Onsen

Official Site: https://www.wakura.or.jp

Wall Art Commemorating Attack on Titan The Final Season Part 2 Appears in Tokyo, Osaka, Nagoya

To commemorate the start of Attack on Titan The Final Season Part 2 on January 9, 2022, some powerful new wall art filled with storyboards and other imagery from the series has appeared in Tokyo, Osaka, and Nagoya train stations for a limited time!

These incredible images will only be available to see until January 9, so if you're near any of these stations, be sure to check them out! Starting on January 4, a countdown video of 'favorite scenes' as chosen by six popular creators will be posted to the official anime Twitter account (@anime_shingeki).

Storyboards featured in this wall art comes from episodes 76 to 80 of the anime series. The largest board is 22.5 meters in length.

©諫山創・講談社/「進撃の巨人」The Final Season製作委員会

Information

Attack on Titan The Final Season Part 2 Commemorative Wall Art

Tokyo (Shibuya)

Location: Tokyu Dogenza Happy  Board AB30

(In the underground passage near the A0 and A1 exits on B2F towards Dogenzaka on the Denentoshi Line at Shibuya Station)

Viewing Period: January 4 – 9, 2022

Tokyo (Shinjuku)

Location: Tokyo Metro / Shinjuku Metro Super Premium Set

(In the corridor connecting the east and west exits of Shinjuku Station)

Viewing Period: January 3 – 9, 2022

Osaka

Location: JR West Japan Railway / Sakurabashi Avenue, Osaka Station

(In the underground passage towards the Sakurabashi exit of JR Osaka Station)

Viewing Period: January 3 – 9, 2022

Nagoya

Location: JR Central Japan Railway / Nagoya Wide Wall

(Inside the Sakuradori Gate of JR Nagoya Station, on the North Street)

Viewing Period: January 3 – 9, 2022

Official Site: https://shingeki.tv/final/

Shaun the Sheep Cafe & Shop Offering Limited-Time Christmas Menu

Some tasty holiday treats are now available at the Shaun the Sheep Cafe & Shop in Tokyo for a limited time!

Shirley's Orange Chocolate Latte / Timmy's Very Berry Milk Tea: ¥1,000 each (Tax Included)

Shaun's Cafe Latte / Rancher's Cafe Mocha: ¥650 each (Tax Included)

Limited-Time Christmas Menu: Shaun the Sheep Village Christmas Chicken Plate: ¥1,750 (Tax Included) 

The cafe's sweet drinks can be enjoyed by adults and children alike and are sure to warm up guests this winter. The location will also be decorated for Christmas, so be sure to stop by!

SHAUN THE SHEEP AND SHAUN'S IMAGEARE ™ AARDMAN ANIMATIONS LTD. 2021

Information

Shaun the Sheep Village Cafe & Shop

Address: Grandberry Park Central Court Wonder Theater 1F (3-4-1 Tsuruma, Machida, Tokyo)

Access: Directly connected to Minami-machida Grandberry Park Station on the Tokyu Den-en-toshi Line

Official Site: https://shaunvillage.jp/

Nagoya Tokyu Hotel's Newly Upgraded Sylvanian Families Room is Now Available

Nagoya Tokyu Hotel has launched its second plan in collaboration with the Sylvanian Families.

This plan allows you to enjoy the world of the Sylvanian Families, a series of dollhouse toys that have been loved by many fans since their launch in 1985. Following on from the first plan, which was very popular, the new plan allows guests to enjoy the hotel's original fruit sandwiches with Sylvanian Families characters imprinted on them at breakfast, as well as the opportunity to dress the dolls in a custom dress that can be freely decorated with lace and accessories to create your own Sylvanian Families.


In this plan, the space with sofas and tables in the room has been converted into a kids' space with play mats so that even small children can play safely. The kids' space is filled with houses and buildings from the "Sylvanian Families" series that kids can actually touch and play with, such as the "Big House with a Red Roof (Classic Color)," the "Doki Doki Tree House in the Forest", and the "Dreamy Amusement Park in the Castle", as well as the chocolate-covered rabbit girl "Flare" and many other friends. There will also be a red and white polka-dot dress (size 110 only) that kids can try on to match with "Flare".


The number of adult fans who enjoy taking pictures of cute Sylvanian Families scenes and posting them on social media is also increasing very quickly. Let's enjoy the world of "Sylvanian Families" to the fullest!

© EPOCH

Information

Family Plan with Kids Space to Play with Sylvanian Families

Runnning: Until February 28, 2022.
Room: Superior Twin Room

Reservation/Contact: 052-251-5922

Special Exhibition Commemorating Miffy's 65th Anniversary Now on Display at Matsuzakaya Nagoya

Matsuzakaya Nagoya is holding an exhibition to celebrate the 65th anniversary of the birth of Miffy, created by Dutch illustrator Dick Bruna, until January 16, 2022. The theme of the exhibition is "with". It introduces the story of Miffy and her friends, with more than 300 precious original drawings, sketches, and creative notes.

Miffy the Ghost, 2001. (Manuscript)

Miffy the Ghost, 2001. (Manuscript)

Queen Miffy, 2007. (Manuscript)

Miffy and Poppy Pig, 2011. (Manuscript)

Miffy in the snow, 1963. (Manuscript)

Original Goods

UFD Miffy Set of 4  ¥4,400(Tax Included)

Rollbahn M  ¥638(Tax Included)

Pounch M ¥1,760(Tax Included)

Half Zip ¥1,650(Tax Included)

Floating Pen ¥1,320(Tax Included)



This exhibition marks the first visit to Japan of the original drawings including "Usako-chan: Obake ni naru" (2001) and "Usako-chan wa Jyoou-sama" (2007), as well as reference materials. Also, the original drawings of "Usako-chan on Snow Day" (1963), one of Miffy's first four works that has only visited Japan once before, and which features a winter outfit, is exhibited together for the first time. In addition, the exhibition reveals the memories and creative fascination of Bruna, who developed close friendships with Japanese picture book authors and children's literature writers and had a significant influence on the picture book culture in Japan.


The original drawings for "Usako-chan: Obake ni naru" (2001), "Usako-chan wa Jyo-oh-sama" (2007), and "Usako-chan to Fugako-chan" (2011), which was the last work to feature Miffy, are all in Japan for the first time. These drawings tell the story of Miffy playing ghosts, flying airplanes, and spending time with her family and friends.

It is also an opportunity for visitors to trace the creative process of Bruna with notes that show how he repeatedly tweaked his words and cuts that were not selected for the books.

Hitohata Flower and Digital Art Festival Held in Aichi Prefecture

Digital communication company Hitohata will be holding a special Flower and Digital Art Festival at the Ito Family Historic Residence in Nagoya, Aichi Prefecture from December 16 to December 19, 2021. T

he location is a recognized cultural property, and the event will feature projection mapping and flower arrangements. The location is usually closed to the public, so this is an amazing opportunity to see a piece of Japanese history up close!

The Ito family was a part of the Kawai Ito family, a merchant family during the Edo Period. The house consists of the main house, tatami rooms, and storehouses. This gives a glimpse into how people lived hundreds of years ago. The main house was completed around 1722. 

Information

Flower x Projection Mapping at Flower and Digital Art Festival

Running: December 16 – December 19, 2021 from 10:00-17:00 (Last entry at 16:30)

Address: Ito Family Historic Residence (1-36-12 Nagono, Nishi-ku, Nagoya)

Advance Reservations: http://discovernagoyatours.com/1149.html

Official Site: https://www.hitohata.jp

Egg specialty store TAMAGOYA to launch Strawberry Fair for a limited time in Shizuoka

Shizuoka-based egg specialty store TAMAGOYA is currently running a BERRY BERRY Strawberry Fair for a limited time.

TAMAGO Pudding Parfait

ICHIGP Pudding Parfait


Gigantic ICHIGO Shortcake Parfait

Strawberry-filled Pancakes

The cafe offers pancakes and parfaits made with strawberries from Shizuoka Prefecture. The menu includes the "TAMAGO Pudding Parfait" that looks like a fried egg with fluffy pancakes and pudding as a specialty of egg stores, and the seasonal "ICHIGO Pudding Parfait". The "ICHIGO's Giant Shortcake Parfait," which weighs over 5 kg, is available by reservation only.

Enjoy the harmony of eggs and strawberries to your heart's content.

Information

TAMAGOYA

Address: 1-322, Yasuhisa, Mishima-shi, Shizuoka, 〒411-0815 

Opening Hours: 9:00~17:00/cafe branch 9:30~17:00(L.O15:30)

Official Site: http://izu-tamagoya.com/

Men's Loungewear Brand Gelato Pique Homme Opens Pop-up Shop in Nagoya

The men's side of the popular Gelato Pique loungewear brand, Gelato Pique Homme, will open a pop-up shop at the Matsuzakaya Nagoya location from December 1 until December 26, 2021. 

Lineup

Striped Sweaters in 2 Limited Christmas Colors

Powder Big Logo Series

Gelato Pique Homme Cosme

The lineup includes new items made from the brand's signature material 'Gelato,' which offers luxurious and high-quality comfort and a light and fluffy feel. Be sure to grab something to wear by the fire this holiday season!

Information

Gelato Pique Homme Pop Up Store-

Running: December 1 – December 26, 2021

Address: Matsuzakaya Nagoya North Building 1F (3-16-1 Sakae, Naka-ku,Nagoya)

Hours: 10:00-20:00

Official Site: https://gelatopique-homme.com/

Hot-Pot Party-Themed Gorogoro Nyansuke Cafe Opens in Ikebukuro

Gorogoro Nyansuke, a popular character featured on LINE stickers, will get his own cafe in Ikebukuro for a limited time! The nabe (hot-pot) party-themed location will be open from December 2, 2021 until January 23, 2022. In Japan, it's popular to enjoy nabe with friends and family during the winter months to warm up!

Reservation Bonus

Menu

Refreshing Lemon Nabe

Tomato Nabe

Soy Milk Nabe

Black Sesame Parfait

Dorayaki Pancakes with Japanese Sweets

Red Bean Paste Covered in Snow

Warm and Cozy Kotatsu Cake

Nyansuke Float (Melon Soda)

Nyansuke Float (Anzu Soda)

Nyansuke Float (Roasted Green Tea and Milk)

Nyansuke Sake

Cafe Latte: ¥660 (Tax Included)

Original Merchandise

Acrylic Keychain (Random, 10 varieties)

A4-size Clear Folder (Set of 2)

Mug

The adorable kitty-cat has become popular on LINE and social media and was designed by Tsumugi Murasato. Her first manga was published in October 2020 with merchandise following, and she has become more and more popular since!

© MIND WAVE INC. / GORO GORO Nyansuke ®