Sakura Miku Blossoms On Merchandise at Hirosaki Sakura Matsuri 2021 in Aomori
Japanese anime, game, and hobby merch site CharaAni released a new collection of Sakura Miku merchandise on Monday in collaboration with the Hirosaki Sakura Matsuri 2021 festival.
Hirosaki Sakura Matsuri 2021 x Sakura Miku Line-Up
Folders | ¥450 Each (Tax Included)
Tapestries | ¥3,500 Each (Tax Included)
Acrylic Stands | ¥1,500 Each (Tax Included)
Holographic Pins | ¥550 Each (Tax Included) *Blind box, designs are random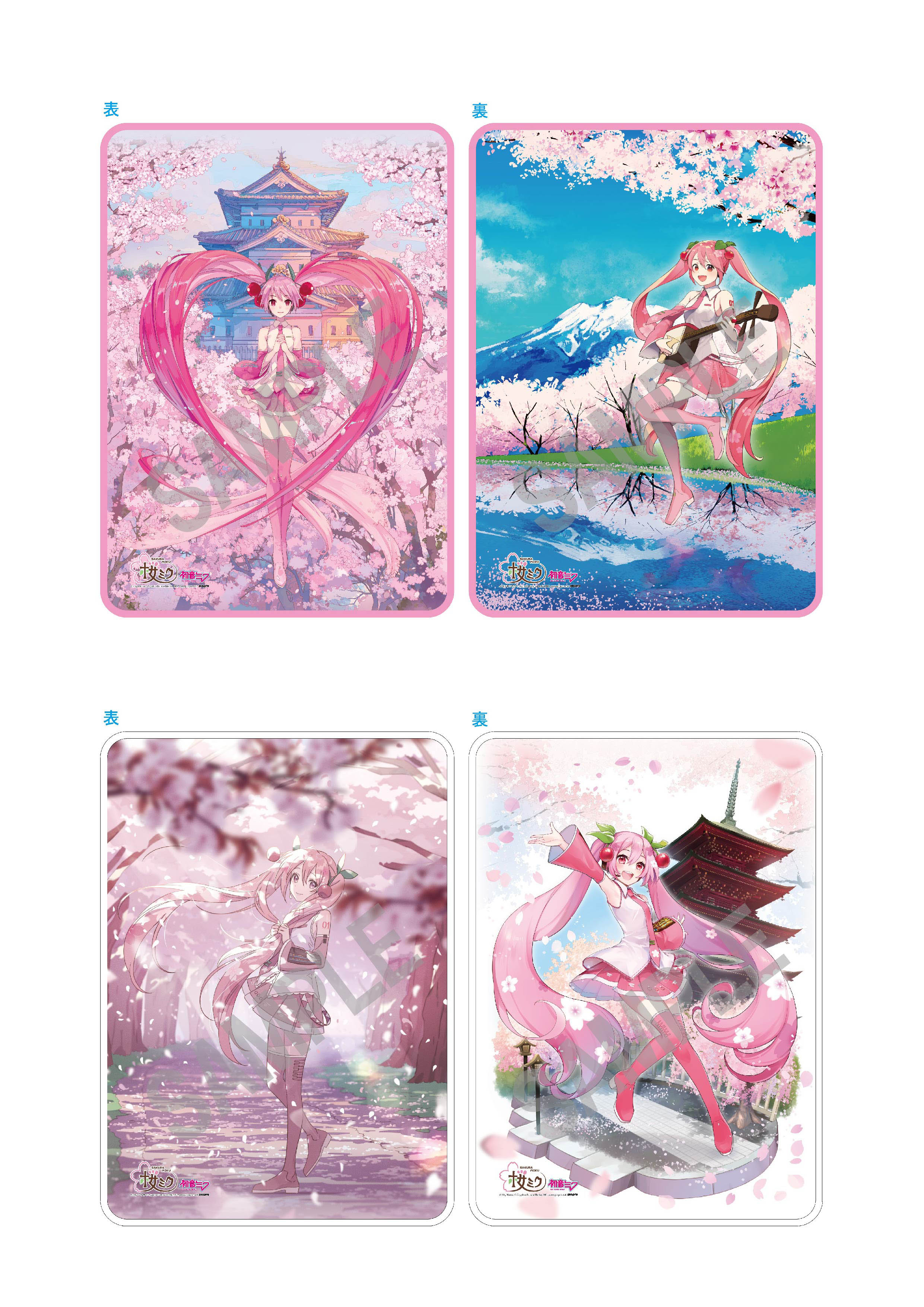 Reversible Blankets | ¥5,500 Each (Tax Included)
Scarf Towel (Art by iXima) | ¥2,000 (Tax Included)
Happi (Art by iXima) | ¥6,000 (Tax Included)
Hand Towel (Art by Mamo) | ¥1,000 (Tax Included)
Motel Key Ring (Art by iXima) | ¥1,500 (Tax Included)
Teacups | ¥1,700 Each (Tax Included)
Flat Pouch (Art by iXima & Mamo) | ¥2,500 (Tax Included)
Drum Bag (Art by iXima) | ¥6,500 (Tax Included)
Full Graphic T-Shirt (Art by Morichika) | ¥5,500 (Tax Included)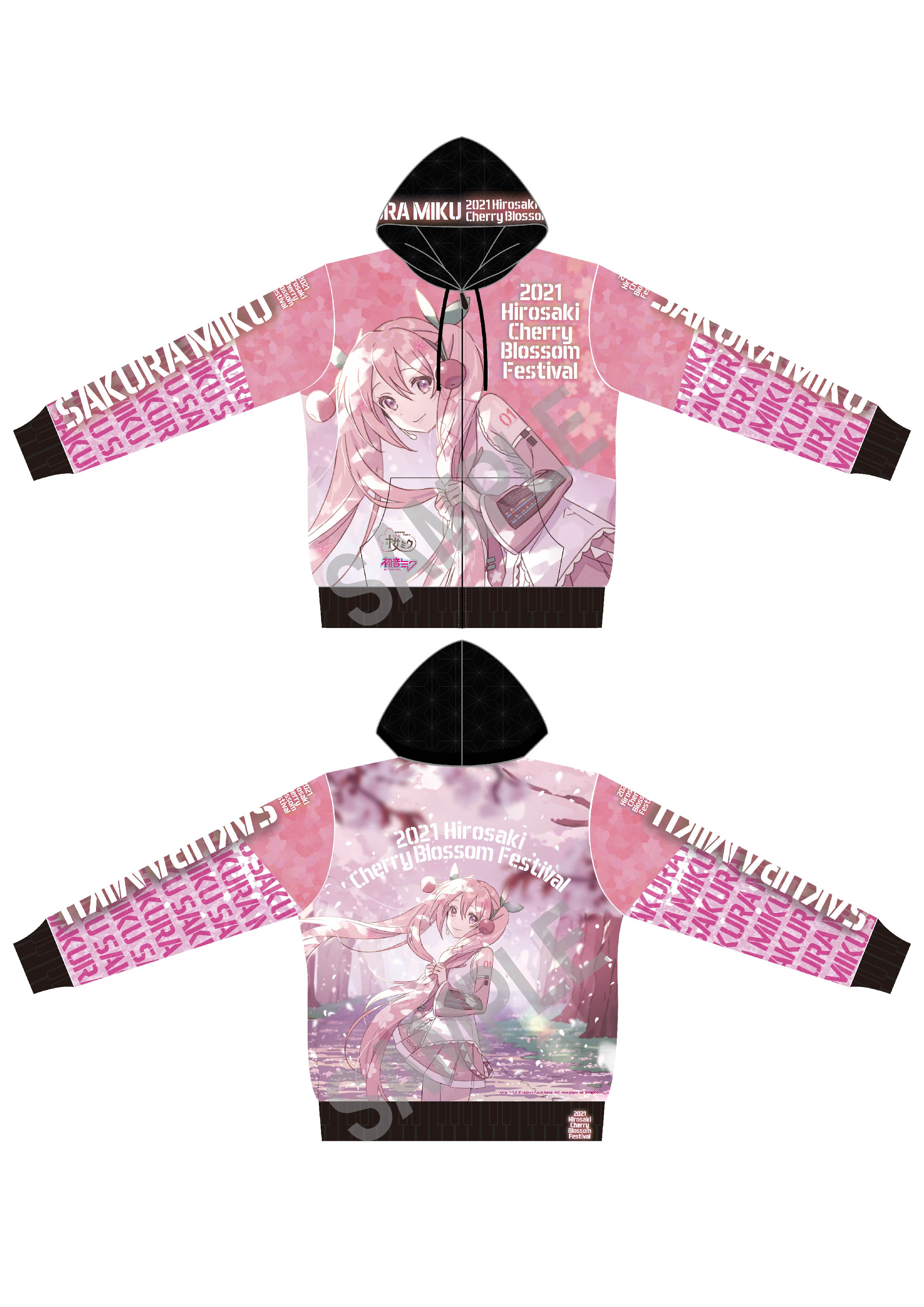 Full Graphic Zipper Hoodie (Art by Hechima) | ¥9,900 (Tax Included)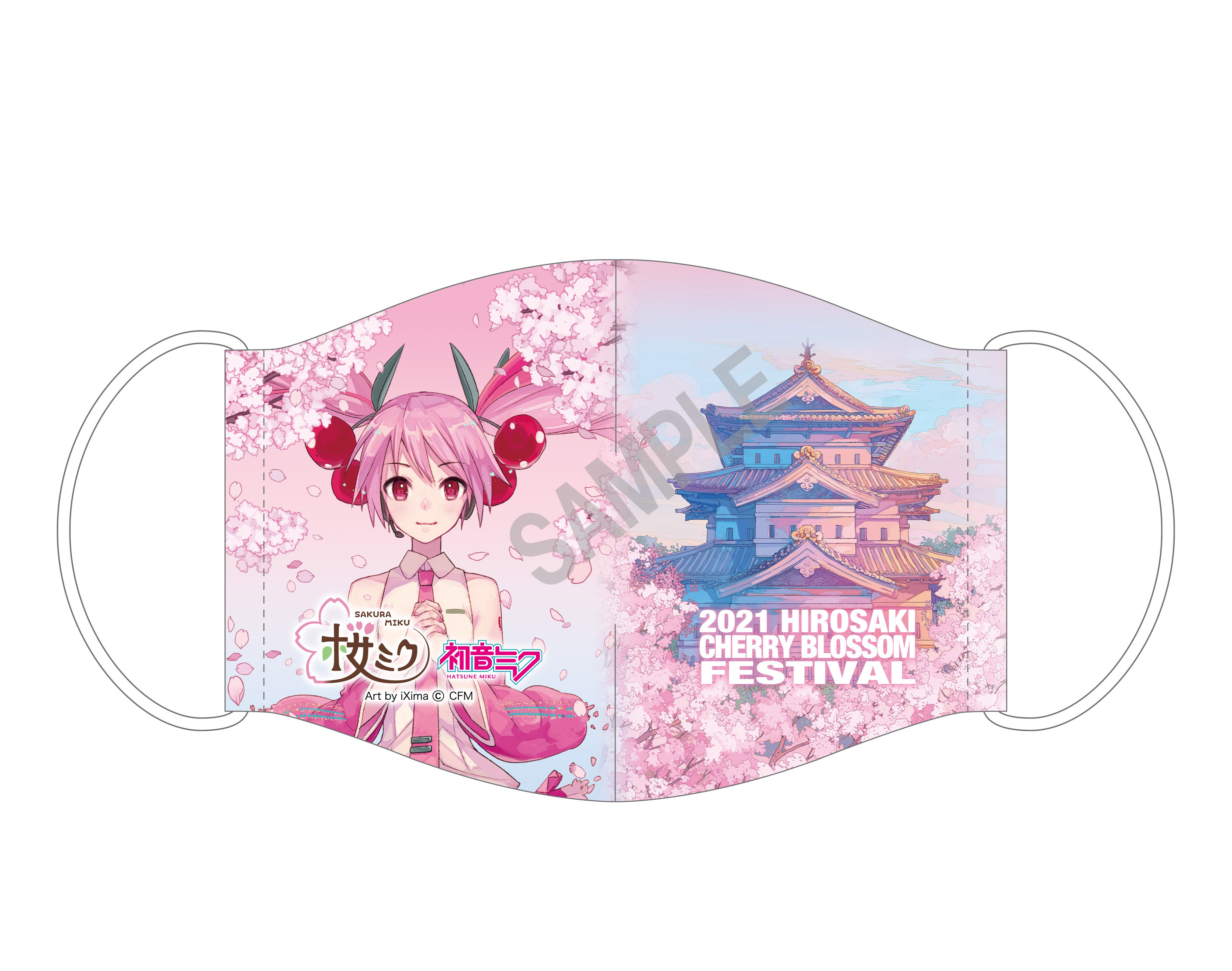 Fashion Mask (Art by iXima) | ¥2,200 (Tax Included)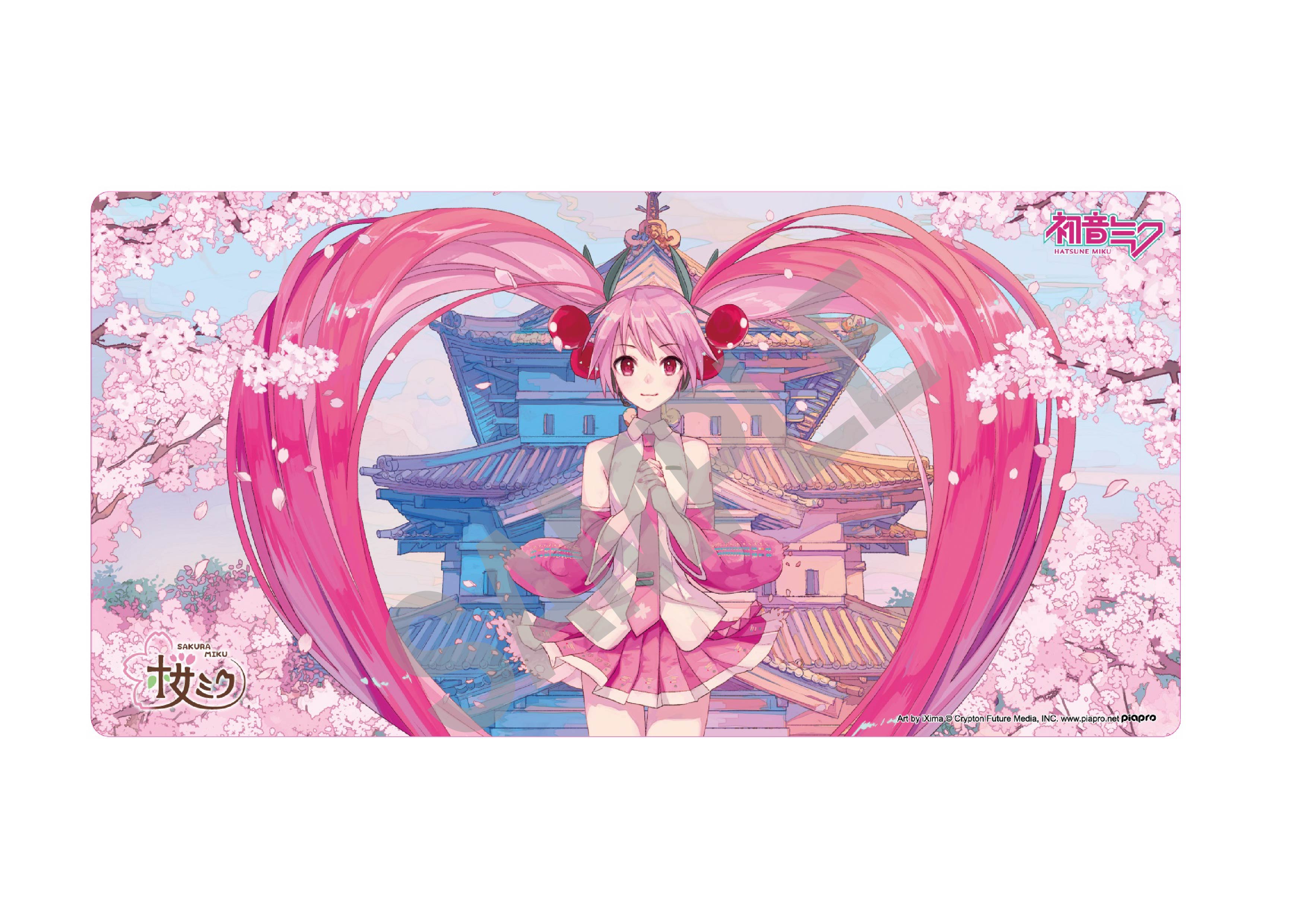 Desk Mat (Art by iXima) | ¥3,300 (Tax Included)
Shitakawa Rayaki Dove Whistle | ¥2,200 (Tax Included)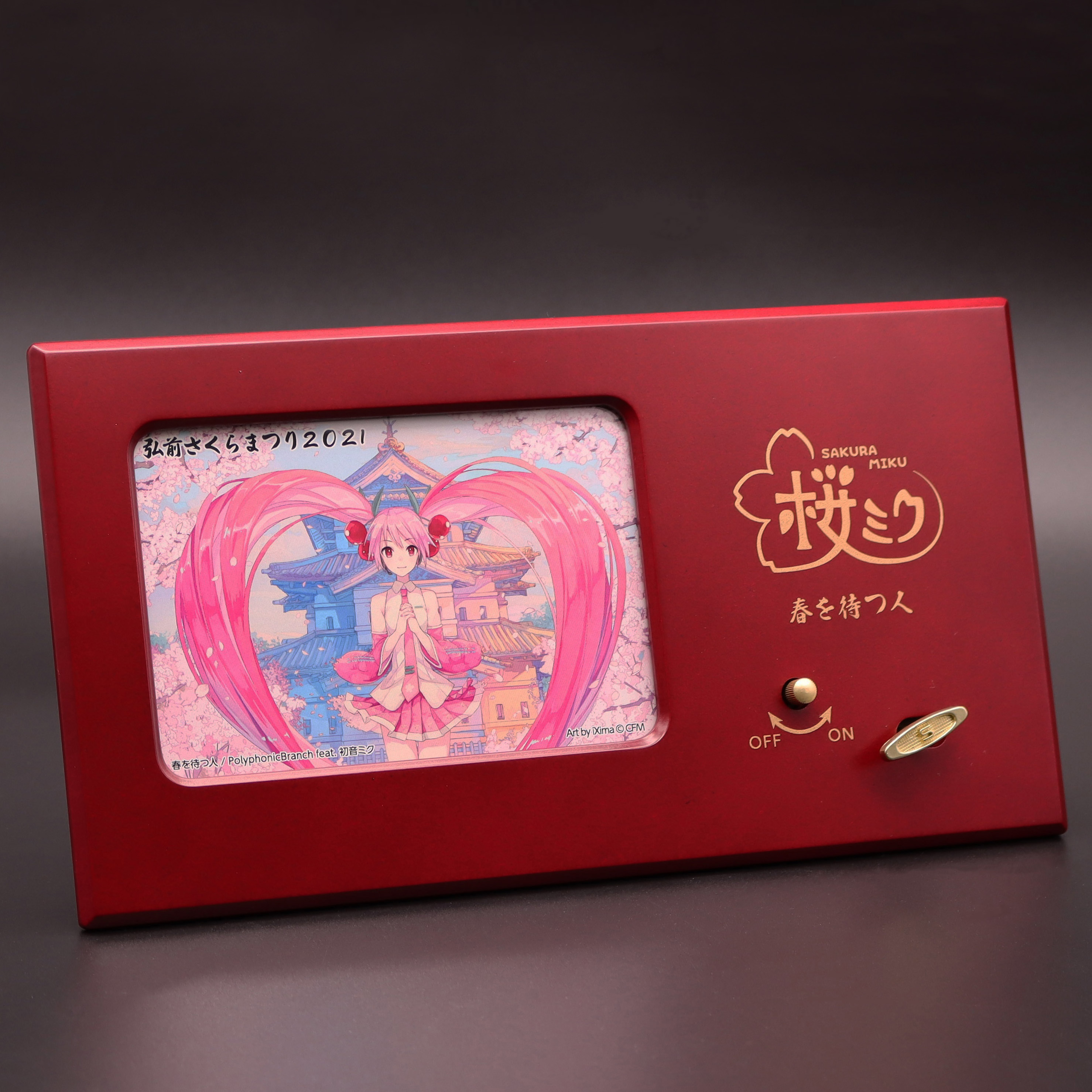 Music Box: "Haru o Matsu Hito" – PolyphonicBranch feat. Hatsune Miku
The Sakura Miku x Hirosaki Sakura Matsuri 2021 collection invites on board four artists: iXima, Mamo, Hechima, and Morichika who have created original artwork for the line-up. The items can be bought both at the festival and online.
The collection also includes Sakura Miku-inspired dove whistles made by Shitakawa Rayaki Tsuchi Ningyo, a clay doll company that has been around for over 200 years. The company began in the latter half of the Edo Period when Takaya Kanegura, who had learned how to make ceramics in the town of Chikuzen in Fukuoka, was employed by the Hirosaki Domain to build a furnace.
Miku fans can also get their hands on a music box which features an original song created for the festival called Haru o Matsu Hito ("Person Waiting For Spring"). It features artwork by iXima.
Art by iXima / Mamo / へちま / もりちか © Crypton Future Media, INC. www.piapro.net
RELATED ENTRIES
Rilakkuma & Sumikko Gurashi Festival Announced For Fall in Sapporo

Rilakkuma and Sumikko Gurashi are set to collaborate at a special festival centred entirely around the characters which will run at Sapporo Factory from September 17 to November 28.

Rilakkuma, Sumikko Gurashi, and you are invited to the festival which will be split into two areas: the Rilakkuma Pavilion and Sumikko Gurashi Pavilion where the characters will be present to greet guests. The event is taking on a magical theme which imagines the spirits of San-X, the company who created Rilakkuma and Sumikko Gurashi, casting a mysterious magic on the festival to bring happiness to all.

There's plenty for fans of the characters to enjoy including fun photo spots, exclusive merchandise, and much more.

If you're in Sapporo this autumn, don't miss the Rilakkuma & Sumikko Gurashi Festival.

Information

Rilakkuma & Sumikko Gurashi Festival

Running: September 17, 2021 – November 38, 2021

Venue: Sapporo Factory 3 (Floor 3F)

Address: 4 Chome-1-2 Kita 2 Johigashi, Chuo Ward, Sapporo, Hokkaido 060-0032, Japan

Opening Hours: [Weekdays] 13:00-17:00 (From 10:00 on September 17) / [Weekends] 10:00-17:00 (Last Entries 16:30)

Closed: Thursdays (Except September 23, 2021)

TEL: 011-272-9302 (10:00-17:00 except weekends and holidays)

Official Website: https://ntv.co.jp/rilakkuma-and-sumikko-fest/

HATSUNE MIKU Digital Stars 2021 Online Event Announced For August

Crypton Future Media has announced that the 'HATSUNE MIKU Digital Stars 2021' online music event will take place on August 29, 2021 as part of their Digital Stars project. The club event sees fans come together to party online.

Merchandise for the event is available to buy on HOBBY STOCK between May 20 and June 10.

The HATSUNE MIKU Digital Stars 2021 Compilation, a CD which is part of the annual Digital Stars series, was also released at music stores in Japan on May 18.

For more information on the event, check the official website below.

Hatsune Miku Features in Pocari Sweat Promotion as Official Ambassador

Otsuka Pharmaceutical released a 30-second video titled "Netsunarero" on their official YouTube channel on May 6 announcing Hatsune Miku and members of Leo/need from the Project Sekai Colorful Stage ft. Hatsune Miku mobile game as the official ambassadors for the Japanese sports drink Pocari Sweat.

The importance of "Netsunare"

The video stresses the importance of netsunare – sweating in order to get used to the heat during summer. Leading the promoting of this message is Hatsune Miku who is followed by Leo/need, MEIKO, Mirai Akari, Fuji Aoi, and YuNi. The video features the original song Waiting for Clear Weather created by Orangestar for the Project Sekai Colorful Stage ft. Hatsune Miku mobile game. The popular track has been streamed over 1.9 million times as of April 2021.

The Character Line-Up

Since December 2019, Otsuka Pharmaceutical has appointed Hatsune Miku, MEIKO, Leo/need, MEIKO, Mirai Akari, Fuji Aoi, YuNi, and other familiar faces as official ambassadors for Pocari Sweat to spread information on how to overcome Japan's hot summer weather to the world. It is part of the beyond2020 project which Otsuka describes: "With an eye to 2020 and beyond, this cultural program will contribute to the creation of a legacy befitting a maturing society that will make the next generation proud, through Japan's strength which consists of its local and diverse culture."

Leo/need from Project Sekai Colorful Stage ft. Hatsune Miku

Project Sekai Colorful Stage ft. Hatsune Miku is a mobile game for iOS/Android. The members of Leo/need include guitarist and vocalist Ichika Hoshino, keyboardist Saki Tenma, drummer Honami Mochizuki, and bassist Shino Hinomori. They will release their first single on June 9, 2021.

Twitter Campaign

Otsuka Pharmaceutical is also holding a Twitter campaign in Japan as part of the promotion where 200 random people can win a box of seven 500ml Pocari Sweat bottles for cooling down in the summer heat.

How to Sign Up

Step 1: Follow Pocari Sweat on Twitter @pocarisweat_jp

Step 2: Retweet or quote any of Pocari Sweat's posts featuring the hashtag #ネツナレろ ("Netsunarero")

Running: May 6, 2021 – May 19, 2021 (Japan Only)

Campaign Site: https://pocarisweat.jp/action/pocarimiku/netsunarero/

© SEGA / © CP / © CPM / © Mirai Akari Project / © YuNi / © Fuji Aoi

Vocaloid's Sakura Miku and Virtual Singing Friends Collaborate With Illustrator Shirabi

A new collection of Sakura Miku merchandise has been released for the Spring 2021 season. The collection features original artwork by Japanese illustrator Shirabi and is available to purchase on ARMA BIANCA.

 

Sakura Miku is joined by her Vocaloid friends Kagamine Rin, Kagamnine Len, Megurine Luka, MEIKO, and KAITO in this collection which uses the main visual drawn by Shirabi for the Sakura Miku Pop-Up Shop that ran from March 19 to April 4 at the AMNIBUS STORE in Shinjuku Marui Annex in Tokyo.

Here's a select look at some of the items up for grabs, all of which is sure to be a cute feast for the eyes of Vocaloid fans.

Acrylic Key Rings: ¥650 Each (Before Tax) / Whole Collection ¥5,850 (Before Tax)

Affix your favourite Vocaloid to your bag or decorate your room with these key rings featuring the most popular Vocaloid characters individually and in pairs.

Bonus Item

If you buy the whole box of key rings, you'll also get this bonus limited-edition key ring featuring the entire cast.

Zipper Hoodies | ¥5,980 Each (Before Tax)

The hoodie collection is a simple pullover type perfect for wearing at home, outdoors, at anime events and concerts – pretty much anywhere!

Mobile Batteries | ¥4,500 Each (Before Tax)

A lightweight and compact battery that's handy for when your device is running out of juice.

Changing Mug | ¥2,980 (Before Tax)

A mug which changes its design when you pour a hot drink inside. Enjoy twice the amount of Miku when making your morning coffee.

Check out the mug in action in this video below.

Wappa Bento Box | ¥5,480 (Before Tax)

Take your lunch to work out enjoy a meal outdoors with this bento box that's made from wood. It has that distinct natural wood feel and smell to it.

Coin Purse | ¥1,800 (Before Tax)

Keep your coins or other little bits and bobs safe in this cute and compact purse.

Check out the link below for the full list of merch.

Art by しらび © Crypton Future Media, INC. www.piapro.net

Earth Day Tokyo 2021 to Promote Sustainability, Eco-Friendliness, and an Organic Lifestyle at Yoyogi Park

This year's Earth Day Tokyo will take place at Yoyogi Park from April 17-18 where messages of eco-friendliness, organic products, sustainability, ethics, and inclusiveness will be at the core of various events held as part of the festival.

This year marks Earth Day Tokyo's 20th run as part of the global Earth Day initiative and brings together environmental NPOs, charities, and locals. Due to COVID-19, in-person events will only take place on April 17 and 18 but the festival will run online from April 17 to 25.

Earth Day Tokyo 2021 Concert

Concerts will take place across the two-day Yoyogi Park festival. Many musicians and guests have committed themselves to the future of the planet at the Earth Day Tokyo's concerts, with past line-ups including Japan's King of Rock Kiyoshiro Imawano, UA, BONNIE PINK, and more.

This year will see performances from Itou Seikou ITP, Kenichi Nagira, yae, scoobie do, Taiji Sato, Nozomi Nobody, hachi_Aigoz, tico moon, Rokuta Yanagiya, and Ichido Ryutei.

Market area

Every single product at the market booths has a story, and visitors will be able to hear about them from the makers in-person as they shop. And the items sold at the market will be different each day, stocking something to add a little environmental consideration into our lives.

C. W. Nicol's "Nicol's Forest Kitchen" sausages help plant forests

The late Welsh-born Japanese writer, actor, and singer-songwriter C. W. Nicol was the Executive Committee Chairman for Earth Day Tokyo from 2000 until his passing last year. He also launched Nicol's Forest Kitchen in 2011 which has been a regular at Earth Day Tokyo to help protect Japan's forests. The food stall will make an appearance this year too.

C. W. Nicol began to wonder how he could help raise people's interest in forests as well as help revitalise forests that had been destroyed. Nicol's Forest Kitchen project was his answer: to spread awareness through food, and in doing so, the project could help build up forests.

Visitors separate garbage themselves with the help of volunteers

At the Eco Station, volunteer staff will help direct visitors in separating garbage properly, raising awareness on the proper procedures which they can take away home with them.

Information

Earth Day Tokyo 2021 @ Yoyogi Park

Running: April 17, 2021 – April 18, 2021

Time: 10:00-17:30

Where: Yoyogi Park

Entry: Free

Earth Day Tokyo Official Website: https://www.earthday-tokyo.org

Little Glee Monster and Other Japanese Artists Announced For Tokyu Musix Challenge

Tokyu Musix Challenge is set to take place at Bunkamura Orchard Hall this year on March 7 at 18:00.

2020 saw the cancellation of music events across the world, with Japan being no exception. Shibuya, Tokyo's hub of countless live music venues and halls, was particularly affected by the effects of the pandemic. But the energy and power that music artists hold is one they can offer to brighten up peoples' time during today's times. That's where Tokyu Musix Challenge comes in, a new kind of music festival that will bring together a multitude of genres, and where better for it to be held than the cultural melting pot that is Shibuya.

This year will be the first run of the festival, where a collaboration between classical music and contemporary pop music will clash at Bunkamura Orchard Hall. The Tokyo Philharmonic Orchestra, which is recognised as Japan's oldest symphony orchestra, will play alongside acts such as Little Glee Monster, Ai Higuchi, Win Morisaki, Meimi Tamura, Kayoko Yoshizawa, ROTH BART BARON, and more. And the line-up is set to grow as more performers will be announced in the lead up to the event.

Comments from the Artists

Little Glee Monster

"We are really looking forward to feeling the fresh breeze of our music colliding with the grand scale of an orchestra. We'll be sure to play our part so that we don't lose to the overwhelming performance of everyone in the Tokyo Philharmonic Orchestra, but also so that our music complements theirs. We hope that everyone can have a good time and feel good from the strength that music has."

Ai Higuchi

"In 2020, we may have all lived kind of complicit with so many options in front of us leading down different paths. A certain friend might have gone to a drinking party, another might not have seen their lover for a long time. What choices do we make? We become darker depending on our choices. In Shibuya, a city that continues to change, I will sing my unchanged songs."

Win Morisaki

"Over this past year, the respect I have for the position I'm in where I can express myself has really sunk in. I'm so happy I've been able to get involved with this challenge. And getting to sing with an orchestra, it's magnificent. I'm so excited about what's to come."

Meimi Tamura

"I can't contain my excitement at a genre collaboration between classic, which is the foundation of music, and pop which is strongly tied to Shibuya. I think I'm going to start feeling tense at getting to perform alongside everyone in the Tokyo Philharmonic Orchestra and singers of all different kinds of music. We don't have a lot of freedom today during the pandemic, but I will work my hardest so that I can deliver love through music from the city of Shibuya."

Kayoko Yoshizawa

"My chest roars and having the opportunity to perform along side Japan's oldest and longest-running Tokyo Philharmonic Orchestra at the legendary Orchard Hall. It's my first time experiencing singing with an orchestra, so I'm looking forward to seeing how the songs will be structured, and how my voice will sound, when we do it."

The VOCALOID Collection Online Concert Adds 11 Artists to the Line-Up

Dwango has announced 11 more artists for the upcoming The VOCALOID Collection LIVE event which will take place on April 25, 2021 as part of the The VOCALOID Collection ~2021 Spring~ Supported by Tobu Top Tours project.

The VOCALOID Collection LIVE is a gathering of some of the biggest Vocaloid producers in the industry. The newly-announced artists include Capital Rhythm, Kozue Aikawa, Ririri, ATY, Ayasa, Ryota Kikuchi (Anoatari), SHiN, Yamato, and Wakazaemon, as well as WOOMA and Yasutatsu who are known for their hit music videos Usseewa and Readymade respectively.

 

"The VOCALOID Collection x MECRET" 5 Biggest Tracks of the Top 30 Ranking

MECRE is a platform that lets creators look for and meet creative partners. For this collaboration, the Top 5 songs of the VOCALOID Collection Top 30 Ranking will be released officially from Sony Music Labels and receive royalties.

How to Get Involved

Creative an original song using the VOCLAOID software and post to Nico Nico during the VOCALOID Collection event. Submissions must be set with the tag "ボカコレ2021春TOP30." Submissions will be accepted from April 24 at midnight to April 25 at 19:00 (JST). More details here.

Information

The VOCALOID Collection LIVE

Date: April 25, 2021

Time: Open 14:00 / Start 15:00 / Finish 19:00

Venue: Makuhari Messe Hall 4

Hoshino Resorts BANTA CAFE Announces Art Festival by the Beachside

The incredible Hoshino Resorts BANTA CAFE, a beachside cafe which offers guests a breathtaking ocean view along the Okinawan coast, has announced the upcoming Beachside Art Festival which will take place from April 10 to May 9. The festival will bring together artwork from a range of artists born and raised in Okinawa and leading the island's youth culture. There will be a range of events from live painting to workshops, exhibits, and more.

The participating artists have all taken part in personal art exhibits, art events, showcased their work at concerts, and more both inside and outside Japan, but due to COVID-19, many events have of course been cancelled. Beachside Art Festival will serve as a way to display their wonderful works while supporting them at the same time.

The Artist Line-Up

DENPA

nami

HAYATO MACHIDA

Chibana Yukinaga

MACHIDA visiting BANTA CAFE to check the feel of the ocean and their artwork

Vibrant artwork with the ocean as the backdrop

Visitors will be greeted by artwork dotted across various locations around BANTA CAFE. If they follow the top of the cliff down to the beach they will find sofas to sit on which have also been decorated with the artists' artwork. Then there's the Goro Goro Lounge with its enormous window that stretches an entire wall and offers a panoramic view of the sea. Here, visitors can look out at the artwork which will look like it's floating above the horizon. All drinks ordered also come with a free sticker featuring artwork by the four participating artists.

Experience art-in-the-making with live painting

DENPA and MACHIDA will host their own live painting sessions where they will take inspiration from the surrounding environment.


HAYATO MACHIDA @ April 10, 2021 / April 11, 2021

DENPA @ April 18, 2021

Times: 11:00-13:00 / 14:00-17:00

Where: In front of BANTA CAFE on the beach

Price: Free

Have a go at traditional Okinawan bingata dyeing

Visitors can have a go at making their very own coasters from nine different colours using a traditional Okinawan stencilled dyeing technique known as bingata.


Running: April 24, 2021 / May 1, 2021 / May 2, 2021 / May 5, 2021

Times: 10:00 / 12:00 / 14:00 / 16:00 (Each slot lasts approx. one hour)

Capacity: 4

Where: Iwaba Terrace

Price: ¥2,000 (Tax Included)

Note: Online booking required

Take home a souvenir at the beachside museum shop

A museum shop will be open for the event on weekends and holidays where you can pick up art prints, stickers, postcards, and other mementos.


Opening Days: Weekends & Public Holidays

Opening Hours: 10:00-18:00

Where: Beachside Terrace

Information

Hoshino Resorts BANTA CAFE – Beachside Art Festival

Running: April 10, 2021 – May 9, 2021

Where: Hoshino Resorts BANTA CAFE, Okinawa

Official Website: https://banta-cafe.com/en/

Cute Hatsune Miku Artwork by Esther Kim Releases for MikuWorldCollab

As part of MikuWorldCollab, a project launched to have the internationally-beloved virtual singer collaborated with famous overseas IP's, popular Korean-American illustrator Esther Kim has teamed up with Crypton Future Media to release a super cute piece of artwork of Miku.

Miku is joined by Esther Bunny, an adorable bunny created by Esther Kim. Kim was born in Los Angeles and spent her teenage years in Tokyo. Her multicultural background has influenced her art which has led to collaborations with popular fashion and cosmetic brands in South Korea, Japan, and elsewhere.

Kim has cute and stylish touches to Miku and Esther Bunny. The illustration will be released on merchandise sometime this year. Another illustration by a designer at Crypton will also be released in the near future.

Experience an Indoor Hanami Cherry Blossom Flower Viewing at Ofuro Cafe Bijinyu

Ofuro Cafe Bijinyu is now hosting its "Air Hanami" event where customers can enjoy a safe and socially-distanced Hanami flower viewing experience this spring.

Ofuro Cafe is a relaxing space that feels like you've been invited to a friend's house. You can enjoy coffee, magazines, the massage chair, rent a PC, and more, all for free.

In the middle of the cafe is a 3-meter tall cherry blossom tree to recreate that Japanese springtime feel. There are also some cherry blossom-themed souvenirs available for purchase.

With social gatherings and outdoor picnics being restricted in Japan for this year's Hanami season, Ofuro Cafe offers a space where people can do it safely. They can chat, read a book, play board games, and more beside the cherry tree for a tranquil flower-viewing experience.

Information

Ofuro Cafe Bijinyu

Address: 15-15 Kagoue, Aoi Ward, Shizuoka

TEL: 054-252-1126

Ofuro Cafe Bijinyu Official Website: https://ofurocafe-bijinyu.com/

Cherry Blossom Chocolate and Soda Releases From MAISON CACAO

Japanese aromatic raw chocolate brand MAISON CACAO is launching a new Kamakura-based brand called Shiki to Maison ("Four Seasons & Maison") which will feature chocolates that capture the events and culture found throughout the four seasons in Japan.

The first entries to the series are cherry blossom chocolates which are available from March 26 to April 4, as well as cherry blossom drink which can be enjoyed on March 27 and 28.

 

Aroma Raw Chocolate SAKURA ¥2,200 / Cacao Vinegar Soda SAKURA ¥550 (Before Tax)

Aroma Raw Chocolate SAKURA

Indulge in a box of these luxury cherry blossom chocolates which are made with 100% cacao powder which have a refreshing white chocolate aftertaste. The chocolates are made with cherry blossom as well as a fresh cream laced with salt-pickled cherry blossom. They also include a paste made from liquid drawn from cherry blossom petals. It's a taste of Japanese spring with every bite.

Cacao Vinegar Soda SAKURA

This springtime beverage includes a cacao vinegar made from cacao pulp and is coupled with fragrant cherry blossom. This one is available at the Komachi and Cacao Hanare branches as well as at CHOCOLATE BANK.

Information

Shiki to Maison Sakura Sweets

Japanese Product Name: 四季とメゾン 桜スイーツ

Serving: March 26, 2021 – April 4, 2021

MAISON CACAO Official Website: https://onlineshop.maisoncacao.com/

Nintendo Releases Hatsune Miku Logic Paint S for the Switch

Hatsune Miku Logic Paint S was released for the Nintendo Switch on March 18. The game was published by Crypton Future Media, who are known for creating VOCALOID, and comes as their first-ever puzzle game. The game is available for 25% off until March 31.

The main visual for the game was created by illustrator NEGI

The game is the expanded and complete version of Hatsune Miku Logic Paint -MIKULOGI- which was released for smartphones in March 2020. Players use the numbers in the top and left-hand sides of the screen to fill in a grid of square in order to create an image. They can also use the X marks to prevent mistakes. The images include illustrations of Piapro characters including Hatsune Miku and her familiar line-up of friends.

Players can also set their favourite songs to play in the home and puzzle screens and can unlock more songs by collecting Stars.

Hatsune Miku Logic Paint S builds on the MIKULOGI version by introducing even more puzzles – over 350, including the addition of new 20 x 20 puzzles alongside the original 5 x 5, 10 x 10, and 15 x 15. Players can now choose favourite Piapro character to solze puzzles together with, including Miku, Luka, Rin, Len, Kaito, and Meiko. There are also Missions for players to complete which will unlock artwork and 18 different songs.