Sakura Miku Blossoms On Merchandise at Hirosaki Sakura Matsuri 2021 in Aomori
Japanese anime, game, and hobby merch site CharaAni released a new collection of Sakura Miku merchandise on Monday in collaboration with the Hirosaki Sakura Matsuri 2021 festival.
Hirosaki Sakura Matsuri 2021 x Sakura Miku Line-Up
Folders | ¥450 Each (Tax Included)
Tapestries | ¥3,500 Each (Tax Included)
Acrylic Stands | ¥1,500 Each (Tax Included)
Holographic Pins | ¥550 Each (Tax Included) *Blind box, designs are random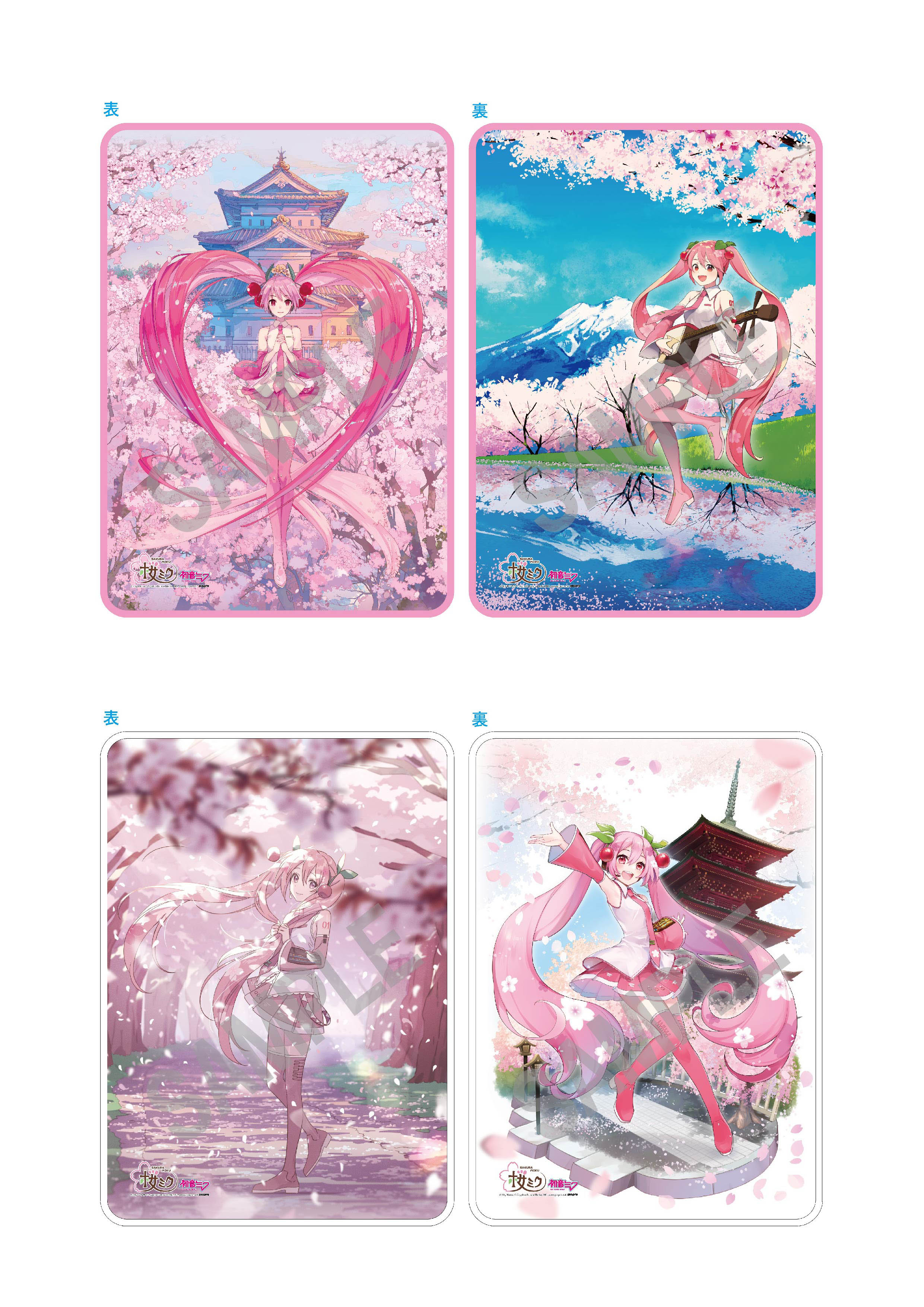 Reversible Blankets | ¥5,500 Each (Tax Included)
Scarf Towel (Art by iXima) | ¥2,000 (Tax Included)
Happi (Art by iXima) | ¥6,000 (Tax Included)
Hand Towel (Art by Mamo) | ¥1,000 (Tax Included)
Motel Key Ring (Art by iXima) | ¥1,500 (Tax Included)
Teacups | ¥1,700 Each (Tax Included)
Flat Pouch (Art by iXima & Mamo) | ¥2,500 (Tax Included)
Drum Bag (Art by iXima) | ¥6,500 (Tax Included)
Full Graphic T-Shirt (Art by Morichika) | ¥5,500 (Tax Included)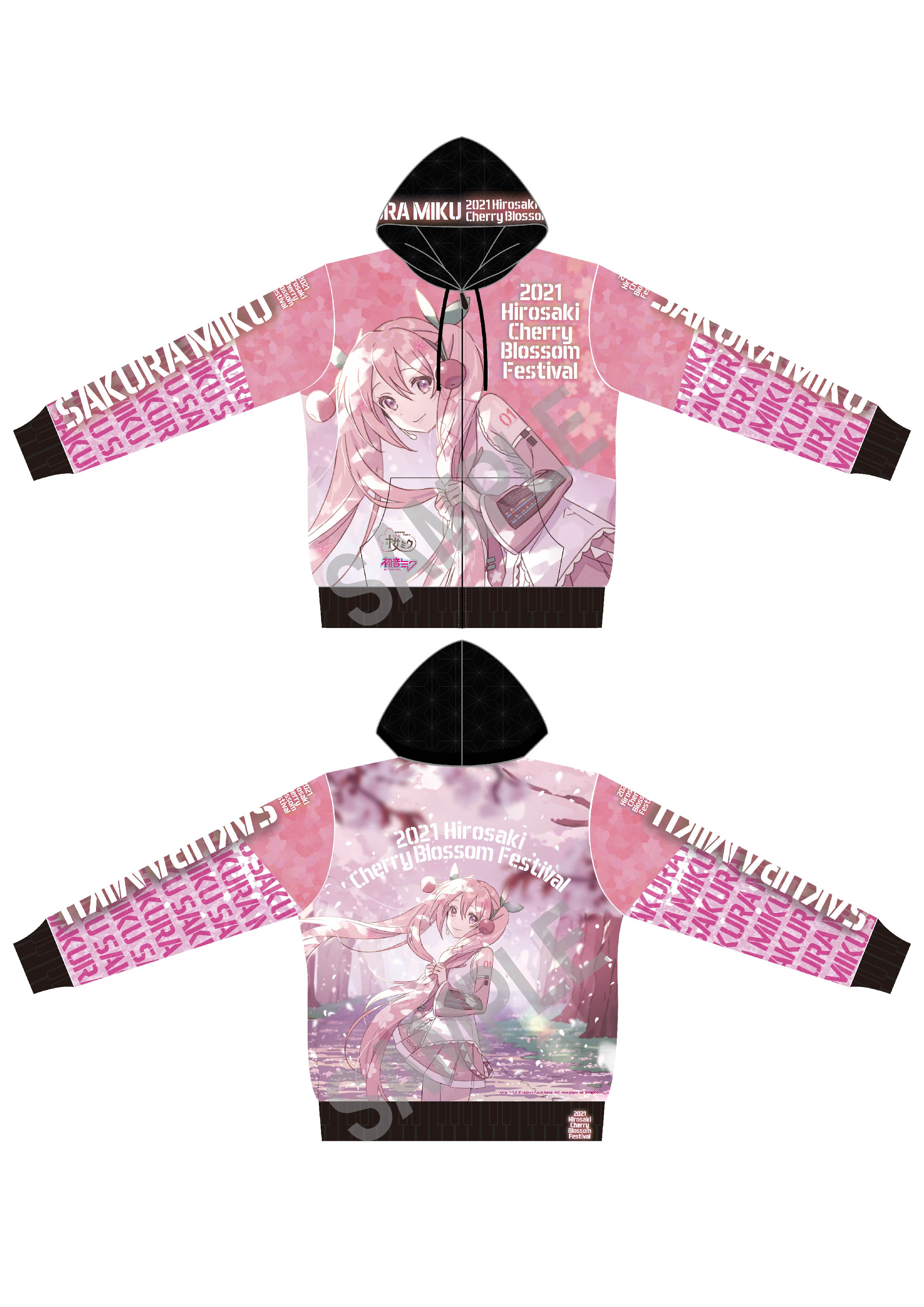 Full Graphic Zipper Hoodie (Art by Hechima) | ¥9,900 (Tax Included)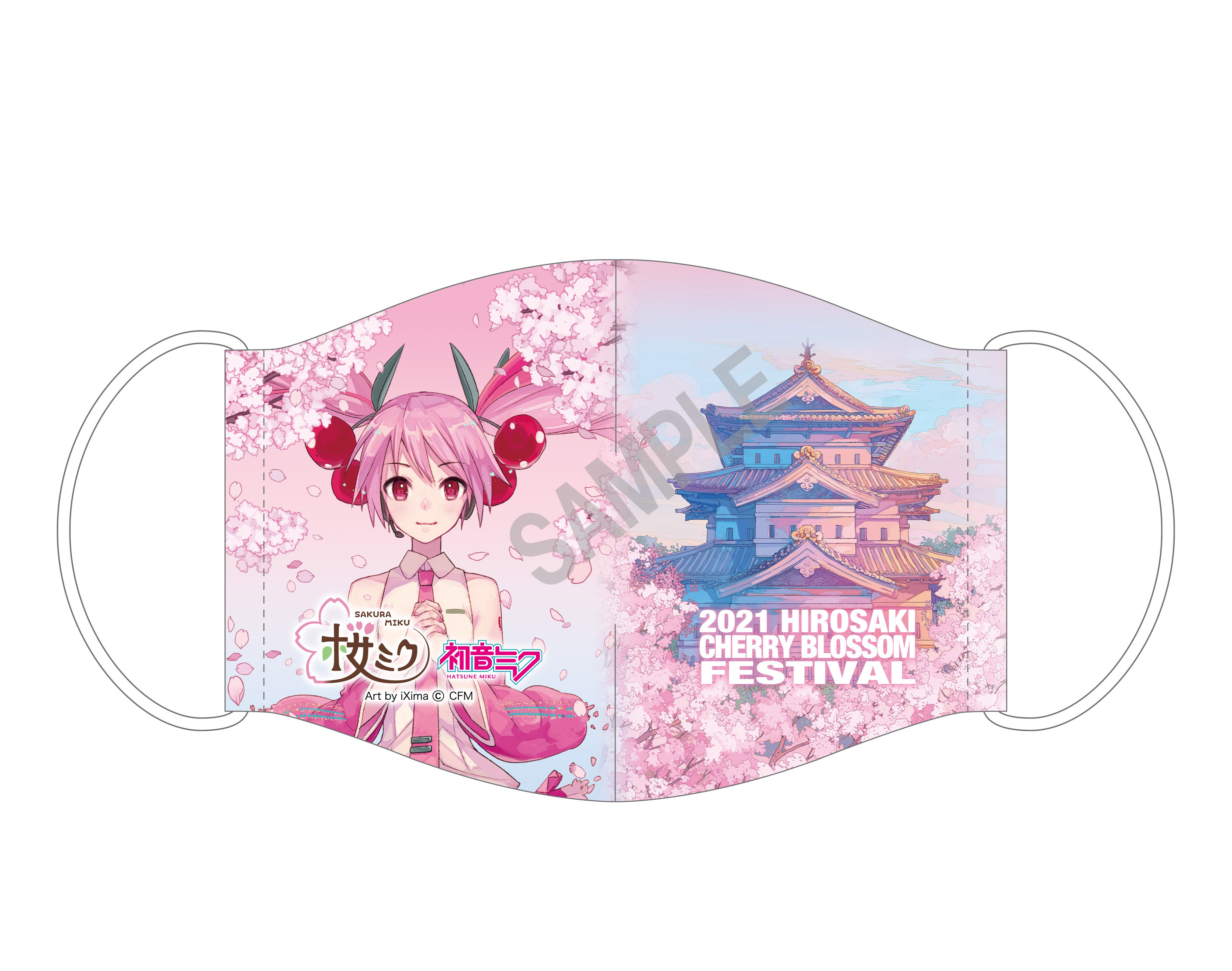 Fashion Mask (Art by iXima) | ¥2,200 (Tax Included)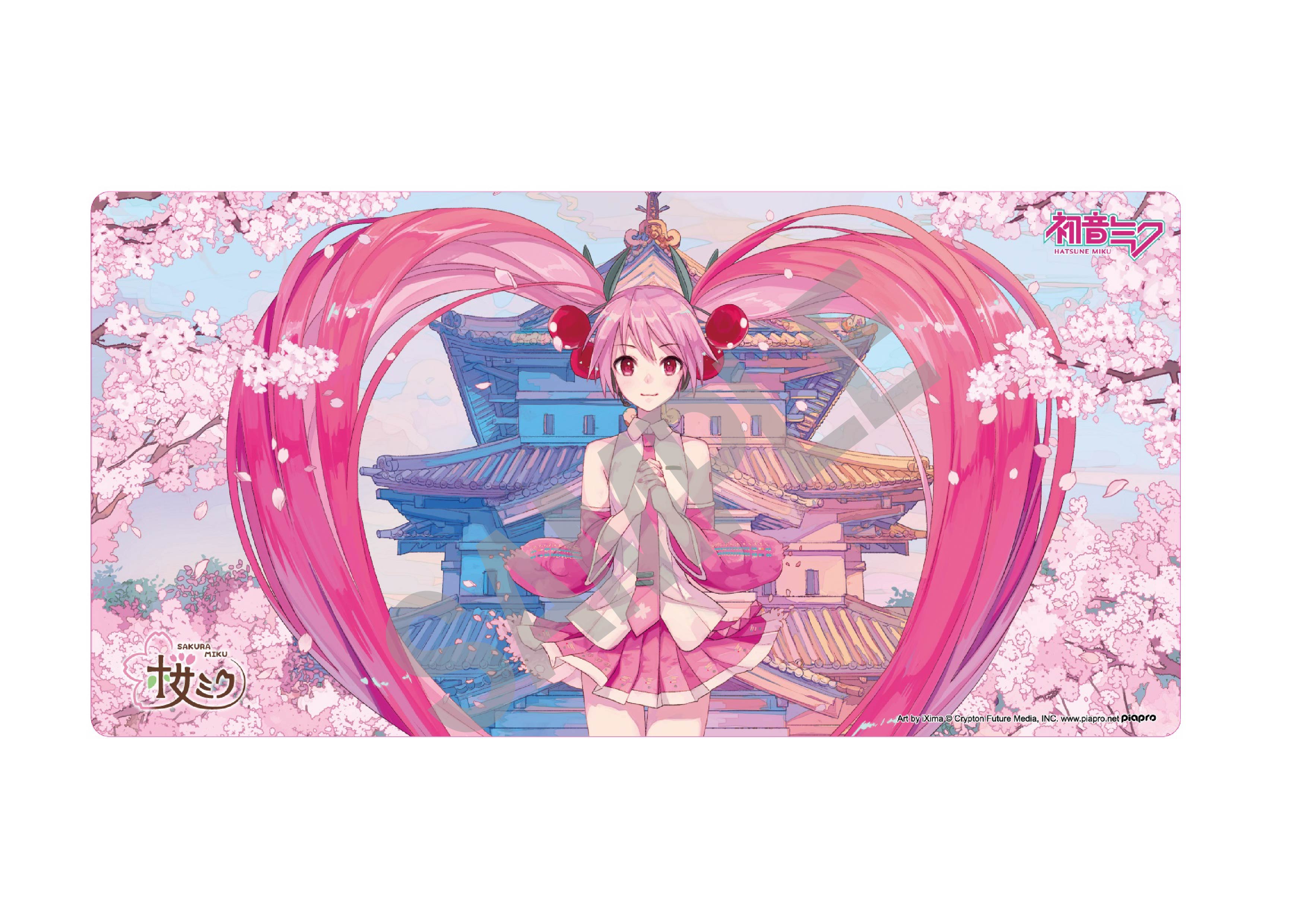 Desk Mat (Art by iXima) | ¥3,300 (Tax Included)
Shitakawa Rayaki Dove Whistle | ¥2,200 (Tax Included)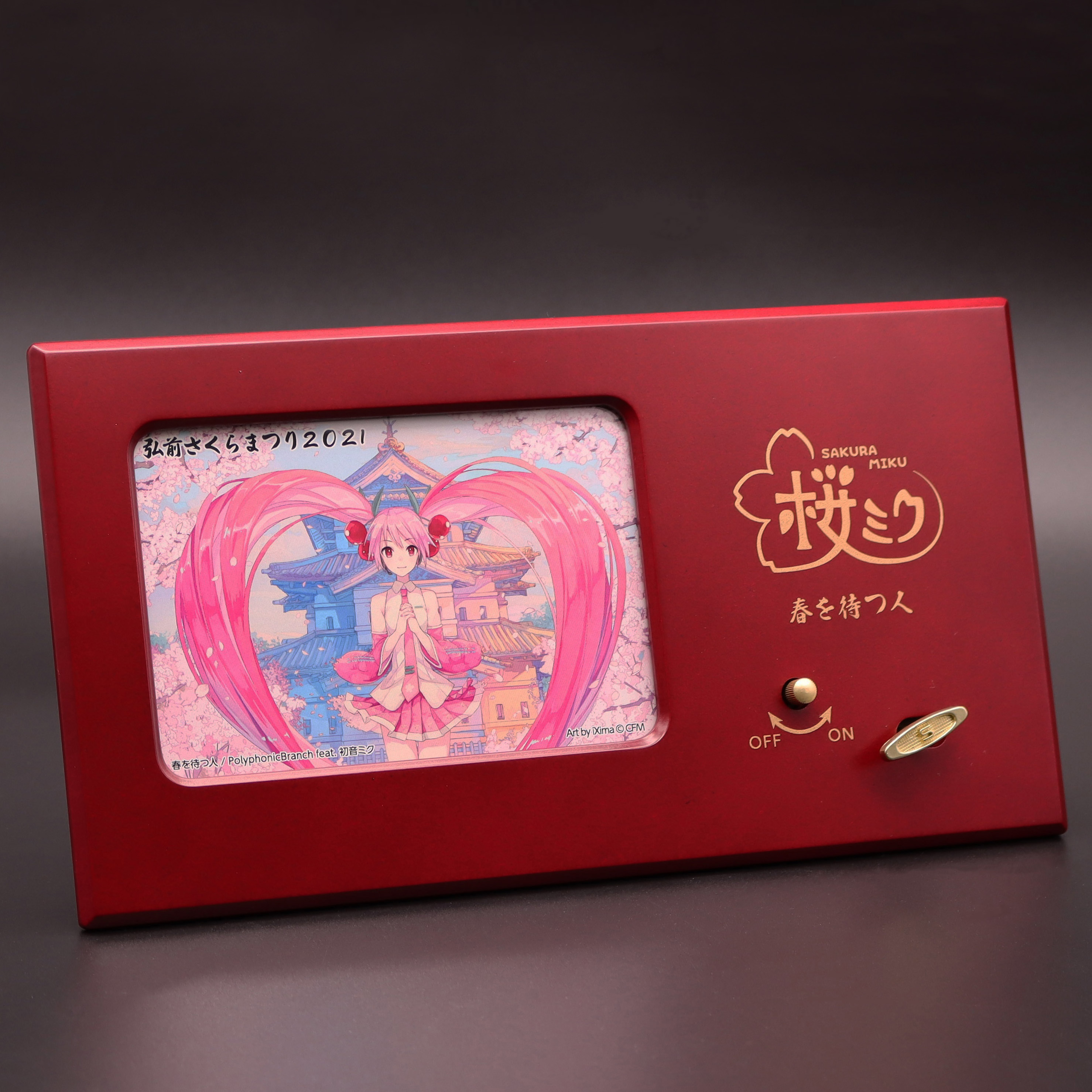 Music Box: "Haru o Matsu Hito" – PolyphonicBranch feat. Hatsune Miku
The Sakura Miku x Hirosaki Sakura Matsuri 2021 collection invites on board four artists: iXima, Mamo, Hechima, and Morichika who have created original artwork for the line-up. The items can be bought both at the festival and online.
The collection also includes Sakura Miku-inspired dove whistles made by Shitakawa Rayaki Tsuchi Ningyo, a clay doll company that has been around for over 200 years. The company began in the latter half of the Edo Period when Takaya Kanegura, who had learned how to make ceramics in the town of Chikuzen in Fukuoka, was employed by the Hirosaki Domain to build a furnace.
Miku fans can also get their hands on a music box which features an original song created for the festival called Haru o Matsu Hito ("Person Waiting For Spring"). It features artwork by iXima.
Art by iXima / Mamo / へちま / もりちか © Crypton Future Media, INC. www.piapro.net
RELATED ENTRIES
Global Music Event HATSUNE MIKU EXPO Rewind Details Revealed

Crypton Future Media Inc. has released more details about the upcoming online music event HATSUNE MIKU EXPO Rewind, scheduled to take place on June 5, 2022. An online guidebook with a time schedule, musician interviews, and additional information is also available in English and Japanese.

Time Schedule

Fans from around the world will be able to tune in to 'HATSUNE MIKU EXPO Rewind,' featuring tons of past content from the virtual idol's trips overseas. This will include foreign language songs unique to the world tour, and admission to the event is free. As the title suggests, the event will compile the best moments from seven years of MIKU EXPO history. 

As the event will be available to audiences worldwide, three performances will be held, allowing everyone–regardless of time zone–to enjoy the show.

As with past MIKU EXPO events, fans will be able to participate in workshops, exhibitions, and other unique experiences. One of the sub-events, 'MIKU EXPO Digital Stars 2022 Online,' will serve as the opening of each performance.

Be sure to mark your calendars for HATSUNE MIKU EXPO Rewind on June 5!

Shueisha's Haruman!! 2022 Festival Celebrates Manga this Spring

Shueisha is currently offering a ton of manga for free as part of Haruman!! 2022. The campaign is running until May 15 at participating locations and tons of digital manga series are available for download.

©Shueisha

During Haruman!! 2022, users can read over 305 digital titles for free. This year's theme is 'Manga Festival,' and manga fans can find both recent and classic titles. Why not catch up on some manga history while you can?

A collaboration with the popular VTuber agency Hololive is also underway. One of the group's manga-loving members will be chosen each day to serve as Editor-in-Chief of an original manga magazine.

Popular authors are also commemorating the occasion with new illustrations. Eleven artists from Shueisha's manga department have drawn popular VTubers, and these awesome images are available exclusively on the Haruman!! website.

Stream Date: April 23, 2022

Participants: Shueisha x Hololive Traveling Editorial Department

Streaming Channel: https://www.youtube.com/channel/UCJFZiqLMntJufDCHc6bQixg

©Shueisha

In collaboration with puzzle game creators RIDDLER, 'The Search for the Great Manga King's Treasure' will be held. Pulling inspiration from One Piece, which is currently celebrating 25 years of serialization, fans will have to find clues to solve a massive mystery.

Find your new favorite manga series during Haruman!! 2022.

Information

Haruman!! 2022

Running: April 11 – May 15, 2022

Official Site: https://haruman.jp

Virtual Hanami Event MIKU LAND 2022 YOSAKURA Invites Guests to the Metaverse with Hatsune Miku

MIKU LAND is Hatsune Miku's official VR amusement park. The locale opens sporadically on the Virtual Cast platform, inviting fans of the virtual singer to interact with the star herself and other music lovers from around the world. From April 28 until May 1, the MIKU LAND 2022 YOSAKURA event will invite Vocaloid lovers to the metaverse to enjoy the cherry blossoms and a number of unique experiences. 

Guests can visit Senbonzakura World, Miku's Detective Agency, Rin & Len Kagamine's Post Office in the Sky, and even a virtual haunted house during the event. VTubers Megu Shinonome, Tokino Sora, and Mirai Akari have been chosen as the official ambassadors of the event.

Senbonzakura World

Hatsune Miku's iconic track Senbonzakura, written by Kurousa-P, turns 10 this year. What better way to enjoy it than beneath virtual cherry blossom trees? Even if you can't visit Japan quite yet, enjoy the Japanese shrine atmosphere as you spend time with friends in this gorgeous virtual space.



Miku's Detective Agency

This puzzle-solving attraction invites guests to become assistant detectives by passing a test handed out by Detective Hatsune Miku! Those able to complete the challenge will also receive a limited-edition item.


Rin & Len Kagamine's Post Office in the Sky

This post office in the clouds isn't just a quiet place to relax. Visitors can take on a few different challenges, from mazes to more physical tasks.



Official Ambassadors


Megu Shinonome Comment
"I've been chosen as an ambassador for MIKU LAND! My name is Megu Shinonome, and I'm so excited to work with Miku! MIKU LAND keeps getting bigger and bigger, so I'm wondering what it will look like this spring…I'm looking forward to it! I'll do my best along with my fellow ambassadors Tokino Sora and Mirai Akari to convey the many charms of MIKU LAND to as many people as possible. We can't wait to see you!"

Tokino Sora Comment
"I'm so excited to visit MIKU LAND again! I'll do my best to make this another incredible event, and I'll be sure to enjoy myself as much as possible!"

Mirai Akari Comment
"I've been invited to MIKU LAND to act as the MC for this awesome event! During the SUMMER VACATION event, everyone on Virtual Cast was so kind to me. It was a blast, so I'm really looking forward to this too! I'll be sure to bring some extra excitement, so don't miss it!"

Information

Dates: April 28, 19:00 – May 1, 21:00
Location: Virtual Cast

Official Site: https://mikuland.com/

Sakura Miku Pop-up Shop Volume 2 in AMNIBUS Store to Open at MAGNET by SHIBUYA109

The second Sakura Miku pop-up shop will be held at AMNIBUS STORE at MAGNET by SHIBUYA109 from April 8, 2022 for a limited time!

The special shop will feature exclusive illustrations of Sakura Miku and her friends by illustrator kuro. The AMNIBUS STORE will also exclusive purchase bonuses as well, so don't miss these spring-inspired items!

Information

Sakura Miku Pop-up Shop Vol.2 in AMNIBUS Store

Running April 8 – April 24, 2022
Location: MAGNET by SHIBUYA109 4F / AMNIBUS STORE
Official Site:https://magnetbyshibuya109.jp/

Cherry Blossom Menu Appears at Cafe Accueil Ebisu for a Limited Time

Cafe Accueil Ebisu is currently offering a limited Sakura-themed menu featuring pancakes, afternoon tea, and drinks until April 10, 2022.

Sakura & Strawberry Pancakes

Sakura Afternoon Tea

Special Latte with Cherry Blossoms

The seasonal menu includes Sakura & Strawberry Pancakes with pale pink and strawberry red accents, and savory items such as a croissant with cherry cheese cream. Guests can also enjoy Sakura Afternoon Tea, a colorful 12-item menu featuring cherry and strawberry delights. Come enjoy the coming of spring at this gorgeous Tokyo cafe!

Information

Cafe Accueil Ebisu Sakura Season Special Menu

Available until April 10, 2022

Address: 2-10-10 Ebisunishi, Shibuya-ku, Tokyo

Hours: 11:00-22:00 (Last Order at 21:00)

Official Site: http://accueil.co.jp/ebisu/

NAKED Sakura Pilgrimage Event Comes to Kanda Myojin Shrine in Tokyo

People flock to Kanda Myojin to pray for good luck at the start of the new financial year, surrounded by beautiful pink blooms. The shrine offers beautiful sights during the day, and this year, it's collaborating with digital art collective NAKED to host a beautiful light-up event every evening from March 26 until April 10, 2022.

Kanda Myojin is a hidden cherry blossom viewing spot in Tokyo. This spring-only event is held in the hope that people will pray at Kanda Myojin, one of the most popular power spots in Tokyo, for a great start to the new year.



Guests will be able to see cherry blossom trees lit up in iridescent lights with pink petals projected on the ground. Some of the digital sakura are interactive and change shape and color when you're nearby. Digital art is even incorporated at the hand sanitizing station, where you'll see vivid pink sakura projected onto your palms. Visitors will also be handed a special Naked Distance Lantern, which naturally creates distance between others as you hold it up.

Information

NAKED Sakura Pilgimage

Location: Kanda Myojin Shrine
Running: March 26 – April 10, 2022
Hours: 18:00-20:30
Admission: Free

Official Site: https://myoujin-sakura.com/

Lake Biwa Canal's Cherry Blossoms to Come to Life During Spring Illumination 2022 Event

Lake Biwa Canal, one of the best places to see cherry blossoms in Shiga, will be completely illuminated each night from March 25 until April 10! The nearby Onjo-ji Temple will also be lit up during the duration of the event.

Lake Biwa, Otsu Spring Illumination – Cherry Blossoms on the Lake Biwa Canal

The Lake Biwa Canal carries water from the biggest lake in Japan to Kyoto and was built during the Meiji era using the best civil engineering technology of the time. Both sides of the bank are lined with almost 200 cherry trees, making it one of the most beautiful cherry blossom viewing spots with a spectacular view leading to Onjo-ji Temple.

Onjo-ji Spring Illumination 2022

Over 600 lights will be set up around the temple grounds to illuminate the cherry blossoms. The national treasures and designated cultural properties will be completely open to the public for nighttime viewing.


Information

Lake Biwa, Otsu Spring Illumination – Cherry Blossoms on the Lake Biwa Canal

Running: March 25 – April 10 (Dates may change depending on when cherry blossoms bloom)
Hours: 18:00 – 21:30
Location: Lake Biwa Canal
Sponsored by the Lake Biwako Otsu Tourism Association

Onjo-ji Spring Illumination 2022

Running: March 25 – April 10
Hours: 18:00 – 21:30 (Last Entry at 21:00)
Location: Onji-ji Temple
Admission: Adults ¥1,000 / Children ¥500
*Public transportation is recommended due to heavy congestion on surrounding roads during the event period.

Cherry Blossom Drone Project 2022 to Bring Hanami to People Around the World

Wishing you could be in Japan to see the cherry blossoms? The Cherry Blossom Drone Project on March 27 will be live-broadcasting some of the most beautiful blossoms in the country to viewers around the world. 

Incredible 4K aerial footage will be available to watch on YouTube LIVE for free from 12:00 until 19:00 on March 27, 2022. No matter where you are, you'll be able to lose yourself in the feeling of spring. 

Three Best Cherry Blossom Viewing Spots Chosen by Sakura Enthusiasts

Breathtaking Mountain Cherry Blossoms at Mount Yoshino in Nara

The First New Sakura Species in Over 100 Years Found in Wakayama Prefecture

A Sea of Cherry Blossoms at Takato Joshi Park in Ina, Nagano Prefecture

Hatsune Miku Symphony 2022 Main Visual Unveiled

Given the intense popularity of the Hatsune Miku Symphony 2022, an additional evening performance has been added after the afternoon performance sold out! Tickets are now on sale. Additionally, to celebrate the new event, the performance of Daughter of Evil ~ Servant of Evil from the 2020 Hatsune Miku Symphony has been uploaded to YouTube!

Hatsune Miku Symphony 2020 ~5th Anniversary ~ September 21, 2022 at Suntory Hall / Daughter of Evil ~ Servant of Evil(mothy_Akuno P)

The complete main visual for the event, drawn by illustrator Rella, has been unveiled, showing Hatsune Miku, Kagamine Rin, and Kagamine Len! 

Information

Hatsune Miku Symphony 2022 ~Hatsune Miku, Kagamine Rin, Kagamine Len 15th Anniversary~

Tokyo Concert

July 2, 2022

Suntory Hall

Afternoon Performance: Doors Open 13:00 / Curtain Rises 14:00 (SOLD OUT)

Evening Performance: Doors Open 17:30 / Curtain Rises 18:30 (*Additional Performance)

Official Site: https://sp.wmg.jp/mikusymphony/

NAKED Sakura Aquarium Digital Art Event Opens at Maxell Aqua Park in Shinagawa

Creative company NAKED has opened its popular annual spring event NAKED Sakura Aquarium at Maxell Aqua Park Shinagawa until April 17, 2022. 

Since winter 2015, Maxell Aqua Park Shinagawa and NAKED have held a number of collaborative events each season based on blending the concepts of sound, light, images, and living things. The centerpiece of this spring event is the immersive area titled 'Patterns.' The walls of the aquarium are decorated with fluttering cherry blossoms as petals dance across the ground, pulling guests into a virtual Japanese garden. 

The Garden of Dancing Sakura

Fluttering Sakura

Flower Lantern

Nighttime Dolphin Performance 'Sakura Story'

NAKED Tsukubai – Sakura Version

Guests can also enjoy a cherry blossom version of NAKED Tsukubai, a virtual hand-washing experience. Why not come experience spring in a whole new way?

Cherry Blossom Themed Drink Appears at Flower Miffy

Flower Miffy Juice Garden, a drink stand featuring Dick Bruna's popular character Miffy, is now offering a limited-time cherry blossom beverage at its Asakusa location!

Strawberry

Green Apple

Cherry Blossom Season with Miffy

The Slightly Sakura Drink is inspired by springtime and features a sweet whipped topping with cherry blossom-colored copeau de chocolat. The base of the drink is sakura-colored milk available in green apple and strawberry flavors. Each beverage comes with a Miffy cookie for added cuteness!

 

A Cherry Blossom flower arrangement is also available for purchase at the Flower Miffy online store. 

Illustrations Dick Bruna Ⓒ copyright Mercis bv,1953-2022 www.miffy.com

Hoshino Resort Aomoriya Holds Cherry Blossom Viewing Event Under a Cozy Kotatsu

Hoshino Resort Aomoriya, an inn where visitors are invited to fully enjoy Aomori's culture, will begin its Hanami Kotatsu event from April 1 until May 31, 2022. Guests can enjoy local sake while warming themselves beneath a cozy kotatsu. In the chilly Aomori spring, a kotatsu) will be set up beneath the blooming trees for visitors to comfortably view the cherry blossoms. Hot-water bottles will also be available for rent if guests can a little too cold!

April in Aomori is spring according to the calendar, but it's still quite chilly. Nevertheless, the people of Aomori look forward to flower viewing to overcome the cold winter and enjoy the long-awaited arrival of spring.

Three Fun Additions to Make Cherry Blossom Viewing More Fun

1  A Traditional Umbrella with a Sakura Pattern

Next to each kotatsu is a row of Japanese umbrellas with cherry blossoms painted on them, spreading the pink cherry blossom imagery all around. When opened, the umbrellas are covered with cherry blossoms, making you feel as if you are under the cherry blossoms in full bloom.

2 Choose a Local Sake and Sake Cups for a Flower Viewing Sake Tower

Choose your favorite local sake and three sake cups to make a sake tower! Guests can choose from 10 Aomori sake brands, each with unique aromas and flavors. 

3 Cherry Blossom Patterned Cotton-Filled Hot Water Bottle for Extra Warmth

To keep extra warm beneath the kotatsu, a cotton blanket with a cherry blossom pattern and a hot-water bottle are available for rent. Doesn't it sound heavenly?