Stay Inside This Kyoto Townhouse Now Offering a New Accommodation Plan
Tsumugi Machiya Inn has opened a new day-use plan which offers a chance for guests to enjoy an entire Kyoto-style townhouse to themselves for the day for up to 10 hours. The plan comes with a lunch service attached.
喧騒を外れた一棟貸しでプライベートな時間を
Enjoy the 'Tsumugi Dining' experience with a lavish bento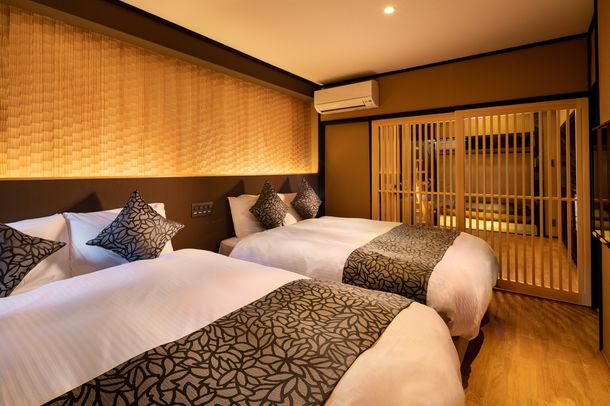 Gorgeous guest rooms
Inside Tsumugi Dining
Tsumugi Machiya Inn first opened its doors in April 2016 as a way to 'tie' (tsumugi) people to local towns. The hotel accommodation brand now has around 60 branches, offering guests chance to rent out an entire building to themselves for a day.
With the pandemic still in full swing, the desire for travel can be felt around the world. In Japan, it is difficult to travel between prefectures for many, and the risk of coming into contact with others is still a widespread fear. That's where Tsumugi Machiya Inn's new day-use plan comes in, offering people a chance to enjoy a stay elsewhere without the worry of bumping into other guests. The plan comes with lunch made with meat from Kyoto and other seasonal ingredients. The food is delivered to the private accommodation at an allotted time. There are luxurious beds, a bath, and other little amenities for a wonderful, relaxing stay.
Check out the links below to see which branches are participating in this plan.
RELATED ENTRIES
Hotel Gracery Taipei in Taiwan Offers the Japan Experience with New HANDS CONCEPT ROOM

Hotel Gracery Taipei, which can be found inside Taiwan's TOKYU HANDS Tailung, have opened the new 'HANDS CONCEPT ROOM' which offers the experience of visiting Japan without having to get on a plane.

'Take a Vacation to HANDS' Room

'Go Camping at HANDS' Room

Coupon

TOKYU HANDS Tailung have created two new concept rooms, the 'Take a Vacation to HANDS' room and the 'Go Camping at HANDS' room. While it is difficult to visit Japan at the moment, these rooms provide an authentic Japanese experience which allows guests to experience the culture and feel the charms of Japan.

 

The 'Take a Vacation to HANDS' room is based on Mount Fuji, Japanese railways, and vending machines, which are popular even in Taiwan. Popular tourist spots are also recreated using famous characters. 

The 'Go Camping at HANDS' room is inspired by glamping, which has become popular in Taiwan, using outdoor equipment to create a fun, indoor camping experience.

 

 

The guest-limited service also offers guests two 10% coupons, one that can be used while shopping at TOKYU HANDS Tailung and one that can be used for accommodation. During the campaign period, guests who spend over 5,000 Yuan at TOKYU HANDS Tailung will be entered into a lottery to win a one-night stay in the new themed rooms.

 

 Try Japanese-inspired indoor camping with the new 'HANDS CONCEPT ROOM!'

 

Information

Hotel Gracery Taipei 'HANDS CONCEPT ROOM'

Address: No. 89 Section 2, Zhongxiao East Road, Zhongzheng District, Taipei City, Taiwan

Official Site: https://gracery.com/taipei/ 

Hotel New Otani Announces Second PAUL & JOE Collaboration

Hotel New Otani Tokyo has collaborated with PAUL & JOE for the second time to offer a new accomodation plan, which will be available for one-night stays between December 1 2021 and January 4 2022.  The rooms will not be available between December 31 and January 2.

This collaboration room will allow you to surround yourself in the world of PAUL & JOE, a Parisian brand PAUL & JOE that is extremely popular with young women in their 20s and 30s. The initial collaboration was so popular that within just 10 days, all of the available dates within three months were sold out. This Christmas edition will only be available for one month, so be sure to book while you can.

The pink and ivory room features the brand's icon; Designer Sophie's beloved cats, Nunet and Gypsy. The decorations also feature Crisantemo flower motifs.

Not only is the wallpaper covered in PAUL & JOE motifs, but even the smaller pieces such as cushions, curling irons, and brushes are themed too. In addition, to celebrate the festive season, the room will include a special Christmas tree, allowing you to enjoy a special Christmas with somebody special, sharing a view of Tokyo Tower.

The second round of cosmetics is focused on the 2021 CHRISTMAS COLLECTION. The 'Lipstick Treatment' features adorable cats wearing Santa hats, while the 'Lipstick Limited' comes in a luxurious Christmas red – and also features cats in hats! Plus, the new 'Wrapping Hand Cream' will wrap your hands in a fresh moisturising texture. In addition, the best-selling 'Moisturizing Foundation Primer,' which was renewed on September 1, and the P&J skincare selection (oil, lotion, cleansing), each must-haves for the upcoming dry season, have been miniaturized into take-home samples in a limited edition pouch, especially for hotel customers.

Alongside the limited cosmetic samples, there will be matching pajamas and slippers available for purchase and take home, with a that will take you even deeper into the PAUL & JOE world. While these cat-and-floral print PJs are perfect for a girls-only gathering, a men's line has also been released due to popular demand, ideal for spending a romantic Christmas in matching pajamas.

 

 

Why not spend a wonderful Christmas in this PAUL & JOE room?

Information

PAUL & JOE Room ~Christmas~

Reservation Dates:

Friday & Saturday Rooms: September 14 2021~

Weekday & Sunday Rooms: Late October 2021

Room Duration: December 1 2021 ~ January 4 2022

※Unavailable between Dec. 31 and Jan. 21

Location: Hotel New Otani Tokyo

Reservations: https://www.newotani.co.jp/tokyo/stay/plan/paul-joeroom/  *Reservations can only be made online

Rihga Royal Hotel x YOURS BOOK STORE New Accommodation Plan to Discover Your New Favorite Book

Osaka's Rihga Royal Hotel is collaborating with book direction brand YOURS BOOK STORE to produce a one-room one-day accommodation plan titled "Once in a Lifetime ~ Professionals Choose Your Book~." The limited-time plan will be available between September 15 and November 30, 2021.

The lounge on the executive floor, known as The Presidential Towers, was reformed in March 2020 to include a library of 1,000 books, with themes including Osaka, refreshing, relaxing, and children's books. It was then that the room plan collaboration with YOURS BOOK STORE, who was involved in the initial book selection, was proposed.

In the "Once in a Lifetime ~ Professionals Choose Your Book~" accommodation plan, a professional will discuss with the guest to learn more about their taste, with the book director offering 3 personalized book choices per person. The guest can also take full advantage of the hotel library.

Following your trip, a book chosen especially for guests will be sent to your home, with a message card describing how your books were selected. This unique accommodation plan allows you to bask in the afterglow of your trip while waiting to see what kind of book you receive.

Why not check out this unique plan where you can receive your own personalized book recommendation?

The National Museum of Modern Art in Kyoto Opens Meiji Era Exhibition

A special exhibition titled 'Japanese Landscapes Discovered: Views from and for the Outside World,' showcasing a private collection of Meiji era paintings, is now on display at the National Museum of Modern Art in Kyoto until October 31, 2021.

Inside the Exhibit

Inside the Exhibit

 

This exhibition is designed to take visitors on a journey through the Meiji period (1868-1912), the beginning of Japan's modern era, through oil and watercolor paintings of the time, and through the landscapes and customs depicted in these pieces of art. During this time, many foreign painters visited Japan, and were inspired to paint the country's beautiful landscapes and unfamiliar customs, bringing these creations back to their countries of origin. Japanese artists studied these unfamiliar painting techniques, and made their own culturally-inspired paintings, often selling them to foreign visitors as souvenirs.

Many works on display in this exhibition have never been shown publicly, with many being brought back to Japan from locations abroad. These include long-lost oil paintings by Kuroda Seiki and a massive newly-discovered work by Tamura Soryu. Other Japanese artists inspired by Western-style on display include Hiroshi Yoshida, Jirokichi Kasagi, Shotaro Koyama, and Ioki Bunsai.

Also on display are works by foreign artists who visited Japan during this period, including British news painter Charles Wirgman, French news painter Georges Bigot, and British landscape painters Alfred Parsons, Alfred East, and John Varley Jr. These three men in particular triggered a watercolor boom in Japan during the late Meiji period. Vibrant female painters such as British watercolorist Ella du Cane, a lover of Japanese gardens, also make an appearance.

Be sure to see these incredible depictions of Japan before they're gone.

Information

Japanese Landscapes Discovered: Views from and for the Outside World

Running: September 7 – October 31, 2021

Hours: 9:30-19:00 (Until 20:00 on Friday and Saturday)

Closed: Mondays, and on September 21. *The museum will be open September 20.

Tickets/Official Site: https://www.momak.go.jp/

*Admission is open until 30 minutes before closing.

*To prevent the spread of COVID-19, hours are subject to change. Please check hours before visiting.

Famous Oil Blotting Paper Brand's Yojiya Café Reforms Three Popular Parfait Flavors

The Yojiya Café, opened by the Yojiya brand famous for its Aburatorigami, or facial oil blotting paper, will be renewing its menu from September 13. The popular face parfait, which features the logo alongside a Kyoto woman with a mole, comes in three flavors available – Kinako, Matcha, and Milk Tea. Each parfait comes with a sauce, so you can adjust the taste as you eat.

 

Kinako Parfait: ¥1,200 (Tax Incl.)

Matcha Parfait: ¥1,200 (Tax Incl.)

Milk Tea Parfait: ¥1,200 (Tax Incl.)

The Yojiya Café is currently open in two locations, Gion and Sagano Arashiyama, offering a relaxing space to rest between shopping and sightseeing.

The café has renewed their iconic Kinako Parfait, which combines Japanese Kinako and Western Maple Syrup, along with the Matcha Parfait, which is packed full of matcha ice cream, jelly, and cookies. The Milk Tea Parfait is made with a rich Japanese Tea and Earl Gray ice cream.

Take a trip to Yojiya and find out which parfait is your favorite!

Information

Yojiya Café – Parfait Renewal

Release Date: 14 September 2021

Availability:

Yojiya Café Gion

Address: Izawa Building 2F, 266 Gionmachi Kitagawa, Higashiyama-ku, Kyoto

Opening Hours:

Weekdays 11:00 ~ 17:00 (LO16:30)

Weekends/Holidays: 10:00 ~ 18:00 (LO17:30)

YOJIYA CAFE Sagano Arashiyama

Opening Hours:

Weekdays 11:00 ~ 17:00 (LO16:30)

Weekends/Holidays: 10:00 ~ 18:00 (LO17:30)

Address: 2 Tateishicho, Sagatenryuji, Ukyo-Ku, Kyoto

Official Site: https://www.yojiya.co.jp/

Blue Bottle Coffee Opens New Cafe Inside SHIROIYA HOTEL in Gunma

Initially announced in July of this year, Blue Bottle Coffee Japan will open their newest shop on the premises of the SHIROIYA HOTEL in Maebashi, Gunma Prefecture on September 17, 2021. The new shop is part of a recent initiative to revitalize the city, and make Maebashi an inspiring art and culture destination.

Shiroiya Cafe Limited Menu

Blue Bottle Coffee x Nakamata Fuwafuwa Wanuki Coffee Cream & Anko

Shiroiya Cafe Limited Item


Blue Bottle Coffee x Nakamata Maebashi City Tote Bag (Limited quantities available)

SHIROIYA the PÂTISSERIE×BLUE BOTTLE COFFEE 


Grapefruit and Coffee Tart

Maebashi was once a large manufacturer of silk, and was crucial to Japan's modernization. In 2016, a number of creative minds from both Japan and abroad gathered in the city with the goal of revitalizing the town center. With that in mind, they first renovated the 300-year-old Shiroiya Ryokan, opening the SHIROIYA HOTEL in December 2020. Blue Bottle Coffee was a perfect fit for the project, with a continued goal of fostering community and using their proceeds to help develop towns and cities.

Blue Bottle Coffee Shiroiya Cafe as designed by Keiji Ashizawa Design, also responsible for designing cafes in Minatomirai and Shibuya. Keeping with a comfortable theme, the cafe is designed to let in ample amounts of light. Historic bricks from Maebashi were a key material used in the flooring. Both the SHIROIYA HOTEL and the new Blue Bottle Cafe feature art pieces by Yoshio Shirakawa, an artist from the area.

The Blue Bottle Coffee x Nakamata Fluffy Wanuki Coffee Cream & Anko is only available at the Shiroiya Cafe, and is a collaboration with Wamukashi Nakamata, a confectionary shop in town. A special Maebashi-themed tote bag will also be on sale in limited quantities.

To commemorate the opening of the Shiroiya Cafe, the PÂTISSERIE, located inside the hotel, will serve a limited-time Grapefruit and Coffee Tart.

Would you like to visit Maebashi on your next trip to Japan?

Information

Blue Bottle Coffee Shiroiya Cafe

Opening Date: September 17, 2021

Address: SHIROIYA HOTEL, 2-2-15 Honmachi, Maebashi, Gunma

Hours: 8:00-19:00 (Opens at 10:00 on opening day.)

Official Site: https://store.bluebottlecoffee.jp/

Hyatt Centric Kanazawa Reveals Halloween Inspired Menu for October

All-day restaurant FIVE – Grill & Lounge, located within the Hyatt Centric Kanazawa hotel, will begin serving up a selection of Halloween-inspired treats beginning October 1, including cake sets, parfaits, muffins, and various lunch and dinner items.

Guests will also be able to enjoy some mischievous cocktails and mocktails inspired by witches and ghosts!

Halloween Cake Set 

Black Sesame Pudding

Mummy Macaron

Ghostly Mousse

Pumpkin Ice Cream Sandwich

Coffin Tart

Monster Cream Puff

Halloween Parfait Set

Halloween Dinner/Lunch Course

Halloween Muffin Box

Halloween Cocktails 

Spooky Night

Hallo-Wine Sangria

I sWitch (Mocktail)

The Halloween Cake Set is filled with ghoulish treats, each one displaying incredible attention to detail. In the Halloween Parfait Set, guests can enjoy a tower of different sweets, including black currant and chocolate. Themed with creepy eyeball decorations throughout, it offers a variety of overlapping textures and tastes guests will want to savor until the last bite.

 

When thinking of Halloween, the colors orange and purple instantly come to mind. For the Halloween Dinner/Lunch Course, the menu's creators went with a more dark theme, envisioning a ghost appearing at any moment. The entire restaurant will be decorated in black and gray, creating a truly haunting dining experience.

Don't miss out on the Halloween Muffin Box, a set of mini-muffins made with fresh autumn ingredients, and offering a much cuter feel. Quantities are limited!

The gin-based Spooky Night cocktail is refreshing, with a bold blue color and red-rim on the glass, sure to turn your mouth bright crimson. Hallo-Wine Sangria, house-made with autumn fruits, has a unique design, with a skeleton rising from the glass! For those wanting a mocktail, the I sWitch asks guests to pour the accompanying red syrup over the cotton candy, changing both the appearance and flavor of the drink as if by witchcraft!

Which of these treats would you be after?

The Guests are Actors Too in the HOTEL SHE, OSAKA's 'Theatre While You Stay' Performance

The HOTEL SHE, OSAKA has announced a new form of evening entertainment that allows the guests to take part in their 'Theatre While You Stay' performances of The Indigo Restaurant, held between November 11 and 30 2021. Tickets sales start on September 3.

 

The food and drink menu can be enjoyed from the comfort of your room.

All guest rooms come furnished with a record player.


The boutique hotel brand HOTEL, SHE are leading hotels into the new era with their contemporary services, collaborating with poet Saihate Tahi to create the "Poet Hotel" and live-streaming a performance by artist SIRUP.

The 'Theatre While You Stay' is a form of evening entertainment where guests can enjoy and take part in a stage show that is set in the hotel, both planned and produced by HOTEL, SHE.

They were inspired by the "immersive theatre" technique which has become popular in New York's Broadway, allowing you to freely move around the hotel in your role as you enjoy the show, breaking the boundaries between audience and performer – You aren't just watching the show, but becoming a part of it.

The term "immersive theatre" was coined in London during the early 2000s and refers to a form of theatre that is based on the audience experience. It breaks down the traditional roles of the audience and performers, creating a new relationship between the guests and the show.

 

 

Set throughout the entire hotel building, the lobby, guest rooms, corridors, and courtyard are full of mysterious sounds and lights. The "story experience" starts as you check in, with no set start or end time.  All phones, mobile devices and watches that tell the time are confiscated upon checking in, causing the guests to lose their sense of time and wander the hotel throughout the long evenings. 

 

After watching, the whole story is gradually revealed by talking about the scenes that each experienced while drinking cocktails in the bar lounge and guest rooms.  We want you to enjoy the limited food menu and sweets based on Asian dishes such as Taiwan.

After the show, you can enjoy cocktails in the bar lounge and discuss the scenes you watched as the story is gradually revealed. The delicious limited-time menu is full of sweet Asian dishes and desserts from Taiwan and beyond.

Information

Theatre While You Stay – The Indigo Restaurant

Duration: November 11 ~ November 30 2021 

※Cancelled on November 18 and 25. 

Check In: 19:30 ~ 20:00 (VIP TWIN ROOM Check In is 19:15 ~ 20:00)

Check Out: 12:00 the following morning 

Location: HOTEL SHE, OSAKA

Address: 1-2-5 Ichioka, Minato-ku, Osaka City, Osaka

Ticket Sales:

Primary Ticket Sales (Lottery): September 3 at 20:00 ~ September 12 at 23:59

Secondary Ticket Sales (Lottery): September 14 at 18:00 ~ September 20 at 23:59

General Ticket Sales (First-Come, First-Serve): Undecided

Tickets/Official Site: http://aiirohanten.com/

RIHGA Royal Hotel Osaka to Offer Extremely Limited Halloween Accommodations

The RIHGA Royal Hotel Osaka has announced a spectacularly limited Halloween accommodation plan, titled 'A Terrifying Banquet in the Mysterious Lord's Castle.' Only one lucky person per day can book the decorated room, which features in-room meals and more treats to discover. Reservations are open through October 28, and the room will be available from September 10 until October 31.

'A Terrifying Banquet' Dining Table

Living Room

Skeletons in hotel uniform, ready to greet guests in the front room

This spooky setup will be held in the Fontainebleau suite, themed as a French palace. Guests will enjoy a western dinner course in the comfort (or discomfort) of the room. Decorated with black cats, ever-watchful owls and skeletons, guests can also look forward to taking plenty of photos at a designated photo spot on the sofa.

As the COVID-19 pandemic continues to keep people in their homes, the hotel created this room as a way to experience a new kind of cozy Halloween getaway. Visitors will enjoy plenty of other perks, including free parking, soft drink coupons, and breakfast the following morning.

Would you be able to sleep in this room filled with skeletons and specters?

Information

Special Halloween Room: 'A Terrifying Banquet in the Mysterious Lord's Castle'

Reservations Open: September 1 – October 28, 2021

Room Available: September 10 – October 31, 2021

*Reservations accepted until 8:00AM, 3 days in advance.

Official Site: https://www.rihga.co.jp/osaka/stay/plan/halloween2021

Kyoto Sweets Cafe eXcafe Gion-Shinbashi Restarts Popular Breakfast Menu for Weekends

The calm Machiya sweet shop eXcafe Gion-Shinbashi will be restarting the popular eXcafe Breakfast (Calico) menu on weekends from September 4 2021. This is the perfect spot to start your Gion adventure, packed full of ancient city charm and history. 

 

eXcafe currently has three store locations in Kyoto: Kyoto-Arashiyama, Gion-Shinbashi, and the newly opened Gion Yasaka.

eXcafe Gion Shinbashi is located in an area where you can appreciate the beauty of Gion, with the ever changing scenery fully reflecting the four seasons. Even on sunny weekends, the area isn't overly busy and the sky is beautifully clear, making it the perfect spot for commemorative photos.

 

The returning breakfast menu is the eXcafe Breakfast (Calico), made up of charcoal-grilled toast with a calico cat motif. The fluffy bread is thickly cut and can be completed with your favorite topping: Bean paste, butter, whipped cream, or fruits. The breakfast set also includes a drink and Mitarashi dango dessert, making it the perfect way to spend a relaxing moment at the beginning of your trip, or as a break from your early-morning sightseeing.

Morning walks in Gion are particularly refreshing at this time of year, making a perfect break from the intense Summer heat. It is also ideal for visiting the Yasaka Shrine.

You'll feel even cooler as you listen to the flowing Shira River, the water gently bubbling under the cobblestones of the famous Tatsumi Bridge. Although it is located in a trendy area, the eXcafe Gion-Shinbashi is a welcome break from the bustle of the city, surrounded by cobblestone alleys and wooden townhouses.

 

Volleyball Series Haikyu!! Gets Collaboration with Toei Kyoto Studio Park

Toei Kyoto Studio Park will hold a limited-time collaboration with popular volleyball anime series Haikyu!! starting September 11.

Haikyu!! x Randen Retro Train

Original Towel

Stage Set

Original Fairground Game Merchandise 

Randen Collaboration

Limited-edition Collaboration Merchandise

Purchase bonus bookmark (1 of 8 designs: 4 designs from Karasuno High School, 4 designs from Inarizaki High School)

Selected Merchandise

For each menu order, a random coaster will be presented as a gift. *8 original designs available.

In the newly drawn concept image for the event, the members of the Karasuno High and Inarizaki High volleyball teams are seen during a trip to Kyoto, where they meet at the Toei Kyoto Studio Park. Fans can see their favorite characters dressed in Shinsengumi happi coats, buying souvenirs, eating, drinking, and enjoying their hard-earned day off. There will be a Haikyu!! exhibition at the park, a footbath, special goods and food items, as well as a running collaboration train.

Look forward to this very unique event in Kyoto, coming soon!

©古舘春一/集英社・「ハイキュー!!」製作委員会・MBS

短縮形 ©HF/S,HP,M

Adorable Halloween Dessert Buffet to be Served at Conrad Osaka

Hotel Conrad and Sebastian Masuda, known worldwide for his 'kawaii' works, are collaborating for the second year for a scrumptious Halloween event. Titled OWNER OF A COLORFUL HEART Halloween Sweets Buffet, the tasty treats will be available starting September 2. The buffet was held in Tokyo last year, but is moving to Osaka for 2021.

Guests can enjoy a variety of colorful Halloween sweets, created by Executive Pastry Chef Jimmy Boulet and supervised by Sebastian Masuda!

「OWNER OF A COLORFUL HEART」Halloween Sweets Buffet

Sweet Potato Mille-feuille

Orange Cupcake with Cassis Chantilly Cream

Spider Mousse Cake

Caramel and Persimmon Bellini

Crash the Halloween

Colorful Palette

Galaxy

Daisy Celebration

Halloween Caterpillar

Playful Macaroon

Blueberry Mousse and Fig Compote with Sesame Pralines

Black Cardamom Chocolate and Pear

Colorful Curries & Stews

The buffet tables are decorated with dark purple tones and welcome guests with Bouley's playful collection of sweets. His iconic mille-feuille uses ample amounts of cream and purple yams, with a chocolate spider web on top. The spider mousse cake, with its gentle shortcake-like texture and unusual combination of coffee and mango, is sure to surprise. Each treat uses autumn ingredients, and will surely have guests enjoying Halloween to the fullest.

Though the sweets buffet is sure to be filling enough, Conrad Osaka also serves a variety of savory items. For this event, five different colorful curries and stews from India, Thailand, and Hungary will be available. Along with naan bread, diners can sample Udon, French baguettes, rice crackers, waffles, and countless other goodies.

Anyone who comes to the event dressed in Halloween attire can post a photo with the hashtag #ownerofacolorfullheart on Instagram to receive a free glass of sparkling wine. A photo booth will also be on site, and guests can take pictures with some of Sebastian Masuda's most popular works.

Which goodies would you be picking up from the buffet?