Enjoy Breakfast Fruits While Gazing at Mount Fuji at this Glamping Experience
HOSHINOYA Fuji, a hotel which opened as Japan's first glamping resort, has announced the Glamping Fruits Breakfast summer plan which is set to run from June 20 to August 31.
HOSHINOYA Fuji is located in Japan's prefecture of Yamanashi, a place that enjoys a bounty of fruit cultivation. Yamanashi has been called the "Fruit Country," offering a variety of different fruits. In fact, it has been the biggest producer of peaches, grapes, and plums in Japan for over 10 year. The glamping masters of HOSHINOYA Fuji have had knowledge bestowed on them from the growers of these sweet gems who have advised on the safety and best ways to prepare land for fruit growing, characteristics of fruits grown throughout the year, and other means of support. Now, guests at HOSHINOYA Fuji are set to serve these fruits to guests at breakfast this summer.
Dine outdoors from a terrace with a breathtaking view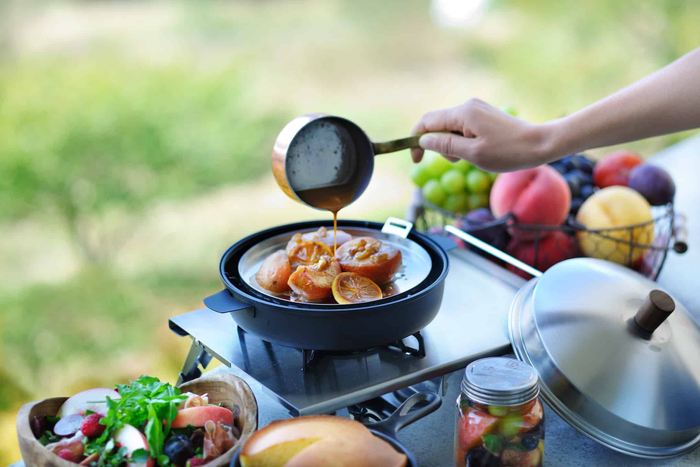 Guests will enjoy their breakfast out on a sofa on a private terrace that overlooks Mount Fuji and Lake Kawaguchi. With the support of the hotel's Glamping Master, food will be prepared outdoors using a skillet and burner. The main dish is roasted peaches made with bacon and fresh herbs. The salty bacon and sweet peach make for a delightful combination. Best of all, ingredients and condiments are all prepared for guests in advance so they can enjoy a hands-free outdoor experience.
Indulge in high quality fruits
Eight varieties of fruit are available during the breakfast experience including peaches, Shine Muscat, pione, and more. And only the tastiest fruit is served to customers.
An optional tour is available with the plan which offers guests a chance to depart HOSHINOYA Fuji early in the morning to visit a peach farm in the city of Fuefuki. Guests are given exclusive access to the farm where they can learn all about how the peaches are grown from the farmers. At the end, they can tuck into some freshly-picked peaches with a glass of sparkling wine in hand.
Information
Glamping Fruits Breakfast
Running: June 20, 2021 – August 31, 2021
Location: HOSHINOYA Fuji / Fuefuki Peach Farm
Time: 7:30-10:00
Capacity: One group of up to 3 people per day
Bookings/Details: https://hoshinoya.com/fuji/ (Bookings must be made 2 weeks in advance)
Note: Ingredients and menu subject to change
RELATED ENTRIES
Mount Fuji to be Surrounded by Colorful Blossoms During the Rainbow Flower Festival 2022

Yamanashi's Fuji Motosuko Resort is home to the yearly Fuji Shibazakura Festival, one of the most popular spring flower events in Jaapn. From July 16 until October 10, 2022, guests will also be able to enjoy the Rainbow Flower Festival, with over 80,000 blooms decorating the land around Mount Fuji. 

From Left: Coneflowers, Common Zinnia, Begonia, Ageratum

From Left: Scarlet Sage (Sirius), Scarlet Sage (Bonfire), Scarlet Sage (Deep Blue), Coleus

The theme for the inaugural event is 'Seven Colors of Mount Fuji.' Visitors will be able to take incredible pictures, with a variety of blooms springing from the Earth in seven beautiful colors. Whether you love begonias or zinnias, you won't want to miss this one. 

The venue will also feature photo spots that will be perfect for social media, from a rainbow circle bench to the 'Yellow Door of Happiness.' A campaign will also be held to choose the best photos of the event posted to Instagram.


Koppe-pan (with Yamanashi Peach Butter and Whipped Cream) / Lava Fried Tofu / Bellflower Mochi Ice Cream / Jewel Soda


A unique food menu featuring everything from lava-shaped fried tofu to fluffy bread with local peach butter will appear at the event.

*Sample image.

Pictures aren't the only thing you'll leave with–a selection of souvenirs will be on sale, including 'Stick Jelly' made with five types of local fruit puree. These will only be available at the event, so come have a wonderful time visiting Mount Fuji this summer!

Information

Rainbow Flower Festival

Running: July 16 – October 10, 2022

*Blooming dates may vary. The festival will be open every day during the event period.

Hours: 8:00-16:00 *Subject to change.

Tickets: Adults (Middle school age and up): ¥800 / Children (Ages 3 and up): ¥250

Venue: Fuji Motosuko Resort (212 Fujigane, Fujikawaguchiko, Minamitsuru District, Yamanashi)

Official site:https://www.fujimotosuko-resort.jp/

Toshio Suzuki Studio Ghibli Exhibition Inspires Limited-Time Hotel Suite

The Grand Prince Hotel Takanawa in Tokyo will offer a special suite inspired by the upcoming Toshio Suzuki Studio Ghibli Exhibition from July 1 until August 31, 2022. This will include tickets to the exhibition, which will take place at Warehouse Terrada in Shinagawa from July 1 until September 7. 

Toshio Suzuki, a producer at Studio Ghibli, has worked with both Hayao Miyazaki and Isao Takahata on a number of beloved masterpieces. The exhibition will feature a large bookshelf housing 8,800 of Suzuki's publications and favorite tomes. Many of these were published before Suzuki joined Studio Ghibli, and guests are invited to see how the producer was inspired to join the legendary studio after working as an editor at a manga magazine. To commemorate the exhibition's opening, this special suite is filled with books written by Suzuki along with other books that visitors may enjoy during their relaxing stay. 

In the suite, guests will find a list of 106 books that influenced Suzuki the most. This list will be available to take home. Visitors will also find reproductions of Suzuki's calligraphy. 

©TS ©Studio Ghibli

Banyan Tree Group Opens Garrya Nijo Castle Kyoto Hotel

Banyan Tree Group, one of the world's leading independent hospitality groups, held the grand opening of Galleria Nijo Castle Kyoto, on Friday, June 17, 2022. This is the first of the group's hotels to open in Japan.

Hotel Exterior

Located south of Nijo Castle, a World Heritage Site, and named after the beautiful winter flower, Galleria Nijo Castle Kyoto is a small, modern, and minimalist luxury hotel that offers simple guests a chance to recharge themselves.

Wellbeing Room


For the grand opening, a new Wellbeing Room has been opened where visitors can experience quiet meditation.

Visitors can stroll through nearby gardens, temples, and shrines, take a tour of Kyoto's many historical sites, or spend time in the Wellbeing Room meditating or practicing yoga to recharge their batteries away from the hustle and bustle of everyday life.

The French Restaurant Singular will also offer up healthy and tasty meals with a focus on local ingredients and producers.


Enjoy a visit to Kyoto in this peaceful space perfect for resting both body and soul.

Buffet Inspired by 'Moominvalley Turns Jungle' to be Held for the First Time at Keio Plaza Hotel Hachioji

From June 1 until August 31, Keio Plaza Hotel Hachioji is inviting guests to travel to the adorable world of Moomin by partaking in two tasty buffet events at the Le Clair Restaurant on the second floor. In Moomin's home country of Finland, people start enjoying the summer following the solstice in June. The theme of this project is 'Moominvalley Turns Jungle,' inspiring the hotel's chefs to create a spectacular original menu. A tasty lunch buffet will be held Tuesday through Friday during the event period, while a sweets buffet will take place on weekends and holidays. The restaurant's interior will be decorated with artwork from Tove Jansson's 1956 comic Moominville Turns Jungle.

The Moomin Lunch Buffet is titled 'Jungle Party in Moominville,' and will depict a fun summer lunch get-together in the titular character's home village. The lineup of foods includes smoked salmon canapes, marinated herring, and sardine sandwiches, all typical of Scandinavian cuisine. Plenty of spiced dishes and veggies will be available, the latter looking like they came from Moominmamma's garden. August 9 is Moomin Day, and the chefs will be preparing some extra goodies for each guest on that day only.

The Moomin Sweets Buffet will feature adorable desserts created by expert pâtissiers and will be inspired by Moomin and his friends enjoying the summer. From red velvet cake made to look like Little My's dress to chocolate mousse in the style of Moominpappa's Silk Hat, fans of the series will want to snap plenty of pictures before they dig in! Tons of sweets will include popular Scandinavian ingredients like red currants, raspberries, and blueberries. The welcome plate, limited to one per person, will change monthly, with a Tropical Parfait coming in July and an Edible Jungle coming in August. Light meals will also be available to compliment the sweets.

The Sweets Buffet will also include a special table plan limited to three per day, using plates and mugs included in the Moomin by Arabia 2022 Summer collection. Guests participating in this plan can order a special non-alcoholic cocktail created by the restaurant's bartender and made with rose-colored ice inspired by Moominmamma's love for flowers.

Information

Moomin x Keio Plaza Hotel Hachioji

 

Moomin Lunch Buffet ~Jungle Party in Moominvalley~

Running: June 1 – August 31, 2022 [Tuesday-Friday only]
Location: Le Clair Restaurant, 2F
Hours: 11:30-15:30 (2-hour seating) *Last order 30 minutes before reservation ends.

Moomin Sweets Buffet ~Moominvalley Turns Jungle Fun Summer Time~
Running: June 4 – August 28, 2022 [Weekends and Holidays only]
Location: Le Clair Restaurant, 2F
Hours: [1] 11:30-13:00 [2] 12:00-13:30 [3] 14:30-16:00 [4] 15:00-16:30

Buffet Bonuses: https://www.fujibi.or.jp

Advanced Reservations begin on May 17, 14:00 for hotel email subscribers, LINE Friends only
Standard reservations begin May 19 at 10:00
Details/Reservations: https://www.keioplaza.co.jp/hachioji/event/moomin/

Moomin by Arabia Product Information:
https://www.arabiajapan.jp/products/list.php?category_id=61
Sekiguchi Product Information: https://www.sekiguchi.co.jp/collection/

Conrad Tokyo Hotel to Offer Peach Afternoon Tea in Collaboration with Luxury Brand Wedgwood

Starting July 1, guests visiting the five-star Conrad Tokyo hotel can enjoy a new peach-filled afternoon tea menu for a limited time. Designed in collaboration with the British luxury brand Wedgwood, the lineup includes both savory and sweet items perfect for summer. The afternoon tea will be available on the 28th floor at the aptly named Twenty Eight Bar and Lounge.

In collaboration with Wedgwood, a 260-year-old porcelain and fine china brand used by the British royal family, this special service will feature an afternoon tea plate with a tempting array of sweets. The plate itself is from Wedgwood's world-renowned Gio collection and features a honeycomb pattern embossed on fine bone china. The contrast between the modern setting, the classic and refined shape of the white tableware, and the beautiful pink treats will come together to create the most memorable summer moment imaginable.

Coconut & Earl Grey Panna Cotta / Rose Jelly / Peach Compote

Wine and Peach Gelatin / Vanilla Mousse

White Peach Mousse / Raspberry Gelatin

White Peach and Soy Milk Sandwich

Apricot Tart / Peach Cream

Peach Soup / Lobster Consomme Jelly

White Peach and Chicken Mousse Tart

Pork Rillettes and Peach Slider

Highlights from the sweets menu include coconut & Earl Grey Panna cotta served with rose jelly and peach compote, peach gelatin infused with red wine and vanilla mousse, and a delectable white peach and soy milk sandwich. For those with less of a sweet tooth, the afternoon tea service also offers delectable dishes like a white peach and chicken mousse tart, a pork rillettes and peach slider, and more. Guests can also enjoy a selection of scones in either plain or coconut, each served with clotted cream and either peach or guava jam. Over 20 beverages will be on offer, including Wedgwood teas.

HOSHINOYA Taketomi Island Offering Relaxing Starry Sky Plan for a Limited Time

HOSHINOYA Taketomi Island, a resort in Okinawa Prefecture, is offering a special plan from June 1 until August 31, 2022. The Hoshizora Sparkling Stay Plan is perfect for anyone wanting to relax under a starry sky. Taketomi Island has the honor of being Japan's first protected starry sky area, meaning that not too many manmade lights can be incorporated into building designs. Under the theme of 'miisurin,' meaning 'sparkling eyes' in the local dialect, guests can enjoy a retreat from modern life as they gaze up at the night sky while enjoying spa treatments, delicious food, and plenty of other ways to relax.

Spa Treatment

Brunch

Mulberry Tea

Three Ways to View the Starry Sky

Floating Beneath the Stars

On the first night of your stay, enjoy relaxing in a pool beneath the glittering night sky. A staff member will gently rock your body from side to side to induce a state of deep relaxation.

Star Walk

On the second night, enjoy leaving your room at dusk to walk along the shore and find the first star in the night sky. Along with a staff member who is well-versed on stars and astrology, visitors will head towards the West Pier, a tangible cultural property, to watch the sunset.

Private Deep Breathing Course

After walking along the beach, guests will sit on Kondoi Beach beneath the shimmering sky to stretch and participate in relaxing deep breathing. Enjoy the sound of the crashing waves while all of your tension drifts away.

Information

Hoshizora Sparkling Stay Plan

Available: June 1 – August 31, 2022
Details/Reservations: https://hoshinoya.com/taketomijima/

*Reservations accepted up to 14 days in advance.

Yunohana Onsen Resort Reveals Contemporary Art-Inspired Guest Rooms

Sumiya Kihoan, a cozy inn at Yunohana Onsen in Kameoka City in Kyoto, opened a unique new guest room on April 28, 2022. The room's concept is "where guests can stay in the middle of contemporary art," and was inspired by the works of internationally-acclaimed contemporary artist Yukinori Yanagi. The new room, created as part of the Art Room Project, has been named 'Kofuu.'

The Icarus Corridor Connecting Heaven and Earth

Heavenly Bath Welcoming a Rainbow at Dusk

In-Ground Bath Featuring Oribe Glazed Ceramic

Concept Drawing of the Art Room Project by Yukinori Yanagi


The new room includes an open-air bath where guests can be transported into the world of Yanagi's contemporary art while gazing at the gorgeous Kyoto landscape. Upon entering the inn, guests are greeted by a long corridor leading to the bedrooms, dining room, and two creative open-air baths. The space was created in collaboration with Yanagi and local artists and craftsmen, such as potter Ishii Naoto, obi craftsman Yamaguchi Genbei X, plasterer Kusumi Akira, and Japanese paper craftsman Hatano Wakaru. A delicious menu is prepared by chef Hosoi Kunihiko.

Kanahei's Small Animals Inspires Hotel Room at Hotel New Otani Tokyo

Hotel New Otani Tokyo will offer special collaboration rooms inspired by illustrator Kanahei's characters Piske & Usagi from May 1, 2022 to April 30, 2023.

Original Cushion / Acrylic Stand

The room is completely decorated with brand new illustrations of Piske and Usagi made exclusively for the collaboration. A total of five original amenities will be included with each room plan, including an original cushion and acrylic stand. Come surround yourself with complete cuteness!

Oakwood Hotel Oike Kyoto Reveals Room Plan with UNDERSON UNDERSON Washi Underwear

The lifestyle brand UNDERSON UNDERSON is all about making skin healthier by using washi paper. The unique brand has teamed up with Oakwood Hotel Oike Kyoto, known for its traditional washi decorations, for a special accommodation plan! Booking a room will get you a fancy new pair of underpants and some other popular items. The plan began on April 11, 2022, and will continue through the end of the year.

UNDERSON UNDERSON Underwear

UNDERSON UNDERSON Stretchy Washi Mask

john masters organics × UNDERSON UNDERSON Mask & Air Refreshener

The plan wants to allow visitors to enjoy their stay in Kyoto while experiencing traditional Japanese washi paper with both their eyes and their skin. The walls of the Oakwood Hotel Oike Kyoto feature artwork and furnishings with Japanese flare and have been upgraded to include HAMADAWASHI's Tosa washi paper. This material has been used in the restoration of cultural heritage sites such as Nijo Castle and Ginkaku-ji Temple. Tosa washi can also be found on the partitions at Cafe O and on the walls of the coworking space!


To celebrate the collaboration, UNDERSON UNDERSON will be giving away underwear and other items made of its iconic WASHIFABRIC.


While this may sound like a strange collab, how would you like to give this underwear a try?

Information

Oakwood Hotel Oike Kyoto
UNDERSON UNDERSON Underwear Collaboration Room Plan
Available: April 11 – December 31, 2022
Reservations / Official Site: https://oakwood.jp/kyoto-oike/

W Osaka Reveals Special Menu Inspired by Fashion Duo AMIAYA

Luxury hotel W Osaka will be offering 'ICHIGO AFTERNOON TEA – Dressed up for Spring,' a special menu inspired by the fashion duo AMIAYA, from April 1 until May 31, 2022. The menu items will be available at the Living Room area on the hotel's third floor.

W Osaka Fashion Ambassador AMIAYA

ICHIGO AFTERNOON TEA – Dressed up for Spring

LIVING ROOM

The event will utilize some of the popular strawberry dishes currently popular at the hotel, but will also include some raspberries and orange sweets. Some dishes will be decorated with flower petals, inspired by the vivid fashion of W Osaka's fashion ambassador AMIAYA. The twins have attracted worldwide attention as models and DJs, and they celebrated their first anniversary on March 16. 

Savory options include a Quiche with Sakura Shrimp and Spring Cabbage and Caramelized Onion and Chevre Cheese plate. Guests can enjoy a total of 12 items prepared by the W Osaka chef team, all displayed on a beautiful afternoon tea stand. Each menu comes with a welcome drink and free refills for tea and coffee.

The Royal Park Hotel Iconic Kyoto to Offer Immersive Meditation Rooms

The pandemic has caused problems for people all over the world. Mental health has taken a beating over the last few years, and in order to help people take back control of their mental wellness, The Royal Park Hotel Iconic Kyoto will begin offering immersive meditation rooms for guests only! These rooms will allow guests to enjoy a soothing private space and will be available starting April 1, 2022.

Blank meditation 

tea mediation 

The Medicha meditation rooms consist of two spaces: 'blank,' where guests are surrounded by mist, and 'tea,' where guests will immerse themselves in beautiful water patterns. An original program shown on in-room televisions at the hotel will also instruct guests in the art of meditation. 

In 'Blank Meditation,' guests will stand in a cool mist and immerse themselves in layers of diverse sounds and shifting colors of light. This will help quiet the mind and create a 'blank slate' mentally. 

The 'Tea Meditation' room invites visitors to spend time with themselves while getting lost in shimmering water patterns in a dimly lit space as they carefully brew their own tea. Two types of tea are on offer, each with distinct aromas and flavors.


 

Hotel New Otani Tokyo to Hold Fourth Collaboration with Paul & Joe

From April 1 until June 30, 2022, Hotel New Otani Tokyo will hold its fourth collaboration with the Paris-born fashion brand Paul & Joe! One specially designed room will be available per day. The brand is extremely popular with women in their 20s and 30s, and those wanting to reserve a room will want to act quickly, as the previous collab room was booked up almost immediately!

The pink and ivory interior is dotted with chrysanthemums and images of Gipsy and Nounette, the iconic cats of brand designer Sophie. Everything from the couch cushions to the hairbrush is completely inspired by Paul & Joe.

Items Only Available in the Paul & Joe Room


4th Collaboration Cosmetics

Limited Edition Pajama and Slipper Set with Room Plan

The fourth cosmetic collection has been sourced from the Les Vacances series, a collection made to take on summer vacation. The lineup includes a body primer sunscreen made to moisturize and protect and an 'After Sun Oil' with a floral citrus scent perfect for use after outdoor lounging.

A special Les Vacances-themed spa bag will also be available for guests to take home. Enjoy taking it to the pool, to the spa, or simply while taking a stroll around the hotel. 

Guests can also take home a sample of the brand's Protecting Foundation Primer, a makeup base that has taken home a number of Best Cosmetics Awards. Selected skincare samples, such as lotions and oils, will also be included in the room package. 

One of the collaboration plans will also allow guests to take home an exclusive pair of pajamas and slippers decorated with an adorable cat design. 

*Guests cannot choose the pajama color or slipper pattern.
*The design of pajamas and slippers is subject to change without notice.