Japan's Capcom Cafe Releases Ace Attorney Themed Menu
The Capcom Cafe located inside AEON Lake Town in Saitama is now serving up an Ace Attorney themed menu until July 8.
1. Keema Curry | ¥1,738 (Tax Included)
A keema curry inspired by the hoodie worn by Phoenix Wright. It features the Japanese word kurae! (くらえ!) which in the English version of the series is the quote "Take that!"
2. Tonosaman Tacos Plate | ¥1,958 (Tax Included)
A plate of tacos themed on Miles Edgeworth and Steel Samurai, the latter known as Tonosaman in Japanese. It includes two tortillas, one with a picture of Steel Samurai and the other with his name in Japanese.
3. Godot's Cafe Coffee Break Set | ¥1,408 (Tax Included)
A rich coffee jelly with accompanying biscuits and gateaux chocolate. Based on Godot.
4. Blue Hawaii Parfait | ¥1,408 (Tax Included)
A parfait with motifs of Franziska von Karma. It captures her cool and stylish look. A perfect drink for a hot summer's day.
5. Chocolate Banana Drink | ¥880 (Tax Included)
A drink inspired by the yukata worn by Maya Fey. Comes with a chocolate banana like the one she is holding in the illustration drawn of her for this cafe collab.
6. Fruit Sangria | ¥880 (Tax Included)
A fruity and refreshing non-alcoholic sangria inspired by Apollo Justice.
7. Rock Soda | ¥880 (Tax Included)
A non-alcoholic cocktail on the rocks inspired by Klavier Gavin. Served with a bottle and glass.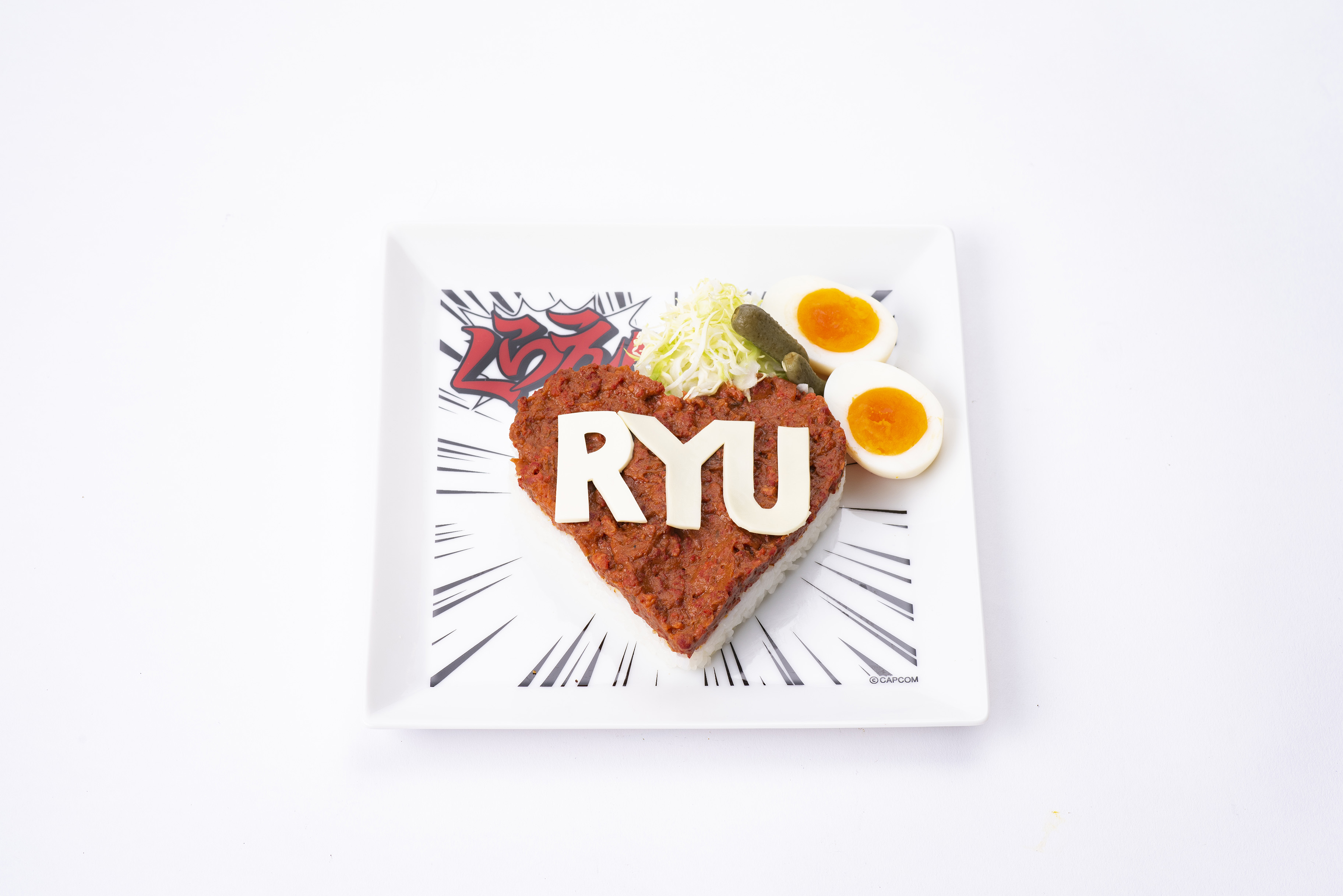 For an extra ¥3,000, customers can get the Kurae! plate as a set with the keema curry
Get some free original novelties
Get a free lunch mat (pictured left above) when you order any dish or dessert or a free coaster (pictured right above) when getting a drink.
And if you spend over ¥3,000 on the cafe menu,  you get one of these free postcards.
Fans need to book a table in advance to dine at the Capcom Cafe.
©CAPCOM CO., LTD. 2021 ALL RIGHTS RESERVED.
Information
Ace Attorney Collab Menu
Running: May 21, 2021 – July 8, 2021
Location: Capcom Cafe AEON Lake Town
Address: 4-21-1 Azumacho, Koshigaya, Saitama 343-0826, Japan
Capcom Cafe Official Website: http://www.capcom.co.jp/amusement/capcomcafe/
RELATED ENTRIES
Maison Kitsuné Reveals Collaboration Mask with PITTA MASK

Maison Kitsuné, a popular Parisian lifestyle brand that produces unique music and fashion items, has collaborated with Japanese mask brand PITTA MASK, a brand which has become famous for its extraordinary outlook. The trendy mask was unveiled at NYFW: The Shows on September 10 2021. 

The collaboration combines the creative direction of both Maison Kitsuné and PITTA MASK, working together to transform the typical mask, which has become a daily necessity, into something fun and stylish, all while maintaining the spirit of each individual brand.

PITTA MASK and Maison Kitsuné, a lifestyle brand known for combining fashion and music,  have collaborated to create a stylish and colorful mask that goes beyond just protecting the face, both practical and fashionable.

The two collaboration masks, which were unveiled during New York Fashion Week, will be presented as a free gift to customers who spend over ¥8,000 (Excl. Tax) in Maison Kitsuné stores in New York, Tokyo, Kyoto, and Osaka from the end of September. The set is made up of two masks, in navy and white.

 

Quantities are limited, so be sure to check out the latest information on social media!

Information

Maison Kitsuné x PITTA MASK Collaboration Face Mask

Gift Campaign Period: Late September 2021 Onwards (scheduled)

Maison Kitsuné Official Instagram: www.instagram.com/maisonkitsune/ 

Demon Slayer and J-League Team ALBIREX Collaboration Goods Now Available

A new collaboration is bringing sports and demon-slaying together! For the SPORTS2021 x Demon Slayer event, the popular series is partnering with three sports leagues: the NPB, J-League, and B.League. Goods are now available for the long-awaited collaboration between Niigata's ALBIREX soccer team and Demon Slayer, so sports and anime fans should snag some merchandise before it's all gone!

Items are available to pre-order online now until 2:00 on September 27, 2021. 

ALBIREX x Demon Slayer T-Shirt: ¥3,600 (Tax Included)

ALBIREX x Demon Slayer Face Towel: ¥2,100 (Tax Included)

ALBIREX x Demon Slayer Mini Towel: ¥600 (Tax Included)

ALBIREX x Demon Slayer Ribbon Magnet: ¥1,980 (Tax Included) 

ALBIREX x Demon Slayer Mug: ¥1,800 (Tax Included) 

Don't miss out on these one-of-a-time items!

Experience the World of Demon Slayer with New AR Experience from au

Starting September 23, Japanese cell phone company au will be releasing a new collaborative project with the globally popular Demon Slayer: Kimetsu no Yaiba series! 

The new experience will allow users with a smartphone to transform into characters from the show, and reenact popular battle scenes from both the anime series and film. The collaboration is taking place to celebrate the return of the series in 2021 for it's second season. 

Demon Slayer x au AR Experience

Augmented Reality: Become Your Favorite Character!

Using a special Instagram AR filter, users can mix different backgrounds and effects from the Demon Slayer series to make it feel as though you're a part of the action!

Famous Quotes from the Series

By pressing a button on the special collaboration site, users can enjoy a collection of 45 random vertical videos featuring their favorite characters saying their famous lines. Take a screenshot of these clips and use one as your wallpaper!

Online Puzzle Game Escape Mission: Escape from the Mugen Train

In this fun escape game, users become a member of the Demon Slayer Corps sent to the Mugen Train to help rescue passengers. 

©吾峠呼世晴/集英社・アニプレックス・ufotable

*「煉獄」の「煉」は「火+東」が正しい表記となります。

Photography and Noh Theater Collide in New Collaboration between Hiroshi Seo and Hosho School

In a new fall collaboration, the prestigious Hosei School of Noh Theater, established during the Muromachi Period, and photographer Hiroshi Seo will present a unique blend of traditional culture. 'Experience Noh and Art in Autumn ~Noh at Night: The Tale of the Heike 'Kiyotsune' x BEYOND PHOTO BY HIROSHI SEO' will begin for four limited showings starting September 24, and will connect the photographer's work 'BEYOND' with the theme of water present in the classic tale of Heike. Ancient and modern will overlap during this special autumn event, so don't miss it if you're in Tokyo!

The Story of The Tale of Heike 'Kiyotsune'

During the 12th century, the Minamoto and Taira clans were at war. Awazu-no-Saburo returns to the capital after the Taira were defeated in battle, carrying with him a keepsake for his lord Kiyotsune's wife: a lock of hair that Kiyotsune left before committing suicide. Saburo visits the wife, and upon learning of Kiyotsune's death, she can barely stand the sight of his hair, ordering that the keepsake be returned to a shrine in Kyushu. Upon falling asleep, she sees his ghost in her dreams, and they argue over what has occurred. Kiyotsune recounts his final days, choosing suicide by drowning over capture and defeat. He is then blessed, and finds his way from Hell to eternal enlightenment. 

BEYOND PHOTO BY HIROSHI SEO Exhibition

In 2020, the COVID-19 pandemic changed the world. Yet even during this turmoil engulfing the world, artists were trying to make a new path. Photography is but a fragment of the real world, but through the eyes of the one taking the photo, it becomes an art form, and allows us to see the world in a different way. For this exhibition, Hiroshi Seo will present several new works, including photographs from Sado Island, the home of Noh, where one-third of all Noh stages in Japan are located. This chain of water-inspired images will weave together with the story of Kiyotsune, and will tell a brand-new story for modern audiences. 

Information

Experience Noh and Art in Autumn ~Noh at Night: The Tale of the Heike

'Kiyotsune' x BEYOND PHOTO BY HIROSHI SEO 

With Performance: September 24, 2021 (Tickets on sale now.)

No Performance: September 25, 2021 (Free admission for photo exhibition only. No admission to auditorium.) 

With Performance: October 29, 2021 (Tickets on sale now.)

With Performance: November 26, 2021, 17:00 (Tickets on sale September 25.) 

Address: Hosho Noh Theater, 1-5-9 Hongo, Bunkyo-ku, Tokyo

Tickets: https://nohlife.myshopify.com/

Official Site: http://www.hosho.or.jp/nohgakudo/

詳細・Official Site:http://www.hosho.or.jp/nohgakudo/

9th Installment of Anime-Inspired Cooking Project AniCook Features Bungo Stray Dogs

AniCook, a project using anime to make cooking more fun, is already holding it's 9th collaboration with a popular series. This time, characters from the popular anime series Bungo Stray Dogs are coming to cook up some fall treats at Shinsaibashi PARCO in Osaka from October 1 until October 26! 

Menu

Sticker gifted to guests who purchase a meal or dessert (8 varieties) / Postcard gifted to guests ordering a drink (8 varieties) 

Original Merchandise

Acrylic Stands (8 varieties) / 8-pack set

Pins (8 varieties) / 8-pack set

Acrylic Keychain (8 varieties) / 8-pack set

Acrylic Muddler (8 varieties) / 8-pack set

100 Limited-Edition pouches (2 varieties) available by lottery: Those spending over ¥5,000 at the cafe will be entered.

CookpadTV is behind the cafe, and continues to lead the way in quality collaboration cafes across Japan. This time, popular characters from Bungo Stray Dogs are serving up their favorite autumn-themed foods, inspiring visitors to enjoy cooking just a little more. Themed meals and sweets will be available, while the beverages are each themed on the character's abilities. Be sure to grab some of the limited-edition merchandise only available during the event! These can now be pre-ordered on the cookpadLive cafe Online Store. 

Which character would you like to see in the kitchen? 

Crayon Shin-chan and Adorable Bunny Rabbits Available from Ikumimama Animal Donuts

Ikumimama Animal Donuts has been a popular topic on social media for it's cute creations, many based on popular characters. Now, customers located in Japan can purchase the new Crayon Shin-chan and Otsukimi Usa-chan Donut Sets online! 

Otsukimi Usa-chan Set

Otsukimi Usa-chan (White)

Otsukimi Usa-chan (Pink)

Otsukimi Dango Donuts

Crayon Shin-chan Donut Set

Shin-chan (Normal)

Shin-chan (Sparkling)

Shiro

Buriburizaemon

Himawari

Otsukimi means 'moon-viewing' in Japanese. On the 15th day of the eighth month of the traditional Japanese calendar, it's tradition to hold a celebration to view the harvest moon. The Otsukimi Usa-chan set is perfect to serve during a get-together as you watch the starlit sky with friends. This year, September 21 is the lucky day! Dango, or dumplings, are popular snacks to enjoy during this event, and these coconut-filled Dango Donuts are a fun twist on a traditional treat. 

Shinnosuke, Shiro, Buriburizaemon, and Himawari all make an appearance in the new Crayon Shin-chan collaboration.

Which of these sugary sweets looks the most scrumptious? 

Kumagaya City, Saitama Bath Cafe Hareniwa no Yu Opens After Rebranding

Cafe BIVOUAC, located in Kumagaya, Saitama Prefecture, will reopen Bath Cafe Hareniwa no Yu on September 18, 21, after a full rebranding.

The space aims to be 'a garden that clears a guest's body and mind.' Visitors can enjoy a full bath and sauna, freshly-picked vegetables at the Haruniwa Dining Room, and a lush green lounge in which to relax and unwind.

The Haruniwa Dining Room, run by The Farm, a resort in Chiba Prefecture, offers healthy dishes filled with fresh local vegetables from Kumagaya with carefully-selected main ingredients.

In addition, a collaboration with fashion brand 'niko and…' will also begin upon reopening, offering the perfect comfy clothes to wear while enjoying the property.  The lineup  includes an original bath bag and sauna hat, each sold exclusively at Hareniwa no Yu.

Information

Bath Cafe Hareniwa no Yu (Cafe BIVOUAC)

Open: September 18, 2021

Address: 939 Kubojima, Kumagaya-shi, Saitama

Phone: 048-533-2614

Official Site: https://ofurocafe-bivouac.com/

niko and…Celebrates 80th Anniversary of Curious George with New Collab Items

Japanese fashion brand "niko and…" will release a collection of Curious George-inspired items to celebrate the character's 80th anniversary. These items are now on sale at the brand's stores nationwide, and on the official web shop, as well as on ZOZOTOWN and Rakuten Fashion.

Collaboration Items at a Glance

Remote Control Box: ¥1,540 (Tax Included) / Slippers: ¥2,090 (Tax Included) / Tissue Case: ¥4,180 (Tax Included)

Large Plushie: ¥4,840 (Tax Included) / Medium Plushie: ¥3,520 (Tax Included) / Vinyl Umbrella: ¥1,320 (Tax Included) / AC Adapter: ¥2,860 (Tax Included) / Charging Cable: ¥1,760 (Tax Included)

Masking Tape: ¥440 each (Tax Included) / Bath Chair: ¥2,970 (Tax Included) / Bath Bucket: ¥1,430 (Tax Included) / Alarm Clock: ¥1,540 (Tax Included)

Curious George is celebrating his 80th anniversary in 2021. In Japan, the monkey character was first introduced in 1954, and has been loved by countless people ever since. This collection combines the humorous and retro feel of Curious George with the sensibilities of "niko and…," creating a unique mash-up of products.

Are you a fan of Curious George? Which of these products are you most likely to grab?


※Curious George and related characters, created by Margret and H.A. Rey, are copyrighted and registered by Houghton Mifflin Harcourt Publishing Company and used under license.All Rights Reserved.

※Universal Studios Licensing LLC(ユニバーサル・スタジオ・ライセンシング LLC)との商品化契約に基づき、株式会社アダストリアが企画・制作した商品です。

Collaborative Music Project MAISONdes Releases New Track Featuring Nagumoyuuki and riria.

12.September.2021 | MUSIC

MAISONdes is a unique music project. Extremely popular on TikTok, it's described only as 'a fictional apartment building somewhere,' where a different singer and creator features on each and every track. Each song is even labeled with a room number. This allows up-and-coming artists to collaborate in ways they never expected, and leaves the listeners enjoying an all-new sound. Rather than stick to what's comfortable, artists taking part in the project express themselves freely with their new creative partner.

Following artists like yama, Nakimushi, Kujira, Moka Sato, Riu Domura, Wanuka, and haruno, we come to Room #107. This time, Nagumoyuuki and riria are up to bat in the new single Natsukaze ni Tokeru, out September 8. Nagumoyuuki wrote the lyrics and arranged the track, while riria provided the vocals.

Room #107 – 'Natsukaze ni Tokeru' feat. riria., Nagumoyuuki / MAISONdes

MAISONdes began a YouTube channel in February 2021, and has already featured plenty of creators leading the new music scene. Released in May, 'Yowanehaki feet. Wanuka, asmi' won the TikTok Song Ranking four times in a row and has over 100 million views on the app. In August, vocalist asmi appeared on THE FIRST TAKE. The song also attracted a great deal of attention on Line Music, Spotify, and Apple Music.

In Fall 2019, singer-songwriter riria posted a video to TikTok and YouTube, in which she performs without showing her face. Currently, the artist has over 1.3 million followers on TikTok.

 

Nagumoyuuki is an up-and-coming composer who has written music for yama, who performed in Room #101, and who has featured massively popular singer Ado in her own work.

Comment from riria.

I was incredibly honored to participate in the MAISONdes project, and to sing Nagumoyuuki's incredible song. It wasn't the type of song I usually sing, so I was able to express myself in a new and fun way. Please give it a listen!

Comment from Nagumoyuuki


riria did an incredible job singing this song, which is about two people just passing the time during a quiet night. I hope you enjoy listening to it, no matter what's going on in your life.


The illustrations used for the song were created by NANAKI PANTZ, who has also contributed to other videos from MAISONdes in the past.

This track is sure to be another hit across SNS, and the future's looking bright for MAISONdes! Be sure to check out the rest of their tracks on YouTube.

Anohana Anime Series Commemorates 10th Anniversary with Tokyo Amusement Park Asakusa Hanayashiki

Tokyo-based amusement park Asakusa Hanayashiki, said to be the oldest such park in Japan, will hold an event starting September 18 to celebrate the 10th anniversary of the Anohana anime series.

The event itself will feature a brand-new illustration of the six main characters standing outside the gates of Asakusa Hanayashiki, as well as original merchandise, a menu of Anohana-inspired food, and a park-wide stamp rally. Those purchasing special tickets in advance will get exclusive offers, so don't miss out if you're in Tokyo!

Original Illustrations for the Event

Illustration Card (only for special ticket holders)

Ticket Holder (only for special ticket holders)

Stamp Rally Card

Special Stamp Rally Postcard

Those purchasing a dish from the special menu will receive a randomly selected coaster (7 designs) as a present.

Collaboration Menu

JinTantanmen: ¥1,000 (Tax Included)

Menma's Favorite Sweet Curry: ¥1,000 (Tax Included)

Super Peace Busters Drinks (6 varieties): ¥600 each (Tax Included)

Usamaru Shaved Ice: ¥500 (Tax Included)

Menma's Favorite BOMBOM Croquette Burger DX: ¥550 (Tax Included)

Original Merchandise at a Glance

Hanayashiki Collaboration Original Illustration, Modern Japanese clothing ver. BIG Acrylic Stand (6 designs): ¥1,980 each (Tax Included)

Hanayashiki Collaboration Chibi Attraction ver. Pins (12 designs): ¥440 each / BOX: ¥5,280 (Tax Included) *Random

Receive a random original Bromide (6 designs) for spending over ¥2,000 on collaboration goods.

Information

Anohana x Asakusa Hanayashiki

Running: September 18 – October 10, 2021

Location: Asakusa Hanayashiki

Hours: 10:00-18:00 (weather permitting) *Last entrance 30 minutes before closing.

Closed on: September 28 and October 5

Advance Tickets on sale from 7Ticket at 7-11 locations now.

*Information subject to change.

Event & Ticket Details: https://event.amnibus.com/anohana-hanayashiki/

SPINNS Collaborates with Popular YouTubers Uchira3shimai in New Autumn Visual

Uchira3shimai are featured in the Autumn season visual for apparel brand SPINNS. The new visual poster appeared in store and online on September 5 2021. Four Autumn visuals will be released, alongside a new collaboration collection.

Behind the Scenes

Collaboration Items

With over 490,000 subscribers, popular YouTubers Uchira3shimai have appeared in the SPINNS Autumn visual. The new collection is titled "○○○3shimai STYLE." The YouTubers are shown in some of SPINNS most trendy items, wearing caps, printed shirts, and flare pants.

You can easily spot the individuality of each sibling in this unmissable Autumn visual!

Maison de FLEUR to Release Second Rilakkuma Collection

Popular Japanese accessories brand Maison de FLEUR is releasing a new collection of grown-up Rilakkuma-inspired goods, the second such collaboration for the brand. All goods will go on sale September 10 at Maison de FLEUR shops online, and at the STRIPE CLUB Online Store.

Goods

Square Tote Bag: ¥4,389 (Tax Included)

Rilakkuma & Kiiroitori Frilly Tote Bag: ¥5,489 (Tax Included)

Korilakkuma & Chairoikoguma Frilly Tote Bag: ¥5,489 (Tax Included)

Rilakkuma & Kiiroitori Tissue Case: ¥3,949 (Tax Included)

Korilakkuma & Chairoikoguma Tissue Case: ¥3,949 (Tax Included)

Rilakkuma Card Case: ¥4,059 (Tax Included)

Korilakkuma Card Case: ¥4,059 (Tax Included)

Kiiroitori Card Case: ¥4,059 (Tax Included)

Chairoikoguma Card Case: ¥4,059 (Tax Included)

Rilakkuma Bag Charm: ¥2,750 (Tax Included)

Korilakkuma Bag Charm: ¥2,750 (Tax Included)

Kiiroitori Bag Charm: ¥2,750 (Tax Included)

Chairoikoguma Bag Charm: ¥2,750 (Tax Included)

Lining Design

Maison de FLEUR released their first collection of Rilakkuma-inspired goods last year, focusing on the character Korilakkuma. Many of the goods sold out instantly, and restocks were necessary to keep up with demand for these adorable items. This new collection focuses not only on the popular Korilakkuma, but on Rilakkuma, Kiiroitori, and the honey-loving Chairoikoguma.

This limited-time collaboration features tote bags, tissue cases, card cases, and bag charms, for a total 0f 15 different products to collect. Each features these popular San-X characters adorned with the quintessential Maison de FLEUR ribbon. The tote bags are large and spacious, while the tote bags bring a more adult flair to those wanting a touch of playfulness in their wardrobe.

Which of these fluffy goods is on your wishlist?

Information

Maison de FLEUR x Rilakkuma

Release Date: September 10, 2021

Where to Buy: Maison de FLEUR locations nationwide,

STIPE CLUB Online store: https://stcl.page.link/FyQy

*Also available at some Rilakkuma Store locations and the San-X Online Shop: https://shop.san-x.co.jp/