All About Matsuyama | Episode 8: Souvenirs Are Part of Matsuyama's Fun and Are Everywhere
The all new Matsuyama Tourist Information Centre opened in the heart of Matsuyama—the capital city of Ehime Prefecture in Japan—in Okaido on May 27. In celebration of its opening, this new featured series by MOSHI MOSHI NIPPON will explore the wonders of Matsuyama, a city abundant with places to shop, leisurely hot spots, must-visit restaurants, and opportunities to dive deep into its history and culture. You're sure to discover something new and exciting about Matsuyama in this series.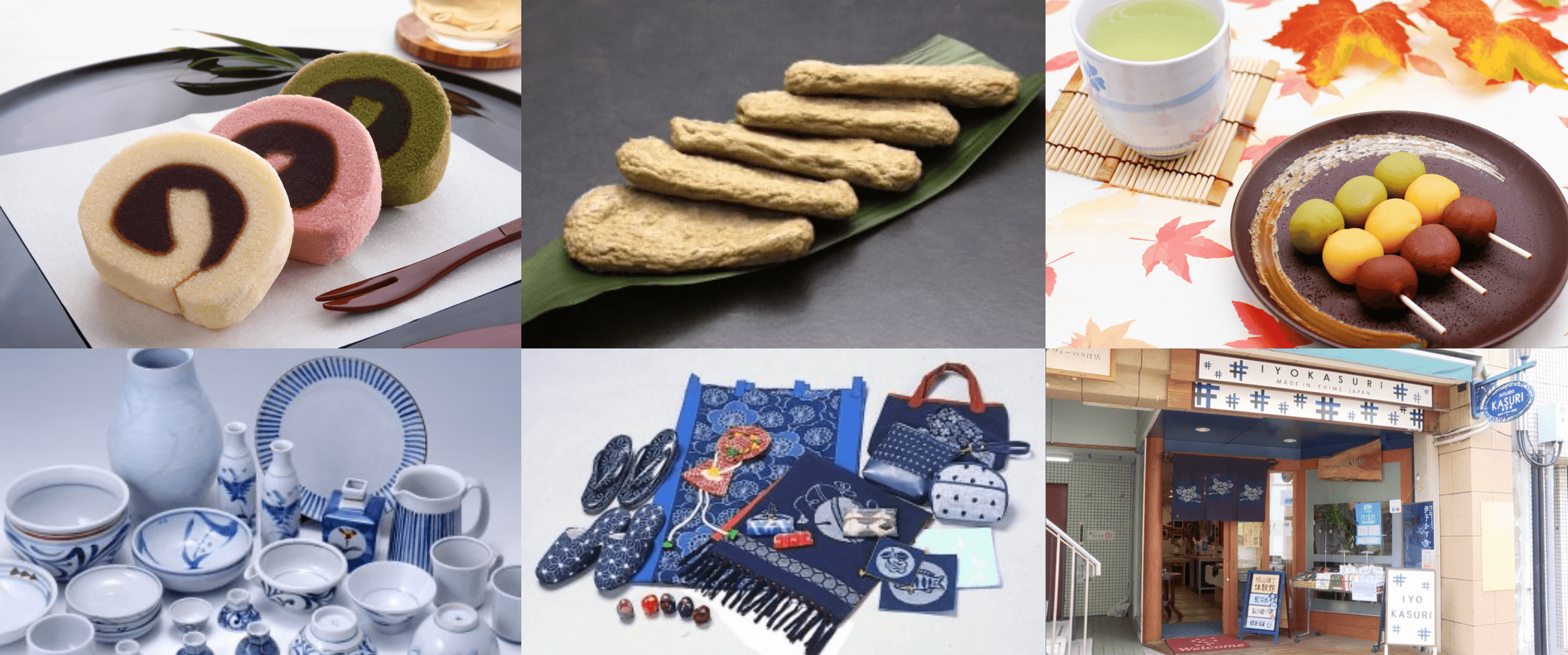 From tasty treats to home and lifestyle goods, Matsuyama has no shortage of souvenirs
Popular sightseeing spots and delicious food you can't get anywhere else—these are all part of the fun experience to be had when travelling. To wrap up your time there and memorialise all that's happened, nothing's better than picking up a little souvenir. In Episode 8 of All About Matsuyama, we take a look at the many wonderful items you can take home with you as souvenirs from food to traditional handicrafts, special dyed fashion and accessories, and more. MOSHI MOSHI NIPPON has picked out a range of delightful treats like Matsuyama's famous tartes, jakoten, three-colour botchan dango as well as Tobe ware porcelain which is an Ehime tradition, and iyo-kasuri fabric which is one of Japan's three main kasuri fabrics.
First on the list is the 'tarte,' a speciality product of Shikoku which is more of a sponge cake. They're made of a soft and fluffy sesame seed-coloured sponge and coarse red bean paste. A famous treat of Matsuyama, you can find these tarts just about anywhere in Okaido Shopping Street, near Dogo Onsen, and elsewhere.
Jakoten is considered a soul food of Ehime Prefecture. It's made from fish that are blended into a paste and fried. You can find jakoten everywhere in Matsuyama, but every restaurant serves theirs with different textures and flavours. Many places fry them fresh, so be sure to try a bunch to compare the flavours and then you can decide which to buy as a souvenir. There are even places so popular that they have lines outside them before they even open.
The botchan dango is something many of our readers have probably seen or heard about. These three-coloured skewered dango are served bite-sized, cute enough to snap a photo of. The ones sold at Dogo Onsen are something of a speciality. They have their name from Natsume Soseki's novel Botchan. You'll find them all around Dogo Shotengai.
Tobe ware is a traditional type of porcelain from Tobe in Ehime, known for its smooth touch and durability. This traditional porcelain has been handed down from old times until today, and in recent years, ceramists have been hammering out their own unique shapes, so have become popular as stylish, everyday use lifestyle items.
You can't talk about Ehime's traditional craftwork without mentioning iyo-kasuri fabric. Matsuyama used to have huge production output of this fabric type, which stands as one of three of Japan's most famous kasuri fabrics alongside kurume-gasuri from Fukuoka and bingo-kasuri from Hiroshima. Production has dwindled in modern times, but if you go to Art Labo KASURI Rekishikan, you can learn all about iyo-kasuri. There are lots of gorgeous iyo-kasuri products to buy like cute pouches, bags, and more.
And that's our list of must-grab souvenirs. There are of course endless other things you can get your hands on, so if you're lost on what to pick up, try asking at the Matsuyama Tourist Information Centre.
Stay tuned for the next and final episode of All About Matsuyama.
RELATED ENTRIES
Discover the Art of Snow and Water at the Fifth 'Oirase Ice Falls Tour' in Aomori Prefecture

The 'Inaichō General Towada-Oirase Tourism Organization,' a group striving for regional revitalization, has announced that the Oirase Gorge Ice Falls Tour will be available to tourists between December 17 2021 and March 6 2022. This will be the fifth year of the tour, which was first held in 2017. 

Winter Oirase Waterfall Night Tour© Towada-Oirase Tourism Organization

Winter Oirase Nature Guided Tour© Towada-Oirase Tourism Organization

The Oirase Gorge, which stretches for 14km between Lake Towada and Yakeyama, lies between Aomori and Akita prefecture. The gorge is located in Towada Hachimantai National Park and has been designated a protected area.

During Winter, the mountaintop waterfalls freeze over and become powerful icefalls, decorated with icicles. Time seems to stop as the river stops flowing and the area becomes still. On this bus tour you can enjoy the silvery-white Oirase scenery during the day, or be awed by the illuminated icefall and icicles at night. 

 

During the Night Tour, a dedicated light car runs alongside the bus to light up five spots along the Oirase Gorge, including the gorge icicles and the icefall itself. Each viewing spot has been carefully produced, using changing colors and lighting to set the scene.

 

Why not visit this beautiful icy scene, which can only be enjoyed in Winter? 

Information

Oirase Gorge Ice Falls Tour

Duration:

【Tour 1】

Winter Oirase Waterfall Night Tour: City/Yakeyama Pickup & Drop Off Tour

December 17 2021 ~ March 6 2022 (Thursday ~ Sunday / Holiday Service) 

 

【Tour 2】

Winter Oirase Nature Guided Tour: Shichinohe-Towada Station/City/Yakeyama Pickup & Drop Off Tour

December 18 2021 ~ February 27 2022(Weekend & Holiday Service)

※This is a daytime tour

 

【Tour 3】

Winter Oirase Waterfall Night Tour: Lake Towada Pickup & Drop Off Tour

December 17 2021 ~ February 20 2022 (Friday ~ Monday / Holiday Service)

 

【Tour 4】

Winter Lights Story Bus Daytrip

December 17 2021 ~ February 20 2022 (Friday ~ Monday / Holiday Service)

※This tour does not visit the icefall

 

Tickets & Tour Details: https://www.towada.travel/ja/oirase-ice-falls 

Enjoy a Weather and Time-based Cream Soda at the Newly Opened 'Cafe Amayadori'

The Oarai Tourism Omotenashi Promotion Council opened Cafe Amayadori, a rain and healing themed coffee shop, on September 18 2021. The shop was opened as a challenge and is located in the Umimachi Terrace Tourist Information Center.

Cafe Amayadori

Cafe Amayadori Menu

Cafe Amayadori Tote Bag

You can clearly hear the sound of the rain from inside the store, while the served cream soda changes based on both the weather and the time. On clear days where the sun is shining, you can order the traditional green-color  'Blue Sky Cream Soda,' while on rainy days you can order the blue 'Rain-color Cream Soda.'

The cafe also serves a wide variety of Japanese and Western meals and desserts, each cooked using local Oarai produce. Morning and lunch specials are also available, meaning you can easily work your visit around your own schedule.

The concept of the cafe is "Rain." You can dash into the cafe as if you're looking for shelter from the weather before sitting down to eat and drink in the calm space, emphasized by the soothing music that plays in the background. While the soundtrack depends on the day, the sound of rain is often played. However, the sounds played on rainy days are a little different to the usual. True to its name, the cafe can create a comfortable Amayadori (lit. rain shelter) no matter what the weather!

'rain coat studio' is a group of creators who have been working on 'rain' themed events and designs since 2016. The group was formed with the idea that "when it rains, our activities are limited due to the dull weather. On the other hand, the rain represents the season and soothes those who listen to it's sound." 

The group aims to create music, events, artwork, and more, that are cool like the rain but still convey a kindness. The 'rain coat studio' came up with the idea of a coffee shop as a way to try creating a restaurant business that followed their ideals.

The signature item on Cafe Amayadori's menu is the 'Weather Cream Soda.' The flavor depends on whether the weather is clear, rainy, and after-rain, but can also depend on the time – They even offer special drinks for 'Morning Fog' and for drinking in the evening, along with a limited-time 'Seasonal Cream Soda. 

The cafe doesn't just serve Cream Soda! Customers who would like a full meal can also order from a selection of Japanese food, Western food, and desserts. A limited edition tote bag is currently on sale to commemorate the opening of the cafe.

Why not try relaxing on a rainy day at Cafe Amayadori?

Information

Cafe Amayadori

Address: Uramichi Terrace, 301 Sakuramichi, Oarai-cho, Higashi-Ibaraki-gun, Ibaraki *Directly connected to Oarai Station

TEL: 029-352-2715

Opening Hours: 09:00 ~ 17:30 (subject to change) 

Closed: Mondays, Holidays (subject to change) 

Official Site: http://rain-sound.com/cafe

Kurobe Gorge Trekking Tour Offers Breathtaking Two-Day Trolley Journey

The Kurobe Gorge Trolley in Toyama will offer a special two-day journey through the fall foliage on October 29 and November 1, 2021. 

Atobiki Bridge

Okukane Bridge

Promenade

Babadani Jigoku

On the day of the tour, guests will enjoy a leisurely journey through nature as a Kurobe Gorge tour guide explains the features of the surrounding environment. 

Kyoto's Kurodani Temple, Typically Closed to the Public, to Accept Visitors for Limited Time

Constructed in 1175, the Kurodani Temple is one of the head temples of the Jodo Sect of Buddhism. Though typically closed to the public, the grounds will open for a short period to allow guests to experience some beautiful autumn scenery beginning November 12, 2021. This temple is associated with the Shinsengumi and served as the headquarters of the Aizu Clan at the end of the Edo period, so those interested in history won't want to miss out on this incredible opportunity. 

[Night] Shiun Garden

[Day] Autumn Leaves at the Main Gate

[Day] Shiun Garden

[Night] Autumn Leaves at the Main Gate

Temple Grounds at Sunset

The Tiger's Room

Ohoujou Garden

Founders Hall

Live Koto Performance

Gokoushiyuiamidabutsu, 'Afro Buddha' 

Guests will be able to enjoy the gorgeous autumn temple scenery during both daytime and nighttime, with the night viewing also offering some traditional Japanese live music. Visitors can also see various temple treasures and historical items, as well as the Tiger Room, known for its painted doors. The unique and aptly named Afro Buddha will also be on display. After training for an extremely long period of time, the Buddha's hair piled up, giving him this strangely modern appearance. 

On a clear day, guests will be able to see clear to the Abeno Harukas building in Osaka. Vividly painted ceilings and other statues will completely surround visitors in spiritual history. At night, traditional Japanese music will be played at three different times in the front gardens. On Friday, Saturday, and Sunday, the temple will offer a Premium Plan, allowing interested guests to enter the grounds 30 minutes before general admission starts. (This will require reservations made on the official website.) This will also include a guided tour!

How would you like to experience this piece of Japanese history while surrounded by unforgettable autumn foliage? 

Information

Special Autumn Viewing

Kudodani Temple, Kyoto – The Head Temple of the Jodo Sect of Buddhism

Address: 121 Kurodanicho, Sakyo-ku, Kyoto

Night Viewing Details: https://www.kurodani.jp/lightup/

Day Viewing Details: https://www.kurodani.jp/sp_daytime/

Daytime Viewing

Running: November 12 – December 5, 2021

Hours: 10:00-16:30 (Final Admission at 16:00)

Special Viewing Areas: Mikado, Daihojo, the Gardens, two locations at the main gate

Night Viewing

Running: November 12 – December 5, 2021

Hours: 17:30-20:30 (Final Admission at 20:00)

Live traditional Japanese music will be performed in the garden located in front of the Main Hall at 17:45, 18:30, and 19:15

Junei Hotel Kyoto Adds New Plan Allowing Guests to Reserve Entire Property

The Junei Hotel Kyoto Imperial Palace West, a small luxury hotel located in the heart of Japan's ancient capital, has revealed a new plan allowing guests to rent out the entire premises. Imagine being in a hotel with only your closest family and friends!

The Junei Hotel Kyoto Imperial Palace West – Guest Room

The Junei Hotel Kyoto Imperial Palace West – Bathroom

The Junei Hotel Kyoto – Bamboo Suite

The Junei Hotel Kyoto – Bamboo Suite Bathroom

The Junei Hotel Kyoto – Standard Room

The Junei Hotel Kyoto – Standard Bathroom

The Junei Hotel Kyoto – Breakfast at Futago

The Junei Hotel Kyoto – Futago Restaurant Interior

The Junei Hotel Kyoto – Dinner at Futago

Arashiyama Yusaitei

Arashiyama Yusaitei

Kibune Riverbed

Hozucho River Boat Ride

The Junei Hotel Kyoto Rooftop View of Kiyomizu-dera Lights

The Junei Hotel Kyoto Rooftop Garden Moon Viewing

With two locations in Kyoto, guests will be able to enjoy the entirety of the hotel in complete privacy while still enjoying hotel hospitality. With between 8-11 rooms, this would be the perfect spot for a family gathering, wedding reception, graduation trip with friends, corporate meeting place, or even for overseas guests!

The Junei Hotel Kyoto Imperial Palace West opened in 2017 as a community-based luxury hotel with only eight rooms, with a single mission: bringing the beauty of Japan to the world. Beyond simply finding a place to sleep for the night, the hotel wants guests to experience something special and to provide an unforgettable experience. By partnering with local tourism associations, the Junei Hotel hopes to accurately convey the traditions and singular culture of the city of Kyoto. 

In March 2020, a second location opened. The Junei Hotel Kyoto is surrounded by bamboo, and in fact, the theme of the hotel itself is bamboo and the moon. Each of the guest rooms is decorated with traditional and local bamboo crafts, and every detail is pulled from the natural beauty of Higashiyama, Kyoto. 

The restaurant attached to the hotel, Futago, is the perfect place for adults to unwind and recharge. The kappo-style course menu features Kyoto vegetables and seasonal ingredients, blending the delicious with the nutritious. Chefs will cook each dish using a variety of methods, and guests will be amazed by how the flavor of the meat changes from course to course. The menu changes each month, so be sure to come back throughout the year!

Guests can also rent out Arashiyama Yusaitei, a gorgeous building deep in the forests of Kyoto perfect for wedding receptions, photoshoots, tea ceremonies, and more. The rooftop garden offers a stunning view of Kiyomizu-dera and is also perfect for moon viewing. Those wanting to get even closer to nature can enjoy a boat ride down the Hozucho river, and for those craving desserts, a Japanese sweets-making class is also available!

Who would you take with you on a private stay at the Junei Hotel Kyoto? 

Universal Studio Japan to Expand Super Nintendo World with Donkey Kong Area

Since opening in March, Super Nintendo World at Universal Studios Japan has caught the world's attention, leading global game fans to pray even harder for Japan to reopen for tourism. Now, the park is scheduled to level up with a new Donkey Kong-themed area scheduled to open in 2024. 

Currently, Super Nintendo World is filled with Mario-inspired attractions, dining options, and shops, recreating some of the most memorable parts of the franchise in a larger-than-life way. The new Donkey Kong area will feature a roller coaster and more interactive experiences, as well as themed merchandise and food options. Guests will be able to walk through lush jungles, where Donkey Kong and his friends live. The creation of the new area will more than double the size of Super Nintendo World. 

Launched as an arcade game by Nintendo in 1981, Donkey Kong quickly took the world by storm, with games continuing to be released on Nintendo systems from the SNES to the Nintendo Switch. As of March 2021, the series has sold over 65 million units worldwide.

Comment from Nintendo's Shigeru Miyamoto

"I am very happy to be able to make the world of Donkey Kong a reality following the world of Mario. I am looking forward to creating a thrilling Donkey Kong experience with the amazing team at Universal. It will take some time until it is completed, but it will be a unique area for not only people who are familiar with Donkey Kong games but for all guests."

WIZARDING WORLD and all related trademarks, characters, names, and indicia are © & ™ Warner Bros. Entertainment Inc. Publishing Rights © JKR. (s21)
Minions and all related elements and indicia TM & © 2021 Universal Studios. All rights reserved. TM & © Universal Studios & Amblin Entertainment. TM & © Universal Studios. All rights reserved. © Nintendo

Three Unique Japanese Cafes You'll Want to Visit Again and Again

Most of us have been spending more and more time at home over the past year. It's time to get out for a change of scenery, and what better activity than cafe hopping! Check out these unique cafes around Japan, each offering a safe and relaxing space to enjoy a day out. 

[Saitama] Bath Cafe BIVOUAC

This cafe located in Kumagaya City offers a full range of bath and sauna facilities, as well as a restaurant featuring healthy dishes filled with local, freshly-picked veggies. 

Details: https://www.moshimoshi-nippon.jp/497213

[Gifu] Activity Cafe Takayama Zenko-ji

Set inside a Buddhist temple, this cafe invites anyone, regardless of faith or nationality, to enjoy a cup of tea while experiencing traditional culture. It's also a great space to work remotely, with free Wi-fi!

Details: https://www.moshimoshi-nippon.jp/484296

[Tokyo] NANARIDA

Filled with plants and light, NANARIDA has been dubbed a digital detox cafe, not allowing smartphones or laptops each Sunday. Leaving your phone with the staff will grant you a free beverage, so come enjoy some tea and conversation. 

Details: https://www.moshimoshi-nippon.jp/493631

TEXT: Natalie(MOSHI MOSHI NIPPON)

Editor's Choice! 3 Best Exhibitions to Visit Before Time Runs Out

Autumn has shaped up to be a great time for art lovers to explore Japan, with a number of inspiring exhibitions of all different genres popping up around the country. The editorial team at Moshi Moshi Nippon has taken special notice of three must-visit events still open now, so be sure to check these out while you still can!

[Tokyo] 'Shonen, Shou' 

Yasunari Ikenaga, a leading figure in the world of contemporary beauty painting, is currently holding an exhibition featuring portraits of the up-and-coming actor and model Shou. Pay special attention to the delicate techniques the artist utilizes to capture the subject's expressions. 

Running: Until October 15, 2021

Details: https://www.moshimoshi-nippon.jp/497728

[Fukuoka] teamLab Forest

Art collective teamLab has opened a permanent museum in Fukuoka City! Those wanting to see the interactive exhibits transformed for autumn, however, better hurry before the event ends.

Now Open

Details: https://www.moshimoshi-nippon.jp/500506

[Saitama] Machi Tawara: #JustOneLike – From Salad Anniversary to Size of the Future

Japanese poet Machi Tawara, the winner of the Kadokawa Tanka Award in 1986, is a powerhouse in the world of prose. Her 1987 book Salad Anniversary sold over three million copies, and 35 years later, the writer is still at the forefront of her field. This exhibition depicts her life in words and is sure to inspire. 

Running: Until December 5, 2021

Details: https://www.moshimoshi-nippon.jp/500300

Text: Natalie (MOSHI MOSHI NIPPON)

New Tokyo Tourism Center 'Have a Nice TOKYO!' Opens to Promote Local Attractions

Have a Nice TOKYO! (HanT), a new tourist communication center promoting both local and nationwide events and attractions, celebrated its grand opening on September 14, 2021. 

This new facility aims to provide assistance and guidance to both domestic and international visitors, helping with matters relating to sightseeing, culture, food, and technology. It's three main functions are tourism assistance, providing useful and necessary information, and selling goods from around the country. As the COVID-19 pandemic has brought a major blow against the country's tourism industry, this new venture was opened in a conveniently-located space, well-suited for the important task of helping the local and nationwide economies when the country opens to travel once again. The nearby Marunouchi Happ. Stand & Gallery, a cafe, will act as a partner facility and will offer a special menu linked to the project. 

Tourism Advice & Guidance

Information Counter

The information counter provides helpful information for tourists regarding events, stores, and facilities in the area. In the future, a variety of tours will be available to choose from, highlighting the attractions of the region, as well as providing ticket sales, luggage storage, and sightseeing vehicles such as buses and rentable bikes. 

Travel Information & Assistance

POP UP ZONE

In the POP UP ZONE, visitors can experience all sorts of unique things from around Japan using the five senses! See, hear, and taste different areas of the country using crafts, food, and technology, and get personalized recommendations regarding where to explore next!

Sale of Goods

SHOP ZONE


See, smell, or taste something you liked in the POP UP ZONE? The SHOP ZONE will offer tons of different specialty products from all around Japan!

Be sure to stop by the next time you're in Tokyo!

Information

Have a Nice TOKYO!

Address: Mitsubishi Building 1F (2-5-2 Marunouchi, Chiyoda-ku, Tokyo)

Hours: 9:00-21:00 Weekdays, weekends, and holidays. (Hours subject to change.)

Access: 3-minute walk from Tokyo Station, 3-minute walk from Tokyo Station on Tokyo Metro Marunouchi Line, 1-minute walk from Nijubashimae Station on Tokyo Metro Chiyoda Line

Official Site: https://haveanice.jp/

Meiji Marble Chocolate Themed Hotel Room Opens at The Royal Park Hotel Kyoto Umekoji

In celebration of Meiji's popular Marble chocolate, The Royal Park Hotel Kyoto Umekoji is collaborating with the confectionery brand to offer a Marble themed hotel room for guests. The room opened on July 27.

Showa retro-style posters, telephone, and other decorations

Meiji's colourful Marble chocolate was first released in 1961. It turned 60-years-old in February of this year, meaning it has continued to be enjoyed by three generations. Grandparents have passed them onto mothers and fathers, and them to their own children. Now the whole family can celebrate the chocolate in a themed hotel room in Kyoto.


Named the Marble Room, the hotel room is decorated in seven colours just like the chocolates themselves. This includes seven individual pillows on the sofa, balloons, wall decorations, and more. There's even a crane game inside the room where guests can obtain some chocolates for free.

Also inside the room are Showa retro-style posters and a telephone, and guests can watch all of the old Marble commercials on the television which have aired these past 60 years. Guests also receive a free smartphone ring, eco bag, pouch, and other little freebies as part of the plan.

Satoyama Jujo THE HOUSE IZUMI: Rent Out a Renovated Japanese House in Niigata

Japanese design company Jiyujin launched its new Satoyama Jujo THE HOUSE chain of accommodations this month which offer a single group of guests a one-night stay in an entire house.

The first branch to open is IZUMI which features a fully-renovated Japanese-style house located in the city of Uonuma in Niigata. A gorgeous outlook is offered from the house with an unbroken view of lush forests, rice fields, and Mt. Makihata, which is listed as one of the '100 Famous Japanese Mountains.'

A breathtaking view awaits guests from the open-air bath

The spacious living room

Fully renovated from a 150-year-old private house, the building is supported by beautiful wooden beams and columns, and in the middle the oe, a sunken hearth. This, along with the beams and sashigamoi joints, are made from keyaki Japanese zelkova which is an elm-like tree. This species of tree is rare even in a tree-covered region such as Uonuma. The lumber used for this house was cut, preserved, and dried out for a number of decades before being processed into building material for the house. The heart in the middle of the living room is reminiscent of a time when large families would gather around one and serves to recreate that lifestyle.

The Nishiyama region is known for is production of delicious rice. IZUMI in fact looks out over Kabanosawa, a special and important place of rice production in Nishiyama. This vantage point also gives guests an opportunity to appreciate the hot and cold temperatures of the daytime and evening, the rivers, the shape of the land, and the earth the city sits on. The drastic change in temperatures in the day and night are especially noteworthy as this, along with the basin between the mountains, gives rise to a sea of clouds.

IZUMI sits on a hill that overlooks the rice paddies, making it a perfect location for spotting the sea of clouds. Minamiuonuma's sea of clouds has over a 70% chances of appearing in the autumn and spring seasons.

The number one reason why Japan's old, long-standing, and precious private houses are demolished is due to the cold getting in and it being too dark inside. Even those who want to see them preserved for tradition, including those who live in them already, would rather live in a modern home. That's why Jiyujin has begun a renovation project instead of a demolition one. By refurbishing the houses, the ancient framework can be fixed up and preserved while a range of contemporary amenities are incorporate to fit with modern lifestyles. The Satoyama Jujo accommodations are built so they can be used for over 100 years.

For dinner, there are three options for guests. The first is a dinner at SANABURI which earned itself a Michelin star in Michelin Guide Niigata 2020. The second is a meal at a restaurant that earned the status of Bib Gourmand in the same guide. The third is to prepare your own meal in the house. There are plenty of shops around the station nearby where you can buy local ingredients.

After a delicious meal, guests can take a soak in the open-air tub and enjoy gazing out across the fields and the beautiful mountains which stand almost 2,000 meters high.

Information

Satoyama Jujo THE HOUSE IZUMI

Japanese Name: 里山十帖 THE HOUSE IZUMI

Address: 671-1, Amanosawa, Minamiuonuma, Niigata, 〒949-6433, Japan

Official Website: Opening early July 2021

Access: 7-minutes by car from Jōetsu International Skiing Ground Station (JR Joetsu Line) / 16-minutes by car from Shiozawa-Ishiuchi IC

KYARY PAMYU PAMYU meets IMABARI: A Visit to the Historical Sea Route

Imabari is a city in Ehime Prefecture that faces the Seto Inland Sea. Since olden times, it has flourished as an important location for marine traffic. It's home to a bounty of recognised national treasures and historical heritage sights, and is also famous for its production of citrus fruits such as mikan. Japanese pop star, model, and icon Kyary Pamyu Pamyu took a trip to this ancient city to discover its wonder and beauty.

A Visit to the Historical Sea Route

Oyamazumi Shrine

A 'power spot' revered by prominent people

Oyamazumi Shrine has been revered by prominent figures throughout history as a place dedicated to the god of the mountain, god of the ocean, and the god of war. It's home to numerous Important Cultural Properties which are available for viewing by the public such as the armour worn by the military commander Minamoto no Yoshitsune when the Minamoto clan won the Genpei War (1180-1185), armour worn by women, and more. The shrine is also a notable power spot for the ancient tree that has stood there for 2,600 years and is now recognised as a natural monument of Japan. Power spots are places in Japan where the spiritually-inclined draw energy from.

Information

Oyamazumi Shrine

Address: 3327 Omishimacho Miyaura, Imabari, Ehime 794-1393, Japan

TEL: 0897-82-0032

Opening Hours: Sunrise to 17:00

National Treasure Building: 8:30-17:00 (Last Entries 16:30)

Official Website: https://oomishimagu.jp/

Kurushima Kaikyo Service Area

Lip-smacking food aplenty

If you're one for great views, then the Kurushima Kaikyo service area is a must-visit, offering a panoramic look at the Kurushima Strait of the Seto Inland Sea. The service area is very well know particularly for the Jaguchi Mikan Juice, something of a city legend in Ehime where you can enjoy fresh mikan juice straight from a tap. You can also tuck a rice bowl dish made with tachiuo hairtail caught in the Seto Inland Sea that's made to look like Kurushima Kaikyō Bridge, or try Imabari's soul food dish: the Imabari Yakibuta Tamago Meshi, a pork, egg, and rice bowl. Don't pass up the chance to snap a photo at the designated photo spot with the Seto Inland Sea in the back either like Kyary above.

Information

Kurushima Kaikyo Service Area

Address: 3-9-68 Ohamacho, Imabari, Ehime, 794-0002, Japan

Food Court: [Weekdays] 8:00-21:00 / [Weekends & Holidays] 7:00-22:00

Shops: [Weekdays] 8:00-21:00 / [Weekends & Holidays] 7:00-22:00

Outside Shopping Area & Cafes: [Weekdays] 9:00-17:00 / [Weekends & Holidays] 9:00-18:00

Official Website: https://www.jb-highway.co.jp/sapa/kurushima.php

Murakami Suigun Museum

Dedicated to the Imabari heroes who protected the ocean




Murakami Suigun Museum is dedicated to kaizoku—pirates, or lords of the sea—something which conjures to mind villainy or bad guys, but the Murakami pirates were also considered heroes who helped maintain order and protect the sea during the Sengoku warring period of Japan. The museum features many displays of Murakami family treasures including the battle surcoat which the pirate leader wore over his armour, proudly bearing the Murakami family crest. Visitors can wear replicas of this coat, which Kyary tired herself: "Now I'm sorta like a military commander too," she said.

Information 

Murakami Suigun Museum

Address: 1285 Miyakubocho Miyakubo, Imabari, Ehime 794-2203, Japan
TEL: 0897-74-1065

Opening Hours: 9:00-17:00

Closed: Mondays (or Tuesday if the Monday falls on a public holiday) / New Year Holidays (Dec 29-Jan 3)

Official Website: https://www.city.imabari.ehime.jp/museum/suigun/

Roadside Station Yoshiumi Iki-iki-kan

A bundle of fun and entertainment in one place

Roll on up to Roadside Station Yoshiumi Iki-iki-kan to enjoy a shichirin BBQ feast with fresh seafood caught in the Seto Inland Sea while gazing out across Kurushima Kaikyo. This building complex serves as a resting spot and is also the perfect place to purchase local souvenirs including Ehime specialty products. It's also famous for its offering the chance to board a boat to ride around Kurushima Kaikyo, renting out bicycles, and more. You'll also be able to meet Koro-chan, a popular fish who has lived there for 30 years.

Information

Roadside Station Yoshiumi Iki-iki-kan

Address: 4520-2 Yoshiumichomyo, Imabari, Ehime 794-2114, Japan

TEL: 0897-84-3710

Opening Hours: 9:00-17:00

Restaurant: 10:00-16:00 (Last Orders 15:00)

Closed: New Year's Day (and certain days in winter)

Official Website: http://www.imabari-shimanami.jp/ikiiki/

Dolphin Farm Shimanami

Meet the cute and friendly dolphins

Dolphin Farm Shimanami, which is connected to Hakata Beach, is the best and biggest place in Japan to interact with dolphins. Visitors can get close to them and the dolphins will show off their tricks and skills. There's even a car camping area you can stay at.

Information

Dolphin Farm Shimanami

Address: 1673 Hakatacho Kanoura, Imabari, Ehime 794-2302, Japan

TEL: 0897-72-8787

Opening Hours: 9:00-17:00

Closed: On days with bad weath

Official Website: https://www.df-shimanami.com/

Hakata Beach

A white sandy beach rolling out 200-meters 

Hakata Beach is located at the base of Oshima Bridge in Hakata. The beach is famous for its salt which is best tried on their popular sweet-tasting sea salt ice cream.

Information

Hakata Beach

Address: 1668-1 Hakatacho Kanoura, Imabari, Ehime 794-2302, Japan

Sea Bathing: Early July – Late August

Official Website: https://www.city.imabari.ehime.jp/kanko/spot/?a=198

Imabari Towels

High quality towels woven with tradition and technique

Imabari is the biggest producer of towels in Japan. Even their white towels alone have countless types you can choose from, allowing you to pick which level of softness and comfort you want. The iconic brand logo is also impactful, capturing the quality, production, and enthusiasm that the makes have for the product. Kyary herself uses them all the time!

Information 

Imabari Towel

Official Website: https://www.imabaritowel.jp/

Sunrise Itoyama

Need a bike?

Sunrise Itoyama, located in the Imabari Central Cycling Terminal, is a rental bicycle service that has bikes and helmets for everyone's needs. Rent out a bike and ride the Shimanami Sea Route which connects Ehime and Hiroshima with a series of bridges that hop across the islands of the Seto Inland Sea.

Information 

Sunrise Itoyama

Address: 2-8-1 Sunabacho, Imabari, Ehime 794-0001, Japan

TEL: 0898-41-3196

Rent-a-Cycle Details: https://www.sunrise-itoyama.jp/archives/rentacycle/

Official Website: https://www.sunrise-itoyama.jp/

Marutomi

The famous restaurant known to every local

If you want the real experience of Imabari's yakitori soul food, you should visit Marutomi, a yakitori eatery. Imabari yakitori is different from the usual Japanese yakitori as it doesn't come skewered. Instead, the chicken is cut into small pieces and fried that way. One of the most popular ways to have it is with the skin on so the outside is crunchy and the inside succulent. It goes perfect with a cup of sake too.

Information 

Marutomi

2-3-6 Katayama, Imabari, Ehime 794-0063, Japan

TEL: 0898-23-2740

Opening Hours: 17:30-22:00

Closed: Wednesdays

Official Website: https://maru-marutomi.jp/

Imabari Castle

A castle by the sea

Imabari Castle, built by the daimyo Tōdō Takatora, is known famously as one of Japan's three "Castles on the Sea" and was also listed in Japan's Top 100 Castles. When it was first constructed, boats could enter the moat from the ocean. It's a site that breathes the prosperity that Imabari has enjoyed as a significant location for maritime traffic, the same Imabari that the Murakami pirates sought to protect. Head on up to the top of the castle to stand on the observation deck and gaze at an unbroken view of the city.

Information

Imabari Castle

Address: 3-1-3 Toricho, Imabari, Ehime, 794-0036, Japan

TEL: 0898-31-9233

Opening Hours: 9:00-17:00

Closed: December 29 – December 31

Official Website: https://www.city.imabari.ehime.jp/museum/imabarijo/

Kirosan Observatory Park

A breathtaking spectacle to remember

Kirosan Observatory Park is officially recognised by Setonaikai National Park. Standing atop the observation deck fills the eyes with wonder as they gaze upon a panoramic stretch of Imabari, the Seto Inland Sea, and Kurushima Kaikyo all at once. Kyary wrapped up her time in Imabari here as the sunset coloured the sky and sea in warm evening hues.

Information 

Kirosan Observatory Park

Address: 487-4 Yoshiumicho Minamiura, Imabari, Ehime 794-2115, Japan

No Fixed Holidays

Open 24-hours a day

Official Website: https://www.city.imabari.ehime.jp/kanko/spot/?a=182

Imabari Tourism Information: https://www.city.imabari.ehime.jp/kanko/

We hope you enjoyed joining Kyary on her adventures across Imabari, and perhaps she even got you a little curious in wanting to visit the city yourself. It's a treasure trove filled with vistas by the sea, in nature, and in the city itself with its Important Cultural Properties. Food is also a big part of travel for many people, so you can rest assured that your belly will be satisfied in Imabari as you try their speciality mikan, fresh seafood fished in the Seto Inland Sea, and more.