Visit Café Zenon in Kichijoji to see sumo wrestler Kisenosato's Fist of the North Star keshomawashi sumo apron!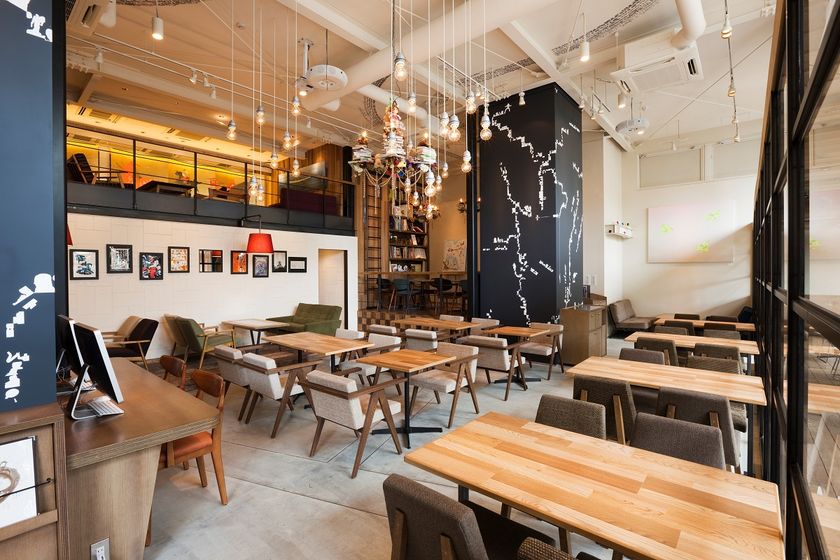 Affiliated company Core Mix gifted champion sumo wrestler Kisenosato Yutaka with a Fist of the North Star keshomawashi sumo apron. For a limited period, you can see this apron at café Zenon, Kichijoji, Tokyo.
Kisenosato Yutaka celebrated his promotion to grand champion in May by stepping into the sumo ring wearing the First of the North Star keshomawashi sumo apron. Now dressed as the character Raoh, the news stirred the nation. You can also see the keshomawashi sumo apron of Kenshiro, the character who possesses the long sword. This was worn by Akira Takayasu, and you can also see the Toki-themed apron, which was worn by Shohozan Yuya.
To commemorate this exhibition, there will be a life-sized head in the hole board from the unlimited manga reading app "Manga hot". The board will be themed around the tales of grand sumo champion Kisenosato Yutaka. Don't miss out on your chance to commemorate the event, transforming into Kisenosato and taking a photo!
■Information
Exhibition period:12th June (Mon) ~ 17th June 2017  (Sat) – a total of 6 days
Exhibition opening hours:11:00 ~ 24:00
Location  :CAFE ZENON (カフェゼノン) 2nd floor exhibition space
2-11-3, Kichijoji Minami-cho, Musashino, Tokyo 〒180-0003
TEL   :0422-29-0711
Important notice:We ask of each customer to purchase at least one item if they choose to view the exhibition.
(Takeaway is also accepted)
※ The café is predicted to be busy during this period.
※ The time you are allowed to stay in the café may be limited.
CAFE ZENON website: http://www.cafe-zenon.jp
Related article:New "MACCHA HOUSE" opens in Japan specializing in matcha and receives huge attention online
Related article:【Tokyo Stroll】A café date with Yutaro at Jugetsudo, Ginza – eating a rich parfait and Mont Blanc made with matcha and love♡
RELATED ENTRIES
Report: Kyary Pamyu Pamyu's Tasty Time in Gastropolis Kobe – Sweets Edition

Kobe is filled with famous sightseeing spots like the nostalgic Ijikan neighborhood and port. The city is packed with fashionable shops and restaurants and is highly regarded for its selection of tasty sweets!

The port city, with over 150 years of history, has fostered a unique and diverse culinary culture.

Recently, Kyary Pamyu Pamyu began starring in a series of promotional videos for the Gastropolis Kobe project. The artist traveled to the city to partake in plenty of delicious treats, and MOSHI MOSHI NIPPON went along for the ride! Here are some of the singer's favorite spots around town.

Kobe, known as a city where East meets West, is lined with sweets shops that are unique to the area.

The tea salon TOOTH TOOTH Dekoboko Sabo opened in 2019 in the Kobe City Museum and offers a menu that mixes Western food and sweets with tea and ingredients from traditional Japanese cuisine. Kyary ordered the Dekoboko Sabo Afternoon Tea Set, a collection of western sweets blended with the essence of traditional Japanese flavors. Guests are invited to enjoy their tea and sweets in a one-of-a-kind space filled with Meiji period flare and retro Western furniture. Those interested will need to make a reservation, so be sure to remember the next time you're in Kobe.

TOOTH TOOTH Decoboco Sabo

Address: 24 Kyomachi, Chuo Ward, Kobe (Inside the Kobe City Museum)

Hours: 9:30-17:30 (Last Order at 16:30) 

Closed Mondays

Official Site: https://toothtooth.com/restaurant/decoboco-sabo

The next stop was Kobe Nankin-machi, one of the three major Chinatowns in Japan. Kobe MILK is known nationwide for its Apricot Pudding, which is made with local ingredients. The raw apricot pudding is mixed with milk brought from the foot of Mt. Rokko and other ingredients from Hyogo Prefecture. Of course, Kyary ordered some, and was amazed by its fluffy texture. You can only enjoy it in Kobe–also, the shop sells other puddings mixed with seasonal fruits, so don't miss those either!

Kobe MILK

Address: Shin-Motomachi Building 1F (1 Motomachi-dori, Chuo-ku, Kobe)

Hours: Weekdays 9:30-19:00 / Weekends 9:30-19:30

Official Site: https://kobe-milk.com

For Kyary's final stop, the singer visited the Moore House, a cafe located in a building with over 100 years of history. Guests are surrounded by greenery, and the Western-style building is incredibly elegant. The Strawberry Mille-feuille Kyary ordered was created by an expert patissier and based on the strawberry mille-feuille recipe from the legendary French restaurant Maxim's de Paris in Ginza. A generous amount of custard cream complements the crispy pie crust and enhances the sweetness of the fresh strawberries. We'd recommend it with a glass of champagne–if you're of age.

Kitano Ijin-kan Moore House

Address: 2-9-3 Kitanocho, Chuo-ku, Kobe

Hours: 11:00-17:00

Closed Tuesdays

Official Site: https://www.kitanomoore.com/cafe/

The streets of Kobe are packed with sweets that you can only enjoy if you visit. Why not come experience these incredible spots like Kyary did?

Kobe Sweets Trailer: https://youtu.be/Sx9B1ZdAvlI

Report: Kyary Pamyu Pamyu's Tasty Time in Gastropolis Kobe – Kobe Beef & Nada Sake Edition

Kobe is filled with famous sightseeing spots like the nostalgic Ijikan neighborhood and port. The city is packed with fashionable shops and restaurants and is highly regarded for its Kobe beef restaurants and tasty local spirits.

Facing the Seto Inland Sea, Kobe is surrounded by rich nature and produces plenty of tasty veggies while also bringing in tons of fresh fish. The port city, with over 150 years of history, has fostered a unique and diverse culinary culture.

Recently, Kyary Pamyu Pamyu began starring in a series of promotional videos for the Gastropolis Kobe project. The artist traveled to the city to partake in plenty of delicious fare, and MOSHI MOSHI NIPPON tagged along. Let's take a look at her top picks!

Kobe beef is the first thing that comes to mind when you hear the name of this Japanese city, right?

Teppanyaki restaurant Tajima, located in the Kobe Portopia Hotel, serves Kobe beef along with other Japanese black beef, seafood, and seasonal vegetables.

Kyary ordered the Kobe beef loin and seasonal grilled vegetables, watching with excitement as the chef prepared the meal in front of her. The steak is made from carefully selected Kobe beef and melts in your mouth. Tajima has private rooms as well as counter seating, making it a perfect location for everything from a family get-together to a first date.

Teppanyaki Tajima

Address: Kobe Portopia Hotel 2F (6-10-1 Minatojima Nakamachi, Chuo-ku, Kobe)

Hours:

11:30-14:30

17:30-21:30 *Open at 17:00 on weekends and holidays

Open Daily

Official site:https://www.portopia.co.jp/restaurant/detail/tajima/

What goes better with Kobe beef than local sake? One area of the city, Nada Gogou, has an incredibly high concentration of sake breweries.

Nada Gogo Sake Brewery opened in April 2022 in a renovated building that was formerly the location of Kenbishi, a long-established local sake brewer with over 500 years of history.

Visitors can enjoy sake and cuisine from 26 breweries in the area under the themes of 'Seasonal, Local, Compatible, Fermentation.' Here, Kyary ordered the Nada Gogou Set which includes the best possible food and drink pairings. Limited to 100 servings each day, the set includes five different sake and three seasonal small plates perfecting for pairing. The drinks and food offerings change with the seasons, allowing guests to enjoy tons of unique flavors from the region no matter what time they visit.

Nada Gogou Brewery

Address: 3-11-2 Mikagehonmachi, Hagashinada-ku, Kobe

Hours: 12:00-21:00 *Opens until 20:00 on Sunday and holidays

Closed Monday-Thursday

Official Site: https://nadagogo.com/

GOCOCU is an all-day buffet restaurant in the Kobe Portopia Hotel where guests can enjoy dishes using carefully selected ingredients from the five Hyogo provinces (Settsu, Harima, Tajima, Tanba, and Awaji) with a spectacular view of Kobe. Visitors can enjoy the chef's specialties including roasted and grilled dishes cooked in a custom-made stone oven. The restaurant is also known for its selection of alcoholic beverages, and Kyary enjoyed the Fukuju Junmai Ginjo. This particular sake has won many awards in Japan and abroad, including a gold medal at the National Sake Competition for three consecutive years. Popular for its smooth rice flavor, this well-loved brand uses rice and rice malt grown in Hyogo Prefecture. Adults can enjoy this and many more delicious beverages during buffet hours and cocktail hours after 8:30 or 9:00 on Saturdays, Sundays, and holidays.

GOCOCU ~Blessings of the Five Kingdoms~

Address: Kobe Portopia Hotel 30F (6-10-1 Minatojima Nakamachi, Chuo-ku, Kobe)

Hours: 7:00-10:30, 11:30-15:00, 17:30-21:00, 20:30-23:00

Open Daily

Official Site: https://www.portopia.co.jp/restaurant/detail/gococu/

Founded in 1659, Kiku Masamune is a leader in the sake industry. We visited the Kiku Masamune Sake Factory, opened to commemorate the 50th anniversary of its handy barreled sake, perfect for allowing customers to enjoy barrel-aged sake at home easily. Visitors can enjoy browsing sake barrels, with many created using traditional barrel making techniques that are still used today. They can also enjoy an exhibition of Yoshino cedar, the material used to make the barrels. Tours are by appointment only. Reservations are taken on a first-come, first-served basis, so early reservations are recommended!

Kiku Masamune Sake Factory

Address: Uozaki Nishimachi, Higashinada-ku, Kobe

Tour Times: 10:30~, 14:00~, 15:00~ (Each tour is approximately 30 minutes.)

Closed during New Year's holidays.

Official Site: https://www.kikumasamune.co.jp/tarusake-mf/

*No outside food or beverages are allowed inside the factory. Tastings are available at the Memorial Hall after the tour.

After reading this, you're interested in coming to Kobe, right? Enjoy some of this savory fare the next time you're in the area. 

Kobe Beef Version:https://youtu.be/-HrNq6JGO3A

Nada Sake Version: https://youtu.be/cd9_f59NWIw

KAWAII LAB. Report #14 ~Makeup Tips from your Favorite Idols!~

FRUITS ZIPPER, a new idol group from ASOBISYSTEM, has a simple concept: "From Harajuku to the World." Ready to transmit what they call 'NEW KAWAII' from Harajuku, an area known for fashion and individuality, to their soon-to-be global fanbase, the group consists of seven members: Amane Tsukiashi, Suzuka Chinzei, Yui Sakurai, Luna Nakagawa, Mana Manaka, Karen Matsumoto, and Noel Hayase.

A while back in Report #12, we chatted with Karen Matsumoto, Yui Sakurai, and Luna Nakagawa about their makeup routine and tips. This time, we're asking Noel Hayase, Suzuka Chinzei, Mana Manaka, and Amane Tsukiashi to share their thoughts on makeup!

Tell us about your favorite lipsticks and what makes them special!

-Noel Hayase

When I do my own makeup, I use b idol's Glossy Lip No. 08 and then layer PERIPERA's G Tint No. 06 on the inside. I've tried so many b idol lipsticks and I finally found one that matches my skin color perfectly. The tinted one was a gift but I love applying it on the inside of my lips–it gives this neat blood-colored look. It also doesn't fade which is awesome.

-Suzuka Chinzei

I like THREE Lyrical Lipstick Bloom 11 RUN FREE. 

The texture is soft, the color doesn't fade, and the color is really cute. When I found it, I was so thrilled–it was the exact color I was looking for. Seriously, it's the best lipstick! It's honestly all I use in fall and winter♡

-Mana Manaka

Jill Stuart's lip oil!

We call the people who support us Soragumi, and some of them gave us these gifts along with letters and flowers after our first solo concert. We were so happy☁️

I love the colors and the cloth wrapping, but I feel like it would be such a waste if I ran out so I only carry them as good luck charms. (Laugh)

-Amane Tsukiashi

DIOR ADDICT 524 DIORETTE

DIOR ADDICT Maximizer 103 Pure Gold (This one was a gift🙇‍♂️) 

04 rom&nd Dewiful Water Tint

I have so many favorite lipsticks, but lately I've been into layering this shimmery gold maximizer with brown, orange, red, and darker lip shades. It's really cute!🤍

What do you use for your foundation?

-Noel Hayase

I don't put a lot on my skin, but I do apply a makeup primer called UV Idea XL Protection Tone-Up by La Roche-Posay first. After that, I use Dior Skin Forever Skin Correct Concealer to hide dark circles and redness. That's all!

-Suzuka Chinzei

I moisturize with VT's CICA cream. Depending on the weather, I'll apply Chant a Charm sunscreen followed by The Skin Minimalist by Decorte. I put on powder last. I use CANMAKE's Secret Beauty Powder or Elegance's La Poudre Haute Nuance. No foundation for me!

-Mana Manaka

These were also gifts, but I use Lunasol sunscreen, Dior primer, and foundation!

The bottle is really beautiful, with the engraving…❤️

I ran out of powder when I was in Thailand recently, so I'm just using what I bought locally!

I don't know if it's because it's makeup from a really hot country, but it goes on so smoothly that it doesn't feel sticky at all, even with a mask on. I've been using it even after I got back to Japan!

-Amane Tsukiashi

CHANEL Base Hydra Luminere

(I might upgrade.)

CHANEL Fluid Foundation de CHANEL B10

Dior Forever Skin Correct Concealer 0N

SUQQU Oil Rich Glow Loose Powder


clé de peau BEAUTÉ LE REHAUSSEUR D'ÉCLAT 105 (This was a gift! 🙇‍♂️)

What do you typically do when it comes to skincare?

-Noel Hayase

First, I use &honey cleansing balm to remove my makeup. When I heard that you could cleanse and wash your face at the same time, I gave it a try and it was amazing, so I'm never going back. After my bath and before putting on my makeup, I use a complete skin care set like La Roche-Posay's skincare set, which includes mist lotion, toner, and skin cream. It's not cheap, but since I started using it my skin feels so incredible. Remember to always buy products depending on what kind of skin you have!

-Suzuka Chinzei

Before makeup in the morning, I always cleanse with Bioderma. If I don't feel moisturized enough, I apply a lotion emulsion. After cleansing at night, I use Bioderma again and then a toner emulsion. Sometimes I like doing face masks, and when I do, I use Mediplorer's CO2 Sheet Mask. It was recommended to me by someone with really beautiful skin and it's amazing. I also use a Cell Cure. It's crazy after how much dirt it removes. (Laugh)

-Mana Manaka

I use lotion, then a face mask, then a serum!

When I used the MediHeal mask that Luna recommended, I was so surprised at how good it was that I started buying and trying tons of different masks.

I'm trying different things to see what fits and what doesn't, and lately I've been buying a lot of Korean masks.

-Amane Tsukiashi

I haven't been doing much skincare, but I have been moisturizing a lot lately since my skin gets super dry. On some days I'll do a face mask and use steam. On the day before an important photo shoot, I use my favorite CellCure 4t Plus.

Oh no! You're running late! You only have time to apply one product! What part of your face will you focus on and why?

-Noel Hayase

I'd only do eye makeup. In this day and age, everyone wears masks, so when you meet someone, you always make eye contact, right? Besides, if it's just eye makeup, I can get by without base makeup, and I can do the rest of my makeup whenever. (Laugh)

-Suzuka Chinzei

I just need sunscreen!

Sunscreen is life. It's so important!

Starting when I was in junior high, my parents told me to wear sunscreen, so I can't imagine not doing it now. No matter how busy I am, I put on sunscreen, even while walking to the station.

I was on the track team in junior high and I'd put some on every 30 minutes. 

At the time I thought it was so annoying, but now I'm so glad my mom told me to do it. 

(Strangely enough, my mom doesn't wear sunscreen at all.)

-Mana Manaka

On days when I actually have a whole day off or if I'm just at rehearsal, I don't wear makeup. I hide behind a mask and a hat! (Laugh)

If I use anything at all, it's sunscreen or foundation with sunscreen in it.

It covers my eyebrows and eyes so much that I can't see at all, but I do want to prevent spots!!! (Laugh)

-Amane Tsukiashi

Eyes!

I always think that wearing eye makeup makes a huge difference. 

I'd want to do my eyebrows too, but at least I can hide them with my bangs. Eyes it is!

MANON Releases aura, the Second of Four Consecutive Monthly Releases

Fans can now listen to aura, the new song by MANON and the second of four consecutive monthly releases.

This song was co-written with trackmaker kiraku, who also worked on her previous track. Inspired by MANON's pink hair, the song conjures an image of a fragile yet strong aura, and is meant sung with the person you admire in mind.

The artwork was done by 3DCG artist AsahiNa, who was personally invited to work on the project by MANON herself. The logo was done by Mark Robinson, who also worked on the previous project.

<Comment from MANON>

"aura, the second of four consecutive monthly releases, is here.
This song is a continuation of the previous song with trackmaker kiraku, and when she produced it, she was inspired by the color pink since my hair color is currently pink.
When I hear this song I kind of think of pink and light blue. I titled it aura because it really does feel like you're surrounded by something unseen.
I sang about someone I admire so much that I wish I could be them.
This unnamed person has a fragile but strong aura and I'm sure that everyone has someone like that in their life, so I hope you'll listen to this one!
The logo is by Mark Robinson and the artwork is by AsahiNa, who I've always wanted to work with. I thought AsahiNa's work was a perfect fit for aura's image!

I hope you enjoy it! ^_^"

Information

aura – MANON (Digital Single)
Release Date: November 25, 2022
Lyrics: MANON / Prod.: kiraku

Listen & Download
https://ssm.lnk.to/aura

BE:FIRST Releases 360 Reality Audio / Dolby Atmos Versions of First Album BE:1 on Streaming Services

The 360 Reality Audio and Dolby Atmos versions of BE:FIRST's first album BE:1 are now available on all major streaming services. The album was first released on August 31 and managed to chart extremely high, instantly becoming a massive hit. 360 Reality Audio uses Sony's 360 impresive stereoscopic sound technology, allowing sound to pour in from all directions. This allows music lovers to experience their favorite songs in three-dimensions, making it feel as if they were at a live concert. 

The group's first album BE:1 contains 15 songs from various genres, including BE:FIRST's debut song Gifted. It also includes Bye-Good-Bye, which has been streamed more than 100 million times, and Scream, which took the top spot on the Billboard Japan Overall Song Chart JAPAN HOT 100. The album includes a total of 15 songs, many from different genres, so if you haven't listened, this is the best way to do so! 

Beloved Japanese Artist Yayoi Kusama's Works on Display at Islamic Arts Museum as Part of Qatar Creates

Qatar Museums recently announced Qatar Creates, a year-round cultural project overseeing, promoting, and encouraging diverse cultural activities throughout Qatar. Currently, over 40 pieces of art by prominent local and international artists are on display in Doha and throughout the country.

A large-scale outdoor exhibit titled My Soul Blooms Forever, designed by iconic Japanese artist Yayoi Kusama, has just been installed on the grounds of the Museum of Islamic Art (MIA). The exhibition includes a large-scale work on display for the first time in Qatar, expressing the artist's well-known reverence for the natural world through a spectacular installation of colorful, fantastical plants and a three-dimensional sculpture of a pumpkin with Kusama's iconic polka-dot pattern. My Soul Blooms Forever will be on display at MIA Park until March 1, 2023 to commemorate the 10th anniversary of Qatar's Years of Culture program, as well as to commemorate the 2012 Qatar-Japan Year of Culture.

Photo by Iwan Baan. Artwork © YAYOI KUSAMA. Courtesy David Zwirner, Ota Fine Arts, and Victoria Miro.

Information

My Soul Blooms Forever – Yayoi Kusama Exhibition

On Display until March 1, 2023

Venue: MIA Park (Islamic Arts Museum)

Official Site: https://mia.org.qa/en/

GARNiDELiA to Release New Single 'Souten' on December 8

Vocalist MARiA and composer TOKU make up the popular duo GARNiDELiA, and the two will release their new single Souten on December 8, 2022. The track will be used as the theme song for the Nintendo Switch game Soukai Tenki and was written exclusively for the game itself. For those wondering, Soukai Tenki will be released on the same day. The song has already been performed several times at GARNiDELiA's live shows and has become a popular song among fans.

The jacket art featuring characters from the game was also released.

The full track was unveiled on FM NACK5's 'FAV FOUR' during MARiA's regular segment on November 28.

hether you are a fan of the game or not, you won't want to miss checking out this gorgeous new song!

(C)滄海天記プロジェクト

BiSH Unveils Artwork for Newest Track 'ZUTTO' Along with New Artist Visual

BiSH, known as a punk band without instruments, has unveiled the release date, artwork, and artist visual for their 12th consecutive release in 2022.

After releasing twelve consecutive singles each month for the past year, the newest and final entry is here, titled ZUTTO. The song was composed by Kenta Matsukuma with lyrics by JxSxK.

BiSH is set to suspend its activities in 2023, making these releases all the more precious. The final line of the song is fitting–"I have to go but I'm not alone." The future of each of the six members may not be certain, but this fast-paced track is sending them off with excitement.

The new artist visuals show the members against a pitch-black background. The artwork for the CD has also been released along with the design of the sticker for the 12-month series of releases.


TeamLab Unveils Three New Works at Singapore's Permanent 'Future World' Exhibition

Art collective TeamLab has redesigned two exhibitions at Marina Bay Sands Singapore. The world's first permanent exhibition from the creators, Future World: Where Art Meets Science, was opened in 2016 at the Museum of Art and Science. Guests can now enjoy three new works along with the Digital Light Canvas, a huge, interactive space inviting guests to share their own pieces of art.

Drawing Flight

Visitors can immerse themselves in these impressive new works while experiencing a complex, three-dimensional world. They can also create new worlds with others!


Future World


The Drawing Flight, part of the Amusement Park of the Future series, is based on the concept of co-creation, allowing visitors to not only draw an airplane that will fly but also allowing them to operate it from a pilot's point of view using a tablet. Whether visitors draw a butterfly or a hawk, they'll see the world from the perspective of each creature and enter a world constructed by the creature's unique perceptions.

Aerial Climbing through a Flock of Colored Birds

In Aerial Climbing through a Flock of Colored Birds, guests are asked to perceive the world with their entire bodies. Visitors cross a space with sticks floating three-dimensionally in the air.

Autonomous Abstraction, Continuous Phenomena from the Universe to the Self

Autonomous Abstraction, Continuous Phenomena from the Universe to the Self offers a new and abstract concept. As people touch the dots, the rhythm of the dots flickers and their hue changes and disintegrates. The picture will then change dramatically, and despite these changes, the beauty remains.

Digital Light Canvas

Graffiti Nature – Red List Digital Light Canvas

 

Digital Light Canvas is a space consisting of a 15-meter-diameter circular link of light and a 20-meter-high cylinder of light made up of a collection of light dots.  Team Lab's interactive artwork, which changes depending on how many people are around, is on permanent display.

Drawing Factory

By visiting the Digital Light Canvas area, guests can also enjoy the Drawing Factory, where they can turn their own drawings into pins, T-shirts, and other items!

Come fully experience this curious art exhibition!

© チームラボ

Information

Future World: Where Art Meets Science

BE:FIRST Releases Special Video for Milli-Billi from First Album 'BE:1'

A video related to the song Milli-Billi from BE:FIRST's first album BE:1 was released on November 30 at 21:00! Following its release on August 31, 2022, BE:1 has become a massive hit with fans worldwide.

Milli-Billi -???????- / BE:FIRST

Milli-Billi is a hip-hop track in which each and every member of the group tried their hand at rapping! Filled with BE:FIRST character while also being fresh and new, this fast-paced relay-style song has become a fan favorite.


A video of SOTA dancing with KAITA, the choreographer of the song, was posted on TikTok, quickly becoming a hot topic not only among fans but also among dancers. Numerous dance cover videos have been posted since.

Milli-Billi is very popular among the group's fans and there's no doubt that this will be a winner. Every music video that the group has uploaded so far has managed to pull in incredible amounts of views, so we look forward to seeing how well this one performs.

Check out the video to see what it's all about!

Tsurune Season 2 Reveals New Key Visual and PV Prior to January 2023 Premiere

The second season of Tsurune is set to premiere in January 2023. Ahead of this, the studio has released a new key visual and trailer along with some new cast information!

 

Tsurune –Tsunagari no Hitosa- follows Tsurune the Movie: The First Arrow which was released this summer. Set to air on January 4, 2023 on TOKYO MX, Jun Fukuyama will join the cast as a new character, Eisuke Nikaidou.

Tsurune Season 2 -Tsunagari no Hitosa- Trailer #1
https://youtu.be/6wHkaDhMKt8

The new trailer shows off the improved visuals and the beloved characters' daily lives. Minato Narumiya is back and ready to face the demons in his past to return to the world of archery.

The characters and cast of Tsujimine High School, a new rival school led by Nikaido, were also unveiled. Fans can expect to hear the voices of popular actors such as Jun Fukuyama, Takayuki Kondou, Yuuya Hirose, Yuuichirou Umehara, and Youhei Azakami.

 

Tsurune has become a hit worldwide for its beautiful visuals and depiction of traditional Japanese archery. Look forward to the second season coming soon!



ⓒ綾野ことこ・京都アニメーション/ツルネⅡ製作委員会

Information

Tsurune Season 2 -Tsunagari no Hitosa-
Premiere Date: January 4, 2023
Official Site: tsurune.com


Final Fantasy Artist Yoshitaka Amano Holds Art Exhibition at Myoshin-ji in Kyoto

Yoshitaka Amano, known by international fans as the artist behind the legendary Final Fantasy video game series, is celebrating his 70th birthday with a unique art project from November 23 until December 8 at Myoshin-ji in Kyoto. 

On the first day of the event, the venue, decorated with autumn leaves, was crowded with visitors including foreign tourists, who marveled at the fantastic space filled harmoniously with gold and blue. The exhibition will be held at Myoshin-ji, the head temple of the associated branch of Rinzai Zen Buddhism. This collection of works was designed to question visitors' sensibilities and provide a new kind of art exhibition for fans to enjoy.

After the exhibition, the main art piece by Yoshitaka himself will be converted to 3DCG, and a Virtual Golden World will be developed in collaboration with the Yoshitaka Amano VR Museum. By integrating traditional and modern art methods, guests will be able to engage more deeply in the art by enjoying digital works, the metaverse, and NFTs.

Don't miss this curious exhibition!

Information

Golden World: Infinite Light by Yoshitaka Amano 

~GOLDEN VIEW OF THE WORLD~

Running: November 23 – December 8, 2022

Venue: Myoshin-ji

Hours: 9:00-12:00 / 13:00-16:00

Tickets on sale until 15:30 each day.

Official Site: https://www.myoshinji.or.jp/