【Tokyo Stroll】A café date with Yutaro at Jugetsudo, Ginza – eating a rich parfait and Mont Blanc made with matcha and love♡
While shopping complexes such as Tokyu Plaza and GINZA SIX are on the rise, Ginza itself is a city that has been bustling with energy for a long time. It's packed full of traditional and new shops and brings in people from all ages, young and old, and prides itself as the place to go during everyone's days off.
<Related article:【Tokyo Stroll】Strolling around in Harajuku which has a lot of unique spots such as popular graffiti and artistic miscellaneous stores.>
Today is one of those days, so we'll be heading on a date with model Yutaro.
Jugetsudo is a café managed by Maruyamanori that serves tea and nori (seaweed). It's located only a 1-minute walk from Higashi-Ginza. Jugetsudo positions itself as a deliverer of Japanese culture, as not only does it have a shop in Japan, but in Paris too.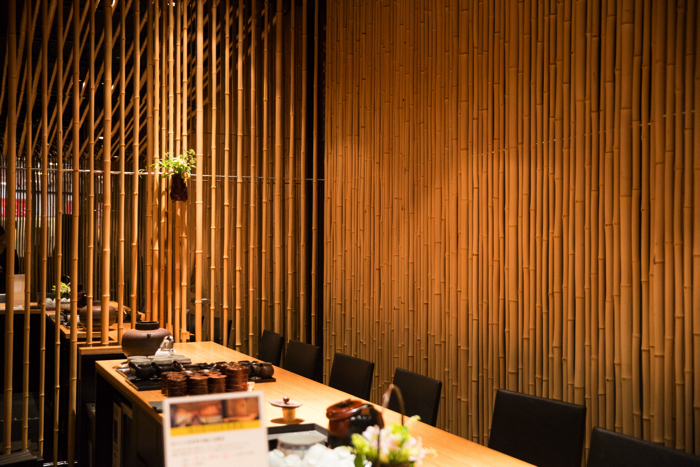 Located on the 5th floor of Kabukiza Tower in Ginza, the stylish interior design of Jugetsudo was created by Kengo Kuma. The décor features bamboo throughout the entire café, giving it that Japanese authenticity.
The parks were visible from our seats, making it a suitable location for a relaxing and comfortable date. There were so many great things on the menu so it was difficult to choose what to order, but we went for a matcha parfait and matcha Mont Blanc since they are popular items at Jugetsudo.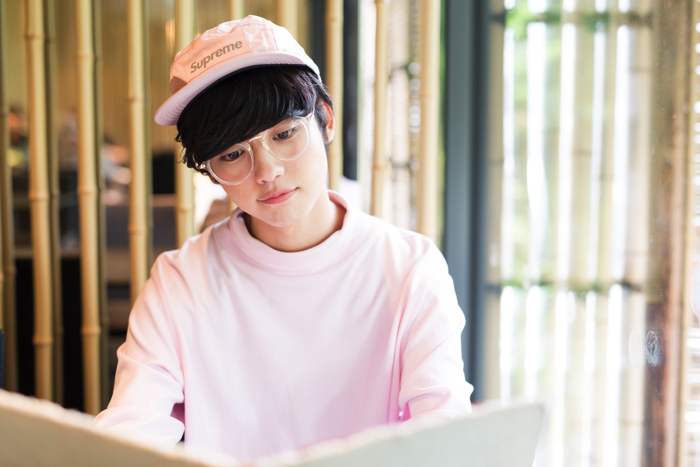 "Matcha is my favourite kind of sweet"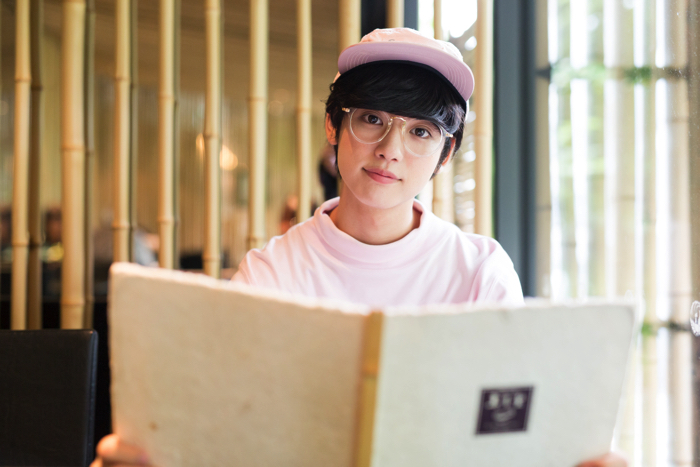 The first order to arrive was the matcha parfait which is made using farming methods found in Nakajima. It came with Hōjicha and totaled ¥1,480. The luxurious soft cream uses matcha that is made from mineral-rich soil in Nakajima. Underneath, the parfait is complete with granola, matcha syrup, and matcha kanten. The entire parfait is lavished with matcha, and the soft cream even has matcha powder sprinkled on top. The sweet matcha ice cream and slightly bitter taste of the matcha syrup make for a perfect combination! This is a sweet that anyone can get down with, even people who aren't too good with sweet stuff.
"The powdered matcha on top of the soft cream is subtly bitter and delicious!"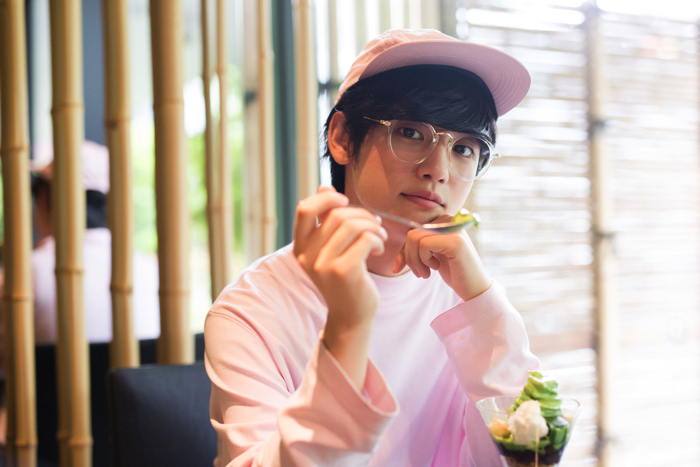 "Wanna try?"
Of course, the Hōjicha that comes with the parfait is great too. The Hōjicha you will normally find being sold is made with second and third buds, but the Hōjicha in Jugetsudo boasts first buds. It's a sweet and satisfying taste.
"Whew!"
The second order to arrive was the matcha Mont Blanc and cold-brew tea set which came to ¥1,450. The Mont Blanc is made with a matcha cream that has a slight bitter taste to it, and chestnut paste, to bring out a rich flavour. You eat the cake with chestnut on top, and as you approach the center you'll find a big chestnut inside. The chestnuts used as Japanese chestnuts. The sponge has cream on top of it and liquid matcha mixed inside, making this a sophisticated dessert indeed.
What goes perfectly with the Mont Blanc is the cold-brew tea that comes in the set, called "Matsuri Mecha." The sweet tea brings out a refreshing flavour in the aftertaste of the cake. It's the perfect thing for the upcoming hot summer days.
To celebrate having gone out this day, we bought souvenirs and puddings, before saying goodbye.
The date with the matcha-loving Yutaro went by so quickly, but when I eat my pudding I will most definitely remember the happy day I spent today. Let's plan our next date while eating our puddings ♡
■Information
Jugetsudo in Kabukiza, Ginza
Address: Kabukiza Tower 5F, 4 Chome-12-15, Ginza, Chuo-ku, Tokyo
Telephone: 03-6278-7626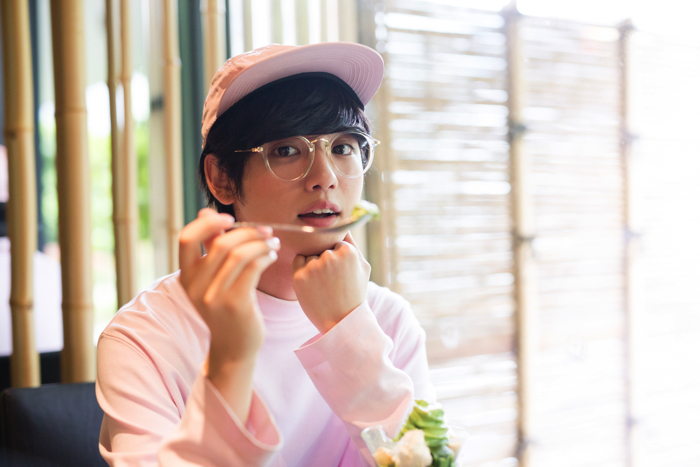 model:Yutaro
Born in Hiroshima-ken on June 3rd, 1998. Yutaro is a model that has received attention as a new-generation fashion icon and who currently works as a charisma shop assistant ('karisuma'). He gained attention on Japanese variety shows as a "mysterious and handsome guy" and made his debut on "Gyorestu no Dekiru Horitsu Sodanjo." Since then, he has appeared on lots of different TV shows. He challenged himself to appearing on stage for the very first time this year in March and is growing ever more popular every day for his diverse work.
Photograph:Kayo Sekiguchi
Writer & Editor:Sayuri Mizuno(ASOBI SYSTEM)
Translation: Joshua Kitosi-Isanga
Related article:The big models (including Yutaro) of Harajuku fashion give their New Year's Resolutions!
Related article:【Tokyo Stroll】Strolling around in Harajuku which has a lot of unique spots such as popular graffiti and artistic miscellaneous stores.
RECOMMENDED ENTRIES
Tokyo Stroll: A Kimono Date With Yutaro to Climb Mount Fuji in Tokyo at Hatonomori Hachiman Shrine

The first date of 2018 with Yutaro was to visit a 'power spot' so we can have a wonderful year this year too. That being said, we went to "Hatonomori Hachiman Shrine" in Sendagaya which is next to Harajuku. This was our hatsumou, the first shrine visit of the New Year, and we went wearing kimono.

Hatonomori Hachiman Shrine is a 5-minute walk from Kita-Sando Station via the Tokyo Metro Fukukoshin Line, just one stop from Meiji-Jingumae Station in Harajuku. It's super easy to get there from Harajuku or Shibuya. You can also walk there in 5-minutes from Sendagaya Station if you take the JR Sobu Line.

Hatonomori Hachiman Shrine has a long history, even going as far as to be recorded in the Edo meisho zue, an illustrated guide to famous Edo places that was published at the end of the Edo period. The shrine grounds features the shogidou, where a huge Shogi (like chess) piece is enshrined; the Koga Inarisha shrine where the Koga-Gumi, a group of ninja serving the Tokugawa Shogunate, would pay reverence; a Noh stage; the main building that was completed in 1993, and more.

According to the Shinto chief priest Hirano, the oldest things in the shrine grounds are the 3 ginkgo trees planted there. If you visit the shrine, be on the lookout.

We finally arrived. After bowing, we headed through the torii gate and onward towards the shrine. We cleanse our hands and mouth before praying. I wonder what could he be praying for? He has an unusually serious expression.

After praying, we climbed the fuji-zuka, a manmade mound made to imitate Mount Fuji. It has received much attention as a 'power spot,' a place believed to heal visitors through special energy. The Edo period was a time when it was difficult for people to climb Mount Fuji, so common folk would look to fuji-zuka as Mount Fuji for their worshipping.

It is said that Hatonomori Hachiman Shrine was constructed in 1789, and the fuji-zuka, the oldest still standing in the city, was designated a Tangible Folk Cultural Property.

Yutaro-kun hasn't climbed Mount Fuji before, so this will be his first!

Mount Fuji has 5 stations you can stop off at leading up. Climbing fuji-zuka was tougher than we thought, so we agreed to wear sneakers next time. While being cautious we continued our climb without falling.

Writing from the Kansei era is written on the komitake sekison daigogen at the 5th station. You can't help but feel the length of the fuki-zuka's history at Hatonomori Hachiman Shrine!

The view from the top is amazing! When you see the tree-wrapped shrine grounds, your heart feels gentle and calm.

"It's a dream come true that we can climb Mount Fuji in Tokyo."

We took a different route going down. This route is steep too!

After we safely reached the bottom, we receive a goshuin shrine stamp to commemorate today's Mount Fuji worship. The ceremony fee is ¥300. Be sure you get one too after reaching the top!

Finally, we drew one of Hatonomori Hachiman Shrine's unique "Hato Mikuji." The omikuji blessing was "small blessing" (sho-kichi). After reading the omikuji carefully, we tied it to tie a link with the gods. Before we knew it, the date had come to an end.

How was this first kimono date? If you're thinking you want to walk around Harajuku in a kimono like Yutaro, then we recommend checking out a rental kimono store. The kimono worn today was rented at the Moshi Moshi Kimono Salon in Harajuku. Please enjoy yourself by going out in a kimono with your friends or on a kimono date with that special someone.

Model:Yutaro

Yutaro was born in Hiroshima on June 3rd 1998. His modeling career has earned him lots of attention as a fashion icon of the new generation. The famous model also works as a "charisma" shop assistant. Yutaro has gained his reputation as a "mysterious and handsome guy" from his appearance on Japanese variety shows. His debut was made on the show "Gyoretsu no Dekiru Horitsu Sodanjo" and has since then appeared on numerous different TV shows. He challenged himself to appear on stage for the very first time in March this year and is gaining popularity by the day for his diverse work.

Photographer: Kayo Sekiguchi

Writer: Sayuri Mizuno(ASOBISYSTEM)

Translator: Joshua Kitosi-Isanga

Tokyo Stroll: A Christmas date with Yutaro at Tokyo Tower wrapped in sparkly illuminations

A late-night date is nice once in a while, am I right? Well, for the first time since the initiation of this series, that's where we're headed.

We went to Tokyo Tower where one can gaze at the bright and sparkly nightscape of the city.

Our meeting place was the entrance to Tokyo Tower. Yutaro-kun had arrived early. Maybe because we're meeting at night? It has a slightly more mature vibe to it than usual.

"Geez, it's cold!!"

Yutaro-kun is always in good health.

At the entrance of Tokyo Tower is the city's biggest Christmas tree – one that's 60 years old. Its 60,000 or so decorative lights are so entrancingly beautiful they make you forget about the cold!

These illuminations will be up until February 28th. They are on between 16:00-22:00, with a special light show running every 30 minutes. These colourful and sparkling lights are a must-see. Yutaro-kun was spellbound by all the different colours of the illuminations too.

There's lots of other great places to take photos around the entrance too besides next to the tree. Taking an interposed photo with the lit-up mini Tokyo Tower or heart-enveloped Tokyo tower will most certainly be a memorable occasion.

■Information

Tokyo Tower Winter Fantasy 〜Orange Illumination〜

Running: November 2, 2017 – February 28, 2018
Time: 16:00-23:00
Location: Tokyo Tower front entrance
The "Orange Garden Lighting Show" runs every 30 minutes between 16:00-22:00 every day. The final show is at 22:00.

After getting our fill of illuminations, we made our way to the Main Observatory of Tokyo Tower. The elevator made a steady climb up 150m.

When we arrived at the Main Observatory, there it was. Tokyo's night skyline. It was a most spectacular view and looked like an entirely different place from the Tokyo we spend our time in.

"This is my second time in Tokyo Tower. It might be my first time to come at night."

The Main Observatory is currently holding a projection mapping event called "CITY LIGHT FANTASIA." They use the windows and floor of the observatory to make it look like Tokyo Tower is snowing.

There's a photo spot in conjunction with the event too. The lights are turned on at this spot, so you can take beautiful photos even with your phone. Look out for the snow crystals changing colour as time passes too!

"It really looks like it's snowing!"

Snow was falling everywhere we walked around the observation deck. This was also part of the "CITY LIGHT FANTASIA" performance. Snow was emulated by lasers which sparkled as it fell. The highlight of the event was experiencing this snowy environment with the Tokyo nightscape as the backdrop. The snowfall "Diamond Dust" experience runs for 15 minutes.

■Information

CITY LIGHT FANTASIA

Running: November 15, 2017 – January 31, 2018

Time: 18:00-22:50

Location: Tokyo Tower 2F Main Observation

Price: Costs only the observation deck fee all the way to the Main Observation

After being satisfied with seeing the nightscape, we went to the official shop where they sell souvenirs. They have Tokyo Tower merchandise you can't get anywhere else, so be sure to find your favourite that captures your memory of heading up to the Main Observation.

Straight ahead after leaving the shop is the Tokyo Tower Love Power Spot "Another Diamond Veil" made by Swaroviski. It's famous as a 'power spot' radiating with loving energy, so don't forget to check this out if you want to increase your chances of love.

Both of us were tired after so much fun, so we took a breather at "Cafe La Tour" located in one corner of the Main Observation. Yutaro-kun ordered his favourite match drink without hesitation: the "Koi Uji Matcha Late Float" which costs ¥520 (tax included).

Yutaro-kun, thank you for always sharing with me!

This café has window seats, so you can enjoy your food and beverages while gazing over Tokyo. It's a great spot for viewing the city scenery while kicking back and relaxing.

■Information

Cafe La Tour

Open: 9:30-22:30

TEL:03-3433-1850

After unwinding at the café, our Tokyo Tower date came to an end!

My end-of-year was spent with Yutaro-kun who vibe was a little different from usual. I wonder what kind of Yutaro-kun I'll get to meet next year? I  pray that I can have another fun date with him next year too!

■Information

Tokyo Tower

Address: 4-2-8 Shiba Park, Minato, Tokyo

Price: Adults ¥900 / Elementary & Middle School Students ¥500 / Children over 4-years ¥400

Main Observation (150m): 9:00-23:00 (last entries 22:30)

*Last entries may be carried out earlier during busy periods.

Tokyo Tower Official Website: https://www.tokyotower.co.jp/

Model:Yutaro  @aaaoe__

Yutaro was born in Hiroshima on June 3rd 1998. His modeling career has earned him lots of attention as a fashion icon of the new generation. The famous model also works as a "charisma" shop assistant. Yutaro has gained his reputation as a "mysterious and handsome guy" from his appearance on Japanese variety shows. His debut was made on the show "Gyoretsu no Dekiru Horitsu Sodanjo" and has since then appeared on numerous different TV shows. He challenged himself to appear on stage for the very first time in March this year and is gaining popularity by the day for his diverse work.

Photographer: Kayo Sekiguchi

Writer: Sayuri Mizuno(ASOBISYSTEM)

Translator: Joshua Kitosi-Isanga

5 New 'Houjicha' Sweets & Drinks – The Next Best Thing After Matcha

Recently, 'houjicha,' a type of roasted Japanese tea, has become popular among people of all ages in Japan. Right now, there are lots of different stores selling various houjicha beverages. We've compiled a list of some of the most popular, newly-released houjicha drinks!

Hachiya (Sendagaya)

"Houjicha Smoothie" (S¥500 / L¥600)

This houjicha smoothie is special for its aromatic fragrance. It uses white bean paste instead of sugar meaning you can enjoy an elegant sweetness together with a faint touch of anko.

Full Details: https://www.moshimoshi-nippon.jp/81322

■Information

Hachiya (Sendagaya branch)

Address: 4-1-8 Sendagaya, Shibuya, Tokyo

Opening Hours: 9:00-19:00

Closed: Weekends, National Holidays and New Year's Holiday

Access: 20-minutes by foot from Harajuku Station / 2-minutes by foot from Kita-sando Station

Hachiya (Daikanyama branch)

Address: 1-16-9 Ebisunishi, Shibuya, Tokyo

Opening Hours: 9:00-19:00

Closed: Never (with the exception of New Year's Holiday)

Tsujiri (Ginza)

"Houjicha Chocolat" – ¥610 (pictured left)
The Ginza branch of Uji, Kyoto tea shop "Tsujiri" are currently serving a limited edition winter menu. This rich houjicha hot chocolate is mixed with flavoursome Vanhouten chocolate and Tsujiri's own fragrant houjicha tea.

Full Details: https://www.moshimoshi-nippon.jp/79035

◼︎Information

"Tsujiri Ginza" Winter Menu

Available: December 1, 2017 to end of February 2018

Tsujiri – Ginza Branch

Address: GINZA SIX B2, 6-10-1 Ginza, Chuo, Tokyo

Open: 10:30-20:30

TEL: 03-6263-9988

Nanaya (Aoyama)

Nanaya in Aoyama sells sweet and refreshing matcha gelato. As well as the regular matcha flavour, they also sell a houjicha flavour too, which has a subtle fragrance of tea embedded in the sweetness!

Full Details: https://www.moshimoshi-nippon.jp/58538

■Information

Nanaya Aoyama

Address: Nanaya 1F, 2-7-12 Shibuya, Shibuya-ku, Tokyo

Tel: 03-6427-9008

Hours: 11:00〜19:00

Closed: Tuesdays (except national holidays)

Oyaizu Seicha (Fukuoka, Main Branch)
Oyaizu Seicha is a producer of green tea, with its main branch in Fukuoka. They are now selling 7 varieties of gelato with tea as the main focus. They also sell a unique "houjicha rum raisin" flavour.

■Information

Oyaizu Seicha Main Branch

Sanpi Ryoron Yorimichi (Shibuya)

Sanpi Ryoron ('Pros & Cons') is a sweets shop selling sweets, dashi and houjicha. They have beverages, soft cream, purin and more on their houjicha menu.

■Information

Sanpi Ryoron Yorimichi

Address: 5-17-4 Hiroo, Shibuya, Tokyo

Opening Hours: 10:00-21:00 (last orders 20:30)

Contact: 03-6409-6855

Access: 5-minutes' walk from Hiroo Station via the Tokyo Metro Hibiya Line

Closed: Mondays

Heal your soul with the indulging fragrance of houjicha.

Enjoy authentic Japanese sweets! Here are the top 5 matcha sweet stops you can find in the city!

The Japanese started their loving relationship with matcha long ago. One of the many uses of matcha is the making of traditional Japanese sweets. Today, we'll be introducing some matcha sweets that are just as popular amongst the Japanese as they are with tourists.

【Ginza, Tokyo】Tsujiri Ginza

The popular Kyoto–based Tsujiri Ginza has brought its rich, tea-ceremony-worthy matcha over to Tokyo. This matcha is used to make Tsujiri soft Koi matcha ice cream (Tsujiri Soft Ice Cream Koi Cha), and a white chocolate, rich-flavoured roll cake. The roll cake is carefully prepared at a low temperature and then baked. The roll cake is a limited product of the Ginza store. Tsujiri Ginza has so many items on the menu, including the Kyo Koi Cha Terrine! You can also purchase matcha, sencha and fresh Yatsuhashi sweets and much more!

Find out more by following this link: http://www.moshimoshi-nippon.jp/37411

【Ginza, Tokyo】Jugetsudo

The most popular treat on Jugetsudo's menu is the matcha parfait. The matcha is farmed by a method used in Nakajima so that the matcha retains a high amount of minerals. Underneath the luxurious soft cream is a layer of granola, matcha syrup, and matcha kanten (agar). The entire parfait is sprinkled with matcha powder. The sweet flavour of the matcha ice cream combined with the slightly bitter taste of the matcha syrup is a matcha-match made in heaven!

For more information, click here: http://www.moshimoshi-nippon.jp/44832

【Shibuya】Nanaya Aoyama

The shop's special consists of gelato made with matcha sourced from Fujieda. The intensity of the matcha is on a scale from 1 to 7, where level 1 begins with a moderately sweet flavour, but as you progress up the scale to level 7 the flavour of the matcha becomes richer and deeper. The menu is also packed with a range of gelato that are made using other types of tea such as houjicha (roasted green tea) and genmaicha (brown rice green tea). Amongst these is one matcha that is known as the world's most intense: matcha premium – No.7. (¥560 for a single scoop). It uses matcha that received an award from the Minister of Agriculture, Forestry and Fisheries. The deeply rich and bitter matcha flavour and the hint of refreshing sweetness gives it a splendid finish.

More information can be found here: http://www.moshimoshi-nippon.jp/58538

http://www.moshimoshi-nippon.jp/50277

【Shibuya, Tokyo】Matcha Café MAIKO

Following booming business in Hawaii in July 2016, this matcha stand was reimported to Japan, opening its first store in Omotesando. Kyoto is known as the city from where Japanese green tea originated, and this is home to the old matcha cultivating business Harimaen, which provides the high quality matcha used for the desserts. The aroma is strong and the flavour is deep. The preparation process ensures that as much flavour as possible is retained in the ice cream.

Ujitawara Harimaen's first store in Japan "Maccha Cafe Maiko" was open in Omotesando on 24th June. The store serves matcha soft serve ice cream, which is very popular in Hawaii, as well as Japan-limited original desserts.

More information:http://www.moshimoshi-nippon.jp/47577

【City suburbs, Saitama】MACCHA HOUSE

MACCHA HOUSE first opened a branch in Singapore, followed by Hong Kong and Taiwan. It now has a total of 9 branches across Asia. MACCHA HOUSE used matcha from Kyoto's "Morihan" to develop and carefully make original drinks and sweets. The Uji matcha Tiramisu is made using specially selected matcha and a generous serving of mascarpone cheese, giving a refreshing taste. It is served in a traditional Japanese "masu," which is a wooden box cup. The fragrant scent of the hinoki cypress wood compliments and enhances the taste of matcha.

More information:http://www.moshimoshi-nippon.jp/45076

So, what do you think? These Japanese sweets really bring out the essence of matcha so that you can enjoy this authentic flavour to your heart's content!

Translator: Samantha Fernandes

【Tokyo Cafe】 Where all the matcha lovers gather…まっちゃんの旅 Part II

Hello again to all the Matchans!

Today I will be showing you a restaurant that's famous for their matcha fondue.

Japan is so amazing and unique. Who would've thought of starting a matcha fondue restaurant?

The restaurant is called Saryo, and it's about a 7 minute walk from Kagurazaka station.

You can enjoy eating inside or at the open roof terrace seats.

There was already a long line on the day I went, even though it was a weekday.

While waiting, the waitress handed us a menu and a blanket to keep us warm.

I thought they would only have matcha, but there were also regular meals on the menu too.

Of course my friend and I ordered the matcha fondue~!

We were able to order the set menu with drinks, but it was so hard for us to decide which drink to order.  I'm pretty sure the menu offered more than 30 different types of drinks to choose from.

My friend went with the sweet fruit tea, and I ordered the premium matcha latte.

The matcha latte tasted more bitter than I imagined, but it was very delicious.

Then came the matcha fondue!! The fondue sauce is made with matcha and white chocolate and it came with strawberries, shiratama rice balls, jello, ice cream and crackers.

The crunchy crackers and chewy shiratama balls were the best match with the deep bittersweet matcha. I couldn't stop dipping them in the fondue.

It also came with vanilla ice cream, but it melted really fast so I would recommend you to eat that first.

I wanted to try the matcha fondue itself so I started eating it with a spoon. I couldn't stop eating it as you can see…

Kagurazaka was pretty far from my home, but this long train ride still paid off handsomely when I came here!

Matcha hunting to be continued….

■Writer:Jessica

■SNS:@mintbaaby /Instagram

Information:

Name: Saryo

Address: 5-9 Tokyoto Shinjukuku Kagurazaka 162-0825

Telephone: 03-3266-0880

Open: 11:30am~22:00pm

—

■Related article:Where All the Matcha Lovers Gather…まっちゃんの旅

■Related article:Come and Try Yummy Soba

【Tokyo Cafe】Nanaya in Aoyama has the World's Most Intense Matcha Flavoured Ice Cream

In today's installment of Tokyo Café, we head to Nanaya in Aoyama, a popular café that sells sweet and refreshing matcha gelato, perfect for the summertime.

Marushichi Seicha is a tea producer that estalished in 1988 in Shizuoka, Japan's number one tea-growing district. They were the first in Japan to sell freeze dried matcha, which has since come to prove very popular and enjoyed throughout homes in Japan due to its ease of preparation. Marushichi Seicha set out to open "Nanaya" to take advantage of the flavour of matcha, something loved by people of all ages in Japan.

The shop's special menu features a list of gelato, or ice cream, using this same delactable matcha. It offers seven varying levels of matcha intensity – level 1 begins with a more moderately sweeter flavour, but as you progress up the scale to level 7 the flavour of the matcha becomes richer and deeper. The menu also includes a range gelato using other teas too, such as houjicha (roasted green tea) and genmaicha (brown rice green tea).

The most popular item on the menu is the no. 7 level matcha gelato (¥560, tax incl.), which claims to be the most matcha-intense ice cream in the world. It uses matcha that received an award from the Minister of Agriculture, Forestry and Fisheries. There's a reason it has become so renowned, with its deeply rich and bitter matcha flavour inside which lies the right hint of refreshing sweetness.

As well as matcha flavours, Nanaya serves up other gelato too, such as the Genmaicha Gelato (pictured above on left / ¥370), a fragrant brown rice green tea that is popular among guys that visit the shop. You can customize your ice cream cups too and get double scoops (pictured above on right / ¥470) and even triple scoops (¥500), meaning you can order a variety of different flavours to try at once.

If you you're thinking of ordering another gelato flavour to go with matcha, then you should try getting it with houjicha, which has a subtle fragrance of tea in its sweetness!

>>next page
RELATED ENTRIES
Cuzen Matcha Releases in US and Lets You Make Fresh Matcha at Home

World Matcha Inc. launched the Cuzen Matcha machine in the USA on October 21, 2020. The product arrives to the North American market after a hugely successful Kickstarter campaign where it achieved 235% of its funding goal. It has already received praise from some of the country's top chefs and hoteliers including Tartine's Chad Robertson and SingleThread's Kyle Connaughton.

Cuzen Matcha

Cuzen Matcha allows for any person to produce fresh matcha with the company's shade-grown whole organic leaves and award-winning technology. Users simply add fresh leaves grown in Kyushu to the machine, and with the press of a button, it instantly creates freshly-ground matcha, delivering the superior health benefits of matcha to everyone. Sustainability is also at the heart of the brand which incorporates sustainable tea farming, sustaining a tea-growing tradition, and wrapping it all up in sustainable packaging

Eijiro Tsukada (World Matcha Inc., Co-Founder and CEO)

"We have been helped by a lot of people and have put our trusts in them while developing Cuzen Matcha. Now we're launching it into the world to lots of people, even if it reaches only one. We will deliver fresh matcha in a way no one else is along with all of its health and lifestyle benefits. And I hope to create a more sustainable future together with our customers around the world." (Translated from Japanese by MMN)

Taste Authentic Japanese Matcha at Asakusa's New Matcha Specialist Shop Kaminari Issa

Asakusa welcomed the newest and third branch of matcha dessert specialist shop Kaminari Issa on October 2, 2020, which opened its doors along Dempoin Street. The shop is just a 3-minute walk from Asakusa Station and 2-minutes from Kaminarimon.

Signature delights on Kaminari Issa's menu include the Okoicha Warabi Latte and Okoicha Gelato. Everything on the menu is made with rich, high quality matcha, from the matcha tea lattes to the matcha beer, parfaits, ice cream, dacquoise, and more. If you love matcha, and you're in Tokyo, this place is a must-visit.


There are plenty of items to get your hands on in this newest store, which also has its own eat-in space, tea leaf display, and more.

They even sell kits so you can make your own Okoicha Warabi Latte and Wakocha Brown Sugar Warabi Latte at home.

Information

Kaminari Issa Dempoin-dori
Address: 2-2-2 Asakusa, Taito-ku, Tokyo
Opening Hours: 10:00-18:00 (until 17:00 on Mondays)
TEL: 03-5830-6948
Access: 3-minutes on foot from Asakusa Station
Official Website: https://www.kaminari-issa.com/

Food Review: CARRE AU CHOCOLAT matcha dessert made with Yamecha tea from Fukuoka

Matcha has become a common ingredient and flavour in people's lives outside of Japan. It's now easier than ever to get your hands on something matcha flavoured, whether it be desserts or the tea itself. Even in Japan, you'll find new matcha products released daily. Today, we're reviewing a particular matcha dessert made using the highest quality Japanese ingredients.

Marche co., ltd., a subsidiary of TAGPIC Inc., co-launched a luxury sweets brand called 'BRANCHE CHOCOLAT' on September 9, 2020, together with Riku Yakushijin who, as a chef at the introduction-only French restaurant Sugalabo, works as a Culinary Producer where he has honed the concept of 'food literacy.' Together, they have released their very first dessert together: the matcha-flavoured 'CARRE AU CHOCOLAT.'

About BRANCHE CHOCOLAT

BRANCHE CHOCOLAT is a high quality sweets brand based on the idea of wanting to expand the number of authentic and genuinely good sweets. The brand's name is a combination of the French words branche, meaning to 'connect' or 'tie,' and chocolat which of course is chocolate. Everything they do is totally calculated, using good quality Japanese ingredients while keeping in mind flavour, texture, and appearance, and taking into account the joy of sharing, the surprise when eating, and the moment you put something delicious into your mouth―and all of this without being predictable. By making their products into a distinct cube shape, it makes the dessert look stylish, easy to eat, and easy to photograph from every angle.

The First Product: Matcha 'CARRE AU CHOCOLAT'


GIFT BOX ¥5,478 (Tax Included) / ECO BOX ¥4,378 (Tax Included)

The first product in BRANCHE CHOCOLAT's line is the 'CARRE AU CHOCOLAT' which is made using yamecha from Fukuoka. Yamecha is a type of tea produced in Fukuoka that comes in many different forms depending on the variety and how the tea is ground, which can make for a whole range of different results from types that are beautiful in colour to very bitter flavours, very rich flavours, or very sweet flavours. And to ensure they get the absolute full potential out of the yamecha, BRANCH CHOCOLAT conceived over 50 recipes through trial runs and taste-testing. The end result had them arrive at the recipe we have here today which preserves the original flavour of the tea while enhancing it to be even more elegant in taste.

Tasting Time


When opening the dessert box, your gaze is arrested by the sparkle of the four-sided matcha dessert. A dessert that's cube-shaped looks good enough to snap a photo from any angle. As you fork into the chocolate, it's softer than Japanese ganache, and moister than a terrine.

Time to tuck in.

Your taste buds are met by the sweetness of the rich chocolate together with the bitter, full-bodied taste of the yamecha. It feels smooth in the mouth and just melts. You can really savour the matcha which penetrates all the way to your nose. This is a completely different dessert experience which is deep and rich in flavour yet has a lightness to it.

Underneath the chocolate is a traditional French confection known as pain de genes which has been thinly sliced which makes it feel a little like eating a cake when enjoyed with the chocolate. The simple flavour of the pain de genes and the sweetness of the chocolate are a perfect match for one another.

It's precisely because the CARRE AU CHOCOLAT uses high quality Japanese matcha that you can savour the sweetness, delicious taste, and the adequate amount of bitterness. This is a treat that any and all lovers of matcha and chocolate cannot afford to pass on. It's the perfect size to be enjoyed by 2-4 people, making it great for a special celebration, a home party, or if you want to share it with someone special.

Experience Old Time Kyoto in Autumn 2020 With Tea and Textiles

Kyoto, the ancient capital of Japan, is also called the birth place of Japanese culture, with a history spanning 1,200 years. Today, we're going to take a look at a number of upcoming events and seasonal items on sale in Kyoto for autumn 2020.

Celebrating 300 years of Tango Chirimen

This year marks 300 years since Tango Chirimen was established, a company located in Tango in northern Kyoto that specialises in a Japanese textile of flat woven silk known as 'chirimen.' There are many local chirimen brands around Japan, but it is the chirimen from Tango that has stood above the rest these past 300 years. The brand is now looking to the start of a new era for itself during its triple century milestone.

LIFE WITH THE QUALITY

Tango Chirimen is currently displaying a collaborative art exhibit at NEWoMan Shinjuku in Tokyo. This includes the entry display made in collaboration with Japanese artist Saki Tanaka, wall art made from woven fabrics, and more.

Running: Until September 30, 2020

Location: NEWoMan Shinjuku

Lineup: Display in collaboration with Saki Tanaka, wall art, and more

United Arrows x Tango Chirimen

United Arrows is also collaborating with the brand and incorporating their logo mark "TANGO OPEN" on a new men's t-shirt.

Product Name: BY Tango Broad Wide Form Tapered Shirt
Buy Here: https://store.united-arrows.co.jp/shop/by/goods.html?gid=52838245
Sold at: BEAUTY & YOUTH UNITED ARROWS stores and their official online store

Taste tea from Uji on Japanese Tea Day

It is generally considered that the first tea of the season in Japan is best enjoyed from the end of April and during May, but in fact Japanese tea is the perfect season to enjoy Japanese tea, specially since the country celebrates Japanese Tea Day (Nihoncha no Hi) on October 1 and 31.

Ujicha, or tea from Uji in Kyoto, boasts some of the most famous kinds of teas in Japan. This includes matcha, sencha, and gyokuro, all of which were first grown in southern Kyoto. Because of this, it is said that Ujicha marks the origins of Japanese tea. So when you visit Japan during autumn, why not celebrate Japanese Tea Day with some authentic tea from Uji?

Ujicha Tea Murie Online Course

The Ujicha Tea Murie Course has been held since 2015 in Kyoto, and this year, the course is heading online for the first time as a result of the pandemic. Learn how to make and serve Uji tea from a professional tea instructor as well as its history and more.

Running: Session 1: September 15, 2020 / Session 2: October 2, 2020 / Session 3: October 17, 2020

Book: Online
Requirements: Download and install Zoom
Official Website: https://www.pref.kyoto.jp/yamashiro/ocha/

Certified Ujicha tea cafes for an authentic experience

Tsujiri Rihei Ginza | Tsujiri Rihei Senju

Nakamura Tokichi Ginza

Tsujiri Rihei Ginza, Tsujiri Rihei Senju, and Nakamura Tokichi Ginza are all cafes in Tokyo that are officially recognised for serving authentic Ujicha tea which also includes proper preparation as well as teaching the history and culture behind the tea. These three cafes are also holding an Ujicha tea stamp rally as well as a Twitter hashtag campaign.

Tokyo Stroll: The Café That You Want to Visit to See Someone #14 – 'Kayaba Coffee' in Yanaka

In this edition of The Café That You Want to Visit to See Someone, I visited Kayaba Coffee, a coffee shop in Yanaka, Tokyo, which is a perfect example of the old and traditional shitamachi neighbourhoods.

Kayaba Coffee is just a 10-minute walk from both Nezu Station and Nippori Station.


This is a place I've visited in my private time out of work and I'm always excited to go. Kayaba Coffee was established in 1938, and actually closed in 2006. But due to public demand, the cafe reopened just two years later in 2008. It's a popular coffee shop loved by people of all generations.

Time to head on in.

The first floor houses the counter and table seats, while the seating on the second floor is traditional zashiki style on tatami flooring. Although it's a cafe, you I feel so relaxed in there that it's like I'm visiting my grandma's house. The sun shines through the big windows, making you all warm and want to take a nap.

I ordered their super popular egg sandwich! The menu was changed in May this year, and a new and improved version of their egg sandwich was put on there. It's made using sourdough bread from VANER, a local bakery in Uenosakuragi not far from the cafe.


Breakfast Menu – Egg Sandwich | ¥1,000

The chewy, sour bread is the perfect combination with the fluffy eggs.

Lemon Squash | ¥600

The lemon squash has a cinnamon aftertaste. Everything on the menu is made with love and perfection; before I realised it, I was hooked on going there.

Strawberry Shaved Ice | ¥800

This was my first shaved ice of the year! I went with the classic strawberry flavour. The syrup is super juicy and nearly collapsed the fluffy shaved ice the moment I put it on. It has a syrupy texture and the strawberry juice has a sweet and sour kick that's just simply delightful♡

And you can make it even sweeter by pouring over your desired amount of condensed milk. It was really tasty.


Kayaba Coffee is the same as it was back in the day, and continues to be loved dearly. I think even people who visit it for the first time will feel a sense of nostalgia. If you have a place you can go to relax on bad days or when you're feeling down, it's sure to give you the strength to work hard again. This cafe is a wonderful place that's close to people's hearts.

I want to visit there again already.

Writer/Model: Ema Tanioku
Photographer: Haruka Yamamoto
Design: Yuko Takayama (ASOBISYSTEM)

Translator: Joshua Kitosi-Isanga

Information

Kabaya Coffee
Address: 6-1-29 Yanaka, Taito-ku, Tokyo

Opening Hours: [Tue-Fri] 8:00-18:00 (Last Orders 17:30) / [Weekends] 8:00-19:00 (Last Orders 18:30)

Closed: Mondays

Luxurious Matcha Loaded Parfait Served Up at MICASADECO&CAFE KYOTO

MICASADECO&CAFE KYOTO had to shorten its menu due to the effects of COVID-19. Their legendary parfait too was taken off the list, but now has finally returned, and even more delicious looking than ever.

MICASADECO&CAFE KYOTO has tried to make the parfait as breathtaking as possible, and they've certainly captured that. It's vivid like the furisode long-sleeved kimono worn by the maiko of Kyoto, beautiful and dignified.

Uji Matcha Pudding & Raspberry Parfait | ¥1,250 (Tax Included)

This towering parfait is made up of many layers, one of which is a homemade Japanese-style pudding made with high quality matcha from Uji, Kyoto. It has a subtly sweet and deep flavour, and is taken to the next level with the matcha sauce it's served with.

The homemade raspberry jam brings a delightful sweetness too as well as adds that eye-catching aspect they're going for. As you spoon your way through, your taste buds are treated to an amalgamation of indulging flavours.

The lid that's sat on top of the parfait is actually a tuile biscuit. The best way to go about beginning your feast is to break the biscuit and then pour the matcha sauce inside.

Hidden within the parfait are also pieces of homemade matcha brownies made with lots of top grade matcha.

These parfaits will be served from September 14 but are limited in stock, so if you're in Kyoto this month, make sure you don't miss out.

McDonald's Japan Reveals Japanese Tea Infused Dessert Beverage Series

McDonald's Japan has announced the release of four limited-time drinks which will be sold at McCafé by Barista branches of McDonald's from September 2. The line-up includes the 'Houjicha Frappe Shiratama Kuromitsu Kinako,' 'Houjicha Frappe,' Matcha Frappe Shiratama Kuromitsu Kinako,' and 'Matcha Frappe.'

The beverage lineup is the perfect pink for an autumn-time dessert drink, each made with authentic flavours from Japan.

Houjicha Frappe Shiratama Kuromitsu Kinako | Regular ¥490, Large ¥530 (Tax Included)

Made using 100% Japanese houjicha powder and delicious milk, this houjicha frappe is topped with soy flour, sweet brown sugar syrup from Okinawa, chewy rice flour dumplings, and a squirt of whipped cream. This is the ultimate McDonald's Japanese dessert drink, laced with fragrant houjicha tea with a creamy texture.

Houjicha Frappe | Regular ¥450, Large ¥490 (Tax Included)

Houjicha frappe is used as the base for this one, and if inished with whipped cream and a dusting of houjicha powder. The subtly sweet houjicha and creaminess of the whipped cream is a deliciously perfect match.

Matcha Frappe Shiratama Kuromitsu Kinako | Regular ¥490, Large ¥530 (Tax Included)

Just like the houjicha variant, except this time it's a latte made with matcha and matcha powder from Uji, Kyoto. A truly all-star Japanese dessert drink.

Matcha Frappe | Regular ¥450, Large ¥490 (Tax Included)

The matcha frappe too is sprinkled with matcha powder from Uji, combined with full-bodied milk, and topped with whipped cream.

UK Matcha Company Matchaeologist Collaborate With HARIO On Matcha Products

UK-based matcha brand Matchaeologist is celebrating its second anniversary of selling products in Japan by collaborating with laboratory glassware brand HARIO Science on a matcha sets that come with a beaker with both company's names on them. The sets were released on August 20, 2020 and are limited in stock.

About Matchaeologist

Matchaeologist describes themselves as artisanal matcha green tea specialists who have expanded worldwide across Europe, the US, and Japan. Matcha has become a superfood outside of Japan and one of the new standard drinks alongside coffee.

Matchaeologist has a big fan base – with close to 150,000 followers on Instagram. Its matcha is grown in the world-famous Uji in Kyoto and is served in a "minimalist way for an epicurean tasting experience not unlike that of fine wine" in order to bring a modern perspective to the ancient tradition of the Japanese tea ceremony.

Matchaeologist x HARIO


Matchaeologist x HARIO Beaker – Matsu (20g Set) | ¥4,180

HARIO is a hugely popular brand that sells a variety of products from laboratory glassware to coffee making equipment. The collaboration with Matchaeologist introduces a sophisticated and minimalist HARIO beaker as a set with two of the matcha company's matcha blends: matsu and meiko.

Matchaeologist x HARIO Beaker (Meiko 20g Set) ¥3,180

Experience matcha in a completely unique way by preparing some in one of HARIO's high quality beakers.

Premium Uji Matcha Afternoon Tea Begins at Hotel Chinzanso Tokyo This September

Hotel Chinzanso Tokyo has announced a collaboration with Tsuji Rihei—a tea shop that first opened in 1860 in Uji, Kyoto—to serve up a new "Premium Uji Matcha Afternoon Tea" in its lobby lounge Le Jardin from September 1.

This will be the hotel's fifth serving of the Premium Uji Matcha Afternoon Tea, which first began in 2016. Last year saw 5,000 customers enjoy experience.

Hotel Chinzanso Tokyo actually began serving the afternoon tea from April 13 this year, but had to stop service in May as a result of COVID-19. September 1 will see its return.

The food and drinks in the afternoon tea are all made with a Japanese green tea known as Kuradashi. The first fresh leaves picked from springtime have been put to one side for the summer serving, so customers can enjoy an enrichened tea-sperience.

Top Tier – Desserts: Sencha Jelly, Genmaicha Egg Tart, Kabusecha Souffle Cake, Kyobancha Tiramisu

Middle Tier – Scones: Plain Scone, Gyokuro Scone, Hojicha Scone

Bottom Tier – Savoury: Tea Leaf & Walleye Pollack Open Sandwich, Lily Bulb Honey Ham Tart, Smoked Salmon & Plum Mayo Sandwich, Smoked Dick & Cheddar Cheese Japanese-Style French Toast

Drinks: Uji Tea (3 Flavours), Hotel Original Blend Tea (15 Flavours)

The afternoon tea set is three tiers of desserts, scones, and savoury snacks, all served with a tea of your choice. Summer 'falls' into autumn with this lovely selection of delights.

Information

Premium Uji Matcha Afternoon Tea
Running: September 1, 2020 – September 30, 2020
Serving: 12:00-18:00
Location: Le Jardin (Lobby Lounge), Hotel Chinzanso Tokyo
Price: ¥4,500 (with welcome drink ¥5,000 – 20 people per day)
TEL/Enquiries: 03-3943-0920 (10:00-21:00)

Official Website: https://hotel-chinzanso-tokyo.jp/restaurant/plan/ujichaafternoontea2020/

Tokyo Stroll: The Café That You Want to Visit to See Someone #13 – 'Sepia' in Shibamata

In this edition of The Café That You Want to Visit to See Someone, I visited Sepia in Shibamata, a Showa-retro style cafe which I've always wanted to visit.

The cafe is just a 2-minute stroll from Shibamata Station which appears in the Japanese film Otoko wa Tsurai yo. The walk along the road that leads to Sepia, which is nearby the Buddhist temple Shibamata Taishakuten, is a pleasant one. Tokyo is a city consistently perceived as one that is cutting-edge in every aspect, but what I felt from each and every building surrounding Shibamata Station was a kind of warmth that you feel when something has history to it.

It's been seven years since I came to Tokyo. Visiting Shibamata made me me realised how many places there are which I still don't know about. It invigorated me. As my mind wandered with these pondering thoughts, I finally spotted the sign outside the cafe, and it sure is a cute one!

The moment I stepped inside, I stood, my mouth agape, and looked at my surroundings. It's the first time I've entered such a bright, shining cafe. It was littered with characters I've never seen before, manga, magazines, and more.

When you hear the word kira kira ("glitter," "sparkle"), the first thing that comes to mind for a lot of people is probably Harajuku and the Harajuku style, but Sepia's version of kira kira is a nostalgic one betwixt 1965 and 1975 during the Showa Period. The cafe is incredibly delicate in every spot and corner, like I'm looking inside some grand treasure chest.

The owner of Sepia is Kiyoko Hasezawa. The cafe gets its name from the manga Milky Sepia Monogatari by Ako Mutsu. Ms. Hasezawa said that she wanted to bring to life the world of the manga she loved. The cafe is full of her dreams and is enjoyed by everyone, both children and adults alike.

The cafe menu is even inspired by the food that appears in the Milky Sepia Monogatari manga. The hard pudding I had, which combined caramel sauce and cream, was an absolute delight.

Homemade Showa Pudding & Cream Soda Set: ¥1,200

If we're talking cafes, then you can't go wrong with cream soda. The cream soda served at Sepia comes in seven different flavours and colours: melon, Blue Hawaii, strawberry, lemon, peach, grape, and orange. I was spoilt for choice on which to go for, but in the end I went with the pink-coloured strawberry. It had a sweet flavour and was really delicious.

Strawberry Cream Soda: ¥750

I devoured the hotcakes too. The pastry was so fluffy and tasty – I could have eaten a hundred of them. The second one I ate with honey.

Hotcakes: ¥600


At the back of the cafe, they also have the "Candy Candy Museum." There's a personal collection of items from Candy H Milky, a female fashion enthusiastic who used to be a customer at Sepia. There's a photo spot for snapping a photo in the cafe too.

It's a great time getting to go and look at the displays after eating. I recommend going to see the collection yourself with your own eyes. Entry to the museum is ¥300.

There's a tearoom up on the second floor which has a nostalgic vibe to it. I felt warm and relaxed, like I'd been transported to my grandma's house.

Humans can't travel back in time, but if we look after mementos properly, we can go back there in our minds and memories. Sepia, a place that continues to be cherished and loved, is everybody's treasure trove.

My oh my, I really want to go back there again.

Writer/Model:Ema Tanioku
Photographer:Haruka Yamamoto
Design:Yuko Takayama(ASOBISYSTEM)

Information

Sepia
Address: 7-4-11 Shibamata, Katsushika-ku, Tokyo
Days Open: Fridays, Saturdays, Mondays
Business Hours: 12:00-17:00 (Last Orders 16:30)
For the latest information, visit Sepia's official Twitter page @sepia_mama

4 Refreshing Matcha Shaved Ice Flavours Released at Itohkyuemon in Kyoto

Kyoto's famous tea shop Itohkyuemon began serving four new Uji matcha and shaved ice mixed desserts on its menu yesterday (June 29). Itohkyuemon was founded in 1832 in the latter period of Edo. Ujitawara, the place in Kyoto where the shop is located, is famous for the tea served by Itohkyuemon which has been harvested by the Ito family for years.

Uji Matcha Parfait Ice: ¥1,490 (Tax Included) | Serving: Until Late September 2020 | Avaialble: Itohkyuemon JR Uji Station/Itohkyuemon Gionshijo

The Uji Matcha Parfait Ice uses a blend of matcha and milk-infused ice as its base. It's then topped with sweet treats like rice flour dumplings, red bean paste, ice cream, matcha jelly, and more to turn it into a parfait.

Uji Matcha Daifuku Ice: ¥1,290 (Tax Included) | Serving: Until Late September 2020 | Avaialble: Itohkyuemon JR Uji Station/Itohkyuemon Gionshijo

This Uji Matcha Daifuku Ice is an upgrade of the one Itohkyuemon served last year. It has a creamy custard base with matcha daifuku hidden in the shaved ice.

Fluffy Uji Kindokei Vanilla Ice Cream: ¥990, Matcha Ice Cream ¥1,090 (Tax Included) | Serving: Until Late September 2020 | Avaialble: Itohkyuemon JR Uji Station/Itohkyuemon Gionshijo


Fluffy Uji Kindokei Rice Flour Dumpling: ¥850, Rice Flour Dumpling & Vanilla Ice Cream ¥970, Rice Flour Dumpling Matcha Ice Cream ¥1,090 Serving: Until Late September 2020 | Avaialble: Itohkyuemon Uji Main Branch

These two "Kindokei" (Gold Watch) servings use more ice. At the main branch of Itohkyuemon they're more crunchy, while at the JR Uji Station and Gionshijo branches they're more fluffy.

Garrett Popcorn Releases its Richest Matcha Flavour in Japan

Chicago-based gourmet popcorn brand Garrett Popcorn Shops® is releasing its strongest matcha flavour to date alongside a new striped tin in Japan on June 1. Both are limited edition products and will be available while supplies last.

Named "Koi Matcha Kinako Kurumi" (Rich Matcha Soy Flour Walnut), the new matcha flavour is 40% stronger than the Matcha Caramel Crisp™ and blends together soybean flour and walnut for an aromatic crunch combination. The matcha holds a pleasant bitter flavour while the soybean flour is subtly sweet and gives off a rich, delightful smell.

The new tin takes Garret Popcorn's iconic striped design and throws in multiple colours and patterns for vivid effect. Combined with the new matcha flavour, it makes for the perfect home theatre accompaniment while you watch a movie.

Information

Koi Matcha Kinako Kurumi (Japanese Name: 濃抹茶きなこくるみ)

Available: Garret Popcorn Shops® branches in Japan (see below)

*Daily limited stock. Available while supplies last.

Running

Harajuku: June 1, 2020 – July 16, 2020

Shisui Premium Outlets: June 5, 2020 – July 16, 2020

Nagoya: Now until July 16, 2020名古屋店:発売中~7月16日(木)

LaLaport Expo City: June 1, 2020 – July 16, 2020

Prices/Sizes

Small: ¥620 / Medium ¥1,100 / Large ¥1,720 / Jumbo ¥3,450 / Quarter Tin ¥4,175 / 1 Gallon Tin ¥4,400 / 2 Gallon Tin ¥8,400

*Jumbo and 2 Gallon Tin sizes exclusive to the Shisui Premium Outlets and LaLaport Expo City branches of Garret Popcorn Shops®.

Official Website: http://jpgarrettpopcorn.com/