Sonny Angel Doll Series Releases Japanese Good Luck Collection
The new Sonny Angel Japanese Good Luck Series was released on May 27, the same month when the popular doll series reached its 17th anniversary milestone. The series sees Sonny Angel wearing a range of traditional Japanese lucky charms to deliver healing and happiness to people.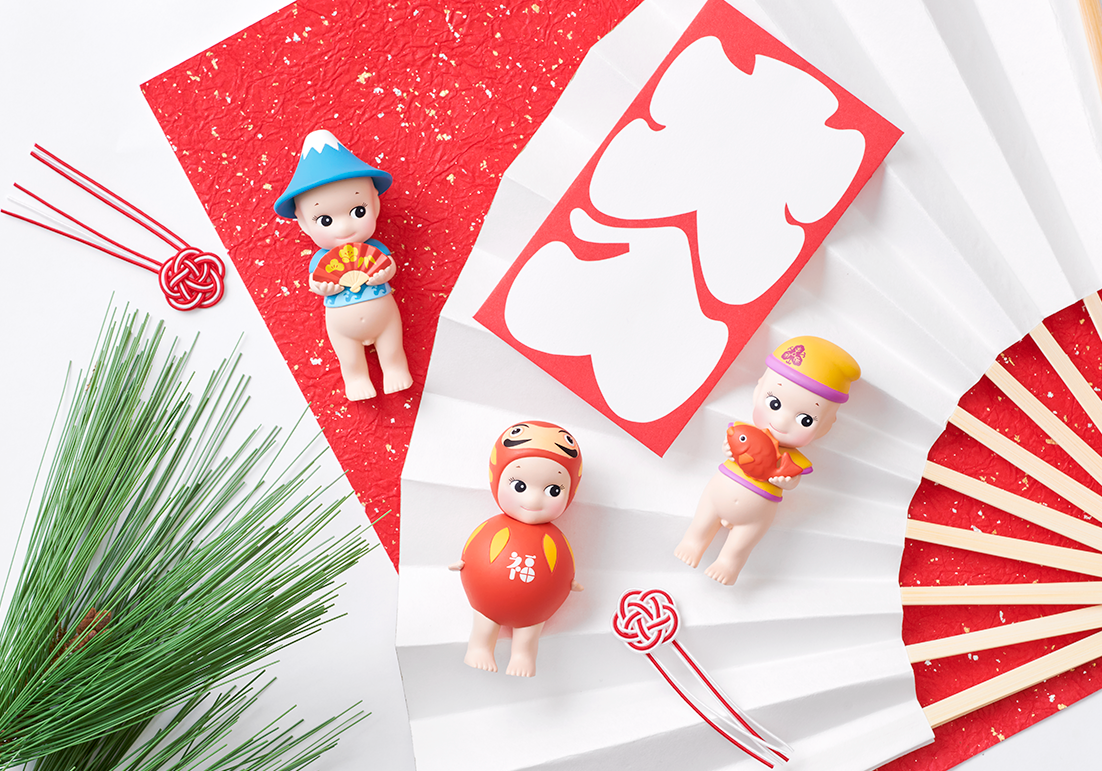 The Line-Up
A Lucky Cat with a cute bell on his neck. His raised left hand/paw will bring you good luck.
A hat depicting Mount Fuji, a symbol of Japan. Pine, bamboo and plum leaves are illustrated on the folding fan.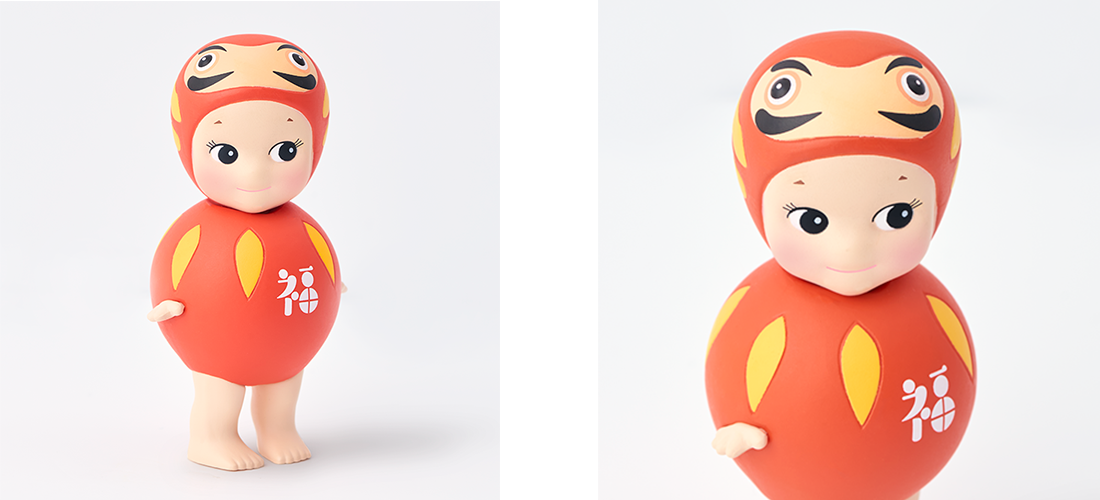 Daruma are brightly coloured hollow dolls decorating houses in Japan so that our wishes will come true.
The Raccoon Dog has a long history as a strange, even supernatural animal and is known to be a shape shifter.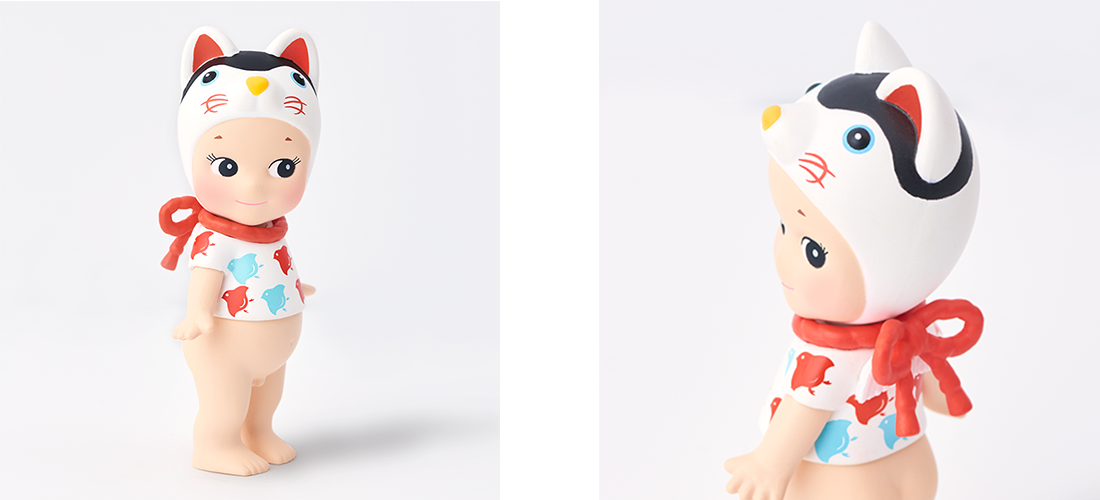 A Guardian Dog is thought to ward off evil spirits. This one is decorated in a houndstooth pattern, also known to be a sign of good luck.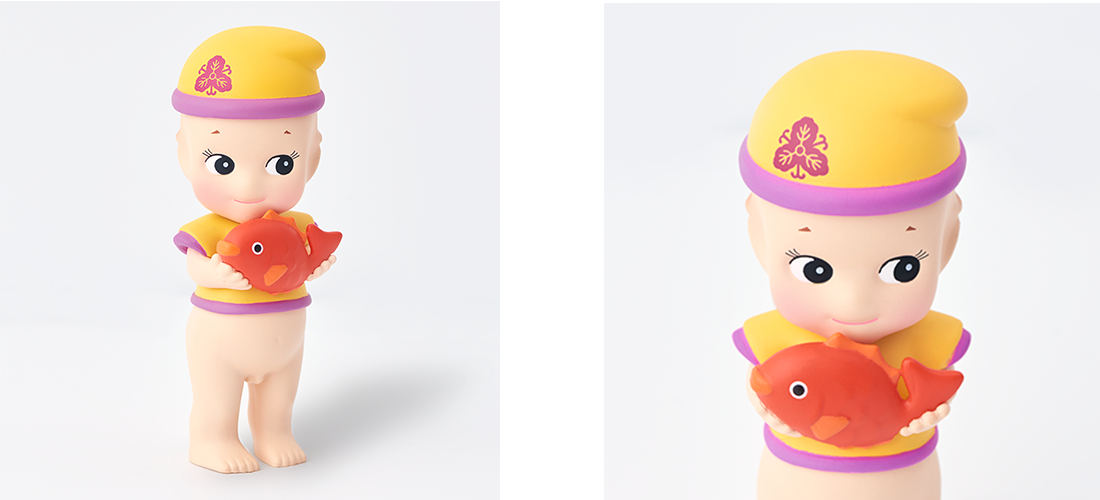 Ebisuten is the god of "prosperous business". The sea bream in his hand, a fish often served on New Year's Day and at weddings, is a symbol of "congratulations".
The packaging
Gift bag
The packaging features a mikuhiki design. A mizuhiki is a decorative cord made from twisted paper. If you purchase four or more dolls as part of this series on Sonny Angel's online store, you'll also receive a free gift bag.
RELATED ENTRIES
The National Museum of Modern Art in Kyoto Opens Meiji Era Exhibition

A special exhibition titled 'Japanese Landscapes Discovered: Views from and for the Outside World,' showcasing a private collection of Meiji era paintings, is now on display at the National Museum of Modern Art in Kyoto until October 31, 2021.

Inside the Exhibit

Inside the Exhibit

 

This exhibition is designed to take visitors on a journey through the Meiji period (1868-1912), the beginning of Japan's modern era, through oil and watercolor paintings of the time, and through the landscapes and customs depicted in these pieces of art. During this time, many foreign painters visited Japan, and were inspired to paint the country's beautiful landscapes and unfamiliar customs, bringing these creations back to their countries of origin. Japanese artists studied these unfamiliar painting techniques, and made their own culturally-inspired paintings, often selling them to foreign visitors as souvenirs.

Many works on display in this exhibition have never been shown publicly, with many being brought back to Japan from locations abroad. These include long-lost oil paintings by Kuroda Seiki and a massive newly-discovered work by Tamura Soryu. Other Japanese artists inspired by Western-style on display include Hiroshi Yoshida, Jirokichi Kasagi, Shotaro Koyama, and Ioki Bunsai.

Also on display are works by foreign artists who visited Japan during this period, including British news painter Charles Wirgman, French news painter Georges Bigot, and British landscape painters Alfred Parsons, Alfred East, and John Varley Jr. These three men in particular triggered a watercolor boom in Japan during the late Meiji period. Vibrant female painters such as British watercolorist Ella du Cane, a lover of Japanese gardens, also make an appearance.

Be sure to see these incredible depictions of Japan before they're gone.

Information

Japanese Landscapes Discovered: Views from and for the Outside World

Running: September 7 – October 31, 2021

Hours: 9:30-19:00 (Until 20:00 on Friday and Saturday)

Closed: Mondays, and on September 21. *The museum will be open September 20.

Tickets/Official Site: https://www.momak.go.jp/

*Admission is open until 30 minutes before closing.

*To prevent the spread of COVID-19, hours are subject to change. Please check hours before visiting.

Results of First Japanese Traditional Culture Grand Prix Announced

With 130 entries submitted from all parts of Japan, the 8 winners of the first Japanese Traditional Culture Grand Prix have finally been announced. The contest was spearheaded by the Japan Traditional Culture Promotion Project, established in May 2020 as a collaborative effort among companies, associations, and local governments to establish a sustainable framework for the continued development of Japanese traditional culture.

Grand Prix Winner: Nakagawa Woodcrafts Hira Studio "Wave" series (left) "YORISIRO" series (right)

The winner of the top prize was Nakagawa Woodcrafts Hira Studio, in which the craftsmen still use a 700-year-old technique to create their famous wooden buckets. These buckets, once used for storing rice and miso, are still used today for a variety of different purposes, from bathing to cooling champagne! In stepping away from their typical works, the Nakagawa Woodcrafts studio created the more freeform "Wave" series, and the name surely fits–each bucket looks too free to have been manmade. The "YORISIRO" series, rather, keeps the natural curvature of the wood. Both are signature pieces of traditional Japanese artisanal culture.

Runner-up: Cubism in Calligraphy "Natural Stance," Atelier Sisyu, Sisyu

Excellent Award: Kyo Braided Cords Sanjiku-Kumiori "Kujaku Kouki," Saiko Ltd., Koichiro Murokado

Excellent Award: Structured System "Kumiko Endurance Wall," Tosa Kumiko Co., Daisuke Iwamoto

Excellence Award: Porcelain "Yuragi" Hiroshi Taruta

Excellence Award: Lacquer Art "Tataeru" Shinsuke Aoki. 

 

Excellent Student Award: Picture Frame "KOZAI" Ryohei Nomura. 

Special Award: Rinku, a group of young female craftswomen from the Toukai region

The Japan Traditional Culture Promotion Project began this contest as a way to honor outstanding works from creators around Japan. The jury consists of 18 people from various fields, including Richard Collasse, the Chairman of Chanel LLC, and popular model Kozue Akimoto. A collection of online presentations and interviews with the winners is planned in future events, and the project aims to help these artists continue to work sustainably. The second round of applications will open in November 2021.

renacnatta x Shiki Theatre Company to Release Banshu-Ori Weave Collection

renacnatta has teamed up with Shiki Theatre Company to release a collection of banshu-ori skirts and neckties, all of which will arrive on August 3.

renacnatta is a brand which weaves clothes using deadstock fabric from Japan and Italy and by using traditional Japanese weaving techniques.

Skirts

Banshu Mermaid Wrap Skirt – Matinee|Collaboration with Shiki Theatre Company | ¥35,200 (Tax Included)


Banshu Mermaid Wrap Skirt – Soiree|Collaboration with Shiki Theatre Company | ¥35,200 (Tax Included)


Neckties

Banshu Tie – Matinee|Collaboration with Shiki Theatre Company | ¥9,350 (Tax Included)

Banshu Tie – Soiree|Collaboration with Shiki Theatre Company | ¥9,350 (Tax Included)

Shows at the Shiki Theatre Company have been cancelled or postponed due to COVID-19. The collaboration comes to reignite the fire and excitement towards the theatre in these restrictive times. This August, the theatre is release a new and original musical which will see actors wearing clothing made using banshu-ori weave. This collection uses the same weaving technique.

Banshuori is a yarn-dyed textile made using a special production method which sees yarn dyed in advance and patterns woven by the dyed yarn. The items in the collection come in two colours: Matinee and Soiree, named after afternoon and evening theatre performances respectively. The Matinee line-up is beige and yellow while the Soiree picks are a mix of navy and black.

The one-size-fits-all skirts feature a comfy mermaid style with a fashionable silhouette perfect for going to the theatre with. They are made in such a way that they do not wrinkle when sitting down for long periods of time. The neckties too are made using banshu-ori weave for a smooth, sleek look.

These Bangles Are Made From Edo Kiriko Cut Glass Bottles

GLASS-LAB released their new GLASS-LAB NEW PRODUCT "WA" collection of bangles made from Edo Kiriko cut glass bottles on their official website on July 1.

GLASS-LAB NEW PRODUCT "WA" Sustainable Clear | ¥18,370 (Tax Included)


GLASS-LAB NEW PRODUCT "WA" Sustainable Black | ¥18,370 (Tax Included)


GLASS-LAB NEW PRODUCT "WA" Sustainable White | ¥18,370 (Tax Included)


GLASS-LAB NEW PRODUCT "WA" Sustainable Green | ¥18,370 (Tax Included)


GLASS-LAB was opened by the Shiina family in 1950 in Koto, a city known for the production of Edo Kiriko, a traditional type of Japanese glassware. The owner eventually passed the factory onto his sons. It is now run by Takayuki Shiina who is highly skilled at sandblasting, so much so he can cut glass to a fine 0.09mm.

This new collection was made in collaboration with designer Yukio Fujita of 'design shop YU.'

Tokyo Revengers Anime's Takemichi Hanagaki and Mikey Figures by BANPRESTO Revealed

BANPRESTO are set two release two new realistic figures of Takemichi Hanagaki and Mikey from the anime series Tokyo Revengers in July and August respectively at game centres in Japan.

The figures are detailed recreations of the two characters which look like they've jumped straight out of the anime. Everything from the facial expressions to the poses, winkles in their uniforms, and hair have been crafted with careful consideration. BANPRESTO describes the figures as being the same size "as the characters' heads" from the anime series, so they sound pretty tall, and will make fine additions to any figure collection.

BANPRESTO is also releasing a collection of nine large-sized Tokyo Revengers towels over the next three weeks. The towels are 82cm x 50cm, so can be used for decoration as well as after you get done out the bath or shower.

Finally, the new line-up includes a series of plush toys too featuring chibi versions of the characters – perfect for hanging on your bag. All of these items are rolling out at game centres across Japan.

©︎和久井健・講談社/アニメ「東京リベンジャーズ」製作委員会 ®︎KODANSHA

Painfully Kawaii Sanrio Figures Feature the Characters Sleeping Peacefully

Takara Tomy Arts is rolling out a new sleepy collection of Sanrio character figures at capsule toy machines in Japan this month.

The adorably dozing collection

Pochacco

Tuxedosam & Hello Kitty

The line-up includes Hello Kitty, Kerokerokeroppi, Pochacco, Badtz-Maru, and Tuxedosam with their heads leaning to the right, perhaps exhausted from being cute all day long. This is the first line-up in a series of these figures. And if you line more than one up together, it looks like they're sleeping on each others' shoulders.

©2021 SANRIO CO.,LTD. APPROVAL NO. S620286

Sarutahiko Coffee x BE@RBRICK Limited-Edition Bear Figure Releases

Sarutahiko Coffee reached its 10-year milestone on June 8. To celebrate, the Japanese coffee chain launched a 10 year anniversary promotion on the same day.

The coffee giant released its 10th Anniversary Mocha No.1 Blend and 10th Anniversary Mocha No.1 Superior Java Blend for its first rollout of the promotion. For its second release, Sarutahiko is teaming up with MEDICOM TOY's popular BE@RBRICK figure series to release an original model at its Ebisu and The Bridge Harajuku Station branches as well as its online store.

The palm-sized figure is coloured Sarutahiko's iconic blue colour and features a brown logo on its chest. It's a simple but cute design and is a perfect gift to coffee lovers.

Information

BE@RBRICK x Sarutahiko Coffee Figure

Released: June 8, 2021

Price: ¥1,800 (Tax Included) *Max. 2 per person

Available: Sarutahiko Coffee Ebisu / Sarutahiko Coffee The Bridge Harajuku Station / Sarutahiko Coffee Online Shop

Sarutahiko Coffee Online Shop: https://shop.sarutahiko.co

Sarutahiko Coffee Official Website: https://shop.sarutahiko.co/
*Available while supplies last

Shu Uemura Releases Sustainable 'Mindfully Crafted in Japan' Collection

Japanese cosmetic brand Shu Uemura is set to release its new origami-inspired 'mindfully crafted in japan' collection on June 18, but presales opened on their online shop last Tuesday. The collection is a display of Japanese tradition and craftsmanship with sustainability at the core of its concept.

ultime8 ∞ sublime beauty cleansing oil (Limited Edition Design) | ¥12,650 (Tax Included)

hard formula hard 9 (seal brown 02) (Limited Edition Design) | ¥2,860 (Tax Included)

petal 55 foundation brush (Limited Edition Design) | ¥6,600 (Tax Included)

The collection focuses on three aspects of mindfulness with Japan as its focus: mindful of Japanese nature with locally and sustainably resourced ingredients, mindful of Japanese resources by taking only what is needed, and mindful of Japanese traditional craftsmanship by preserving traditions from the past.


Shu Uemura's Cleansing Oil is one of the brand's most notable sustainable products, preserving everything important about Japanese culture from its history to its natural environment. Using traditional methods passed down the ages, the product is made from plant-derived ingredients sourced sustainably, and the packaging is made from 100% recyclable plastic. The Cleansing Oil bottles were also added to Shu Uemura's new recycling program which began on May 5 which enables bottles to be reused.

Don't miss out on this special new collection by Shu Uemura.


Information

mindfully crafted in japan collection

Release Date: June 18, 2021

Available: shu tokyo makeup box

Address: B-SIDE 5-11-2 Jingumae, Shibuya, Tokyo, 150-0001

Pre-Sale: Online from June 1, 2021

Official Online Shop: https://www.shuuemura.jp

Azur Lane's Sirius Gets Two 1/8 Scale Figures On AmiAmi

AmiAmi is now taking pre-orders for two new figures of Sirius from the video game Azur Lane: the 'Azur Lane Sirius 1/8 Complete Figure' and 'Azur Lane Sirius Light Equipment ver. 1/8 Complete Figure'

'Azur Lane Sirius 1/8 Complete Figure | ¥25,850 (Tax Included)

The figures are cute and detailed recreations of the Dido Class Sirius from the popular naval warfare game. They feature her Royal Navy maid outfit and weapon in glorious 1/8 scale for your collection.

Azur Lane Sirius Light Equipment ver. 1/8 Complete Figure | ¥15,950 (Tax Included)

Pre-orders are open now and include the figures on their own or with a special bonus. Check the links at AmiAmi below for more details.

© 2017 Manjuu Co.,Ltd. & Yongshi Co.,Ltd. All Rights Reserved.

© 2017 Yostar, Inc. All Rights Reserved.

Rilakkuma & Sumikko Gurashi Festival Announced For Fall in Sapporo

Rilakkuma and Sumikko Gurashi are set to collaborate at a special festival centred entirely around the characters which will run at Sapporo Factory from September 17 to November 28.

Rilakkuma, Sumikko Gurashi, and you are invited to the festival which will be split into two areas: the Rilakkuma Pavilion and Sumikko Gurashi Pavilion where the characters will be present to greet guests. The event is taking on a magical theme which imagines the spirits of San-X, the company who created Rilakkuma and Sumikko Gurashi, casting a mysterious magic on the festival to bring happiness to all.

There's plenty for fans of the characters to enjoy including fun photo spots, exclusive merchandise, and much more.

If you're in Sapporo this autumn, don't miss the Rilakkuma & Sumikko Gurashi Festival.

Information

Rilakkuma & Sumikko Gurashi Festival

Running: September 17, 2021 – November 38, 2021

Venue: Sapporo Factory 3 (Floor 3F)

Address: 4 Chome-1-2 Kita 2 Johigashi, Chuo Ward, Sapporo, Hokkaido 060-0032, Japan

Opening Hours: [Weekdays] 13:00-17:00 (From 10:00 on September 17) / [Weekends] 10:00-17:00 (Last Entries 16:30)

Closed: Thursdays (Except September 23, 2021)

TEL: 011-272-9302 (10:00-17:00 except weekends and holidays)

Official Website: https://ntv.co.jp/rilakkuma-and-sumikko-fest/

Good Smile Company Releases New Love Live! Nijigasaki High School Idol Club Figures

Good Smile Company released two figures on May 13 as part of their POP UP PARADE series. They include Emma Verde and Rina Tennoji from the anime series Love Live! Nijigasaki High School Idol Club.

POP UP PARADE Emma Verde / POP UP PARADE Rina Tennoji – ¥3,900 Each (Tax Included)

POP UP PARADE is a new series of figures by Good Smile Company that are easy to collect with affordable prices and speedy releases! Each figure typically stands around 17-18cm in height and the series features a vast selection of characters from popular anime and game series.

Emma Verde

A figure of Emma Verde in her "Nijiiro Passions!" costume! Emma has been recreated with a bright smile on her face.

Rina Tennoji

A figure of Rina Tennoji in her "Nijiiro Passions!" costume! Enjoy her "Auto Emotion Convert Rina-chan Board" and slightly visible face underneath!

The figures are available to purchase worldwide from Good Smile Company – links below.

© 2020 プロジェクトラブライブ!虹ヶ咲学園スクールアイドル同好会

Japanese "REAL GIRL'S CLOTHING" street fashion brand X-girl has teamed up with MEDICOM TOY to release their own BE@RBRICK block-type figure.

BE@RBRICK X-girl 2021 1000% | ¥63,800 (Tax Included)

BE@RBRICK X-girl 2021 100% & 400% | ¥16,500 (Tax Included)

Glow-in-the-dark function

The bear figure features a high-quality clear blue body and comes in two sizes: the life-size 1000% edition which is glow-in-the-dark and is branded with the colourful X-girl logo, and the 100% & 400% set.

Don't miss out on these exclusive models.

BE@RBRICK TM & Ⓒ 2001-2021 MEDICOM TOY CORPORATION. All rights reserved.