Sonny Angel Doll Series Releases Japanese Good Luck Collection
The new Sonny Angel Japanese Good Luck Series was released on May 27, the same month when the popular doll series reached its 17th anniversary milestone. The series sees Sonny Angel wearing a range of traditional Japanese lucky charms to deliver healing and happiness to people.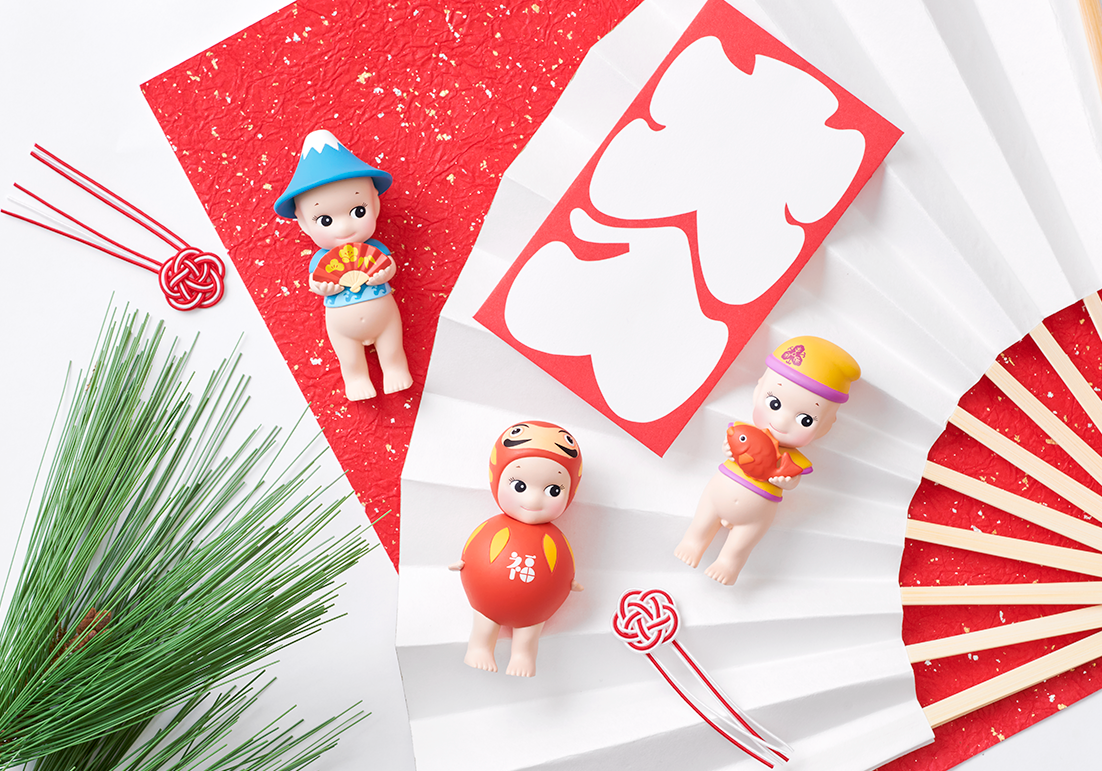 The Line-Up
A Lucky Cat with a cute bell on his neck. His raised left hand/paw will bring you good luck.
A hat depicting Mount Fuji, a symbol of Japan. Pine, bamboo and plum leaves are illustrated on the folding fan.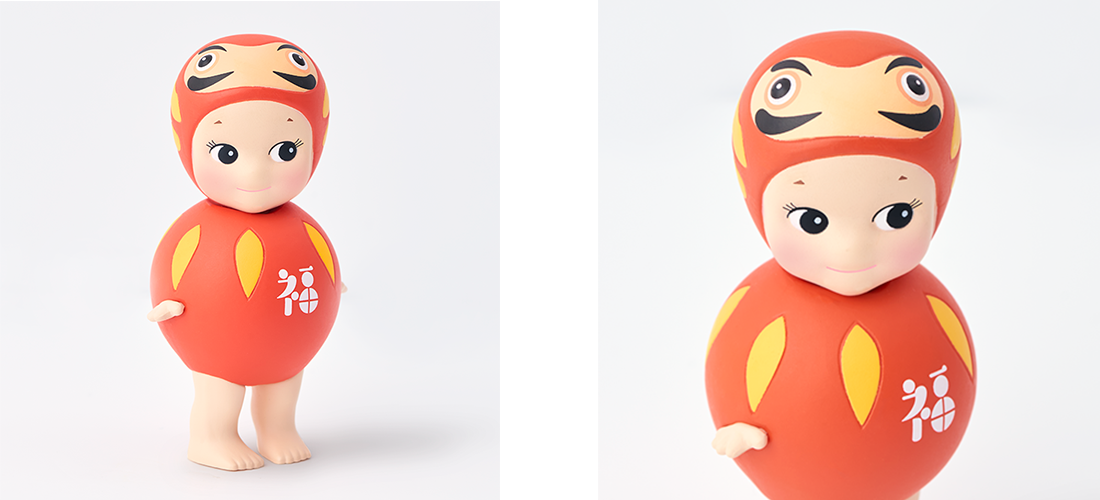 Daruma are brightly coloured hollow dolls decorating houses in Japan so that our wishes will come true.
The Raccoon Dog has a long history as a strange, even supernatural animal and is known to be a shape shifter.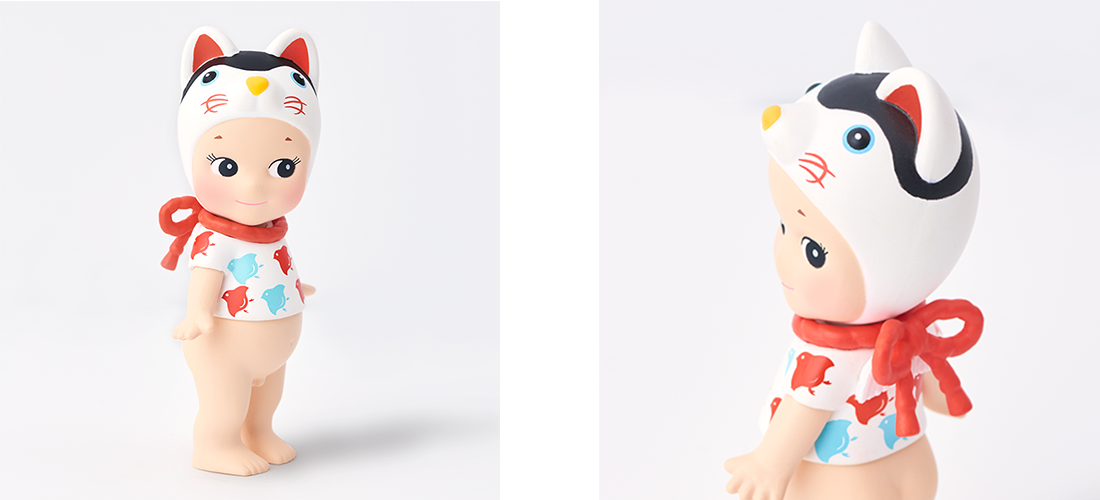 A Guardian Dog is thought to ward off evil spirits. This one is decorated in a houndstooth pattern, also known to be a sign of good luck.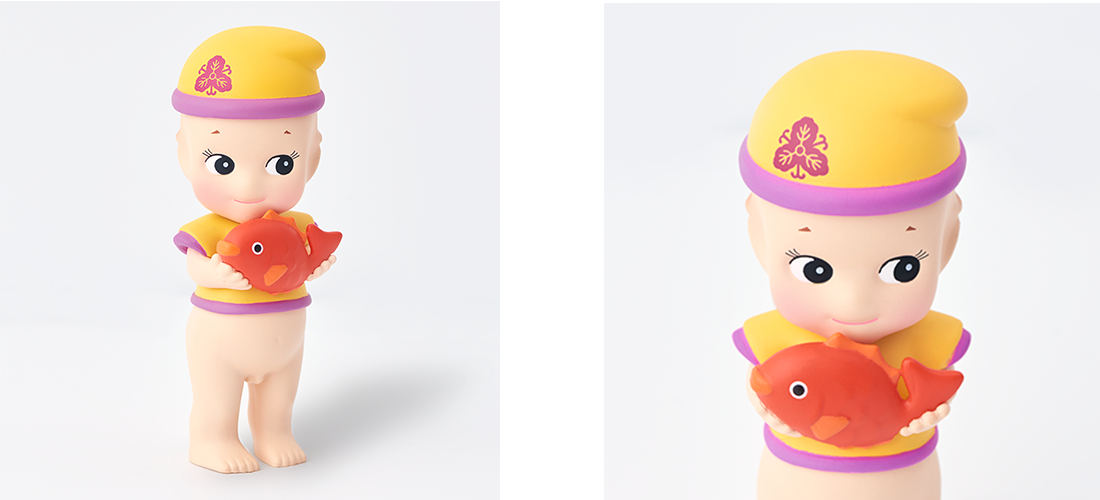 Ebisuten is the god of "prosperous business". The sea bream in his hand, a fish often served on New Year's Day and at weddings, is a symbol of "congratulations".
The packaging
Gift bag
The packaging features a mikuhiki design. A mizuhiki is a decorative cord made from twisted paper. If you purchase four or more dolls as part of this series on Sonny Angel's online store, you'll also receive a free gift bag.
RELATED ENTRIES
EMOCAL, a Project to Support Japanese Regions, Releases Music Using Local Sound Samples

The EMOCAL project aims to support small-town areas of Japan. As a new initiative in the project, specific soundscapes only found in certain areas of the country have been combined with music to create some unique tracks. A selection of musical artists have collaborated with the project to bring these songs to life!


EMOCAL was created by ZOWA's original label, CatchyStuck. The project supports local regions and communities by using ASMR soundscape videos recorded in each region to convey their particular charms to all of Japan. The sounds recorded in each place are considered to be very valuable and are intended to serve two purposes: to bring tourism back after the pandemic and to provide fans of ASMR a way to experience these areas from afar.



Check out each of these unique ambient tracks created by four up-and-coming musicians! Each song is available on viviON's ASMR platform ZOWA and on Spotify.

Ube, Yamaguchi Prefecture / Ikkyuu x Hige Driver, I Love Ikkyuu

Beard Driver created this ambient track with sounds recorded inside of Ikkyuu, a ramen shop.

ZOWA: https://zowa.app/play/20019
Spotify: https://open.spotify.com/track/1RP4RcpJwMrFzoYQbnfDYm?si=f1f1e816adb14db0


Odawara, Kanagawa Prefecture / Miyuki no Hama x Powerless, Seiren

Powerless created this track, inspired by the sounds of waves crashing at Miyuki no Hama, a seaside recreation area 20 minutes from Odawara Station.

ZOWA: https://zowa.app/play/20016
Spotify: https://open.spotify.com/track/5DkQ9FeM7jQBacUf7Nbuxc?si=c7d771e73ddd44b6

Shizuoka, Shizuoka Prefecture / Wasabi Field x baker, On the silent hill

Utogi in Shizuoka city is surrounded by incredible nature. Known as the birthplace of wasabi cultivation, baker used sounds recorded in the area to create this ambient track.

ZOWA: https://zowa.app/play/20017
Spotify: https://open.spotify.com/track/0oIU4x7MjVKmpouRwEPaXZ?si=04dcb805cea540b7

Ibusuki, Kagoshima Prefecture / Cape Tara x SeA0, Akushu

Cape Tara is a popular spot featuring an 800-meter-long sandbar at low tide. The sounds captured here were used by artist SeA0, and this track is sure to make you miss the water.

ZOWA: https://zowa.app/play/20018
Spotify: https://open.spotify.com/track/1Utz5j0oB4GmSDOMVdUcXU?si=eafa1949b3ea44d0

Kyary Pamyu Pamyu Collaborates with Shelter Nanyo Hall in Yamagata for LOCAL POWER JAPAN Project

Last month, Kyary Pamyu Pamyu performed on the Gobi Stage at Coachella, one of the largest music festivals in the United States. The singer has now returned to Japan for the second half of her 'Kyary Pamyu Pamyu 10th ANNIVERSARY JAPAN TOUR 2022 CANDY WAVE,' seeing the singer performing 30 shows across Japan. The tour will conclude with a solo performance at Budokan in October. 

In conjunction with the nationwide tour, the LOCAL POWER JAPAN Project was launched to energize Japan through the appeal of regional towns and cities and has been attracting major attention. Kyary's newest collaboration in Yamagata has been announced ahead of her concert there on May 13!

The singer will be collaborating with Shelter Nanyo Hall in Nanyo, Yamagata, a small town of only around 30,000 people. The hall is the world's largest wooden concert hall, made entirely from laminated local cedar. It uses the most advanced fire-resistant technology for wood in Japan and was certified as the world's largest by Guinness World Records in December 2015. The multi-functional hall can seat over 1,400 people, and the property also features a Japanese-style tea room, meeting rooms, an open tree-growing space, and more.

"I want the local population to be incredibly proud of this magnificent wooden structure," said Norihito Shimanuki, the hall's director. "Through this concert hall, we'd like to promote Nanyo and Yamagata Prefecture both domestically and internationally." 

The collaboration logo for the newest partnership was inspired by the 'KPP NANDA COLLECTION LIVE in HAWAII' visual. The one-night-only concert was held in July 2014. Since the main focus of this team-up is 'wood,' the visual's palm tree has been transformed into a cedar tree!

A collaborative T-shirt is also on sale featuring the new logo and the singer's 10th-anniversary logo. The shirt is available on the LOCAL POWER JAPAN Project website for two weeks only starting May 12. Support Japanese businesses and pick one up while you can!

Information

Shelter Nanyo Hall Yamagata (Nanyo City Cultural Hall) x Local Power Japan Project

Collaboration T-shirt

Price: ¥3,300 (Tax Included)

Available: May 12 – May 25, 23:59

Where to Buy: 

LOCAL POWER JAPAN Project Online Shop

https://store-localpowerjapan.com/

Shelter Nanyo Hall (Nanyo City Cultural Hall): https://nanyoshi-bunkakaikan.jp

Tour Details: https://kpp10.jp/japantour2022/

Official Site: https://localpowerjapan.com 

*Please allow two weeks to one month after order for product to ship. All items are made-to-order.

*A portion of shirt sales will be donated to local development and social programs. 

'Doraemon: Nobita's Little Star Wars 2021' Film Inspires Limited Edition Ukiyo-e Prints

Fans of Doraemon and traditional Japanese artwork won't want to miss this special collaboration! On March 30, preorders will open for ukiyo-e prints inspired by the film 'Doraemon: Nobita's Little Star Wars 2021.' These limited-edition pieces were created by Iwano Ichibei, a Living National Treasure.

The prints show Doraemon and friends along with the alien Papi and the special gadget the "Small Light." The tool is giving off light depicted in a traditional Edo pattern believed to bring good luck, and the characters are shown inside its silhouette. 

Ukiyo-e Woodblock Print Production

Engraving by Craftsman

Printing by Craftsman

First, a sketch is made, and a monochrome version of the print is carved. After carving a number of woodblocks for each color and using them to rub the painting tirelessly to bring it to life, one single woodblock print is completed. 

 

 

 



The extremely delicate and advanced techniques these craftsmen utilize have been passed down from the Edo period. Imagine having one of these beautiful pieces hanging in your home!

Information

'Doraemon: Nobita's Little Star Wars 2021' Commemorative Ukiyo-e Prints

Preorders Open: March 30, 2022
Price: ¥33,000 (Excluding Tax and Shipping Charges)

Quantity: 300
Painter: Living National Treasure Iwano Ichibei 
Online Shop: http://ukiyoework.com/

Three Japanese Tourism Instagram Accounts to Follow for Travel Inspiration

The pandemic has changed our lives forever. People have spent the last two years missing travel as they spend more and more time at home, and while many are ready to travel again, it can be difficult to know if it's the right time to return to normalcy. To make the situation a little easier, many local tourism associations in Japan are posting images on Instagram to inspire people to give traveling another try. These three Instagram accounts are our personal favorites, and once Japan opens to tourists again, you won't want to miss visiting these areas!

[Official Kumamoto Tourism Association] Motto, motto, Kumamoto!

Discover the charms of Kumamoto on this local Instagram account featuring photos from four unique local photographers. Many will know the area as the home of the character Kumamon. The images capture the daily lives of Kumamoto residents and include local food and gorgeous scenery. The postings also include the location of the photo and comments from the photographers, making things feel more personal. 

[Official Hokkaido Tourism Association] GoodDay Hokkaido

Hokkaido is an area rich in gourmet seafood and dairy, but its spectacular landscapes are reason enough to visit. GoodDay Hokkaido shows off both the common and uncommon elements of Hokkaido life, often introducing little-known areas. Each photo is vividly colored, and followers can see different seasons at every time of day as they scroll through the feed. See the best images from Japan's northernmost island each and every day on your smartphone!

[Ome / Okutama] Umetama

Umetama is an account that introduces places of interest in Ome and Okutama, two of Tokyo's most scenic towns. Each can be reached in about an hour by train from Shinjuku Station. Visitors can enjoy a gorgeous day trip from the Tokyo center, with the area featuring plenty of campsites and hiking trails. There are tons of stargazing spots, and visitors are often surprised that such incredible nature is so close to Japan's hectic capital. Those with kids will find plenty to do here, so start taking notes while you scroll through the Umetama page!

More and more young people are finding the appeal of Ome and Okutama, and the area has become the perfect relaxation spot for those seeking refuge from their busy lives. In addition, the craft beer bar Ome Beer, located near Ome Station, sells local alcohol, including Okutama's popular craft beer 'Vertere.' See the lesser-known side of Tokyo on this picturesque account. 

Remember how wonderful it is to travel? Hopefully, Japan opens for tourism again soon, and you can visit all of these gorgeous locales.

Kyary Pamyu Pamyu Collaborates with Mentaiko Manufacturer Fukuya for LOCAL POWER JAPAN Project

Celebrating the 10th anniversary of her major label debut, Kyary Pamyu Pamyu is having a busy year. The artist will perform at this year's Coachella, one of the largest music festivals in the United States, and released her first full-length album in three years 'Candy Racer' in October 2021.  On January 16, Kyary embarked on the largest tour of her career, 'Kyary Pamyu Pamyu 10th ANNIVERSARY JAPAN TOUR 2022 CANDY WAVE,' which will see the singer performing 30 shows across Japan.

In conjunction with the nationwide tour, the "LOCAL POWER JAPAN Project" was launched to energize Japan through the appeal of regional towns and cities.  The 30 stops on the new tour include many that Kyary has not visited before, and were chosen based on the singer's desire to perform for fans who may not typically be able to attend one of her shows. On March 5, Kyary will perform in Fukuoka, and will also be collaborating with Fukuya, the oldest mentaiko producer in Japan. Fukuya has been selling the pollock roe product since 1949.

The company's logo has been reimagined, paying homage to the artwork associated with Kyary's 2016 song Sai & Co.

Fukuya's most popular product, pickled cod roe in oil, will be sold in an original collaborative package with new Kyary-inspired branding. Mentaiko and dried mentaiko will be packed in two unique packages that can be stacked to form one image. A message from Kyary is also included. These will be available at select Fukuya locations and online for a limited time, as well as at the March 5 concert in limited quantities.

A T-shirt with a collaboration logo and design has also been unveiled featuring the new color scheme and Kyary's 10th-anniversary logo. This shirt will only be available on the LOCAL POWER JAPAN Project website for two weeks and at certain Fukuya stores starting March 8.

New Apparel Brand Features Manhole Motifs

Japan's manhole covers are known around the world for their intricate designs and unique local motifs. Used to promote towns and destinations, a new apparel brand has taken notice of these neat pieces of culture, releasing t-shirts to continue boosting communities around Japan.

In most cases, local governments are in charge of designing manhole covers. The Japan Underground team travels around the country in a van, finding the most inspiring manhole covers and negotiating with local governments to use the designs. They are then posted daily on social media.

Hokkaido Collection (Otaru / Ishikari / Wakkanai / Kushiro / Sapporo)

Tohoku Collection (Aomori City / Akita City / Kamaishi, Iwate Prefecture / Higashimatsushima, Miyagi Prefecture / Higashine, Yamagata Prefecture / Minamisoma, Fukushima Prefecture)

Hokuriku Collection (Sanjo, Niigata Prefecture / Ojiya / Namerikawa, Toyama Prefecture / Komatsu, Ishikawa Prefecture / Fukui City / Katsuyama)

In July 2021, the group began their travels to sell the new products, starting in Hokkaido and continuing to the Tohoku and Hokuriku regions. In the future, they will continue to the Kanto, Chubu, Kansei, Shikoku, Chugoku, and Kyushu regions, adapting at least one manhole cover design from each municipality per prefecture. The goal is to reach Okinawa in September 2022.


VTuber Group Hololive Releases First Round of Limited-Edition Regional Goods

Japan is known for its distinct regions, and visitors to the country can find extremely unique souvenirs specific to certain towns or prefectures. Even globally-loved snacks have regional variants! Now, the popular VTuber group Hololive has decided to market a collection of limited-edition goods based on particular parts of Japan. Items from the first round will go on sale at participating shops on December 18, 2021. 

Tokyo Edition: Sakura Miko, Tokino Sora, Momosuzu Nene, Tsunomaki Watame

Osaka Edition: Natsuiro Matsuri, Nakiri Ayame, Himemori Luna

Fukuoka Edition: Shirakami Fubuki, Inugami Korone, Houshou Marine

Fans can snag acrylic stands, keychains, and pins featuring their favorite VTubers representing Tokyo, Osaka, and Fukuoka. This is only the first round of goods, and the second round will be announced soon.

© 2016 COVER Corp.

Discover the wonder of Kanazawa with AMIAYA and ETSUNA with new "HAKKEN" videos produced by Channel 47

Fashion icons show the modern and historical charm of Kanazawa, Japan

TOKYO, JAPAN (16 November, 2021) – Channel 47, a company focused on globally promoting the appeal of local and popular Japanese culture through the power of entertainment, is excited to debut their new "HAKKEN" video series today, 16 November, highlighting the wonderful modern and historical tourism aspects of Kanazawa City in Ishikawa Prefecture. "HAKKEN" is the Japanese word for discovery, which is the core feeling this new video series is aiming to convey. Channel 47 wants toinspire viewers to discover the wonders of Japan's local culture through these shortfilms.

The debut videos feature fashion icons AMIAYA and ETSUNA (both represented by ASOBISYSTEM), each exploring a different facet of what Kanazawa has to offer curious visitors. These films were produced by Channel 47 as a part of promotional efforts for the Kanazawa Film Festival held in September of 2021. These entries in the "HAKKEN" series were informed by Channel 47's shared philosophy with the Kanazawa Film Festival, to disseminate the culture of Japan's countryside and promote its appeal worldwide.

In the first video, twin model & singer duo AMIAYA discover the "pop" elements of the city at locations such as the Omi-machi market, the 21st Century Museum of Contemporary Art, the Nagamachi Samurai District, and more. Along the way they sample delicacies from some of Kanazawa's highly rated restaurants. Through their experiences viewers will see art, food, shopping, and scenery that has high appeal among visitors.

Watch "HAKKEN – Discover Kanazawa with AMIAYA"

https://www.youtube.com/watch?v=a9-gD-ftTE0

Find AMIAYA online

Official Website: https://asobisystem.com/talent/amiaya/

AMI Instagram: https://www.instagram.com/amixxamiaya/

AYA Instagram: https://www.instagram.com/ayaxxamiaya/

Twitter: https://www.twitter.com/AMI__AYA

In the second video, fashion designer and influencer ETSUNA takes a different approach and wanders the traditional side of Kanazawa. Starting with a stroll in the Higashi Chaya District, her journey takes her to make ceramic art at Hokutoh, and to see historic locations such as the Ishikawa Bridge, the Gyokusen'inmaru Garden, Sannomaru Square, and more. To fit the traditional theme of her visit, she visits Kimono & Antiques Soki and gets dressed for the occasion. Viewers will see through ETSUNA's exploration the beauty and historical legacy of Kanazawa City.

Watch "HAKKEN – Experience Kanazawa's History with ETSUNA"

https://www.youtube.com/watch?v=Z3h-57mhouU

Find ETSUNA online

Official Website: https://asobisystem.com/talent/etsuna/

Instagram: https://www.instagram.com/etsunaotsuka/

Twitter: https://www.twitter.com/etsuna_artist/

ABOUT KANAZAWA FILM FESTIVAL

The 15th Kanazawa Film Festival was held from September 18-20, 2021 in Theater 21 at the 21st Century Museum of Contemporary art in Kanazawa. The festival has a reputation not only for the high quality of films presented each year, but also for its "New Directors with Promising Talent" program. This year 83 films were entered in the "New Directors with Promising Talent" program, and 11 of them won screening rights. The Grand Prix was awarded to MELIA's "Experiential Tour", for which she also received the special Channel 47 Award.

More information on the Kanazawa Film Festival can be found at

 https://www.eiganokai.com/event/filmfes2021/kanazawa/

ABOUT CHANNEL 47

Channel 47 is a project that using the power of entertainment to communicate the appeal of Japan and its different regions to overseas audiences. Through planning and producing events with celebrities and personalities, Channel 47 creates content that conveys the appeal and charm of Japan's many different regions to viewers all over the world. Channel 47 created the post-movies for the 15th Kanazawa Film Festival, held in September 2021. Additional efforts to promote the event overseas include producing

English subtitles for "Alien Painter" which was screened as a Kanazawa Film Festival Scholarship Film.

For more information about Channel 47 please contact: info@channel47.jp

10 Locations in Japan and Beyond Participating in Naked's DANDELION PROJECT

The DANDELION PROJECT has a powerful message: we're all connected, even during these isolating times. Naked's interactive art project began in Tokyo, Singapore, and other cities last year, and given their success, locations are now set to open at Heian Shrine in Kyoto and Kumamoto Castle this fall.

The original idea for the project came from artist Ryotaro Muramatsu, who decided to plant (or install) dandelion art pieces worldwide and bring people together to help them bloom. Those participating in the installations are able to send their wishes for world peace on digital dandelion fluff to other locations where DANDELIONs are planted around the world, and these messages are delivered in real-time. Even those unable to attend one of these installations can participate from home on the official website. 

With new DANDELION PROJECT locations set to open around Japan, places with historical significance are happy to participate, including Kamigamo Shrine and Ninna-ji Temple in Kyoto, Kumamoto Castle, and Kochi Castle. There are plans to hold more events around the world in the near future. 

DANDELION PROJECT Locations

Tokyo – Tokyo Tower Main Deck

Tokyo – TBS drama series Japan Sinks: People of Hope Collaboration, Akasaka

Kyoto – Kamigamo Shrine (World Heritage Site)

Kyoto – Ninna-ji Temple (National Treasure/World Heritage Site)

Kyoto – Heian Shrine (Important Cultural Property)

Kyoto – Kosho-ji

Aichi – Kochi Castle (Important Cultural Property) 

Saga – Saga Prefectural Observation Hall 

Kumamoto – Kumamoto Castle (Important Cultural Property)

Korea – Seoul 

The National Museum of Modern Art in Kyoto Opens Meiji Era Exhibition

A special exhibition titled 'Japanese Landscapes Discovered: Views from and for the Outside World,' showcasing a private collection of Meiji era paintings, is now on display at the National Museum of Modern Art in Kyoto until October 31, 2021.

Inside the Exhibit

Inside the Exhibit

 

This exhibition is designed to take visitors on a journey through the Meiji period (1868-1912), the beginning of Japan's modern era, through oil and watercolor paintings of the time, and through the landscapes and customs depicted in these pieces of art. During this time, many foreign painters visited Japan, and were inspired to paint the country's beautiful landscapes and unfamiliar customs, bringing these creations back to their countries of origin. Japanese artists studied these unfamiliar painting techniques, and made their own culturally-inspired paintings, often selling them to foreign visitors as souvenirs.

Many works on display in this exhibition have never been shown publicly, with many being brought back to Japan from locations abroad. These include long-lost oil paintings by Kuroda Seiki and a massive newly-discovered work by Tamura Soryu. Other Japanese artists inspired by Western-style on display include Hiroshi Yoshida, Jirokichi Kasagi, Shotaro Koyama, and Ioki Bunsai.

Also on display are works by foreign artists who visited Japan during this period, including British news painter Charles Wirgman, French news painter Georges Bigot, and British landscape painters Alfred Parsons, Alfred East, and John Varley Jr. These three men in particular triggered a watercolor boom in Japan during the late Meiji period. Vibrant female painters such as British watercolorist Ella du Cane, a lover of Japanese gardens, also make an appearance.

Be sure to see these incredible depictions of Japan before they're gone.

Information

Japanese Landscapes Discovered: Views from and for the Outside World

Running: September 7 – October 31, 2021

Hours: 9:30-19:00 (Until 20:00 on Friday and Saturday)

Closed: Mondays, and on September 21. *The museum will be open September 20.

Tickets/Official Site: https://www.momak.go.jp/

*Admission is open until 30 minutes before closing.

*To prevent the spread of COVID-19, hours are subject to change. Please check hours before visiting.

Results of First Japanese Traditional Culture Grand Prix Announced

With 130 entries submitted from all parts of Japan, the 8 winners of the first Japanese Traditional Culture Grand Prix have finally been announced. The contest was spearheaded by the Japan Traditional Culture Promotion Project, established in May 2020 as a collaborative effort among companies, associations, and local governments to establish a sustainable framework for the continued development of Japanese traditional culture.

Grand Prix Winner: Nakagawa Woodcrafts Hira Studio "Wave" series (left) "YORISIRO" series (right)

The winner of the top prize was Nakagawa Woodcrafts Hira Studio, in which the craftsmen still use a 700-year-old technique to create their famous wooden buckets. These buckets, once used for storing rice and miso, are still used today for a variety of different purposes, from bathing to cooling champagne! In stepping away from their typical works, the Nakagawa Woodcrafts studio created the more freeform "Wave" series, and the name surely fits–each bucket looks too free to have been manmade. The "YORISIRO" series, rather, keeps the natural curvature of the wood. Both are signature pieces of traditional Japanese artisanal culture.

Runner-up: Cubism in Calligraphy "Natural Stance," Atelier Sisyu, Sisyu

Excellent Award: Kyo Braided Cords Sanjiku-Kumiori "Kujaku Kouki," Saiko Ltd., Koichiro Murokado

Excellent Award: Structured System "Kumiko Endurance Wall," Tosa Kumiko Co., Daisuke Iwamoto

Excellence Award: Porcelain "Yuragi" Hiroshi Taruta

Excellence Award: Lacquer Art "Tataeru" Shinsuke Aoki. 

 

Excellent Student Award: Picture Frame "KOZAI" Ryohei Nomura. 

Special Award: Rinku, a group of young female craftswomen from the Toukai region

The Japan Traditional Culture Promotion Project began this contest as a way to honor outstanding works from creators around Japan. The jury consists of 18 people from various fields, including Richard Collasse, the Chairman of Chanel LLC, and popular model Kozue Akimoto. A collection of online presentations and interviews with the winners is planned in future events, and the project aims to help these artists continue to work sustainably. The second round of applications will open in November 2021.

renacnatta x Shiki Theatre Company to Release Banshu-Ori Weave Collection

renacnatta has teamed up with Shiki Theatre Company to release a collection of banshu-ori skirts and neckties, all of which will arrive on August 3.

renacnatta is a brand which weaves clothes using deadstock fabric from Japan and Italy and by using traditional Japanese weaving techniques.

Skirts

Banshu Mermaid Wrap Skirt – Matinee|Collaboration with Shiki Theatre Company | ¥35,200 (Tax Included)


Banshu Mermaid Wrap Skirt – Soiree|Collaboration with Shiki Theatre Company | ¥35,200 (Tax Included)


Neckties

Banshu Tie – Matinee|Collaboration with Shiki Theatre Company | ¥9,350 (Tax Included)

Banshu Tie – Soiree|Collaboration with Shiki Theatre Company | ¥9,350 (Tax Included)

Shows at the Shiki Theatre Company have been cancelled or postponed due to COVID-19. The collaboration comes to reignite the fire and excitement towards the theatre in these restrictive times. This August, the theatre is release a new and original musical which will see actors wearing clothing made using banshu-ori weave. This collection uses the same weaving technique.

Banshuori is a yarn-dyed textile made using a special production method which sees yarn dyed in advance and patterns woven by the dyed yarn. The items in the collection come in two colours: Matinee and Soiree, named after afternoon and evening theatre performances respectively. The Matinee line-up is beige and yellow while the Soiree picks are a mix of navy and black.

The one-size-fits-all skirts feature a comfy mermaid style with a fashionable silhouette perfect for going to the theatre with. They are made in such a way that they do not wrinkle when sitting down for long periods of time. The neckties too are made using banshu-ori weave for a smooth, sleek look.