Kaori's easy recipe – Learn how to make "Rilakkuma & Korilakkuma's Trifle Scoop Cake"
With just a small bit of ingenuity, turn everyday food into something cute using Kaori's recipe series! With a few simple ideas, an ordinary recipe magically transforms into a cute dish. Let us introduce to you, "Rilakkuma & Korilakkuma's Trifle Scoop Cake."
■1: Ingredients (to make 4 cake pans, 7cm in diameter)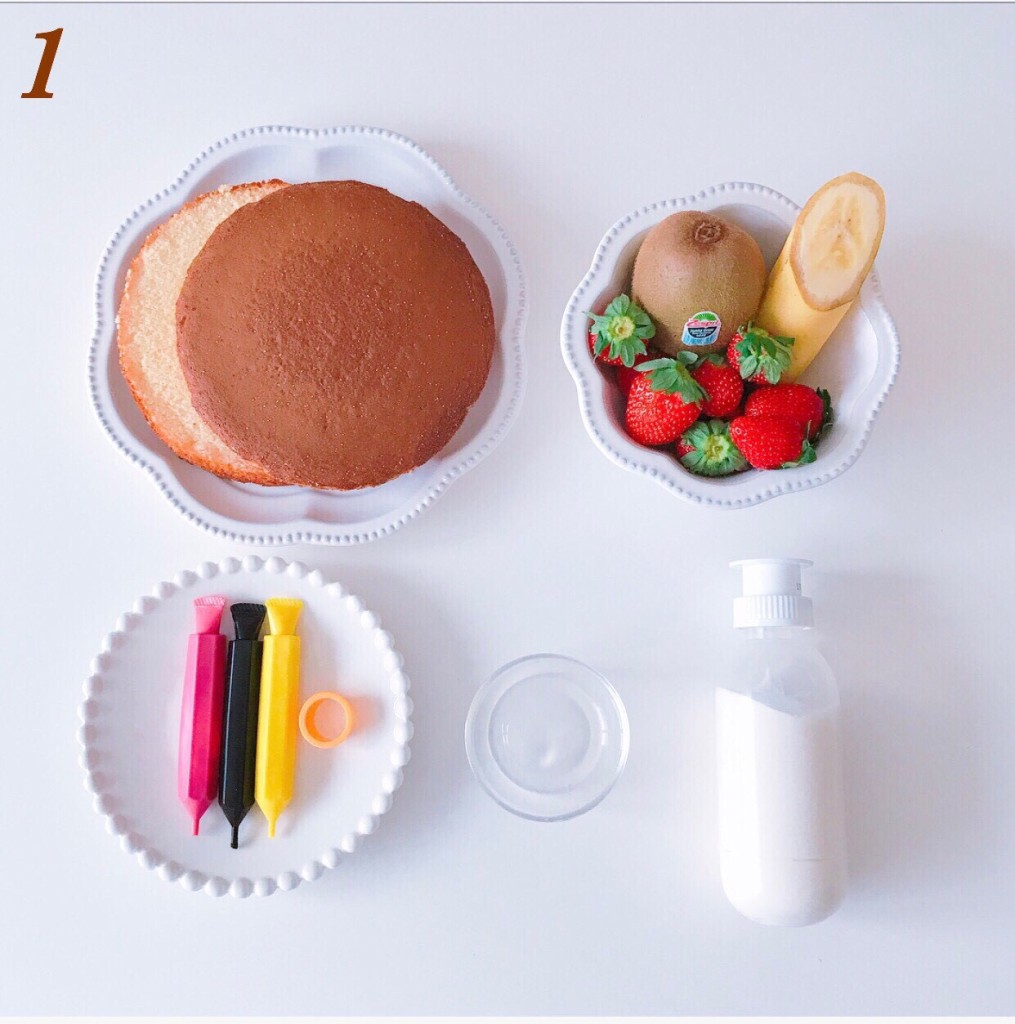 ・Plane sponge cake (No.5 15cm in diameter)
・Fresh cream (In this recipe, whipped cream was used)
・Fruit (strawberries, a kiwi, half a banana)
・Chocolate pens (black, yellow and pink / can be bought at a 100yen shop)
・Clear cake pan, 7cm in diameter (can be bought at a 100yen shop)
・Circular cutter for ears (can be bought at a 100yen shop)
■How to make
2: Sponge cakes are already divided into two pieces. Slice each piece once more so that it is even thinner.
3: The white part of the sponge cake is for making Korilakkuma and the brown part is for making Rilakkuma. Cut out the shapes using the circle cutter, 2 circles for each layer. *These circles will become the tops of the faces.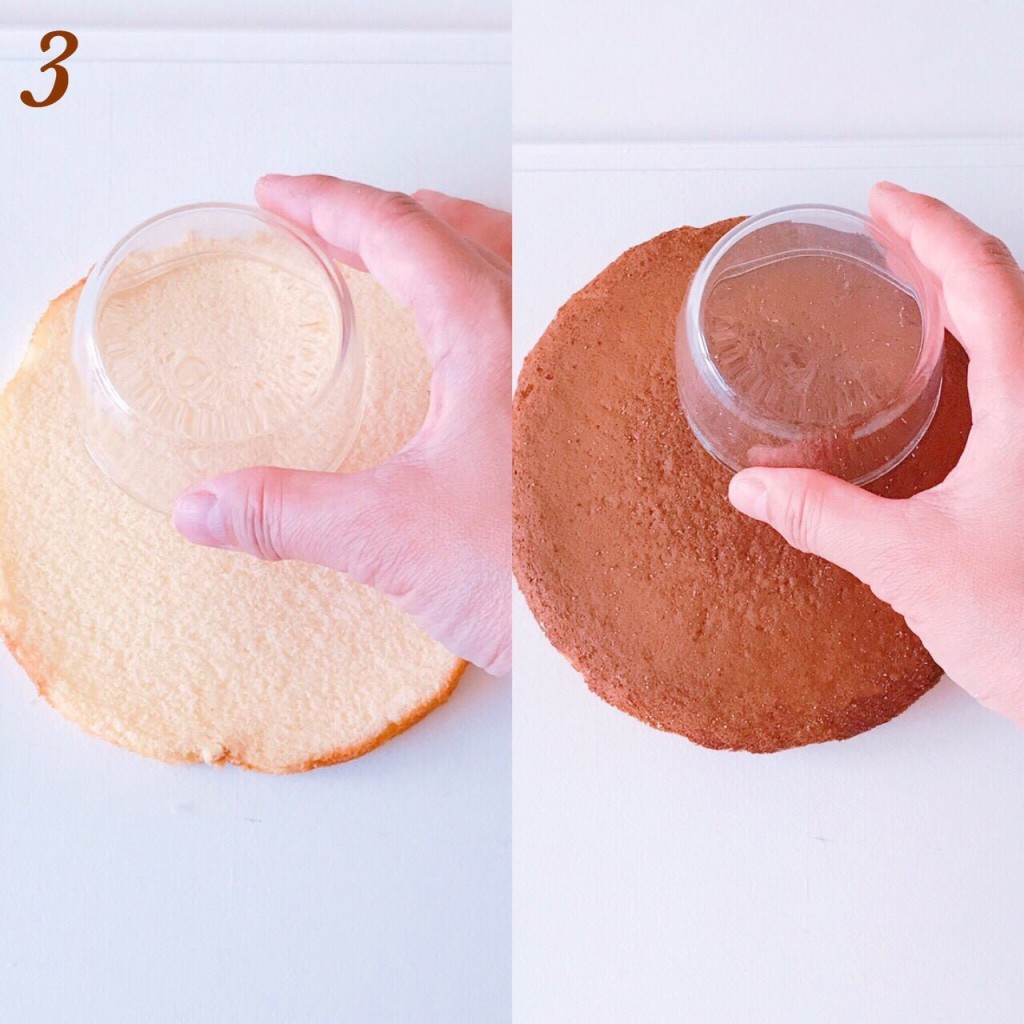 4:
①Cut 4 circles for the ears using the circle cutter. (As is shown in picture ⑧) Break up the remaining sponge cake into small pieces and put it in the bottom of the dish.
②Put whipped cream on the small pieces of sponge cake.
③It should now look like picture ③
④Put some fruit on the cake.
⑤.⑥Put the small pieces of sponge cake and whipped cream on this and make layers
⑦Finally, place the circular sponge cake which was cut out in step No.3 on the top of the dish
⑨Fix the ears on the face using whipped cream as a glue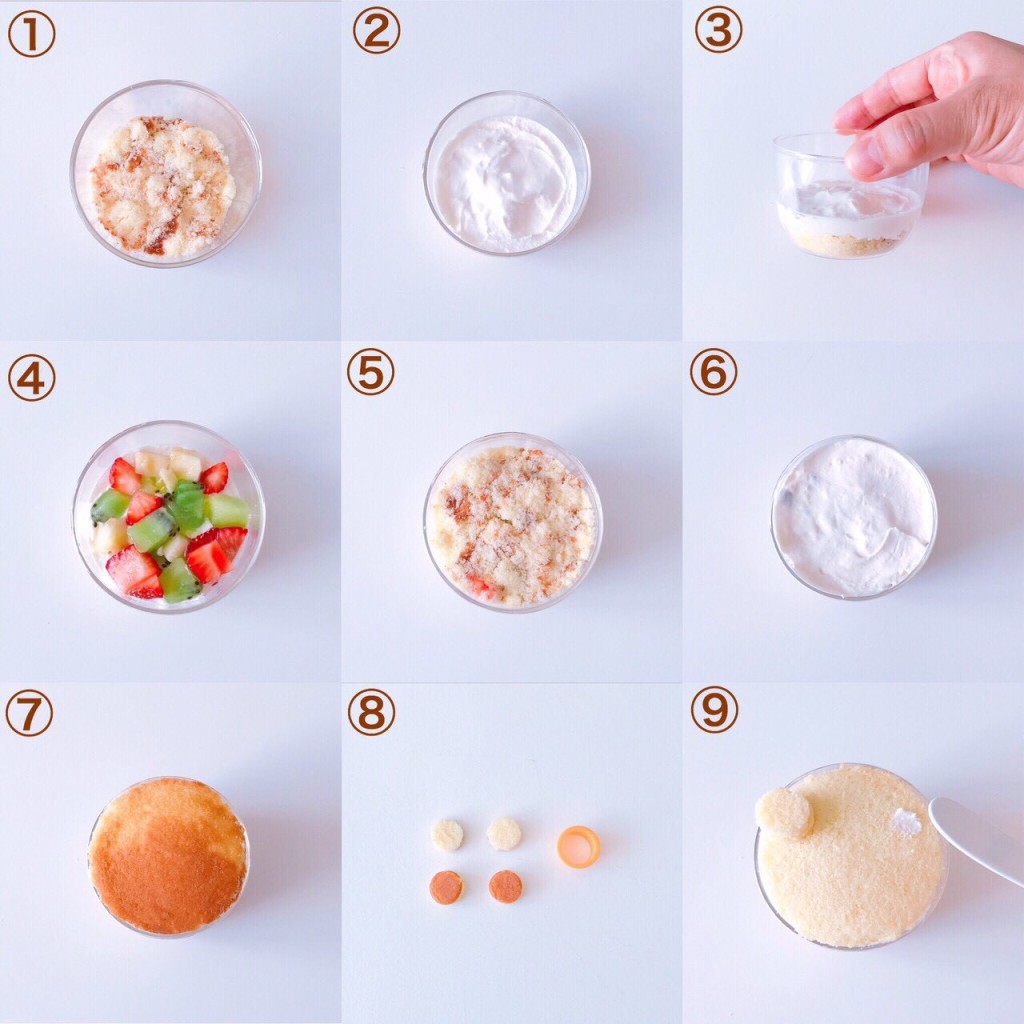 5: If there are gaps in the glass dish, fill these gaps with the remaining sponge cake and fix it.
6: Draw a white nose, eyes, and ears using the chocolate pens. After the white part is dried, draw a nose and a mouth using the tip of a toothpick.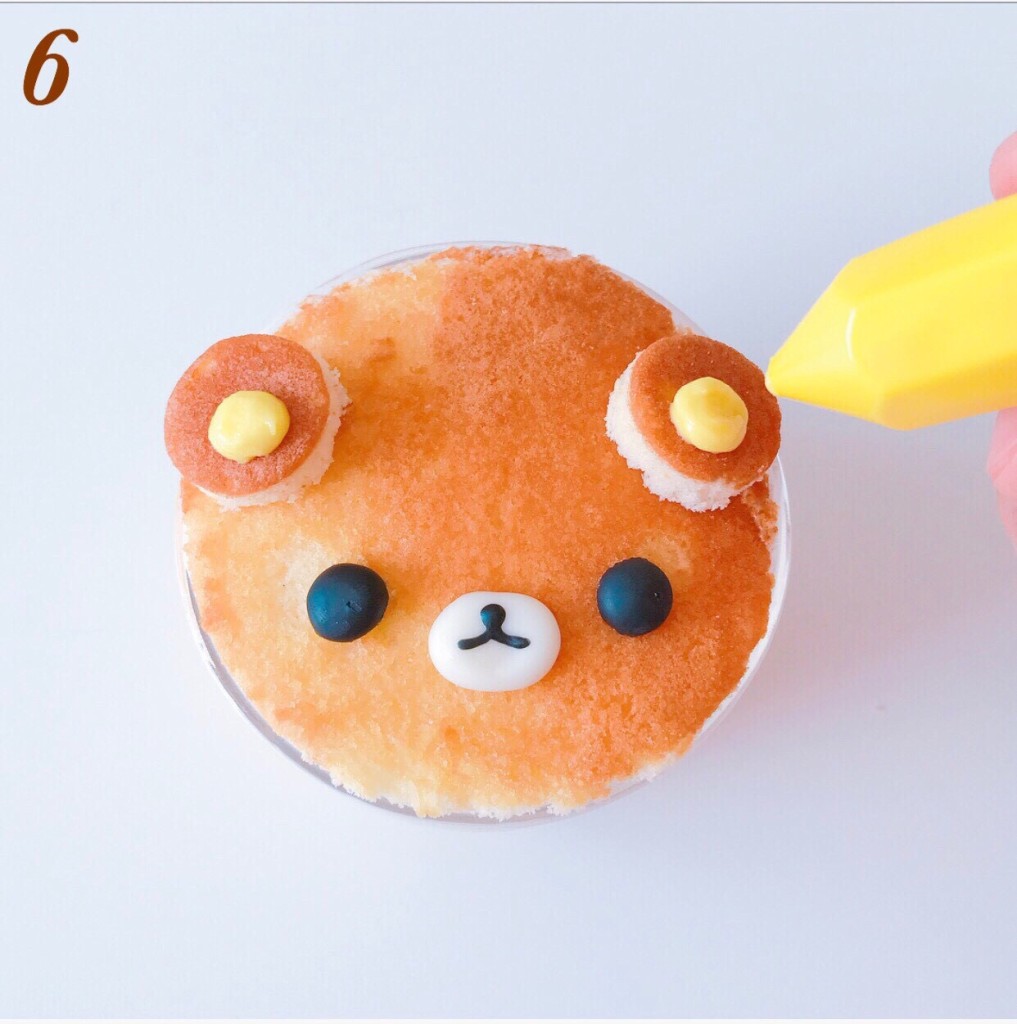 7: A side view the cake should look like in this picture.
Your cake is completed!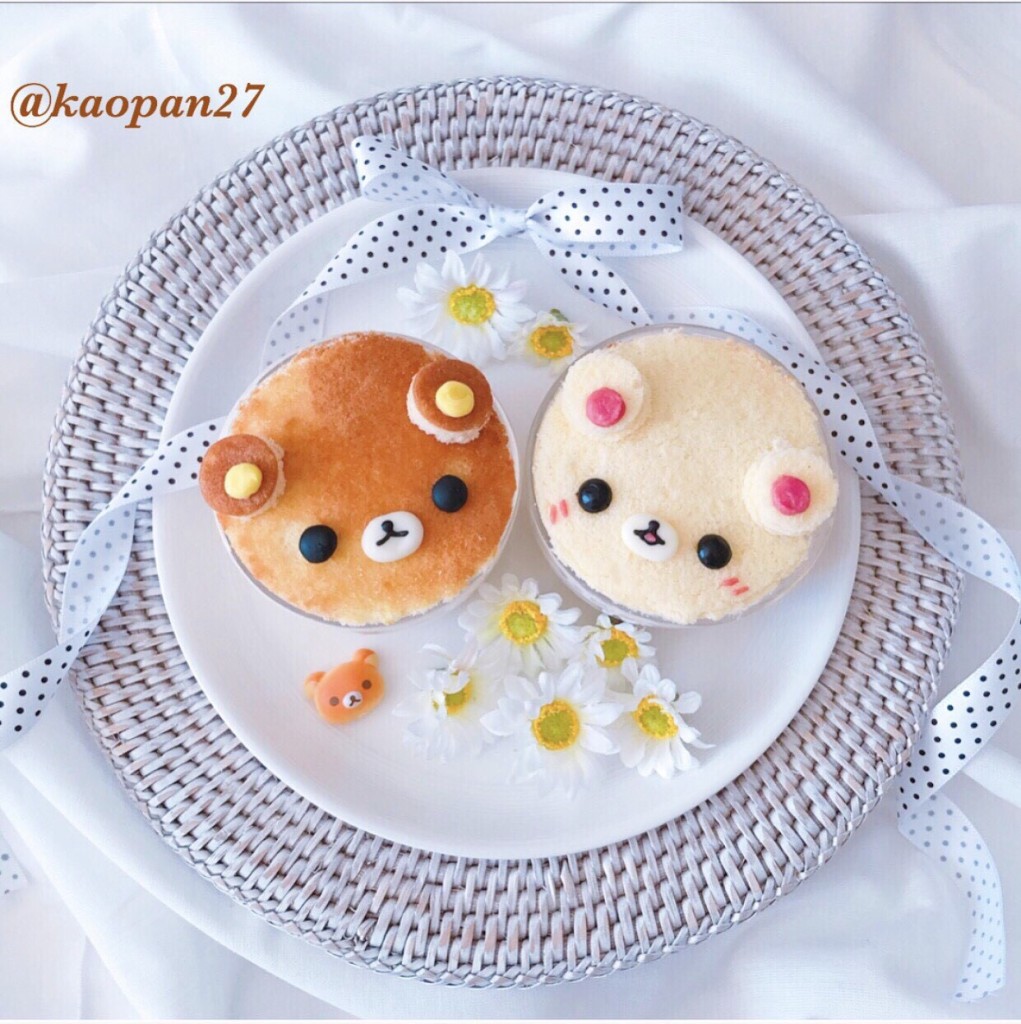 Kaori also invites you into her world of character-themed rice dishes in her recipe series! Please check out her Instagram where she has uploaded many pictures of her character dishes!
■Profile
Kaori Kubota(@kaopan27)
Kaori lives in Hokkaido and enjoys making dinners, sweet treats and character food using bread ♡
Kaori also loves to experiment with small tricks to crate easy character-themed sweets @kaopan27
Related article:Kaori's easy recipe – Learn how to make "Pompompurin-chan's Sweet Potato"
Related article:Kaori's easy recipe – Learn how to make "Hello Kitty's Tear & Share Bread"
RELATED ENTRIES
Studio Ghibli's Earwig and the Witch Gets Recipe Picture Book

Japanese publisher SHUFUNOTOMO released a new recipe picture book based on the Studio Ghibli's 3D CG movie Earwig and the Witch on April 28.

Earwig and the Witch Recipe Book | ¥1,540 (Tax Included) 

The book features simple to follow recipes including famous British meals, desserts inspired by the movie, and lots of other mouth-watering delights that look like something straight out of Earwig and the Witch.

St. Morwald's Home for Children's Shepherd's Pie

Shepherd's pie is a classic British meal and makes an appearance in the movie when Earwig eats it at St. Morwald's Home for Children. It's her favourite meal: mash sat on top of a tomato sauce-loaded mince, carrots, green beans, onion, and paprika combo.

 

Boy Scout Fried Toast

Fried toast is another common food on the British breakfast menu. The recipe takes thickly-sliced bread and fries it in the juices of bacon and sausage. It's based on the scene where Earwig messes up making her fried toast. The recipe is made Frech-style with egg, milk, sugar, and butter.

 

Earwig's Pretzels

Using hot cake mix, learn how to make frosted white chocolate pretzels that look like Bella Yaga's magical worm minions

Goro Miyazaki | Comment (Taken From Recipe Book)

"Cooking is fun, isn't it? I myself love cooking: taking various ingredients and peeling them, chopping them, crushing them, and mixing them. You boil, you steam, you simmer, you fry. Using fire makes it all the more fun. What I make doesn't always turn out perfect, but you can turn off and forget everything while you're cooking, but it's an amazing feeling when you sit down to eat the fruits of your labour and people tell you what you made is delicious. It's even more amazing when you eat something that someone else made for you. Tasty food is like magic. Speaking of which, the magical spells that Earwig learns at Bella Yaga's house are a lot like cooking. Carving, crushing, mixing. I'm sure that if you're a skilled witch you'll be a skilled cook too. I hope the people who read this book and think for the first time that they want to try out cooking will try making all sorts. Getting better at cooking might even lead you on the path to becoming a witch."

The recipe book's front cover was designed specially for this book by Goro Miyazaki.

Kaori's Easy Recipe: Learn to Make Baymax Mushi-Pan Steamed Bread

With just a small bit of ingenuity, turn everyday food into something cute using Kaori's Easy Recipe! With a few simple ideas, an ordinary recipe magically transforms into a cute dish.

Today, I'll teach you how to make Baymax mushi-pan steamed bread.

Ingredients

This recipe makes 5 portions

140g strong flour

20g granulated sugar

Pinch of salt

3g dry yeast

3g baking powder

5g vegetable oil

85ml-90ml milk (room temperature)

1

Mix everything together in a food processor. If you don't have a food processor, you can also knead the ingredients well by hand.

2

Ferment at 40℃ for 40 minutes. If you don't have a fermentation machine, leave in a warm environment.

3

Once the dough has doubled in size, divide into five portions and put into separate cups. If using paper cups, rub a little bit of oil inside.

4

Bake in the oven at 40℃ for 20-25 minutes.

5

After baking, steam in a steamer for 12-13 minutes. If you don't have a steamer, put into a frying pan or large pot with a little bit of water and cover.

6

Once cooled, use some nori seaweed to make Baymax's face and you're done!

Kaori Kubota (@kaopan27)

I live in Hokkaido and I love to make character themed foods, desserts and pastries♡

I want to see my family smile, so I enjoy putting in a bit of effort to make character foods and changing food into something cute♡

You can see more of my character foods and character bento boxes on my Instagram page → @kaopan72

Netflix's Rilakkuma and Kaoru Promotes Official Fan Club With Community Stream Event

San-X is bringing fans of the popular Netflix animated series Rilakkuma and Kaoru with the launching of a community event to get everyone watching the series again together at the same time. Titled "Rilakkuma and Kaoru Watching Party," the event will take place on March 19. Although it's taking place in Japan, this is a fun chance for fan around the world to get involved too.

Rilakkuma and Kaoru has been well-received around the world. Netflix announced it as the second-most watched series in Japan in 2019. Now, fans can come together once again as the event, which is taking place in promotion of the opening of the series' official fan club, has them re-watching the first episode together.

There are two ways to get involved: via the Rilakkuma Community official fan club and on Twitter.

Getting Involved With the Rilakkuma Community Official Fan Club

The room for this event will open on Rilakkuma Community on March 18. There, fans can get ready to tune in to watch the episode together on March 19 at 19:00 (JST). There is a fee to pay if you want to join the fan club, and the website is in Japanese, so you'll need to be able to read the language if you want to use this method.

Fan club members will also receive an exclusive Rilakkuma and Kaoru wallpaper.

Getting involved on Twitter

You can follow the event with the official Japanese hashtag #リラックマとカオルさんを一緒に見ようの会 where people are encouraged to share their thoughts and support for the setries.

©2021 SAN-X CO., LTD. ALL RIGHTS RESERVED.

Chairoikoguma Market to Open at KIDDYLAND Osaka Umeda This Spring

Japanese character goods and toy chain KIDDYLAND is collaborating with San-X, the creators of the iconic Rilakkuma and its friends, to open the Chairoikogumarché, a market themed on Chairoikoguma, at KIDDYLAND Osaka Umeda. It will be open for a limited time this spring from March 11 to 25.

Chairoikoguma is a popular honey-loving bear character created by San-X who lives in the Honey Forest. This year marks the 5th anniversary since its debut.

In 2018 and 2019, San-X opened the limited-time Korilakkuma Meets Chairoikoguma Store which was hugely popular amongst Rilakkuma fans, with repeat buyers returning multiple times. Chairoikogumarché was originally scheduled to open at KIDDYLAND Osaka Umeda in April 2020, but it was postponed and will now open next month. Once they book their attendance, fans can look forward to laying their eyes on original Chairoikoguma artwork coupled with phrases spoken in the Kansai dialect. There will be exclusive items to purchase, merch pre-sales, bonus goodies, and more.

Merchandise Line-Up Excerpt

Charm Set | ¥1,320 (Tax Included)

Mask Case | ¥660 (Tax Included)

Pre-Sale Merchandise

Pre-Sale Release: March 11, 2021

*This product will be released for general sale at Rilakkuma Stores in Japan, excluding the Osaka Umeda branch, on March 13.

Chairoikogumarché & Nakayoshi Plush Toy (Sakuranokorisu) | ¥3,080 (Tax Included)

*Not available at Rilakkuma Store Umeda Osaka. Pre-sale exclusive to Chairoikogumarché.

*Will also be released on San-X's online shop.

Pre-Sale Release: March 11, 2021

*This product will be released for general sale at all Rilakkuma Stores in Japan on April 3, 2021.

Long Plush Pillow | ¥6,600 (Tax Included)

Mini Shoulder Bag | ¥5,500 (Tax Included)

*Will also be released on San-X's online shop.

Bonus Items

1. Customers who spend over ¥3,000 (tax included) at Chairoikogumarché will receive a random free zipper case from a possible two designs. First-come, first-served.

*One per person, per transaction. Design chosen randomly.

*Available while supplies last.

*Will be released at all Rilakkuma Stores except the Osaka Umeda branch on March 13.

2. Customers who spend over ¥5,000 (tax included) at Chairoikogumarché will receive a free tote bag. First-come, first-served.

*One per person, per transaction. Design chosen randomly.

*Available while supplies last.

©2021 SAN-X CO., LTD. ALL RIGHTS RESERVED.

Information

Chairoikogumarché

Running: March 11, 2021 – March 25, 2021

Where: KIDDYLAND Osaka Umeda

Address: Hankyu Sanbangai Floor B1F, 1-1-3 Shibata, Kita-ku, Osaka-shi, Osaka

Opening Hours: 10:00-20:00

*Opening hours subject to change

Event Page: https://www.kiddyland.co.jp/event/chairoikogumarche/

Rilakkuma Opens Official Fan Club

Fans of Rilakumma are in for a real treat as San-X, the company behind the internationally-beloved bear, opened the "Rilakkuma Tomonokai Official Fan Club" on Wednesday (February 10).

Plush Toy Set

Folder

Acryluc Key Ring

Signing up to the fan club means getting your hands on a range of merchandise from exclusive goods to new member items, a new wallpaper every month, access to the Rilakkuma Community, birthday mail, and more. Those who do sign up will receive a Rilakkuma plush toy and folder for free as thanks.

*Images are for illustrative purposes only. Size, colour, and design may vary from actual products.

©2021 SAN-X CO., LTD. ALL RIGHTS RESERVED.

Kaori's Easy Valentine's Recipe: Learn to Make Strawberry Milk Chocolate Pudding

With just a small bit of ingenuity, turn everyday food into something cute using Kaori's Easy Recipe! With a few simple ideas, an ordinary recipe magically transforms into a cute dish.

Today, I'll be showing you how to make Strawberry Milk Chocolate Pudding, a delicious recipe whipped up with love for Valentine's Day.

Ingredients

✩Ingredients For Chocolate Pudding
35g chocolate
300ml milk
30g-35g granulated salt
5g gelatine (dissolved in 1 tbsp water)

✩Ingredients For Strawberry Pudding
100g strawberries (fresh or frozen)
350ml milk
30g-35g granulated salt
5g gelatine (dissolved in 1 tbsp water)

Weck jars for the dessert.

1

First, we'll make the chocolate pudding.

Put the milk and granulated sugar into a pot and heat on the hob until the sugar melts. Turn the heat off, throw in the chocolate, and allow to fully melt. Once melted and the mixture is cooled, add the gelatine to dissolve.

2

Now, we'll make the strawberry pudding.

Put the milk and granulated sugar into a pot and heat on the hob until the sugar melts.

Add the mix to a blender with the strawberries and blitz. Add back onto the hob and heat through slightly. Allow the mixture to cool then add the gelatine to dissolve.

3

Once both mixtures are completely cooled, add them to the jars in an alternating pattern and chill until set.

⚠️Make sure the dessert is completely set and not runny before serving. About an hour each in the refrigerator should be sufficient.

Top with cream and strawberries and enjoy!

Kaori Kubota (@kaopan27)

I live in Hokkaido and I love to make character themed foods, desserts and pastries♡

I want to see my family smile, so I enjoy putting in a bit of effort to make character foods and changing food into something cute♡

You can see more of my character foods and character bento boxes on my Instagram page → @kaopan72

Kaori's Easy Valentine's Recipe: Learn to Make Rilakkuma Hot Chocolate Sticks

With just a small bit of ingenuity, turn everyday food into something cute using Kaori's Easy Recipe! With a few simple ideas, an ordinary recipe magically transforms into a cute dish.

Today, I'll be showing you a simple recipe for Valentine's Day made with ingredients bought entirely from the 100 yen store Seria. I call it the "Rilakkuma Hot Chocolate Stick."

Ingredients

Square mould from Seria (makes six sticks)
1 bag of milk chocolates

1 bag of white chocolates

1 bag of dark chocolates

Toppings of your choice (I used caramel chocolate chips and walnuts)

1

Melt all the chocolates separately over a bain-marie.

2

Create layers with each chocolate type. Pick your first choice and pour into the mould and wait for it to set lightly before adding the next chocolate. For this recipe, I went ahead and added the chocolate a little before layers had finished setting to create a marbling effect.

✩I also added some strawberry chocolate I had left over from my Rilakkuma chocolates.

3

Once all your chocolate is in the mould, stick in some lollipops and add toppings of your choice making sure they don't overflow. This will ensure they set together with the chocolate.

4

Allow to set overnight and your chocolate stick is ready.

5

I made Rilakkuma chocolates from scratch and added those to the sticks to finish.

Kaori invites you into her world of character-themed food dishes in her recipe series. Be sure to check out her Instagram where she has uploaded many pictures of her character dishes!

Kaori Kubota (@kaopan27)

I live in Hokkaido and I love to make character themed foods, desserts and pastries♡

I want to see my family smile, so I enjoy putting in a bit of effort to make character foods and changing food into something cute♡

You can see more of my character foods and character bento boxes on my Instagram page → @kaopan72

Get Fit With These Cute New Rilakkuma Dumbbell Balls

Japanese company Mizuno released a new series of Rilakkuma dumbbell balls, the "Ballretch Rilakkuma," on its official online store and San-X's online shop last week.

About Ballretch

The Ballretch is part of Mizuno's series of at-home training equipment. First released in June 2019, the Ballretch is a ball weighted at 500g which can be used for easy weight training. The balls are all made from soft material so do not cause calluses often associated with weightlifting.

Ballretch Rilakkuma


Rilakkuma & Kiiroitori Set | ¥3,960


Chairoikoguma & Korilakkuma Set | ¥3,960

Pick between the Rilakkuma & Kiiroitori Set or Chairoikoguma & Korilakkuma Set for helping to encourage and cheer you on during training. They also double as cute room decorations.

If your New Year's Resolution for 2021 is to exercise and train more, then why not let Rilakkuma and co help you along?

©2020 San-X Co., Ltd. All Rights Reserved.

Netflix Series Rilakkuma and Kaoru Gets Exhibition in Tokyo

An exhibition for the popular stop-motion animation Netflix series Rilakkuma and Kaoru will run at SEIBU Ikebukuro in Tokyo from December 27, 2020 to January 5, 2021. Fans of the series can look forward to plunging themselves into its adorable world with recreated sets, statues, photo spots, limited-edition merchandise, and more.

Stop-motion sets and figures used in the animated series

The actual sets and set pieces used for the stop-motion animation will be exhibited at the event including Kaoru's apartment, Rilakkuma who looks like he's about to pop to life, and more.

Stop-motion animation behind-the-scenes

Catch a behind-the-scene glimpse of the efforts put into creating the series including early sketches, character reference, designs, and more.

Take a photo at Kaoru's apartment

Fans of the series won't want to miss out on a special photo spot recreating Kaoru's apartment with Rilakkuma and co waiting to greet you inside.

Over 500 pieces of limited-edition merchandise

Special Replica Plush Toy Korilakkuma With Serial Number | ¥25,300 (300 available in Japan / 200 elsewhere)

Kaoru's Album Post Card Set | ¥1,650

Plush Pouch | ¥2,200 Each

Fans can get their hands on a selection of exclusive limited-edition merchandise, including a replica Korilakkuma plush toy of which only 200 are available, each with its own unique serial number on the foot.

Bonus Items

Designs given randomly

For every ¥5,000 spent in one transaction (tax included), visitors can receive a free original bag. These are available to the first 200 people per day of the exhibition.

© 2020 San-X Co., Ltd. All Rights Reserved.

Information

Rilakkuma and Kaoru Exhibition
Running: December 27, 2020 – January 5, 2021

Location: SEIBU Ikebukuro Floor 7F
SEIBU Ikebukuro Official Website: https://www.sogo-seibu.jp/ikebukuro/

A Dream Collaboration Between Rilakkuma and Sumikko Gurashi Announced For Hirakata Park

Hirakata Park in Osaka has announced a special collaborative event with San-X's popular characters Rilakkuma and Sumikko Gurashi which will begin on March 6, 2021.

Park entrance

Rilakkuma and friends as well as the characters of Sumikko Gurashi will both have their own special pavilions raised at the park entrance. At the Rilakkuma tent, the cute bear and his comrades where will be showcasing their three fundamental elements that go into having a leisurely and relaxing time. Over at the Sumikko Gurashi tent, you'll get a peek into the lives of these cute characters which are known for their lifestyle of dwelling in the corner.

The event will welcome a range of original Rilakkuma and Sumikko Gurashi themed food and merchandise too.

©2020 San-X Co., Ltd. All Rights Reserved.

Information

Rilakkuma & Sumikko Gurashi Festival
Running: March 6, 2021 – June 27, 2020

Opening Hours: 10:00-17:00 (Last Entries 16:30)

Location: Hirakata Park Event Hall I

Enquiries 0570-016-855 (10:00-17:00)
Event Page: https://www.ntv.co.jp/rilakkuma-and-sumikko-fest/

Decorate With These Fabulous Rilakkuma Flower Boxes Made With Colourful Preserved Flowers

If you're looking to brighten up and kawaii-fy your room this holiday season, then you'll want to check out the new Goyururi Rilakkuma Flower collection which hit Okada Shokai's online shop on Thursday (December 10).

Goyururi Rilakkuma Flower is a collection of flower boxes made with a variety of colourfully preserved flowers like roses, showy baby's-breath, hydrangeas, carnations, and more, bunched together with Rilakkuma, Korilakkuma, Kiiroitori, and Chairoikoguma.

Goyururi Rilakkuma Flower: Rilakkuma / Korilakkuma / Kiiroitori / Chairoikoguma

Goyururi Rilakkuma Flower Box

The characters are made from a combination of petals to look like a picture. And since the flowers are preserved, no watering is needed, so your box will stay eternally cute.

The boxes come wrapped in candy-like wrapping too which makes them perfect as a gift.

©2020 San-X Co.,Ltd. All Rights Reserved.

Information

Goyururi Rilakkuma Flower
Pre-Orders: December 10, 2020 – December 17, 2020
Release Date: December 18, 2020
My peridot Official Website: http://myperidot.com/

Kaori's Easy Recipe: Learn to Make Banana and Black Tea Muffins

With just a small bit of ingenuity, turn everyday food into something cute using Kaori's Easy Recipe! With a few simple ideas, an ordinary recipe magically transforms into a cute dish.

Today, I'll be showing you a super simple dessert made using hotcake mix. I decorated the muffins with strawberries and a dusting of icing sugar to give them that Christmas feel.

Ingredients
1 bag of hotcake mix (150g)
1 large egg
20g sugar
25ml vegetable oil
30ml milk
2 ripe bananas
1 tbsp black tea leaves
*If you don't have loose black tea leaves you can use the leaves from inside of a black tea bag

1

Slice half of one banana for topping later. Mash the remaining one and a half in a bowl with a fork or potato masher.

2


In a different bowl, add all of the ingredients and mix together. Once mixed, add the mashed banana and mix again to combine.

3


Add the mix to muffin tins. The muffins will rise quite a bit so you may want to use less mix. Finish by adding the sliced bananas from Step 1 on top.
上に1でスライスしておいたバナナをトッピングする。

4
Bake at 180℃ on the middle shelf for 25 minutes.

5


Complete your muffins by dusting with icing sugar, fresh cream, and strawberries. I added a chocolate Hello Kitty on mine!

Kaori invites you into her world of character-themed food dishes in her recipe series. Be sure to check out her Instagram where she has uploaded many pictures of her character dishes!

Kaori Kubota (@kaopan27)

I live in Hokkaido and I love to make character themed foods, desserts and pastries♡

I want to see my family smile, so I enjoy putting in a bit of effort to make character foods and changing food into something cute♡

You can see more of my character foods and character bento boxes on my Instagram page → @kaopan72