Kaori's easy recipe – Learn how to make "Pompompurin-chan's Sweet Potato"
With just a small bit of ingenuity, turn everyday food into something cute using Kaori's recipe series! With a few simple ideas, an ordinary recipe magically transforms into a cute dish. Let us introduce to you, "Pompompurin-chan's Sweet Potato."
■Ingredients (to make seven pieces)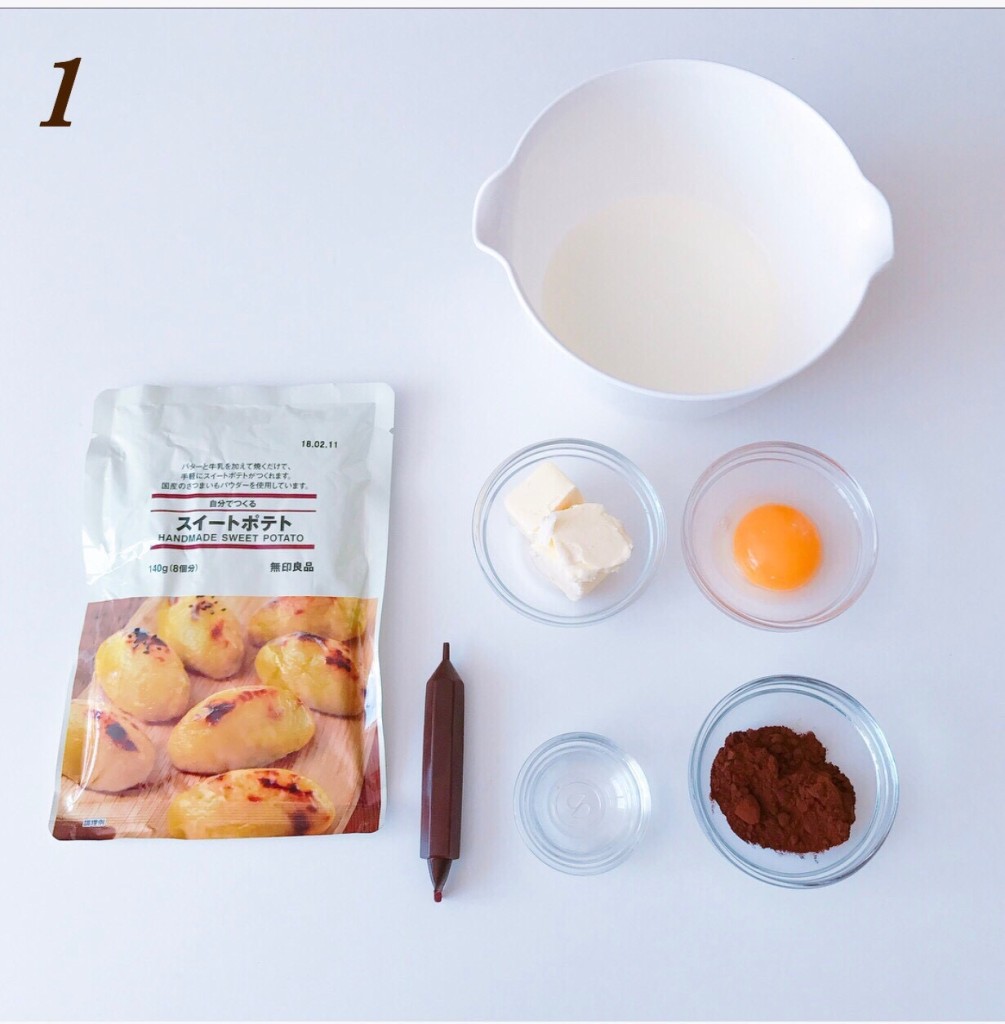 ・Mujirushi Ryohin
・Jibunde Tsukuru Sweet Potato Mix – one bag (140g)
・Milk    140~150g
・Unsalted butter 50g
・Cocoa powder  half of a tea spoon
・Egg yolk one
・Water one tea spoon ※mix it with egg yolk in advance

■How to make
②Put Sweet Potato Mix, milk, butter into the ball and mix them together.
(Put the butter in a heat-resistent container. Cover the container with cellophane wrap and heat it up in a microwave for 30〜40 seconds)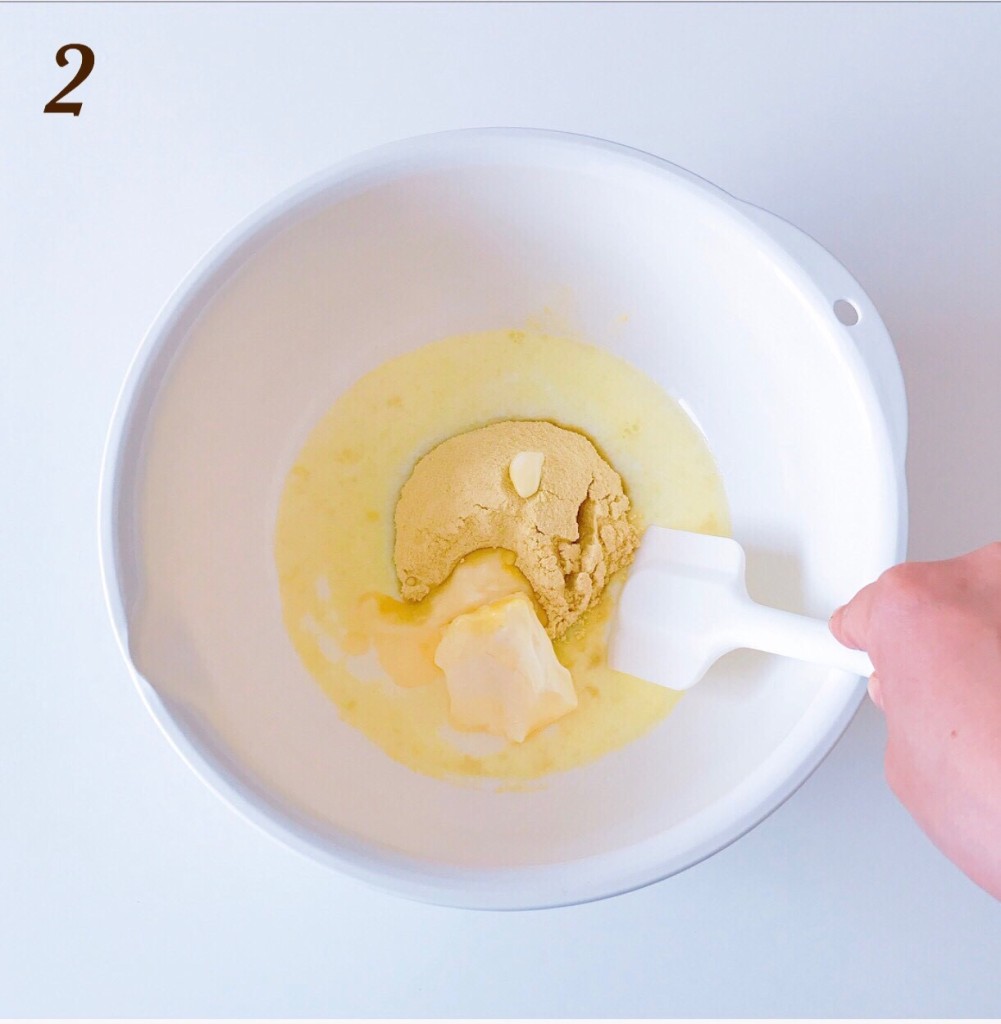 ③Mix them with a spatula until it gets hard as shown in the picture above.
④First, make the face.
Each piece should be 30g. Roll it like a rice ball to make the surface smooth and shape it to a trapezoid-shape.
⑤Next, make the ears
Each piece should be 3g. Roll them and shape them into a water drop-shape.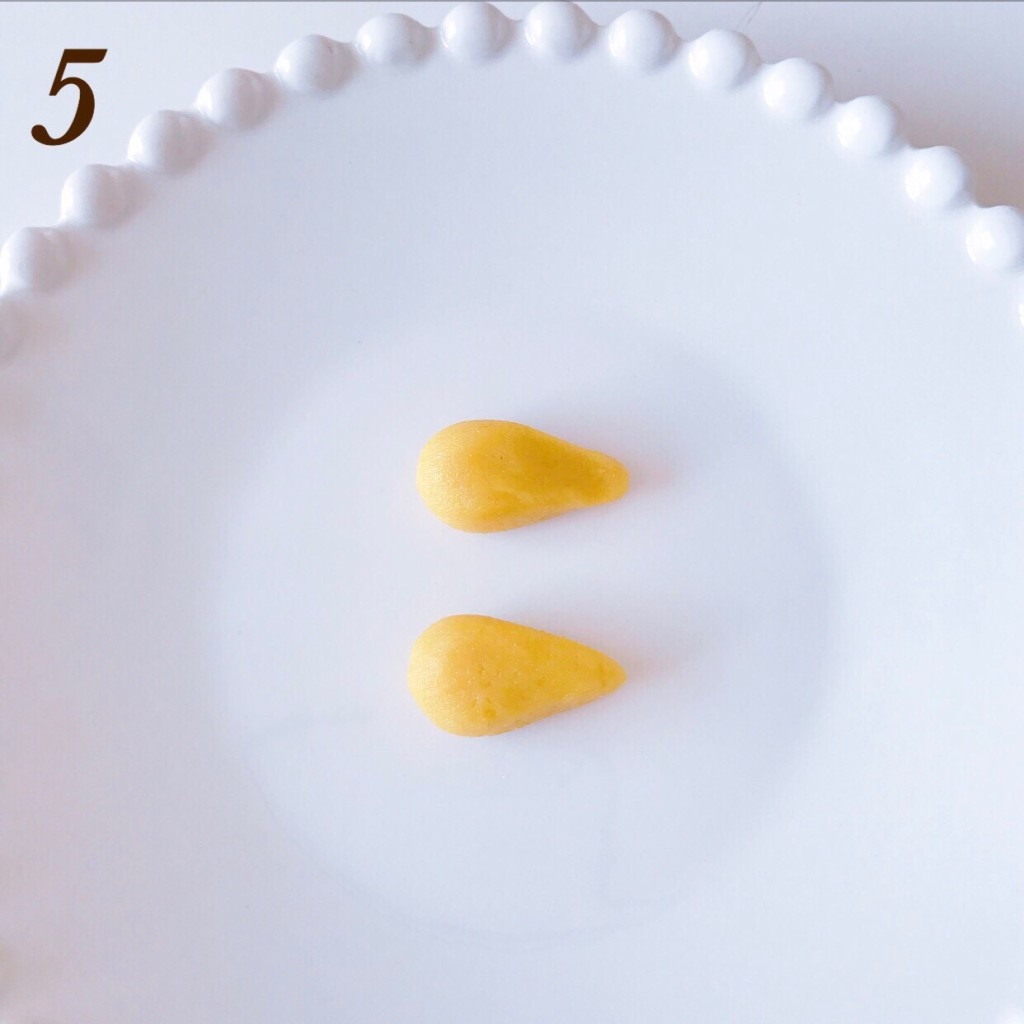 ⑥Make the hat.
The cloth should be 21g. Color it with cocoa powder. Roll each piece (3g) and shape them to dome shapes. Put the ear and hat on the face.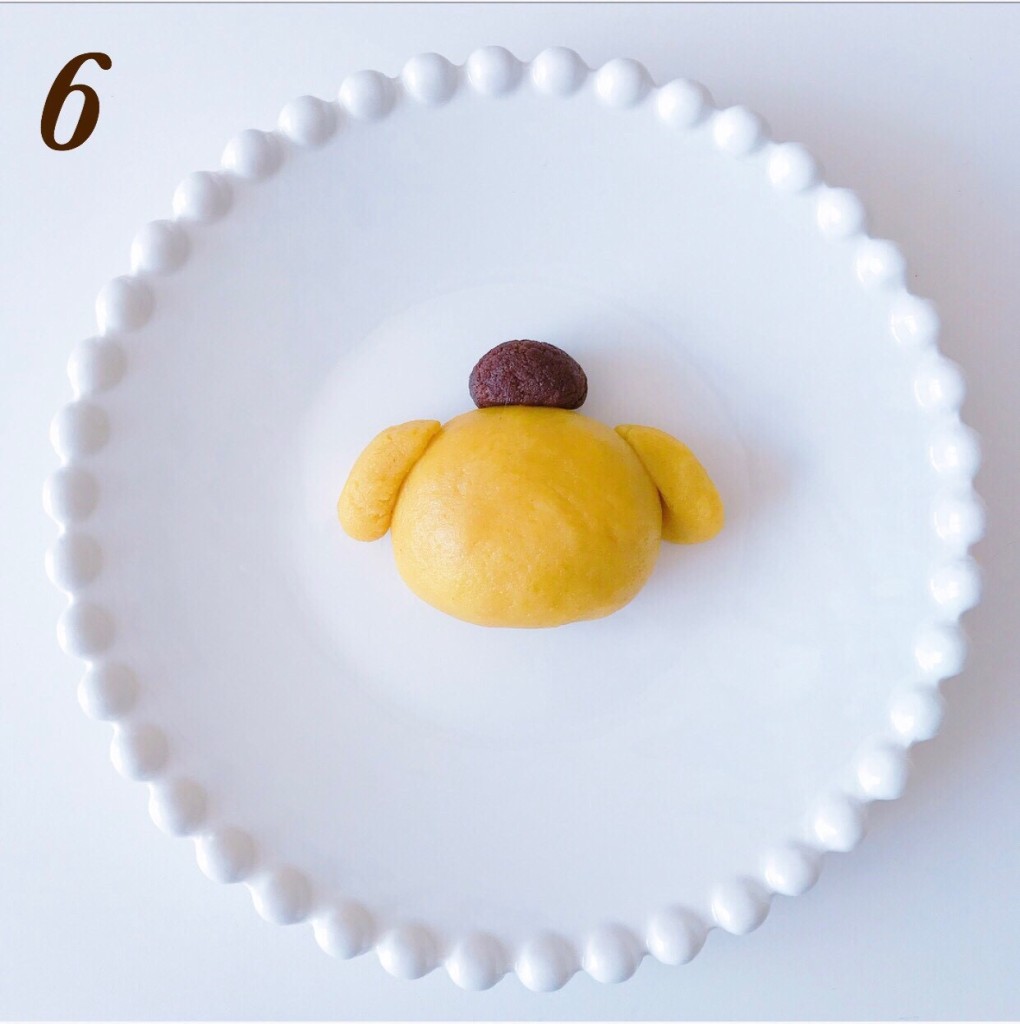 ⑦After Purin-chan's form is completed, coat it with egg yolk mixed with water so as to make the surface smooth. Use your fingers when coating it.
When coating it with egg yolk, put egg yolk on the location where the arrow indicates so that the pieces will not come off when it is baked.
⑧First, bake it for 5 minutes in the oven (180 degrees) and continue to bake it for another 5 minutes or until it is brown.(Watch it carefully in order to prevent it from burning.)
It will be completed when it looks like the piece shown in the picture.
⑨Write the face
☆Write the nose with melted chocolate using the flat side of a toothpick.
☆The nose of Purin-chan is shaped like a flipped triangle. Like this → ▽
☆Next, draw the eyes and mouth using a toothpick.
Use the pointed side of the toothpick when drawing the mouth. (Draw these parts carefully so that you do not rip the dough.)
☆Finally, to fix the hat on the head, use a fried pasta so that hat will be stabilized.(Check the last article for instructions about the pasta.)
Coat the hat with chocolate.
Kaori also invites you into her world of character-themed rice dishes in her recipe series! Please check out her Instagram where she has uploaded many pictures of her character dishes!
■Profile
Kaori Kubota(@kaopan27)
Kaori lives in Hokkaido and enjoys making dinners, sweet treats and character food using bread ♡
Kaori also loves to experiment with small tricks to crate easy character-themed sweets @kaopan27
Related article:Kaori's easy recipe – Learn how to make "Hello Kitty's Tear & Share Bread"
Related article:Kaori's easy recipe – learn how to make a "Kero Kero Keroppi's Green Tea Pound Cake"
RELATED ENTRIES
Kaori's Easy Recipe: Learn to Make Mickey & Minnie Mouse Cookie Cupcakes

With just a small bit of ingenuity, turn everyday food into something cute using Kaori's easy recipe! With a few simple ideas, an ordinary recipe magically transforms into a cute dish.

For this edition of Kaori's Easy Recipe, I used a recipe from the Disney dessert cookbook Oishii Disney Sweets Recipes to make "Mickey & Minnie Cookie Cupcakes" which make for the perfect Valentine's Day treat. It's a super easy recipe to follow – I even made the cookies and ribbon using ingredients readily available at the supermarket. So don't hesitate, give this easy recipe a go for yourself.

1: Ingredients (Makes 6 cupcakes measured 7cm)

2 medium eggs (40g egg yolk/60g egg white)

60g granulated sugar

2tsp vegetable oil

1-2tsp lemon juice

45g weak flour

2:

①Put the egg yolk, vegetable oil, and lemon juice into a bowl and mix well.

②In a separate bowl, whisk the egg white and gradually add in the granulated sugar. When adding the sugar, I recommend doing it in four portions. So add one quarter of the sugar, mix, repeat.

③Once you've added all the sugar, mix well to incorporate into the egg white.

④Gradually add the weak flour. Do this in three portions like in step ②. Please be careful as to not mix too vigorously when adding the flour as it will result in the dough losing its loose texture and becoming firm.

3: Pour the mix into the cups so that 70-80% of the cups are full. Bake at 190℃ for 12 minutes, then bring the heat down to 170℃ and cook for a further 3 minutes.

4: Now it's time to make Mickey Mouse. I used one big Oreo cookie and two little ones, the latter of which don't have filling. Like in the photo below, half the bigger cookie, place the smaller ones inside, and place the bigger half back on. If you don't have anything to stick the cookie back on, you can use the filling of the Oreo.

5: I used melted to chocolate to fix my Mickey Mouse together. If you add red M&M's like I did in the photo below, Mickey transforms into Minnie.

6: Once the cupcakes are done baking, make an incision in the top to place the Mickey and Minnie cookies into.

7: Add some fresh cream to decorate, and your Valentine's Day Disney cupcakes are complete!

Kaori invites you into her world of character-themed food dishes in her recipe series. Be sure to check out her Instagram where she has uploaded many pictures of her character dishes!

There are many other cute Disney recipes available in the book that Kaori used too, so if you're in Japan or have access to Japanese books, then why not pick up a copy?

©️Disney

Kaori Kubota (@kaopan27)
I live in Hokkaido and I love to make character themed foods, desserts and pastries♡

I want to see my family smile, so I enjoy putting in a bit of effort to make character foods and changing food into something cute♡

You can see more of my character foods and character bento boxes on my Instagram page→@kaopan27

Information

Oishii Disney Sweets Recipes (Japanese Title: おいしい ディズニー スイーツ レシピ)

Price: ¥1,200 (Tax Included)

Available: Amazon Japan, Rakuten, and elsewhere

Sanrio Gift's New Shop in Ueno Welcomes Hello Kitty Panda Merchandise & More

Sanrio opened a new gift shop called Sanrio Gift Gate in Ueno on January 24, 2020. This is the 107th branch of the gift shop to open in Japan, following the openning of the Asakusa branch which opened in Asakusa last year. Aimed at tourists both Japanese and foreign, it sells merchandise of Sanrio's popular cast of characters.

You can't miss the shop as a giant Pompompurin embracing a panda suit-clad Hello Kitty are waiting to greet you at the entrance. The panda is a symbol of Ueno due to Ueno Zoo housing giant pandas.

The souvenir shop features a range of Ueno exclusives, including a line-up of six popular Sanrio characters wearing panda outfits.

Plush Toys (6 Designs) – ¥2,200 Each / Small Plush Toys (6 Designs) – ¥1,760 Each

Who could resist one of these cute toys? The bigger ones at 16cm tall and the small ones 11cm. The line-up includes fan favourites Hello Kitty, Pompompurin, Cinnamoroll, My Melody, Kuromi, and Pochacco.

There's also pop-up cards with a variety of designs, including one that opens up into Ameya-Yokochō open-air market, another that turns into Hello Kitty and a panda sat down, and more.

Edo-Tamagawaya x Hello Kitty Pink Tonkotsu Ramen – ¥390

Budoonoki Sanrio Character Baumkuchen – ¥594 Each (Hello Kitty/My Melody/Pompompurin/Cinnamoroll)

The Salt Industry Center of Japan x Hello Kitty Table Salt – ¥248

There's also food and snacks amongst a whole range of other goodies, all perfect as gifts and souvenirs.

Be sure to stop by Sanrio Gift Plaza the next time you're in Ueno.

ⓒ 1976, 1996, 2020 SANRIO CO.,LTD. TOKYO, JAPAN  Original Text: SANRIO CO.,LTD.

*All listed prices include tax. Sold items receive stock turnovers.

Information

Sanrio Gift Gate Ueno
Address: Plaza U Bldg. 1F, 4-8-6 Ueno, Taito Ward, Tokyo

Business Hours: 11:00-20:00 (subject to change – please check website for latest info))

Other: Duty-Free/Payment possible with Alipay and WechatPay.
Shop Information: https://www.sanrio.co.jp/shop/sh8122100/

Cute and Chewy Pompompurin Confection Now Being Sold at Lawson Convenience Stores in Japan

Lawson, one of the main convenience store chains in Japan, has released the all-new Mochi Mochi Pompompurin Yaki, a cute and chewy confection filled with custard pudding flavoured cream.

The kawaii sweet recreates Pompompurin's adorable sleeping form. Inside of him is a squirt of purin, or Japanese custard pudding, flavoured cream, which happens to be Sanrio Golden Retriever's favourite treat. You'll find yourself reaching for your phone to snap a photo of him to post online before tucking in.

The confection will be discontinued once all have been sold, so if you're in Japan, head to your closest Lawson.

©1996, 2020 SANRIO CO., LTD. APPROVAL NO.S604266

Hello Kitty, Cinnamoroll & Pompompurin Japanese Wagashi Confections Releasing at Lawson Convenience Stores.

Hello Kitty, Cinnamoroll and Pompompurin are the latest to be picked up by character-inspired Japanese confectionery series Tabemas. These wagashi sweets will go on sale at Lawson convenience stores across Japan (excluding Lawson Store 100 branches) on January 21, 2020.

The character line-up is based on the top three winners of the 2019 Sanrio Character Awards which we covered last summer. Hello Kitty came first place at the awards, and so she has gotten a special limited edition design for the sweets series. Cinnamoroll was second on the award list, and this is his first time joining Tabemas. Third place was Pompompurin who appears once again with Tabemas due to his popularity.

The 'Tabemas' brand name is an abbreviation of the Japanese words taberareru masukotto, meaning 'mascots that you can eat.' It is a Japanese confectionery series that combines well-known characters and Japanese sweets made from ingredients like red bean paste, sugar and rice flour. The sweets are also made with a dough called "nerikiri" which is used in making traditional Japanese wagashi sweets.

In line with the Year of the Rat in the Chinese zodiac, Hello Kitty is donning a kawaii rat outfit. Cinnamoroll's charm point is his big ears and pink cheeks.

Each confection is filled with a different flavour bean paste: Hello Kitty is cheese, Cinamoroll is milk, and Pompompurin is of course Japanese custard pudding, or 'purin,' flavoured. They maintain that delicate flavour of traditional Japanese wagashi while having cute contemporary designs. You'll be happy to know that all of the colouring is natural tooーno synthetic colours were added.

Perfect as a delicious treat, but don't forget to snap a photo for Instagram first! Each of them is also limited in stock, so don't miss your chance to grab one at the nearest Lawson store to you while in Japan.

© '76,'96,'01,'20 SANRIO APPR.NO.S604062

Information

Tabemas Hello Kitty 2020 / Tabemas Cinnamoroll / Tabemas Pompompurin 2020

Price: ¥280 Each (Tax Included)

Release Date: January 21, 2020

Available: At chilled desserts section of Lawson convenience stores across Japan

*Not available at Natural Lawson or Lawson Store 100

*Available while supplies last

Product Page: https://www.bandai.co.jp/candy/tabemas/sanrio3/

Kaori's Easy Recipe: Learn to Make My Melody Strawberry Purin

With just a small bit of ingenuity, turn everyday food into something cute using Kaori's easy recipe! With a few simple ideas, an ordinary recipe magically transforms into a cute dish.

As strawberries are currently in season in Japan, today we'll be looking at an easy recipe for delicious strawberry purin. All you have to do is mix the ingredients and you're done! In previous recipes, we've looked at purin recipes that involve decorating the inside of the glass. Many people commented that this is quite difficult so today we've got a recipe that is easy enough for even kids.

Ingredients (For 2 Portions)

Two small jars (this recipe uses Weck jars)

200g Strawberries with stems and leaves removed (approximately one small pack)

20g Sugar

20ml Fresh Cream (or milk to substitute)

5g Gelatin (dissolved in a tablespoon of water)

½ Teaspoon Lemon Juice

To Decorate

Premade Chocolate Decorations or Chocolate Slices (as you like)

Strawberries to Decorate (as you like)

Fresh Cream (As you Like)

Chocolate Pen

2: After removing the leaves and stems from the strawberries, blend them in a mixer.

3: Heat the mixture in a microwave on 600w for 50 seconds. Afterwards, add the sugar, gelatin solution and lemon juice in that order. Finally, mix in the fresh cream.

4: Meanwhile, press the premade chocolate decorations or sliced chocolate (white) into the inside wall of your jar.

5: Use the chocolate pen to draw the face, strawberries and ribbons from the outside of the glass. If you make a mistake, wipe it off using kitchen paper and try again.

6:Put the jar into the fridge for the chocolate to harden. Once the chocolate does not sink when the jar is placed upright, slowly add your strawberry mixture into the jar and put it back in the fridge until hard. After your dessert solidifies, you can add the finishing touches of whipped cream and strawberries.

And you're done!

Kaori invites you into her world of character-themed food dishes in her recipe series. Be sure to check out her Instagram where she has uploaded many pictures of her character dishes!

Profile

Kaori Kubota

@kaopan27

I live in Hokkaido and I love to make character-themed foods, desserts and pastries♡I want to see my family smile, so I enjoy putting in a bit of effort to make character foods and changing food into something cute♡You can see more of my character foods and character bento boxes on my Instagram page→ 

@kaopan27

Kaori's Easy Recipe: Learn to Make Rilakkuma Santa Cookies

With just a small bit of ingenuity, turn everyday food into something cute using Kaori's easy recipe! With a few simple ideas, an ordinary recipe magically transforms into a cute dish.

In this recipe, you'll learn how to make Santa Rilakkuma cookies 

1: Ingredients: (For 10 Rilakkumas)

Unsalted butter: 55g

Icing sugar: 25g

White sesame seeds: 30g

Weak flour: 75g

2: Leave the unsalted butter out for a while until it reaches room temperature and then mix until smooth. Next, mix in the sugar, sesame seeds and then flour in that order. 

3: Next, split the dough into portions. To make one cookie, you need 15g for the face and 1g of dough for each ear. Arrange your face and both ears as shown in the photo below. 

Top tip: Rilakkuma's face is oval-shaped so don't make it circular.

4: After you've formed all your Rilakkumas, bake them at 180℃ for 15 minutes.

 

5: Please refer to the video below to decorate Rilakkuma's face:


Before the cookies get cold, coat them in icing sugar, using a small brush to dust off the excess. Then, wait for the cookies to cool completely before decorating the face. Place a Meiji Apollo Strawberry Chocolate on Rilakkuma's head for the Santa hat and you're done. 

This is the perfect way to contribute to your next Christmas potluck and it is a flawless plan to impress all your friends.

Kaori invites you into her world of character-themed food dishes in her recipe series. Be sure to check out her Instagram where she has uploaded many pictures of her character dishes!

Kaori Kubota (@kaopan27)

I live in Hokkaido and I love to make character themed foods, desserts and pastries♡

I want to see my family smile, so I enjoy putting in a bit of effort to make character foods and changing food into something cute♡

You can see more of my character foods and character bento boxes on my Instagram page→@kaopan27

Pompompurin Cafe Reveals Christmas Menu For Harajuku, Yokohama & Umeda Branches

The Harajuku, Yokohama and Umeda branches of the Pompompurin Cafeーthe cafe chain centred on Sanrio's popular character Pompompurinーis serving up two cute Christmas menu items this year from December 1 to 25.

*Food names below are translated from Japanese

Hurry Up Santa – Pompompurin Cheese Keema Curry – ¥1,290 (Before Tax)

This rich and spicy keema curry is made with Parmesan cheese, cheddar cheese, and natural cheese. The colourful stars are made from carrot and paprika, while the spiralled Christmas cheese is a combination of spinach and mashed potato. Purin is made of rice and is waiting in anticipation for Santa to deliver his present. You'll see he's holding a stocking which is a made from bread and walleye pollack mayo. A hearty dish that is both delicious and adorable

Snowman Pompompurin – Snow Covered Chocolate Tart ¥1,190 (Before Tax)

Pompompurin has turned into a vanilla ice cream snowman and is standing next to a pistachio cream Christmas tree. They are both atop a rich chocolate tart. This cute dessert is like a Christmas garden straight out of a children's picture book.

If you decide you want to spend your Christmas with Pompompurin this year, then you'll receive a free lunch mat when you order food and a free coaster when you get a drink. These are both limited in quantity, so don't miss out!

©1996, 2019 SANRIO CO., LTD. APPROVAL NO.S603310

Information

■Pompompurin Cafe Harajuku

Address: CUTE CUBE HARAJUKU 3F, 1-7-1 Jingumae, Shibuya, Tokyo

Opening Hours: 11:00-21:00 (Food Last Orders 20:00 / Drinks Last Orders 20:30)

Access: 3-minutes on foot from the Takeshita Exit at Harajuku Station

TEL: 03-5786-0770

■Pompompurin Cafe Yokohama

Address: Yokohama Sotetsu Square, 2-1-5 Minamisaiwai, Nishi-ku, Yokohama-shi

Opening Hours: 10:00-21:00 (Last Orders 20:30)

Access: 5-minutes on foot from West Exit at Yokohama Station via JR

TEL: 045-311-6750

■Pompompurin Cafe Umeda
Address: Hankyu Sanbangai South Wing B2F, 1-1-3 Shibata, Kita-ku, Osaka-shi
Opening Hours: Weekdays 11:00-22:00 (Last Orders 21:30) / Weekends & Holidays 10:00-22:00 (Last Orders 21:30)
Access: 3-minutes from Osaka Station via JR
TEL: 06-6292-7140

Pompompurin Cafe

Official Website: http://pompom.createrestaurants.com

Kaori's Easy Recipe: Learn to Make Frozen 2 Milk Tea Muffins

With just a small bit of ingenuity, turn everyday food into something cute using Kaori's easy recipe! With a few simple ideas, an ordinary recipe magically transforms into a cute dish.

In this recipe, you'll learn to make cupcakes based on the upcoming Disney film Frozen 2 which is set to hit theatres worldwide on November 22, 2019. These cupcakes are inspired by the Anna and Elsa poster design for the movie. This recipe has parts that are a little more tricky compared to my usual recipes, but put yourself to the test and you'll end up with something delicious!

Milk Tea Muffin Ingredients (Makes 5)

100g weak flour

70g unsalted butter

50g granulated sugar

1 egg

1 tsp bottled chestnut syrup

5-6 chestnuts preserved in syrup

50ml milk tea

*To make the milk tea, add one black tea bag into 70ml of milk and draw 50ml from that

Bean Paste Ingredients

500g white bean paste (shiro-an in Japanese)

25g unsalted butter (room temperature)

20ml milk

A bit of of vanilla extract

A bit of Wilton White icing colour

1. First, we'll make the milk tea muffins. Bring the unsalted butter to room temperature and whisk with a hand mixer. Add the granulated sugar and continue to whisk. Whisk the egg fully, and then add slowly to the mixture. Make sure to add the egg slowly so as to not split the butter.

2. Sieve the wheat flour and baking powder and add to the mix. Slowly add the milk tea and continue to whisk to bring the mixture together.


3. Add a teaspoon of the chestnut syrup. Chop the chestnuts and add those too, then mix once again.

4. Add 70-80% of the mixture equally between five cupcake cups. Bake at 170° for approximately 25 minutes.

5. Next, we'll make the bean paste cream. Do this by mixing together the white bean paste, unsalted butter, milk, vanilla extract, and Wilton White all at once. The Wilton White makes the cream turn a pure white colour.

6: Allow the muffins to cool, lather over the bean paste to taste, and finally decorate. All done!


I added colouring to chocolate plastic for the chest part of the dress. Then I cut it up and added it to the cupcakes. I hope you enjoyed the recipe, be sure to try making your own movie-inspired handmade desserts at home too!

The long-awaited sequel to Disney's blockbuster animated is right around the corner. The first Frozen film touched the entire world with its frosty beauty with both its story and music. Let It Go in particular was a worldwide phenomenon, and was an immense hit in Japan too.

Frozen 2 will see Elsa embark on a dangerous journey with Anna, Kristoff, Olaf and Sven as she discovers why she was born with magical powers, the answer to which is threatening her kingdom.

The new film's main theme, Into The Unknown, captures the complex feelings and emotions Elsa holds as she steps forth, with all her anxieties and hopes, into a new world.

Frozen 2 Trailer Japanese Version

The first Frozen film was a widespread global hit and there's no denying that Frozen 2 will follow in its footsteps. Get together with your family, friends or lover to watch it for the best experience.

Kaori invites you into her world of character-themed food dishes in her recipe series. Be sure to check out her Instagram where she has uploaded many pictures of her character dishes!

Kaori Kubota (@kaopan27)

I live in Hokkaido and I love to make character themed foods, desserts and pastries♡

I want to see my family smile, so I enjoy putting in a bit of effort to make character foods and changing food into something cute♡

You can see more of my character foods and character bento boxes on my Instagram page→@kaopan27

©2019 Disney. All Rights Reserved.

Information

Frozen 2

Release Date: November 22, 2019

Distributed by: Walt Disney Studios/Motion Pictures

Directors: Chris Buck/Jeniffer Lee

Starring: Idina Menzel (as Elsa), Kristen Bell (as Anna)

Official Website: https://disney.co.uk/movies/frozen-2

The Pompompurin Cafe's New Autumn Dessert Will Warm & Fill You Up

If you've not yet been to the Pompompurin Cafe, or this is your first time hearing about itーthemed entirely on Sanrio's popular character Pompompurinーthen their two new menu items, available this autumn for the entire month of November, is sure to pull you in.

As the leaves turn red and gold and people order pumpkin spiced lattes for takeout, the Harajuku, Yokohama and Umeda branches of the Pompompurin Cafe want to get in on the autumnal action too. So they have created a special chicken stew and fruit gratin, served as colourful as the season itself is and perfect during any time of the day when your belly is calling for nutrition.

Chicken Brown Stew: Strolling Along While Looking at the Autumn Colours – ¥1,290 (Before Tax)

This chicken stew features Pompompurin and his best friend and hamster Muffin. The dish depicts a scene of both of them strolling and getting along while looking at the autumn leaves. Purin is made from rice and sits inside the rich stew while a mashed potato Muffin perches on top of him wearing his hat.  They are surrounded by carrots and other veggies made to look like the vibrant leaves of Japan's maple and ginkgo trees.

Fruit Gratin: Hot Spring Warm-Up – ¥1,090 (Before Tax)

If you're looking to satisfy your sweet tooth but also want to warm up then look no further than at Pompompurin and Muffin relaxing together in the hot spring that is this fruit gratin dessert. Purin is made from pumpkin flavoured ice cream while Muffin is of the vanilla kind. They are warming themselves up in a fruit-packed custard cream sauce. The fruit is drizzled in sauce and cooked to make the fruit even sweeter and intensify its flavour. Did you see the cute towels on their heads too? Many people do this in Japan when getting into the hot spring (or "onsen"), and you might have seen it if you watch anime too.

The fall fun doesn't stop there however, as all people who dine at the cafe will receive the lunch mat pictured below, and everyone who orders a drink will get a coaster. Available while supplies last.

Lunch Mat (3 Designs)


Coaster (1 Design)

Stay warm while its cold at the Pompompurin Cafe this autumn.

©1996, 2019 SANRIO CO., LTD. APPROVAL NO.S602780

Information

Pompompurin Cafe

Official Website: http://pompom.createrestaurants.com

■Pompompurin Cafe Harajuku

Address: CUTE CUBE HARAJUKU 3F, 1-7-1 Jingumae, Shibuya, Tokyo

Opening Hours: 11:00-21:00 (Food Last Orders 20:00 / Drinks Last Orders 20:30)

Access: 3-minutes on foot from the Takeshita Exit at Harajuku Station

TEL: 03-5786-0770

■Pompompurin Cafe Yokohama

Address: Yokohama Sotetsu Square, 2-1-5 Minamisaiwai, Nishi-ku, Yokohama-shi

Opening Hours: 10:00-21:00 (Last Orders 20:30)

Access: 5-minutes on foot from West Exit at Yokohama Station via JR

TEL: 045-311-6750

■Pompompurin Cafe Umeda
Address: Hankyu Sanbangai South Wing B2F, 1-1-3 Shibata, Kita-ku, Osaka-shi
Opening Hours: Weekdays 11:00-22:00 (Last Orders 21:30) / Weekends & Holidays 10:00-22:00 (Last Orders 21:30)
Access: 3-minutes from Osaka Station via JR
TEL: 06-6292-7140

Kaori's Easy Recipe: Learn to Make Mickey Mouse Pancakes

With just a small bit of ingenuity, turn everyday food into something cute using Kaori's easy recipe! With a few simple ideas, an ordinary recipe magically transforms into a cute dish.

In this recipe, I made Mickey Mouse pancakes from the Face Art ga Kawaii Pancake Pan Mickey Mouse set you can buy on Belle Maison. You hear a lot of different tips and tricks on how to make the perfect pancake with your batter, so I'll show you a combined recipe to make yours as beautiful as possible♡

1. Ingredients (Makes 7-8 pancakes)

400g hot cake mix

300ml milk

1 large egg (approx. 52g)

15g honey

2. Mix the egg and milk together well. Add the hot cake mix slowly to ensure it does not become lumpy. Next, add the honey and mix. If you have time, leave to stand for 30 minutes on the side.

3. For the next step, please see the video I made below.

Heat the pan well without any oil.

Once heated, place the pan on a wet cloth once to remove the residual heat, turn the flame down to a medium, and pour in your mix.

Once your mix is in the pan, reduce to a low heat, put the lid on and leave to cook.

Once the surface is dry, cook the back side of the mix in another pan which you have already heated.

Done!

Belle Maison sells Minnie Mouse and Winnie the Pooh versions too. Try making your own Disney pancakes!

Kaori invites you into her world of character-themed food dishes in her recipe series. Be sure to check out her Instagram where she has uploaded many pictures of her character dishes!

Profile

Kaori Kubota (@kaopan27)
I live in Hokkaido and I love to make character themed foods, desserts and pastries♡

I want to see my family smile, so I enjoy putting in a bit of effort to make character foods and changing food into something cute♡

You can see more of my character foods and character bento boxes on my Instagram page→@kaopan27

©️Disney

Kaori's Easy Recipe: Learn to Make Pumpkin and Cream Cheese Pound Cake For Halloween

With just a small bit of ingenuity, turn everyday food into something cute using Kaori's easy recipe! With a few simple ideas, an ordinary recipe magically transforms into a cute dish.

In this recipe, I will show you how to make the perfect treat for Halloween: a pumpkin and cream cheese pound cake, finished with cute bats and a ghost. This is a super easy recipe that can be made by simply putting everything into a blender and baking it in the oven. By the end of you you will have yourself a Halloween-themed rich pound cake as soft as Japanese pudding.

1: Ingredients (Makes one 22cm pound cake)

150g cream cheese

250g cooked pumpkin (skin and seeds removed)

50g-60g sugar

1 egg

150ml fresh cream

20g soft wheat flour

2: Blend all of the ingredients together in a blender

3: Once the mix takes on a smooth texture, pour into a cake tin and bake at 180℃ for 40 minutes. Once cooked, remove from the oven and leave to cool, then leave in the fridge overnight.

4: Once the cake has set, slice a piece and add your dollop of fresh cream for your ghost and decorate.

To see how I did the toppings, check the video I made above. Once your cute toppings are done, your cake is ready to enjoy!

Kaori invites you into her world of character-themed food dishes in her recipe series. Be sure to check out her Instagram where she has uploaded many pictures of her character dishes!

Profile

Kaori Kubota (@kaopan27)
I live in Hokkaido and I love to make character themed foods, desserts and pastries♡

I want to see my family smile, so I enjoy putting in a bit of effort to make character foods and changing food into something cute♡

You can see more of my character foods and character bento boxes on my Instagram page→@kaopan27

Pompompurin Zombieland: Save Pompompurin From Zombies at Sanrio's Horror Event

Sanrio's popular character Pompompurin is collaborating with Obaken, a horror experience creative company, to bring the brand new horror event known as Pompompurin Zombieland to Sanrio Puroland on November 16 and 30.

Tickets will go on pre-sale for official Pompompurin ambassadors, or Pombassadors, on September 14 at 10:00am (JST) and general sales will begin on September 28 at 10:00am (JST). To find out more about Pombassadors and how to become one click here.

Pompompurin Zombieland Promo Video

Horror experience planner Obaken is set to shake the cute world of Pompompurin into a terrifying zombie-infested one. In the story, Pompompurin was happily looking for some tasty mushrooms to pick when all of a sudden he eats a poisonous one by mistake. It is your mission to deliver him the antidote to stop him from becoming a zombie. Other unfortunate victims who also ate poisonous mushrooms have died and returned as the living dead and will roam around Puroland. The antidote to save Pompompurin, who is on the brinks of turning into a green zombie, lies in the non-poisonous mushrooms located in 6 areas of the park.

You must survive getting infected by the zombie virus and get your hands on mushrooms. If you succeed you'll receive an exclusive Pompompurin Zombieland pin badge stating that you have cleared the mission.

You can even pick up an exclusive Zombie Purin t-shirt. These are limited in stock and can't be bought anywhere else.

Additionally, if you wear a combination of yellow and brown-coloured clothing when attending the event―which are the colours of Pompompurin―you'll get the above-pictured Zombie Purin sticker.

Full details can be found on the event's website below. Don't miss out on this creepy-cute experience this autumn.

©︎'96, '19 SANRIO