Shu Uemura Releases Sustainable 'Mindfully Crafted in Japan' Collection
Japanese cosmetic brand Shu Uemura is set to release its new origami-inspired 'mindfully crafted in japan' collection on June 18, but presales opened on their online shop last Tuesday. The collection is a display of Japanese tradition and craftsmanship with sustainability at the core of its concept.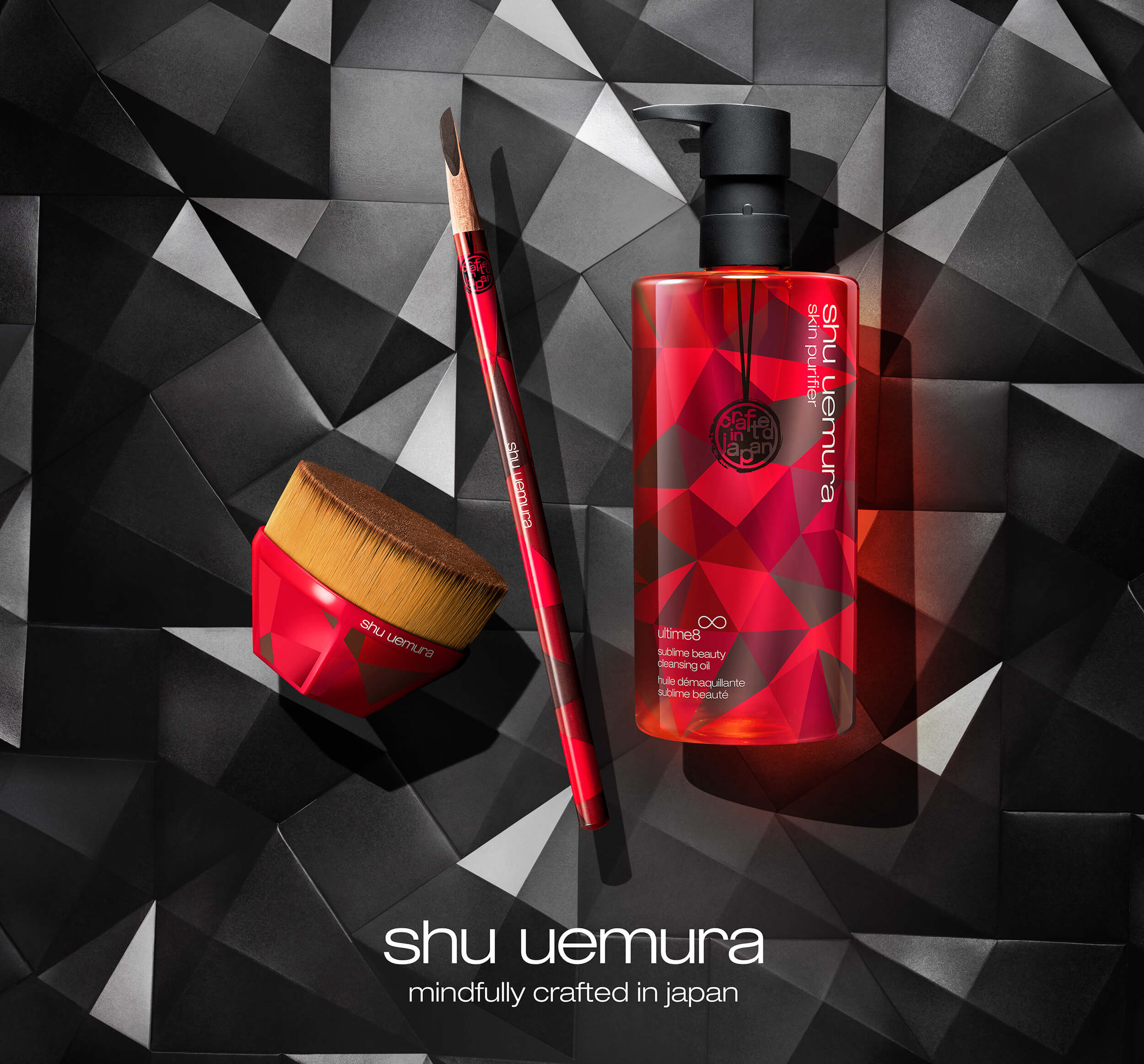 ultime8 ∞ sublime beauty cleansing oil (Limited Edition Design) | ¥12,650 (Tax Included)
hard formula hard 9 (seal brown 02) (Limited Edition Design) | ¥2,860 (Tax Included)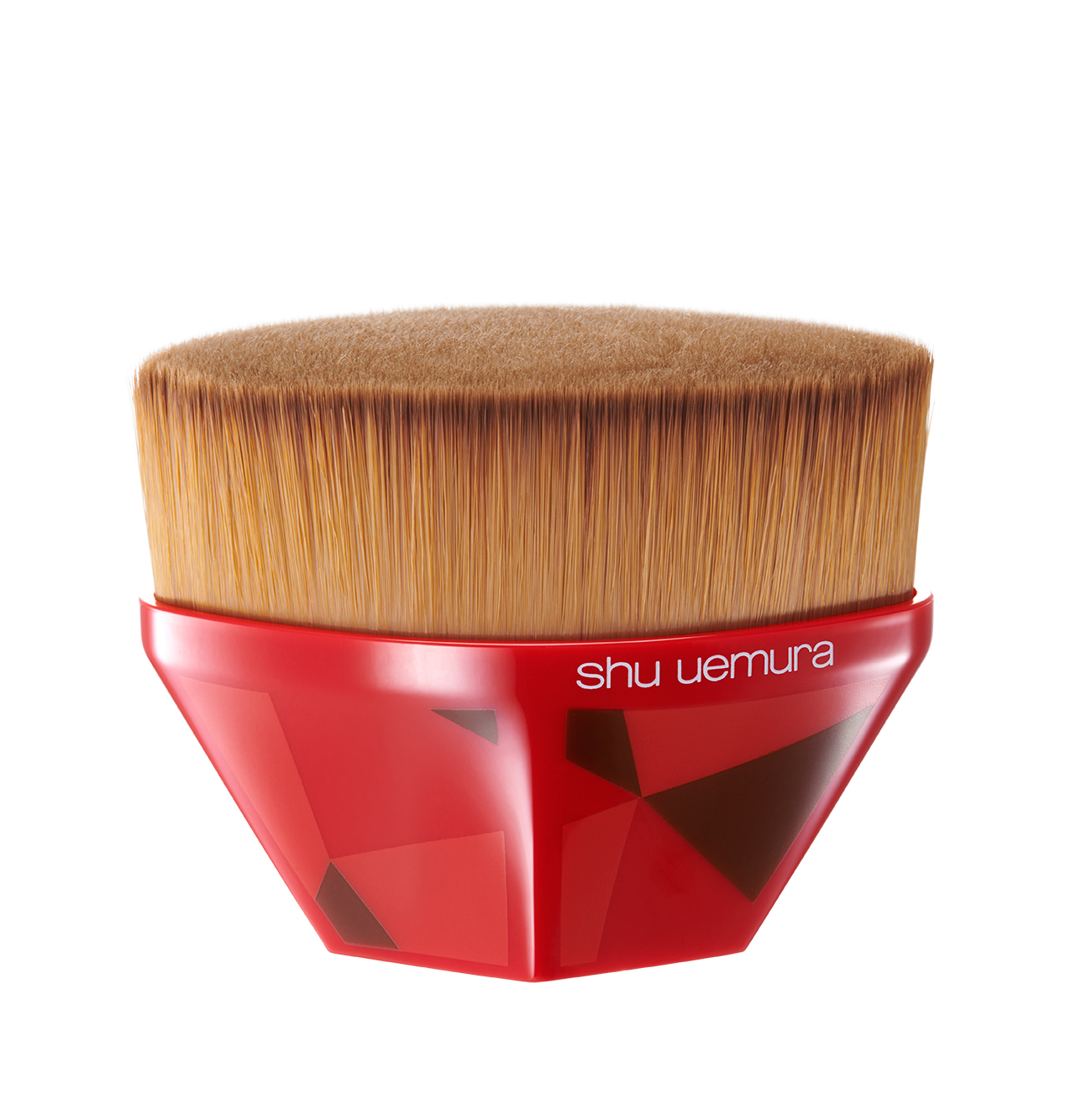 petal 55 foundation brush (Limited Edition Design) | ¥6,600 (Tax Included)
The collection focuses on three aspects of mindfulness with Japan as its focus: mindful of Japanese nature with locally and sustainably resourced ingredients, mindful of Japanese resources by taking only what is needed, and mindful of Japanese traditional craftsmanship by preserving traditions from the past.

Shu Uemura's Cleansing Oil is one of the brand's most notable sustainable products, preserving everything important about Japanese culture from its history to its natural environment. Using traditional methods passed down the ages, the product is made from plant-derived ingredients sourced sustainably, and the packaging is made from 100% recyclable plastic. The Cleansing Oil bottles were also added to Shu Uemura's new recycling program which began on May 5 which enables bottles to be reused.
Don't miss out on this special new collection by Shu Uemura.

Information
mindfully crafted in japan collection
Release Date: June 18, 2021
Available: shu tokyo makeup box
Address: B-SIDE 5-11-2 Jingumae, Shibuya, Tokyo, 150-0001
Pre-Sale: Online from June 1, 2021
Official Online Shop: https://www.shuuemura.jp
RELATED ENTRIES
Naruto Anime Series Celebrates 20th Anniversary with Traditional Kokeshi Dolls

To commemorate the 20th anniversary of the Naruto anime series, Usaburo Kokeshi has created two traditional dolls modeled after Naruto Uzumaki and Sasuke Uchiha. The original manga series by Masashi Kishimoto has become a global phenomenon, and fans won't want to miss out on these unique pieces! Preorders are now open.

Usaburo Kokeshi makes each of these pieces by hand, transforming them from children's playthings into traditional works of art. The wood used to create these pieces is from trees in Gunma Prefecture.

Usaburo Kokeshi Doll – Naruto Uzumaki

Usaburo Kokeshi Doll – Sasuke Uchiha


These adorable dolls completely recreate both character's outfits and hairstyles, and the designers clearly focused on the small details. Enjoy these palm-sized versions of your favorite Naruto characters!

©岸本斉史 スコット/集英社・テレビ東京・ぴえろ

Creative Social Media Site Behance Promotes Traditional Japanese Culture in New Project

Behance, the world's largest creative social media network, has started a new project to promote Japanese traditional culture and arts and crafts to the world. Works on Behance will be transformed into NFTs, with the goal to establish a new way for traditional craftsmen to profit from their work.

Japan's traditional arts and crafts are well-known by many around the world. On the other hand, challenges still remain as many regions' traditional manufacturing industries are digitized. Sharing more detailed information about these crafts with overseas markets has also been difficult.

According to the "Survey on the Revitalization of Local Traditional Manufacturing Industries" published by the Development Bank of Japan in 2018, Japan's traditional arts and crafts industry peaked around 1980. Due to the recession caused by the burst of the bubble economy, the rise of inexpensive foreign products, and changes in lifestyle, the amount of production has been declining year by year. Compared with the peak period, current production has dropped to one-fifth or about 100 billion yen. The workers involved in traditional crafts are also aging, making it difficult to pass on their skills to younger creators.

On Behance, users can not only get inspiration from other people's work but can also publish their own works and receive helpful feedback and comments. Marketing professionals also use Behance to find creators for campaigns and collaborations, and previously, a Japanese creator who had uploaded his work to the social media site was asked to illustrate the cover of the New York Times. 

This project is designed to promote traditional Japanese arts and crafts in the hopes of supporting their continued development in the face of many difficult conditions.

Information

Digital Council for Traditional Culture x Adobe

Official Site: https://tcdc.jp

Shu Uemura Announces Spring/Summer Collection Featuring Limited Edition Colors

Japanese makeup brand Shu Uemura launched its new 2022 Spring/Summer Collection on April 22, 2022 in limited quantities. Kabuki actor Ichikawa Somegoro VIII, who became a Shu Uemura brand ambassador in March 2022, is seen in new visuals for the collection.

Collection


Limited Edition Eyeshadow Palette


Nude Punk Eye Palette (5 limited edition colors / 1 existing color)


Lilac Rebel Eye Palette (3 limited edition colors / 3 existing colors)

Lipstick Unlimited Kinu Satin

Tailored Nude, Limited Edition Color (Star Shade)

Auburn Tulle

Lipstick Unlimited Kinu Cream

Taupe Couture (Star Shade)

Sienna Silk

Ultim8∞ Sublime Beauty Cleansing Oil

Hard Formula Hard 9 Seal Brown

Petal 55 Foundation Brush

The Shu Uemura philosophy is that makeup is "fashion for the face." From makeup that hides blemishes to makeup that helps people express themselves, every piece is important.


In 1968, Shu Uemura introduced 'Mode Makeup,' with the idea that just as there are patterns in clothing, there should be patterns in makeup as well. He proposed free expression using makeup and inspired people to be more fearless with their makeup application. Try expressing yourself more in 2022!

Makeup Brand Integrate Begins Selling Ojamajo Doremi Inspired Items for a Limited Time

Shiseido's makeup brand Integrate will launch three products inspired by the anime series Ojamajo Doremi on April 21, 2022 in limited quantities! Each will come in packaging designed in collaboration with Toei Animation. Fans can grab the Integrate Pro Finish Foundation Special Set D, the Integrate Pro Finish Liquid Special Set D, and the Integrate Nuance Eyebrow Mascara D while supplies last.

Those in their 20s and 30s remember Ojamajo Doremi fondly as a series they watched during their childhood. The series followed three elementary school girls–Doremi, Hazuki, and Aiko–as they become witch apprentices.

For the collaboration, a special set of two popular foundations and three limited-edition colors of eyebrow mascara will be available while supplies last. The character illustrations on the packaging were created exclusively for this release, so fans won't want to miss it!

To celebrate the release, a Twitter and Instagram campaign is currently underway, and fans who take a test on the official Integrate website will be able to see which character is most like them and which makeup would suit them best. 

©東映アニメーション

Information

Integrate Pro Finish Foundation Special Set D

Integrate Pro Finish Liquid Special Set D

Integrate Nuance Eyebrow Mascara D

Launch: Limited Quantities Available April 21, 2022

Integrate Official Site: https://www.shiseido.co.jp/ie/

Cosmetics Brand Lovisia Unveils 15 Detective Conan Themed Hand Creams

Cosmetics brand Lovisia has unveiled 15 hand creams inspired by the Detective Conan anime series. Those purchasing three or more bottles at the Lovisia online store will receive a special Detective Conan drawstring bag while supplies last!

Fans can grab a hand cream decorated with their favorite character. Not only are these extremely cute, but they include four moisturizing ingredients perfect for keeping skin soft. The characters Detective Takagi and Detective Sato from the recent film Detective Conan: The Bride of Halloween are included in the lineup, with other familiar faces like Jinpei Matsuda and Hiromitsu Morofushi also appearing.

The new hand creams have a refreshing and clean scent, containing moisturizing Vaseline, shea butter, ceramide, and argan oil to prevent dry skin during any season.

The package designs feature a new retro theme, with the concept of "New Styley Collection." Each image blends nostalgia with a fun pop of color. Which character would you like to see each time you want to moisturize? 

Information

Lovisia Detective Conan Hand Cream
Where to Buy: Lovisia Online Shop, Sundry Shops
Release Date: April 15, 2022

'Doraemon: Nobita's Little Star Wars 2021' Film Inspires Limited Edition Ukiyo-e Prints

Fans of Doraemon and traditional Japanese artwork won't want to miss this special collaboration! On March 30, preorders will open for ukiyo-e prints inspired by the film 'Doraemon: Nobita's Little Star Wars 2021.' These limited-edition pieces were created by Iwano Ichibei, a Living National Treasure.

The prints show Doraemon and friends along with the alien Papi and the special gadget the "Small Light." The tool is giving off light depicted in a traditional Edo pattern believed to bring good luck, and the characters are shown inside its silhouette. 

Ukiyo-e Woodblock Print Production

Engraving by Craftsman

Printing by Craftsman

First, a sketch is made, and a monochrome version of the print is carved. After carving a number of woodblocks for each color and using them to rub the painting tirelessly to bring it to life, one single woodblock print is completed. 

 

 

 



The extremely delicate and advanced techniques these craftsmen utilize have been passed down from the Edo period. Imagine having one of these beautiful pieces hanging in your home!

Information

'Doraemon: Nobita's Little Star Wars 2021' Commemorative Ukiyo-e Prints

Preorders Open: March 30, 2022
Price: ¥33,000 (Excluding Tax and Shipping Charges)

Quantity: 300
Painter: Living National Treasure Iwano Ichibei 
Online Shop: http://ukiyoework.com/

Kabuki Actor Somegoro Ichikawa VIII Becomes Brand Ambassador for Shu Uemura Japan

Shu Uemura Japan has announced that Kabuki actor Somegoro Ichikawa VIII will be the brand ambassador for its popular cleansing oil and other cosmetic items.

Shu Uemura products are all crafted in Japan and the brand exemplifies the Japanese spirit of perfection, care, and tradition. This advanced technology and cutting-edge design philosophy is a perfect match for Somegoro Ichikawa, who is incredibly passionate about Japanese artistry through his work in kabuki theater. This collaboration is bringing kabuki, a 400-year-old art form, to the mainstream, infusing it with modernity.

Comment from Somegoro Ichikawa


"I'm honored to have been chosen to serve as an ambassador for Shu Uemura Cleansing Oil, which I personally use on a regular basis. What can we do to pass on Kabuki and other Japanese traditions to future generations? I feel a strong connection between my own ideas and challenges and those of the Shu Uemura brand." 

Jill Stuart Beauty Reveals Limited-Edition Cherry Blossom Spring Collection

Jill Stuart Beauty has launched a limited spring collection, 'Crystal Bloom Sakura Bouquet.' These items, inspired by beautiful double-layered cherry blossoms, are now available for purchase both in-store and online!

Jill Stuart Crystal Bloom Sakura Bouquet Eau de Parfum

Jill Stuart Crystal Bloom Sakura Bouquet Perfumed Hand Cream

Jill Stuart Sakura Bouquet Bloom Mixed Blush Compact

21 – Rosy Cherry Blossom

Jill Stuart Sakura Bouquet Lipstick – Lip Jewel Gemmy Satin / Jill Stuart Sakura Bouquet Lipstick Case

106 – Cherry Waltz

107 – Fluttering Petals

Jill Stuart Sakura Bouquet My Lips 01 – Fluffy Cherry

Cherry blossoms are a symbol of spring and continue to entrance people each year. Sakura in full bloom have the power to bring people together, and this spring, Jill Stuart hopes that this fragrance and beauty collection can do the same.

30 New Pokémon Hand Creams from Lovisia are Now Available

The Lovisia Pokémon Gift Cosmetics Series, which has sold a total of more than 1.4 million units, launched a new product, Pokémon Hand Cream and now available for sale at the Lovisia Online Shop, some of the Pokémon Centers, and variety stores nationwide.

The new "Pokémon Hand Cream" features the largest-ever number of 30 Pokémon in a variety of designs with four types of moisturizing ingredients that make it perfect for the coming season.

The Pokémon hand creams have been introduced as Pokémon gift cosmetics since 2018, with a maximum of six different Pokémon each year, but there were many requests for other Pokémon hand creams, so for the 2021 edition, 30 different Pokémon hand creams were produced. The lineup includes Pikachu and Kabigon, which have been part of the series for a long time, as well as new Pokémon that are appearing in the series for the first time, making it a perfect gift for yourself or your friends.

The colors have been reformulated from the previous trend-conscious design colors. The background colors are designed to represent each Pokémon's type.

The Pokémon hand cream is formulated with Vaseline, shea butter, ceramide, and argan oil. The hand cream has a refreshing soap scent and is smooth to use, yet moisturizing. It can be used to care for areas of concern and fingertips to prevent rough and dry skin due to the increased number of hand washing and sanitizing. It will surely help you take care of your hands and fingers while enjoying Pokémon with children!

To celebrate the release of the product, those who purchase more than three can get a special Pokémon Multi Pouch designed by Lovisia while supplies last. Specially designed pouches of Pikachu and Pocchama are perfect for your cosmetic and small items.

Pokémon cosmetics are the must-have hand cream for the coming season!

Cosmetic Brand SHIRO Unveils Powerful Oil Collection

A powerful skincare collection is coming in January 2022 from cosmetic brand SHIRO. The Oil Collection will feature eight unique products with the company claiming that the life force of the Earth itself is put into each and every drop. 

Items in the collection utilize rich plant extracts and other healthy materials and offer something for each and every skin type. Depending on a user's skin and the amount of water used, the oils may react differently. People's skin changes as time goes on due to stress and things like temperature, and these may help reduce some of that damage. 

The eight oils come in three categories: FACE, FACE & BODY, and BODY. Choose the one that best suits your skin condition and daily needs!

FACE OIL

Calendula Oil

Tamanu Oil

St. John's-wort Oil

Kalahari Melon Oil

These four oils each utilize a specific extraction method and essential oil depending on the plant used. With different textures and fragrances, they can be helpful for achieving the best possible skin. You can't go wrong with this lineup, whether you're new to beauty oil or are a regular user. 

FACE&BODY OIL

Japanese Mugwort Oil

Flax Oil

This is the first time SHIRO has released two types of oils that can be used on both the face and the body. Sold in a generous size, these are perfect for daily skin care and body massage. 

BODY OIL

Castor Oil

Arnica Oil

These two body oils soften and moisturize skin while giving off incredible fragrances tinged with essential oils. 

Hello Kitty and Cosmetics Company Shu Uemura Release Holiday Collection

Japanese cosmetics brand Shu Uemura is releasing two new holiday collections in collaboration with beloved Sanrio character Hello Kitty! The first collection, featuring twelve items, will go on sale on November 1, 2021, and the second collection, featuring four items, will be available on November 15, 2021. Only limited quantities will be available. Preorders are now available on the official online store. Certain products will also be available at Sanrioworld GINZA 1F starting October 30 to celebrate the new collaboration. 

Bold, edgy, and chic makeup looks

Rich Collection Lineup

1st Collection Lineup

Rock the Party Palette (6 limited-time colors/ 4 existing colors): ¥9,900 (Tax Included) 

Discogram Eye Palette (6 limited-time colors): ¥7,150 (Tax Included) 

Unlimited Disco Glitz Lipstick (2 limited-time colors): ¥4,070 (Tax Included) 

Unlimited Satin Lipstick (2 limited-time colors): ¥4,070 (Tax Included) 

Unlimited Lacquer Shine Lipstick (1 limited-time color/1 existing color): ¥3,740 (Tax Included)

Unlimited Cream Lipstick (2 limited-time colors): ¥4,180 (Tax Included) 

Ulim8∞Sublime Beauty Cleansing Oil (Limited-time packaging) 450ml: ¥12,650 (Tax Included) / 150ml: ¥5,060 (Tax Included)

Limited-Time Channel Goods

*Available only at the official online store and Global Flagship Beauty Boutiques

Unlimited Satin Lipstick VIP Auburn: ¥4,070 (Tax Included) 

Hard Formula 9 Seal Brown: ¥2,860 (Tax Included) 

Rock the Party Premium Makeup Box: ¥35,200 (Tax Included) 

Rock the Party Mini Lipstick Set: ¥7,150 (Tax Included) 

*Available only at the official online store and Global Flagship Beauty Boutiques

The new collaborative collection is inspired by Tokyo nightlife and is perfect for creating both a glamorous rock 'n roll look or something more soft and sweet. A number of new shades of eyeshadow and lipstick appear in this holiday collection, so why not snag some of these high-quality goods before they're gone? 

© 2021 SANRIO CO., LTD. APPROVAL NO. L614617

Information

shu uemura x Hello Kitty 1st Collection

Limited-Time Release Starting November 1, 2021 / 12 Items Total

Preorders Begin October 15, 2021

2nd Collection

Limited-Time Release Starting November 15, 2021 / 4 Items Total

Preorders Begin November 8, 2021

Where to Buy: 

Shu Uemura Locations Nationwide and Online / Global Flagship Beauty Boutiques

Official Site: https://www.shuuemura.jp

Artist Maki Ohkojima Collaborates with UpcycleLino to Create Sustainable Items

Artist Maki Ohkojima is inspired by life and the environment. UpcycleLino is creating completely recyclable products that produce zero waste. It makes sense that these two would collaborate, and their new items ask people to think more about their relationship with nature. With a theme of 'circulation,' these items will be on sale at participating shops around Japan and online. 

UpcycleLino × MANDALĀJU Big Band Collared Shirt

UpcycleLino × MANDALĀJU Sketched Tote Bag

UpcycleLino × MANDALĀJU Scarf

The 'Tree of Life' project is inspired by the theme of coexistence between the environment and all living things. It is important to protect limited resources for future generations. UpcycleLino is a completely sustainable company, using fabric scraps from other projects to create brand new clothes. 

People, animals, insects, plants, and all other living things exist in the circle of life, and this is the message conveyed through Maki Ohkojima's art. What can we do to better coexist with the planet? 

©角川武蔵野ミュージアム

Information

Kadokawa Musashino Museum 'Maki Ohkojima Art Exhibition – Perforated Spiral' 

Date: October 8, 2021 ~

Address: Kadokawa Musashino Museum (3-31-3 Higashi Tokorozawa, Saitama)

Hours: Sunday-Thursday: 10:00-18:00 (Last Entry at 17:30) / Friday, Saturday: 10:00-20:00 (Last Entry at 19:30)

Official Site: https://kadcul.com/

Collaboration Items

October 8, 2021~

Where to Buy: 

Kadokawa Musashino Museum Shop

nest Robe: https://store.nestrobe.com/nestrobe/ / CONFECT Online Shop and the following shop locations: Omotesando, Ginza, KITTE Marunouchi, Takasaki, Umeda, Kyoto, Nagoya, Okayama, Hiroshima, Fukuoka, Osaka Takashimaya