Miraculous: Tales Of Ladybug & Cat Noir Inspired Perfume Releases in Japan
A collection of perfumes inspired by the titular characters of the French CGI animated superhero/magical girl series Miraculous: Tales Of Ladybug & Cat Noir released in Japan on May 31.
Miraculous Ladybug Eau De Parfum
A delightfully sweet and sour combination of fruits inspired by the cute and cool superhero Ladybug.
Top Notes: Mango, Passion Fruit, Orange
Middle Notes: Magnolia, Peach, Sunny Accord
Last Notes: Hibiscus, Red Fruits, Musk

Miraculous Cat Noir Eau De Parfum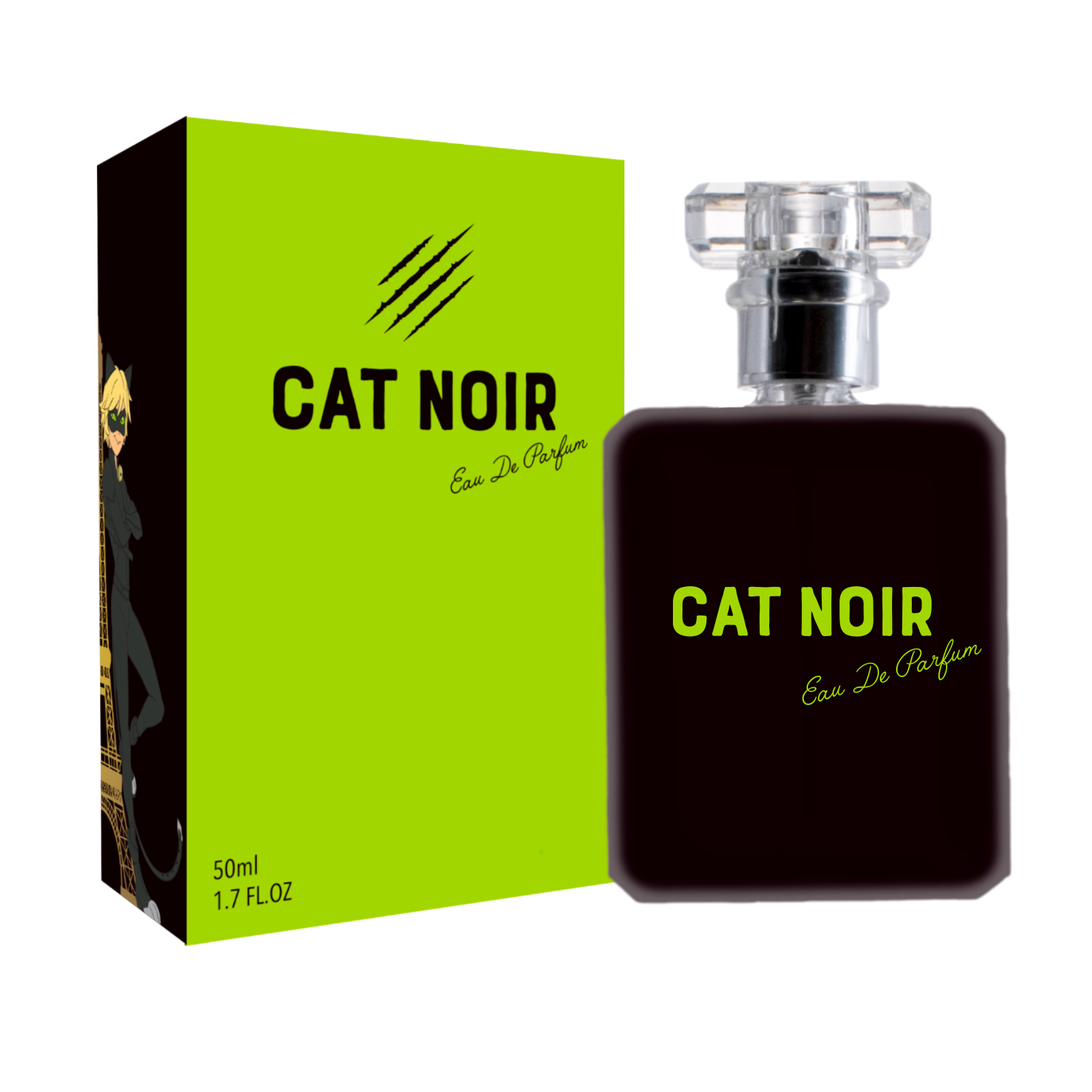 A refreshing citrus fragrance inspired by the free and audacious superhero Cat Noir.
Top Notes: Citrus, Sparkling Water
Middle Notes: Ozone, Floral, White Peach
Last Notes: Musk

The packaging for each perfume bottle features colours based on Ladybug and Cat Noir, and if you put both boxes side by side, it creates a completely image of the two superheroes standing back-to-back with the Eiffel Tower in the background.
Wrap yourself in the scents of courage and confidence with Ladybug and Cat Noir's superhero perfumes.
©2021 ZAGTOON– METHOD – TOEI ANIMATION.
RELATED ENTRIES
J-pop Group Perfume Announce New Dance Heel Model From Their 'Perfume Closet' Brand

Japanese pop group Perfume have announced that Part 5 Phase 1 of their fashion project Perfume Closet will launch on November 18, 2020 at 10:00 (JST).

Perfume released their latest single Time Warp on September 16 which cemented 15 years since their major debut and their 20th anniversary as a pop group. To promote the release, Perfume held their first ever online festival, "P.O.P" Festival (Perfume Online Present Festival), on September 21 where they served fans a virtual performance using the latest technology. The group also released a book entitled Perfume COSTUME BOOK 2005-2020 on October 23 which is a collection of their outfits since their major debut.

The latest entry to Perfume Closet will be split into two Phases which will launch on the brand's official website and via A!SMART!.

Phase 1 sees the arrival of new 6cm dance heels in three colours, a tote bag, cardholder, and more.


Black Suede | Burgundy Suede | Beige Suede

The line-up includes some items that were so popular last time that fans demanded a return as well as new colours of popular merch. The made-to-order dance heels however are new entries to Perfume Closet, cut to fine and sophisticated perfection.

Perfume Dance Heel pop-up shops where fans can try on the heels will also open in Japan, and select stores will also be stocking them. Check out the store list below.

11/18-12/1 @ Isetan Shinjuku Floor 2F
12/ 2~12/8 @ JR Nagoya Takashiyama Floor 4F
12/9~12/15 @ Hankyu Umeda Floor 4F
12/16~12/25 @ Sogo Hiroshima Floor 2F
12/26~12/31 @ Hakata Floor 4F

*Available while supplies last

Isetan Shinjuku will also be displaying Perfume's outfit from the Time Warp music video. The release date of Phase 2 has yet to be announced.

TOKYO MYSTERY CIRCUS Announces Escape Game Based On J-Pop Group Perfume

TOKYO MYSTERY CIRCUS, the world's first and Japan's biggest puzzle-themed theme park, has announced a new escape game centred on the Japanese pop group Perfume. Titled "Escape From The Room Next To Perfume," the game is set to hit the indoor theme park on September 22, 2020.

An escape game is a real-life interactive experience that has players solving puzzles to escape a room. The story of the Perfume game puts players on the same team as Perfume. As players wait in anticipation, an LED display made to look like a window opens to reveal the Perfume members, who greet players and encourage them on their escape. And so begins the game.

There are various items and pieces of information in the room for players to solve the puzzle, including dance poses by Perfume which give hints for the next step. It's an interactive experience that makes it feel like Perfume are really there with you.

Perfume fans can get their hands on a range of exclusive merchandise too, like a sticker set, folder, and message cards. These items will be sold at the TMC GOODS SHOP at Tokyo Mystery Circus as well as the online stores SCRAP GOODS SHOP and Perfume's own A!SMART.

Information

Escape From The Room Next To Perfume

Start Date: September 22, 2020

Location: TOKYO MYSTERY CIRCUS
Address: APM Bldg., 1-27-5 Kabukicho, Shinjuku-ku, Tokyo

Official Website:  https://mysterycircus.jp/perfume/

J-Pop Group Perfume to Make and Eat Recipes Submitted by Fans at P.O.P Festival

Japanese food tech company Cookpad Inc. is set to co-host the "P.O.P" Fes Food Court at Japanese pop group Perfume's upcoming Perfume Online Present ("P.O.P") Festival which will be held on September 21, 2020. Cookpad has also opened applications for fans to submit the recipes that they want Perfume to eat at the festival

"P.O.P" Festival Breakdown

With concerts and music festivals forced to be cancelled or postponed as a result of COVID-19, Perfume too had to cancel their Japan dome tour. September 21, 2020 marks the 15th anniversary since Perfume made their major debut, and the 20th anniversary since they formed. Since their tour was cancelled, they still wanted to celebrate in some way, which is how the "P.O.P" Festival was conceived. The online event will feature both free and paid content with a full timetable for the day.

"P.O.P" Fes Food Court

Food is an indispensable part of music festivals, so the event will have its own interactive "P.O.P" Fes Food Court which encourages fans to submit the recipes that they want Perfume to eat. The chosen recipe will be displayed on the food court page of the event's website and Perfume will actually make and eat it in a video. Fans can prepare their own food at the same time so they can sit down and eat with Perfume. Details on submitting can be found on the official website in Japanese.

Perfume | Comment

"We're happy to announce the Perfume Online Present Festival  which will take place on the 15th anniversary of our major debut, September 21. We're starting applications for the food court, so we're waiting for your submissions. We'll pick one recipe and actually try making it ourselves! We're going to get found out that we actually did this during lockdown period, but we also think it's good for you to see our normal lives, so we will give it out all and hope you enjoy."

J-Pop Group Perfume to Open Fashion Pop-Up Shop 'Perfume Closet' at Laforet Harajuku

Worldwide famous Japanese pop group Perfume are taking their fashion project "Perfume Closet" to Laforet Harajuku where it will run in a pop-up shop from February 20-26 this year.

Perfume Closet is a fashion project helmed by Perfume which aims to connect with fans through Perfume's music by making outfits. This is the fourth time Perfume Closet has opened, and will feature a line-up entitled "Perfume Closet 2020SS" which is part of what Perfume are calling "Phase 2," which started in January this year and centres on clothing. It follows on from "Phase 1" which featured a line-up of miscellaneous items.

SATIN COMBI TRENCH COAT – ¥49,500 (Tax Included) / FLOWER PLEATS DRESS – ¥44,000 (Tax Included)

SHEER COMBI KNIT ¥17,600 (Tax Included) / 2 WAY PLEATS SKIRT ¥35,200 (Tax Included)

RELAX WEAR (LADIES) – ¥16,500 (Tax Included) / PLEATS SLEEVE TEE (WHITE) – ¥9,900 (Tax Included) / SHEER COMBI RELAX PANTS – ¥22,000 (Tax Included)

The pop-up shop will stock a plethora of items made by the Perfume members, who worked on the designs, chose the materials, and crafted the silhouettes. It includes everything from coats to one pieces, blouses, bottoms, as well as unisex items men can wear too like pants, shirts, and more.

Fans of Perfume and fans of Japanese fashion aren't going to want to miss out on the new Perfume Closet, open for one week only starting next Thursday!

Information

Perfume Closet

Running: February 20, 2020 – February 26, 2020

Location: Laforet Harajuku (Floor 2F CONTAINER)

Laforet Harajuku Official Website: https://www.laforet.ne.jp/

J-Pop Sensation Perfume Release First Greatest Hits Album 'Perfume The Best "P Cubed"'

19.September.2019 | MUSIC

Perfume just dropped their first-ever greatest hits album Perfume The Best "P Cubed" on September 18.

Perfume appeared as the first ever J-pop girl group to perform at the 2019 Coachella Valley Music and Arts Festival earlier this year―a year which marks 15 years since their major debut.


The enormous greatest hits album features a long list of 52 tracks, all created by Yasutaka Nakata, and all carefully selected by the group members and their staff. The line-up includes singles, hit tracks always perfumed at live shows, their latest track Nana Nana Nairo which was released digitally back in July, and an all-new song entitled Challenger.

The album will be released in several editions. Limited Pressing Edition and First Press Limited Edition copies are coupled with a bonus disc which features music video for the title track Future Pop as well as a digest live video compiling footage from the group's 4th world tour "FUTURE POP" which was taken across Shanghai, Taiwan and North America from February to April earlier this year. It also comes with the fan-favourite radio series featuring Perfume.


Additionally, Perfume's entire discography from their major debut to today, including albums and singles, was made available on major streaming platforms including Spotify on September 18. This includes everything from their 2005 major debut single Linear Motor Girl to the greatest hits album.

Celebrate 15 years of Japan's biggest J-pop group Perfume by listening to Perfume The Best "P Cubed".

Information

Perfume The Best "P Cubed"

Release Date: September 18, 2019

Limited Pressing Edition (3 CDs+Bonus Disc+Photo Book+Special Packaging): Blu-ray Ver. ¥7,037 [UPCP-9022] / DVD Ver. ¥6,574 [UPCP-9023]
First Press Limited Edition (3 CDs+Bonus Disc): Blu-ray Ver. ¥4,630 [UPCP-9024] / DVD Ver. ¥4,167 [UPCP-9025]

Regular Edition (3 CDs): ¥3,241 [UPCP-1005/7]

*Prices do not include tax



Special Limited Pressing Edition (ASMART/UNIVERSAL MUSIC STORE Exclusive)
Includes: 3 CDs+Bonus Disc+Photo Book+Special Packaging+Acrylic Photo Cube
Blu-ray: ¥8,300 (Tax Included) [PROJ-1909]

DVD: ¥7,800 (Tax Included) [PROJ-1910]
Official Universal Music Website (Japanese): https://www.universal-music.co.jp/perfume/

Perfume Official Website (English): https://www.perfume-web.jp/eng/

Perfume: A Group Defining Live Performances of the Future & Tying the World to J-Pop

Perfume―a 3-member techno pop unit whose name is unknown to nobody in their home country of Japan. The J-pop trio embarked on their "Future Pop" arena tour last year―their 7th tour to date―which began on September 21, 2018 and took them to 9 locations across Japan for a total of 18 concerts. They subsequently played live on the 69th NHK Kōhaku Uta Gassen on December 31 with their performance being streamed live. Their sixth album Future Pop which the tour is named after made it to No. 1 on Oricon's Weekly Album Charts on August 27. In both name and reality they stand unshaken as a group representing Japan.

Thanks to streaming services such as YouTube and Spotify, Perfume's international fame and recognition has surged into the stratosphere. Their growing popularity recently led them to embarking their 4th world tour Perfume WORLD TOUR 4th "FUTURE POP" on February 23 this year to Asia and North America. This marks almost four years since touring Asia and two-and-a-half since the US. It's safe to say then that 2019 will reign once more as the year of perfume for overseas fans.

Before & After Perfume: How They Changed the Value of Entertainment
With Japan being home to so many girl groups, why is it that Perfume has rooted themselves to strongly overseas?

One answer points to their authentic electro sound which bursts intently with originality. Another is their dignified dance performances which are so tight that one might think them to be androids. This, combined with their live shows which incorporate digital media art using experimental and cutting-edge technology. The entertainment value of girl groups has changed since Perfume came on the scene. All of today's idol groups and girl units take great influence from Perfume.

Perfume's music has real intention behind it. It's the real deal that has impressed even the most crazed music lovers and audiophiles. Their discography―from their indie era debut in 2003 to today―has been entirely produced by Japanese record producer, composer and DJ Yasutaka Nakata. The songs he crafts, from techno pop to electro, have affixed a new kind of value to J-pop that never existed before. He has been able to take dance music made for club-goers and transform it into a type of J-pop that is able to reach all listeners.

His music has and continues to receive high praise not just in Japan but around the world. Perfume's latest album Future Pop which was released last year made it to No. 1 on the iTunes Electro Charts in 20 countries. Their previous album Cosmic Explorer even ranked 16th on Rolling Stone's 20 Best Pop Albums of 2016.

Another factor as to how Perfume has captivated the world is their choreography which mix cuteness with sci-fi, robotic-like moves. Their choreographer is MIKIKO who created the "Koi Dance" in the music video for Gen Hoshino's hit song Koi, and who has been appointed as part of the planning team for the opening and closing ceremony of the 2020 Summer Olympics in Tokyo. The three members of Perfume have received guidance from performers who are active internationally since their days at Actor's School Hiroshima.

Their music is irregular, and all of them are able to dance complex moves in formation while wearing 8cm heels. They are conscious of every single motion right down to the tips of their fingers. That is true art.

The Year 2020 Marks Perfume's 20th Anniversary

We mustn't forget Perfume's concerts, another part of their successful appeal, which make use of the latest technology. Their shows have been directed by Daito Manabe, an artist, programmer, designer, DJ, VJ, composer based in Tokyo who is the spearhead of Rhizomatiks, a Japanese company which uses the arts and technology to produce large scale artistic projects. Whether it be their on-stage performances or music videos, Perfume have given us insight into and let us experience the near-future.

In 2017, the group collaborated with docomo to put on a very special show to connect their performance around the world in Tokyo, London and New York. Using hyper-realistic visuals, fans were able to experience as if Perfume were actually there in front of them in spite of the 10,000km distance.

The girls have continued to pull us into a new world, something that we have not experienced with any other artist, through their projection mapped live performances, illuminated outfits, and more. They were extremely well received at SXSW in 2015 too, only solidifying their place in the music world.

Perfume have continually carved a path of originality on which left their strong presence both in Japan and overseas. They are now set to perform at Coachella Valley Music and Arts Festival in California this April, an event which celebrates its 20th anniversary this year. Perfume, too, will celebrate their 20th anniversary in 2020. We can rest assured that they have no signs of stopping their fiery force as they approach this historical milestone.

Text: Ayaka Sakai

Translation: Joshua Kitosi-Isanga

Information

Perfume Official Website

Perfume Release Fragrance Items From Their 'Perfume Closet' Fashion Project

J-pop trio Perfume are knee deep on their 4th world tour entitled "FUTURE POP" which began on February 23, 2019 and is taking them across Asia and North America.

a-chan, NOCCHi and KASHIYUKA are also known for their Perfume Closet fashion project for which they opened a pop-up shop at Laforet Harajuku last year. It has been announced that new fragrance items will be released from the brand.

Perfume released their own original perfume "PERFUME OF PERFUME" in 2016 which has gone on to be a hugely popular product. Using its scent as a base, two new products will be released from Perfume Closet on March 21.

PERFUME OF PERFUME Hand Cream (30g) – ¥1,600 (Before Tax)

The hand cream has great spread, isn't sticky and moisturises skin beautifully. Whether your hands are feeling dry, you want to care for your skin before going out or after getting out the bath, or you want to refresh during work, then this is the cream to go for.

PERFUME OF PERFUME Fabric Spray (100ml) – ¥2,000 (Before Tax)

This fabric spray can be used on everything from clothing to curtain, sofas and beds―even as room spray―to add a pleasant fragrance to your surroundings.

Both items will be released on March 21―the date of their indie era debut―for a limited time at ISETAN MiRROR stores across Japan and online via ASMART. They will also be released at Tower Records branches on April 2 in line with the release of their Blu-ray and DVD Perfume 7th Tour 2018 "FUTURE POP" dropping on April 3.


If bought on ASMART the products can also be sent with a special gift bag for an additional fee – a perfect Perfume present.

Information

Perfume Closet
Release Date: March 21, 2019 at 10:00am (JST)

Locations
March 21, 2019 – 17 ISETAN MiRROR stores

April 2, 2019 – Most Tower Records stores

*Only 2 of each product will be sold to customers

ASMART Page: https://www.asmart.jp/perfumecloset

Perfume Official Website: http://www.perfume-web.jp/

Japanese Music Artists Performing Overseas in 2019: Part 1

As we make headway into the new year, information on Japanese artists performing outside of Japan continues to roll out. This first article covers Japanese artists set to perform concerts overseas in the first half of 2019.

・Perfume

The global popularity of multi-platinum electro J-pop group Perfume is clear for all to see, with their latest album Future Pop released back in August charting in at No.1 in 20 countries across the world. And now, international fans in the US and Asia will be excited to hear that the trio are set to hit a city near them in March and April this year.

Full Details: https://www.moshimoshi-nippon.jp/138536

・SID

SID announced at their 15th anniversary tour Ichiban Suki na Basho 2018 that they are set to perform four dates in Asia.

Full Details: https://www.moshimoshi-nippon.jp/144270

 

・Kenshi Yonezu

Kenshi Yonezu took the charts by storm in 2018 breaking many records with a string of singles. While riding this wave of success, it has been announced that Yonezu will embark on his first ever arena tour which begins today on January 19. Two dates in Shanghai and Taipei have been added to the tour.

Full Details: https://www.moshimoshi-nippon.jp/158468

・Tokyo Ska Paradise Orchestra

Tokyo Ska Paradise Orchestra celebrate their 30th anniversary this year, and what better way to kick off it off than performing at Lollapalooza Chilie in March. Before they do however they will first perform at PA'L NORTE 2019, a 2-day music and art festival in Monterrey, Mexico. They are part of a line-up consisting of big names such as Arctic Monkeys, Kings of Leon and Santana.

Full Details: https://www.moshimoshi-nippon.jp/146658

・Taichi Mukai

Taichi Mukai is in the midst of his 2018-2019 "Pure Tour" to promote his newest album PURE. The artist is gaining much attention not just in Japan but across Asia too. Mukai is set to perform in Asia for the first time beginning on March 22.

Full Details: https://www.moshimoshi-nippon.jp/155274

・HYDE

HYDE started his solo music career up again last year and has various planned for 2019. He performed at L'Arc-en-Ciel's 2018 Christmas live show "L'ArChristmas" and will embark on an Asia tour in March.

・GARNiDELiA

GARNiDELiA released Kyoki Ranbu on September 26 this year, an album compiling every song from their internationally acclaimed online dance series including their hit song Gokuraku Jodo. The pop rock duo have announced that they will embark on their biggest Asia tour to date including shows in Hong Kong and Singapore.

Full Details: https://www.moshimoshi-nippon.jp/150236

・Wednesday Campanella

Wednesday Campanella is no stranger to performing solo concerts and at festivals outside Japan. The next place to be graced by KOM_I's incredible performance is Barcelona for the Primavera Sound music festival.

Full Details: https://www.moshimoshi-nippon.jp/150817

To all lovers of J-pop, J-rock and any kind of Japanese artist or band living outside Japan – if an artist is coming to a place near you, show your support and don't miss the opportunity to see them live.

Writer: Heir

'Perfume Closet' Pop-Up Shop to Open at Laforet Harajuku

The CONTAINER on the 2nd floor of Laforet Harajuku is raising Christmas spirits this year with a range of pop-up shops. The first to open will be  from J-pop trio Perfume who will promote their Perfume Closet fashion project from December 4 to 13.

Following this, another shop called mt store at Laforet Harajuku will run from December 14 and 26 to celebrate Laforet Harajuku's 40th anniversary and mt10's 10th anniversary. Expect to get your hands on lots of Christmas themed gifts and decorations.

Perfume Closet is a fashion project that began from a proposal to create clothes that connect with fans through Perfume's music. The concept behind the items in the line-up serves to give people the courage to take that necessary step forward and to support them.

This marks the third appearance of the pop-up shop which promises to be bigger than those before it. They will sell items that draw inspiration from the iconic outfits that a-chan, NOCCHi and KASHIYUKA wear in their music videos.

And for this holiday season only, Perfume Closet socks will come in special Christmas packaging. The shop will be decorated with visual panels of the members and there'll be a spot to take photos too.

The mt store at Laforet HARAJUKU pop-up shop will sell a whole range of original Laforet Harajuku and Christmas masking tape. The shop, too, will be decorated with masking tape.

Feel the Christmas spirit by getting your hands on some limited edition items at the Perfume Closet and mt x Laforet pop-up shops!

Information

Perfume Closet

Location: Laforet Harajuku (2F CONTAINER)

Running: December 4, 2018 – December 13, 2018

mt store at Laforet HARAJUKU

Location: Laforet Harajuku (2F CONTAINER)

Running: December 14, 2018 – December 26, 2018

Laforet Harajuku Official Website: https://www.laforet.ne.jp/

The global popularity of multi-platinum electro J-pop group Perfume is clear for all to see, with their latest album Future Pop released back in August charting in at No.1 in 20 countries across the world. And now, international fans in the US and Asia will be excited to hear that the trio are set to hit a city near them in March and April next year.

The title of the tour is Perfume WORLD TOUR 4th "FUTURE POP" which will take a-chan, NOCCHi and KASHIYUKA to Taiwan, Shanghai and China for the Asia leg and New York, Chicago, LA as well as Toronto, Dallas, Seattle and San Jose for the first time on the US leg. Details for the dates, times and venues of the China and Shanghai shows have yet to be announced, but ticket information can be found on the official tour website.

It has been 4 years since Perfume's last Asia tour back in 2014 for Perfume WORLD TOUR 3rd. It has also been 2 and a half years since their last US tour for Perfume 6th Tour 2016 "COSMIC EXPLORER."

Perfume's global site for international fans have also undergone renovation. It features live footage and music videos as well as a a showcasing of a range of technology Perfume have utilised as part of various projects.

Comment: Perfume
"We're so excited to announce our first world tour in 2 years! This is going to be our biggest world tour ever, including some cities we're playing for the first time. Our latest album "Future Pop" became No.1 electronic album in 20 countries. We will mainly be performing off of this album and will put out the coolest shows we can for our international fans. Can't wait to see you all at the show♪" – Perfume

Japanese girl group "Perfume" launches third round of fashion project "Perfume Closet"! Visit a pop-up shop near you!

Japanese pop girl group "Perfume" has launched the third round of their fashion project "Perfume Closet"! The project kicked off with the intention to enhance everyday fashion through their music.

The third round of this project involves the release of numerous goods that have been carefully designed by taking inspiration from the girls' unique fashion as seen in their music videos. The fashion goods combine the girls' seasonal fashion, which is currently centred around checkered tops, trousers and skirts, and combines this with the girls' fashion know-how and current fashion trends.

This round also brings new miscellaneous goods that come in original print designs to the scene. There are also many goods such as commuter pass cases, mini wallets and bags that are decorated with a special "P" design! (P for "Perfume").

The popular dance heels are now available in two new colours: lavender suede and navy suede!

The Perfume Closet pop-up shop will open in Tokyo, Nagoya and Osaka for a limited period only starting on Wednesday 17th October 2018! (Note: This shop will only be open in one location at a time). You can also purchase the goods from the same date on the artist online shop "ASMART". If you're around when the pop-up shop opens, please stop by!

Information

Perfume Closet (Round 3)
Open from: Wednesday 17th October 2018

Pop-up shop locations/dates:
(Tokyo) Wednesday 17th — Tuesday 23rd October 2018 — 2nd floor, Centre Park Tokyo Kaihoku area, Isetan Shinjuku Honkan floor

(Nagoya) Wednesday 31st October — Tuesday 6th November 2018 — 2nd floor ISETAN HAUS
(Osaka) Wednesday 14th — Tuesday 20th November 2018 —  3rd floor HANKYU Department Store Umeda main store

(Tokyo) Tuesday 4th — Thursday 13th December 2018 — 2nd floor CONTAINER area, Laforet Harajuku



Dance heels only available at the following:
Women's shoes area, 2nd floor, JR Kyoto ISETAN (New colours mentioned above are only available from Wednesday 17th October)
Women's shoes area, 2nd floor Ginza Mitsukoshi department store (Wednesday 17th October —  Tuesday 30th October)
Ladies shoes salon, 3rd floor Hiroshima Mitsukoshi department store (Wednesday 17th October — Wednesday 30th October)

Perfume Closet official website: http://www.perfume-web.jp/cam/closet/

Perfume Release New Album 'Future Pop' & Announce Cafe Collaborations in Tokyo, Nagoya and Osaka

Perfume released new and seventh album Future Pop on August 15 featuring hit singles TOKYO GIRL, If you wanna and Mugen Mirai.

The album comes as the first from the trio in two years since COSMIC EXPLORER. It features numerous singles in addition to songs used in commercials and brand new songs we haven't heard yet.

The limited edition of the album includes a bonus disc that features the music video for their new song Let Me Know, live performances of TOKYO GIRL and If you wanna held at a release event and live footage of FUSION taken from their Perfume x TECHNOLOGY presents "Reframe" performance at Shibuya NHK Hall in March 2018. It also includes an exclusive radio recording, something that's become a regular bonus feature on their albums.

Additionally, to celebrate the album's release, three Perfume Future Pop Cafes are now open at SUZU CAFE ‐jingumae‐ in Tokyo, Amelie Cafe in Nagoya, and W Cafe in Osaka. The Tokyo and Nagoya cafes are open until August 26 and the Osaka branch until August 24.

The collaborative cafes are decked out with Future Pop visuals and there's food and desserts inspired by the songs from the album. When you order from the collaborative menu, you can get your hands on an exclusive Perfume Future Pop Cafe lunch mat and coaster. There are two coaster designs. If you order one item from the menu you will receive the Future Pop Logo Coaster and i you order two items you'll receive the Future Pop Dress Coaster which features the album cover art.

Be sure to pick up a copy of Future Pop and hear Perfume's latest material.

■Information

Perfume 7th Album – "Future Pop"

First Press Limited Edition: (CD+Blu-ray+Stickers) – ¥4,980 (Tax Included) [UPCP-9020]

First Press Limited Edition: (CD+DVD+Stickers) – ¥4,600 (Tax Included) [UPCP-9021]

Regular Edition (CD+Blu-ray) – ¥3,980 (Tax Included) [UPCP-1003]

Regular Edition (CD+DVD) – ¥3,600 (Tax Included) [UPCP-1004]

Perfume Official Website: http://www.perfume-web.jp/eng/