Japanese-style restaurant Ippudo opens in Singapore's Tanjong Pagar Centre—with a sake bar!
A brand new Ippudo has just opened its doors in Singapore (on June 14th), making it the 9th in the country. Located around the popular Tanjong Pagar Centre, a place packed full of offices and restaurants, Ippudo sells Japanese sake and 'otsumami' (snacks to go with alcohol). It is a cafe/restaurant and is situated where plenty of sunlight can get in to brighten up the gorgeous room.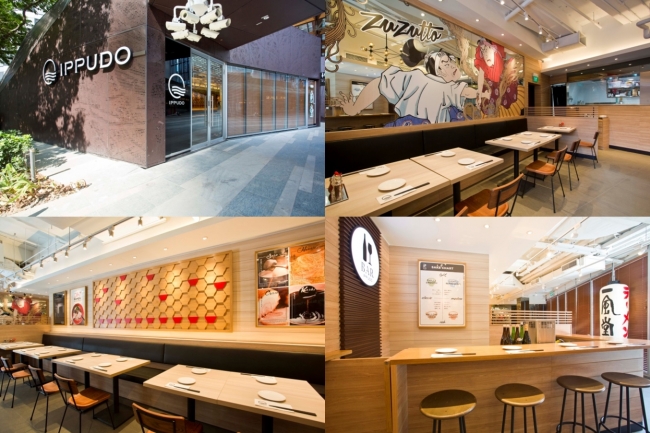 Ippudo dishes out lots of different Japanese-style food, such as ramen, as well as drinks, and boasts a brand new bargain lunch set and a sake bar serving all kinds of Japanese alcohol.
Ramen, sake, otsumami and much more—there's plenty to choose from as they serve up tasty Japanese-style cuisine.
■Information
IPPUDO Tanjong Pager Centre
Address: #01-15, Tanjong Pagar Centre, 5 Wallich Street, Singapore 078883
Open: Sunday-Thursday @ 11:00–22:00, Friday & Saturday @ 11:00–23:00
 (Last orders for otsumami is 22:00 and for ramen is 22:20)
Homepage (Singapore): www.ippudo.com.sg
Ippudo Website: http://www.ippudo.com
Related Article:The low sugar content Chinese noodles, "Tohshitu Nibun-no-ichi Soba" will be sold from "Ippudo" on May 10th for a limited time.
Related Article:IPPUDO opens their second branch in Louvre, Paris to spread Japanese food culture through their delicious ramen!
RELATED ENTRIES
TeamLab Unveils Three New Works at Singapore's Permanent 'Future World' Exhibition

Art collective TeamLab has redesigned two exhibitions at Marina Bay Sands Singapore. The world's first permanent exhibition from the creators, Future World: Where Art Meets Science, was opened in 2016 at the Museum of Art and Science. Guests can now enjoy three new works along with the Digital Light Canvas, a huge, interactive space inviting guests to share their own pieces of art.

Drawing Flight

Visitors can immerse themselves in these impressive new works while experiencing a complex, three-dimensional world. They can also create new worlds with others!


Future World


The Drawing Flight, part of the Amusement Park of the Future series, is based on the concept of co-creation, allowing visitors to not only draw an airplane that will fly but also allowing them to operate it from a pilot's point of view using a tablet. Whether visitors draw a butterfly or a hawk, they'll see the world from the perspective of each creature and enter a world constructed by the creature's unique perceptions.

Aerial Climbing through a Flock of Colored Birds

In Aerial Climbing through a Flock of Colored Birds, guests are asked to perceive the world with their entire bodies. Visitors cross a space with sticks floating three-dimensionally in the air.

Autonomous Abstraction, Continuous Phenomena from the Universe to the Self

Autonomous Abstraction, Continuous Phenomena from the Universe to the Self offers a new and abstract concept. As people touch the dots, the rhythm of the dots flickers and their hue changes and disintegrates. The picture will then change dramatically, and despite these changes, the beauty remains.

Digital Light Canvas

Graffiti Nature – Red List Digital Light Canvas

 

Digital Light Canvas is a space consisting of a 15-meter-diameter circular link of light and a 20-meter-high cylinder of light made up of a collection of light dots.  Team Lab's interactive artwork, which changes depending on how many people are around, is on permanent display.

Drawing Factory

By visiting the Digital Light Canvas area, guests can also enjoy the Drawing Factory, where they can turn their own drawings into pins, T-shirts, and other items!

Come fully experience this curious art exhibition!

© チームラボ

Information

Future World: Where Art Meets Science

Japan's Futuristic Fireworks Show STAR ISLAND Coming to Singapore for the First Time in Three Years

One of Japan's best fireworks extravaganzas is headed to Singapore! Star Island Singapore Countdown Edition 2022-2023 will ring in the new year on December 31, 2022 at The Float on Marina Bay. 

STAR ISLAND is a futuristic fireworks show that blends traditional fireworks with cutting-edge technology such as 3D sound, laser lighting, and unique performances in a spectacular location. The first overseas presentation was launched in Singapore in 2018, and the second in 2019 drew 20,000 people. The show was also brought to Saudi Arabia in September 2019. 

This year's event, the third to be held in Singapore, is expected to draw 22,000 visitors. Sponsored by JCB, the only international credit card brand from Japan, and Sanrio, a prequel show will run from December 25 until December 30 at the Marina Bay Sands event plaza near the venue. This is totally free to attend, so why not come check it out?

Information

STAR ISLAND SINGAPORE COUNTDOWN EDITION 2022-2023 Presented by JCB

Date: December 31, 2022
Venue: The Float at Marina Bay (Singapore)

Official Site:
http://www.star-island.jp(Japan)
http://www.starisland.sg/ (Singapore)

*The contents of the production are subject to change.
Please check the official website for details.

*Ticket sales will begin on October 20, 2022.
For details, please see the official website.

Yo-Kai Express Ramen Vending Machine Announces Collaboration with Ippudo

The Yo-Kai Express ramen vending machine at Haneda Airport has introduced two new menu items in collaboration with the popular ramen chain Ippudo! Guests can now enjoy Ippudo's Hakata Tonkotsu Ramen and Ippudo's Plant-based Tonkotsu-style Ramen. 

Guests can also enjoy Chicken Yuzu Shio Ramen, Tokyo Shoyu Ramen, Kyushu Tonkotsu Ramen, and Sapporo Spicy Miso Ramen. Each order only takes 90 seconds to prepare, so if you're rushing to chow down before your flight, this is the way to go!

*Yo-Kai Express is a start-up company headquartered in Silicon Valley developing ramen vending machines. The company's name comes from the word yokai (monsters) and reflects the brand's desire to entertain people whenever and wherever they are. 

Information

Yo-Kai Express x Ippudo Collaboration Menu

Location: Haneda Airport Terminal 2, 1F – Gourmet 24 Vending Machine Restaurant

Menu: 

Ippudo Hakata Tonkotsu Ramen: ¥980 (Tax Included)
Ippudo Plant-Based Tonkotsu-style Ramen: ¥980 (Tax Included)
Chicken Yuzu Shio / Tokyo Shoyu / Kyushu Tonkotsu /
Sapporo Spicy Miso: ¥790 each (Tax Included)

Enjoy Kyoto Vegan Ramen Among teamLab's Artwork in Tokyo with New Store

teamLab Planets TOKYO DMM, located in Toyosu, Tokyo, have completed the refurbishment of their outdoor food stand, opening Vegan Ramen UZU Tokyo on October 8 2021. The new shop allows customers to eat vegan ramen from Kyoto in a new art space from teamLab. In addition, the teamLab Flower Shop & Art will be opening, a shop where customers can purchase orchids previously used in one of the group's art pieces to take home with them. 

 

Menu

Vegan Ramen Flower (Cool): ¥1,980 (Tax Incl.)

Vegan Ramen Tea: ¥1,650 (Tax Incl.)

Vegan Ramen Soy Sauce: ¥1,320 (Tax Incl.)

Vegan Ramen Miso (Spicy): ¥1,320 (Tax Incl.)

Newly Released Works

Reversible Rotation – Non-Objective Space, teamLab, 2021


Table of Sky and Fire, teamLab Architects, 2021


Floating Flower Garden: Flower, Myself and Cognate, Garden and Myself as One

teamLab Planets Original Tote Bag


 

The menu at Vegan Ramen UZU uses no animal products like meat or fish, instead condensing the taste of vegetables into a delicious ramen that you can enjoy in a space designed by teamLab. Vegan Ramen UZU Kyoto first opened in March 2020 to great popularity, with many customers queuing for over an hour to get inside the store. 

At the new Tokyo store, customers can enjoy a bowl of vegan ramen while enjoying teamLab's latest art installations, the Non-Objective Space and the Table of Sky and Fire.

Not only that, you can also take home some of the orchids used in the Floating Flower Garden: Flower, Myself and Cognate, Garden and Myself as One exhibit that was held from July 2, along with a section of teamLab merchandise such as stickers, patches, postcards, and more, at the newly opened teamLab Flower Shop & Art store.

Look forward to tasting this healthy ramen while immersed in an artistic space!

Introducing Ramen Muraji, a Popular Ramen Store in the Backstreets of Kyoto

Gion's Tatsumi Bridge, a picturesque area plucked straight from a painting. From there, continue south and into the backstreets, you'll find the popular Kyoto Ramen store, Ramen Muraji.

The bridge takes you over the Shirakawa River which flows into Lake Biwa, with the connecting street spanning a distance of only 180m, with paths the width of three adults. Once you head into the alley, the scenery will completely change. 

The asphalt becomes cobblestone, surrounded by Kyoto-style lattice windows. Here you'll find Ramen Muraji, located in a renovated 100 year old Kyoto-style building, perfectly blending into its surroundings. 

At first glance you wouldn't believe it to be hiding a ramen shop,  with many people calling their discovery of the shop a once-in-a-lifetime encounter as they wander the streets of Gion.

The back alleys of Gion retain the history of Kyoto, with hidden shops shrouded by curtains, gently glowing lanterns, and carefully handwritten signboards. Each spot has been crafted to become a once-in-a-lifetime encounter with those who visit.

 

Ramen Muraji was built in the alley


Tatsumi Bridge, an area famous for retaining the distinctive Gion look.

Muraji's Speciality White Chicken Ramen

Gion has been popular with Kyoto tourists for years, surrounded by attractive buildings and cityscapes. Located here is the Yasaka Shrine, a world heritage site which hosts the annual Gion Summer Festival. 

While the locals rarely explore the area, Gion is full of traditional beauty that has inspired many novels, maintaining the culture and history that has been passed down for generations. 

Why not relive the splendor of Gion at Ramen Muraji, a shop that was born 、

With its long history and culture that weaves towns, humans, and spirits together, why not relive the splendor of Gion with a historical cup of Muraji ramen? 

 

Ramen Muraji is a space where anybody can enjoy ramen, surrounded by Kyoto-style interior decor and Japanese-style decorations. 

Their chicken ramen, boiled in a plain water soup, boasts a selection of carefully selected ingredients that condenses the taste of Kyoto's unique food culture. Kyoto Sake matched to the flavor of the ramen is also available.

Enjoy the charms of Kyoto's food for yourself at Ramen Muraji.

Information

Ramen Muraji Gion Store

Address: 373-3, Kitomoto-cho, Higashiyama, Kyoto City, Kyoto 

TEL: 075-744-1144

※Covid-19 Opening Hours: Daily, 11:30 ~ 20:00 (L.O 19:45)

Business Hours:

Lunch: 11:30 ~ 15:00

Dinner: 17:00 ~ 22:00

Weekend, holidays: 11:30 ~ 22:00

Kyary Pamyu Pamyu Appointed As Ramen Kourakuen's New CKO

As a company aiming to bring a new kind of happiness to many people, Ramen Kourakuen have announced their new slogan: All New Happy! 

In order to spread the message even further, Kyary Pamyu Pamyu has been appointed as Kourakuen's new CKO – Chief Korekara (Future) Officer. 

Their new goal is to work towards each step of the New Happy 5 Plan in order to spread cheer across Japan.

Plus, a new Kourakuen commercial featuring Kyary Pamyu Pamyu will be released nationwide.

The special commercial will be promoting the new student discount set, where students will be able to enjoy ramen meals for ¥550 on weekdays, plus the mobile order service which allows customers to order their ramen in advance, meaning it'll be ready when you arrive.

The students and workers shown in the commercial are so satisfied that their face morphs into Kyary Pamyu Pamyu's as she dons the Kourakuen logo on her cheek. Make sure to check out Kyary's China themed hair and costume!

 

Ramen Inspired T-Shirt Collection Cooks Up in Collaboration With Tenkaippin

This year marks the 50th anniversary of Japanese ramen restaurant chain Tenkaippin. To celebrate, they have joined hands with men's apparel brand MONO-MART to release a collection of ramen-inspired t-shirts in collaboration with Japanese illustrator Isogai Hitohisa. The limited-edition collection dropped on ZOZOTOWN on June 10.

Tenkaippin | Comment

"Thanks to all of our customers, Tenkaippin turns 50-years-old this year. It's a turning point for us, and so we've decided to develop products in collaboration with an apparel brand for the first time. We hope it helps to spread word of the Tenkaippin name amongst the youth. Designs include photos of when we first opened, illustrations drawn for us, and more. Please enjoy Tenkaippin through these super rare tees!"

Each t-shirt in this collection is branded with Tenkaippin's logo along with their 'KOTTERI' logo. There's another with a photo of the brand's legendary founder Tsutomu Kimura, another with the encouraging message 'Righht effort,' and more. Other designs include illustrations by Isogai Hitohisa on the back, various photos, and so on.

ROKU: Kyoto's New Soba Ramen Shop Produced by Michelin-Star Chef

Kamo Dashi Chuka Soba ROKU is a new ramen restaurant set to open at GOOD NATURE STATION, a shopping facility in Kyoto, on December 12, 2020.

The restaurant is produced by Yuki Iwasaki, a chef at VELROSIER which acquired its first Michelin Star in Michelin Guide 2021 Kyoto, Osaka & Okayama. It will serve ramen in a variety of duck-flavoured dashi broths made with duck from Kyoto and France.

Duck Sei Tanmen | ¥1,000


Duck Shiro Tanmen | ¥1,000

ROKU will initially offer three types of ramen dishes which includes the two pictured above as well as a special served each season. The Duck Sei Tanmen uses a broth made from a blend of duck meats and has a distinctly refreshing yet rich taste. The Duck Shiro Tanmen uses the same broth but adds chicken to the base together with mayu burnt garlic oil. The restaurant also makes its own thick noodles to enjoy with the soup. No tare sauce is used, allowing for customers to enjoy the umami flavour of the dashi and the various ingredients added.

The ramen bowls used are original wares created by TOKINOHA, a Japanese crockery brand specialising in traditional Kiyomizu ware which are perfect for enjoying your ramen.

Information

Kamo Dashi Chuka Soba ROKU (Japanese Name: 鴨出汁中華そば ROKU)
Grand Opening: December 12, 2020
Address: GOOD NATURE STATION Floor 2F, 318-6 Inaricho, Shimogyo-ku, Kyoto
Opening Hours: 11:30-20:00
No Fixed Holidays
Official Website: https://goodnaturestation.com

Kyoto's Popular Ramen Restaurant MENBAKA Kyoto Fire Ramen to Open New Branch in Singapore

MENBAKA Kyoto Fire Ramen, a ramen restaurant in Kyoto that's particularly popular with foreigners in Japan, is expanding overseas by opening a new branch on the 5th floor of Singapore Orchard in Singapore on November 24, 2020.

MENBAKA Kyoto Fire Ramen


Menbaka first opened in 1984 and has gone on to become a popular ramen bar, focusing on the use of green onion in its dishes for its flavour and fragrance enhancement. In recent years, the Kyoto branch has seen a significant increase in the number of foreign visitors to Japan dining at the restaurant, and in 2017 it ranked number six in the country on Tripadvisor as the most popular restaurant in Japan with foreigners. It has gone on to be reported on in news and media outlets, including the video created by the Japan National Tourism Organization as part of its global campaign.

MENBAKA Kyoto Fire Ramen Singapore

The Singapore branch will open as a franchise of SOUTH EAST ASIA FOOD ENTERTAINMENT PTE. LTD. with carefully-selected suppliers and ingredients to ensure the taste is as close to the Japanese as possible. The restaurant will serve not only ramen but food entertainment as well.

Singapore Orchard, where the restaurant is opening, is a shopping mall and major tourist destination of Singapore. Like other countries around the world, Singapore is having to restrict the number of foreigners entering the country as a result of the COVID-19 pandemic which has also led to restaurants limiting the number of available tables, social distancing measures being put in place, and so on. The restaurant's opening date was originally scheduled for April 2020 but was postponed due to the pandemic so its grand opening is now scheduled for November 24.

If you're in Singapore and want to try some authentic Japanese ramen at the same time, be sure to visit MENBAKA Kyoto Fire Ramen.

Information

MENBAKA Kyoto Fire Ramen
Address: Cineleisure Orchard 5F, 8 Grange Rd, Singapore 239695
TEL: +65-6970-8408
Opening Hours: 12:00-21:00
No Fixed Holidays

Jurassic World Café by PARCO Opens in Singapore

PARCO Pte Ltd, the Singaporean division of Japanese department store chain PARCO, opened the new Jurassic World Café at ION Sky on the 56th floor of the ION Orchard shopping centre in Singapore on November 6, 2020. The café comes as the first Jurassic World Café to open in South East Asia and serves an original line-up of food and drink, an exhibit of everybody's favourite Velociraptor Blue from Jurassic World, a selection of exclusive merchandise, and more.

Jurassic World Café Singapore


The Jurassic World film series is hugely popular in Singapore, and so it's only fitting that the country gets its own themed cafe. The menu is diverse, consisting of a special selection created by PARCO's own The Guest Cafe & Diner as well as local food like Nasi Lemak, unique picks like the Brachiosaurus Mint Pandan beverage, and much more. There will even be a merchandise shop for fans to pick up a souvenir on their way home.

PARCO Singapore has collaborated with The Guest Cafe & Diner, a cafe which collaborates with franchises and of which there are five branches in Japan, on five separate occasions up and down South East Asia, including the Minions Cafe which opened for a limited time in Singapore in 2017. PARCO Singapore is continuing to expand its reach outside of Singapore with other collaborative cafes and exhibitions.

 

The Menu


Danger lurks at every corner in Jurassic World, and that fact is captured in the menu line-up.

Cafe Bonus Items


There will also be special gifts given to customers.

To see the full line-up, be sure to check out the official website below and pay a visit to Jurassic World Café Singapore.

Information

Jurassic World Café Singapore – A concept by PARCO
Location: ION Sky, ION Orchard Floor 56F, MRT Orchard, 2 Orchard Turn, Singapore 238801
Running: November 6, 2020 – January 3, 2021 (Closed November 13)
Opening Hours: 11:00-22:00
Official Website: www.jurassicworldcafe.sg

Narita Airport's Anime Deck Serves Up Ramen From Around Japan in Revamped Restaurant

KADOKAWA revamped and reopened the eat-in restaurant at Narita Airport's Narita Anime Deck on October 27. Visitors can now look forward to dining at Zenkoku Gensen! Aji no Tabi Ramen Walker."

The Narita Anime Deck opened inside Narita International Airport Terminal 2 in November 2019. It's an entertainment facility where travellers from around the world can experience and enjoy Japanese anime culture in various forms such as with character merchandise, food, events, and a variety of photo spots.

The new dine-in restaurant features a long ramen menu of ramen dishes carefully selected by Ramen Walker, Japan's biggest information site for ramen. There are nine strictly-selected dishes to choose from, as well as over 50 ramens for people to buy and take home with them.

The menu will change its line-up from time to time

Customers can order any of the nine ramen dishes on their own, or they can order from several set menus which enables them to taste different ramen dishes from around Japan. There are also over 20 ramen toppings to choose from, so guests are sure to be spoilt for choice.

The restaurant will also sell their own range of exclusive ramen-related merchandise.

But that's not all, as Ramen Walker Chicken is also set to open at Tokorozawa Sakura Town in Saitama on November 6 as the world's first booking-style facility where you can book a table at the most popular ramen bars across Japan.

Information

Narita Anime Deck

Address: Narita International Airport Terminal 2 Main Building Floor 2F (1-1 Furugome, Narita, Chiba)

Opening Hours: 10:00-20:00 (Food Last Orders 19:30)

No Fixed Holidays

Ramen Walker Chicken

Address: Tokorozawa Sakura Town 2F, 3 Chome HigashitokorozawawadaTokorozawa, Saitama
TEL: 0429-68-7786

Narita Anime Deck Official Website: https://www.animedeck.jp/ja/narita/
Ramen Walker Chicken Official Website: https://ramen.walkerplus.com/kitchen/

Hello Kitty Collaborates With Japanese Ramen Restaurant Kourakuen

Kourakuen Holdings Corporation launched a collaboration campaign together with Sanrio's popular character Hello Kitty on September 26 which is set to run to October 25.

Hello Kitty takes over Kourakuen

For the duration of the collaboration, the Roppongi and Dogenzaka branches of Kourakuen will be decorated in all things Hello Kitty

Free folder with child meal sets

A free and exclusive A4 size folder will be given to all who order the children's meal set. This is available at select branches only and the folders are limited in stock.

Kourakuen original merchandise

Kourakuen x Hello Kitty Soy Sauce Plate | ¥200 (Tax Included)

Kourakuen x Hello Kitty Folder | ¥100 (Tax Included)

A special line-up of original and exclusive merchandise will also be sold at all Kourakuen branches including soy sauce plates, folders, and more.