Japanese-style restaurant Ippudo opens in Singapore's Tanjong Pagar Centre—with a sake bar!
A brand new Ippudo has just opened its doors in Singapore (on June 14th), making it the 9th in the country. Located around the popular Tanjong Pagar Centre, a place packed full of offices and restaurants, Ippudo sells Japanese sake and 'otsumami' (snacks to go with alcohol). It is a cafe/restaurant and is situated where plenty of sunlight can get in to brighten up the gorgeous room.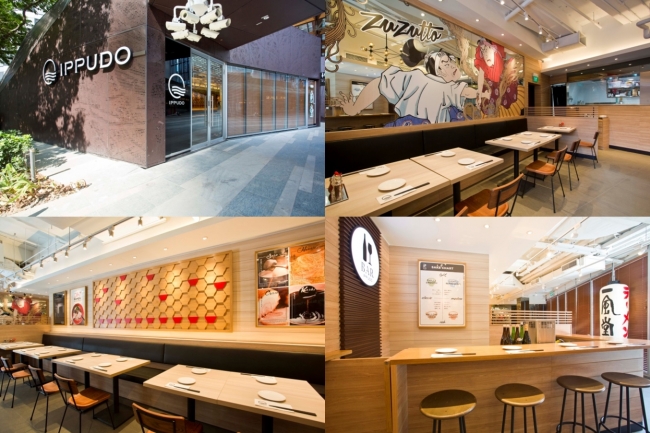 Ippudo dishes out lots of different Japanese-style food, such as ramen, as well as drinks, and boasts a brand new bargain lunch set and a sake bar serving all kinds of Japanese alcohol.
Ramen, sake, otsumami and much more—there's plenty to choose from as they serve up tasty Japanese-style cuisine.
■Information
IPPUDO Tanjong Pager Centre
Address: #01-15, Tanjong Pagar Centre, 5 Wallich Street, Singapore 078883
Open: Sunday-Thursday @ 11:00–22:00, Friday & Saturday @ 11:00–23:00
 (Last orders for otsumami is 22:00 and for ramen is 22:20)
Homepage (Singapore): www.ippudo.com.sg
Ippudo Website: http://www.ippudo.com
Related Article:The low sugar content Chinese noodles, "Tohshitu Nibun-no-ichi Soba" will be sold from "Ippudo" on May 10th for a limited time.
Related Article:IPPUDO opens their second branch in Louvre, Paris to spread Japanese food culture through their delicious ramen!
RELATED ENTRIES
Ramen Delivery Website Ouchi Ramen to Open in Response to Coronavirus Lockdown

Matsufuji Shokuhin, which manages numerous ramen stores including Rokurinsha, has announced that it is opening a new delivery website called Ouchi Ramen ("At Home Ramen") on May 18, 2020. This will be the company's first delivery website to operate in almost six years, and comes in response to the closure of ramen eateries as a result of the COVID-19 pandemic.

Initial sales will collaborate with super popular ramen shops

The first batch of ramen to be open for delivery will come from 8 hugely popular ramen shops in Japan as called for by the head of Rokurinsha (三田遼斉).

1: Senrigan (Nakameguro, Tokyo)

Senrigan is a super popular ramen shop in Komaba-tōdaimae that serves gattsuri style ramenーbasically, hearty portions. It's normal to be waiting it line to get into this place for a bowl of their hiyashi chūka chilled Chinese noodles.

2: Jump (Kasukabe, Saitama)

Another ramen shop you'll find people lining up outside is Jump which was independently set up by the owner of Junk Garage, Takayama, after he began working there. They have many loved dishes there, like their mazesoba dry noodles and taresoba.

3: Kuriyama (Yokohama, Kanagawa)

Kuriyama placed first in many ramen competitions, and is said to have been the final place that ramen legend Kazuo Yamagishi taught his practices at before his passing in 2015.

4: Oni Soba Fujiya (Shibuya, Tokyo)

This popular ramen shop is managed by Japanese impressionist HEY! TakuChan. It's considered the real deal amongst some of Japan's biggest entertainers and reigned as the champion at a food festival held in the US in 2019.

5: Ootsuya (Yokosuka, Kanagawa)

There is huge support for the owner of this popular ramen restaurant which has many fans for its delicious family ramen.

6: KaneKitchen Noodles (Toshima, Tokyo)

KaneKitchen Noodles has hailed as a Bib Gourmand restaurant three years in a row in Michelin Tokyo. Their cup noodles are popular too.

7: Magorinsha (Chiyoda, Tokyo)

Magorinsha is a famous restaurant where its kitchen is graced by a different ramen master chef every day, including the owner of Rokurinsha. Simply eating their meals with just ramen and vegetables without seafood is enough to earn the description of exquisite.

8: Rokurinsha (Chiyoda, Tokyo)

Rokurinsha is said to be the place that started the tsukemen boom in Japan. It's incredibly famous, and legend has it that it's had to close before because lines have been so long in the past.

Online orders are made up of a set of two meals. A price of a set starts at ¥2,980 and shipping is free (Japan only). Many more respected restaurants are scheduled to be added to the website in the near future. This is a great way to continue supporting this hardworking restaurants.

1→10, Inc. Brings Magical Shores Interactive Land Art to Siloso Beach in Singapore

Japanese creative studio 1→10, Inc. opened up Singapore's first ever permanent interactive land art exhibition "Magical Shores" on January 23 this year together with Lighting Planners Associates (LPA), a lighting company based in both Tokyo and Singapore.

Magical Shores spans 400 meters of Sentosa's Siloso Beach, turning it into an immersive, multi-sensory experience of AI-operated lights and sounds which elevate the beauty of the surrounding natural environment.

Guide To Magical Shores | Siloso Beach, Sentosa:

AI technology responds to visitors on the beach, giving them a breathtaking and unique performance. Sensors are dotted around the area which use sensing data to react based on people's movement around the beach. The AI is constantly developing as it collects big data about the temperature and climate of Siloso Beach as well as that of people's movements.


In two of the interactive areas, people can witness the "Circle of Life" beginning with the big bang. After that there is magma, followed by heavy rainfall and eventually flowing water which gives birth to life. Cells divide as plants begin to sprout, fish swim in the sea, and birds and insects sing in the mountains. At the end, life falls, and the process begins again.


Japanese musician Masakatsu Takagi was put in charge of the music and sound design of the exhibition. Takagi is known for having written the music for Wolf Children and The Boy and the Beast. He took inspiration from his music project "Marginalia," a sound diary where he would record the sounds of birds, insects, the wind, rain, and so on from his studio window. Takagi did field recording on the beach to capture the sounds of nature to use for the art exhibition.

Kuniyuki Takahashi also offered his musicianship to the exhibition. Based in Sapporo, he is an internationally-recognised composer. He also recorded the sounds of Siloso Beach, and together with Takagi, created the perfect soundtrack for Magical Shores.

Magical Shores is currently temporarily closed as a result of the coronavirus but will resume once more as soon as the situation allows it.

DJ Arisa Komiya from OMOTENASHI BEATS Celebrates First Overseas Performance at Anime Festival in Singapore

Last October, Zepp Divercity, Tokyo was filled with excitement and thrill as the Anime Rave Festival Vol.2 took place, which saw the appearance of a brand new DJ at the scene: Arisa Komiya from OMOTENASHI BEATS.

What's more, it hasn't even been two months since the DJ released her CD full of non-stop anisongs called SUPER OMOTENASHI BEATS vol.1 × DJ Arisa Komiya on October 2 and she has already leaped across a border for her first ever overseas performance at Anime Festival Asia Singapore 2019,  which flies the flag for Japanese culture and aims to spread the love for Japanese music. The festival was held at Suntec Singapore Convention and Exhibition Centre.

Arisa Komiya took to the stage on the second day of Anime Festival Asia Singapore 2019. The floor shook in beat to the thudding fans and the entire evening was a great success. The DJ's kicked off her overseas debut at C3AFA AKIBA STAGE, which was met with a swarm of hiphop fans. Next, she performed on the LUMICA stage, which saw a sea of penlights sway in beat, each fan unshakable with admiration. Komiya left the venue being assured of her strong fanbase in Singapore. 

 

DJ Arisa Komiya is sure to continue performing in Japan and overseas. Keep an eye on her and OMOTENASHI BEATS because they are sure to have a lot in store for everyone.

Information

SUPER OMOTENASHI BEATS vol.1 × DJ Arisa Komiya

Release: October 2, 2019

A 35-Track Mix CD of Non-Stop Anisongs by Love Live! Sunshine!! School Idol Group Aqours Member DJ Komiya Arisa.

 

CD: ¥2,338 (Before Tax)

CD + Blu-ray: ¥4,074 (Before Tax)

*Blu-ray includes the NONSTOP MIX BACKGROUND MUSIC VIDEO and MAKING VIDEO

Purchase Here: https://omotenashibeats.jp/discography/shop.php?id=1030637

OMOTENASHI BEATS Official Website: https://omotenashibeats.jp/

Tokyo Station's Best Rice Bowl & Noodle Dishes as Voted by Commuters

Tokyo Station and surrounding facilities are currently holding the "Tokyo Station Rice Bowl vs. Noodles Grand Prix 2019" tournament from October 7 to November 24 to find out people's favourite rice bowl and noodle dishes at the station.

The past three tournaments have focused only on rice bowls, but this year sees the introduction of noodles too, with past restaurants in Kitchen Street and GRANSTA competing once again as well as new ones in ecute Tokyo and KITTE for a total of 13 participating station areas. 92 dishes are in the line-up, the biggest list to date.

The current rankings for the rice bowl and noodle categories have finally been unveiled, so let's take a look at the Top 3 of each to see which is leading the race.

Category Is: Rice Bowl

1st Place

Ultimate Japanese Spiny Lobster Bowl – ¥2,200 (Tax Included) @ Tsukiji Sushiko (GRANSTA Marunouchi)

Tsukiji Sushiko was the victory of last year's grand prix. This year, they've whipped up a hearty seafood bowl made with a whole Japanese spiny lobster and 11 other delicious critters from the ocean.

2nd Place

Premium Wagyu & Uni Otsukimi Date – ¥2,530 (Tax Included) @ Uniya no Amagokoro (Kitchen Street)

Served with sliced premium brand wagyu, this bowl is topped with uni sea urchin eggs and ikura salted salmon roeーa luxurious combination you won't find anywhere else.

3rd Place

Ura Ooedo Tempura Bowl – ¥1,800 (Tax Included) @ Tenkiyo (Grand Roof)

This is an alternate version of the restaurant's famous Ooedo Tempura Bowl, served with delicious tempura.

Category Is: Noodles

1st Place

MISO JIRO – ¥1,000 (Tax Included) @ Tokyo Style Miso Ramen Do Miso (KITTE GRANCHE)

A super-filling bowl piled with pork char siu and a mountain of vegetables.

2nd Place

Lanzhou Wagyu Noodles – ¥950 (Tax Included) @ Mazilu Lanzhou Beef Noodles

Authentic Lanzhou ramen served by the Halal-certified Mazilu Lanzhou Beef Noodles, customers can choose between nine different thicknesses for their noodles to satisfy their palate.

3rd Place

Dehydrated Hamburger Bolognese – ¥1,190 (Tax Included) @ HAMBURG WORKS

Enjoy the full flavour of the hamburger meat made from Japanese black wagyu beef and served with pasta.

Be sure to use this list as reference if you're looking to eat while travelling through Tokyo Station!

Information

Tokyo Station Rice Bowl vs. Noodles Grand Prix 2019

Running: October 7, 2019 – November 24, 2019

Locations: Kitchen Street, Kurobei Yokocho, Kitamachi Dining, Grand Roof, Grand Roof Front, GranAge, GRANSTA, GRANSTA Marunouchi, KITTE, ecute Tokyo, ecute Keiyo Street

Participating Restaurants: 91

Menu Items: 92 (79 of which are exclusive to Tokyo Station)

MOSHI MOSHI FRIENDS Members Enter Kourakuen's Child Character Design Contest to Win 500,000 Yen

Kourakuen is a popular Japanese ramen chain based in the east of Japan that is celebrating its 65th anniversary this year. Their diverse ramen menu line-up elicits a hint of nostalgia amongst the people of Japan, with its number one product being the "Chuka Soba," a Chinese-style soba noodle dish.

The company just recently launched its first ever mascot characters called "Mama" and "Papa." They are a family who love to eat out at Kourakuen, with Papa having a weakness for ramen and Kourakuen's popular Chuka Soba, and Mama having a thing for their seasonal and limited-time dishes.

In celebration of 65 years since its establishment, Kourakuen announced an international Child Character Design Contest which people from around the world are able to participate in. Participants must create a child character for Mama and Papa. The winning character will serve to promote and make Kourakuen an even more fun place, appearing on the company's social media platforms and at events to spread the word of their ramen across the globe.

But that's not all. Winners will receive ¥300,000 travel money with JTB and ¥200,000 in prize money. Many people are unaware of Kourakuen outside Japan, hence the contest, so if you're reading this article, this is your chance to get involved and get the word out there!

Our MOSHI MOSHI Friends members decided to all get together and enter the contest!

Six of our amazing members came together. They are a diverse bunch, each of different nationalities and ages and having different hobbies.

They headed to the Dogenzaka branch of Kourakuen in Shibuya, Tokyo where they ordered food of their choice as inspiration for their character designs.

Being a ramen chain, Kourakuen of course has a long list of ramen options, but they also boast a selection of delicious side dishes too like gyoza and chahan. Our members were spoiled for choice and it took them 5-minutes or so to decide, but each of them settled on their favourite-sounding dishes.

Time to tuck in!

Chuka Soba – ¥440

Naomi is a model from the Philippines. She went and tried the "Chuka Soba," Kourakuen's most popular dish.

This was her first time eating at Kourakuen, and she seemed to enjoy the subtle flavours of her Chuka Soba.

Etsuna, a model from China, has recently been obsessed with going to Hakata to eat tonkotsu, so she went for the "Tonkotsu Chashu Noodles" (¥640). She was really happy that there were mustard greens in the dish which she said made it really tasty. We were looking forward to seeing what kind of character Estuna was going to illustrate as she graduated from an arts college.

Vegetable Gyoza – ¥240

"I'll go with vegetable gyoza!" Peter decided promptly, a Canadian and vegetarian who was raised in Japan.

He was very pleased with his choice, saying: "I finally get to eat meatless gyoza after so long! There's plenty of veg in them like yam, beefsteak plant and ginger. The skin is chewy too, it's really good." Kourakuen's vegetable gyoza have no meat or onions in them, so we recommend them for people who have always wanted to try gyoza but don't like the smell.

Sammy is a British translator for us on MOSHI MOSHI NIPPON and she loves Japanese food. She loves ramen but is also health-wise, so she ordered the "Reduced Salt Chuka Soba" (¥440). "I came prepared, I've been practicing drawing my character since yesterday!" she explained, full of vim and vigour.

Our next member, Daniel, Chief Editor at game and entertainment website IGN JAPAN, ordered the limited-time "Sesame Miso Chashu Noodles" (¥640). He gave careful consideration to his dish and character design idea, explaining: "I want to use noodles in my drawing. I love adding egg to my ramen, and children are born from eggs, so I'm thinking I might include eggs too."

Egg Rice Bowl – ¥320

ChiMy ordered the Negi Ramen (¥540) together with the Egg Rice Bowl. She works as both as an illustrator and DJ. She actually frequents Kourakuen after her DJ sets, so she already had in mind her order.

With their bellies full and their minds filled with inspiration from each of their dishes, it was time to get drawing.

They laid out their crayons, pencils, coloured pencils and erasers onto the table. The competition allows both digital and hand drawn submissions. MOSHI MOSHI Friends went the traditional hand drawn route.

ChiMy got stuck right in, using the pens she normally uses for her works.

Everyone was chatty just moments ago, but as soon as they put pen to paper, they went straight into serious mode. We could see them incorporating different elements of their food into their drawings, like noodles, egg, seaweed, narutomaki, rice bowls, and so on.

Each person who participates in the contest can submit as many entries as they like. Estuna seemed to be drawing both a boy and a girl.

"Does this kid [character] even have a gender to begin with?" Daniel pondered as he worked on his character.

Our members had to come up with fitting names for their child too.

After about an hour of working hard, our members' adorable children were finally complete.

ChiMy's character is called "En-chan." She has a rice bowl for a hat and her hair is made of noodles. Her hair also has a stylish narutomaki hair clip.

Sammy named her character "Umen," which makes use of both Papa's noodles and Mama's narutomaki. His cute shoes are actually eggs!

Naomi create a super adorable sibling pair, called Chad The E-Boy and VSCO-chan respectively. They have matching wavy noodle hair, as you'd expect from a brother and sister.

Estuna's idea was a twin brother and sister called "Menyuyu-chan" and "Rakutaro" who transform when they eat noodles. It's cool that she even added some lore to their character!

Daniel's character is "Ramen Baby," a creepy-cute ramen bowl who eats their own noodles, aka themselves. The diaper adds that baby touch to the character.

Peter conceived "Mugimen," who has a Native American-like appearance and whose torso is an egg. His headpiece is wheat which is a fundamental ingredient of ramen.

Everyone was able to come up with their own unique ideas and put them on paper. It's interesting to see how all their ideas came together and how their dishes inspired what they drew.

The MOSHI MOSHI Friends left feeling satisfied after their tasty food at Kourakuen and being engrossed in their work.

Submissions for the contest close at 23:59 (JST) on Friday October 25. Don't worry if you're not confident in your drawing skills as Japanese illustrator Shashamin will take your idea and add any finishing touches to your design and colouring. Anyone and everyone are encouraged to get involved.

*All listed prices of the menu items include tax

*Select branches may not stock select menu options listed in this article

*To see the full menu, please visit Kourakuen's official website at https://www.kourakuen.co.jp/

Models: Etsuna, Naomi, ChiMy, Peter, Sammy, Daniel

Writer: Ellie (MOSHI MOSHI NIPPON)

Photographer: pon

Translator: Joshua Kitosi-Isanga

Information

Kourakuen's Child Character Design Contest
Summary: Kourakuen is a ramen chain loved by families, so to celebrate the restaurant's 65th anniversary it has created the Kourakuen Family, a family who now serve as the mascots for the chain. The competition asks people to draw the Mama and Papa a child to complete the family, who is also the main character.
Prize: ¥300,000 travel money with JTB and ¥200,000 prize money
Running: September 24, 2019 at 10:00 (JST) – October 25, 2019 at 23:59 (JST)

Applying/Submitting

①Follow Kourakuen on Twitter@kourakuen_pr and post your illustration with the hashtag #幸楽苑ファミリー along with the name of your character. Illustrations must be in JPEG format and be less than 2mb.

②Upload your illustration to the campaign website along with the name of your character.
(https://www.kourakuen.co.jp/pr/campaign201909/character

*Your illustration must be coloured. You are free to draw whatever ideas you like. Submissions can be digital art or hand-drawn art.
*If doing a hand drawn illustration, please ensure your photo is taken in a brightly-lit room so it can be seen clearly.
*Each participant can draw as many drawings as they like. However, only one character will be accepted from a submission.

Submission Necessities: You must ensure the following 2 items are included in your submission. If you forget to include both, your submission will not be accepted.

①Character illustration (JPEG)

②Character name
*You may include how you conceived the character along with your drawing process, but this it not mandatory.

The winning entry will be posted on Kourakuen's official website and social media platforms 1 month after submissions close. Time frame is subject to change. Please make sure all the information and required items are included before submitting.

Contest Details (Japanese): https://www.kourakuen.co.jp/pr/campaign201909/character

The Peninsula Tokyo Hotel Now Offers Restaurant IPPUDO's Ramen as Room Service

The Peninsula Tokyo is teaming up with tonkotsu ramen specialist restaurant chain IPPUDO―which has restaurants across the world―to offer their ramen as room service at their hotel.

The hotel and restaurant first came together in autumn last year to begin plans for their collaboration, which comes in response to many guests at the hotel asking staff where a great place to eat tonkotsu ramen is, and even some expressing their desire to dine at IPPUDO.

IPPUDO is a prominent ramen chain in Japan and so is sure to please the palates of all guests.

The ramen is boiled fresh in the kitchen and is delivered to guest rooms in a soup together with what looks like a jewellery box, but instead of being filled with rings and necklaces it's packed full of delicious ingredients to add to your broth, including walleye pollock roe―which is a staple with tonkotsu ramen―as well as mustard greens, red pickled ginger, cloud ear mushroom, seaweed, and more. Topping the broth is boiled egg, fried garlic, sesame seeds, BBQ sauce specially prepared by the hotel's restaurant Hei Fung Terrace, XO sauce which originates from The Peninsula Hong Kong, and more.

Enjoy the ultimate ramen room service now at The Peninsula Tokyo.

Roppongi Hills Renovates Food Court Revealing Mouthwatering Michelin Guide Restaurants

Looking for a delicious Michelin-approved food experience? You surely cannot go wrong with heading to Roppongi Hills; a large-scale development project located in Tokyo, which is known for its nightlife and and shopping. Roppongi Hills is also home to the shopping mall Metro Hat, which is currently renovating its food court on basement floor 2. The foodcourt will have its grand opening on October 29th. 

The renovation will introduce seven new restaurants to the food court. Some of these include ramen shops and Yakitori restaurants which are bringing brand new rare dishes and flavours to the table.

Let's look at our recommendations:

Ginza Kagari (銀座 篝)

Chicken Soba: ¥900 (before tax)

Ginza Kagari is known for their notorious never-ending queues. In 2016 and 2017, it earned a place in the Michelin Guide Tokyo and even became popular overseas. One of their specilaties is their chicken soba. The broth is packed with the goodness and flavour of the entire chicken and even the bones. The flavour of the broth is exquisite and rich. The salt kaeshi sauce which is made from a mix of soy sauce, mirin and sugar goes perfectly with the soup. The salt mixture in the sauce consists of a range of natural salts which contain the natural goodness of the sea and perfectly enhance the flavours of the soup.

Location: Metro Hat Hollywood Plaza Floor B2

Opening Hours: 11:00 ー 23:00 (L.O: 22:00)
Website: https://www.roppongihills.com/en/  (The website is scheduled to open during mid October)

Yakitori Kokorikoan (焼鳥 ここりこ庵)

Yakitori (chicken skewer): ¥200 (before tax)

You must not miss out on Kokorikoan's Chicken Skin Hotpot ー a dish that is rare even to Tokyo. This dish is the perfect opportunity to discover a new kind of flavour and a new way to enjoy food. This restaurant prepares their dishes using special and rare cuts of chicken and chicken that is freshly ground in the morning. The chicken is flavored using traditional flavorings such as tare sauce and salt as well as flavorings that are not so conventional in Japan such as balsamic vinegar, herb vinegar, madeira wine, brandy and much more. Each cut of meat is prepared with the most careful methods and best seasonings to fully bring out the flavours. 

Location: Metro Hat/ Hollywood Plaza Floor B2
Opening Hours: Lunch: 11:00 ー 15:30 (L.O.15:00)  Dinner: 17:00 ー 23:00 (L.O.22:00)

Website: https://www.roppongihills.com/en/ (The website is scheduled to open during mid October) 

 Pintokona (ぴんとこな)

As a cheap place to enjoy authentic sushi, Pintokona has become a very popular restaurant. Now, it is having a fresh renewal. This sushi is made by using seasonal ingredients from around Japan. From November 1 to 30, there will be an exciting new menu that includes fresh fish from Miyazaki and authentic shochu (Japanese spirit). There will also be a fair that you also should not miss out on. 

Location: Metro Hat/ Hollywood Plaza Floor B2
Opening Hours: Lunch: 11:00 ー 15:30 (L.O: 15:00) Dinner: 17:00 ー 23:00 (L.O: 22:00)

Website: https://www.roppongihills.com/en/ (The website is scheduled to open during mid October) 

AFURI(アフリ)

Yuzu Orange and Salt Ramen: ¥1000 (before tax) 

Popular ramen shop AFURI sells a ramen with a translucent gold-coloured soup made using the natural spring water that gushes from the foot of Mount Afuri (Mount Oyama) located in the Tanzawa Mountain Range of the Kanto Region. Carefully selected chicken bones, pot herbs, kombu (kelp) and katsuobushi (fermented and smoked fish) is boiled in the water to add to the flavour. The whole wheat flour used to make the noodles creates a wonderfully fresh, chewy texture. The chashu roast pork pieces are freshly barbecued upon each order, creating a fresh and delicious flavour. AFURI also sells vegan ramen which is particularly popular among foreigners.

We have a full report on our heavenly trip to AFURI so if you are curious to find out more, please check out our this article: Introducing AFURI—Harajuku's Michelin-Starred Ramen Restaurant

Location: Metro Hat/ Hollywood Plaza Floor B2
Opening Hours: 11:00 ー 23:00 (L.O:22:00)
Website: https://www.roppongihills.com/shops_restaurants/restaurants/00100.html

There are just so many popular shops and restaurants at Metro Hat that you will be spoilt for choice. We hope you enjoy exploring the rich culture of Roppongi. 

Japanese Cafe Chain PRONTO Announces Second Overseas Branch in Singapore

Japanese cafe chain PRONTO has announced that it will open its first Singapore branch at Capital Square Singapore on June 17. This is only the second of overseas branches, the first being located in Shanghai.

The area that PRONTO is opening in is Shenton Way, a commercial and business district. It is just a five-minute walk from Raffles Place MRT Station and a one-minute walk from Telok Ayer MRT Station.

PRONTO decided to open a branch in Singapore as the country has a high rate of people who enjoy eating out, and it's also home to a lot of office workers. Just like it does in Japan, PRONTO will operate both a cafe and bar so that customers can enjoy the establishment from morning to evening time.

The counter shares its space with the rest of the room, giving it a spacious atmosphere. This also makes the bar feel like a relaxed and carefree sake bar. The interior is built to feel like a slightly special private location. The outside also has a takeout corner which is connected to a seated terrace area.

During cafe time customers can enjoy coffee and authentic pasta while at bar time they can sip on 4 types of The Premium Malt's, high balls, and tuck into delicious Italian cuisine. The cafe caters to every customers' needs, whether they're an office worker on a weekday or tourists and locals on the weekend. Be sure to stop by if you're in Singapore.

Information

PRONTO SINGAPORE (Capital Square)
Address: 23 Church Street,#01-02/03 Capital Square Singapore 049481

Grand Opening: June 17, 2019

Business Hours: [Mon-Thurs] 7:30-23:30 (Last Orders 23:00) / [Fri] 7:30-02:00 (L.O. 1:30) / [Sat] 11:00-22:00 (L.O. 21:30) / [Sun] 11:00-22:00 (L.O. 21:30)

*Cafe time runs until 17:00

PRONTO Official Website: https://www.pronto.co.jp/

RAMEN PURISM: Osaka's New Eatery Made in Collaboration With 2 Ramen Restaurants

Popular ramen restaurants Original Ramen Style Hayashi and Human Beings Everybody Noodles in Osaka have crossed chopsticks to open up the all-new restaurant RAMEN PURISM in Shinsaibashi, Osaka.

Hayashi Ryuu Miso Ramen: ¥990

RAMEN PURISM will be the central branch of RAMEN CUBISM which opened in Hong Kong back in January, making it an example of a reverse-import restaurant.

Kindan no Shio: ¥890

Jinrui Mina Shoyu: ¥890

The Hayashi Ryuu Miso Ramen and Kindan no Shio by Original Ramen Style Hayashi and the Jinrui Mina Shoyu by Human Beings Everybody Noodles are served in large ramen bowls specially ordered from a ceramic maker in Kyoto (露古壽窯). The noodles are also prepared in-house meaning customers can enjoy freshly made noodles.

The noodles are made from fragrant bamboo wheat flour while the mouth-watering roast pork is a mix of pork belly and shoulder which is cooked at 160°Cfor 30-minutes until the centre of the pork reaches 70°C.

The glass windows in the restaurant mean that customers can watch the noodles noodles being made in front of them. Jazz music plays while you eat adding luxurious atmosphere compared to other ramen shops. It's located just a 30-second walk from Ebisu Bridge in Souemoncho making access super easy.

Information

RAMEN PURISM

Address: 2-3-12 Shinsaibashisuji, Chuo Ward, Osaka

Access: 370m on foot from Osaka-Namba Station)

Business Hours: 11:00-15:00 / 18:00-23:00

No Fixed Holidays.

Official Twitter Page: https://twitter.com/RAMENPURISM

Traditional Japanese Fireworks Fuse With Cutting-Edge Technology for STAR ISLAND 2019 in Tokyo & Singapore

This year marks the third year of STAR ISLAND, a firework festival set to take place at Toyosu Gurui Park on July 20, 2019. Tickets are now on sale.

STAR ISLAND will collapse together traditional Japanese fireworks with the latest in cutting-edge technology including 3D sound, lighting and show performances. This immersive entertainment experience will stimulate all five senses of attendees as they enjoy the show with against panoramic backdrop of Tokyo's towering skyscrapers.

Past STAR ISLAND event

The tickets for STAR ISLAND sell out every single year. 2019 will be its fourth run and it promises to scale things up to greater heights as the event is moved to Toyosu Gururi Park for the first time.

Past STAR ISLAND event

The event will now house two children's areas for families which have proven popular each year as well as new BBQ seats.

Past STAR ISLAND event

This year, STAR ISLAND is expanding its experience overseas. Up to now, the event has been held at Odaiba Seaside Park in Tokyo for two years in a row since its inception in 2017. At the end of 2018, it embarked to Singapore for the New Year's event "Marina Bay Singapore Countdown 2019" where it was the main attraction, showcasing its wondrous and moving content to people from 86 different countries.

STAR ISLAND will return to Singapore for the same event for the 2020 countdown. Before that, it will make its way to Saudi Arabia for Saudi-Japan Vision 2030 on September 23, 2019, the same date the kingdom was founded.

If you get the chance, make sure to book your tickets to witness STAR ISLAND 2019 for yourself.

Information

STAR ISLAND 2019

Date: July 20, 2019

Time: 16:00-21:00 (*Will go ahead if it rains but stop during stormy weather)

Location: TOKYO STAR ISLAND (Toyosu Gururi Park, 6-5 Toyosu, Koto Ward, Tokyo)

Tickets: http://r.y-tickets.jp/starisland2019

Enquiries: Kyodo Tokyo 0570-550-799 (Weekdays 11:00-18:00 / Weekends & Holidays 10:00-18:00)

Official Website: http://www.star-island.jp

STAR ISLAND 2019 Schedule

2019/7/20 – STAR ISLAND 2019 in Toyosu Gururi Park, Tokyo

2019/9/23 – STAR ISLAND in Saudi Arabia

2019/12/31 @ STAR ISLAND in Singapore

Shiseido and teamLab Collaborate at New Shiseido Forest Valley in Singapore

Shiseido Forest Valley is an immersive new indoor forest in Jewel Changi Airport in Singapore. Together with this new area, Shiseido has is also collaborating with teamLab on their new art installation SENSE. By opening Shiseido Forest Valley in Jewel Changi Airport which is used by people across the globe, Shiseido will be able to increase their international presence.

Jewel is a mixed-development and expansion of Changi Airport which describes itself as a "gateway where the world meets Singapore, and Singapore meets the world." This 1.46 million sq ft complex is built up of gardens, attractions, retail and more all of which integrates with nature and sits under a stunning steel and glass dome.

Shiseido Forest Valley bathes in natural sunlight and is surrounded by nature with plants at every turn and a giant waterfall in the centre. teamLab's SENSE installation combines nature, beauty and art through a Japanese aesthetic. Relax and take a stroll through the forest and enjoy the sights, sounds and tranquillity.

Information

SHISEIDO FOREST VALLEY
Address: 78 Airport Boulevard, Singapore (Inside Jewel Changi Airport)

SENSE
Location: Shiseido Forest Valley, Jewel Changi Airport 78 Airport Boulevard, Singapore
Opened: May 13, 2019
Entry: Free
Open: 24-hours a day all year round

Shiseido Official Website: https://www.shiseido.co.jp/index.html

Ippudo ramen opens on the lively and bustling Nathan Road, Kowloon, Hong Kong!

Japanese ramen shop Ippudo has just opened inside Eaton Hotel, Kowloon, Hong Kong. The ramen shop celebrated its grand opening on 3rd May. 

Yokohama Kakaei Tonkotsu 80HK$/ ¥1,136

Ippudo pork buns 28HK$/ ¥397

The ramen served here includes Japan's favourites; Shiromaru (salt-based), Akamaru (spicy red miso) and Ippudo Karakamen (hot and spicy). Besides the basics, there are so many other types of ramen served here, such as the Kuro (black) ramen, which shares the same standard tonkotsu broth but has a dash of garlic oil and black pepper. There's also an Eaton Hotel-limited ramen called Yokohama Kakei Tonkotsu which is made using the tonkotsu broth infused with a chicken soup broth. Besides ramen, there is a rich variety of elegant dishes to complement your ramen. You can also get Ippudo pork buns and Ippudo gyoza (stuffed dumplings). There are also dessert treats such as the black soybean-matcha pudding dora (a black soybean and green tea pudding sandwiched between two Japanese-style pancakes).

Eaton Hotel is just a five-minute walk from Jordan train station (Tsuen Wan line, MTR). Other popular attractions in the area within walking distance include the Ladies Market and Temple Street, which thrive during the night in the Kowloon area. This area is bustling with tourists as well as locals, who come and go to this area! On the lower ground floor which is one floor below Ippudo, there is a countless number of food and drink places which are popular with visitors every day.

Starting with Ippudo ramen, come and show your support for delicious Japanese food in countries all over the world!

Information

IPPUDO HK Eaton Hotel


Address:Shop 1, G/F, Eaton Hong Kong 380 Nathan Road, Kowloon
Opening hours:11:30 ー 22:30 (Last orders: 22:15)

Official website: https://www.ippudo.com.hk/