Getting much attention on SNS! Check out the Electric Bulbs Soda specialty shop, 「Harajuku Denki Shokai」
An Electric Bulb Soda is a soda contain inside an electric bulb-shaped bottle. It has became a popular item in Korea and finally they have arrived in Harajuku!
It has being already loved by girls who are sensitive about current fashions and gathering in Harajuku.
It takes 5 minutes from JR Harajuku Station on foot. First, walking through the Takeshita Street. And going straight to a road between Murasaki Sports and New Balance for 2 blocks. An Electric Bulb Soda is in the building on your left side, before Family Mart. Finally you can see the panel of Electric Bulb Soda.
There are a lot of electric bulbs inside. There are so cute as its object♡ You should take pictures.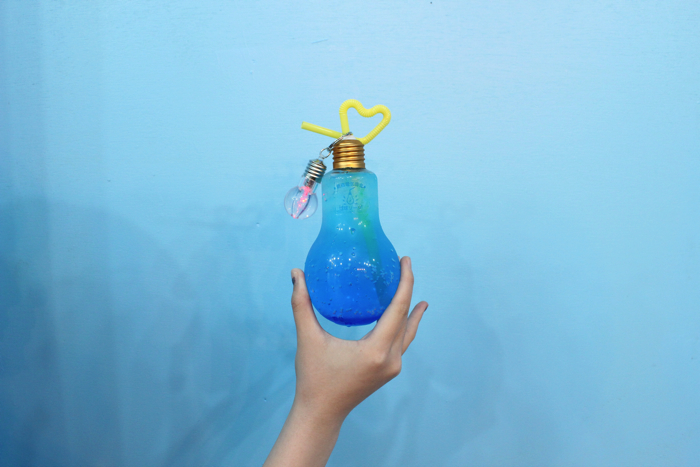 This is the Electric Bulb Soda! Deep coloring flavors are popular to upload on SNS. I ordered the most popular taste, Blue Hawaii(¥700).
This beautiful color makes you cooler in summer. A straw is cute as it's hart-shaped. It doesn't taste too strong soda flavor and sweetness, so you can drink it very easily.
A LED light is attached and you can use it as a strap after you drink.
This is a new item, SNOW POT(¥600).
Colorful rice biscuits and sauce are topped on milky tasting shaved ice cream. You can choose 3 types of sauce, which are strawberry, mango and chocolate.
I ordered the most popular sauce, strawberry. A fluffy shaved ice cream was quickly melted in my mouth. It is in the container looks like a flowerpot and a spoon is shaped like a shovel. It was so unique!
You will definitely want to take pictures!  New sweets will be coming soon so please check out the information on Twitter.
If you want to have a break at Harajuku, you should get a photogenic Electric Bulb Soda!
Writer:Nao Shiota(MOSHI MOSHI BOX Staff)
■Information
Harajuku Denki Shokai
〒150-0001  B1F Gingu-mae 3-20-10 Shibuya-ku Tokyo
OPEN.11:00〜19:00
Twitter. @denkyusoda
Related article:"Fruits in Tea" which gathered much attention last year will be opened at Omotesando and Osaka for a limited time offer.
Related article:Special for Japan,"Wicked Strawberry & Cherry" was released from Korean ice shaving cafe "Wicked Snow Harajuku"