ESTINATE HOTEL Celebrates Okinawa Branch's 6th Anniversary With Ryu Ambe Collaboration
The lifestyle hotel chain ESTINATE HOTEL's Okinawa Naha branch will turn 6-years-old on August 7, and to celebrate, it will hold a special event in collaboration with the character designer Ryu Ambe from August 6-15. This will be Ambe's first-ever exhibition where his work will be sold in-person.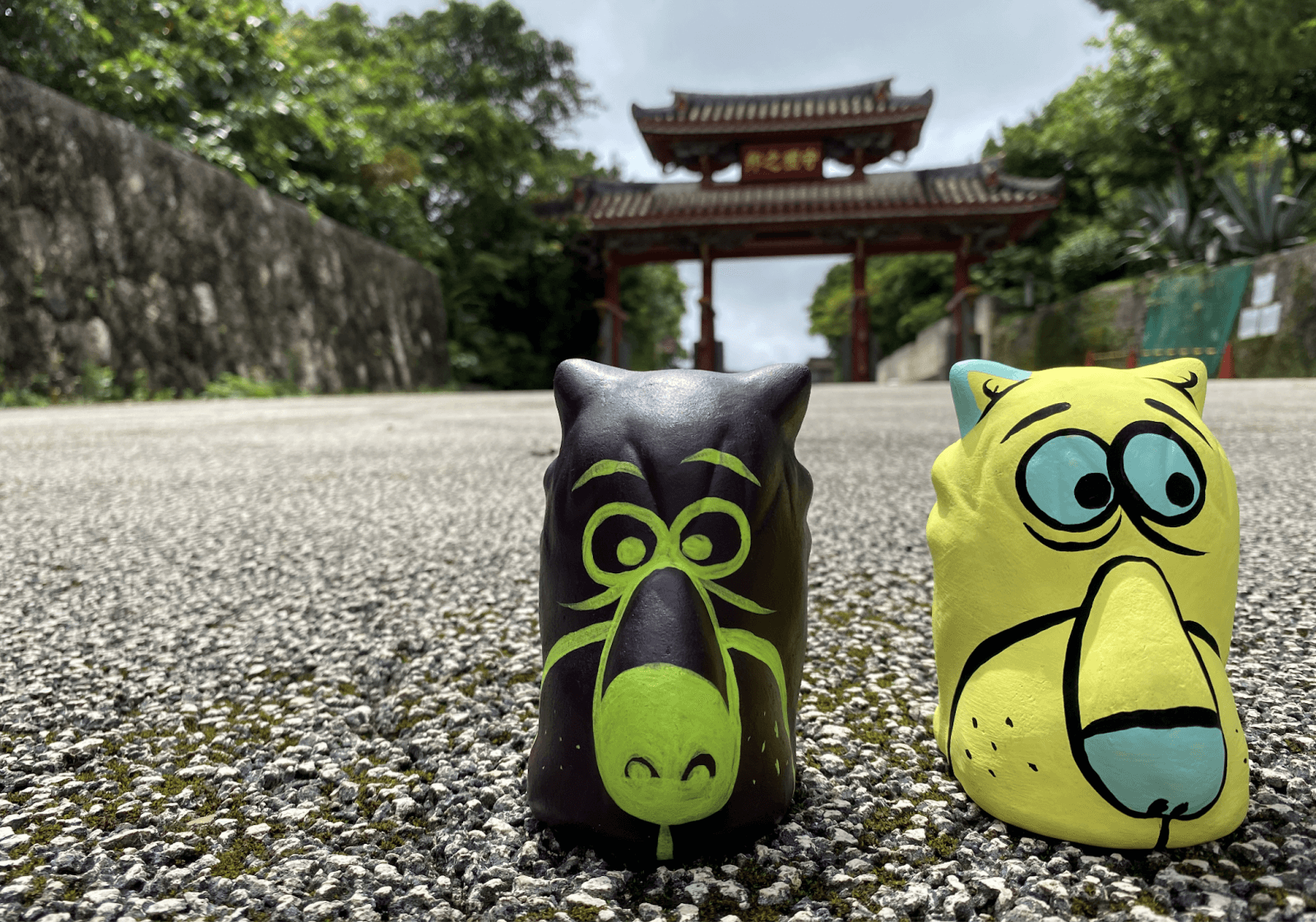 Pottery in Shujiro Castle Park
"Shima Map" design by Ryu Ambe to be used on posters and t-shirts
ESTINATE HOTEL has welcomed people from all regions of Japan over the years. It has held many events including one two years ago with the theme "Meet Local" and another last year themed on "Feel Global." This year, the catchphrase is "Hello New World" which hopes to encourage people to discover new things by meeting the locals of Okinawa through the medium of art.

Ryu Ambe has a unique designer reminiscent of American comics. For this event, he has created the "Shima Map" which will be used on a variety of merchandise such as 30 limited-edition silk screen posters. There are also pottery pieces inspired by the sea life found in Okinawa's oceans, amongst other art works.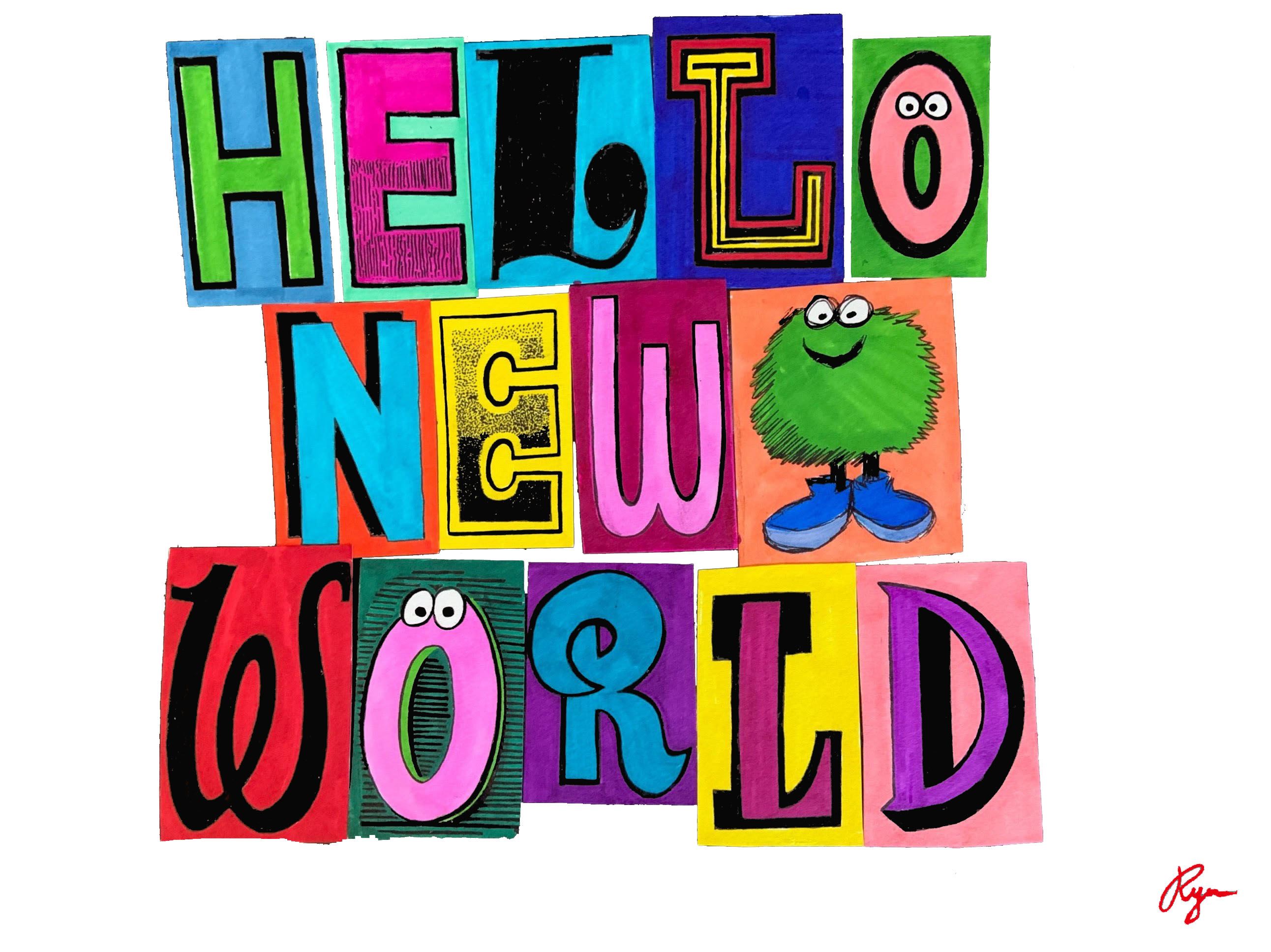 Information
Ryu Ambe Exhibition "HELLO NEW WORLD" at ESTINATE HOTEL
Running: August 6, 2021 – August 15, 2021 @ 11:00-17:00
Ryu Ambe's Stay Duration: August 7, 2021 – August 8, 2021
Location: ESTINATE HOTEL Okinawa Floor 1F Lounge
Address: 23-11 Matsuyama, Naha, Okinawa, 900-0032, Japan
Official Instagram: https://www.instagram.com/estinate_hotel/
Official Website: https://estinate.com/

RELATED ENTRIES
Art Charity Auction Opens to Support the Fight Against COVID-19

Last year, the Pola Museum Annex in Tokyo hosted a charity auction to support the fight against the COVID-19 pandemic breaking out across the globe. As the world continues to feel the effects of the virus, the charity event is returning for a second year, and is set to be held from November 12 until December 5, 2021. The title for this year's art exhibition is 'Find Your Travel.' 

Lemon Tree – Yuka Kashihara. Acrylic and oil on canvas.  2020. 

POLA Dot or snowball ~Based on Tosa Mitsuyoshi's Colored Painting of Yugiri from The Tale of Genji~ – Tetsuya Noguchi. Acrylic. 2020. 

our whereabouts – Moe Nakamura. Camphor, bronze, oil. 2021. 

Philanthropy – Yuko Higuchi. Hemp paper, pen, watercolor. 2020. 

Baby Heel-less Shoes – Noritaka Tatehama. Cowhide, pigskin, dye, metal zipper, coated crystal glass. 2020. 

Last year's charity auction raised over ¥9,145,000 (about $83,000) for the Japanese Red Cross. As the COVID-19 pandemic continues around the globe, and as Japan remains locked down, this year's event hopes to raise even more useful funds to help medical professionals on the front lines. 

 

20 artists are participating in the exhibition, with each creating one work based on the theme of 'travel.' In addition to simply viewing these pieces at the exhibition, a silent auction will also be held online. With travel being severely restricted, these works of art seek to inspire and encourage visitors to imagine a better future, when the world is open once again. All proceeds will once again be donated to the Japanese Red Cross. 

 

 

Information

Find Your Travel Charity Auction

Running: November 12 – December 5, 2021

Hours: 11:00-19:00 (Last entry 18:30) / Admission Free

Address: Pola Museum Annex 3F (1-7-7 Ginza, Chuo-ku, Tokyo)

Official Site: http://www.po-holdings.co.jp/m-annex/

Contemporary Painter Yasunari Ikenaga Opens Shou Inspired New Exhibition in Ginza

Tsutaya Ginza, located inside Ginza Six, will hold an exhibition of new works from artist Yasunari Ikenaga starting September 25, 2021. Titled 'Shonen, Shou,' the pieces in the collection were all inspired by up-and-coming actor and model Shou. 

Physical Education, Shou – Yasunari Ikenaga. 2021. 

Glaring, Honami – Yasunari Ikenaga. 2015

Yasunari Ikenaga is a leading figure in the world of contemporary beauty painting. In 2012, he won Honorable Mention at the 8th Tatehiko Suga Grand Prize Exhibition, which attracted a great deal of attention in the art world and established the genre of contemporary beauty painting. Ikenaga's paintings are characterized by their unique coloring, which is created by using mineral-based pigments. This style, as individual as the models he paints, has a uniqueness and presence that has redefined the art of painting human beings in the Japanese art world. 

'Shonen, Shou' is an exhibition focusing on new model and actor Shou, born in 2006. This is the first time Ikenaga has used a boy as his muse, and various prints of past works will also be on display during the event. 

Photography and Noh Theater Collide in New Collaboration between Hiroshi Seo and Hosho School

In a new fall collaboration, the prestigious Hosei School of Noh Theater, established during the Muromachi Period, and photographer Hiroshi Seo will present a unique blend of traditional culture. 'Experience Noh and Art in Autumn ~Noh at Night: The Tale of the Heike 'Kiyotsune' x BEYOND PHOTO BY HIROSHI SEO' will begin for four limited showings starting September 24, and will connect the photographer's work 'BEYOND' with the theme of water present in the classic tale of Heike. Ancient and modern will overlap during this special autumn event, so don't miss it if you're in Tokyo!

The Story of The Tale of Heike 'Kiyotsune'

During the 12th century, the Minamoto and Taira clans were at war. Awazu-no-Saburo returns to the capital after the Taira were defeated in battle, carrying with him a keepsake for his lord Kiyotsune's wife: a lock of hair that Kiyotsune left before committing suicide. Saburo visits the wife, and upon learning of Kiyotsune's death, she can barely stand the sight of his hair, ordering that the keepsake be returned to a shrine in Kyushu. Upon falling asleep, she sees his ghost in her dreams, and they argue over what has occurred. Kiyotsune recounts his final days, choosing suicide by drowning over capture and defeat. He is then blessed, and finds his way from Hell to eternal enlightenment. 

BEYOND PHOTO BY HIROSHI SEO Exhibition

In 2020, the COVID-19 pandemic changed the world. Yet even during this turmoil engulfing the world, artists were trying to make a new path. Photography is but a fragment of the real world, but through the eyes of the one taking the photo, it becomes an art form, and allows us to see the world in a different way. For this exhibition, Hiroshi Seo will present several new works, including photographs from Sado Island, the home of Noh, where one-third of all Noh stages in Japan are located. This chain of water-inspired images will weave together with the story of Kiyotsune, and will tell a brand-new story for modern audiences. 

Information

Experience Noh and Art in Autumn ~Noh at Night: The Tale of the Heike

'Kiyotsune' x BEYOND PHOTO BY HIROSHI SEO 

With Performance: September 24, 2021 (Tickets on sale now.)

No Performance: September 25, 2021 (Free admission for photo exhibition only. No admission to auditorium.) 

With Performance: October 29, 2021 (Tickets on sale now.)

With Performance: November 26, 2021, 17:00 (Tickets on sale September 25.) 

Address: Hosho Noh Theater, 1-5-9 Hongo, Bunkyo-ku, Tokyo

Tickets: https://nohlife.myshopify.com/

Official Site: http://www.hosho.or.jp/nohgakudo/

詳細・Official Site:http://www.hosho.or.jp/nohgakudo/

Hotel New Otani Announces Second PAUL & JOE Collaboration

Hotel New Otani Tokyo has collaborated with PAUL & JOE for the second time to offer a new accomodation plan, which will be available for one-night stays between December 1 2021 and January 4 2022.  The rooms will not be available between December 31 and January 2.

This collaboration room will allow you to surround yourself in the world of PAUL & JOE, a Parisian brand PAUL & JOE that is extremely popular with young women in their 20s and 30s. The initial collaboration was so popular that within just 10 days, all of the available dates within three months were sold out. This Christmas edition will only be available for one month, so be sure to book while you can.

The pink and ivory room features the brand's icon; Designer Sophie's beloved cats, Nunet and Gypsy. The decorations also feature Crisantemo flower motifs.

Not only is the wallpaper covered in PAUL & JOE motifs, but even the smaller pieces such as cushions, curling irons, and brushes are themed too. In addition, to celebrate the festive season, the room will include a special Christmas tree, allowing you to enjoy a special Christmas with somebody special, sharing a view of Tokyo Tower.

The second round of cosmetics is focused on the 2021 CHRISTMAS COLLECTION. The 'Lipstick Treatment' features adorable cats wearing Santa hats, while the 'Lipstick Limited' comes in a luxurious Christmas red – and also features cats in hats! Plus, the new 'Wrapping Hand Cream' will wrap your hands in a fresh moisturising texture. In addition, the best-selling 'Moisturizing Foundation Primer,' which was renewed on September 1, and the P&J skincare selection (oil, lotion, cleansing), each must-haves for the upcoming dry season, have been miniaturized into take-home samples in a limited edition pouch, especially for hotel customers.

Alongside the limited cosmetic samples, there will be matching pajamas and slippers available for purchase and take home, with a that will take you even deeper into the PAUL & JOE world. While these cat-and-floral print PJs are perfect for a girls-only gathering, a men's line has also been released due to popular demand, ideal for spending a romantic Christmas in matching pajamas.

 

 

Why not spend a wonderful Christmas in this PAUL & JOE room?

Information

PAUL & JOE Room ~Christmas~

Reservation Dates:

Friday & Saturday Rooms: September 14 2021~

Weekday & Sunday Rooms: Late October 2021

Room Duration: December 1 2021 ~ January 4 2022

※Unavailable between Dec. 31 and Jan. 21

Location: Hotel New Otani Tokyo

Reservations: https://www.newotani.co.jp/tokyo/stay/plan/paul-joeroom/  *Reservations can only be made online

Crayon Shin-chan and Adorable Bunny Rabbits Available from Ikumimama Animal Donuts

Ikumimama Animal Donuts has been a popular topic on social media for it's cute creations, many based on popular characters. Now, customers located in Japan can purchase the new Crayon Shin-chan and Otsukimi Usa-chan Donut Sets online! 

Otsukimi Usa-chan Set

Otsukimi Usa-chan (White)

Otsukimi Usa-chan (Pink)

Otsukimi Dango Donuts

Crayon Shin-chan Donut Set

Shin-chan (Normal)

Shin-chan (Sparkling)

Shiro

Buriburizaemon

Himawari

Otsukimi means 'moon-viewing' in Japanese. On the 15th day of the eighth month of the traditional Japanese calendar, it's tradition to hold a celebration to view the harvest moon. The Otsukimi Usa-chan set is perfect to serve during a get-together as you watch the starlit sky with friends. This year, September 21 is the lucky day! Dango, or dumplings, are popular snacks to enjoy during this event, and these coconut-filled Dango Donuts are a fun twist on a traditional treat. 

Shinnosuke, Shiro, Buriburizaemon, and Himawari all make an appearance in the new Crayon Shin-chan collaboration.

Which of these sugary sweets looks the most scrumptious? 

Magnificent Work of Art on Display at Sado Island Galaxy Art Festival Until October 2

Sado Island, sitting off the Japanese mainland close to the Niigata coast, has been holding an incredible art festival since August 8, 2021. The highlight of the event is a massive glowing sculpture, made as a collaboration between Koiwa Kanaami Co., Ltd. and the Nobuaki Furuya+Yuri Fujii Laboratory at Waseda University. The eye-catching installment is meant to honor the historical Sado gold mine, one of the largest in the country, and a designated National Historic Site of Japan.

The peak production period of the mine was 400 years ago, between 1615 to 1645. The mines on Sado produced over 400 kilograms of gold and nearly 38 tons of silver each year, making it one of the largest producers in the world at the time. The town of Aikawa, where the mine is located, is now filled with historical and tourist sites, with many buildings preserved and used as museums to teach visitors about mining technology over the years. A number of rail lines once ran around today's Oma Port, carrying ore and other mining materials.

The Sato gold mine was developed by Takato Oshima, one of the most important engineers in Japanese history, and the man also responsible for creating the first blast furnace and Western-style gun in Japan.

Headlining the event, the 'Scene Spinner' installation consists of two spiral concepts: one, based on the spiral pumping machine used to drain water seeping into the mine, and the other inspired by the rail system around Oma Port. These spirals were made by using a wire mesh frame, which resembles the silhouette of the Sado gold mine. Each piece shown at the Galaxy Art Festival is meant to express the remaining historical importance of this often-overlooked area.

The exhibition site, the former Oma Port, marks the location where materials were brought from the mines, and where the remains of the modern mining industry remain today. Oma Port, which has served as the gateway between Sado Island and the mainland, seems the perfect spot to hold this inspiring event, asking visitors to look around and think about the history made on this beautiful island.

Information

Sado Island Galaxy Art Festival

Running Until October 2, 2021

Address: Aikawa, Oma Terminal (16 Aikawa Shibamachi, Sado City)

Official Site: https://www.koiwa.co.jp/sado-art

Rihga Royal Hotel x YOURS BOOK STORE New Accommodation Plan to Discover Your New Favorite Book

Osaka's Rihga Royal Hotel is collaborating with book direction brand YOURS BOOK STORE to produce a one-room one-day accommodation plan titled "Once in a Lifetime ~ Professionals Choose Your Book~." The limited-time plan will be available between September 15 and November 30, 2021.

The lounge on the executive floor, known as The Presidential Towers, was reformed in March 2020 to include a library of 1,000 books, with themes including Osaka, refreshing, relaxing, and children's books. It was then that the room plan collaboration with YOURS BOOK STORE, who was involved in the initial book selection, was proposed.

In the "Once in a Lifetime ~ Professionals Choose Your Book~" accommodation plan, a professional will discuss with the guest to learn more about their taste, with the book director offering 3 personalized book choices per person. The guest can also take full advantage of the hotel library.

Following your trip, a book chosen especially for guests will be sent to your home, with a message card describing how your books were selected. This unique accommodation plan allows you to bask in the afterglow of your trip while waiting to see what kind of book you receive.

Why not check out this unique plan where you can receive your own personalized book recommendation?

The National Museum of Modern Art in Kyoto Opens Meiji Era Exhibition

A special exhibition titled 'Japanese Landscapes Discovered: Views from and for the Outside World,' showcasing a private collection of Meiji era paintings, is now on display at the National Museum of Modern Art in Kyoto until October 31, 2021.

Inside the Exhibit

Inside the Exhibit

 

This exhibition is designed to take visitors on a journey through the Meiji period (1868-1912), the beginning of Japan's modern era, through oil and watercolor paintings of the time, and through the landscapes and customs depicted in these pieces of art. During this time, many foreign painters visited Japan, and were inspired to paint the country's beautiful landscapes and unfamiliar customs, bringing these creations back to their countries of origin. Japanese artists studied these unfamiliar painting techniques, and made their own culturally-inspired paintings, often selling them to foreign visitors as souvenirs.

Many works on display in this exhibition have never been shown publicly, with many being brought back to Japan from locations abroad. These include long-lost oil paintings by Kuroda Seiki and a massive newly-discovered work by Tamura Soryu. Other Japanese artists inspired by Western-style on display include Hiroshi Yoshida, Jirokichi Kasagi, Shotaro Koyama, and Ioki Bunsai.

Also on display are works by foreign artists who visited Japan during this period, including British news painter Charles Wirgman, French news painter Georges Bigot, and British landscape painters Alfred Parsons, Alfred East, and John Varley Jr. These three men in particular triggered a watercolor boom in Japan during the late Meiji period. Vibrant female painters such as British watercolorist Ella du Cane, a lover of Japanese gardens, also make an appearance.

Be sure to see these incredible depictions of Japan before they're gone.

Information

Japanese Landscapes Discovered: Views from and for the Outside World

Running: September 7 – October 31, 2021

Hours: 9:30-19:00 (Until 20:00 on Friday and Saturday)

Closed: Mondays, and on September 21. *The museum will be open September 20.

Tickets/Official Site: https://www.momak.go.jp/

*Admission is open until 30 minutes before closing.

*To prevent the spread of COVID-19, hours are subject to change. Please check hours before visiting.

Enjoy Contemporary Art in Nature with the 'Rokko Meets Art -Art Walk 2021-'

The Kobe Tourism Bureau will be opening the limited time 'Rokko Meets Art -Art Walk 2021-' tour on Kobe City's Rokko Sanjo between September 11 and November 24 2021.

Rokko Mountain was developed as a leisure spot by foreign residents during the Meiji Era, and is still beloved to this day for its magnificent views and abundant nature.

The 'Rokko Meets Art -Art Walk-' tour opened in 2010 in order to convey the charms of Mt. Rokko to as many people as possible while introducing them to contemporary art. Over 400 artist groups have exhibited since its opening, with visitors being able to enjoy the innovative works and scenery which changes with the art.

The 'Rokko Meets Art -Art Walk-' is not only for art fans but also for those who wish to visit Mt. Rokko for sightseeing and leisure, allowing each visitor to experience art with their five senses as the seasons change.

Some pieces are modified by the artist throughout the exhibition period, allowing you to feel the changes of the works each time you visit. Due to the Covid-19 travel restrictions, opportunities to come into contact with nature and art have greatly decreased. In response, the 'Rokko Meets Art -Art Walk-' has started a variety of projects, including online exhibitions and workshops.

Experience this fun combination of nature and contemporary art for yourself at the 'Rokko Meets Art -Art Walk 2021-!'

Information

Rokko Meets Art -Art Walk 2021-

Duration: September 11 ~ November 23 2021

Opening Hours: 10:00 ~ 17:00

Location: 12 spots throughout Rokko Sanjo

Satellite Venue: Arima Onsen Area

JR Sannomiya Station Square Special Exhibition: 'Rokko Meets Art -Art Walk-' Selection

Tickets・Official Site:  https://www.rokkosan.com/art2021/

Nihonbashi Art Aquarium Museum Closes for Renewal and Relocation

The Nihonbashi ART AQUARIUM will be closed on September 26 2021 to make way for new exhibits and works. The museum is scheduled to be relocated in the first half of 2022.

The ART AQUARIUM Museum opened in Nihonbashi, Tokyo on August 28 202 with the concept of "a museum where life dwells." This will be the largest renewal in the history of the museum Museum, opened by writer and general producer Hidetomo Kimura, with the addition of more exhibits and new and improved interactive areas.

The Nihonbashi Art AQUARIUM Museum opened alongside the 2020 Tokyo Olympics and Paralympic, with the expectations that visitors would come from both within Japan and overseas, thanks to the exhibitions which easily explain and represent Japan's proud traditional culture and performing arts, but due to Covid restrictions, foreign tourists are still unable to enter the country. Despite this, the Museum saw many customers and with the closing of the Olympic and Paralympic Games, the museum will be closed in preparation to relocate to the new ART AQUARIUM. If you want to see the Nihonbashi location for yourself then this is your last chance!

In addition, the "ART AQUARIUM" digital tour is being held from September 12, allowing you to appreciate the Museum in a digital format until the reopening.

Make sure to check out the Nihonbashi ART AQUARIUM while you have the chance!

Information

ART AQUARIUM Museum

Address::1-3-9 Nihonbashihonchō, Chuo-ku, Tokyo

Opening Hours: 10:00~19:00 (L.A 18:30)

Official Site: https://artaquarium.jp

Blue Bottle Coffee Opens New Cafe Inside SHIROIYA HOTEL in Gunma

Initially announced in July of this year, Blue Bottle Coffee Japan will open their newest shop on the premises of the SHIROIYA HOTEL in Maebashi, Gunma Prefecture on September 17, 2021. The new shop is part of a recent initiative to revitalize the city, and make Maebashi an inspiring art and culture destination.

Shiroiya Cafe Limited Menu

Blue Bottle Coffee x Nakamata Fuwafuwa Wanuki Coffee Cream & Anko

Shiroiya Cafe Limited Item


Blue Bottle Coffee x Nakamata Maebashi City Tote Bag (Limited quantities available)

SHIROIYA the PÂTISSERIE×BLUE BOTTLE COFFEE 


Grapefruit and Coffee Tart

Maebashi was once a large manufacturer of silk, and was crucial to Japan's modernization. In 2016, a number of creative minds from both Japan and abroad gathered in the city with the goal of revitalizing the town center. With that in mind, they first renovated the 300-year-old Shiroiya Ryokan, opening the SHIROIYA HOTEL in December 2020. Blue Bottle Coffee was a perfect fit for the project, with a continued goal of fostering community and using their proceeds to help develop towns and cities.

Blue Bottle Coffee Shiroiya Cafe as designed by Keiji Ashizawa Design, also responsible for designing cafes in Minatomirai and Shibuya. Keeping with a comfortable theme, the cafe is designed to let in ample amounts of light. Historic bricks from Maebashi were a key material used in the flooring. Both the SHIROIYA HOTEL and the new Blue Bottle Cafe feature art pieces by Yoshio Shirakawa, an artist from the area.

The Blue Bottle Coffee x Nakamata Fluffy Wanuki Coffee Cream & Anko is only available at the Shiroiya Cafe, and is a collaboration with Wamukashi Nakamata, a confectionary shop in town. A special Maebashi-themed tote bag will also be on sale in limited quantities.

To commemorate the opening of the Shiroiya Cafe, the PÂTISSERIE, located inside the hotel, will serve a limited-time Grapefruit and Coffee Tart.

Would you like to visit Maebashi on your next trip to Japan?

Information

Blue Bottle Coffee Shiroiya Cafe

Opening Date: September 17, 2021

Address: SHIROIYA HOTEL, 2-2-15 Honmachi, Maebashi, Gunma

Hours: 8:00-19:00 (Opens at 10:00 on opening day.)

Official Site: https://store.bluebottlecoffee.jp/

Hyatt Centric Kanazawa Reveals Halloween Inspired Menu for October

All-day restaurant FIVE – Grill & Lounge, located within the Hyatt Centric Kanazawa hotel, will begin serving up a selection of Halloween-inspired treats beginning October 1, including cake sets, parfaits, muffins, and various lunch and dinner items.

Guests will also be able to enjoy some mischievous cocktails and mocktails inspired by witches and ghosts!

Halloween Cake Set 

Black Sesame Pudding

Mummy Macaron

Ghostly Mousse

Pumpkin Ice Cream Sandwich

Coffin Tart

Monster Cream Puff

Halloween Parfait Set

Halloween Dinner/Lunch Course

Halloween Muffin Box

Halloween Cocktails 

Spooky Night

Hallo-Wine Sangria

I sWitch (Mocktail)

The Halloween Cake Set is filled with ghoulish treats, each one displaying incredible attention to detail. In the Halloween Parfait Set, guests can enjoy a tower of different sweets, including black currant and chocolate. Themed with creepy eyeball decorations throughout, it offers a variety of overlapping textures and tastes guests will want to savor until the last bite.

 

When thinking of Halloween, the colors orange and purple instantly come to mind. For the Halloween Dinner/Lunch Course, the menu's creators went with a more dark theme, envisioning a ghost appearing at any moment. The entire restaurant will be decorated in black and gray, creating a truly haunting dining experience.

Don't miss out on the Halloween Muffin Box, a set of mini-muffins made with fresh autumn ingredients, and offering a much cuter feel. Quantities are limited!

The gin-based Spooky Night cocktail is refreshing, with a bold blue color and red-rim on the glass, sure to turn your mouth bright crimson. Hallo-Wine Sangria, house-made with autumn fruits, has a unique design, with a skeleton rising from the glass! For those wanting a mocktail, the I sWitch asks guests to pour the accompanying red syrup over the cotton candy, changing both the appearance and flavor of the drink as if by witchcraft!

Which of these treats would you be after?