Pokémon Postboxes Arrive in Yokohama For a Whole Year
Japan Post Service has teamed up with Pokémon to set up three postboxes with Pikachu, Eevee, and Piplup designs in Yokohama. They first opened on July 7, 2021 and will be available until June 30, 2022.

Yokohama is no stranger to Pokémon as it is the city that hosts the annual Pikachu Outbreak event, one which is set to return this year from August 7-13. It is also one of the cities taking part in the Poké Lid project to place Pokémon manhole covers across Japan.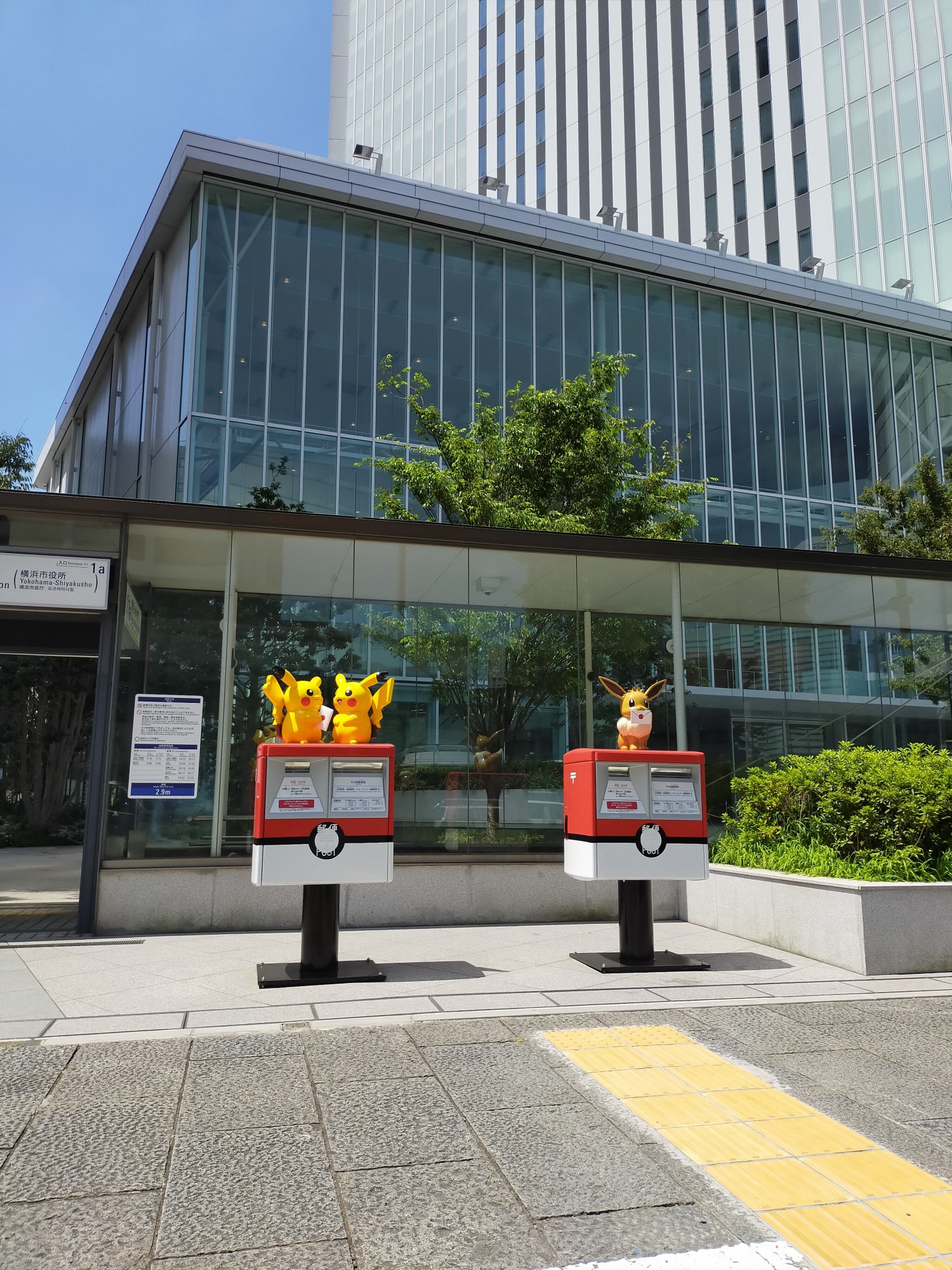 And if you post your letter in the postbox pictured below, located in Yokohama Port Post Office, your envelope will be stamped with a special Pokémon stamp.
Information
Pokémon Postboxes
Locations: 2 at Yokohama City Hall / 1 at Yokohama Sakuragi Post Office
Running: July 7, 2021 – June 30, 2022
Pokémon Stamp Post Service
Location: Yokohama Port Post Office
Running: July 7, 2021 – June 30, 2022
RELATED ENTRIES
Minatomirai Yokohama Opens 'Purplish Flower Garden' Summer Event Inspired by Hydrangea

Anniversaire Cafe Minatomirai Yokohama has opened a limited-time fair inspired by beautiful hydrangea! The 'Purplish Flower Garden' event is currently inviting guests to enjoy gorgeous sweets and drinks inspired by these spring and summer blooms until July 10, 2022.

Purplish Flower Plate

Purplish Flower Pain Perdu

Matcha Mont Blanc

Purplish Soda / Rainy Peach

Purplish Flower Stand Afternoon Tea

Purplish Flower Plate Afternoon Tea

Petits Fleur

The menu includes three desserts, two beverages, two afternoon tea plans, and one take-out dessert perfect for enjoying beside the sea. Come enjoy an elegant moment at the 'Purplish Flower Garden' event if you can!

U-Treasure Announces Pokemon Ring and Necklace Inspired by Snorlax

The U-Treasure brand is known for releasing incredible jewelry for adults based on beloved brands and characters. The company is now taking orders for two pieces of Pokemon jewelry inspired by everyone's favorite chunky roadblock, Snorlax! Orders are open until June 21, 2022. Snorlax appears in all his glory and is covered with a glossy black finish. 

Snorlax Silver Ring / Snorlax Silver Necklace

How about grabbing some Snorlax jewelry for yourself or a loved one? (Maybe it's not the best ring to propose with, though.) 

New Pokemon Anime Visual Released to Tease Show's World Championships

TV Tokyo has revealed a flashy new visual for the Pokemon anime series! The visual features the eight trainers and their Pokemon who will be participating in the show's Pokemon World Championships tournament, and notes that the "climax" of the show is about to begin. Pokemon airs every Friday at 6:55 PM on TV Tokyo.

Satoshi (or Ash, in the English dub) has been taking on plenty of tough trainers in Pokemon Journeys including Kibana from the Galar region. This means that he has earned his spot in the Masters Eight!

The new key visual features all eight trainers who will be participating in the upcoming tournament: Leon, the Champion of the Galar region; Cynthia, the Champion of the Sinnoh region; Steven, the Champion of the Hoenn region; Lance, the Champion of the Indigo Plateau; Diantha, the Champion of the Kalos region; Alain, another Champion of the Kalos region; and Iris, the Champion of the Unova region. Ash is currently the Champion of the Alola region.


The first 12 episodes of Pokemon Journeys premiered in the United States on Netflix in June 2020.

© Nintendo・Creatures・GAME FREAK・TV Tokyo・ShoPro・JR Kikaku © Pokémon

The North Face Collaborates with Pokemon at GOLDWIN PLAY EARTH PARK in Tokyo Midtown

Goldwin Inc. has announced a special event for both children and families to enjoy! The GOLDWIN PLAY EARTH PARK event, running until May 29, has taken over the lawn at Tokyo Midtown. Five architects have created playground equipment inspired by five elements: fire, earth, water, wind, and sky. The event wants to inspire children to be more curious about the world around them. What better way than to get Pokemon involved?

For the event, Goldwin, The North Face, Helly Hansen, Speedo, and Canterbury all collaborated with artists, designers, and of course, the Pokemon series.

Goldwin is known for providing incredible sports and outdoor apparel, and behind its sturdy technology lies a deep curiosity regarding nature. This new collaboration has brought new perspectives and ideas to the collection, and those visiting the venue won't want to miss out.

Collaboration Items at a Glance

THE NORTH FACE ✕ Pokemon


YOUNG EXPLORERS Jacket: ¥10,890 (Tax Included)

YOUNG EXPLORERS Hat: ¥6,380 (Tax Included)

Just like everyone's favorite Pokemon Pikachu, the event wants to inspire children to be filled with energy as they explore the world around them and take on new adventures. These new jackets come inside a pouch inspired by a Pokeball and are mde of environmentally friendly recycled nylon material.

*Products in The North Face x Pokemon collection will be sold by lottery starting April 22. Check the official website for details on how to enter.

©Pokémon.
©Nintendo/Creatures Inc./GAME FREAK inc.
TM, ®, and character names are trademarks of Nintendo.

HELLY HANSEN ✕ minä perhonen


Left: VINDKRAFT PEP Tote: ¥9,900 (Tax Included) / Middle: VINDKRAFT PEP Patch Tote: ¥19,800 (Tax Included) / Right: VINDKRAFT PEP Pochette: ¥3,300 (Tax Included)

Based on Helly Hansen's 'VINDKRAFT' project to recover and upcycle sailboats' sails, minä perhonen has designed a bag by combining scraps from its own production process. Nothing goes to waste, making this perfect for those aware of the current problems facing our environment.

*As this is an upcycled product, the number of pieces is limited and each piece is unique.

Collaboration items are available at a pop-up shop at the GOLDWIN PLAY EARTH PARK event. A number of workshops are also open for children to enjoy, with a focus on their relationship with nature while living in the city. Check out the special site for more information!

Information

GOLDWIN PLAY EARTH PARK
Address: Tokyo Midtown Lawn (9-7-1 Akasaka, Minato-ku, Tokyo) 
Running: April 23 – May 29, 2022
Hours: 11:00-18:00
Special Site: https://playearthpark.goldwin.co.jp/

Pikachu and Eevee Appear on New Apparel from Graniph

Japanese brand Graniph has started selling 22 new Pokemon-inspired apparel items on its official online store and in brick-and-mortar locations across Japan. 

Over 25 years have passed since the original Pokemon Red and Green games were released in 1996, and characters from the series continue to be popular around the world. It's hard to imagine a world without the franchise!
 

Check out these new items featuring Pikachu, Eevee, and other popular characters. 

©Pokémon. ©️Nintendo/Creatures Inc./GAME FREAK inc.
ポケットモンスター・ポケモン・Pokémonは任天堂・クリーチャーズ・ゲームフリークの登録商標です。

Information

Where to Buy:

Graniph Online Store: https://www.graniph.com

Graniph stores nationwide (Excluding kid's locations)

Pokemon Shirts Now Available with Patterns from Pokemon Diamond & Pearl

Pokemon and Original Inc. are back with some new Pokemon Shirts! The popular goods originally went on sale back in February 2019, and more and more patterns have been added over the years. 

Fans of Pokemon Diamond and Pearl can now find some designs to their liking, with new patterns on sale as of April 22, 2022. With 18 new patterns to choose from, the Pokemon Shirts collection now has a total of 404 designs to choose from. Customers can also choose to place these patterns on masks!

(From Left) Chimchar Pattern, Piplup Pattern, Turtwig Pattern

(From Left) Starly Pattern, Shinx Pattern, Bidoof Pattern

New patterns from Pokemon Diamond and Pearl will be added in four installments. Each installment will have a specific theme and will introduce Pokemon that fit that theme.


The first installment's theme is "The Start of Adventure." As expected, this installment features the three starter Pokemon from the games.

Installment #2 / End of July | Pokemon: Dialga, Lucario, Honchkrow, etc.

Installment #3 / End of October | Palkia, Garchomp, Mismagius, etc.

Installment #4 / End of January 2023 | Giratina, Rotom, Weavile, etc.

(From Left) Luxray Pattern, Mothim Pattern, Staraptor Pattern

The 18 new designs add some new flair to the ever-growing collection. Fans will want to head to the official Pokemon Shirts website to see the patterns up close!


*Masks are intended to be used for fashion, not to prevent illness. 

Information

Pokemon Shirts / Pokemon Diamond & Pearl

Release Date: April 22, 2022

Available Countries: Japan, America, Taiwan, Hong Kong, Singapore, Malaysia, Philippines, India, Indonesia, England, Spain, Germany, Italy, France, Canada, Australia, New Zealand

Official Site: https://originalstitch.com/jp/pokemon

BTS Characters 'TinyTAN' to Appear at Cafes in Tokyo, Yokohama, Osaka, Nagoya, and Miyagi

The popular BTS chibi characters TinyTAN will be featured at TinyTAN Cafe locations in five cities for a limited time! Nine locations will be open across Tokyo, Yokohama, Osaka, Nagoya, and Miyagi starting April 21, 2022.

The TinyTAN characters were designed by the seven members of BTS to embody their "second selves."

Select Cakes: ¥990

Fruits Deco Style: Strawberry, Fruits Deco Style: Mango, Fruits Deco Style: White Grape: ¥1,760


The menu is packed with desserts, including seven different types of cakes each inspired by a member of TinyTAN.

American Sundae Style Chocolate Cookie, American Sundae Style Caramel Nuts, American Sundae Style Pistachio Honey: ¥1,870

Afternoon Style Tea: ¥3,190

The Afternoon Style Tea includes a base plate that can be customized with guest's favorite fruits and chocolates. Two types of TinyTAN Select Cakes will also be included to share!

Ham (2 types) & Scrambled Egg Peanut Butter Sandwich: ¥1,760

Cafe Style Drink & Cake Set *Prices vary based on drink selection.

Guests can choose from colorful bagel sandwiches, pancakes, and open sandwiches, along with a selection of sweet drinks to match each meal.

Bonuses

Acrylic Stand (7 varieties, random): ¥1,320

Sticky Note Roll: ¥880, Acrylic Nameplate (7 varieties): ¥990 each


Original cafe merchandise and special offers will make visiting the TinyTAN Cafe even more exciting!

© BIGHIT MUSIC. All Rights Reserved

Information

TinyTAN CAFE

Tokyo, Omotesando: BOX cafe&space Omotesando

April 21 – June 5, 2022

Pine Under Flat B1F (5-13-2 Jingumae, Shibuya-ku, Tokyo)

Tokyo, Shinjuku: BOX cafe&space Lumine EST Shinjuku

April 28 – July 3, 2022

Lumine EST Shinjuku B1F (3-38-1 Shinjuku, Shinjuku-ku, Tokyo)

Tokyo, Harajuku: BOX cafe&space Harajuku Alta

April 21 – June 5, 2022

Harajuku Alta 3F (1-16-4 Jingumae, Shibuya-ku, Tokyo)

Tokyo, Omotesando: BOX cafe&space Omotesando Hills

April 21 – June 26, 2022

Main Building, B3F (4-12-10 Jingumae, Shibuya-ku, Tokyo)

Kanagawa, Yokohama: Collabo_Index Lumine Yokohama

April 22 – June 19, 2022

Lumine Yokohama 6F (2-16-1 Takashima, Nishi-ku, Yokohama)

Aichi, Nagoya: BOX cafe&space Nagoya LACHIC #1

April 28 – June 5, 2022

LACHIC B1F (3-6-1 Sakae, Naka-ku, Nagoya)

Osaka, Umeda: BOX cafe&space HEP FIVE

April 28 – June 5, 2022

HEP FIVE 7F (5-15 Kakudacho, Kita-ku, Osaka)

Osaka, Shinsaibashi: Shinsaibashi contact

April 29 – July 3, 2022

1-6-24 Kitahorie, Nishi-ku, Osaka

Miyagi, Rifu: BALLER:S

April 27 – June 26, 2022

AEON MALL Shin-Rifu South Building 2F (3-1-1 Shinnakamichi, Rifu, Miyagi)

Reservations Open

Reservation Fee: ¥660 (Includes Bonus)

TinyTAN CAFE Official Site: https://tinytan-cafe.jp/

Pokemon Nail Polish Collection Available in Limited Quantities from uka

Beauty company uka has announced the new Pokemon Study series, a collection of original nail colors inspired by Pikachu and five other popular Pokemon. The items will be available on May 13, 2022 in limited quantities, and will come in a six-piece set. Three shades were made with vegan ingredients with adults in mind, while three can also be used by children and include a water-soluble solution. Preorders will open online starting May 6, 2022.

Lineup

For Adults

uka Pokémon Study: Meowth

uka Pokémon Study: Eevee

uka Pokémon Study: Piplup

For Children and Parents

uka Pokémon Study: Pikachu Aqua Base

uka Pokémon Study: Jigglypuff Aqua Base

uka Pokémon Study: Scorbunny Aqua Base

uka Pokémon Study Six Stars Collection

The company has spent time studying people's hands to create the 'uka Study Series,' a color study to bring out the beauty of anyone's skin using their unique nail colors. No matter what skin tone you have, these shades are sure to look perfect!

Adults can enjoy soothing and smoky shades inspired by Meowth, Eevee, and Piplup, with each nail polish created with a 60% plant-derived vegan formula. The children's shades, featuring Pikachu, Jigglypuff, and Scorbunny, are all bright and perfect for spring. These water-soluble products can be wiped off easily with hot water.

UNDER WATER SPACE in Yokohama Illuminated in Cherry Blossom Colors for Spring

UNDER WATER SPACE, a limited-time aquarium space event located at Yokohama World Porters, is lighting up a portion of the event space in gorgeous cherry blossom colors until April 10, 2022 to coincide with the 2022 cherry blossom season!

The pink-lit space and swimming fish give an entirely new feel to the UNDER WATER SPACE event. You won't want to miss experiencing this magical spring illumination! 

Information

Hanami Illumination

Running: April 1 – April 10, 2022

Aquarium Space Travel 'UNDER WATER SPACE'

Running until January 15, 2023

Hours: 10:30-21:00 (Last entry at 20:00)

Address: Yokohama World Porters 4F (2-2-1 Shinko, Naka-ku, Yokohama)
Tickets / Official Site: http://uws-yokohama.jp

ALL TIME BEST Ai Yazawa Exhibition Reveals Key Visual

Ahead of the opening of the ALL TIME BEST Ai Yazawa Exhibition, a key visual drawn by the manga artist herself has been unveiled. The exhibition will begin in Tokyo before traveling to Osaka and Yokohama. 

Yazawa's most popular manga series include Tenshi Nanka Ja Nai, Neighborhood Story, Paradise Kiss, and Nana. This exhibition will serve as a 'best-of album' for her many beloved works. 

The Ai Yazawa ALL TIME BEST Exhibition will feature over 100 original drawings and illustrations, as well as never-before-seen materials from the production of Yazawa's many manga series and anime adaptations. 

The key visual features Nana Osaki from the NANA series and Akira Sudou from Tenshi Nanka Ja Nai. Yazawa's works are filled with love, dreams, and fashion, so come experience her works in a whole new way.

🄫矢沢あい/集英社 🄫矢沢漫画制作所/集英社 🄫矢沢漫画制作所/祥伝社

Information

ALL TIME BEST Ai Yazawa Exhibition

Dates/Locations/Hours:

■Tokyo Exhibition

July 20 – August 8, 2022

Shinjuku Takashimaya 11F Event Space

10:00-19:00 (Closes at 17:30 on August 8)

 ■Osaka Exhibition

August 24 – September 12, 2022

Osaka Takashimaya 7F Grand Hall

10:30-18:30 (Closes at 16:30 on September 12)

■Yokohama Exhibition

September 21 – October 10, 2022
Yokohama Takashimaya Gallery 8F
10:30-18:30 (Closes at 16:30 on October 10)

Details: https://www.takashimaya.co.jp/store/special/yazawaai_ten/index.html

Baby Brand Monpoke Introduces Piplup 2022 Spring/Summer Lookbook

The Pokemon baby brand Monpoke has revealed their newest products in a new 2022 Spring/Summer Lookbook! The images are available on the official brand website. 

Piplup has become one of the most popular Pokemon, and the blue water bird is featured prominently on the new apparel and items. All new products began rolling out in February, and all details are available on the Monpoke website. 

Items perfect for summer, like floaties and pool toys, will also be available! Kids bikes and other items to get kids active will also make appearances in the new collection. 

Parents can also grab themed diaper changing s heets and nap kits, so be sure to add some fun to your days with these new Pokemon-inspired items!

©Pokémon. ©Nintendo/Creatures Inc./GAME FREAK inc.

McDonald's Happy Meals in Japan Introduce Battle-Ready Pokemon Mezastar Tags

Starting March 4, McDonald's locations in Japan are selling two new Happy Meals inspired by Pokemon and Tabekko Dobutsu!





Each Pokemon set includes a Pokemon Mezastar tag, allowing kids to battle and catch Pokemon using tags. Five original tags featuring popular characters like Pikachu and Piplup will be available, as well as Legendary Pokemon like Palkia and Arceus! In addition to tags, kids will also be able to play games using Pokemon names on a special Shiritori sheet included with each meal. 





Tabekko Doubutsu is a classic Japanese snack, much like animal crackers in the west. This is the first time these characters are appearing at McDonald's. The lineup includes five varieties of McDonald's original coloring pages and stickers featuring familiar characters such as Lion, Bunny, and Elephant. Each sticker also includes the name of each animal in Japanese and English!

©2022 Pokémon. ©1995-2022 Nintendo/Creatures Inc./GAME FREAK inc.
Developed by T-ARTS and MARV

©ギンビス

Information

Happy Meal 'Pokemon Mezastar' 

Happy Meal 'Tabekko Doubutsu' 

Available: For 2 weeks starting March 4 

Where to Get: Participating McDonald's Locations Nationwide

Official Site: https://www.mcdonalds.co.jp/menu/happyset/