Kyary Pamyu Pamyu Appointed As Ramen Kourakuen's New CKO
As a company aiming to bring a new kind of happiness to many people, Ramen Kourakuen have announced their new slogan: All New Happy! 
In order to spread the message even further, Kyary Pamyu Pamyu has been appointed as Kourakuen's new CKO – Chief Korekara (Future) Officer. 
Their new goal is to work towards each step of the New Happy 5 Plan in order to spread cheer across Japan.
Plus, a new Kourakuen commercial featuring Kyary Pamyu Pamyu will be released nationwide.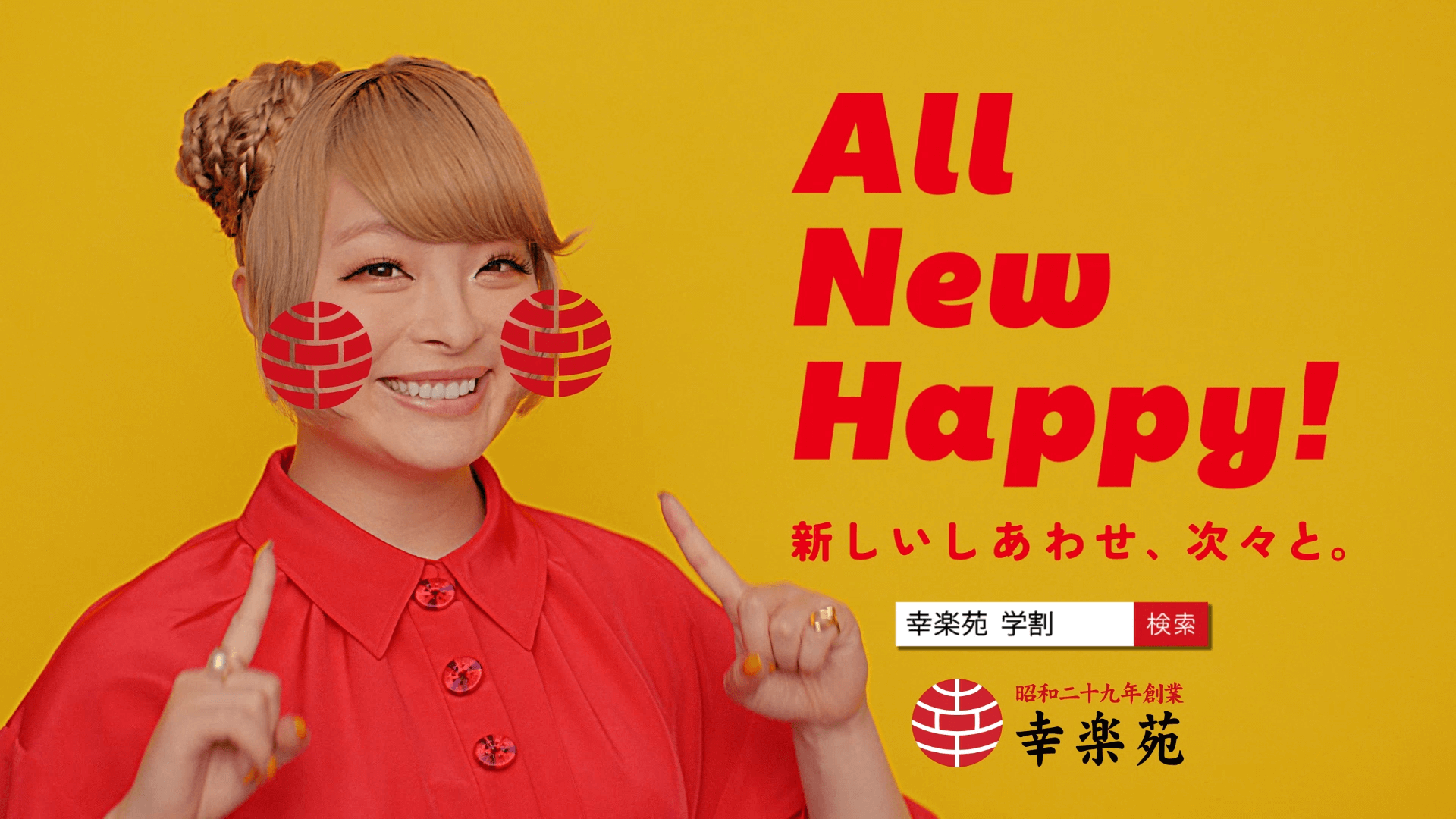 The special commercial will be promoting the new student discount set, where students will be able to enjoy ramen meals for ¥550 on weekdays, plus the mobile order service which allows customers to order their ramen in advance, meaning it'll be ready when you arrive.
The students and workers shown in the commercial are so satisfied that their face morphs into Kyary Pamyu Pamyu's as she dons the Kourakuen logo on her cheek. Make sure to check out Kyary's China themed hair and costume!
RELATED ENTRIES
Kyary Pamyu Pamyu Appears in Ads for Crocs 'Just the Way I Am' Campaign

Casual footwear brand Crocs Japan has started a new campaign inspiring people to be themselves and to be comfortable in their own shoes. 

Crocs 'Just the Way I Am'

Crocs Interview with Kyary Pamyu Pamyu

Yuni Akino

Riho Shamura

Fuyuki Shimazu

To promote the new campaign, the company has released a new campaign video, as well as four interviews with people who live larger-than-life lives. The princes of Kawaii Kyary Pamyu Pamyu, celebrating her 10th anniversary, expresses the new Crocs image in the best way, comfortable in her skin and true to herself in every way. 

Along with Kyary Pamyu Pamyu, the video interview features actress Yuni Akino, businesswoman, actress, and model Riho Shamura, and cardboard artist Fuyuki Shimazu. 

Kyary Pamyu Pamyu Produced Science-based Hair Care Brand "Curuput" Makes its Debut!

Artist Kyary Pamyu Pamyu has started a science-based hair care brand named 'Curuput.' The brand's first product, the 'Deep Damage Care Set (Shampoo, treatment, and hair mask)' will be available for a limited time at beauty counters nationwide and online from November 1 2021. 

  

One of Kyary's defining features is her vivid hair color. Behind the scenes however, she has been suffering with damaged hair to maintain her bleached hair. Her goal is to create a future where everybody, including Kyary herself, can dye their hair freely, without the worry of damage. With this in mind, she began production of her own science-based hair care brand that focuses on damaged hair and smells great too.

 

From the moment you wash off the 'Curuput' shampoo and treatment, your hair will feel silky and moisturized. By using the triple care routine, the products will not only care for your existing hair damage, but continue to repair your hair by preventing future harm.

 

 

Kyary's tie-up song 'Perfect Onei-san' plays in the background of the official brand interview, and features on her upcoming 5th album "Candy Racer.' The album is scheduled to be released on October 27. 

 

 

Why not try Kyary Pamyu Pamyu's new haircare brand 'Curuput' for yourself?

 

Message from Kyary Pamyu Pamyu

"After many meetings, I think the shampoo is complete! I'm so, so excited for it to finally be released.

I have been having fun bleaching and coloring my hair since I was 18, but my hair would become damaged no matter what I did. I haven't been able to enjoy my 'ideal hair' often, because I'd worry about the condition, and I've even been holding back from dying it due to damage concerns. But then I realized, "this isn't me." It's the same with shampoos – I'd find a great shampoo but I'd dislike the smell, or vice versa.

This new shampoo was created over many meetings and every detail has been considered. In order to create the best hair product, we wanted to create something that made your hair go "Kyurun" (bounce). We also paid special attention to the scent! Each time I would test the prototype version, my hair would become even closer to my ideal hair, so I'm really happy that I had the opportunity to develop 'Curuput.' 

We put a lot of thought into this brand, so I would be really happy if everybody could give it a try!"

 

Kyary Pamyu Pamyu x ROLAND Special Interview Published in 'GLITTER Vol.2'

A special interview between Kyary Pamyu Pamyu and ROLAND will be published in the second volume of lifestyle magazine GLITTER, released on October 27 2021. In the interview, the borderless duo, who each work in different fields, join together to discuss how individuality is respected in the modern way of life. 

Despite working in different areas, the borderless Kyary Pamyu Pamyu and ROLAND are always pushing their limits. The same-age pair met for the first time to ask each other questions in a Q&A format, discussing their likes, dislikes, and first impressions of one another, under the theme of "What is a borderless life?" 

Footage of the interview will also be uploaded onto the GLITTER YouTube channel, so look forward to it!

Celebrities Comment on Kyary Pamyu Pamyu's 10th Anniversary Song GENTENKAIHI

Pop princess of Kawaii Kyary Pamyu Pamyu is set to release her fifth original album 'Candy Racer' on October 27. This marks her first full album in three years, and to commemorate the special occasion, plenty of Japanese celebrities have offered comments on Kyary's 10th-anniversary track GENTENKAIHI. 

GENTENKAIHI was released as a digital single on August 17, the anniversary of Kyary Pamyu Pamyu's debut. The song expresses the singer's desire to evolve into something new while also paying homage to her past. 

In a new project, Kyary is asking a number of celebrities to share the song that marked a turning point or starting point in their life. The 'Tell Me Your Origin Song' project has led to plenty of interesting answers, and a playlist has been compiled containing the answers received so far. 

Volume 1 of the series features announcer Misato Ugaki, comedy trio Yonsen Toushin, and Beastars manga creator Paru Itagaki. Volume 2 features TV personality kemia, YouTuber duo SKY PEACE, and actor Ryo Kato. Volume 3 features comedian Ryuji Akiyama, BiSH's Aina the End, and TikTok star and handball player Remi Anri Dori. 

Kyary Pamyu Pamyu will hold a special online live performance on Candy Racer's release day, October 27! A limited number of additional tickets have been released due to popular demand, and those purchasing one will also receive an original T-shirt!




 

Kyary Pamyu Pamyu's 10th Anniversary Project 'Tell Me Your Origin Song!' 

Vol. 1  Misato Ugaki, Yonsen Toushin, Paru Itagaki
https://realsound.jp/2021/09/post-857335.html

Vol. 2  kemio, SKY PEACE, Ryo Kato

https://realsound.jp/2021/09/post-865930.html

Vol. 3  Ryuji Akiyama, Aina The End, Remi Anri Doi

Kyary Pamyu Pamyu's Song Dodonpa Gets Early Streaming Release, Lyric Video

Kyary Pamyu Pamyu's new album Candy Racer isn't coming until October 27, but the singer has released a new song early. Dodonpa is now available on streaming services, and a lyric video has been posted to YouTube. 

Dodonpa Lyric Video


Dodonpa is a more experimental track by the pop singer, written and composed by Yasutaka Nakata and featuring more scat and beatboxing elements. To match the catchy and upbeat percussion and fun lyrics, the new video is as vivid and colorful as it can be. We'd expect nothing less from Kyary!

An official announcement has also been made on the label's website encouraging creators to make and upload their own videos using Dodonpa as the background music if they follow specific rules. The best videos will be selected by Kyary and her staff, and will be featured in a playlist on the official Kyary Pamyu Pamyu YouTube channel! This contest will also be appearing on other SNS sites like TikTok, so keep an eye out and get creative!

If you don't speak Japanese, don't worry! The lyrics themselves are nothing but fun sounds, and the video has subtitles in English, Spanish, Korean, and Chinese. Fans are also encouraged to use the song in vlogs and other creations. 

What do you think of Kyary's exciting new track? 

Kyary Pamyu Pamyu to Hold Special Online Live Concert to Celebrate Album Release on October 27 Worldwide!

Kyary Pamyu Pamyu who is releasing her much anticipated 5th full album "Candy Racer" on October 27 (Wed) announces to hold a global livestream event on the date of the album release.

Live Original T-shirts

Kyary Pamyu Pamyu 5th Album 'CANDY RACER'

With a one-night-only production, KYARY PAMYU PAMYU Anniversary of 5th Album 'CANDY RACER' Release SPECIAL ON LINE LIVE is set to premiere on October 27(Wed) at 20:00 JST, the day of the album release. 

Ticket purchasers can enjoy the archived broadcast as many times as they want until November 17 (Wed).


ZAIKO's e-tickets sales will be available from Oct 6 (Wed) 18:00 JST and a limited number of tickets with original T-shirts specially made for this event will also be available for purchase. 

Don't miss this opportunity to get the T-shirts, which will inevitably become a premium.


The chat function will also be released on ZAIKO. 

Let's celebrate the release date of her first album in three years and watch the special on-line event together! 

Don't forget to prepare for the album with prior-release songs

Enjoy Kyoto Vegan Ramen Among teamLab's Artwork in Tokyo with New Store

teamLab Planets TOKYO DMM, located in Toyosu, Tokyo, have completed the refurbishment of their outdoor food stand, opening Vegan Ramen UZU Tokyo on October 8 2021. The new shop allows customers to eat vegan ramen from Kyoto in a new art space from teamLab. In addition, the teamLab Flower Shop & Art will be opening, a shop where customers can purchase orchids previously used in one of the group's art pieces to take home with them. 

 

Menu

Vegan Ramen Flower (Cool): ¥1,980 (Tax Incl.)

Vegan Ramen Tea: ¥1,650 (Tax Incl.)

Vegan Ramen Soy Sauce: ¥1,320 (Tax Incl.)

Vegan Ramen Miso (Spicy): ¥1,320 (Tax Incl.)

Newly Released Works

Reversible Rotation – Non-Objective Space, teamLab, 2021


Table of Sky and Fire, teamLab Architects, 2021


Floating Flower Garden: Flower, Myself and Cognate, Garden and Myself as One

teamLab Planets Original Tote Bag


 

The menu at Vegan Ramen UZU uses no animal products like meat or fish, instead condensing the taste of vegetables into a delicious ramen that you can enjoy in a space designed by teamLab. Vegan Ramen UZU Kyoto first opened in March 2020 to great popularity, with many customers queuing for over an hour to get inside the store. 

At the new Tokyo store, customers can enjoy a bowl of vegan ramen while enjoying teamLab's latest art installations, the Non-Objective Space and the Table of Sky and Fire.

Not only that, you can also take home some of the orchids used in the Floating Flower Garden: Flower, Myself and Cognate, Garden and Myself as One exhibit that was held from July 2, along with a section of teamLab merchandise such as stickers, patches, postcards, and more, at the newly opened teamLab Flower Shop & Art store.

Look forward to tasting this healthy ramen while immersed in an artistic space!

New Track from Kyary Pamyu Pamyu Inspires LINE MUSIC Campaign

29.September.2021 | MUSIC

Kyary Pamyu Pamyu will release her first full-length album in three years Candy Racer on October 27, 2021. Ahead of the release, one new track, Jumping Up, will be shared early! This light and fun EDM track will, as promised, make you want to jump up and down along with the bass, and will be streaming starting September 29, 2021. 

In conjunction with this pre-release, a LINE MUSIC playback campaign will begin on September 29, with the top 10 listeners receiving a prize exclusive to the event. Be sure to listen to the song as many times as possible for your chance to snag this premium prize, the design of which will be revealed soon!

Kyary Pamyu Pamyu to Release Candy Racer, the Singer's First Full-Length Album in Three Years

20.September.2021 | MUSIC

Celebrating 10 years since her major debut, Kyary Pamyu Pamyu will release her fifth full-length album Candy Racer on October 27, 2021. This will mark the singer's first full-length album release in three years, her last being Japamyu in 2018.

Limited Edition

Regular Edition





The fifth album, titled Candy Racer, will be produced by CAPSULE's Yasutaka Nakata. It will feature 11 tracks, including the recently released single GENTENKAIHI, of which the wacky music video has amassed over 1 million views on YouTube. Previously released tracks Kimi ga LINE Kuretara and Gum Gum Girl will also be included, along with world fabrication, a cover of a pre-electronic CAPSULE track originally released in 2005.

Creation of the album brought together a number of creative minds who have worked with Kyary Pamyu Paymu over the years, including Steve Nakamura serving as art director, Ken Hanzawa acting as photographer, Kumiko Iijima returning as the singer's stylist, and Shinji Konishi as Kyary's hair and makeup artist. All of these individuals were with Kyary at the time of her debut, and have returned to encourage her to not only stay connected to her roots, but to move forward without hesitation.

The limited edition version will come with a special 64-page flipbook.

A number of bonuses have also been announced, from stickers, clear pouches, and mobile stand keychains. These will be available while supplies last, so fans looking to get their hands on some of this swag are encouraged to preorder the album.

Are you looking forward to hearing Kyary Pamyu Pamyu's new tracks?

Kyary Pamyu Pamyu Releases Music Video for 10th Anniversary Track GENTENKAIHI

Last week, Kyary Pamyu Pamyu released her new single, GENTENKAIHI, on streaming services. The track marks 10 years since the singer's major debut, and now, a fittingly trippy music video has been released to keep the excitement going!

(c)Issei Nomura I.N.Art Pro.NIPPON COLUMBIA CO., LTD.





Starting on August 17, Kyary's official YouTube channel began streaming 24 hours a day for an entire week, showing the singer running nonstop. The stream served as a countdown for the release of the GENTENKAIHI music video, and matched with the concept of the video: to "keep running."

For the past decade, Kyary Pamyu Pamyu's work has continued to evolve, but the performer has also kept to her Harajuku roots. Using the video to express her desire to shake off this consistent image, Kyary is seen running away from an oversized ribbon, similar to one she usually wears on her head. Created for the music video, the ribbon is truly massive, measuring 2 meters long and 2.5 meters wide.

Kyary had her own thoughts on the music video. "The ribbon represents my origins in the industry, and I'm running from it while also wearing a similar ribbon on my head. It was an incredibly hot day when we filmed, so the scene where I ran through the forest was really tough. We got some great shots though, so please, check it out!"

The video itself was directed by N2B+peladone, a creative team known for their work with Creepy Nuts and Nogizaka46.

If you haven't seen it, go check out Kyary Pamyu Pamyu's new video, and help celebrate her 10th anniversary!

Introducing Ramen Muraji, a Popular Ramen Store in the Backstreets of Kyoto

Gion's Tatsumi Bridge, a picturesque area plucked straight from a painting. From there, continue south and into the backstreets, you'll find the popular Kyoto Ramen store, Ramen Muraji.

The bridge takes you over the Shirakawa River which flows into Lake Biwa, with the connecting street spanning a distance of only 180m, with paths the width of three adults. Once you head into the alley, the scenery will completely change. 

The asphalt becomes cobblestone, surrounded by Kyoto-style lattice windows. Here you'll find Ramen Muraji, located in a renovated 100 year old Kyoto-style building, perfectly blending into its surroundings. 

At first glance you wouldn't believe it to be hiding a ramen shop,  with many people calling their discovery of the shop a once-in-a-lifetime encounter as they wander the streets of Gion.

The back alleys of Gion retain the history of Kyoto, with hidden shops shrouded by curtains, gently glowing lanterns, and carefully handwritten signboards. Each spot has been crafted to become a once-in-a-lifetime encounter with those who visit.

 

Ramen Muraji was built in the alley


Tatsumi Bridge, an area famous for retaining the distinctive Gion look.

Muraji's Speciality White Chicken Ramen

Gion has been popular with Kyoto tourists for years, surrounded by attractive buildings and cityscapes. Located here is the Yasaka Shrine, a world heritage site which hosts the annual Gion Summer Festival. 

While the locals rarely explore the area, Gion is full of traditional beauty that has inspired many novels, maintaining the culture and history that has been passed down for generations. 

Why not relive the splendor of Gion at Ramen Muraji, a shop that was born 、

With its long history and culture that weaves towns, humans, and spirits together, why not relive the splendor of Gion with a historical cup of Muraji ramen? 

 

Ramen Muraji is a space where anybody can enjoy ramen, surrounded by Kyoto-style interior decor and Japanese-style decorations. 

Their chicken ramen, boiled in a plain water soup, boasts a selection of carefully selected ingredients that condenses the taste of Kyoto's unique food culture. Kyoto Sake matched to the flavor of the ramen is also available.

Enjoy the charms of Kyoto's food for yourself at Ramen Muraji.

Information

Ramen Muraji Gion Store

Address: 373-3, Kitomoto-cho, Higashiyama, Kyoto City, Kyoto 

TEL: 075-744-1144

※Covid-19 Opening Hours: Daily, 11:30 ~ 20:00 (L.O 19:45)

Business Hours:

Lunch: 11:30 ~ 15:00

Dinner: 17:00 ~ 22:00

Weekend, holidays: 11:30 ~ 22:00

Kyary Pamyu Pamyu Marks 10th Anniversary with New Song 'GENTENKAIHI'

2021 marks a decade since singer and model Kyary Pamyu Pamyu made her debut with PONPONPON, which quickly became a viral YouTube hit worldwide. To celebrate, her newest single GENTENKAIHI, written and composed by Capsule's Yasutaka Nakata, is now available to stream. 

The song's title and lyrics express both Kyary's willingness to return to her roots, and her determination to continue moving forward, leaving the past behind and carving out a new path. 

(c)Issei Nomura I.N.Art Pro.NIPPON COLUMBIA CO. LTD.,

A teaser of the song's upcoming music video has also been released on the Official YouTube channel and on social media. The full-length version will premiere on August 25. 

 

To celebrate this milestone, an official Instagram created by Kyary's staff (@kyarystaff) is now open, where fans can see behind-the-scenes shots of the singer, as well as read staff commentary. 

 

Starting August 31, a limited-time campaign will begin on LINE MUSIC. Those who listen to GENTENKAIHI more than 10 times using LINE MUSIC will be entered, and winners will receive an original sticker!

 

Kyary Pamyu Pamyu's 10th Anniversary Tour will begin on January 16, 2022 at the Atsugi City Cultural Hall. The tour will visit 28 locations across Japan, and is the first time Kyary has toured since the JAPAMYU HALL TOUR 2018. It will also be the biggest tour in the singer's career. Tickets are currently available for pre-order for fan club members. 

 

What do you think of the new track?