World Premiere of "Tokyo Ghoul" Live Action Adaptation to be Held in LA! New Movie Visual Also Released!
Since its release in 2011, Tokyo Ghoul has sold approximately 30 million manga volumes. It made its debut in Weekly Young Jump and has since gone on to become an international phenomenon, celebrated by fans all around the world.
It has been adapted into a full length anime series, a theatrical performance, and a game. Now, the hit series is set to get its own live action adaptation slated for release on July 29th.
The story of the live action film is set in Tokyo where creatures known as "ghouls" live out their lives posed as humans. These merciless killers must feed on the flesh of other humans in order to survive. Due to certain events, protagonist Ken Kaneki, played by Masataka Kubota, becomes half-human and half-ghoul and must live his life in a constant dilemma to battle between his two existences. Does he value his human side more, or will he give in to carnivorous temptation?
The Commission of Counter Ghoul (CCG) is a federal agency that investigates cases connected to ghouls. They risk their lives by throwing themselves into dangerous battles so that ghouls can live alongside humans.
A brand new visual for the movie has been unveiled—the long-awaited reveal of the "kagune" design! Kagune are the predatory organ of a ghoul and are used to make quinques – powerful weapons used in battle. Just as the visual shows, kagune are like a special kind of feeler that vary from ghoul to ghoul and are divided into different types.
The film will be a fantastic visual feast with a combination of intense action from the cast and VFX. The visual confirms that the kagune will be a sight to see, something you could only expect to see in a live action movie.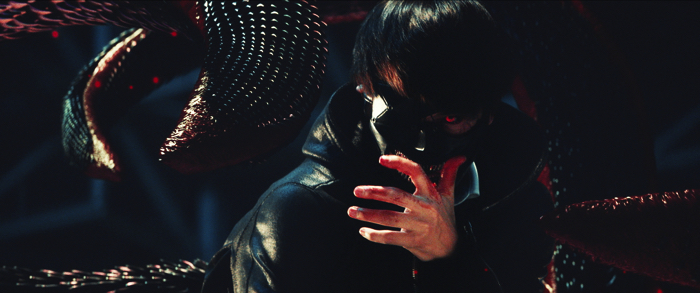 The visuals show protagonist Ken Kaneki (Masataka Kubota) and Touka Kirishima (Fumika Shimizu) with their kagune out. Both of their eyes are red, which is called "kakugan" in the series, a state ghouls go in when they are hungry or use their kagune—as we see from the new visuals. They are ready for battle.
Kaneki's rinkaku-type kagune appears from his back while Touka's ukaku-type comes from her shoulder area like wings. The cast's realistic portrayal of the characters and their fierce facial expressions bring to life an inflamed intensity we can hope to see in the film.
Moreover, Kaneki's kagune, which has appeared for a 'particular' reason, shows a menacing Masataka in threatening pose, which is sure to excite fans and newcomers alike!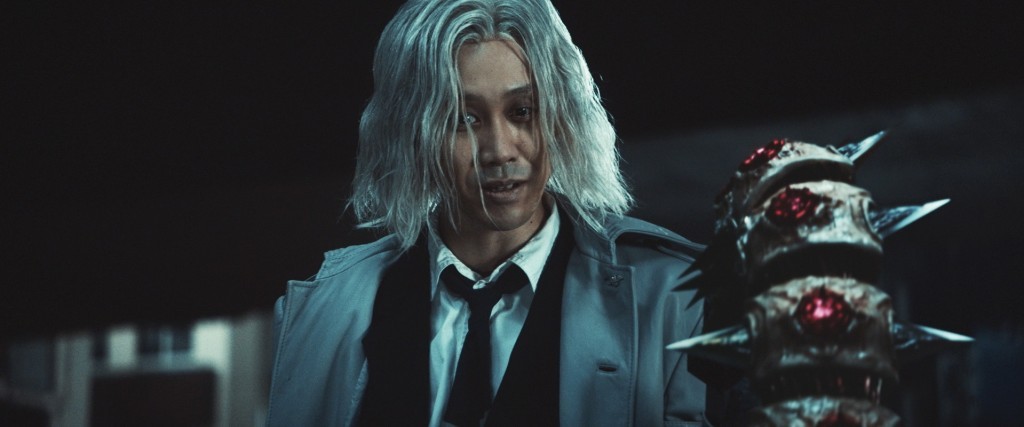 You can expect to see a whole cast of kagune appear in the film in addition to Kaneki and Touka's, as well as the quinque used by the CCG, and some huge scale battles! The opportunity of seeing this series in live action is different from reading the manga or watching the anime as it offers a completely different experience—one closer to reality and one that you could only expect to see from such an adaptation.
There's also some good news for those of you living in America! The world premiere of the film will be held at Anime Expo 2017 in Los Angeles. Masataka Kubota will appear as a guest on July 3rd at 19:30 where there will be a Q&A for Tokyo Ghoul fans as well as a photo session.
The anticipation for the release of the film grows as more visuals are released. Look forward to the live action release of "Tokyo Ghoul" on July 29th.
■Information
Tokyo Ghoul [Live Action]
Worldwide Release on July 29th 2017
©2017 "Tokyo Ghoul" Production Committee
©Sui Ishida / Shueisha Inc.
Official Website: tokyoghoul.jp
Related Article:New Visual for the "Tokyo Ghoul" Live Action Movie Unveils Mado Kureo's Quinque!
Related Article:Masataka Kubota stars in new "Tokyo Ghoul" live-action movie to be screened across 23 countries
RELATED ENTRIES
Giant 1/6 Scale Tokyo Ghoul Figure to be Sold at Tokyo Otaku Mode TOKYO in Shibuya PARCO

Tokyo Otaku Mode Inc. is set to display and start taking orders for a new 1/6 scale figure by Figurama from Sui Ishida's hit manga and anime series Tokyo Ghoul. Available in Japan only, it will be sold at the new Tokyo Otaku Mode TOKYO store from November 22 at 10:00am at the new Shibuya PARCO shopping complex.

Figurama is a Hong Kong-based figurine maker which has crafted many figures from popular titles such as Attack on Titan, Hellsing, Devilman, and Trigun, to name a few. The standout characteristic of their work is the size of their figures, the composition, and how detailed the figures are despite being so large.

The Tokyo Ghoul figure set to appear at Tokyo Otaku Mode TOKYO stands 63cm high, 44cm wide, and 35cm deep. It features series protagonist Ken Kaneki versus Yamori, who made Kaneki's hair turn white.

Only 800 of these figures have been made, of which Tokyo Otaku Mode TOKYO will sell 40, making them an extremely rare and limited edition collectors items. Perfect for any fan of the hit series!

©Sui Ishida/Shueisha・Tokyo Ghoul Production Committee

Information

TOKYO GHOUL: KANEKI VS YAMORI 

Maker: Figurama
Series: Elite Fandom
Scale: 1/6 

Materials: Ecofriendly Polystone, Translucent Resin, PU, LED 

Size: 63cm x 44cm x 35cm
Price: ¥100,000 (Tax excluded, shipping charge included)

Figurama Official Website: https://figurama-collectors.com/ 

Special Tokyo Ghoul S Compilation Showcases Kaneki & Tsukiyama's Relationship

A special compilation video for the recent live-action film Tokyo Ghoul S, which hit Japanese theatres on July 19, was recently released.

Before the film's release, it premiered in Tokyo, Osaka and Paris to rave reviews. At the premiere events, Shota Matsuda, who plays Tsukiyama, proclaimed the movie as "a romance film between Tsukiyama and Kaneki."

The compilation video reveals Kaneki's many encounters with Tsukiyama, from their first encounter to their aggressive battles, as well as the iconic scene from the original manga series when Tsukiyama sniffs a handkerchief with Kaneki's blood on it in pure ecstasy. The video includes the film's theme song Introduction by QUEEN BEE which was written and composed by band vocalist Avu-chan.

The films directors, Hiramaki Kazuhiko and Takuya Kawasaki, also explained how much they focused on making sure Tsukiyama, who is popular amongst Tokyo Ghoul fans, was a strongly written character. They described in particular the climactic battle scene which isn't just a simple fight and instead is an opportunity for Kaneki to not only express himself to Kaneki but also eat him as he sees Kaneki as an ingredient. Kaneki is drowned in Tsukiyama's adoration for himself. Speaking about the role, Masataka Kubota, who plays Kaneki, said he made sure to play more of a passive role.

©Sui Ishida / Shueisha   ©2019 "Tokyo Ghoul S" Production Committee

Information

Tokyo Ghoul S

Based On: Tokyo Ghoul (Young Jump Comics, Shueisha) by Sui Ishida

Directors: Hiramaki Kazuhiko / Takuya Kawasaki

Screenwriter: Chūji Mikasano

Distributed by: Shochiku

Release Date: July 19, 2019 (Japan)

Official Website: http://tokyoghoul.jp/

QUEEN BEE Release Music Video For Tokyo Ghoul S Main Theme 'Introduction'

QUEEN BEE just dropped their new music video for Introduction on YouTube.

The song is taken from their latest album Ju which hit shelves back in May. The song will feature as the main theme for the forthcoming film Tokyo Ghoul S, the sequel to the live-action adaptation of the popular manga and anime series Tokyo Ghoul.

The music video was directed by Nakane Sayaka who has worked on QUEEN BEE's most recent videos including HALF, Hypnotize, and Holy War.

©Sui Ishida / Shueisha   ©2019 "Tokyo Ghoul S" Production Committee

Information

Ju

Released: May 22, 2019

First Press Limited Edition (CD+DVD): ¥4,500 (Before Tax) [AICL-3700〜3701] *Includes 84-page booklet & sticker sheet

Regular Edition (CD-Only): ¥3,000 (Before Tax) [AICL-3702]

QUEEN BEE Official Website: http://www.ziyoou-vachi.com/

Tokyo Ghoul S

Based On: Tokyo Ghoul (Young Jump Comics, Shueisha) by Sui Ishida

Directors:Hiramaki Kazuhiko / Takuya Kawasaki

Screenwriter: Chūji Mikasano

Distributed by: Shochiku

Release Date: July 19, 2019 (Japan)

Official Website: http://tokyoghoul.jp/

Tokyo Ghoul S Live-Action Film Shown & Cast Give Q&A at Japan Expo in France

The sequel to the live-action film Tokyo Ghoul, entitled Tokyo Ghoul S, will be released on July 19, 2019. The first film dropped in 29 countries around the world in July 2017 and went on to become a huge hit. The sequel features a whole new staff team with returning cast members.

Tokyo Ghoul S was shown at the 20th Japan Expo event in Paris, France on July 7, the first pre-release screening since its premiere in Tokyo. Several cast members including Masataka Kubota (Ken Kaneki), Shota Matsuda (Shū Tsukiyama) and Maika Yamamoto (Touka Kirishima) as well as the film producer Tomohiro Nagae appeared at the event for a Q&A session with fans.

The French fans welcomed the staff on stage with a round of applause as Kubota and Matsuda greeted them with a "Bonjour!" They got straight into the Q&A, with Kubota, who plays the half-ghoul Kaneki, explaining to the crowd, "All of you eat meat and vegetables, but ghouls are only able to eat people."

He continues, "People go mad when it's them who are to be eaten. But I think that's part of the appeal of this movie."

The producer Nagae elaborated on the film's deep theme: "One thing about this film is how universal its theme is. No matter where you go in the world, it's mutual. Humans and ghouls experience much drama throughout the franchise, but this also applies to those close to you. When you're watching the film, try thinking what would happen if you yourself became a ghoul."

When asked about their favourite characters in the films, Kubota answered Juzo Suzuya, Matsuda answered Kaneki, and Yamamoto said her own character Touka.

Matusda also earned huge cheers from the crowd with his Tsukiyama-like answer, saying: "In this film Tsukiyama says for the first time since meeting Kaneki that he wants to eat him, so now I can't think of anything else but him."

When asked what fans should look forward to in this film, Kubota simply said "Shota Matsuda!" Matsuda followed this up saying, "I believe this is a romance film between Tsukiyama and Kaneki. Look forward to that aspect of it too."

©Sui Ishida / Shueisha   ©2019 "Tokyo Ghoul S" Production Committee

Information

Tokyo Ghoul S

Based On: Tokyo Ghoul (Young Jump Comics, Shueisha) by Sui Ishida

Directors:Hiramaki Kazuhiko / Takuya Kawasaki

Screenwriter: Chūji Mikasano

Distributed by: Shochiku

Release Date: July 19, 2019 (Japan)

Official Website: http://tokyoghoul.jp/

Ginza's Hidden Tokyo Ghoul Restaurant Receives Extended Opening Period

To celebrate the upcoming July 19 release of Tokyo Ghoul S, Japanese movie studio and production company Shochiku opened its 'immersive' blood-themed Tokyo Ghoul restaurant on July 5. The location of the restaurant has been kept a secret, but it is somewhere in Ginza, wrapped in 40,000 beautiful roses.

The restaurant was originally set to stay open until August 4, but due to all tickets for its 31-day run selling out in just three days, it has been extended until August 18. Tickets for these extra two weeks will go on sale on the restaurant's official website on July 12 at noon (JST).

Tokyo Ghoul Restaurant Details: The Location of This Bloody Rose Tokyo Ghoul Restaurant in Ginza is a Secret

Die-hand fans of Tokyo Ghoul aren't going to want to miss out on this exclusive ghoulish gourmet experience.

Information

Ghoul Restaurant

Running: July 5, 2019 – August 18, 2019 (*extended by two weeks)

Opening Hours: Two Slots – Slot ① Meeting 17:00 / Dining 17:30-19:30, Slot ② Meeting 20:00 / Dining 20:30-22:30

Location: Somewhere in Ginza (*Those who purchase a ticket will be told the exact location)

Official Website: http://afroand.co/ghoulrestaurant/

Tokyo Ghoul:re Cafes in Ikebukuro & Nagoya Receive Opening Extension

The Tokyo Ghoul:re cafes based on the popular manga series, which are running at the Ikebukuro and Nagoya branches of THE GUEST Café & Diner: they will now run until July 28 and 29 respectively. The Fukuoka and Sapporo cafes will continue to run until June 30.

The cafes are serving up a menu of food, drinks and desserts inspired by the series as well as decor and decorations.

Kaneki's Mask Curry: ¥1,490 (Before Tax)

When you order Kaneki's Mask Curry it comes with a drink or sparkling non-alcoholic beverage of your choice served in a vessel inspired by Kaneki's mask. You'll look like Kaneki too when drinking out of it.

Tsukiyama's Gourmet Roast Beef: ¥1,590 (Before Tax)

This roast beef dish is inspired by Tsukiyama, also known as the "Gourmet" in the series. The dish includes cheese that looks like an eyeball, pasta made to look like ears, and of course the meat.

Quinque Rice Flour Dumpling Sweet Red Bean Soup: ¥1,390 (Before Tax)

The name of this dish says it all―dango made in the image of characters' Quinques. It also comeos with a bowl of strawberries, chestnuts and rice flour dumplings.

Torso's Milk Tea: ¥790 (Before Tax)

Fans of the series will recall Karao Saeki a.k.a "Torso." He gets his name from being a ghoul serial killer as he decapitates and dismembers his victims, leaving only the torso. This beverage includes bloody red berry sauce which is best enjoyed when mixed into the milk tea

Customers at the cafe will receive the above-pictured lunch mat exclusive to the cafe. Those who order a drink will also receive one of 12 possible coasters chosen randomly.

Several pieces of merchandise are also being sold.

Tokyo Ghoul:re Slider Pouches: ¥900 Each (Before Tax)

Tokyo Ghoul:re Tapestries: ¥2,500 Each (Before Tax)

If you're in Japan this summer, don't miss this opportunity to visit the Tokyo Ghoul:re Cafe.

©️Sui Ishida / Shueisha

Information

Tokyo Ghoul:re Café List

THE GUEST Café & Diner (Ikebukuro PARCO Main Building Floor 7F)

Address: 1-28-2 Minami-Ikebukuro, Toshima Ward, Tokyo

Running: June 6, 2019 – July 28, 2019

Opening Hours: 10:00-22:00 (Food Last Orders 21:00 / Drinks 21:30)

*Merchandise shop open 10:00-21:00

THE GUEST Café & Diner (Nagoya PARCO West Building Floor 8F)

Address: 3-29-1 Sakae, Naka Ward, Nagoya, Aichi Prefecture

Running: May 17, 2019 – July 29, 2019

Opening Hours: 10:00-21:30 (Food Last Orders 20:30 / Drinks 21:00)

*Merchandise shop open 10:00-21:00

THE GUEST Café & Diner (Fukuoka PARCO Main Building Floor 5F)

Address: 2-11-1 Tenjin, Chuo Ward, Fukuoka, Fukuoka Prefecture

Running: May 31, 2019 – June 30, 2019

Opening Hours: 10:00-20:30 (Food & Drink Last Orders 20:00)

THE GUEST Café & Diner (Sapporo PARCO Floor 4F)

Address: Minami 1 Jonishi, Chuo Ward, Sapporo, Hokkaido

Running: May 24, 2019 – June 30, 2019

Opening Hours:

[Weekdays & Sunday] 10:00-20:00 (Food Last Orders 19:00 / Drinks 19:30)

[Saturday] 10:00-20:30 (Food Last Orders 19:30 / Drinks 20:00)

Café Website: http://the-guest.com/

New Tokyo Ghoul S Trailer Narrated by Tsukiyama's Anime Voice Actor Mamoru Miyano

A premiere event was held in Tokyo on June 11 for the forthcoming release of Tokyo Ghoul S―the sequel to the live-action film Tokyo Ghoul―which is set for release on July 19. It was revealed at the event that QUEEN BEE will perform the main theme Introduction and a new trailer was shown showcasing the track.

Now, an all-new trailer has been released and it features narration by Mamoru Miyano, the voice actor for Shuu Tsukiyama in the Tokyo Ghoul anime adaptation. Tsukiyama is played by Shota Matsuda in the upcoming film.

Speaking about the narration, voice actor Mamoru Miyano commented: "Tokyo Ghouland Shuu Tsukiyama are both irreplaceable things for me, so I feel honoured to be involved once again like this. I was really overjoyed that the staff were excited about my narration [laughs]. But what's more is that Shota Matsuda's Shuu Tsukiyama is simply amazing. I really was thrilled! Just watching the trailer my heart skipped a beat at his sexiness, so I want to see the whole movie already! Please look forward to its release!"

©Sui Ishida / Shueisha   ©2019 "Tokyo Ghoul S" Production Committee

Information

Tokyo Ghoul S

Based On: Tokyo Ghoul (Young Jump Comics, Shueisha) by Sui Ishida

Directors:Hiramaki Kazuhiko / Takuya Kawasaki

Screenwriter: Chūji Mikasano

Distributed by: Shochiku

Release Date: July 19, 2019 (Japan)

Official Website: http://tokyoghoul.jp/

Tokyo Ghoul S Cast Members Speak at Tokyo Premiere Event

A premiere event was held in Ebisu, Tokyo on June 11 for the upcoming live-action film Tokyo Ghoul S which is set to hit Japanese cinemas on July 19. Members of the cast attended the event, including Masataka Kubota who is reprising his role as Ken Kaneki in the sequel movie.

The event began outdoors on a specially-built stage. The guests were welcomed by a flurry of applause as they stepped onto stage dressed in chic outfits. Kubota began by calling, "This summer is…" to which fans responded "Tokyo Ghoul!" He stood before the fully-packed crowd and expressed his enthusiasm for the film: "Tokyo Ghoul S is the sequel to the last film. It has a sense of realism, but in places it's also gentle, and in others it's eerie. I can say with confidence that we have been able to create an incredible movie."

Masataka Kubota will play Ken Kaneki

The event then moved into The Golden Hall where guests greeted the crowd and talked about the upcoming movie. Kubota said: "The cast, including the new character Tsukiyama (Matsuda) as well as Touka (Yamamoto), have all stirred [their characters] in a new way. Because of that, I believe even those who didn't watch the first movie will be able to enjoy this one."

Kubota, Matsuda and Touka shot many scenes together and mentioned how the three of them kept in close contact even after the shooting had finished.

Shota Matsuda will play Shuu Tsukiyama

Maika Yamamoto will play Touka Kirishima

At the end of the event, Kubota announced that QUEEN BEE's song Introduction will be used as the film's main theme. A new trailer was then shown which includes a sneak peek at the song. You can watch it below.

Tokyo Ghoul S 90-Second Trailer

Kubota praised the song for being simultaneously uptempo and wild which he said was a perfect match for the movie. He also expressed his hope for people to be glued to their seats and fully immersed in the film.

Matsuda explained how he tried to think of Tokyo Ghoul S as a romance during the shooting of the film and challenged himself to really think that he wanted to eat Kaneki. Kubota responded to this, saying that the film is packed full of loved from Matsuda.

©Sui Ishida / Shueisha   ©2019 "Tokyo Ghoul S" Production Committee

Information

Tokyo Ghoul S

Based On: Tokyo Ghoul (Young Jump Comics, Shueisha) by Sui Ishida

Directors:Hiramaki Kazuhiko / Takuya Kawasaki

Screenwriter: Chūji Mikasano

Distributed by: Shochiku

Release Date: July 19, 2019 (Japan)

Official Website: http://tokyoghoul.jp/

QUEEN BEE to Perform Tokyo Ghoul S Live-Action Film's Main Theme

Masataka Kubota, who is reprising his role as Ken Kaneki in the upcoming live-action film Tokyo Ghoul S, announced at the film's premiere at The Golden Hall in Ebisu that QUEEN BEE will perform the movie's main theme song.

The song is titled Introduction and is taken from QUEEN BEE's new album Ju which hit shelves in May. The band also previously performed the song HALF as the ending theme for the TV anime series Tokyo Ghoul:re.

QUEEN BEE released a new artist photo to promote the new collaboration.

Speaking about their return to the franchise once again, QUEEN BEE's vocalist Avu-chan commented: "Talks began on the day when we had finished everything on our album Ju―the music, the photos, and the music videos […] Introduction is the last song on the album. It's a song that follows the road down ten years of QUEEN BEE, and we are honoured that it will begin as the theme song for Tokyo Ghoul S. Please look forward to it."

©Sui Ishida / Shueisha   ©2019 "Tokyo Ghoul S" Production Committee

Information

Ju

Released: May 22, 2019

First Press Limited Edition (CD+DVD): ¥4,500 (Before Tax) [AICL-3700〜3701] *Includes 84-page booklet & sticker sheet

Regular Edition (CD-Only): ¥3,000 (Before Tax) [AICL-3702]

QUEEN BEE Official Website: http://www.ziyoou-vachi.com/

Tokyo Ghoul S

Based On: Tokyo Ghoul (Young Jump Comics, Shueisha) by Sui Ishida

Directors:Hiramaki Kazuhiko / Takuya Kawasaki

Screenwriter: Chūji Mikasano

Distributed by: Shochiku

Release Date: July 19, 2019 (Japan)

Official Website: http://tokyoghoul.jp/

Tokyo Ghoul S Live-Action Film Scene Teasers Showcase Kaneki, Touka, Tsukiyama & Others

New photos have been unveiled showcasing the cast in various scenes from the upcoming sequel to the live-action Tokyo Ghoul film, entitled Tokyo Ghoul S.

We see protagonist Kaneki (Masataka Kubota) donning his Anteiku work attire as well as a shot of his Kakugan, or "red eye"―a state ghouls go in when they are hungry or when they use their Kagune, a predatory organ which is used as a ghoul's weapon.

We also see Touka (Maika Yamamoto) pulling a fighting pose as she stands off against Tsukiyama, her and Kaneki's arch-enemy.

Other cuts include those of Kaneki-obsessed gourmet Shuu Tsukiyama (Shota Matsuda) where he encounters Kaneki at Anteiku, and another where he is facing off against Kaneki while smirking an evil smile.

We also see Kaneki's best friend Hideyoshi Nagachika (Kai Ogasawara) chatting with Kaneki as well as the ghoul Nishiki Nishio (Shunya Shiraishi) and his human lover Kimi Nishino (Mai Kiryu).

Finally, we see Itori (Jiyoung) whispering something into Kaneki's ear.

Tokyo Ghoul S will be released in Japan on July 19, 2019.

©Sui Ishida / Shueisha   ©2019 "Tokyo Ghoul S" Production Committee

Information

Tokyo Ghoul S

Based On: Tokyo Ghoul (Young Jump Comics, Shueisha) by Sui Ishida

Directors:Hiramaki Kazuhiko / Takuya Kawasaki

Screenwriter: Chūji Mikasano

Distributed by: Shochiku

Release Date: July 19, 2019 (Japan)

Official Website: http://tokyoghoul.jp/

The Location of This Bloody Rose Tokyo Ghoul Restaurant in Ginza is a Secret

To celebrate the upcoming July 19 release of Tokyo Ghoul S, Japanese movie studio and production company Shochiku is opening an 'immersive' blood-themed Tokyo Ghoul restaurant from July 5 to August 4. The location of the restaurant is being kept a secret, but it is somewhere in Ginza, and is wrapped in 40,000 roses.

The Ghoul Restaurant makes an appearance in the film itself as a secret eatery where ghouls go to dine. This immersive recreation is a combination of interactivity, gourmet food, and performance and display put on by professionals.

Much of the interactive content that can be found in the restaurant was produced by AFROMANCE, such as the "SAKURA CHILL BAR by Saga," an indoor hanami experience with a littering of 1.2 million rose petals.

The entire restaurant will be steeped in an overwhelming deep crimson.

The gourmet ghoul menu was conceived by Hideo Yamamoto, a chef at the famous modern French restaurant Restaurant Air.

The creative menu brings together taste and beauty by using luxurious and high quality ingredients such as foie gras.

Performances will be carried out by live entertainment company Out Of Theater, film director and producer Issei Shibata, and video game and and visual effects company Polygon Magic. From the moment you enter to when you are dining to when you leave, you will be thrown into the world of the Ghoul Restaurants as a string of actors do the unpredictable.

Fans of Tokyo Ghoul aren't going to want to miss out on this once-in-a-lifetime opportunity. Details on what you need to do next can be found below.

Information

Ghoul Restaurant

Running: July 5, 2019 – August 4, 2019

Opening Hours: Two Slots – Slot ① Meeting 17:00 / Dining 17:30-19:30, Slot ② Meeting 20:00 / Dining 20:30-22:30

Location: Ginza (*Those who purchase a ticket will be told the exact location)

Menu: Blood & Rose Gourmet Dinner Course – ¥10,000 (Before Tax)

*Tickets will be released on June 14, 2019 at 12:00 (JST) at the official website below

Official Website: http://afroand.co/ghoulrestaurant/

Tokyo Ghoul S

Based On: Tokyo Ghoul (Young Jump Comics, Shueisha) by Sui Ishida

Directors:Hiramaki Kazuhiko / Takuya Kawasaki

Screenwriter: Chūji Mikasano

Distributed by: Shochiku

Release Date: July 19, 2019 (Japan)

Official Website: http://tokyoghoul.jp/

Tokyo Ghoul Cafe: Touka Actress Maika Yamamoto Gives Food Report

In the run up to the release of Tokyo Ghoul S on July 19―the sequel to the live-action adaptation of Tokyo Ghoul―an official themed cafe based on Tokyo Ghoul:re will open at Ikebukuro PARCO on June 6 for a limited time.

Before the official opening of the cafe, however, actress Maika Yamamoto who plays Touka Kirishima in the upcoming movie attended a pre-opening on June 4 which was held for the press. She tried and commented on the menu and also gave a talk.

Yamamoto wore the same uniform that Touka wears in the film when working at the Anteiku Cafe. The first item from the eye catching menu she tried was the Kaneki Sekigan Curry, a curry rice dish inspired by Kaneki's red ghoul eye. Notwithstanding its frightening appearance, Yamamoto commented on the tantalising aroma of the curry and its delicious taste.

She then took a sip from the Touka Jelly Drink, a beverage based on the character she plays. She admired its gorgeous blue hue, describing it as cute and Instagram-worthy.

The final dish she tried was the Gourmet Tsukiyama Roast Beef which is of course based on the film's antagonist and Gourmet himself, Shuu Tsukiyama. Before taking a bit, Yamamoto said, "This reminds me of when Tsukiyama eats in the movie!"

She summed up her thoughts on the cafe menu: "I was suspicious of how everything would taste at first, but I'm surprised at how delicious it all was. It was fun to be photographed too. I feel like I can eat all of this as a ghoul. I'm relieved."

Yamamoto was also questioned about her role in the film. She responded: "The film is bigger and better than the last, and both the action and CG is really well done too. The visuals are incredibly cool. Kubota [Masataka], Shota [Matsuda] and all the cast are really wonderful too, so please be sure to watch it!"

She also left a message for fans looking forward to the film, saying: "The last 20 minute ghoul versus ghoul scene is of course a highlight, but the drama between the humans and ghouls is amazing too, so I want people to take note of that aspect as well. And the music is beautiful, so make sure to take in everything until the credits roll!"

"Before seeing the movie please come to this cafe and immerse yourself in the world of ghouls and then go and see the movie. You might get an affinity [with the ghouls!]" she concluded with a smile.

The cafe will run from June 6 to July 15. The menu is packed with drinks and dishes inspired by the unique and memorable characters from the series. A selection of new official merchandise of the manga will also be sold.池

©2019 Tokyo Ghoul S Production Committee ©Sui Ishida / Shueisha

Information

Tokyo Ghoul:re Cafe

Location: Ikebukuro PARCO (1-28-2 Minami-Ikebukuro, Toshima Ward, Tokyo)

Running: June 6, 2019 – July 15, 2019

Tokyo Ghoul:re Cafe Official Website: http://the-guest.com/

Tokyo Ghoul S

Based On: Tokyo Ghoul (Young Jump Comics, Shueisha) by Sui Ishida

Directors:Hiramaki Kazuhiko / Takuya Kawasaki

Screenwriter: Chūji Mikasano

Distributed by: Shochiku

Release Date: July 19, 2019 (Japan)

Official Website: http://tokyoghoul.jp/