#MissDior Art Event Held to Comemorate New Fragrance In Omotesando, Tokyo
Miss Dior, the fragrance and maison first started in 1947, is being reborn thanks to Dior perfume creator Francois Demachy.
A new MISS DIOR art event will be held to commemorate the new fragrance, inheriting the art and passion for women that inspired Monsieur Dior himself. Reservations are now open for the AS SEEN BY exhibition, held alongside the MISS DOOR MILLEFIORI GARDEN pop up store between September 1 and 12, 2021, at THE MASS/BA-TSU ART GALLERY/STANDBY in Omotesando, Tokyo.
Kojin Haruka: Reflectwo for Miss Dior 2021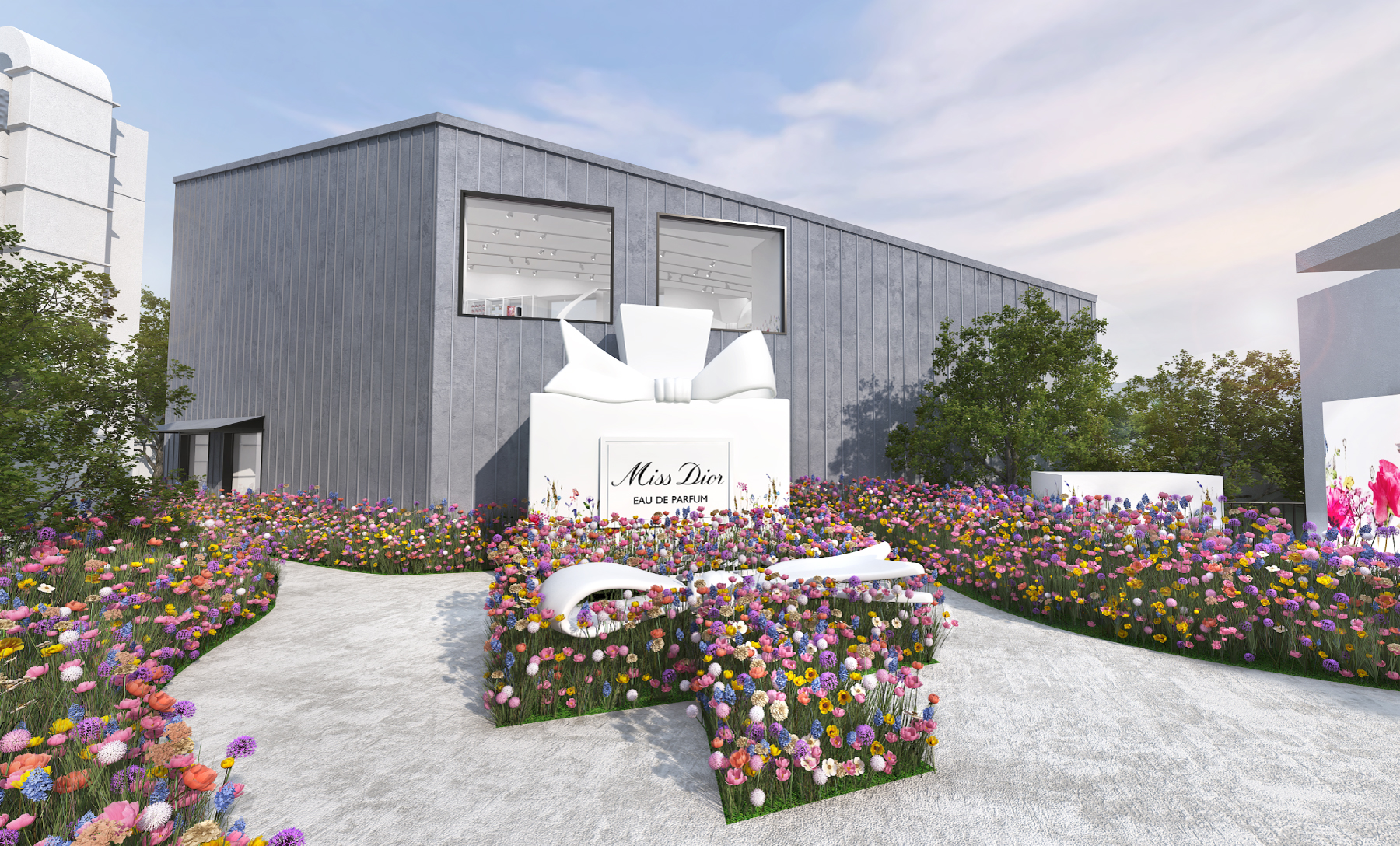 Pop Up Store MISS DIOR MILLEFIORI GARDEN
The AS SEEN BY exhibition, held in Tokyo and several cities around the world, will feature MISS DIOR inspired artwork and creations from 10 female artists, including visual artist Kojin Haruka, sculptor Donna Ingrid, and designer Sabine Marcelis.
Experience the renewed MISS DIOR at the MISS DIOR MILLEFIORI GARDEN pop up store, where you can try the new Au De Perfume and it's personalization service, alongside limited cosmetics that were inspired by the new fragrance.
Those who attend the MISS DIOR event will also be able to enjoy the guest-only cafe, which features Laudrée collaboration macaroons, with the original flavors each lined up in a package reminiscent of the colorful flowers at the MISS DIOR art event. Plus, a limited takeaway drink will be available at the exhibition cafe, allowing you to bask in the afterglow of the event even after exiting the venue. In addition, customers who connect their reservation to the official MISS DIOR Beauty LINE account will receive a free original tote bag.
A special film that delves into the history and charm of MSS DIOR will be screened at the exhibition, narrated by DIOR beauty ambassador Yoshizawa Ryo, who will guide you through the glamorous world of MISS DIOR.
You mustn't miss the livestream with DIOR ambassador Araki Yuko, who will be attending the event via livestream to introduce the wonders of the new MISS DIOR. The stream will start on August 31 at 20:30.
Why not check out this flower-filled event where you can immerse yourself in the world of MISS DIOR for yourself?
Information
MISS DIOR Art Event
Availability: September 1 ~ September 12, 2021
Opening Hours: 10:00 ~ 20:00
Admission: Free, reservations required
Reservations: https://qr.paps.jp/ksjcw
Location: THE MASS / BA-TSU ART GALLERY / STANDBY
Address: 5-11-5 Jingumae, Shibuya, Tokyo
Araki Yuko Livestream: August 31 2021, 20:30 ~ 21:00
Event/Streaming Details: http://on-pp.dior.com/missdior-artevent
Official Site: https://www.dior.com/
※Admissions are limited to one per person.
※Last admissions are 30 minutes before closing.
※Opening hours and admissions are subject to Covid rules. Check the official website (http://on-pp.dior.com/missdior-artevent) for the latest information.
※Accepted payment methods at the venue include credit card, electronic money, and QR payments. Cash payments are not accepted.
RELATED ENTRIES
Girl Group NiziU Named Brand Ambassadors for Visée, Introduce Limited-Edition Eyeshadows

Cosmetics brand KOSE has announced that popular girl group NiziU will act as brand ambassadors for a new collection of Visée eyeshadow, Glossy Rich Eyes N.

Visée Glossy Rich Eyes N  – Available in 8 shades + 2 limited edition shades

Photo Shoot

「Visée AVANT」Limited Edition Seasonal Visual with MAYUKA&NINA

The theme for this year's campaign was 'Find the Color Just for You.' By trying all possible shades, even those which seem out of the consumers comfort zone, they will absolutely find the perfect color. For this photo shoot, NiziU applied makeup inspired by their respective member colors, showing off their individuality.

A special web movie and visual for Glossy Eyes Rich N featuring the NiziU girls is available on the special product website and through the official social media channels. The eyeshadows will be available at drugstores and other retailers, as well as online, beginning September 16. Members Mayuka and Nina will also appear in limited season ads for Visée AVANT.

An original movie featuring all members is also available to view on the official TikTok brand account and the Glossy Rich Eyes N special product website.

Interview with NiziU

Q1. Visée has partnered with a number of women before, each symbolizing the current era. What are your thoughts on being chosen as brand ambassadors for Visée now?

Mako: I'm turning 20 this year, and I've really wanted to show a different side of myself now that I won't be a teenager anymore. I was so happy when I was chosen for this project, since it gave me the perfect chance to do just that!

Maya: We're so incredibly honored to be chosen as ambassadors for Visée! I use their products regularly, but there are so many different colors of product available. I think this will inspire people to make use of colors they may not use often, and to try new things!

Q2. How did you feel after shooting wrapped?

 

Ayaka: It felt like something totally different than what NiziU has tackled in the past. I typically wear more cutesy makeup, but this time I tried to show something more mature. It was refreshing. It was a blast getting close-up shots taken of my eye makeup!



Q3. The theme for this year's campaign is 'Find the Color Just for You.' It calls on people to find a color that best matches their personality. After the first ad shoot, what were your impressions of your fellow members' new makeup looks?


Riku: Maya was the one getting her pictures taken first, and she looked so gorgeous that Ayaka and I couldn't stop staring at her! Honestly, we were staring at her so much that when she finally looked over at us, she did that typical Maya smile, and it was like we fell in love with her. (laugh)



Q4. This year's visuals are impressive, with the NiziU members showing off very different expressions than usual. Is there anything you refer to or try to do personally, to find new facial expressions?


Mayuka: It can be really difficult, but I find it useful to look at photos of some of the more senior members and practice copying their expressions.


Q5. Again, this year's theme is 'Find the Color Just for You.' Each of the nine members of NiziU have their own distinct personalities, so with that in mind, what do you think makes you stand out as an individual?

 

Rima: For me, it's my different worldview. It allows me to converse in a very unique way, and to really adjust how I carry myself depending on the location. My member color is red, which also has many meanings: it can be powerful, or mature, or energetic, or mischievous. I'm like a chameleon. I hold many different personalities that I can switch to at the drop of a hat.


Q6. As a member of NiziU, you've had many different and unique experiences. Have you found any unexpected sides of yourself during your time as a member?

 

Rio: I used to think I was one of the cool girls, but during this photo shoot, I was given a makeup look and outfit that was more cutesy. That's a side of myself I haven't explored, and this is something that happens frequently during the many events and challenges we take on as a unit.



Q7. During the makeup shooting sessions, we were able to see very different sides of the NiziU members. Is there anything new you've learned about the other members recently?

 

Miihi: Compared to how we all were when we all joined, everyone is really starting to show their true selves! We've so close, there's nothing that we don't know about each other at this point!



Q8. The Glossy Rich Eyes N products that you used this time come in a wide variety of colors, making it possible for anyone to meet their perfect shade. Speaking of 'meetings,' what do the members of NiziU want to meet more than anything right now?

 

Nina: I want to meet with WithU (the name for NiziU fans). We haven't been able to meet them face to face yet, and I hope we're able to soon.

SHIRO Releases Relaxing New Hinoki and Hiba Fragrances

Japanese cosmetic brand SHIRO has announced two new soothing fragrances, the Hinoki Bath Salts and the Hiba Spray 80. These will be available at the SHIRO online store and at SHIRO retailers nationwide on September 9. 

The brand's first Hinoki and Hiba-based items


Hinoki, or Japanese Cypress bark, and Hiba, the leaves from these Cypress trees, have subtle scents which will make customers feel as though they're surrounded by nature. Having these items around will help clear anxious minds and soothe worried hearts. The bark used for the fragrances was sourced from the Kii mountain range, while the leaves came from Aomori prefecture. 

Hinoki Bath Salts (400g): ¥4,840 (Tax Included) 

These are the first bath salts to be released since rebranding. The soothing Japanese cypress essential oils were sourced from the Kii mountain range snaking through Mie and Wakayama prefectures, while the sun-dried salt from South Australia will help moisturize and hydrate the skin. Use this product during an evening bath to relax after a hard day's work, or mornings when you wake up a little earlier than usual to prepare your mind for what the day may bring. 

Hiba Spray 80 (80ml): ¥1,980 (Tax Included) 

This hand spray contains 80% alcohol, as well as fragrant Aomori Japanese cypress essential oil and distilled cypress water. 

If you're looking to practice more self-care, these items are sure to help. 

Information

Hinoki Bath Salts

Hiba Spray 80

Pre Orders Begin: August 26, 2021 on the SHIRO Online Store (10:00) and at SHIRO retailers nationwide

Release Date: September 9, 2021 on the SHIRO Online Store (10:00) and at SHIRO retailers nationwide

Official Site: https://shiro-shiro.jp/

Perfume To Release Second Series Of Imaginary Museum "Time Warp" NFT Artwork

Following the Imaginary Museum "Time Warp" – Reconstruction NFT artwork from June, Rhizomatiks will be working together with Perfume once again to release seven new NFT artworks between August 16 and 28, 2021.

Seven new Perfume NFT art pieces by live music video producer Rhizomatiks

Similar to last time, the NFTs will be unveiled at the P.O.P Festival (Perfume Online Present Festival), held to commemorate the 20th anniversary of the groups debut and the 15th anniversary of their major debut. The works are based on data from the Imaginary Museum "Time Warp" performance.

The three Perfume members' iconic poses, as choreographed by MIKIKO, were transformed into 3D data, becoming a huge topic even during the initial NFT release.

Rhizomatiks, who participated in the video production of the Perfume LIVE 2021 [polygon wave] (Pia Arena MM), have produced seven variations of 3D NFT art.

*A PoS consensus algorithm and Polygon are being used to reduce any environmental impact. The NFT art will be released on Rhizomatiks NFT marketplace NFT Experiment.

What is NFT art?

NFT (Non-Fungible Token) refers to a piece of digital artwork whose value is guaranteed by its permeance, originality, and interoperability.

It is also referred to as CryptoArt.

It started growing in popularity during Summer 2019, but due to Covid-19 the movement has taken off globally, with hefty amounts of money being exchanged through the medium.

Information

Imaginary Museum "Time Warp" – Electro World/GLITTER/Chrome/edge/Visualization/Saisei/Time Warp

Release Date: August 16, 21:00~

※Following this, the pieces will be sold sequentially at the same time every two days.(August 16, 18, 20, 22, 24, 26, and 28 from 21:00~)

Purchase Link: NFT Experiment https://nft.rhizomatiks.com/

For enquiries, contact nft@rhizomatiks.com

Racing Miku 2021 Inspires Three New Perfumes, Now Available for Pre-Order

Perfume distributor Fairytail has started selling three new fragrances based on Racing Miku 2021! The items went on sale August 2 through the company's online shop and Amazon. 

RACING MIKU 2021 Eau de Parfum: ¥3,080 (Tax Included)

RACING MIKU 2021 Eau de Parfum Private: ¥3,080 (Tax Included)

RACING MIKU 2021 Eau de Parfum Tropical: ¥3,080 (Tax Included)

RACING MIKU 2021 Fragrant Hand Gel Set: ¥990 (Tax Included)

Racing Miku is a popular incarnation of the Vocaloid Hatsune Miku, created to support those in motorsports. Since 2010, she has been the mascot character for the Hatsune Miku GT Project, and is drawn by a different creator each year. These three fragrances each feature a unique portrait of the symbolic character, and were drawn by popular illustrator Morikura En. 

The RACING MIKU 2021 Eau de Parfum is sporty and cool, with notes of citrus that give off a crisp and refreshing scent. The Eau de Parfum Private is more feminine, with a gentle aura of bergamot and citrus, followed closely by elegant notes of rose and peony. If you're looking for a perfume perfect for summer, the Eau de Parfum Tropical is a more powerful fragrance characterized by the bursting sweet scents of mango and passionfruit. Which one do you think would suit you the best? 

Also on sale, the easy-to-carry fragrant hand gel set is perfect to pop in your purse and use while you watch the race. The set comes in two designs: the super cute Racing Miku 2021 Nendoroid version, or the sleeker GOODSMILE RACING version. 

After smelling just one of these scents, you'll want to collect them all!

Perfume's New Song 'Polygon Wave' to Feature as Theme Song for Amazon's The Masked Singer

Perfume have been announced as the panelists for the Amazon Original show The Masked Singer which is set to be released on Amazon Prime Video in Japan on September 3, 2021. The J-pop trio come as the latest names to be announced as regulars for the show alongside MIYAVI, Kiko Mizuhara, and Bakarhythm. Their new song Polygon Wave, which is their first in a year, will feature as the show's main theme song.

The Masked Singer is a popular series that has been adapted for 50 countries around the world. This Japan-original adaptation will feature 12 performers wearing masks with Oizumi Yo as the host along with and guest panellists.

Perfume comments about appearing on the show

a-chan
"As a fan of the show, I'm happy The Masked Singer is being made in Japan! The show is making it possible for a lot of amazing people to come together too, so please look forward to it."

KASHIYUKA
"I never thought they'd make a Japan-original version, so I was shocked when we received the offer. It's a chance to discover new sides and charms of the performers."

NOCCHi
"I was happy when we got the call. All of the performers ooze talent, even with the masks on, so it got me excited without even thinking. I think this is gonna be a show unlike we've ever seen before, so please look forward to it."


About the theme song Polygon Wave


a-chan
"We were given a drama song that captures a world that even people 100 years from now would yearn for. It's refreshing, elegant, nostalgic, and light. Doesn't it make you want to dance? It does me."

KASHIYUKA
"I am so honoured that we were picked to do the theme song for The Masked Singer! The song has an infectious and nostalgic melody that makes you relax your shoulders. It really pulls you in. That tantalising aspect of hearing the voice of someone whose face you can't see for the mask links well with the feeling of this song. I want people to listen to it on the go while they're gazing out of a window."


NOCCHi
"I feel like the song captures that image of the 'near future' you hear when people say the phrase, or perhaps even beyond that. [Yasutaka] Nakata never fails to create an interesting world. Look forward to seeing where Perfume goes from here."

©2021 Amazon Content Services LLC

Information

Amazon Original番組「ザ・マスクド・シンガー」 テーマソング 「ポリゴンウェイヴ」 
配信開始日:2021年7月2日(金)より
Amazon Music他、各音楽配信サービスにて配信開始

ザ・マスクド・シンガー
配信開始日:2021年9月3日(金)より配信開始
※視聴にはプライム会員登録が必要です。
※配信内容・スケジュールは予告なく変更になる場合がございます。
話数: 本編9話 初回3話 以降毎週金曜順次配信
出演: MC:大泉洋 パネリスト:MIYAVI、Perfume、水原希子、バカリズム ほか(ゲストパネリスト出演予定)

Dior x Sacai to Launch First Collaborative Collection

Dior and Sacai are set to launch their first collaborative collection together this November which embarks on a 'creative conversation between two designers, two heritages, and two cultures.' It sees Dior Men's artistic director Kim Jones and Sacai's Chitose Abe join hands to deliver a capsule collection that fuses the best of both brands' worlds. This is captured in what can be considered the hallmark of collaboration: a new logo that swaps the "i" in "Dior" with Sacai's brand name stitched in black.

©BRETT LLOYD

©BRETT LLOYD

The collection encompasses clothing items, bags, and accessories, all primarily in black and white. Sacai's signature hybrid spirit is woven throughout the collection, and each item fuses Dior's tailoring prowess with Sacai's sportswear taste. It also combines floral Dior designs on Sacai's modern fabrics. From the photoshoot, you can feel the creative collaboration between Paris and Tokyo reflected in the designs, which use denim to recreate Japanese workwear silhouettes while weaving in practical details reminiscent of Paris couture.

The collection also includes Saddle bags which incorporate Sacai touches like pockets and drawstrings. Other Saddle bags mix leather with nylon in an olive and orange colour combination reminiscent of Sacai's classic bomber jackets. Another inclusion in the collection is footwear, specifically the Dior Snow and Dior Explorer boots, with the CD logo in a gold and silver finish together with Sacai's signature pearls.

©BRETT LLOYD

Miraculous: Tales Of Ladybug & Cat Noir Inspired Perfume Releases in Japan

A collection of perfumes inspired by the titular characters of the French CGI animated superhero/magical girl series Miraculous: Tales Of Ladybug & Cat Noir released in Japan on May 31.

Miraculous Ladybug Eau De Parfum

A delightfully sweet and sour combination of fruits inspired by the cute and cool superhero Ladybug.

Top Notes: Mango, Passion Fruit, Orange

Middle Notes: Magnolia, Peach, Sunny Accord

Last Notes: Hibiscus, Red Fruits, Musk


Miraculous Cat Noir Eau De Parfum

A refreshing citrus fragrance inspired by the free and audacious superhero Cat Noir.

Top Notes: Citrus, Sparkling Water

Middle Notes: Ozone, Floral, White Peach

Last Notes: Musk


The packaging for each perfume bottle features colours based on Ladybug and Cat Noir, and if you put both boxes side by side, it creates a completely image of the two superheroes standing back-to-back with the Eiffel Tower in the background.

Wrap yourself in the scents of courage and confidence with Ladybug and Cat Noir's superhero perfumes.

©2021 ZAGTOON– METHOD – TOEI ANIMATION.

NiziU Feature in Skin Type Friendly Face Mask Collection Promo

Japanese girl group NiziU are set to feature in a new television commercial for LOHAS Pharmaceutical's "ALFACE+" cosmetic face masks which will roll out in Japan on July 1.

ALFACE+ is a skincare brand that sells products that are not only moisturising but accessible to a variety of skin types too. Their face mask collection includes 10 different designs, all of which are presented by each of the nine NiziU members.

NiziU have stepped away from their usual energetic look for this shoot, instead serving more grown-up vibes.

MAC Reveals Disney's Cruella de Vil Makeup Collection

MAC Cosmetics is set to launch its new "Cruella" makeup collection inspired by the Disney villain and fashion icon Cruella de Vil from the Disney classic 101 Dalmatians on May 13, 2021. The collection arrives ahead of the upcoming live-action movie Cruella which is set for release on May 28, 2021.

Disney Cruella Collection by MAC

The collection features nine products that bring to life the Disney villain's look, whose origin story about aspiring to become a fashion designer will be portrayed by Emma Stone in the upcoming movie which is set in '70s London during the height of the punk rock era. The line-up combines punk reds with metallic colours, and everything comes packaged in tubes and palettes bearing Cruella's instantly-recognisable black and white colour combo.

Terry Barber, the Director of Makeup Artistry at MAC, said: "With there being such a huge trend for recycling the more niche counterculture moments of previous decades, this collection feels like MAC returning to a celebration of the kind of DIY styling and brave transformation that originally made it such a maverick brand."

A Look at the Collection

MATTE LIPSTICK | $21

A rich matte lipstick formula with high-colour payoff and a creamy matte finish in three Cruella-inspired shades.

RETRO MATTE LIQUID LIPCOLOUR | $25

A liquid lipstick that provides a rebellious rush of Disney's Cruella-inspired colour in a velvety, mattest-matte finish.

PRO LONGWEAR DUAL ENDED EYE LINER | $26

A long-lasting, dual-ended eyeliner featuring creamy, dense colour that glides smoothly across lids.

POWDER BLUSH DUO: CRUEL-LA INTENTIONS | $31

A Cruella-inspired blush duo that provides fantastic colour with ease and consistency.

76 SUPERMODEL LASH | $18

A limited-edition pair of backstage-favourite lashes featuring wispy, full volume for a runway-ready look.

EYESHADOW X 8: CRUELLA TO BE KIND | $45

A magnetic two-piece eye palette packed with a wondrous wave of eight statement shades inspired by the most iconic looks of Disney's Cruella.

The full collection will drop worldwide this Thursday at MAC.

©2021 Disney

SHIRO Reveals New Cosmetic Items For Summer 2021

Japanese cosmetic brand SHIRO is set to release its Ice Mint Body Mist, Ice Mint Body Lotion, and all-new Ice Mint Clay Hand Soap as part of its limited-edition Ice Mint fragrance series online on May 27 before the products head to stores on June 10.

Ice Mint Body Mist | ¥1,980 (Tax Included)


Ice Mint Body Lotion | ¥2,530 (Tax Included)


Ice Mint Clay Hand Soap | ¥2,200 (Tax Included)

The refreshing products arrive in time for the summer season for cooling down on those hot and humid days. Each is imbued with ethanol and refreshing mint for that relieving feeling of refreshment.


Information

SHIRO Ice Mint Series

Online Release Date: May 27, 2021 @ 10:00am (JST)

In-Store Release Date: June 10, 2021

Official Website: https://shiro-shiro.jp/

Hello Kitty x INTERGRATE Design Cosmetics Releasing This Spring

Shiseido's self-makeup brand INTERGRATE is set to release select beauty products with limited-edition Hello Kitty packaging on May 21. The theme of the collection is Meet "LOVELY." In the run up to its release, Hello Kitty cans can enjoy three filters of the popular Sanrio character over on INTERGRATE's official Instagram page.

INTERGRATE Limited-Edition Pro Finish Foundation Special Set K (2 Types) | ¥1,430 Each (Tax Included)

Colour palette

INTERGRATE Limited-Edition Pro Liquid Special Set K | ¥1,760 Each (Tax Included)

Colour palette

INTERGRATE Limited-Edition Water Jelly Crush Special Set K (2 Types) | ¥2,200 Each (Tax Included)

Colour palette

INTERGRATE Limited-Edition Triple Recipe Eyes Special Set K (2 Types) | ¥2,200 Each (Tax Included)

Colour palette

The limited-edition designs feature Hello Kitty and her cute friends who are ready to help you apply your makeup. The collection focuses on three each of INTERGRATE's iconic foundations and eye shadows. This includes the Pro Finish series which has foundation in a compact case, durable liquid foundation, and water jelly crush. Pick from three foundations too which come in a triple set. For this limited-edition collaboration, you can enjoy the pink PK704 and brown BR703, both of which are popular colours.

NiziU Feature in Commercial for KOSÉ's Makeup Fix Product Make Keep Mist EX

KOSÉ rolled out their new commercial in Japan on April 15 for their makeup fix mist product Make Keep Mist EX. The commercial features Japanese music group NiziU along with their new song I AM.

I AM was written specifically for this commercial, which has the NiziU members performing the "mist dance" showing how to use the product. The commercial emphasises how well the Make Keep Mist EX keeps makeup applied to one's face without worrying about it coming off.

The NiziU members released this comment with regards to the product and commercial: "Applying makeup can be a real pain when wearing a face mask, so we use this all [product]! We'd love for you to do this dance while you apply your Make Keep Mist!"

If you're wondering how the shoot went for this commercial, check out the official story released below. 

The Commercial Shoot

The NiziU members entered the studio dressed in full-pink spring suits. They rolled up to the studio's blue set where they looked super cute and readied themselves for the shoot.

 

The take-away from this commercial is the new Mist Dance which has the nine members lined up beautifully together as they spray the mist on their face simultaneously to the tune of the music. It's reported that it took them a while to get it down perfect at first, but after some practice and looking at the monitor, they were able to create something iconic.

"Do it like RIO!" instructed the shoot's director, which prompted RIO to show the other members how it's done.

 

During their break, the other members complimented MAKO's blonde hair and MAKO's blue tips, and MIIHI stroked RIKU's dango hair while saying "Looky here, ice cream! Looks delicious."

In one part of the dance, the members have to go all out and use their whole bodies. They switch up their formations several times and not once did they bump into each other. The members gave tips to each other too, like MAYUKA suggesting a better position during one formation, and RIMA asking which angle looks more beautiful for a certain move in relation to the camera. The result was an incredible display that was shot in one take, resulting in a round of applause from the studio staff.

Check out the commercial below.

Make Keep Mist EX

The new EX version of Make Keep Mist has stronger holding power to keep makeup smudge-free and looking fresh and beautiful all day. The product is available in a normal size and smaller 'trial' size. A new cool type, Make Keep Mist EX Cool, was released on April 16.

 

Make Keep Mist EX ¥1,320 / Make Keep Mist EX Trial Size ¥880 / Make Keep Mist EX Cool ¥1,320 (Tax Included)

Information

KOSÉ x NiziU Make Keep Mist EX Commercial

Initial Broadcast: April 15, 2021

Product Available: KOSÉ / Maison KOSÉ / Drugstores, online, and elsewhere in Japan

Official Website (English): https://www.kose.co.jp/makekeepmist/eng/