Dean Fujioka's Musical Transmute Tour 2021 Begins, First Day Report
10.September.2021 | MUSIC
On September 4, popular actor and musician Dean Fujioka began his Musical Transmute Tour at the Kawaguchi Comprehensive Cultural Center Lilia in Saitama Prefecture.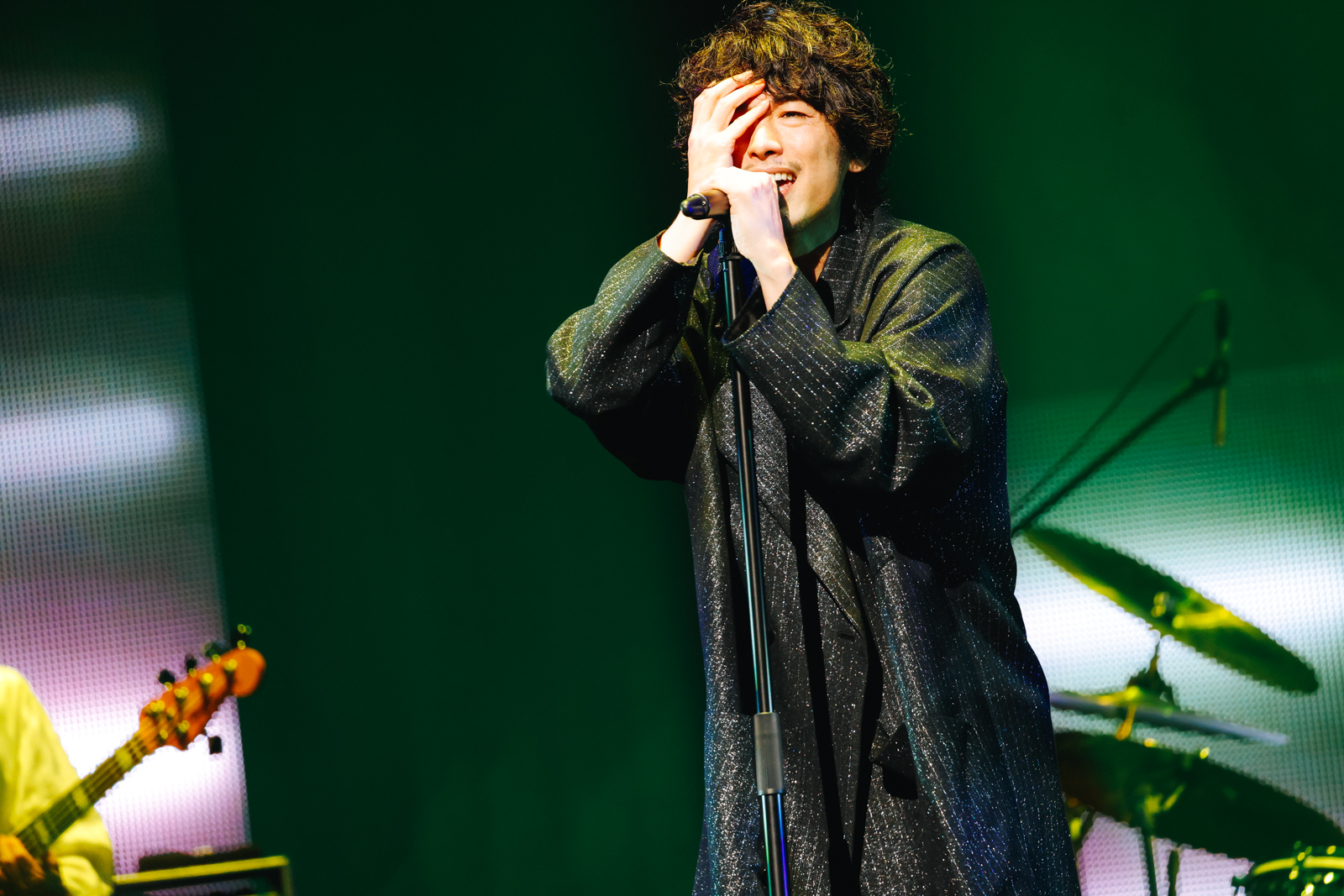 Photo by Kayo Sekiguchi
Photo by Kayo Sekiguchi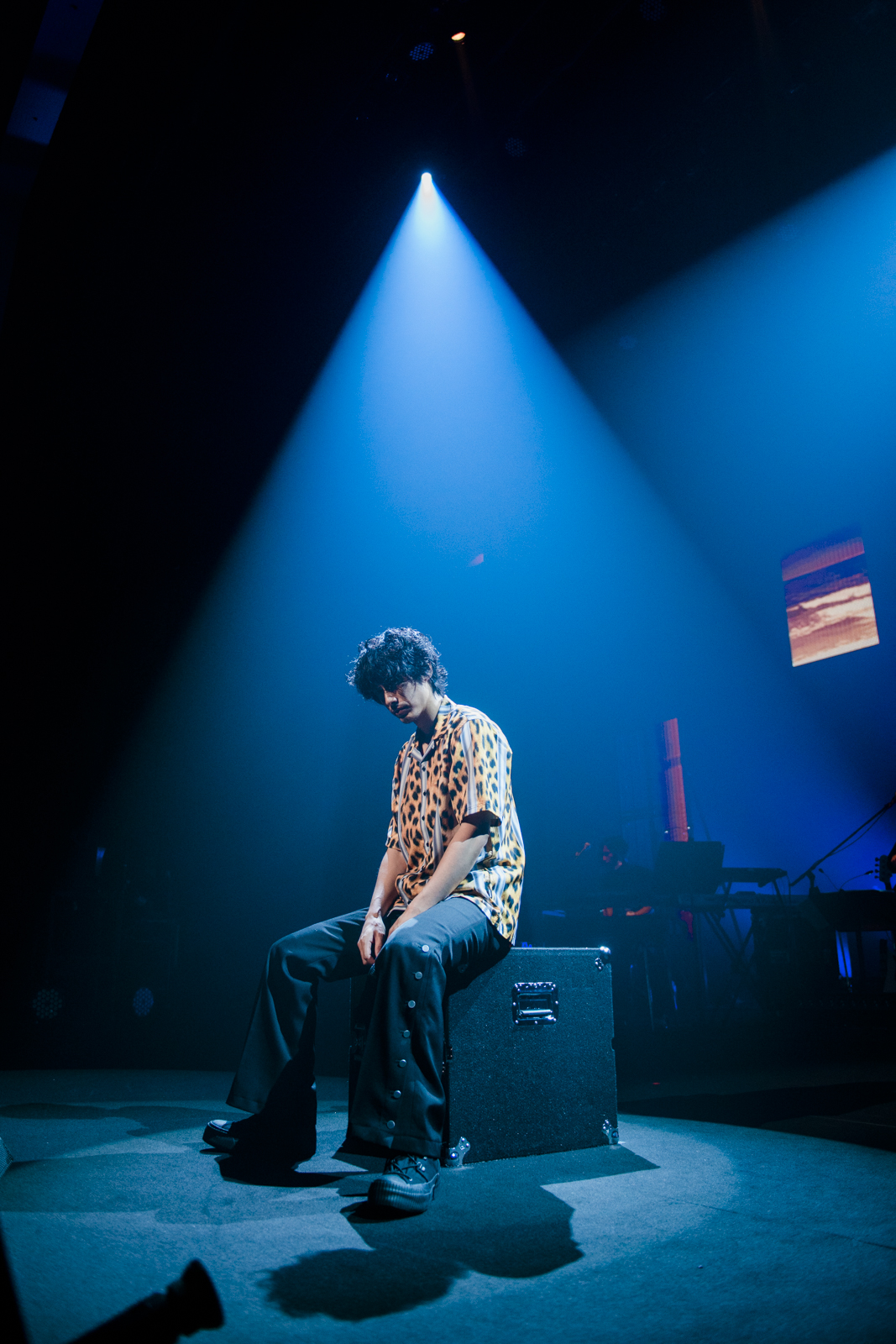 Photo by Yukitaka Amemiya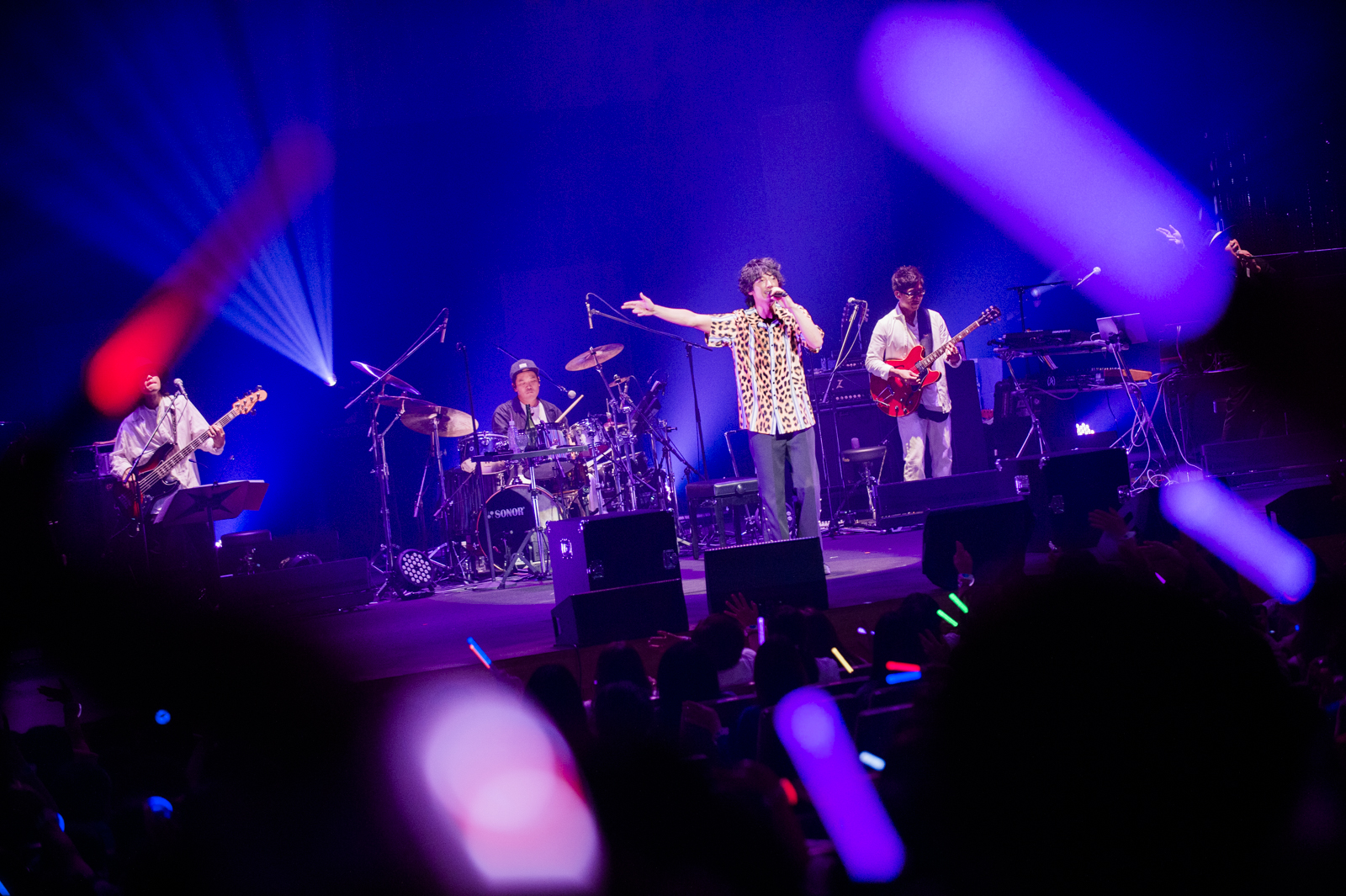 Photo by Yukitaka Amemiya
The new tour is not only Fujioka's first live tour since the Born to Make History Tour in 2019, but also his biggest national tour to date, with over 20 shows planned in 18 cities. Fans have been anxiously awaiting the pop artists return to the stage, as last year's Asia tour never came to fruition.
In this first performance, plenty of popular tracks made appearances, such as Shelly, and Searching for the Ghost. Fujioka's latest song Runaway was performed to massive fanfare, while four unreleased tracks rounded out the 1 hour and 45 minute performance. These new tracks were Sayonara, Sukima, Missing Piece, and Spin the Planet.
It was clear, however, that Neo Dimension was the song which truly set the theme of the tour. The track is an updated version of My Dimension, originally released as a track Fujioka used to introduce himself and express his intentions. Now, he sees it as more of a compass, and intends to use it as a way to lead him and his audience into the future. Dean Fujioka is an artist who prides himself on his evolution, and his willingness to attempt new things on stage. Neo Dimension is meant to express that side of himself in musical form.
The concert showcased parts of the singer which reminded us of his early career, while other moments made it clear how much he has evolved and changed over time. His time on stage wasn't random–each moment was a visualization of how his career has changed.
Prior to the start of the tour, Fujioka announced that his third album Transmute will be released in December 2021. This will be his first album in three years, his last being History in the Making. The album will contain the four new tracks played during the show.
The title, Transmute, holds an important message. "It's important to mutate in order to survive in today's chaotic world, and to thrive in an unpredictable future," Fujioka says. This tour will play an important role in helping fans unravel and understand the meaning of those words.
Text by Jun Fukunaga
RELATED ENTRIES
ATARASHII GAKKO! Announces First Overseas Tour

After releasing the new MANINGEN EP on August 16, the members of ATARASHII GAKKO! announced that they would embark on their first overseas tour, ATARASHII GAKKO! The SEISHUN Tour, this November.

The group's song OTONABLUE has reached an astounding 3.1 billion views on TikTok, winning the TikTok Trending Award for the first half of 2023 with over 14 million followers on the social media site. ATARASHII GAKKO! performed in New York in May and at the Head in the Clouds festival in Los Angeles in July, continuing to make headlines. Their tour will kick off at the Fonda Theater in Los Angeles and continue for 10 shows across North America, Hong Kong, and Bangkok.

Before embarking on their global tour, the group will perform a solo show at the Tokyo Metropolitan Gymnasium on October 29. Tickets sold out quickly, and the group's more dedicated fans can't wait for the rare opportunity to see ATARASHII GAKKO! perform solo in Japan.

Information

ATARASHII GAKKO! The SEISHUN Tour
(All dates local time)
11/7 Los Angeles, CA – The Fonda Theatre
11/8 San Francisco, CA – The Regency Ballroom
11/10 New York, NY- Music Hall of Williamsburg
11/11 Washington, D.C.- Black Cat
11/13 Toronto, ON- The Axis Club
11/15 Chicago, IL – Lincoln Hall
11/16 St. Paul, MN- Amsterdam Bar & Hall
11/18 Mexico City, MX- Corona Capital (https://www.coronacapital.com.mx/)
12/2 Hong Kong- Clockenflap Festival (https://www.clockenflap.com/) *Tickets available anytime
12/3 Bangkok, TH- Maho Rasop Festival (https://www.mahorasop.com/) *Tickets available anytime

[Tickets]
Spotify Presale: August 17, 2:00AM ~ Limited 1-day sale
General Sales: August 18, 10:00AM (August 19, 2:00AM JST)

Special Tour Site
https://atarashiigakko.com/atarashii-gakko-the-seishun-tour

<NEW EP>
MANINGEN EP – ATARASHII GAKKO!
Release Date: August 16

【Tracklist】
M1: MANINGEN
M2: KOIBUMI
M3: Que Sera Sera
M4: OTONABLUE – From THE FIRST TAKE
M5: NERAIUCHI (50 th anniversary cover)

Streaming URL: https://lnk.to/MANINGEN_EP

FRUITS ZIPPER to Embark on First National Tour in September

Idol group FRUITS ZIPPER will embark on its first nationwide tour, FRUITS ZIPPER JAPAN TOUR 2023 -AUTUMN-, this September.

FRUITS ZIPPER has been climbing to the top of the idol scene at a breakneck pace. Their first overseas solo performance in Taiwan was recently a huge success, and tickets for their first anniversary live shows at Toyosu PIT in Tokyo and Namba Hatch in Osaka in May sold out immediately after going on sale.

The tour will begin with a concert in Osaka on September 3, followed by performances in Aichi, Fukuoka, Hiroshima, Hokkaido, and Kanagawa. Tickets for the presale lottery are now on sale for members of the KAWAII LAB fan club.

FRUITS ZIPPER's single Watashino Ichiban Kawaiitokoro, released last year, has inspired over 700 million related videos on TikTok, while the music video has been viewed over 10 million times. Keep an eye on their activities in the near future!

Information

FRUITS ZIPPER JAPAN TOUR 2023 -AUTUMN-

Date: September 3, 2023
Venue: Zepp Namba / Osaka
Time: Doors open at 16:00 / Show starts at 17:00
Contact: Kyodo Information – 0570-200-888

Date: September 5, 2023
Venue: Zepp Nagoya / Aichi
Time: Doors open at 17:30 / Show starts at 18:30
Contact: Sunday Folk Promotion – 052-320-9100 (12:00~18:00)

Date: September 8, 2023
Venue: Zepp Fukuoka / Fukuoka
Time: Doors open at 17:30 / Show starts at 18:30
Contact: Kyodo West Japan – 0570-09-2424 (11:00~15:00 / Closed on Sundays and Holidays)

Date: September 10, 2023
Venue: BLUE LIVE HIROSHIMA / Hiroshima
Time: Doors open at 16:00 / Show starts at 17:00
Contact: YUMEBANCHI (Hiroshima) – 082-249-3571 (Weekdays 12:00~17:00)

Date: September 13, 2023
Venue: PENNY LANE24 / Hokkaido
Time: Doors open at 17:30 / Show starts at 18:30
Contact: Mount Alive – 011-623-6555

Date: September 16, 2023
Venue: KT Zepp Yokohama / Kanagawa
Time: Doors open at 16:00 / Show starts at 17:00
Contact: HOT STUFF PROMOTION – 050-5211-6077 (Weekdays 12:00~18:00)

[Tickets]
VIP Standing: ¥16,500 (Including Tax, excluding drinks)
miniVIP Standing: ¥7,700 (Including Tax, excluding drinks)
General Standing: ¥5,500 (Including Tax, excluding drinks)
2F Reserved Seat: ¥5,500 (Including Tax, excluding drinks)
*Available tickets for Hiroshima and Hokkaido are VIP and General Standing only

KAWAII LAB. Fan Club Presale Tickets (Lottery)
Entry Period: April 10 at 21:00 ~ April 17 at 23:59
URL: https://kawaiilab.asobisystem.com/
*Up to 2 tickets available per person per show

New information will be announced on the official FRUITS ZIPPER social media pages when available.

Kyary Pamyu Pamyu World Tour: Future Funk Guru Moe Shop to Perform at 3 U.S. Shows

Kyary Pamyu Pamyu will embark on her world tour POPPP in May, performing in seven cities around the world. Trackmaker and DJ Moe Shop, a leader in the world of Future Funk, will appear as the opening act for three U.S. tour dates.

Moe Shop's unique fusion of French house music and Japanese pop and club tunes has earned the artist over 26 million views per year on YouTube and over 31 million views per year on Spotify, making them one of the most popular electronic music artists around the globe. The artist has gone on record to say that they have been largely influenced by Yasutaka Nakata, Kyary Pamyu Pamyu's producer, and their addictive sound is making waves in both Japan and abroad.

To celebrate this incredible collaboration, a playlist of songs selected by Moe Shop is now available on Spotify. Be sure to give it a listen!

【Spotify】Kyary Pamyu Pamyu meets Moe Shop

Kyary Pamyu Pamyu to Embark on First World Tour in Five Years

The Kyary Pamyu Pamyu World Tour 2023, titled POPPP, will begin this May!

This will be the singer's first world tour in five years, as last year's planned international tour was canceled. Kyary will perform in six cities–New York, Los Angeles, Madrid, Barcelona, Paris, and London. The Spain shows will take place during the massive Primavera Sound music festival.

In 2022, Kyary Pamyu Pamyu performed as the final act on the Gobi Stage at Coachella, the world's largest music festival held in Indio, California. The artist received accolades from both the American audience and viewers from around the world. This year, Kyary is continuing to attract attention as the first Japanese solo artist to be featured in Global Spin, an original showcase of artists from around the world made by the Recording Academy in the U.S., the organizer of the Grammy Awards.

Information

Kyary Pamyu Pamyu WORLD TOUR 2023 – POPPP –

May 15, 2023
New York, U.S. – Webster Hall
https://www.axs.com/events/471552/kyary-pamyu-pamyu-tickets?skin=websterhall

May 17, 2023
Los Angeles, U.S – The Novo
https://www.axs.com/artists/1262/kyary-pamyu-pamyu-tickets

June 2, 2023
Barcelona, Spain – PRIMAVERA SOUND 2023 Parc del Forum
https://www.primaverasound.com/

June 5, 2023
Paris, France – Cabaret Sauvage
https://www.seetickets.com/fr/d/event/kyary-pamyu-pamyu/cabaret-sauvage/8769451

June 7, 2023
London, England – London EartH Halll
https://www.gigsandtours.com/tour/kyary-pamyu-pamyu

June 9, 2023
Madrid, Spain – PRIMAVERA SOUND 2023 Ciudad del Rock
https://www.primaverasound.com/

More Details
https://wt2023.kyary.asobisystem.com/

London-based Japanese Artist Rina Sawayama Covers Hikaru Utada's Legendary 'First Love' at Tokyo Concert

Born in Niigata and living in London, international singer-songwriter Rina Sawayama released her second album Hold The Girl on September 16, 2022. Her Japan-based Hold The Girl Tour saw successful shows in Nagoya, Osaka, and Tokyo, with Sawayama generating plenty of buzz. During the final show on the tour, the singer surprised the audience with a cover of Hikaru Utada's hit songFirst Love. The video of this incredible performance is now available to watch on YouTube!

First Love – Rina Sawayama (Hikaru Utada Cover, Tokyo Garden Theatre)

Prior to the Tokyo show, Sawayama took to Instagram, posting a comment for fans. "Since this is the biggest show I've ever done, I think I should cover a special Japanese track to commemorate the event," she said. The singer had previously asked fans to share the songs they'd most like to see performed.

"Without this artist and without this song, I probably wouldn't have become a musician or an artist. I heard this track when I was around six years old, and I remember dancing for my parents who were sitting on the sofa. This artist also celebrated her 40th birthday yesterday. This is my first cover, but I think it's the perfect way to commemorate this special event. Please enjoy," Sawayama concluded.

The audience responded to this surprise with a chorus of excitement, and this was surely an unforgettable night for many fans.

Rina is currently on the Hold The Girl Tour in Europe. At the end of March, she will make her Hollywood debut in the fourth John Wickmovie.

FRUITS ZIPPER Completes First Tour, Announces Solo Concert in Taiwan and 1st Anniversary Shows in Tokyo and Osaka

FRUITS ZIPPER held the final performance of FRUITS ZIPPER 1st LIVE TOUR 2023 -WINTER- ♡BE AT THE HEART♡ on February 12, 2023 at LINE CUBE SHIBUYA.

FRUITS ZIPPER debuted on April 24, 2022. The group's song Watashino Ichiban Kawaiitokoro skyrocketed in popularity after its release on April 29 of last year, becoming a huge hit on TikTok and one of the most popular tracks in the idol world.

Much like the numerous festivals FRUITS ZIPPER appeared in during the summer of 2022, as soon as the concert ended, the idol fans packed into the venue quickly dispersed as if a storm had come through.

The group's first tour was announced in October 2022. The announcement that there would be a male-only show and a female-only show was a surprise to many female fans, and two weeks later it was announced that the Osaka venue would be changed to Namba Hatch due to huge ticket sales. Soon after, it was announced that the tour finale would be held at LINE CUBE SHIBUYA.

The difficulty of organizing a tour for a new idol group and attracting fans seemed clear, but the shows at LINE CUBE SHIBUYA and Namba Hatch managed to sell out well before the tour began, creating a ton of buzz in the idol world.

LINE CUBE SHIBUYA was close to overflowing, and the live soundtrack was created by trackmaker YUC'e for this tour. As the live title ♡BE AT THE HEART♡ suggests, the emotion and excitement in the venue continued to grow with every heartbeat.

Following the opening track, FRUITS ZIPPER appeared on stage to perform the song RADIO GALAXY, also by YUC'e. The tour finale opened with this beloved track that perfectly expresses the group's NEW KAWAII concept.

Following this, the group performed the new song Welcome to the ♡ Furuppa!, a track that introduces each member. Performed for the first time on this tour, it's a great way to open a concert and get the audience hyped and up to speed.

The members introduced themselves during the MC, expressing their thoughts about the concert and sharing their gratitude to the packed house. While the members were nervous, Karen Matsumoto was smiling as usual. "I'll do my best," she said with a smile.

Following the MC, the group continued with well-known tracks like Kimi no Akarui Mirai wo Oikakete, skyfeelan, Re→TRY & FLY, and We are Frontier.

After a video was played, Yui Sakurai's solo part in the song Sekai wa Kimi kara Hajimaru drew the audience's attention to the stage. Performed during this tour, the song Zutto, Zutto, Zutto shared FRUITS ZIPPER's kawaii vibe.

During the next MC statement, FRUITS ZIPPER began a special corner seen on Atsumare☆Furuppa!, a stream available once a month on OPENREC.tv to subscribers only. Titled 'The Valentine's Day Heart-Pounding Phrase Contest,' the members shared their most romantic and heartwarming lines with the audience. For those who were unable to attend the show, be sure to tune into Atsumare☆Furuppa!

As the concert continued, the audience waved their towels in the air along with Furefure Summer! and Kanpeki shugi de☆, both staples at FRUITS ZIPPER live shows. The group's anthem Watashino Ichiban Kawaiitokoro began to play, summoning heart-shaped messages to fall from the ceiling and rain down on fans.

The final song performed was Happy Chocolate, which was just released on February 1. The song was created to become a standard Valentine's Day track for Gen Z and has already become a smash hit on TikTok.

FRUITS ZIPPER appeared on stage for an encore following seemingly endless clapping. The members took turns chatting about anything on their minds, with many of the girls shedding some well-earned tears. "From Harajuku to the world! Please continue to follow us," Luna Nakagawa cried out to the crowd.

For the encore, the group performed the never-before-heard song Cho Medetai Song ~Konna ni Shiawase de Iinokana?~ (The Super Joyful Song ~Is It Okay to Be This Happy?~), created by Yamamoto Sho and Gento Miyano.

The tour's finale concluded with a second performance of Happy Chocolate.

During the last MC, the members announced that they would be holding a solo concert in Taiwan. An official fan club for KAWAII LAB. was also announced, along with a FRUITS ZIPPER first anniversary concert to be held on May 4 at Toyosu PIT and on May 26 at Namba Hatch.

After this tour finale at LINE CLUB SHIBUYA and the group's first-anniversary concert announcements, I could only think one thing–" It's only been a year?!"

It's clear that FRUITS ZIPPER is only getting started. Be sure to follow them as they continue to take the idol world by storm in 2023.

Text: Mizuki Hasegawa

Photo: Yuuna Yoshimori

FRUITS ZIPPER 1st Anniversary Photo Book

Tokyo News, the publisher of B.L.T and other popular TV magazines, will release a photobook celebrating the first anniversary of FRUITS ZIPPER on April 24, 2023!

FRUITS ZIPPER is a 7-member idol group that debuted in April 2022 under the concept "from Harajuku to the World." The group's second single Watashino Ichiban Kawaiitokoro became a massive hit on TikTok, pulling in over 600 million views. Having become incredibly popular, the group's first solo tour in Tokyo, Nagoya, and Osaka in February sold out at all venues, including LINE CUBE SHIBUYA and Namba Hatch. A photobook commemorating the first year of FRUITS ZIPPER will be on sale in April.

FRUITS ZIPPER Live in Taiwan 2023

BAND-MAID Reveals 10th Anniversary Tour in Japan and America, Additional Festival Appearances

Having amassed a global audience, BAND-MAID is starting off 2023 in the best possible way. The group performed their largest-ever concert, BAND-MAID TOKYO GARDEN THEATER OKYUJI, on January 9. Soon after, they announced a domestic and overseas tour set to begin in March 2023.

BAND-MAID's 10th-anniversary tour will commence with a show in Kumamoto on March 23 and will then travel to 20 cities around Japan for a total of 23 performances. The legendary finale will take place at Yokohama Arena on November 26, marking the largest-ever solo performance for the band. In May and August, the girls will tour the U.S. and appear at a number of major festivals. More details will be announced soon.

The sold-out TOKYO GARDEN THEATER performance is also available to stream. Tickets are now available through February 8 and fans around the world are welcome to enjoy this
incredible show from the comfort of their own home!

To commemorate BAND-MAID's 10th anniversary, a high-resolution stream of all works
after the group's transfer to Pony Canyon will be available on streaming sites starting January 10.

Atarashii Gakko! to Perform Solo at Zepp Venues in Tokyo and Osaka in Spring 2023

Atarashii Gakko! will hold solo concerts at Zepp venues in Tokyo and Osaka in April and May of 2023.

These performances will be held almost a year after the girls held their solo concert at Zepp DiverCity in Tokyo last May. This year's events will be held at Zepp Osaka Bayside on April 30 and Zepp Shinjuku in Tokyo on May 2.

ATARASHII GAKKO! – HANAKO (Official Music Video)


ATARASHII GAKKO! – Pineapple Kryptonite (Official Music Video)


Information

Atarashii Gakko! at Tokyo & Osaka Zepp
-We're working on some amazing new songs and we're dying for everyone to see our newest evolution (Tentative title)-
April 30, 2023 – Zepp Osaka Bayside
May 2, 2023 – Zepp Shinjuku (Tokyo)
Fan's Presale Tickets (Starting January 1)
https://www.fansnet.jp/leaders

ONE OK ROCK to Join Muse on North American Tour Starting February 2023

ONE OK ROCK has become an incredible success with audiences around the world. The Japanese rock band will join Muse's North American tour starting in February 2023 as special guests along with Evanescence, and the three musical acts will tour arenas in the US and Canada for around a month.

The band released their album Luxury Disease in September. Immediately following this, ONE OK ROCK headlined a 23-city North American tour, selling out a number of shows.

Be sure to follow ONE OK ROCK as they continue their upward climb to become international superstars!

WILL OF THE PEOPLE WORLD TOUR 2023

02/25/2023 Chicago, IL – United Center

02/26/2023 Minneapolis, MN – Target Center

02/28/2023 Austin, TX – Moody Center

03/02/2023 Houston, TX – Toyota Center

03/03/2023 Ft. Worth, TX – Dickies Arena

03/05/2023 St. Louis, MO – Chaifetz Arena

03/07/2023 Columbus, OH – Nationwide Arena

03/09/2023 Toronto, ON – Scotiabank Arena

03/11/2023 Quebec City, QC – Videotron Centre

03/12/2023 Quebec City, QC – Videotron Centre

03/14/2023 Montreal, QC – Bell Centre

03/15/2023 Montreal, QC – Bell Centre

03/17/2023 New York, NY – Madison Square Garden

03/19/2023 Philadelphia, PA – Wells Fargo Center

*ONE OK ROCK will perform from February 25 until March 19.

BAND-MAID Completes U.S. Tour with Over 20,000 in Attendance, Welcomed Back to Japan in a Huge Way

Globally popular girl band BAND-MAID has successfully concluded their first solo tour in the U.S. in about three years. Immediately after returning to Japan, the group was met with a sold out crowd when they performed as the supporting act for the Guns N' Roses JAPAN TOUR held at Saitama Super Arena on November 6, 2022. Following the event, BAND-MAID even became a trending topic on Twitter!




BAND-MAID made a splash during their U.S. tour, playing a total of 13 packed shows and getting plenty of media coverage. Given that the Guns N' Roses JAPAN TOUR was the group's first performance after returning home to Japan, it received massive attention from fans both locally and abroad.


Miku Kobato (Gt. & Vo.), KANAMI (Gt.), MISA (Ba.), and AKANE (Dr.) strolled onto the stage and performed the instrumental track from now on. The audience was shocked watching these petit girls in maid outfits perform such heavy rock! SAIKI (Vo.) appeared as the following song, DICE, began to play, with her powerful voice tearing through the intense ensemble. BAND-MAID's goal of world domination certainly came through in their performance–of course, the song DOMINATION began to huge fanfare, with the girls being shown on the big screen next to the stage. It was clear that each of them was enjoying the performance to the fullest. During Manners, MISA's incredible bass took the spotlight, with the sound of shredding guitar punctuating the powerful track. Miku Kobato's strong chorus was also a fan favorite, and as the song Daydreaming began, SAIKI's voice captivated the audience. BAND-MAID left the stage amidst a sea of applause after performing a total of seven songs ranging from quiet instruments to rock ballads.

 

In addition to their appearance at MERRY ROCK PARADE 2022 on December 18 in Japan, the band will also perform solo at Tokyo Garden Theater on January 9, 2023. This will be the largest solo performance in the band's history, so fans won't want to miss it!

 

Information

MERRY ROCK PARADE 2022

Dates: December 17 – 18, 2022
Time: Doors open at 9:00, show starts at 11:00
BAND-MAID will perform on December 18
http://www.merryrockparade.jp/

Solo Performance

BAND-MAID TOKYO GARDEN THEATER OKYUJI
Tickets now available to preorder at eplus
Date: January 9, 2023
Sales Period: November 5 – November 13 at 23:59
Tickets: https://eplus.jp/band-maid/

BABYMETAL Announces First International Tour in 3 Years with Swedish Metal Band Sabaton

Joakim Brodén, the vocalist for Sabaton, served as a guest performer on the song Oh! MAJINAI (feat. Joakim Brodén) found on Babymetal's third album METAL GALAXY released on October 11, 2019. This will be the first time that the two groups have performed live together since the BABYMETAL WORLD TOUR 2018 in JAPAN EXTRA SHOW – DARK NIGHT CARNIVAL in October 2018 at Saitama Super Arena.

BABYMETAL will release its first concept album, THE OTHER ONE, on March 24, 2023. Ahead of release, five singles will be available to download and stream worldwide, with one releasing in October, November, January, February, and March. Be sure to watch out for Babymetal as they rock the world once again!

BE:FIRST Starts Nationwide Tour Featuring 29 Shows in 17 Cities, Announces Additional Dates

30.September.2022 | MUSIC

BE:FIRST, the 7-member boy band created from winners of SKY-HI's 6-month "THE FIRST" audition, has continued to rise the ranks in the Japanese pop music world. The group has just started its first nationwide tour, 'BE:FIRST 1st One Man Tour "BE:1" 2022-2023,' which will see the boys perform 29 shows in 17 cities. The tour began in Hiroshima on September 23. 

The group released its first album, BE:1, on August 31, and it immediately reached the top slot on the Billboard Japan Overall Albums Chart. At the first stop on the tour, the boys performed plenty of tracks from the album, including Bye-Good-Bye which has been streamed over 100 million times. They also sang the album's leading track Scream and Message, their first love song. As BE:FIRST's popularity soars, the group announced two additional shows to take place in Tokyo and Osaka. Keep an eye on what they do next!

Additional Performances

January 26, January 27, 2023 – Yoyogi National Gymnasium, Tokyo

January 31, February 1, 2023 – Osaka-Jo Hall, Osaka