Godfather of Kawaii Sebastian Masuda Celebrates 30 Years in Showbiz with Pop-Up Shop at Roppongi Hills
Sebastian Masuda is a powerhouse of all things cute. From starting the popular Harajuku-based brand 6%DOKIDOKI in 1995 to creating the now-legendary music video for Kyary Pamyu Pamyu's PONPONPON, Masuda is now celebrating 30 years in the industry. An exhibition of the artist's works will be shown in an upcoming exhibition in both Tokyo and Osaka from Fall 2021 until 2022. Prior to that, a Sebastian Masuda pop-up shop is coming to Roppongi Hills and Shibuya PARCO starting this month!
From September 23 until October 17, the art goods brand Sebastian Masuda ART will hold a pop-up shop within the Mori Art Museum Shop on the third floor of Roppongi Hills West Walk. In addition to the latest art goods, including the brand-new 'Inner Voyage' series, a number of Masuda's colorful art pieces will be on display, with some being for sale. 
When visiting Roppongi Hills, don't forget to head up to the 52nd floor for the 60th Anniversary Sanrio Exhibition: The Beginning of Kawaii, running from September 17 until January 10, 2022. Sebastian Masuda's work 'Unforgettable Tower' will be on display when entering the event, while the Tokyo City View store will be selling some of the artist's products! Basically, both the 3rd and 52nd floors will be nothing but kawaii. 
Mori Art Museum Shop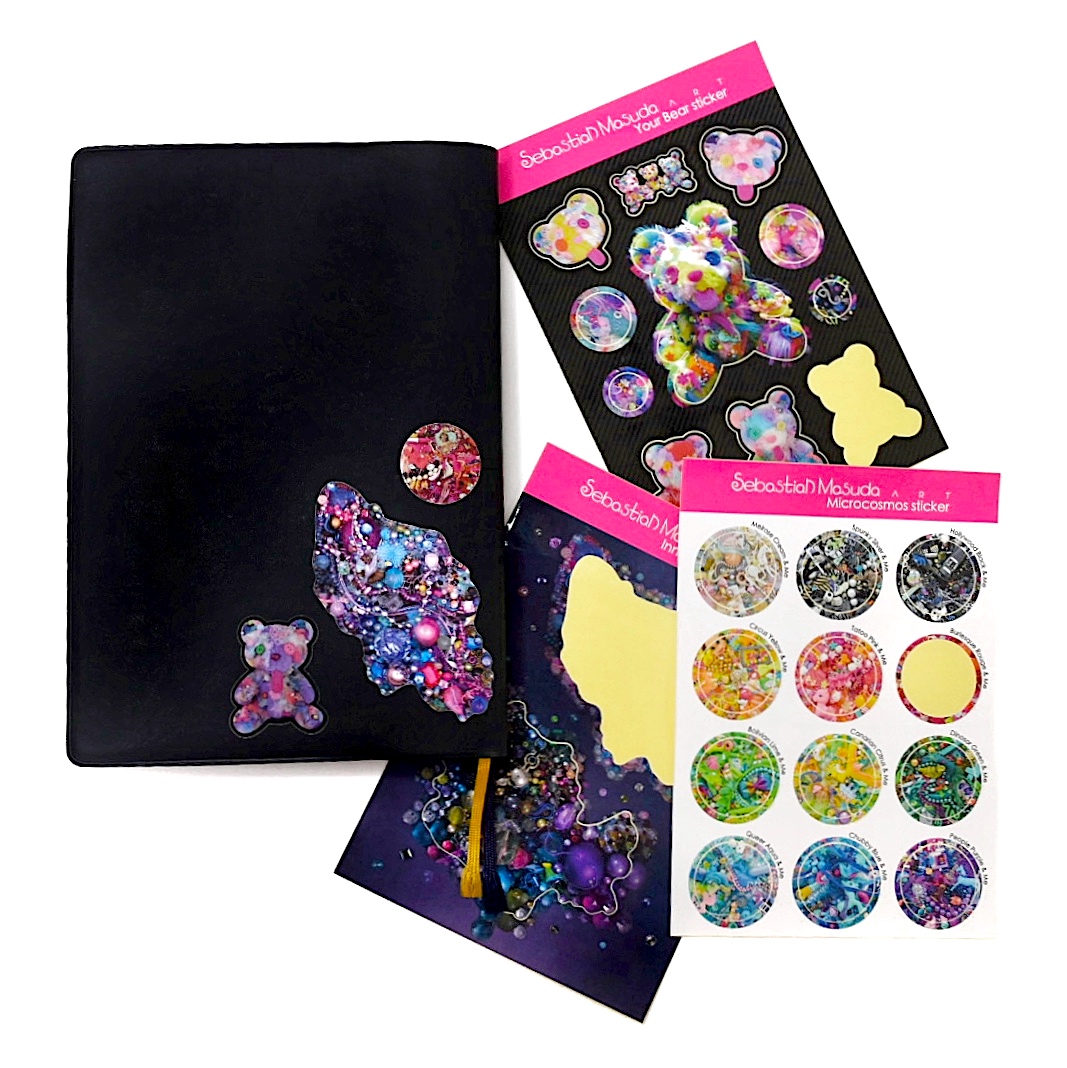 Stickers: ¥550 – ¥2,860 (Tax Included)
 Inner Voyage T-Shirt: ¥7,480 (Tax Included)
Microcosmos -Tattoo Pink & Me-   
Sebastian Masuda & 6%DOKIDOKI 1995→2021
Mesh Top:  ¥10,450 (Tax Included)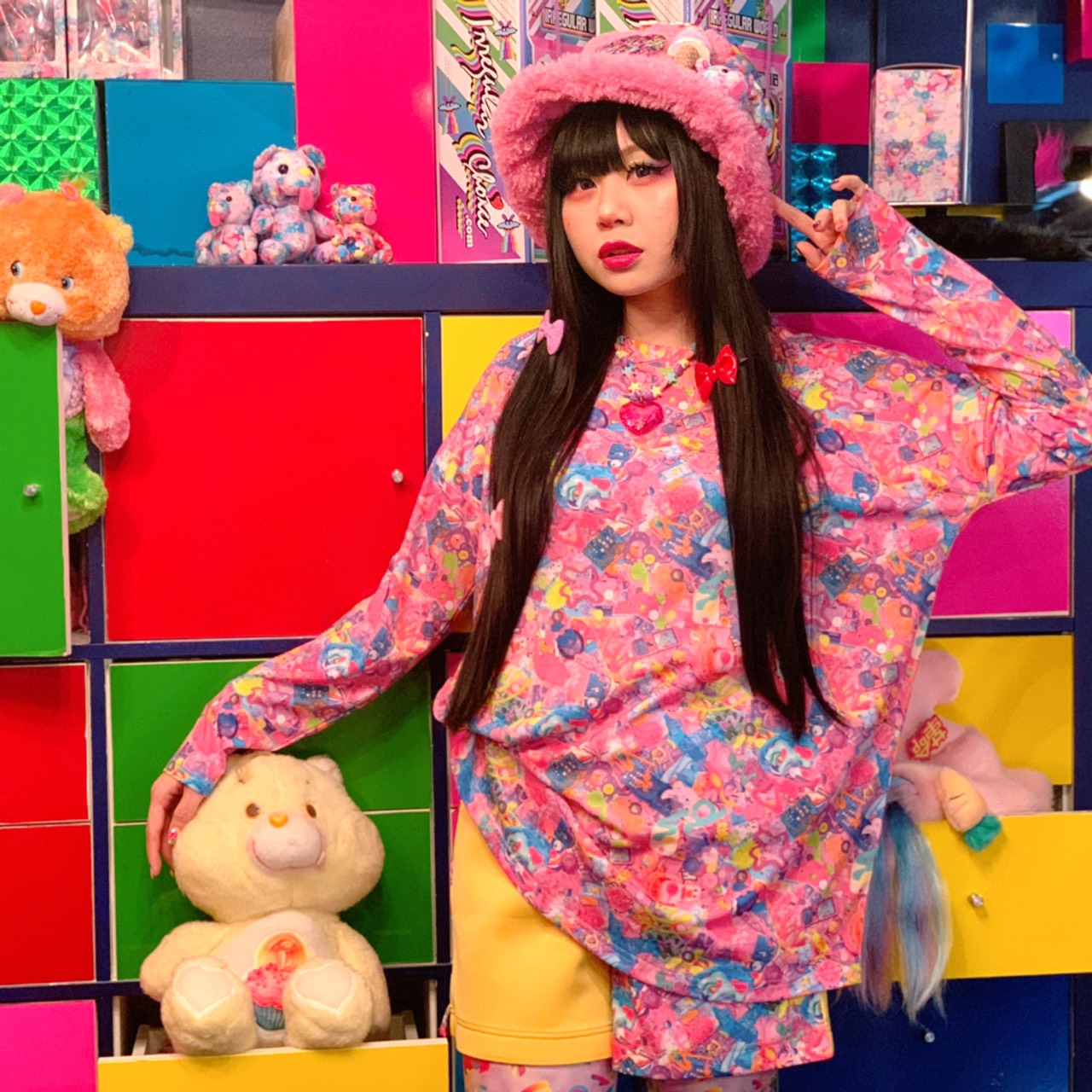 Long Sleeve T-Shirt: ¥8,250 (Tax Included)
DOKI DOKI Earrings: ¥4,290 (Tax Included) / Logo Plate Necklace: ¥7,590 (Tax Included) / 6% Logo Pochette: ¥6,050 (Tax Included)
Charm Pouch – Kawaii Company: ¥2,860 (Tax Included) / Sebastian Masuda STUDIO COLOR PALETTE: ¥4,400 – ¥2,860 (Tax Included) Felissimo
The Sebastian Masuda & 6%DOKIDOKI 1995→2021 event will be held from September 17 to October 3 at Hobonichi CultureN, located inside Shibuya PARCO. Guests will be able to look back at the 26-year history of the 6%DOKIDOKI brand. 
2021, much like 2020, has lost a lot of it's brightness due to the ongoing pandemic. Why not surround yourself with some kawaii goods to raise your spirits? 
Information
Sebastian Masuda Pop Up Store
Running: September 23 – October 17, 2021
Address: Mori Art Museum Shop (Roppongi Hills West Walk 3F,  6-10-1, Roppongi, Minato-ku, Tokyo)
Details: https://art-view.roppongihills.com/jp/shop/
Sebastian Masuda & 6%DOKIDOKI 1995→2021
Running: September 17 – October 3, 2021
Address: Hobonichi CultureN (Shibuya PARCO 4F, 15-1 Udagawa-cho, Shibuya-ku, Tokyo)
RELATED ENTRIES
Atarashii Gakko! and PARCO Culture Festival P.O.N.D. Release Special Collab Video

In 2021, the four-member girl group Atarashii Gakko! joined 88rising, a U.S.-based label helping to promote Asian music globally. Since then, they have continued to attract worldwide attention with their unique sound and eccentric choreography. Now, to promote P.O.N.D., a 10-day culture festival at Shibuya PARCO, the two have come together for a special collaborative video!

ATARASHII GAKKO! × P.O.N.D. – Pineapple Kryptonite (SHIBUYA SHORT VER.)





Produced by Money Mark, known as the best sound producer and melody maker in the alternative music world and working with the Beastie Boys for nearly 20 years, Pineapple Kryptonite has been a smash hit. Though the original music video was filmed in California, this version shows the girls fighting off a monster attacking Shibuya PARCO. The video was directed by up-and-coming filmmaker Oudai Kojima. 

The video is currently available on YouTube, and will also be popping up on screens across Shibuya during the cultural festival!

Comment from the Members

"We walked around PARCO so many times our feet ached, and we shouted so loudly at the giant monster our throats were sore! The best part was messing with the avocados, gummies, and dry ice in the lab scene. 

Be sure to check out the video we made with Shibuya PARCO!"

Information

P.O.N.D. ~Encounter an Unknown World at PARCO~

Running: October 8 – October 17, 2021

Location: Shibuya PARCO (PARCO MUSEUM TOKYO, GALLERY X)

Atarashii Gakko! X P.O.N.D.

Pineapple Kryptonite (SHIBUYA SHORT VER.)

Nagoya Castle "O.SHIRO Collection" Fashion Show Streaming Online

GQ Japan and ITOCHU Textiles have released a video of The "O.SHIRO" Collection Vol.2 fashion show, highlighting domestic textile production areas around Japan. The video is now available on the special GQ Japan website, as well as the GQ Japan official YouTube channel. 

GQ was first published in the United States in 1957 and is now published in 21 countries around the world. 

The "O.SHIRO" Collection (o-shiro meaning 'castle' in Japanese) is a collaborative collection bringing Japanese textile producers and fashion brands together. The first event was held at Okayama Castle in 2019, with Okayama being an area known for denim production. The second event was held at Nagoya Castle, located in the famed Bishu wool production area. The theme of the most recent showing was 'ethical consumption,' a big topic in manufacturing. Three increasingly global brands took center stage: ANREALAGE, beautiful people, and sulvam. Models present include Taiki&Noah, Dori Sakurada, Mila Aina, and Satsuki Nakayama. 

A patchwork collection from ANREALAGE using textiles from the Bishu region was released on October 4. On October 7, a collection from beautiful people will include textiles from Wakayama, while on October 14, sulvam will release a collection made from Okayama and Hiroshima denim. Certain pieces from The "O.SHIRO" Collection will be on display on the 3rd floor of Shibuya PARCO. 

『GQ JAPAN』Illustration by Koji Toyama (C) 2021 Conde Nast Japan. All rights reserved.

Information

The "O.SHIRO" Collection

When: October 20 – October 24, 2021, from 11:00-20:00

*Hours are the same as Shibuya PARCO. 

Address: Shibuya PARCO 3F (15-1 Udagawa-cho, Shibuya-ku, Tokyo)

Official Site: https://www.gqjapan.jp/_special/toc/2021/

Masuda Sebastian is Spreading KAWAII Culture with these Commemorative Events

Artist Masuda Sebastian, a leading figure in Japan's KAWAII culture, is celebrating his 30th year of activities this year. His works express KAWAII from a variety of perspectives, taking the world by storm and creating a new KAWAII culture with new values. His store 6%DOKIDOKI opened in Harajuku in 1995, and Masuda has since been working as an art director, spreading KAWAII culture throughout Japan and across the world. 

He has also been in charge of the art direction and costumes for Kyary Pamyu Pamyu's music videos since her debut in 2011, often featuring 6%DOKIDOKI pieces. The combination of art and music captured the imagination of fans across the globe, inviting them into their world of music.

 

 

To commemorate his anniversary, fans will be able to experience his artwork, both past and present, at a variety of special KAWAII events. 

Be sure to check out these unmissable events and exhibitions!

 

【SPOT】Masuda Sebastian and 6%DOKIDOKI 1995→2021

Duration: Until October 3 2021

 

Masuda Sebastian opened 6%DOKIDOKI in Harajuku back in 1995. To commemorate the 26th anniversary since it's opening, a limited pop up shop has opened in Shibuya PARCO to celebrate the brand's history. Here you can find posters featuring designs from the 90's alongside modern 6% products. 

 

Details: https://www.moshimoshi-nippon.jp/ja/498415

【SPOT】MORI ART MUSEUM – Masuda Sebastian Pop Up Store

Duration: Until October 17 2021

A pop up shop from Masuda Sebastian's art brand, Sebastian Masuda ART. The shop will stock the latest goods from the brand, alongside a selection of art pieces. The store will be opened in TOKYO CITY VIEW on the 52nd floor of the Roppongi Hills Mori Tower, which is also hosting the 'Sanrio Exhibition: 60 Years of Japanese Kawaii History,' where you can view Masuda Sebastian's 'Unforgettable Tower' art piece. 

Details: https://www.moshimoshi-nippon.jp/ja/499990 

 

【SPOT/FOOD】Masuda Sebastian x Conrad Osaka Second Collaboration

Duration: October 31 2021 

Masuda Sebastian has worked closely with Conrad Osaka's executive pastry chef Jimmy Boulay to create a limited-time Halloween sweets buffet. Why not treat yourself to a colorful sweets party this Autumn, packed full of seasonal ingredients?

Details: https://www.moshimoshi-nippon.jp/ja/492445 

【SPOT】Yes, Kawaii Is Art

Duration: November 12 ~ November 21 (closed Monday,  Tuesday, Wednesday) 

A Masuda Sebastian art exhibition hosted in Kitakagaya, Osaka's City of Art. Here you can experience his artwork while discovering the "KAWAII" that has influenced the world and sparked new ideas.

Details: https://www.moshimoshi-nippon.jp/503083

【BOOK】Masuda Sebastian's Artworks PAINT IT, COLORFUL

 Published in 2020, this is Masuda's first artbook. It compiles a variety of his works, including those from Kyary Pamyu Pamyu's PONPONPON and Fashion Monster music videos, the KAWAII MONSTER CAFE restaurant, and Sanrio Puroland's Miracle Gift Parade. Dive into Masuda Sebastian's world with this colorful book which showcases all his art from around the world. 

 Details: https://www.moshimoshi-nippon.jp/ja/345928 

 

【SPOT】Future Peace Nursery

Masuda Sebastian was the visual producer for this nursery which opened in Sendagaya in June 2019. The community contribution project was headed by childcare facility developer Edulead and ASOBISYSTEM, which fosters and spreads Japanese culture. Masuda's colorful design creates a bright and charming space, ideal for nurturing children's growth. 

Details: https://www.moshimoshi-nippon.jp/ja/223582 

TEXT:Natalie(MOSHI MOSHI NIPPON)

Masuda Sebastian Exhibition "Yes, Kawaii is Art' Held in Kitakagaya, Osaka's City of Art

Artist Masuda Sebastian will be holding the 'Yes, Kawaii is Art' exhibition in Osaka and Kyoto. The exhibition will be starting in Kitakagaya, Osaka's City of Art, held between October 30 and November 30.

 

The exhibition explores the current state of 'Kawaii,' a keyword which has influenced the world, along with a selection of Masuda Sebastian's works.

In 2020, Masuda started conversations with Kawaii communities across the globe to light up the world with vivid colors following the pandemic. What is Kawaii? Why does Kawaii surpass borders, generations, and gender, as the community moves onwards? This exhibition investigates the depths and new possibilities that Kawaii offers, through the works of Masuda Sebastian and his activities as an activist. 

 

Special Focus

Venue 1: Japan's First Colorful Room Exhibition


The first venue features a full-room installation titled 'Colorful Rebellion Seventh Nightmare.' 

The piece was first released in 2014 and was created as a self-portrait representing the seven deadly sins. Following its first exhibition in Chelsea, New York, it has since been exhibited in Florida's Young at Art Museum, Milano's Milano Salone, Amsterdam's Tropenmuseum, and Antwerp's Museum aan de Stroon. This will be the first exhibition of this work in Japan.

Second Venue: An Experience Based on the Artist's Memories

The second venue features the experience-type exhibit, 'Fantastic Voyage.' The piece, which was originally shown for just three days in Tokyo during February 2021, has been reworked and will be exhibited once more. The art reflects the current world, where everything is rapidly changing due to the Covid pandemic. 

A transparent capsule drifts through space, travelling through a world studded with snippets of sound and words. Both the guest experiencing this world and the person within the capsule are experiencing the same time together without exchanging words. It is the concept and prototype of "a device that imagines the future in an isolated world." The performance lasts for 30 minutes, reaching deep into the viewer's senses.

Venue Three: Harajuku's Famous World Time Clock is Revived in Two New Forms


The third venue features the famous 'Colorful Rebellion -WORLD TIME CLOCK-,' a piece which was beloved by the city of Harajuku since its unveiling in 2015, remembered by tourists from all over the world. The original 2015 world clock, which was displayed on the streets of Harajuku, has been reconstructed while retaining the original faded materials. The 2019 version, which was made based on the colors of the original world clock, will also be displayed. 

 

The Tokyo exhibition was expected to open in September 2021 but was postponed due to Covid-19. Details for the new exhibition dates will be announced in the future. 

 

"I want to see the future of Kawaii. That is why I cannot stop creating; that is what drives me." – Masuda Sebastian. 

Information

 "Yes, Kawaii is Art"

First Venue – kagoo: 5-4-18 Kitakagaya, Suminoe-ku, Osaka

Duration: October 30 ~ November 21 2021 (Closed Sunday and Tuesdays, closed on November 17.)

Opening Hours: 12:00 ~ 18:00

 

Second Venue: 5-5-1 Oto Building, Kitakagaya, Suminoe-ku, Osaka

Duration: November 5, 6, 7, 12, 13, and 14, 2021

Opening Hours: 13:00 ~ 14:00 / 15:00 ~ 16:00 / 17:00 ~ 18:00 (*Only open between 17:00 ~ 18:00 on November 14.)

 

Third Venue: 5-2-28 Sendori Bunka Hall, Kitakagaya, Suminoe-ku, Osaka

Duration: November 12 ~ November 21 (Closed on Monday, Tuesday, Wednesday)

Opening Hours: 12:00 ~ 18:00

Official Site: https://sebastianmasuda.com 

Enka Superstar Aki Yashiro Celebrating 50 Years in Showbiz at Shibuya PARCO

Shibuya PARCO is about to be hijacked by Enka singer Aki Yashiro! Celebrating 50 years since her major debut, the singer will transform Union Records Shibuya into Yashiro Records, and the analog version of Aki Yashiro Best Hits 8 will be sold exclusively at this location. The takeover begins September 25, the exact date of her debut. 

Aki Yashiro Best Hits 8 album jacket

Booklet

Poster on the reverse side of booklet & Aki Yashiro Best Hits 8 bonus: Original Bromide (2L-size)

Limited-edition 2G T-shirt: ¥7,500 (M/L sizes available)

Aki Kannon Deco-Truck

Aki Yashiro Best Hits 50

Aki Yashiro's Best Hits – New Recordings and New Singles

 

The jackets for the analog version of Aki Yashiro Best Hits 8 and the 50th-anniversary Greatest Hits album were created by artist Keiichi Tanaami and photographer team TOKI, with art direction provided by Naohiro Ukawa. A number of limited-edition products featuring the new art will be sold at 2G on the second floor of Shibuya PARCO. 

Aki Kannon, one of the more famous deco-trucks, will be parked on the first floor Park Avenue side of Shibuya PARCO for a limited time, from September 24-26. 

Basketball Culture Space TOKYO 23 Reopens on Cat Street in Harajuku

TOKYO 23, a shop promoting basketball culture, is set to reopen as a large-scale shop in Harajuku on September 18, 2021. 

TOKYO 23 x JUN INOUE TEE (Black/White): ¥5,500 each (Tax Included)

Guests will enter the space to find a basketball court at the center, both keeping with the theme of the shop and maintaining a minimalist vibe. The location is bold, using a balance of different upcycled materials and gray-tone colors reminiscent of the Tokyo streets. 

JUN INOUE was in charge of designing the lanterns throughout the store, giving a more traditional Japanese feel to the modern storefront. The store is dotted with artworks by Inoue as well as Reina Koyano, both located in Los Angeles. 

The coffee shop "LATTEST" will also be a permanent fixture in the store, and is the perfect place for visitors to relax and take in the art and feeling of the TOKYO 23 store. To commemorate the opening of this massive space, special collaborative JUN INOUE x TOKYO 23 T-shirts will be on sale for a limited time. 

Information

TOKYO 23

Opening: September 18, 2021

Address: Harmony Harajuku 1F (4-28-21 Jingumae, Harajuku, Tokyo)

Hours: 11:00-22:00

Phone: 03-6804-2635

Official Site: https://www.atmos-tokyo.com/brands/tokyo23

'Masuda Sebastian and 6%DOKIDOKI 1995→2021' Limited Shop to Open in Shibuya PARCO

The 'Sebastian Masuda and 6%DOKIDOKI' limited shop will be opening in the Shibuya PARCO 4F 'Hobonichi Karucha-n' section between September 17 and October 3 2021 to mark 26 years since the opening of Harajuku store 6%DOKIDOKI.

The brand formerly opened a store in Shibuya PARCO Quattro in 1998 and held a pop-up store in 2011. Now, for the first time in 10 years, 6%DOKIDOKI is coming back to Shibuya PARCO, selling the latest fashion items while reprinted posters featuring designs from the 90's will be available for pre-sale.

The shop will also exhibit photographs from the store opening and pages from old catalogs, along with product design artwork. This exhibition will allow you to experience the colorful and powerful evolution of "Kawaii" from the 90's to the current day.

Experience "Sebastian Masuda and 6% DOKIDOKI", the leader of KAWAII culture, at the "Almost Nichi Karchan", a cultural information center that introduces Tokyo's recommendations such as exhibitions, movies, plays, and music.

Learn more about KAWAII culture leaders 'Sebastian Masuda and 6%DOKIDOKI' at the Hobonichi Karucha-n, a cultural information center that introduces Tokyo's recommended exhibitions, movies, plays, and music.

 

Comment from Sebastian Masuda

"In 1995 I was 25, and could have never imagined that my future would turn out this way. However, even though 26 years have passed, the shop is still a place that combines fashion, culture, and art. Do you have enough colorful pieces these days? Whether it's your first time visiting or you've been with us for a long time, I hope that you will check out the exhibition."

An interview with Sebastian Masuda will also be released at 11:00 on September 17 on the 'Hobonichi Itoi Newspaper' website, so look forward to it!

Information

Masuda Sebastian & 6%DOKIDOKI 1995→2021

Duration: September 17 ~ October 3 between 11:00 ~ 20:00

Location: Shibuya 4F Hobonichi Karucha-n

Address: :15-1, Udagawa-chō, Shibuyal

Entry Fee: Free

Official Site: https://www.1101.com/n/s/parco_sebastian/

 

French Artist Jean Jullien Provides Main Visual for Shibuya PARCO Art Week 2021

Last year's Shibuya PARCO Art Week was met with incredible fanfare, and the 2021 event is now set to begin on September 17! This year, acclaimed French artist Jean Jullien is in charge of the main visual for the showing.

The exhibition will be held at NANZUKA 2G, located on the 2nd floor of Shibuya PARCO, as well as within the PARCO MUSEUM TOKYO on the 4th floor.

Shibuya PARCO Art Week 2021 Features

Martin Margiela: In His Own Words

© 2019 Reiner Holzemer Film – RTBF – Aminata Productions

#HotelKawashima

Kensaku Kakimoto Exhibition 'Devoting Time' Collaboration with Luke Bubb, Piotr Stopniak

mono100 x Natsuki Kurachi POP UP

Nori Okawa Solo Exhibition 'Good Boy, More Drunk'

Hikaru Ichijo Exhibition 'CHIDORI ASHI,' with a motif of 'people who are carried away by alcohol'

Mariko Enomoto Solo Exhibition 'Moments,' depicting the fluctuations of daily life

Emi Ozaku Solo Exhibition 'Good something for you'

Exhibition of Tetsuji Aoyama's works, '21XX A Future Odyssey ~Someday in a Hundred Years~

Exclusive collaboration products by VOILLD x FACE on sale

Shun Komiyama Photo Exhibition 'The Wind Responds,' by MIDORI.so Gallery

A group exhibition '' DONOKO? '' Portrait series Curated by TOKYO URBAN ART

"Welcome back to your "Home Position" – Selecting art for the interior based on 'likes'





At 'WHITE CINE QUINTO' on the 8th floor of Shibuya PARCO, visitors can see a powerful documentary film about Martin Margiela, Martin Margiela: In His Own Words. Also on the 8th floor, a hands-on exhibition titled #HotelKawashima will feature Akira Kawashima of the comedy duo Kirin becoming the manager of a hotel. The comedian's voice will also be used for the in-house announcements throughout Shibuya PARCO.

An ART PASSPORT, distributed by the gallery and other stores throughout the complex, contains plenty of information about the events throughout the museum, as well as exclusive special offers. Be sure not to miss the interview with Jean Jullien!

Jean Jullien Exhibition「PAPER PEOPLE」/「POCKET PARENTS」

©Jean Jullien Courtesy of NANZUKA

©Jean Jullien Photo by Shigeru Tanaka Courtesy of NANZUKA

©Jean Jullien Photo by Shigeru Tanaka Courtesy of NANZUKA

Jean Jullien's solo exhibition "PAPER PEOPLE," curated by NANZUKA, will be held at the PARCO MUSEUM TOKYO on the 4th floor, and will depict the creative process of the artist through the medium of paper. Jullien, who has a deep knowledge and love of Japanese manga culture, is sure to bring some charm and comedy to the showing, as is typical of his style. The artist, from Brittany in France, has always been inspired by Japan, and also by the natural beauty of his homeland. Each of the nearly 50 works in the exhibition were created during the Coronavirus pandemic, and 25 special screen prints will be on sale via lottery, both at the event and online.

In the "POCKET PARENTS" exhibition at NANZUKA 2G on the 2nd floor of the complex, Jullien's upbringing and experiences as a parent are expressed in a hilarious story about aging and responsibility. Compared to "PAPER PEOPLE," this offers a different perspective from the artist, which visitors can learn more about in his interview.

American Tech Accessory Store CASETiFY Opens Shibuya PARCO Location

Los Angeles-based lifestyle brand CASETiFY has become globally popular for their smartphone cases and Apple Watch bands. Celebrities and influencers around Japan and abroad have caused an explosion of interest around the world, and now, the first East Japan CASETiFY shop, named CASETiFY STUDIO, is set to open in Shibuya PARCO on September 10, 2021.

The new CASETiFY STUDIO won't only allow customers to create CASETiFY's signature custom cases on the spot, but will also offer a variety of popular print designs and an oversized LED screen. To commemorate the opening of the store, the Yu Nagaba x CASETiFY Collection, which launched and subsequently sold out in 2020, will return exclusively to Shibuya PARCO.

Products at CASETiFY aren't only for the newest phones. There's something for everyone, including drop-proof cases, ultra-protective cases, water bottles, and AirPods cases in new colors. After opening, a number of new collaborations and cases for the newest iPhone will be available as well, so keep an eye out!

A special display within the store will allow customers to experience first-hand the sustainability of all CASETiFY products, with many being compostable and biodegradable. A new three-layer protective mask will also be available, which uses recycled materials for its packaging.

The Shibuya PARCO location will follow in the footsteps of the LUCUA Osaka store, by implementing the RECASETiFY initiative. This aims to reduce plastic waste by transforming used cases into new products. Those who return cases to the store will receive 15 percent off their next purchase.

What kind of case would you like to create at this new location?

Nature-filled Digital Detox Cafe HANARIDA Opens in Harajuku

Zoomers are used to life with their smartphones and computers. While life certainly is more convenient being able to connect instantly with your friends, have you ever felt a certain emptiness despite this? According to the Ministry of Internal Affairs and Communications, young people in their 20s spend approximately four to five hours looking at screens per day. However, sometimes, it can be nice to put down your phone and enjoy a cup of tea with your friends in front of you. With those thoughts, the HANARIDA Harajuku cafe open on August 8 2021. The hidden cafe is filled with flowers and greenery, aimed at adults. Here you can enjoy a quiet time away from the bustle of the city, relaxing with a cup of dry fruit-infused herbal tea.

Every sunday is a digital detox day, meaning that smartphones and laptops are banned in the cafe. You can leave your phone with the staff to receive a free drink. With the comfy interior and a selection of board games, conversations will flow naturally to create a home-like space, even without technology

The flowers and trees in the cafe, which was decorated by a professional flower artist, are all real. The atmosphere changed based on the time of day – the sunshine lights up the cafe while the warm lights make for a relaxing evening. You won't get tired of this cozy space! 

Experience relaxation away from the busy city while watching the flowers bloom throughout the day, as you puff on a dried fruit Hanakemuri hookah. The hookah used by HANADIRA is both nicotine and tar free, meaning they can be enjoyed by non-smokers. 

Their drink selection for Valentine's day 2021 was a huge hit on social media, particularly the Sakicha dry fruit tea. The tea is now available on the menu, so make sure to try it for yourself!

Information

HANARIDA Harajuku

Opening Date: September 8 2021 

Opening Hours: 11:30 ~ 24:00 (No regular holidays)

※Closes at 20:00 until September 12 due to the current state of emergency declaration.

Address: Section L Pop-up House 2F 4-27-2, Jingumae, Shibuya, Tokyo 

Seven minute walk from JR Harajuku Station

https://goo.gl/maps/bXVEsW735gHT7kZD9 

※Under 20s are denied entry to the cafe

Official Site: https://hanarida-official.com/ 

Adorable Halloween Dessert Buffet to be Served at Conrad Osaka

Hotel Conrad and Sebastian Masuda, known worldwide for his 'kawaii' works, are collaborating for the second year for a scrumptious Halloween event. Titled OWNER OF A COLORFUL HEART Halloween Sweets Buffet, the tasty treats will be available starting September 2. The buffet was held in Tokyo last year, but is moving to Osaka for 2021.

Guests can enjoy a variety of colorful Halloween sweets, created by Executive Pastry Chef Jimmy Boulet and supervised by Sebastian Masuda!

「OWNER OF A COLORFUL HEART」Halloween Sweets Buffet

Sweet Potato Mille-feuille

Orange Cupcake with Cassis Chantilly Cream

Spider Mousse Cake

Caramel and Persimmon Bellini

Crash the Halloween

Colorful Palette

Galaxy

Daisy Celebration

Halloween Caterpillar

Playful Macaroon

Blueberry Mousse and Fig Compote with Sesame Pralines

Black Cardamom Chocolate and Pear

Colorful Curries & Stews

The buffet tables are decorated with dark purple tones and welcome guests with Bouley's playful collection of sweets. His iconic mille-feuille uses ample amounts of cream and purple yams, with a chocolate spider web on top. The spider mousse cake, with its gentle shortcake-like texture and unusual combination of coffee and mango, is sure to surprise. Each treat uses autumn ingredients, and will surely have guests enjoying Halloween to the fullest.

Though the sweets buffet is sure to be filling enough, Conrad Osaka also serves a variety of savory items. For this event, five different colorful curries and stews from India, Thailand, and Hungary will be available. Along with naan bread, diners can sample Udon, French baguettes, rice crackers, waffles, and countless other goodies.

Anyone who comes to the event dressed in Halloween attire can post a photo with the hashtag #ownerofacolorfullheart on Instagram to receive a free glass of sparkling wine. A photo booth will also be on site, and guests can take pictures with some of Sebastian Masuda's most popular works.

Which goodies would you be picking up from the buffet?

Sanrio 60th Anniversary Event Reveals Collaboration Cafe Menu

One of the most popular franchises to come out of Japan is celebrating a massive milestone! The Sanrio Exhibition: 60 Years of Kawaii Culture in Japan will be held on the 52nd floor of the Roppongi Hills Mori Tower starting September 17. The event will feature over 800 unique character products, the largest number in Sanrio history, and will allow guests to experience the charm and wonder of one of the most well-known parts of Japan's 'kawaii' culture.

Special light effects have been added to the 'Godfather of Kawaii' Masuda Sebastian's unique entrance art, titled "Unforgettable Tower." Singer and actor Aoi Shouta acts as the audio guide for the exhibition.

Comment from Aoi Shouta / Audio Guide

"I'm excited to experience the history of Sanrio together with you as the audio guide for the exhibition. I'm also incredibly honored to be a part of this project, since I've been a fan of Sanrio for as long as I can remember. Please enjoy this time with your favorite characters!"

Comment from Sebastian Masuda / Designer of the "Unforgettable Tower" 

"Sanrio characters and goods exist in a far corner of everyone's memories. For a long time, this was specifically a Japanese feeling. Now, it's true of people all over the world. Memory is an odd thing. It can be fuzzy, and difficult to capture. However, sometimes the nostalgia and feelings remain, and I've captured this strange balance in the 'Unforgettable Tower.' The Sanrio exhibition is a journey to undertake along with your own memories. I invite you to let your thoughts wander as you gaze at this work of art, and pass through the entrance gate of the exhibition."

Collaboration Menu & Photo Spot

Left: My Melody Curry with Winter Vegetables and Pork Cutlet: ¥1,580 / Middle: Pochakko's Pumpkin Stew: ¥1,520 / Right: Hello Kitty's Whole Apple Waffle: ¥1,380

Left: Pochacco's Hot Strawberry Milk: ¥1,050 / Middle: Pom Pom Pudding in a Pudding Shake: ¥1,080 / Right: Cinnamoroll's Balloon Trip: ¥1,100

The restaurant and cafe THE SUN AND MOON is located on the same floor as the exhibition, so be sure to get these delicious treats when you visit!

Left: Halloween, September 17 – October 31 / Middle: Christmas, November 1 – December 20 / Right: Anniversary, December 27 – January 10

Seasonal afternoon tea will be available during each special event period.

Restaurant Photo Spot Image

*画像はイメージです
© 2021 SANRIO CO., LTD. APPROVAL NO. SP610376

The walls of this red retro restaurant are covered with images of popular characters, making it the perfect place to snap some commemorative photos. Each photo spot will change depending on the holiday season, so don't miss the Halloween, Christmas, and Anniversary backgrounds!

Original Merchandise

Left: Square Acrylic Keychain: ¥1,210 (4 designs) / Middle: Triple Acrylic Keychain: ¥1,210 (4 designs) / Right: Bag: ¥1,650 (4 designs)

Guests can grab over 100 original items, with both modern and vintage designs.