Taichi Mukai to Perform New Opening Theme for Dragon Quest: The Adventure of Dai Anime
Singer, songwriter, and model Taichi Mukai has been chosen to perform the new opening theme for Dragon Quest: The Adventure of Dai, currently airing Saturdays on TV Tokyo. The announcement was made during an event on September 12 celebrating a successful first year of broadcasting. A new visual was also released as the anime series starts its second year of airing. 
The new song, Bravest, was written specifically for the show, and features lyrics reminiscent of the main character and his struggles. 
In regards to the track, Mukai commented: "The Adventure of Dai is a masterpiece, and the manga series has been going on since before I was born. I was completely absorbed and totally forgot to get my own work done while going back through the story again, reading it the whole way through! I was full of energy when I wrote this song, and I hope it will get fans pumped up!" 
The first episode marking the second year of the Dragon Quest: The Adventure of Dai anime series will air on October 2. 
Mukai will also be releasing a new EP titled DOORS, co-produced with Shin Sakiura, on September 22. The song Celebrate! from the EP is available to stream now, so be sure to check it out!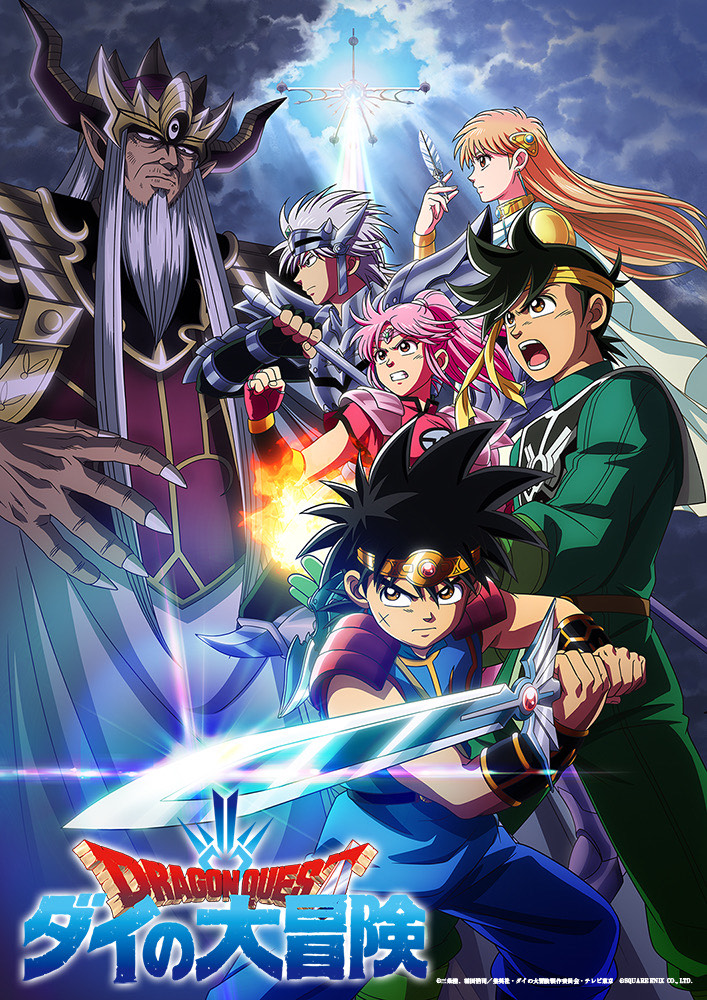 ©三条陸、稲田浩司/集英社・ダイの大冒険製作委員会・テレビ東京 
©SQUARE ENIX CO., LTD.
RELATED ENTRIES
Merch Inspired by Third Sword Art Online Film Available at 13 Tokyu Hands Stores

Sword Art Online Progressive: Aria of a Starless Night, the third film in the series, is hitting theaters in Japan on October 30, 2021. To commemorate its release, 13 Tokyu Hands stores throughout the country will open a Sword Art Online fair, selling special limited-edition goods! The fair will run from October 29 until November 30, 2021. 

Mechanic Costume Series

Acrylic Stand (7 varieties): ¥1,650 each (Tax Included) 

Pin (7 varieties): ¥385 each (Tax Included) 

*Pins are random. 

B2 Tapestry: ¥3,300 (Tax Included) 

Canvas Tote Bag: ¥2,200 (Tax Included) 

Clear Folder (7 varieties): ¥385 each (Tax Included) 

T-shirt: ¥3,850 (Tax Included) 

Mug: ¥1,650 (Tax Included) 

Acrylic Keychain (7 varieties): ¥715 each

*Keychains are random.

Acrylic Diorama Stand: ¥2,750 (Tax Included) 

Clear Folder: ¥385 (Tax Included) 

Sticker (7 varieties): ¥495 each (Tax Included) 

Mug: ¥1,650 (Tax Included) 

Tokyu Hands Limited Purchase Bonus

Tokyu Hands Limited Film Bonus

The Sword Art Online anime series has been an international hit, spanning four seasons and 97 episodes since 2012. A number of video games inspired by the series have also been released. 

This event features the characters drawn in mechanic gear, both in normal and chibi versions. If you're able to make it to one of the participating 13 stores, don't miss out on these rare items!

(C)2020 川原 礫/KADOKAWA/SAO-P Project

Information

Sword Art Online Progressive: Aria of a Starless Night Fair

Running: October 29, 2021 – November 30, 2021

13 Participating Tokyu Hands Locations: Sapporo, Sendai, Shinjuku, Shibuya, Yokohama, Shizuoka, Nagoya, Umeda, Himeji, Okayama, Hiroshima, Hakata, Kagoshima

86 -Eighty-Six- Anime Theme Song Remixed in Collab with Sakura Chill Beats

Japanese rock band hitorie is well-known for performing the first opening song for the anime series 86 -Eighty-Six-, titled 3 Minutes 29 Seconds. Now, a new remix and music video is available on the Sakura Chill Beats YouTube channel.

hitorie – 3 Minutes 29 Seconds (N3WPORT Remix) – Sakura Chill Beats Singles

3 Minutes 29 Seconds (N3WPORT Remix) – Sakura Chill Beats Singles

hitorie

3 Minutes 29 Seconds Artist CD Cover

3 Minutes 29 Seconds Anime CD Cover

86 -Eighty-Six- Key Visual ©2020 Asato Asato / KADOKAWAProject-86

The track 3 Minutes 29 Seconds is the first single featuring Shinoda on vocals after former vocalist wowaka passed away in 2019. This remix marks the 19th remixed release to be featured on the Sakura Chill Beats YouTube channel. N3WPORT is an American DJ and music producer who specializes in future bass and has worked with acts like Gryffin, Slushii, and Tiesto. 

"Remixing this song was a fun challenge. I really enjoyed the original track by hitorie, though it's very different from the music I usually listen to and make. I tried to include as much progressive rock style as I could, and it was interesting to blend my style with theirs. As a musician, I love all genres, and I'm super grateful for this chance to broaden my horizons," N3WPORT commented. 

The song reached #1 on the iTunes dance chart the day it began streaming, October 8. 86 -Eighty-Six- has just returned for a second season. 

Mikey Version of Tokyo Revengers Opening Song 'Cry Baby' Uploaded to YouTube

A special version of the Tokyo Revengers opening theme Cry Baby, performed by Official Hige Dandism, has popped up on YouTube! This time, the track is being sung by Yu Hayashi, the voice actor behind the popular character Manjiro Sano, aka Mikey.  

Tokyo Revengers OP Cry Baby – Mikey ver. 

This marks the third time a character from the show has been featured covering a song, following Shunichi Toki, who plays Kazutora Hanemiya, and Azumi Waki, who plays Hinata Tachibana. 

Following the song, fans can enjoy a special interview with Yu Hayashi, so don't miss it!

©和久井健・講談社/アニメ「東京リベンジャーズ」製作委員会

Information

Tokyo Revengers

Broadcast Times

MRT Miyazaki Broadcasting: Saturdays at 25:28

UTY Television Yamanashi: Sundays at 24:50

NCC TV Nagasaki: Thursdays at 25:18

Iwate Broadcasting: Mondays at 24:58

Aomori TV: Mondays at 25:25

Tokyo Revengers Official Site: https://tokyo-revengers-anime.com 

Anime Series Platinum End Creditless Opening Released

The anime series Platinum End has finally started, and the creditless version of the opening animation is now available on YouTube. The first series is directed by Hideya Takahashi, while Kazuchika Kise is in charge of the second series. Character designs are being provided by Koji Odate. The opening theme is Sense, performed by rock group BAND-MAID. 

 

Creditless Opening

Each of the four Blu-ray and DVD releases will contain six episodes, and the first volume will be released on January 19, 2022, including a special case and a drawing by Koji Odate. Other gorgeous extras will be included with future releases, such as rough sketches and original drawings by the series' creator, a booklet containing interviews with the staff and cast, and more. Be sure to check Twitter and Instagram for special store-specific goods!

©︎大場つぐみ・小畑健/集英社・プラチナエンド製作委員会

Keina Suda Chosen to Perform Theme Song to Upcoming Mari Okada Film Dog Star

The grand opening of Konica Minolta Planetarium Manten NAGOYA is scheduled for October 27, 2021. The original film Dog Star: Kimi to Miageru Fuyu no Seiza-tachi (Winter Constellations to Look Up With You) is set to be screened as the location's first event, and singer-songwriter Keina Suda has been chosen to perform the movie's theme Yomosugara (All Night). Ahead of the film's premiere, advanced tickets will be on sale starting October 20, and those who purchase one will receive a special character acrylic stand!

Dog Star: Kimi to Miageru Fuyu no Seiza-tachi Trailer #2

Advance Ticket Bonus: Acrylic Stand

Keina Suda, chosen to perform the theme song for Dog Star: Kimi to Miageru Fuyu no Seiza-tachi

Konica Minolta Planetarium Manten NAGOYA will be Japan's first planetarium to use the LED dome system DYNAVISION-LED, which utilizes self-luminous LED elements instead of a projector. 

Before making his major debut, Keina Suda was a popular Vocaloid producer going by the name Balloon. During this period, his song Charles became a smash hit, getting over 100 million views on YouTube. The musician wrote the song Yomosugara for the film. The writer of the film, Mari Okada, is also known for her work on Anohana: The Flower We Saw That Day and The Anthem of the Heart. 

A completely original story written by Mari Okada

A friendship between two boys begins to twinkle in the light of the winter constellations. 

Nobunaga Shimazaki plays Kousuke, a boy who is crazy about the stars, while Yama Uchida portrays Natsuki, active on the track and field team. This is a coming-of-age story woven together with the starry sky made of LED lights only available at Manten NAGOYA. 

Kousuke, a boy who loves stars, failed his high school entrance exam. He reluctantly enrolls at his second-choice school, where he meets Natsuki, a member of the track and field team. He compares the brilliance of Natsuki to that of Sirius, the first magnitude star that shines with a fierce intensity. Kousuke thinks Natsuki is not the same as him, who is only the second magnitude star with little presence. However, the fate of the two twinkling stars is about to change drastically…

Scarlet Nexus Opening Video Features New Song by THE ORAL CIGARETTES

The new theme song for Scarlet Nexus is here! As with the first opening track, it was performed by rock band THE ORAL CIGARETTES and is titled MACHINEGUN. The song will be released digitally on October 13, 2021. 

Scarlet Nexus Second Creditless Opening

Scarlet Nexus is based on the action RPG of the same name, released on June 24, 2021, for the PlayStation 4, PlayStation 5, Xbox Series X/S, Xbox One, and PC. The new opening shows the ongoing battle between Yuito, Kasane, and the other soldiers against the incoming army of monsters. Head to Apple Music and Spotify to pre-save the track now ahead of release!

Is the Order a Rabbit? Series 10th Anniversary Exhibition Coming to Tokyo and Osaka

The popular four-panel manga series Is the Order a Rabbit? premiered in 2011. Written and illustrated by Koi, the series has been serialized in Manga Time Kirara Max for the past decade and is still ongoing, while three seasons of the anime have been aired starting in 2014. To commemorate the series' ongoing success, a new exhibition is scheduled to open in both Tokyo and Osaka in October and November. 

Mini-Panels Drawn by Koi (7 varieties)

Tickets for the Tokyo event will go on sale starting at 5:00 PM on October 15. Remember, these tickets are first-come, first-served, and each will feature a specific date and time, so don't miss out! As a special gift, those buying tickets will receive a random original mini-panel drawn by the series creator upon entry. Head to the official Twitter page to take part in a new campaign to win tickets to the Tokyo exhibition!

(C) Koi/芳文社

Information

Is the Order a Rabbit? Exhibition Café Lumière Tokyo

Running: October 29 – November 7, 2021

Address: Hulic Hall 2F (1-22-16 Asakusabashi, Taito-ku, Tokyo)

Hours: 10:00-20:00 (Last admission at 19:30)

*Exhibition will close at 18:00 on November 7, last entry at 17:30

Ticket Information (Tokyo)

General Admission: ¥1,800 (Advance tickets) / ¥2,000 (Day-of tickets)

Tickets on sale starting October 15, 17:00

Where to Buy: 

Lawson Ticket

Online: https://l-tike.com/gochiusa-exhibition

In-store sales: Available directly from Loppi at Lawson and Ministop stores. 

Is the Order a Rabbit? Exhibition Café Lumière Osaka

Running: November 18 – November 30, 2021

Address: Daimaru Umeda 13F (3-1-1 Umeda, Kita-ku, Osaka)

Hours: 10:00-20:00 (Last admission at 19:30)

*Exhibition will close at 18:00 on November 30, last entry at 17:30

**Hours of operation are subject to change. 

Official Twitter: https://twitter.com/GochiusaT (@GochiusaT)

Official Site: https://gochiusa-exhibition.com

Aoi Kubo to Perform Theme For Short Anime Series "Deji" Meets Girl

Up-and-coming 16-year-old singer Aoi Kubo has been selected to perform the theme song for the upcoming short anime series "Deji" Meets Girl, premiering October 1. The song, Otogibanashi no You na Kiseki (Fairy Tale-like Miracle) is now streaming, and a lyric video has also been uploaded to YouTube ahead of the show's start. Two additional songs are available on the digital EP, each inspired by the two main characters in the show. Akane Malbeni, the original character designer, also provided the jacket art. 

"Deji" Meets Girl tells the story of Maise Higa, a high-school freshman who works part-time at the front desk of her family's hotel in Okinawa. One day, she meets Ichiro Suzuki, a mysterious hotel guest from Tokyo traveling alone. Ever since he arrives, strange things begin happening, like fish swimming through the air, and Maise is desperate to get to the bottom of things. 

Comments from Aoi Kubo

Q1: Describe how you felt when you were chosen to perform the theme for "Deji" Meets Girl. 

I've always wanted to sing the theme song for an anime series, so when I got the offer, I was super surprised! This is a fantasy series, and it depicts a mysterious world that really captivated me, so I hope tons of people will watch and enjoy it.

I would be so happy if everyone would listen to the songs I created for these characters, and compare how they sound in context!

 

Q2: When singing these songs, what did you pay special attention to or emphasize? 

I was asked to write the theme, and to do that, I really surrounded myself with the show's world. 

Otogibanashi no You na Kiseki is based on my own interpretation of the show's worldview. 

For the other two songs I wrote based on the main characters, I tried to imagine what they were feeling, and what thoughts were running through their heads. 

A creator contest is also being held! Creators can submit illustrations or music videos based on one of Aoi Kubo's three songs for "Deji" Meets Girl. The best illustrations will appear on TV, while the best music video will be streamed on Kubo's official YouTube channel. Entries can be submitted starting October 1, so be sure to check out the special site if you'd like to participate!

Toei Animation and Publisher Kawade Shobo Shinsha Begin Novel x Anime PV Project

Publisher Kawade Shobo Shinsha will release two coming-of-age novels on October 14! To promote both The Last Dance of the Time Keepers and Home on the Night of the Star Festival, an anime PV created by the staff of the 2016 anime series Pop in Q and directed by Naoki Miyahara (Digimon Adventure, Dragon Ball Z) has also been released! There are also some pretty famous voice actors featured, so see if you recognize any!

Senya Mihagi, the author of both full-length novels, is an up-and-coming talent, winning the Kadokawa's Da Vinci Story of Books Award in 2014. The original character designs and cover illustrations for each novel were created by Kouhaku Kuroboshi, who has worked on a number of popular anime works, including Kino's Journey, Fate/Grand Order, and Sword Art Online Alternative. The PV includes voice actors Asami Seto, Shiori Izawa, Atsumi Tanezaki, Ari Ozawa, and Tomoyo Kurosawa. The music was produced by Yuki Tsujimura, who has collaborated with a number of popular Japanese artists in the past. 

To commemorate the release of the novels, five original postcards featuring art of each main character will be available from Amazon, Kumazawa Books, TSUTAYA, and Miraiya Books. You'll get a different character depending on where you buy, so double-check beforehand!

Synopsis

The Last Dance of the Time Keepers

Isumi Kominato, a high-school freshman, moves to Tokyo from Kochi Prefecture and forms a new dance unit with her classmates. Behind the scenes, however, strange things are happening–power outages, disappearances, amnesia? Isumi, Aoi, Konatsu, Asahi, and Saki must use the power of dance to help return the world to normal. 

 

Home on the Night of the Star Festival

Satoshi, known as a child prodigy from the time he was an infant and like a sibling to Iori, died suddenly at the age of twenty-one. Iori, unable to accept his death, runs away to attend college in Tokyo, but three years later, she begins to receive strange e-mails after Satoshi's belongings, including a smartphone, are given to her. What was he researching before he died, and why was a global IT company involved? What is the truth behind his mysterious death? 

The Heike Story Anime Gets New Visuals, Staff Comments Released

The Heike Story, now airing on Fuji TV on Demand in Japan and Funimation in the United States, has released some new visuals. The series is set to premiere on Fuji TV's +Ultra block in January 2022. The new visual shows a profile shot of Biwa (voiced by Aoi Yuuki), a blind priestess with the ability to see the future. A new 15-second PV has also been released, and translator Hideo Furukawa, artist Fumiko Takano, and character designer Takashi Kojima have also posted comments on the project's official website. 

The Heike Story PV (15-second version)

The 90-second version of the show's ending theme unified perspective by Kensuke Ushio is now available to stream. 

The Heike Story is based on Hideo Furukawa's 2016 modern translation of The Tale of the Heike, an epic tale from the 13th century. It is produced by Science Saru and produced by Kyoto Animation's Naoko Yamada, known for her directorial work on A Silent Voice, Liz and the Blue Bird, and K-On!

Comment from Translator Hideo Furukawa

The Tale of the Heike is a story all Japanese people should know, but in my opinion, many people misunderstand it. This is likely because people are typically only exposed to a very small piece of a much larger story. If you read through the entirety of the book, you'll find plenty of examples of the horror of war. It's sad. There's a need to repose the souls of the dead, a need to mourn the dead. But in addition to the men who play the main roles on the battlefield, there's even more drama depicted by women. Who knew that the main characters in The Tale of the Heike also include women? I wanted this anime series to show that. It's vivid. Poignantly so. This series touches on points once hidden in the original work. Biwa, the main character, is sure to pull on your heartstrings. 

 

        

Comment from Artist Fumiko Takano  

When I began sketching the characters, I started with Shigemori, then moved on to the Heike brothers, starting with the youngest. 

All of them are incredibly handsome. They're unlike the kinds of guys I usually draw in my own manga. 

In the middle of the design stage, I was shown the director's storyboard. 

I was so happy when I saw Biwa all over the place, with her round face and her curious eyes. 

This series is fresh and new, and I just want to thank everyone who gave me the opportunity to be a part of it. 

Comment from Character Designer, Takashi Kojima

(It's fantastic, so be sure to watch!)

©「平家物語」製作委員会

Information

The Heike Story

Airing on Fuji TV's +Ultra programming block in January 2022

Currently on Fuji TV on Demand and Funimation in the US

*Broadcast dates and times are subject to change. 

The Heike Story original soundtrack EP/Kensuke Ushio

the beginning, boy's own, unknown plan

Streaming URL: https://lnk.to/Heike_OST_EP

The Heike Story Ending Theme

unified perspective (90 second variation) 

Streaming URL: https://lnk.to/unified_perspective_TVsize

Now Available

Official Site: HEIKE-anime.asmik-ace.co.jp

Non-Credit Ending of MUTEKING THE Dancing HERO Anime Released

MUTEKING THE Dancing HERO, an upcoming anime series based on the 1980s series Muteking, The Dashing Warrior by Tatsunoko Productions, is set to start next month! Now, the non-credit version of the ending has been uploaded to YouTube ahead of the premiere. 

The ending theme for the series is Kibou no Uta by KALMA, and was previewed in the newest PV for the series. The song itself is a peppy and funky track, and one that fits with the 'never-give-up' attitude of the main character. Over 40 years since the original anime series premiered, this new incarnation of the sci-fi comedy is filled with color and modern updates. The illustrations were drawn by Utomaru (THINKR), the original character designer, with the video itself produced by THINKR. Kibou no Uta will be released on September 22, 2021. 

 

Non-Credit Ending

A special program is also scheduled to air before the first episode of MUTEKING THE Dancing HERO premieres. The MCs for the program are Kentaro Mashiro, who plays the main character Muteki, Azusa Tadokoro, the voice behind Naomi, and Hisanori Yoshida, an announcer from Nippon Broadcasting. A number of fun videos are now available on the official YouTube channel for the series!

The series will air on TV Osaka and TV Aichi on Saturdays starting October 2, and on TOKYO MX and BS NTV on Sundays starting October 3. With only two weeks left to go, be sure to check out the official Twitter and YouTube accounts for more info!

©タツノコプロ・MUTEKING製作委員会

Information

MUTEKING THE Dancing HERO

TV Osaka: Starts October 2, 1:26AM – New Episodes Saturday

TV Aichi: Starts October 2, 1:55AM – New Episodes Saturday

TOKYO MX: Starts October 3, 23:30 – New Episodes Sunday

BS NTV: Starts October 3, 23:30 – New Episodes Sunday

*Please note that broadcast dates and times are subject to change. 

MUTEKING THE Dancing HERO Pre-Premiere Broadcast Special

TV Osaka: Airs September 25, 1:41-2:11AM

TOKYO MX: Airs September 26, 23:30-24:00 / Rebroadcast: September 27, 22:00-22:30

Official Site: https://muteking.jp/

Frederic Performs Opening Theme for The Night Beyond the Tricornered Window Anime Series

Kobe-based rock band Frederic has been chosen to perform the opening theme song for the upcoming supernatural boys-love series The Night Beyond the Tricornered Window. The song, Saika, will be available on streaming services October 6.

Koji Mihara, bassist and vocalist for the band, wrote the lyrics to the new track. "Something about the way each character's mental state is addressed so delicately really drew me in. I'm more of an expressive artist, someone who's aware of even the sounds the audience can't hear. I approached this with feeling, and a deep awareness of how each character feels. There's something powerful about two people with such strange talents working so closely together, even though they think so differently. I hope you'll enjoy Saika, and also enjoy this very deep and moving story about these two unique people."

The upcoming anime series The Night Beyond the Tricornered Window is based on the popular manga series of the same name, written and illustrated by Tomoko Yamashita. It ran from 2013 until 2020 in the popular monthly yaoi manga magazine Be x Boy, and has sold over 2 million copies. The horror mystery follows Kosuke Mikado, a bookstore clerk able to see spirits, and Rihito Hiyakawa, an exorcist.

The Night Beyond the Tricornered Window will premiere in October on TOKYO MX, Sun Television, BS Fuji, and Fuji On-Demand. A promotional video has been released featuring the new track and some footage from the series, so give it a watch!

The Night Beyond the Tricornered Window PV

Frederic is currently working on a new album, with a nationwide tour set to start from Sendai Rensa on October 31.

©ヤマシタトモコ/リブレ・さんかく窓プロジェクト