GU x UNDERCOVER Collab for Second Time, First Kidswear Launched
Affordable clothing retailer GU is teaming up with top Japanese fashion brand UNDERCOVER for the pair's second collaboration. The collection will be available at GU stores nationwide and online starting October 29, 2021. 
First Kidswear Product Lineup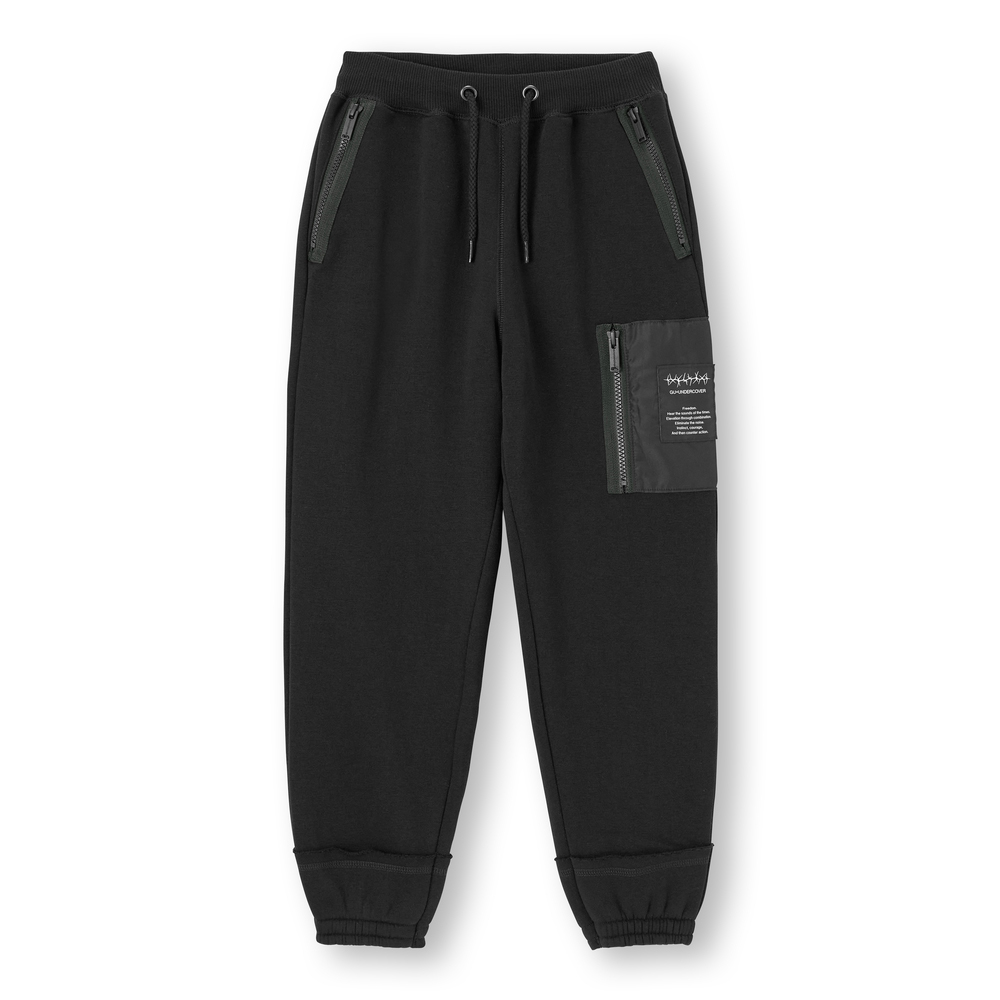 Started by Jun Takahashi in 1990, UNDERCOVER blends various aspects of art, music, and subculture into its constantly evolving collections. 
Following the popular Spring/Summer 2021 collection, this new collaboration mixes UNDERCOVER's unique and original worldview with GU's concept of 'freedom.' Together, they have come up with the keyword 'FREEDOM/NOISE' to describe the new pieces. 
This new Fall/Winter collection features original patterns, graphics, and characters created by Takahashi exclusively for GU. Each item was designed with the style of UNDERCOVER in mind, giving more of a streetwear feel. The full lineup includes men's and women's seasonal wear, scarves and gloves for fall and winter, and even pajamas and loungewear. This also marks the first time kidswear has been released in a collaboration between the two. 
Information
GU x UNDERCOVER
Release Date: October 29, 2021
Where to Buy: GU Stores Nationwide and Online
(*Products may vary depending on the store.) 
RELATED ENTRIES
McCafe by Barista to Offer Cookies & Cream Frappe for Winter Season

McDonald's Japan locations with McCafe by Barista installations will begin selling the Cookies & Cream Frappe for a limited time starting December 8, 2021. The McCafe by Barista corner employs full-time baristas serving 'authentic cafe coffee.' 

McCafe by Barista invites guests to enjoy high-quality frappuccinos and smoothies and these locations are offering three unique Frappes this winter. Following the Strawberry Creme Brulee Frappe and normal Creme Brulee Frappe released in late November, the Cookies & Cream Frappe will release soon, filled with rich vanilla sweetness!

Cookies & Cream Frappe Medium: ¥470 / Large: ¥540 (Tax Included) 

 

The drink is a rich blend of creamy vanilla made from Madagascar Bourbon vanilla beans, blended with crunchy Oreo cookie bits and topped with whipped cream and chocolate sauce. What's not to love?

Yokohama Red Brick Warehouse to Hold 17th Annual Art & Ice Skating Event ArtRink

Starting in 2005 to add more color to Yokohama's winter season, the ArtRink event held at Yokohama Red Brick Warehouse combines artworks and ice skating for a bright and colorful way to spend a cold day. The 17th annual event will be held from December 4, 2021, until February 20, 2022, and will feature two artists: Moeno Ootsu and unpis, both taking part for the first time. The theme for this year's art is 'Stepping Out in Slippers.' 

Moeno Ootsu

unpis

Message from the Artists

Hello. 

For this event, we've created an everyday space, 'home,' in a very not-everyday space: ArtRink in Yokohama.

Guests should come on an adventure that begins at the front door, then dance on ice through the kitchen, bathroom, bedroom, and more!

You might discover something new among the familiar furnishings and snippets of daily life.

We hope that once you leave ArtRink and return home, you'll try to keep dancing from time to time.

Just have fun. Dance with us!

Whether you're wearing skates, sneakers, or slippers…

Just take a step and have the best possible time this winter.

Information

ArtRink at Yokohama Red Brick Warehouse

Running: December 4, 2021 – February 20, 2022

Location: Yokohama Red Brick Warehouse Event Space

Details: http://akarenga-artrink.yafjp.org/

Actresses Masami Nagasawa and Kaho Model LOWRYS FARM 2021 Winter Looks

Fashion brand LOWRYS FARM has released a new Winter visual and promotional video featuring popular actresses Nagasawa Masami and Kaho as models.

Promotional Video

 

Yuni Yoshida served as art director on the new campaign. The winter collection is filled with items to appeal to the widest range of women in the hopes of attracting newcomers to the brand. 

The main visual features Masami Nagasawa and Kaho wearing LOWRYS FARM's most popular knitwear along with memorable contrasting orange lines. Which of these new pieces would you like to add to your winter rotation?

Spend the Winter in a Unique Shinshu Snow Hut with Limited-Time Package

A part of Hoshino Resorts, KAI Alps is an incredible hot spring inn located in Omachi, Nagano prefecture, at the foot of the Northern Japanese Alps. In February 2022, the hotel will allow guests to book the Shinshu Snow Hut Experience, where visitors can enjoy the winter in a traditional snow-packed hut surrounded by bamboo lights. This area is one of the snowiest places in the region, and the locals have plenty of knowledge when it comes to getting through the cold.

Nagano prefecture is often called the 'Space prefecture' for its beautiful starry skies. Inside the snow hut, guests will be surrounded by lights, and bamboo lanterns will light the way. These gentle lights are perfect for the white of winter, despite the cold. 

Exclusively for this package, a kotatsu (heated table) will be placed inside the huts, and guests can wear traditional local clothing perfect for the weather. Sweet sake made at the Hokuan Sake Distillery in Omachi City and local rice cakes with Nozawa pickled greens, a Shinshu specialty, will also be served up. 

How would you like to partake in this traditional experience?

Information

Shinshu Snow Hut Experience

Running: February 1, 2022 – February 28, 2022

Price: ¥2,000 per person (Tax & Service Charge included) 

Reservations: Make on the website at least one week in advance

Capacity: 1 group per session (2-4 people per group)

Location: KAI Alps – Hoshino Resorts

Hours: 19:00-19:45 / 20:00-20:45

Limited to Hotel Guests Only

Accommodation Plan Overlooking 'Tokyo Dome City Illuminations' and Matching Collab Cocktail Announced

Tokyo Dome Hotel has announced that a special accommodation plan overlooking the 'Tokyo Dome City Illuminations, which will be lit up between November 5 2021 and February 28 2022, and a matching collaboration cocktail will be available between November 5 and January 10. 

Room Example: Deluxe Double Room

A spectacular view from the rooms! Sample image of Tokyo Dome City Illuminations


Tokyo Dome City Winter Illuminations Collab Cocktail 'Winter Bright'

Bar '2000' Interior

The event theme this year is "Lights you'll want to snap a picture of." Tokyo Dome City, including the giant 15m Christmas tree, will be decked out in over 230,000 champagne gold LED lights which can change between white, red, blue, purple, and orange. Photo frame shaped photo-spots will be spread across five locations throughout Tokyo Dome City, full of gimmicks to offer amazing photo opportunities! In addition to the beautiful lights, there will be exciting and playful light displays to encourage visitors to take photos and have fun at the same time.

 

 

With this new accommodation plan, you can enjoy the beauty of the illuminations from the comfort of a private hotel room. The offer includes two one-time-use amusement park ride tickets per person, giving guests the opportunity to visit their favorite attractions while taking in the fantastic night view that can only be seen over the winter period. 

 

 

The Tokyo Dome City illuminations can be fully appreciated from bar '2000,' who will be offering a limited-time collab cocktail during the event period. The 'Winter Bright' cocktail is made using strawberry and peach liquor, orange juice, and tonic water, with the red, white, and orange layers that match perfectly with the backdrop of glowing illuminations. Why not visit and spend an evening sipping on this fruity cocktail while enjoying the beautiful winter view?

Information

Tokyo Dome City Winter Illumination Accommodation Plan

Duration: November 5 2021 ~ January 10 2022 

30 rooms are available per day.

Official Site. https://www.tokyodome-hotels.co.jp/ 

 

Collaboration Cocktail "Winter Bright"

Availability: November 5 2021 ~ January 10 2022

Tokyo Dome City Winter Illuminations

Duration: November 5 2021 ~ February 28 2022

※The main tree will be displayed until January 10 2022

Location: Tokyo Dome City

Hours: 17:00 ~ 24:00 ※Subject to change based on social conditions and sunset time.

JEANASIS Announces Second Edition of Popular Pikachu Collection

Fashion brand JEANASIS is celebrating its 20th anniversary this year, and the company has begun a number of exciting new projects under the theme of 'togetherness.' The SYNERGY PROJECT was recently launched as a way to collaborate with popular companies, services, and cultural ventures around Japan. The popular Pikachu collection has made a comeback after becoming hugely popular the first time around and is currently available at the official web store and participating shops around Japan. 

The new collection was based around the concept of wearing what you like and shedding everything 'normal.' Each piece is made from material perfect for fall and winter, with Pikachu making both bold and secretive appearances on the garment's lining. The poncho features Pikachu's signature lightning bolts, while the bead bag will let the world know that you're a master trainer. A total of 14 items appear in the new collection. 

Pokemon fans will find something to love here, so don't miss out!

JUSTIN DAVIS Collaborates with UNDERCOVER to Produce 20th Anniversary Jewelry

To commemorate the brand's 20th anniversary, JUSTIN DAVIS has announced a new collaboration jewelry collection with UNDERCOVER.

The collection is made up of three items; UNDERCOVER's iconic Giraapple has been transformed into a ring and earrings, while the blindfolded bear has transformed into a carabiner. The three new pieces will be available to preorder through the JUSTIN DAVIS stores nationwide and online, and in the UNDERCOVER Aoyama store.

GILAPPLE RING

GILAPPLE EARRING

BEAR CARABINER

 

This is the brands first collaboration with UNDERCOVER since 2014 when the blindfold bear necklace was released, which is still on sale to this day. In 2014, and now again in 2021 SS, it was designer Takahashi Jun who put forward the offer to collaborate on jewelry.

 

 

Be sure to check out these cute motifs and charming jewelry pieces! 

 

Information

JUSTIN DAVIS x UNDERCOVER

Release Date: September 17 2021

Available Stores:

JUSTIN DAVIS Official Online Store

Laforet Harajuku

ISETAN Shinjuku

Hankyu Umeda

Nagoya PARCO

Sendai PARCO

Hakata Hankyu

Sapporo PARCO

______

UNDERCOVER Aoyama

 

Official Site: https://justindavis-online.com/ 

Official Site:https://justindavis-online.com/

Takumi Kitamura Becomes Tommy Hilfiger's First-Ever Japanese Ambassador

Singer, actor, and model Takumi Kitamura has been crowned Japan's first-ever ambassador for the Tommy Hilfiger brand. The popular talent is now being featured in promotional content for the FALL 2021 menswear collection.

The Tommy Hilfiger brand has roots in the world of music, and this collaboration is meant to celebrate Takumi Kitamura's leadership of the popular band DISH//, and his genuine efforts to make a meaningful contribution to his community. Recently, the musician offered his music free to students who had been negatively impacted by the COVID-19 pandemic. The Tommy Hilfiger brand began a new campaign for positive social change in spring, called the 'Moving Forward Together' campaign, and Kitamura embodies the spirit of the new initiative.

Tommy Hilfiger himself commented on the new ambassador. "I'm incredibly thrilled to feature Mr. Kitamura in the FALL 2021 collection. We love Japan, and we love Japanese fans. This collaboration will allow us to pay tribute to Japan's unique culture, while also expressing Mr. Kitamura's thoughts on community in a modern way."

The FALL 2021 menswear collection blends classic American heritage with the great outdoors. The color palette combines amber yellows and bold orange shades with simple neutrals like olive, camel, and heather gray.

Takumi Kitamura is now featured in campaign visuals and commercials in shops around Japan and abroad, as well as on the online store. A special website has also been launched to commemorate this momentous collaboration. New visuals will continue to be released until the end of the season, so be sure to check regularly!

A Twitter campaign will also be held on the official Tommy Hilfiger Japan account, using the hashtag #TOMMYXTAKUMI. By following the account (@TommyHilfigerJP) and retweeting the relevant tweet, five lucky people will win one of the looks modeled by Mr. Kitamura.

Comment from Takumi Kitamura

"I'm Takumi Kitamura, and I'm honored to announce that I have been chosen as a brand ambassador for the historic Tommy Hilfiger brand. While shooting the visuals for the FALL 2021 collection, there were a number of combinations that surprised me! Hopefully, I can convey plenty of Tommy Hilfiger's character through this collaboration. Thank you so much for this opportunity."

Be sure to check out Takumi Kitamura rocking these new autumn looks!

GU Web Commercial Features New Cast in 2021 Fall/Winter Collection

Japanese fast-fashion retailer GU is promoting the 2021 Fall/Winter Collection with a new cast and new image. In a fun and goofy web commercial recently uploaded to YouTube, the five faces of the collection are seen rocking some of the new pieces available now.

In addition to Ayami Nakajo and Sota Fukushi, three new cast members–Noritake Kinashi, Chara, and Yutaro–are joining the 2021 Fall/Winter campaign. The commercial highlights GU's stylish and warm knit cardigans, which are currently a huge trend for autumn.

Using these unique individuals, GU hopes to show that these new pieces can fit anyone of any age, gender, or size. Chara and Noritake Kinashi show that adults can still have fun with their fashion, while Yutaro claims that fashion isn't just following trends, but accentuating your individuality.

In an upcoming commercial set to air on television in October, Ayumi Nakajo, Chara, and Yutaro will be shown in more trending knitwear, while a November commercial will feature all five cast members in easy-to-wear and stylish winter pants.

Which of these new pieces would you like to add to your wardrobe?

Information

GU Web Commercial 'FashiON!'

Out Now

Pokemon Shirts to Release 35 New Designs, Total of 386 Patterns Now Available

Pokemon Shirts have become massively popular since their release in 2019. A collaboration between American custom shirt brand Original Stitch and the Pokemon franchise, these customized tops now ship worldwide, and have people showing off their favorite characters in and out of the office. Now, 35 new Pokemon patterns are available, meaning that 135 total Pokemon from the Ruby & Sapphire titles are available. This brings the total amount of patterns available to 386.

New Design Preview

The creatures from Pokemon Ruby & Sapphire are being released over four installments, each with a specific theme. The theme of this fourth release is 'Sky,' and flying Pokemon are being added to the lineup, including Rayquaza, Latias, Latios, and Deoxys.

The key visual for the new promotion was created by Shiseido's top hair and makeup artist Tadashi Harada, and was inspired by the dragon Pokemon Rayquaza.

Which Pokemon are looking forward to seeing on a fresh new shirt?

Fashion Brand FURFUR Announces First Original Characters, Plushies on Sale

Japanese ladies brand FURFUR has invented its own original characters! The two will be released as plushies on September 8, with preorder sales now open at the FURFUR online store and USAGI ONLINE.

Sousskiss♡: ¥5,940 (Tax Included)

Night☆Tia: ¥5,940 (Tax Included)

Sousskiss♡ is a cute but mysterious girl with an appearance much like a white cat, while Night☆Tia is a mischievous boy who's able to charm people with his funny smile. The official FURFUR online store and USAGI ONLINE will also feature an original set of illustrations highlighting the two's story, including why they're always together. Look forward to it!

Hankyu Men's Chooses Comedian Eiko Kano as Face of New Collection

Comedian and singer Eiko Kano has been chosen as the new icon for Hankyu Men's 2021 collection. The new concept, "WELCOME TO THE NEW WORLD ~RESPECT FOR THE NORTH~," is heavily inspired by life in the north, and the collection will feature a variety of useful products and services from fashion to lifestyle.

PERFECT LOVE~HANKYUMEN'S VER~




With a humor that transcends age, Eiko Kano has been appointed as the new icon for Hankyu Men's 2021 collection, in the hopes that he can raise people's spirits during the COVID-19 pandemic. In addition to the visuals, an original music video has also been released to convey the northern theme.

Kano originally debuted as the lyricist and composer for band 50TA as a prank segment on popular TV Asahi variety show London Hearts. His first album hit #9 on the Oricon charts, with the most popular track being PERFECT LOVE. His new arrangement of the song, PERFECT LOVE HANKYU MEN'S 2021AW Version, was made for this new collaboration.