Maruoka Castle in Fukui Teams Up with NAKED for Updated Projection-Mapping Event
Japanese creative company NAKED has begun a new projection mapping event at Maruoka Castle in Fukui, as well as the nearby Otenshuzen Park. The company has also introduced a new way to safely promote the area's beautiful nighttime scenery, with the NAKED Distanced Lanterns. 
Since 2014, NAKED has used new creative and futuristic technology to better highlight the appeal of local sites around Japan. 
In March 2021, NAKED's influence at Maruoka Castle became permanent with the start of the Maruoka Castle x NAKED Hikari Musubi installation. The castle itself is one of the oldest in Fukui prefecture, and visitors and locals alike can now enjoy a symphony of beautiful lights shining on the historic landmark year-round. This new version of the projection-mapping project is 'Hikari Musubi ~Creating the Future~', and it hopes to convey the charm of Sakai city to the rest of the world. 
The company brought its projection-mapping technology to Shinzen Izumi Elementary School in Tokyo in 2014 and to Kesennumakoyo High School in Miyagi in 2015. In 2016, NAKED launched the 0 x 0 Mugen Project in collaboration with the Osaka University of Arts, which supports the projects of students at the university as well as those of prospective students. 
Event Overview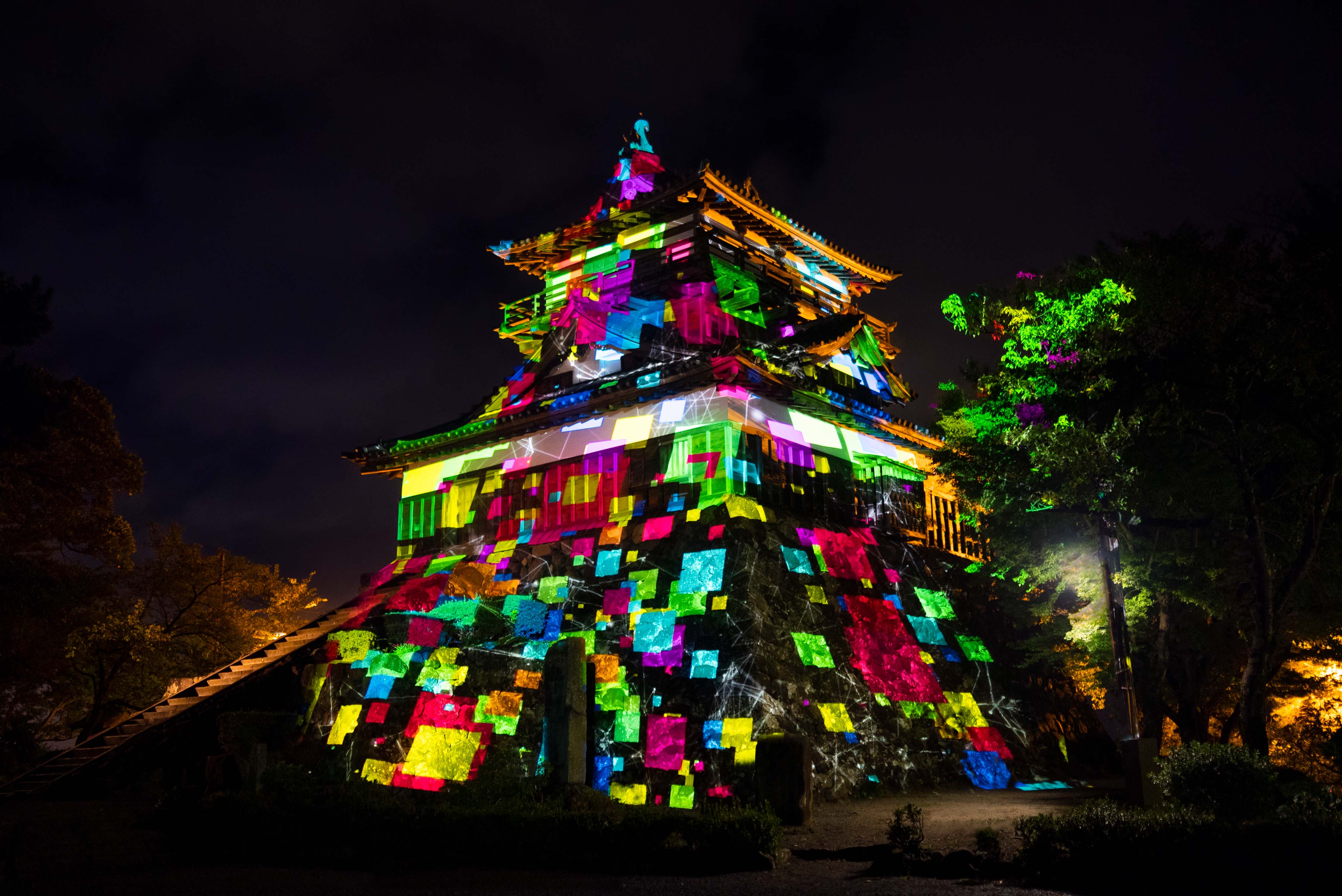 Maruoka Castle Tower
The theme of this projection-mapping show is 'From Maruoka Castle to the World and the Future.' The Maruoka Junior High School Chorus Club is responsible for some of the event's music. 
NAKED Distanced Lanterns®︎
A participatory artwork allowing people to create light while maintaining social distance, the NAKED Distanced Lanterns project has invited local citizens to design lanterns to display outside Maruoka Castle. 
Information
Maruoka Castle x NAKED Hikari Musubi ~Creating the Future~
Address: Maruoka Castle (1-59 Maruokacho Kasumicho, Sakai, Fukui)
Running: October 1, 2021 ~ *Daily Screenings
Hours:
Maruoka Castle Tower Projection-Mapping – Twice daily at 20:00 and 21:00
Otenshuzen Park Projection-Mapping – 18:00-21:00
NAKED Distanced Lanterns®︎ – Six Days Only, on October 1, 2, 8, 9, 15, 16
Official Site: https://maruoka-castle.jp/
RELATED ENTRIES
NAKED FLOWERS 2022 Autumn to Open at Nijo Castle in Kyoto

NAKED will hold the NAKED FLOWERS 2022 Autumn event at Nijo Castle, a World Heritage Site in Kyoto! The event will run from October 28 until December 4 and will feature both real and digital art, including a virtual experience in the Metaverse.

The phoenix depicted on the Kara-mon of Nijo Castle will be the guide for the exhibition, which will take visitors on a tour of the property, decorated and transformed by NAKED's art. Visitors can enjoy the fantastic night view of Nijo Castle, which includes historical buildings such as the Ninomaru Palace (National Treasure), the Great Eastern Gate (Important Cultural Property), and the Kara-mon. A projection-mapping show will shine across the Kara-mon, and fall colors will light up the night sky. On the stone wall of the inner moat, phoenixes will fly, and visitors can take part! In the garden, food and beverage stalls will provide plenty of autumn sweets and hot drinks from the popular cafe TREE by NAKED Yoyogi Park. 

Guests can also see a collaborative work between artist Ryotaro Muramatsu and Yuki Ikenobo, the headmaster of the historical flower arrangement school Ikenobo. Visible in both the real world and the Metaverse, the interactive art piece will invite visitors to create their own flower arrangements using digital flowers. Why not come create a piece of your own art using flowers that will never wilt? 

Kara-mon, Important Cultural Property
Projection-Mapping




Special Scenic Spot – Ninomaru Garden
Illumination




Inner Moat
Interactive Experience / Projection-Mapping Show




Koun-tei
Illumination




NAKED's Art to Prevent Disease
NAKED Tsukubai®︎


Seiryuu Garden
Illumination




Front Garden
DANDELION PROJECT



Front Garden
Ryotaro Muramatsu x Flower Arrangement School Ikenobo's Headmaster Yuki Ikenobo
Collaboration Work (Both real and linked to the Metaverse)

Information

NAKED FLOWERS 2022 Autumn at Nijo Castle (World Heritage Site)

Venue: Nijo Castle
Running: October 28 – December 4, 2022
Hours: 18:00-22:00 (Last entry at 21:00)
Tickets/Event Details: https://flowers.naked.works/

170 Artists Collaborate on VISIONS 2023 ILLUSTRATORS BOOK, On Sale Now

VISIONS 2023 ILLUSTRATORS BOOK, the newest edition of the popular art book edited by pixiv, was released on October 4, 2022. Art fans know the pixiv website as a place to share artwork, manga, and more. 

The VISIONS book series began publication in 2020, and the total number of copies sold worldwide has surpassed 150,000. The latest 2023 issue features works by 170 creators, allowing readers a glimpse into the current state of illustration today.

The cover art was drawn by Mika Pikazo, a character designer for many popular titles including Fire Emblem Engage, the latest in Nintendo's Fire Emblem series. Mika Pikazo has long been pursuing new forms of expression in digital art, including incorporating cubism. Digital art is often treated as something vastly different from traditional art such as paintings and sculptures, but the cover art of this book challenges this belief by blending digital and traditional art. Pikazo's vivid colors and exquisite brushwork are a must-see.

 

In addition to providing the cover art, a 7,000-word special interview with Mika Pikazo delving into his thoughts and vision can be found in the new book, providing a detailed view of what the digital art scene will look like in 2023.

CASETiFY Collaborates with One Piece for New iPhone 14 Series

Popular phone accessory brand CASETiFY has announced a new collection inspired by One Piece. This marks the third collaboration between the two, with the new items celebrating the release of One Piece Film: Red.

Dubbed the 'Pirate Black Collection, the series was inspired by playing cards and plastic models. One highlight of the collection is the Golden Transponder Snail 3D AirPods Pro case, inspired by the communication device from the Marine's Buster Call. Both a display piece and a protective case, the outer shell features a metallic gold finish with painted eyeballs and a keychain. 

Along with the 3D AirPods Pro case, the lineup includes plenty of items perfect for every kind of One Piece fan, including the Motif case covered in icons from the series, the Thousand Sunny Ship Case featuring the Straw Hat crew's ship, and the Brotherhood Sticker Case highlighting the bond between Luffy, Sabo, and Ace.

The poker card character case uses playing cards as a motif, and features six fan-favorite duos including Luffy & Shanks and Ace & Sabo. Don't miss the movie-exclusive Uta & Shanks version!

Limited-edition 25th-anniversary accessories will also be available, including water bottles, Macbook sleeves, iPad covers, Apple Watch straps, and more.

Those who have already registered for the waitlist on the CASETiFY online store will be the first allowed access to the collection on October 5, 2022. See the official website for more details.

©E.O./S.,T.A. © O/2022 OP

Crayon Shin-chan and Cinnamoroll Collaboration Apparel Available at AEON

Aeon's fashion brand DOUBLEFOCUS has announced a unique apparel collection featuring Crayon Shin-chan and Sanrio's popular character Cinnamoroll! The collection itself will include 14 items and will release on September 29, 2022. Those interested will be able to purchase these items at over 150 AEON and AEON-STYLE locations around Japan, as well as online. Crayon Shin-chan has been a popular series for decades, and Cinnamoroll has won first place for three consecutive years in the Sanrio Character Awards. 

Many characters from Crayon Shin-chan will be featured in the collection, including Shinnosuke, Himawari, Shiro, and Buriburizaemon. These unique items can only be purchased at AEON stores, and fans can find everything from cushions and key chains to clothing. Be sure to grab your favorite items before they sell out!

 

Ⓒ臼井儀人/双葉社・シンエイ・テレビ朝日・ADK

Ⓒ2022 SANRIO CO.,LTD.TOKYO.JAPANⓁ

NAKED Night Walk Art Project to Open at Famed Zuiganji Temple in Matsushima

Japanese creative company NAKED will hold a Night Walk event at Zuiganji Temple in Matsushima, located near one of the top three most scenic spots in Japan. The event will run from October 29 until November 23, 2022.

The NAKED Night Walk was created to revitalize hot spring resorts and other tourist spots during the pandemic. This special event will bring the illuminated experience to Zuiganji Temple, one of the Tohoku Region's most famous Zen temples. Guests will be invited to carry beautiful lanterns around the grounds, maintaining social distancing while enjoying the cool evening weather. These lanterns will cast one of three unique designs onto the ground below–a starry sky, a camellia flower, or a lotus. 

Guests can also enjoy NAKED's Flower Fortune Telling, pulling unique paper flowers from a massive wall, with each holding a personalized fortune. These flowers can then be tied to a nearby tree to further spread NAKED's art. You can also take home your flower as a souvenir!

The event will only run for a limited time. For more information including admission fees and hours, see the official website!

Information

NAKED Night Walk – Matsushima, Zuiganji Temple (National Treasure)

Address: Zuiganji Temple (Chonai-91 Matsushima, Miyagi District, Miyagi Prefecture)

Running: October 29 – November 23, 2022

Hours: Weekdays 17:00-20:00 / Fridays, Weekends, Holidays 17:00-21:00

Official Site: https://zuiganji.or.jp/

PEACH JOHN Releases Lingerie Line Inspired by ONE PIECE FILM RED

Japanese lingerie line PEACH JOHN has launched a new collection inspired by ONE PIECE FILM RED! The new items went on sale starting September 21, and fans can purchase them from the official PEACH JOHN site and at PEACH JOHN stores nationwide.

The collaboration includes bra and panty sets inspired by Nami, Nico Robin, and Uta, the main character of the latest film. Pajamas inspired by Shanks will also be available in both male and female sizes. While sold out on the online shop, these are still available in stores.  

Fans can also grab a cozy one-piece dress inspired by Uta's outfit in the film, while the bra and panty set features satin ribbon reminiscent of Uta's hairstyle. The straps in the back were inspired by Uta's wings. 

The special site features an exclusive interview with Enako, the top cosplayer in Japan and the model for the collaboration. She gave her impressions of the photo shoot, so be sure to check it out!

VTuber Collective Hololive Collaborates with Popular Game Among Us for a Limited Time

Popular VTubers from Hololive Productions are collaborating with the multiplayer online game Among Us for a limited time! The collab began on September 21, 2022.

30 special collaboration skins featuring Hololive personalities are now available in the game. Along with these, players can snag hats and visors! These can be purchased in-game and unlocked through gameplay. The Collaboration Cosmicubes will be available for purchase for three months, so get yours while you can!

The company is also planning on selling real-life collaborative goods to commemorate the event, so keep an eye out for more details coming soon!

Information

Hololive Production x Among Us Limited Time Collaboration

Start Date: September 21, 2022

Hololive Production Official Site: https://www.hololive.tv/

Sunday Brunch Reveals Coji-Coji Collaboration Menu for a Limited Time

Sunday Brunch Shimokitazawa has announced a new limited-time collaboration menu inspired by Momoko Sakura's Coji-Coji! The collab will run from October 7 until December 11, 2022. Previously, the restaurant held a Maruko & Coji-Coji Cafe that did extremely well in 2020, so there's no doubt this will also be a huge success.

Guests can enjoy savory and sweet dishes along with drinks inspired by the adorable character. Some of these items were featured in the previous collaboration, and will only be available at the Shimokitazawa location. Plenty of characters will appear, and exclusive merchandise will be available at the store. There will be no reservations available, so be sure to show up early! More information will be available on the official Twitter page, so check back soon.

Menu

Coji-Coji's Avocado and Nuts Taco Rice *Vegetarian Menu

Coji-Coji's Pumpkin Cream Udon *Vegan Menu

Jiro's Trifle

Coji-Coji's Secret Cake (6 varieties) *Cake and Drink Set

Land of Fairy Tales Sweets Set *Includes Drink

Coji-Coji's Cream Soda

Suzy and Buhi-Buhi's Cream Soda

Information

Coji-Coji × Sunday Brunch 

Running: October 7 – December 11, 2022
Venue: Sunday Brunch Shimokitazawa
(2-29-2 Kitazawa, Setagaya-ku, Tokyo 2F)

Official Twitter: @cafe_marucoji 

Rilakkuma Cream Soda Appears at Maholova Minds Miura Tokyo Bay Hotel

Maholova Minds Miura, a hot spring resort on the Miura Peninsula in Kanagawa Prefecture, celebrated its 30th anniversary in June 2022. Royal Salon Yamato, a popular spot for coffee and parties since its opening, was transformed into the Rita Cafe this summer.


On September 23, Rita Cafe will begin selling its own original cream soda!

Rilakkuma's Miura Ocean Cream Soda / Korilakkuma's Watermelon Cream Soda

Rilakkuma Room (Bedroom/Living Room)

To celebrate the special Rilakkuma room and Korilakkuma room, guests can enjoy two new drinks: Rilakkuma's Miura Ocean Cream Soda and Korilakkuma's Watermelon Cream Soda. The rooms aren't too easy to book, but even if you can't, at least you can see plenty of adorable pictures on social media!

NAKED to Open DANDELION PROJECT for Peace in Umeda, Osaka

NAKED and Ryotaro Muramatsu's interactive art installation, the DANDELION PROJECT, is coming to Umeda, Osaka. The project aims to connect people around the world, stressing the importance of world peace. Those wanting to participate may do so from October 7 until October 9 at Umekita Sotoniwa Square. 

In July 2020, Umekita Sotoniwa SQUARE opened under a unique premise–it would be open for 1,000 days only. The outdoor area was inspired by cities of the future, featuring plenty of green space. The DANDELION PROJECT fits in perfectly with this concept, using modern technology and networking to create art that also serves as a universal prayer for peace. This is the second time the work has been exhibited in Osaka–it was shown in Nakanoshima during the Osaka Hikari no Renaissance 2021 event last December.

 

The DANDELION PROJECT is inspired by the idea of world peace and hopes to help transcend barriers and connect people in an increasingly divided world. So far, it has appeared in 25 locations–19 in Japan and six abroad. In Japan, it has popped up at Tokyo Tower, Nijo Castle, and other historical sites. Abroad, it has been shown in Paris, Singapore, San Francisco, and Shanghai. The piece aims to bring about change by planting (or installing) dandelion-inspired art around the world, while it invites people visiting these dandelion exhibits to send their prayers for peace as a digital flower in real-time. 

 

The exhibition will also be a satellite venue for NAKED GARDEN ONE KYOTO, a next-gen art project allowing guests to experience Kyoto virtually from September 15 until December 25, 2022.

Information

NAKED – DANDELION

Running: October 7 – October 9, 2022

Venue: Umekita Sotoniwa Square
*Open daily during event period
Hours: 18:00-21:00
Entry: Free
Official Site: https://sotoniwa-uk.com/ 

Supreme® and Yohji Yamamoto Collaborate for the Second Time

Supreme® has once again collaborated with Yohji Yamamoto on an incredible new collection! Items will go on sale on September 24 at 11:00 AM (JST) on the online platform WILDSIDE YOHJI YAMAMOTO and the Supreme site. 

The 2022-23 AW collection includes leather jackets and pants made by Vanson Leathers, one of the largest motorcycle leather manufacturers in the U.S. Fashion lovers can also find bomber jackets, parkas, suits, sweaters, shirts, hoodies, cargo pants, T-shirts, beanies, Dr. Martens 1461 3-Eye shoes, and skateboards.

 

Video game fans also won't want to miss the collection's puffy jackets, knit tops, hoodies, T-shirts, and skateboards featuring original artwork from the classic fighting title Tekken!

Abeno Q's Mall Announces Collaboration with Street Fighter II Starting October 1

Street Fighter II will collaborate with a commercial facility for the first time in history! The beloved fighting game will take over Abeno Q's Mall in Osaka from October 1 until October 31, 2022. Popular characters from the game will appear all over the premises, and visitors will be able to take part in unique games to win exclusive prizes. 

There are also a number of interesting challenges that will pop up around Abeno Q's Mall. At the entrance, visitors will be greeted by Ryu and Ken, the main characters from Street Fighter II, as they unleash their Hadouken. Guests will be able to take pictures with Ryu with a special AR Photo Spot, and characters and stages from the title will appear around the mall. A participatory game event, Street Fighter Challenge, will be available for customers spending ¥3,000 or more (including tax). These customers will actually be able to test their Street Fighter skills, with winners winning a ¥500 yen mall gift card if they are victorious. Fans of the fighting game won't want to miss this unique event!

© CAPCOM CO., LTD. ALL RIGHTS RESERVED.

Information

Abeno Q's Mall/Street Fighter II Collaboration
Running: October 1 – October 31, 2022
Address: 1-6-1 Abenosuji, Abeno-ku, Osaka
Official Site: https://qs-mall.jp/abeno