Celebrities Comment on Kyary Pamyu Pamyu's 10th Anniversary Song GENTENKAIHI
Pop princess of Kawaii Kyary Pamyu Pamyu is set to release her fifth original album 'Candy Racer' on October 27. This marks her first full album in three years, and to commemorate the special occasion, plenty of Japanese celebrities have offered comments on Kyary's 10th-anniversary track GENTENKAIHI. 
GENTENKAIHI was released as a digital single on August 17, the anniversary of Kyary Pamyu Pamyu's debut. The song expresses the singer's desire to evolve into something new while also paying homage to her past. 
In a new project, Kyary is asking a number of celebrities to share the song that marked a turning point or starting point in their life. The 'Tell Me Your Origin Song' project has led to plenty of interesting answers, and a playlist has been compiled containing the answers received so far. 
Volume 1 of the series features announcer Misato Ugaki, comedy trio Yonsen Toushin, and Beastars manga creator Paru Itagaki. Volume 2 features TV personality kemia, YouTuber duo SKY PEACE, and actor Ryo Kato. Volume 3 features comedian Ryuji Akiyama, BiSH's Aina the End, and TikTok star and handball player Remi Anri Dori. 
Kyary Pamyu Pamyu will hold a special online live performance on Candy Racer's release day, October 27! A limited number of additional tickets have been released due to popular demand, and those purchasing one will also receive an original T-shirt!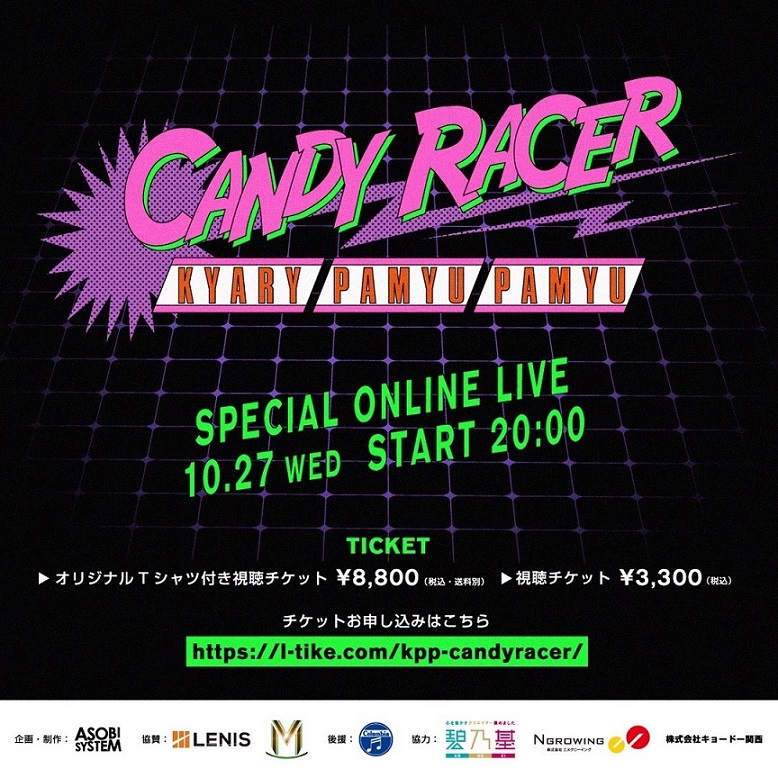 Kyary Pamyu Pamyu's 10th Anniversary Project 'Tell Me Your Origin Song!' 
Vol. 1  Misato Ugaki, Yonsen Toushin, Paru Itagaki
https://realsound.jp/2021/09/post-857335.html
Vol. 2  kemio, SKY PEACE, Ryo Kato
https://realsound.jp/2021/09/post-865930.html
Vol. 3  Ryuji Akiyama, Aina The End, Remi Anri Doi
RELATED ENTRIES
Kyary Pamyu Pamyu Appears in Ads for Crocs 'Just the Way I Am' Campaign

Casual footwear brand Crocs Japan has started a new campaign inspiring people to be themselves and to be comfortable in their own shoes. 

Crocs 'Just the Way I Am'

Crocs Interview with Kyary Pamyu Pamyu

Yuni Akino

Riho Shamura

Fuyuki Shimazu

To promote the new campaign, the company has released a new campaign video, as well as four interviews with people who live larger-than-life lives. The princes of Kawaii Kyary Pamyu Pamyu, celebrating her 10th anniversary, expresses the new Crocs image in the best way, comfortable in her skin and true to herself in every way. 

Along with Kyary Pamyu Pamyu, the video interview features actress Yuni Akino, businesswoman, actress, and model Riho Shamura, and cardboard artist Fuyuki Shimazu. 

MetaTokyo Launches First Project in the Metaverse with Genereativemasks

The Metaverse has been in the news lately, and the future is looking more and more digital. ASOBISYSTEM, ParadeAll, and Fraction Ventures have teamed up to build Japan's first pop-up museum focusing on generative art in MetaTokyo, an open cultural city in the open Metaverse using NFT. This will exhibit one of the largest NFT art projects in Japan, Generativemasks. 

Generative art refers to artworks that are generated by code, using computer software.

MetaTokyo Pass (MetaTokyo Digital Passport) 

Generativemasks

The architecture of MetaTokyo was created by MISOSHITA, a Metaverse/VR creator active not only in Japan but around the world. The interior and exterior were designed in collaboration with Generativemasks and other contributors to make a completely unique structure in the Metaverse. The NFT MetaTokyo Pass, functioning as a digital passport, is on sale now, allowing owners to access a number of activities and special privileges, including access to exclusive events and restricted areas within the MetaVerse. 

MetaTokyo is the world's first project to connect NFTs with the MetaVerse and is the first project of its kind to be implemented globally. 

Model Shibata Saki's Trip to Mie Prefecture to Air on BS12 for 2 Consecutive Weeks

On November 18 and November 25, national free broadcasting service BS12 will air 'NEXT TRIP: A Luxury Resort Trip to Ise and Shima.' The host for the excursion will be popular model Shibata Saki (nicknamed Shibasaki), who is a well-known figure to women of all ages.

NEXT TRIP is a new travel program that helps travelers figure out where to go next. The theme of the series is "Where should I go once the world settles down?" From visiting popular city spots to faraway resorts in Japan and abroad, the show aims to introduce people to locations they haven't discovered yet, showcasing what the world has to offer. Those watching should keep a lookout for spectacular scenery, gourmet local food, outdoor activities, and so much more. 

[Part 1] November 18, 2021, 9:00 – 'NEXT TRIP: A Journey to Ise'

In this episode, Saki Shibata travels to Ise, Mie Prefecture, first visiting Ise Shrine to pay her respects. The shrine is one of the holiest and important sites in the Shinto faith and was said to be established in the year 4 BCE. After visiting the Inner Shrine on a bright and sunny morning, Shibata travels to the ancient Okage Yokocho street to find some souvenirs and enjoy a local cafe to enjoy Ise's famous rice cakes and traditional Japanese sweets. For lunch, she visits a very retro western-style building. At the nearby Ise Ninja Kingdom, guests can wear ninja costumes, and Shibata does just that! As the day comes to an end, Shibata opts to stay at a luxurious ryokan, Ikyuu, and highlights the incredible dinner and other services the lodging offers.

Air Date: November 18, 2021 / 9:00-10:00

[Part 2] November 25, 2021, 9:00 – 'NEXT TRIP: A Luxury Resort Trip to Ise and Shima' 

The second part of the trip begins with cycling. Visiting the famous Married Couple Rocks on the coast of Futami, Shibata sets out for Shima. After enjoying the breathtaking view from the 'Mailbox in the Sky' on the Ise-Shima Skyline, she stays at a resort overlooking the Shima coast. Guests are welcome to take a leisurely stroll around the grounds and enjoy a luxury cruise or dinner. The sunset is something Saki Shibata will surely never forget.

 

Air Date: November 25, 2021 / 9:00-10:00

Where do you want to travel in Japan once the world settles down?

Discover the wonder of Kanazawa with AMIAYA and ETSUNA with new "HAKKEN" videos produced by Channel 47

Fashion icons show the modern and historical charm of Kanazawa, Japan

TOKYO, JAPAN (16 November, 2021) – Channel 47, a company focused on globally promoting the appeal of local and popular Japanese culture through the power of entertainment, is excited to debut their new "HAKKEN" video series today, 16 November, highlighting the wonderful modern and historical tourism aspects of Kanazawa City in Ishikawa Prefecture. "HAKKEN" is the Japanese word for discovery, which is the core feeling this new video series is aiming to convey. Channel 47 wants toinspire viewers to discover the wonders of Japan's local culture through these shortfilms.

The debut videos feature fashion icons AMIAYA and ETSUNA (both represented by ASOBISYSTEM), each exploring a different facet of what Kanazawa has to offer curious visitors. These films were produced by Channel 47 as a part of promotional efforts for the Kanazawa Film Festival held in September of 2021. These entries in the "HAKKEN" series were informed by Channel 47's shared philosophy with the Kanazawa Film Festival, to disseminate the culture of Japan's countryside and promote its appeal worldwide.

In the first video, twin model & singer duo AMIAYA discover the "pop" elements of the city at locations such as the Omi-machi market, the 21st Century Museum of Contemporary Art, the Nagamachi Samurai District, and more. Along the way they sample delicacies from some of Kanazawa's highly rated restaurants. Through their experiences viewers will see art, food, shopping, and scenery that has high appeal among visitors.

Watch "HAKKEN – Discover Kanazawa with AMIAYA"

https://www.youtube.com/watch?v=a9-gD-ftTE0

Find AMIAYA online

Official Website: https://asobisystem.com/talent/amiaya/

AMI Instagram: https://www.instagram.com/amixxamiaya/

AYA Instagram: https://www.instagram.com/ayaxxamiaya/

Twitter: https://www.twitter.com/AMI__AYA

In the second video, fashion designer and influencer ETSUNA takes a different approach and wanders the traditional side of Kanazawa. Starting with a stroll in the Higashi Chaya District, her journey takes her to make ceramic art at Hokutoh, and to see historic locations such as the Ishikawa Bridge, the Gyokusen'inmaru Garden, Sannomaru Square, and more. To fit the traditional theme of her visit, she visits Kimono & Antiques Soki and gets dressed for the occasion. Viewers will see through ETSUNA's exploration the beauty and historical legacy of Kanazawa City.

Watch "HAKKEN – Experience Kanazawa's History with ETSUNA"

https://www.youtube.com/watch?v=Z3h-57mhouU

Find ETSUNA online

Official Website: https://asobisystem.com/talent/etsuna/

Instagram: https://www.instagram.com/etsunaotsuka/

Twitter: https://www.twitter.com/etsuna_artist/

ABOUT KANAZAWA FILM FESTIVAL

The 15th Kanazawa Film Festival was held from September 18-20, 2021 in Theater 21 at the 21st Century Museum of Contemporary art in Kanazawa. The festival has a reputation not only for the high quality of films presented each year, but also for its "New Directors with Promising Talent" program. This year 83 films were entered in the "New Directors with Promising Talent" program, and 11 of them won screening rights. The Grand Prix was awarded to MELIA's "Experiential Tour", for which she also received the special Channel 47 Award.

More information on the Kanazawa Film Festival can be found at

 https://www.eiganokai.com/event/filmfes2021/kanazawa/

ABOUT CHANNEL 47

Channel 47 is a project that using the power of entertainment to communicate the appeal of Japan and its different regions to overseas audiences. Through planning and producing events with celebrities and personalities, Channel 47 creates content that conveys the appeal and charm of Japan's many different regions to viewers all over the world. Channel 47 created the post-movies for the 15th Kanazawa Film Festival, held in September 2021. Additional efforts to promote the event overseas include producing

English subtitles for "Alien Painter" which was screened as a Kanazawa Film Festival Scholarship Film.

For more information about Channel 47 please contact: info@channel47.jp

Sneaker Art Project artrA to Hold Final Exhibition in Osaka and Tokyo

Street culture is ever-evolving, and sneakers play a big part in street fashion. Combining sneakers and art, the artrA project is about to wrap up its first successful season. SNKRDUNK, Japan's premier sneaker selling app and popular shoe shop atmos have teamed up for this exhibition, which will feature the famous AIR JORDAN 1. These exhibitions have taken place in seven cities across Japan since July. The final exhibitions will be held in Osaka in November and in Tokyo in December. 

A total of 26 up-and-coming illustrators, graphic designers, and even ukiyo-e artists have come together for this unique event. The artwork in this exhibition will incorporate the AIR JORDAN 1 brand, and merchandise featuring this street-styled artwork will be available at the venue.

Those who purchase a T-Shirt on-site will be entered into a raffle to win a pair of AIR JORDAN 1 sneakers. In addition, a special lottery will allow winners to purchase a pair of sneakers to take home. 

Be sure to keep an eye out for the second season of the artrA project brought to you by ASOBISYSTEM!

Information

artrA – SEASON 1 FINAL –

"artrA Vol.8" in OSAKA

Running: November 19 – November 23, 2021

Hours: 10:30-20:00

Address: atmos SHINSAIBASHI (2-7-6 Shinsaibashisuji, Chuo-ku, Osaka) 

Admission: Free

"artrA Vol.8" in TOKYO

Running: December 24 – December 26, 2021

Hours: 11:00-19:00

Address: A.F GALLERY (3-21-8 Jingumae, Shibuya, Tokyo)

Admission: Free

Official Site: http://asobisystem.com/

ATARASHII GAKKO! Take Part in First Overseas Performance at 88rising Festival

Four-member dance and vocal group ATARASHII GAKKO! have taken the world by storm, with their hilarious TikTok account amassing over 3.2 million subscribers and their music racking up plenty of attention on streaming platforms. On November 6, 2021, the girls performed at the Head in the Clouds music festival in Los Angeles, put on by record label 88rising. This was the first overseas performance for the group, and they enjoyed putting on a crazy show for 25,000 people. 

codyburkhardt

As the four members took to the stage, they began their performance with Final Humanity, showing their Japanese pride to the LA audience. With their insanely energetic dance moves, they seemed more like gymnasts, obviously beyond excited for this huge opportunity.

codyburkhardt

codyburkhardt

After the first song concluded, the girls introduced themselves in English. When SUZUKA called out "Say 'It feels so good,' the audience enthusiastically responded "MECHA MECHA KIMOCHI~!" Shouting "Let's Go Head in the Clouds," they began their second song Night Before the Exam. Dancing with their red headbands made their singing and dancing stand out even more–if that was even possible. Fan-favorite Koi Geba was next, and the crowd was completely overwhelmed by the intensity of the girl's movements. 

codyburkhardt

Intergalactic Remix snagged the audience's attention, as the family song has roots in US culture. ATARASHII GAKKO! wore the same construction vests and helmets that the Beastie Boys wore in their 1999 music video. The classic track won big at the 1999 MTV Video Music Awards, and this heartfelt tribute to one of the girl's biggest inspirations won big with the audience. Shouting out "We are Beastie Girls" got a massive reaction, and it proved to be one of the most inspiring parts of their performance. As NAINAINAI began, SUZUKA asked the audience to put their hands up, and they did so without question. There's no doubt that this Japanese group has completely captured the hearts of US fans. 

codyburkhardt

For their new song Free Your Mind, the girls performed in a completely new way, backed by dancers clad in sailor uniforms. As may be expected, their newest epic Pineapple Kryptonite made a perfect climax to the show, with aliens suddenly appearing on stage to attack. Fans in the audience could even be seen holding up pineapples to show their support. As SUZUKA, RIN, MIZYU, and KANON left the stage, they told the audience they'd be back again–and given how well they performed in their first-ever overseas show, we'd agree. Next time, maybe they'll be able to visit fans around the United States!

codyburkhardt

The newest ATARASHII GAKKO! single SNACKTIME will be available to stream on November 12, 2021. Five songs produced by Money Mark, who worked with the Beastie Boys and previously on Pineapple Kryptonite, will be on the new single, so be sure to listen! 

On January 30, 2022, the girls will hold a live performance at Ebisu LIQUIDROOM in Tokyo. The sky's the limit for these talented singers and dancers, and we can't wait to see what they accomplish next!

codyburkhardt

Fruit of the Loom Collaborates with Illustrators Nah and Kayoubi on New Collection

American apparel brand Fruit of the Loom is teaming up with two ASOBISYSTEM talents for a new collection! Illustrators Nah and Kayoubi, both popular with Gen Z will begin selling items from the new collaboration at ROOP TOKYO on the ZOZOTOWN site starting November 12, 2021. 

Nah Collaboration Items at a Glance

Nah

A 24-year-old illustrator from Fukuoka, Nah began her career in 2018. Particularly popular on Instagram, she's become known for using pastel colors in her sexy and cute pop art. Her concept is one word: oddball. Her main character is a girl who is one step ahead of everyone else. 

Instagram: https://www.instagram.com/nah_ill_/

Homepage: https://asobisystem.com/talent/nah/

Kayoubi Collaboration Items at a Glance

Kayoubi

With charming retro designs spiced with a bit of modern flare, Kayoubi's art inspires a love for the 80s and 90s. The artist is currently involved with a number of collaborative projects, including those will apparel brands and CD jacket designs.

Instagram: https://www.instagram.com/__tuesday__9/

Homepage: https://asobisystem.com/talent/kayoubi/

The designs for the collaborative project feature cute girls in bright colors. Along with hoodies and T-shirts, bucket hats and tote bags are also available. Which design is your favorite?

KAWAII MONSTER KITCHEN by ASOBISYSTEM Opens in Osaka

For visitors to Tokyo who love Japanese pop culture, the KAWAII MONSTER CAFE was a rite of passage. Opened in Harajuku in 2015 and produced by the Godfather of Kawaii himself Sebastian Masuda, the restaurant was a love letter to all things cute. Starting in February 2021, ASOBISYSTEM has taken over the operation of this beloved property. 

Regrettably, due to the state of the world, KAWAII MONSTER CAFE HARAJUKU closed at the end of January 2021. However, the spirit of this colorful place isn't dead, and a new concept and menu are now coming to fruition in Osaka!

Contents

Monster Cake and Choppy

Monster Burger

Colorful Tonkatsu Monster Burger (Red): ¥1,380 (Tax Included, Drink Included) 

This bright red monster burger will make a great subject for an Instagram photo and is filled with pork cutlet and bacon dipped in a special tomato sauce. 

Colorful Shrimp Fritter Monster Burger (Blue): ¥1,380 (Tax Included, Drink Included) 

This tasty shrimp fritter sandwich is best enjoyed with plenty of tartar sauce!

Colorful Blue and Red Mini Burgers: ¥1,280 (Tax Included) 

Can't decide which burger you'd like to try? How about both! Guests can also design their own monster burgers with a special topping kit.

Monster Cooking

Cooking Class Fee: ¥700 (Tax Included) 

Cooking Class Fee with Cutlery: ¥1,000 (Tax Included) 

Length: 30 minutes

Ages 9+

Quiz Rally Card

Traverse the four floors of the Hug Museum for a special quiz rally! There will be one question on each floor, marked by Choppy! Those who answer all the questions correctly will receive an original mask case!

Monster Merchandise

 

The Hug Museum, sponsored by Osaka Gas, offers plenty of hands-on exhibitions related to food. The grand opening of the KAWAII MONSTER KITCHEN was held on November 2, and inspired children and adults alike to have fun with their food and embrace all th ings kawaii. A photo spot featuring a massive monster cake has also been installed, supervised by Sebastian Masuda. Come experience the spirit of kawaii culture in Osaka!

Report: The Beauty of Wakayama Prefecture in Shibuya! Kinokuni Wakayama Culture Festival 2021 in Shibuya, Produced by Channel 47

The Kinokuni Wakayama Culture Festival 2021 in Shibuya, produced by Channel 47 and sponsored by the Agency for Cultural Affairs, was held at Shibuya CAST on October 3, 2021. 

The event was held to spread the word about the Kinokuni Wakayama Culture Festival 2021, the largest cultural festival in Japan, being held in Wakayama City from October 31 to November 21. Channel 47, the producer of the event in Tokyo, is a company using the power of pop culture and entertainment to share local Japanese culture with the world. 

Shibuya CAST, located between the popular neighborhoods of Shibuya and Harajuku, was the perfect location for the event, and visitors enjoyed a number of presentations showing off the best parts of Wakayama. Various goods from the southern prefecture were on sale, and celebrity guests and local figures were in attendance. An original Wakayama Panda Mask Cover, produced by ASOBISYSTEM, was given to over 3,000 guests to help prevent the spread of COVID-19. 

Click below for a video of the event highlighting the venue and talks. 

A Market Highlighting Wakayama's Cuisine

Booths in the plaza of Shibuya CAST were set up, each selling some local goods from the heart of Wakayama, including oranges, dried plums, sake, and shochu. 

Cultural Figures, Models, and Celebrities in Attendance

On a special stage erected on the grand staircase of the venue, a series of talks were held by cultural figures, models, and celebrities, including author Alex Kerr, TV personality Martin, and members of the popular girl group Atarashii Gakko!!

The guests chatted about a number of topics, from sharing what they love about Wakayama prefecture to discussing the tourism issues faced by local governments. A particularly interesting talk discussed how Wakayama intends to attract Gen Z tourists. These discussions were live-streamed on Instagram, with about 1,000 viewers outside the venue tuning in. 

▼Program

Part 1 [Why Come to Wakayama? PR Showcase]

Presenters: Saki Hontani (Model / Special Influencer for Kinokuni Wakayama Culture Festival 2021), Owarai Sumitani (Wakayama-born Comedy Duo), Kii-chan (Wakayama Mascot)

Part 2 [How Local Towns Should Approach Tourism ~How to Blend Tourism, Shibuya, and Entertainment~]

Presenters: Alex Kerr (Writer), Hiroyo Koike (Secretary-General, Shibuya City Tourism Association), Geiko Motoyasu (Director of Industry, Tourism, and Culture, Shibuya City)

Part 3 [Gen Z from Harajuku and Shibuya Discuss Wakayama Ver.1]

Presenters: Yume Kawabata (Model), Mitsuki Hasegawa (Model), MIOCHIN (Model), Saki Hontani (Model / Special Influencer for Kinokuni Wakayama Culture Festival 2021)

Part 4 [Gen Z from Harajuku and Shibuya Discuss Wakayama Ver.2]

Presenters: Atarashii Gakko!! (Music Group), Alex Kerr (Writer), Martin (TV personality), Yuutarou (Model)

Wakayama Panda Mask Cover, Produced by ASOBISYSTEM and Distributed to Guests

An original Wakayama Panda Mask Cover, produced by ASOBISYSTEM, was given to over 3,000 guests. Talent agency ASOBISYSTEM aims to promote Japanese pop culture worldwide and represents a number of popular artists, models, and creators, including Kyary Pamyu Pamyu and AMIAYA. With two available designs, TV personality Martin tweeted out images of the adorable creations. (https://twitter.com/martin_0406/status/1444163519696424963)

PR for on Giant Screens in Shibuya

The Kinokuni Wakayama Culture Festival 2021 in Shibuya was widely publicized around Shibuya on massive television screens. 

Information

The Kinokuni Wakayama Culture Festival 2021 in Shibuya (Now Over)

Sponsored by the Agency for Cultural Affairs

Produced by Channel 47

Date: October 3, 2021 (12:00-17:00)

Location: Shibuya CAST, Tokyo

Attendees: Over 3,000 (30% men, 70% women)

Official Site: https://wakayamainshibuya.jp/

Official Twitter: https://twitter.com/wkym2021_sby

Official Instagram: https://www.instagram.com/wakayamainshibuya/

About the Kinokuni Wakayama Culture Festival 2021

The Kinokuni Wakayama Culture Festival 2021 combines the 36th Wakayama Culture Festival and the 21st Festival of Wakayama Art and Culture for the Disabled. The event will take place from October 31 to November 21, 2021, with a number of events happening in Wakayama City to showcase local culture. 

The Kinokuni Wakayama Culture Festival 2021

Sponsors: The Agency for Cultural Affairs, the Ministry of Health, Labor, and Welfare, Wakayama Prefecture, Municipalities in Wakayama, the 36th Wakayama Culture Festival and 21st Festival of Wakayama Art and Culture for the Disabled Committee, Municipal Executive Committees, Cultural Organizations, Organizations for Those With Disabilities, etc. 

Running: October 31 – November 21, 2021

Location: Wakayama City 

Official Site: https://kinokuni-bunkasai2021.jp/

About Channel 47

Channel 47 is a project using the power of entertainment to share Japan and its local culture with the world. By getting popular celebrities and public figures involved, the company produces events and content that conveys the appeal of specific Japanese locales and customs to global audiences. 

Kyary Pamyu Pamyu Produced Science-based Hair Care Brand "Curuput" Makes its Debut!

Artist Kyary Pamyu Pamyu has started a science-based hair care brand named 'Curuput.' The brand's first product, the 'Deep Damage Care Set (Shampoo, treatment, and hair mask)' will be available for a limited time at beauty counters nationwide and online from November 1 2021. 

  

One of Kyary's defining features is her vivid hair color. Behind the scenes however, she has been suffering with damaged hair to maintain her bleached hair. Her goal is to create a future where everybody, including Kyary herself, can dye their hair freely, without the worry of damage. With this in mind, she began production of her own science-based hair care brand that focuses on damaged hair and smells great too.

 

From the moment you wash off the 'Curuput' shampoo and treatment, your hair will feel silky and moisturized. By using the triple care routine, the products will not only care for your existing hair damage, but continue to repair your hair by preventing future harm.

 

 

Kyary's tie-up song 'Perfect Onei-san' plays in the background of the official brand interview, and features on her upcoming 5th album "Candy Racer.' The album is scheduled to be released on October 27. 

 

 

Why not try Kyary Pamyu Pamyu's new haircare brand 'Curuput' for yourself?

 

Message from Kyary Pamyu Pamyu

"After many meetings, I think the shampoo is complete! I'm so, so excited for it to finally be released.

I have been having fun bleaching and coloring my hair since I was 18, but my hair would become damaged no matter what I did. I haven't been able to enjoy my 'ideal hair' often, because I'd worry about the condition, and I've even been holding back from dying it due to damage concerns. But then I realized, "this isn't me." It's the same with shampoos – I'd find a great shampoo but I'd dislike the smell, or vice versa.

This new shampoo was created over many meetings and every detail has been considered. In order to create the best hair product, we wanted to create something that made your hair go "Kyurun" (bounce). We also paid special attention to the scent! Each time I would test the prototype version, my hair would become even closer to my ideal hair, so I'm really happy that I had the opportunity to develop 'Curuput.' 

We put a lot of thought into this brand, so I would be really happy if everybody could give it a try!"

 

Kyary Pamyu Pamyu x ROLAND Special Interview Published in 'GLITTER Vol.2'

A special interview between Kyary Pamyu Pamyu and ROLAND will be published in the second volume of lifestyle magazine GLITTER, released on October 27 2021. In the interview, the borderless duo, who each work in different fields, join together to discuss how individuality is respected in the modern way of life. 

Despite working in different areas, the borderless Kyary Pamyu Pamyu and ROLAND are always pushing their limits. The same-age pair met for the first time to ask each other questions in a Q&A format, discussing their likes, dislikes, and first impressions of one another, under the theme of "What is a borderless life?" 

Footage of the interview will also be uploaded onto the GLITTER YouTube channel, so look forward to it!

First Collection from Fragrance Brand ainou Produced by Four ASOBISYSTEM Talents

ASOBISYSTEM has teamed up with cosmetics company Bijinaru to launch a new fragrance brand ainou. Offering a variety of products, the first collection was produced by models Yuri Suganuma, Saki Shibata, Rinko Murata, and Goto Yutaro. The four were asked to come up with fragrances inspired by their own personal thoughts and feelings. Products will be on sale starting October 20 at PLAZA/MINiPLA locations nationwide and at the ainou online store. 


ainou = i know

 

Scents can evoke memories. 

If we could share our precious memories through scents…

 

The Scent of Memories

ainou

 

1st Collection Producers

Yuri Suganuma

'A clear, sweet, and fresh aroma,' produced by Yuri Suganuma

ainou 0 Fragrance Mist Eau de Toilette

 

With the nickname 'Yuripa,' Suganuma has gained a massive following among young women. She has become a social media influencer and often shares her beauty knowledge online, having obtained certification in cosmetics and skincare. Suganuma has acted as an MC for numerous events, has produced apparel and accessories in the past, and has collaborated with popular brands from Zoff to CA4LA. She recently started her own brand, LOBJECT. 

Saki Shibata

'The happy scent of flowers and grass after the rain,' produced by Saki Shibata

ainou 8 Fragrance Mist Eau de Toilette

 

Nicknamed 'Shibasaki,' she is a model from Aichi Prefecture who is loved by women of all ages. During her time as a fashion model, she has appeared on the cover of popular women's magazine mer for 12 consecutive months and has also appeared in numerous commercials and other mediums. She has also begun selling her clothing and vintage items overseas as part of a broadcast she produces and has collaborated with many other designers and brands. Shibata has traveled all over Japan to help revitalize small towns and has served as a PR ambassador for several outlying islands. 

Rinko Murata

'The unforgettably sweet scent of a bouquet,' produced by Rinko Murata

ainou 23 Fragrance Mist Eau de Toilette

 

Murata has appeared across a wide range of mediums, including in fashion magazines, on the radio, in web and TV advertising, and strutting the catwalk in fashion shows. She writes a popular online column titled 'Curry Tokidoki Rinko Murata,' where she catalogs her hobby of visiting curry shops, as well as 'Pub Patrol,' a series in Tabelog Magazine. Murata is active in product collaborations and has produced a number of popular products using her heightened sense of style. She also is the director of her own brand, idem. 

Goto Yutaro

'A scent that causes you to turn your head,' produced by Goto Yutaro

ainou 66 Fragrance Mist Eau de Toilette

 

Goto Yutaro was born on June 3, 1998, in Hiroshima prefecture. In 2016, he began his career as a vintage clothing store clerk before becoming a model known to the industry as being 'too cute.' He began his acting career in 2017 and has appeared in the popular drama series Trouble of the Blue Vampire and Cherry Magic! Thirty Years of Virginity Can Make You a Wizard?! With a number of films currently in the pipeline, the actor is expected to continue his upward trajectory as a unique talent on screen. The star is currently appearing in the NHK drama series Komi Can't Communicate, as well as in theaters in both It's a Summer Film and Kaguya-Sama: Love is War Final.