Discover the wonder of Kanazawa with AMIAYA and ETSUNA with new "HAKKEN" videos produced by Channel 47
Fashion icons show the modern and historical charm of Kanazawa, Japan
TOKYO, JAPAN (16 November, 2021) – Channel 47, a company focused on globally promoting the appeal of local and popular Japanese culture through the power of entertainment, is excited to debut their new "HAKKEN" video series today, 16 November, highlighting the wonderful modern and historical tourism aspects of Kanazawa City in Ishikawa Prefecture. "HAKKEN" is the Japanese word for discovery, which is the core feeling this new video series is aiming to convey. Channel 47 wants toinspire viewers to discover the wonders of Japan's local culture through these shortfilms.
The debut videos feature fashion icons AMIAYA and ETSUNA (both represented by ASOBISYSTEM), each exploring a different facet of what Kanazawa has to offer curious visitors. These films were produced by Channel 47 as a part of promotional efforts for the Kanazawa Film Festival held in September of 2021. These entries in the "HAKKEN" series were informed by Channel 47's shared philosophy with the Kanazawa Film Festival, to disseminate the culture of Japan's countryside and promote its appeal worldwide.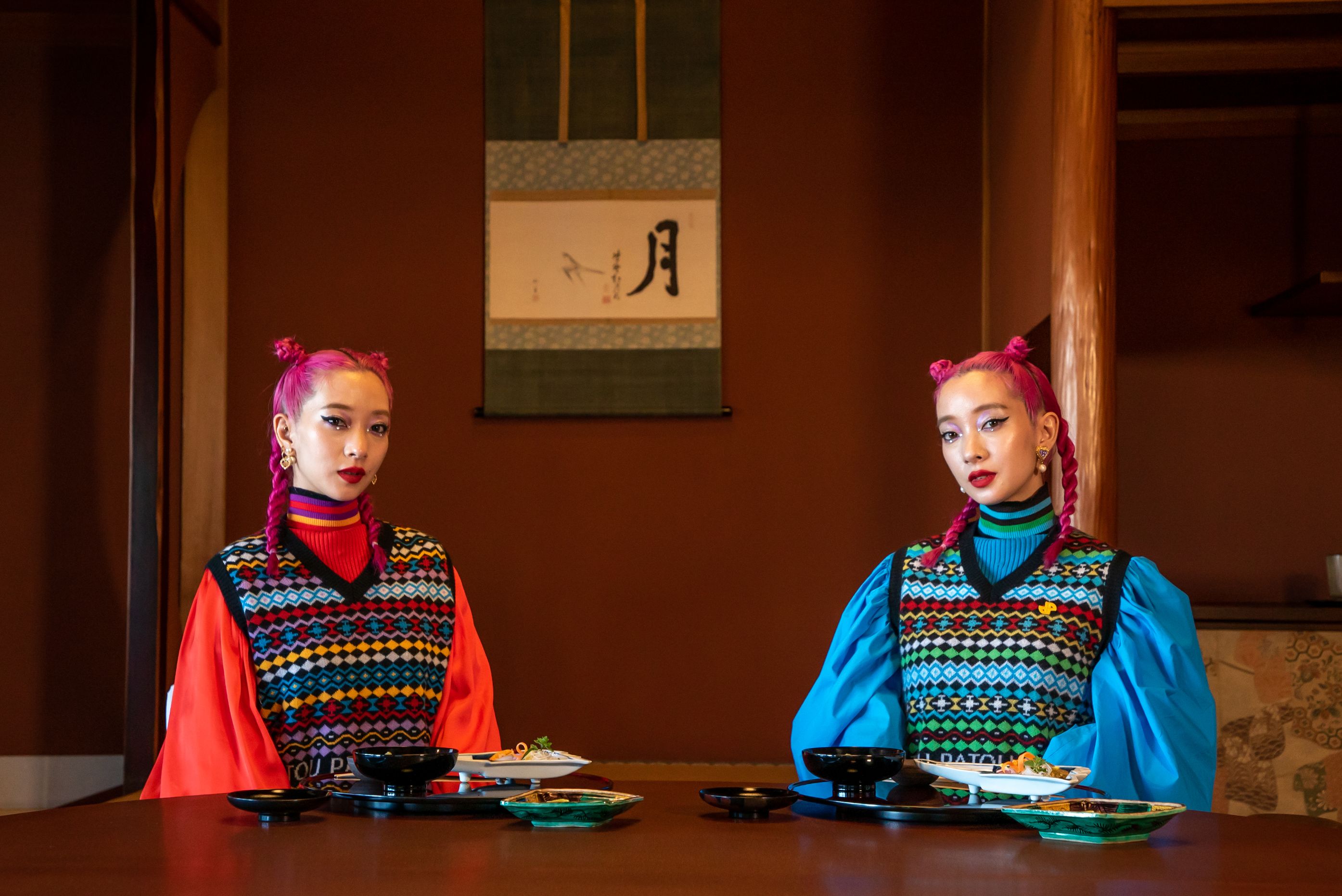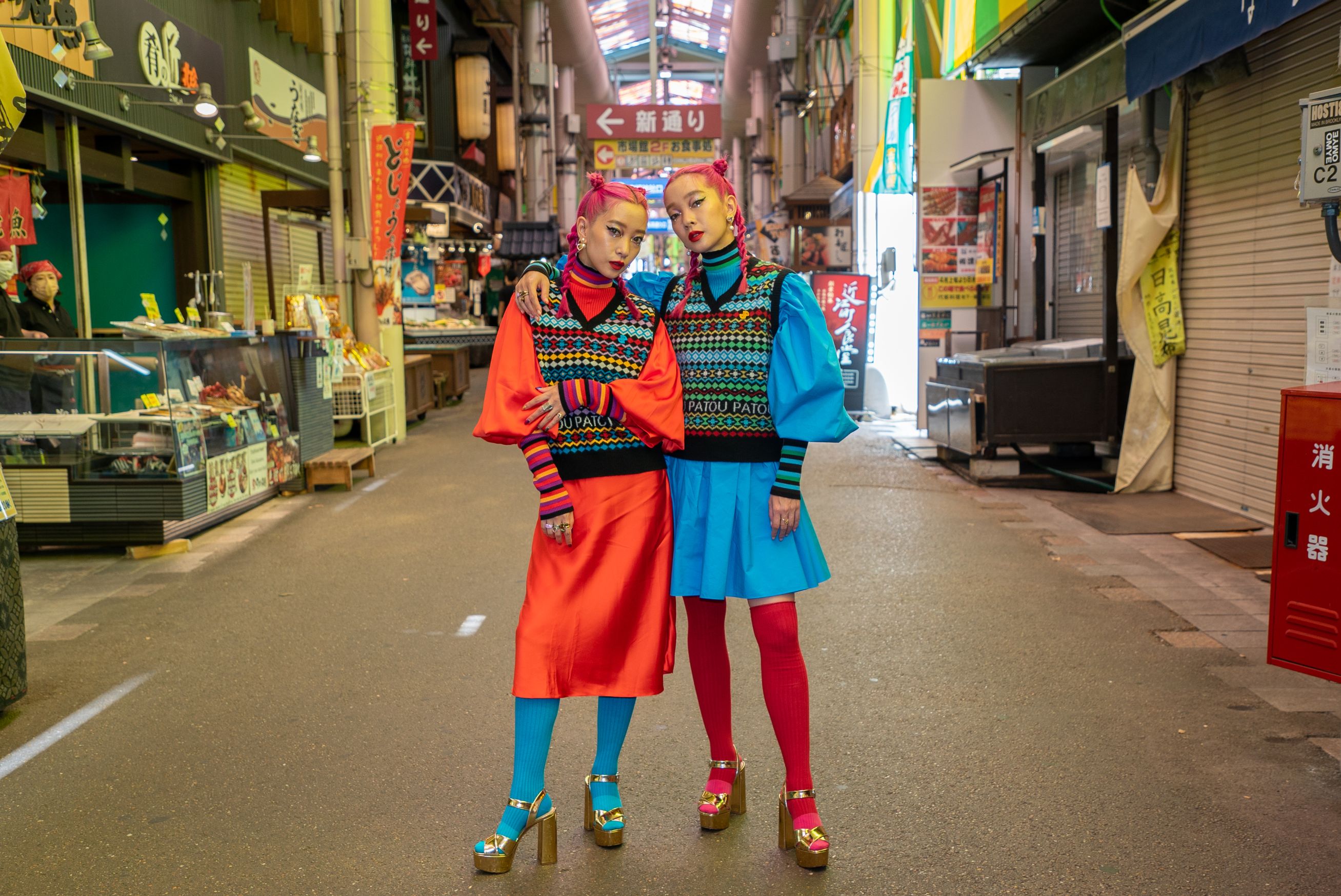 In the first video, twin model & singer duo AMIAYA discover the "pop" elements of the city at locations such as the Omi-machi market, the 21st Century Museum of Contemporary Art, the Nagamachi Samurai District, and more. Along the way they sample delicacies from some of Kanazawa's highly rated restaurants. Through their experiences viewers will see art, food, shopping, and scenery that has high appeal among visitors.
Watch "HAKKEN – Discover Kanazawa with AMIAYA"
https://www.youtube.com/watch?v=a9-gD-ftTE0
Find AMIAYA online
Official Website: https://asobisystem.com/talent/amiaya/
AMI Instagram: https://www.instagram.com/amixxamiaya/
AYA Instagram: https://www.instagram.com/ayaxxamiaya/
Twitter: https://www.twitter.com/AMI__AYA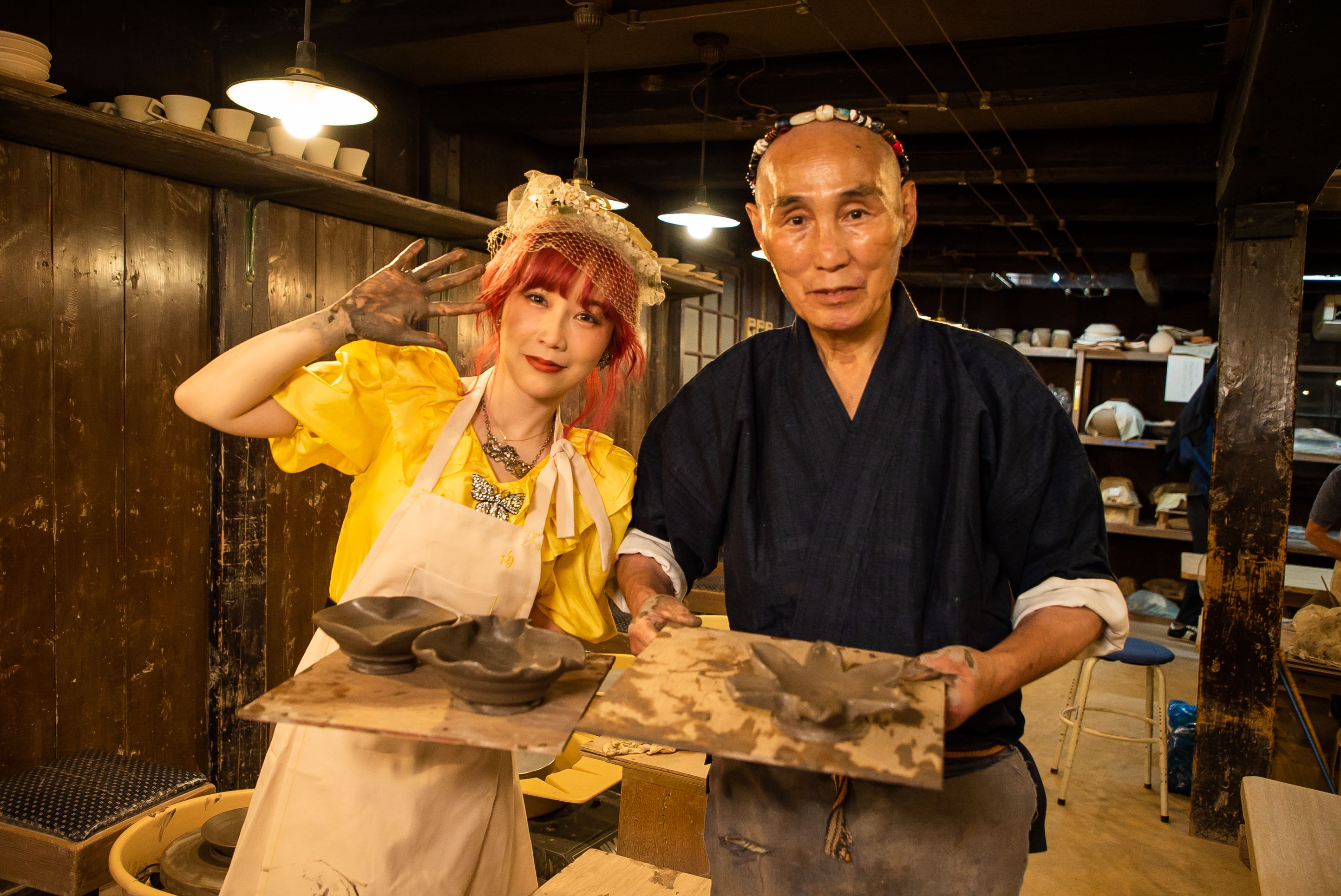 In the second video, fashion designer and influencer ETSUNA takes a different approach and wanders the traditional side of Kanazawa. Starting with a stroll in the Higashi Chaya District, her journey takes her to make ceramic art at Hokutoh, and to see historic locations such as the Ishikawa Bridge, the Gyokusen'inmaru Garden, Sannomaru Square, and more. To fit the traditional theme of her visit, she visits Kimono & Antiques Soki and gets dressed for the occasion. Viewers will see through ETSUNA's exploration the beauty and historical legacy of Kanazawa City.
Watch "HAKKEN – Experience Kanazawa's History with ETSUNA"
https://www.youtube.com/watch?v=Z3h-57mhouU
Find ETSUNA online
Official Website: https://asobisystem.com/talent/etsuna/
Instagram: https://www.instagram.com/etsunaotsuka/
Twitter: https://www.twitter.com/etsuna_artist/
ABOUT KANAZAWA FILM FESTIVAL
The 15th Kanazawa Film Festival was held from September 18-20, 2021 in Theater 21 at the 21st Century Museum of Contemporary art in Kanazawa. The festival has a reputation not only for the high quality of films presented each year, but also for its "New Directors with Promising Talent" program. This year 83 films were entered in the "New Directors with Promising Talent" program, and 11 of them won screening rights. The Grand Prix was awarded to MELIA's "Experiential Tour", for which she also received the special Channel 47 Award.
More information on the Kanazawa Film Festival can be found at
 https://www.eiganokai.com/event/filmfes2021/kanazawa/
ABOUT CHANNEL 47
Channel 47 is a project that using the power of entertainment to communicate the appeal of Japan and its different regions to overseas audiences. Through planning and producing events with celebrities and personalities, Channel 47 creates content that conveys the appeal and charm of Japan's many different regions to viewers all over the world. Channel 47 created the post-movies for the 15th Kanazawa Film Festival, held in September 2021. Additional efforts to promote the event overseas include producing
English subtitles for "Alien Painter" which was screened as a Kanazawa Film Festival Scholarship Film.
For more information about Channel 47 please contact: info@channel47.jp
RELATED ENTRIES
The Appeal of Rising Gen-Z Singer ASA Wu, Reaching People's Hearts with her Music

Trilingual Gen-Z singer ASA Wu is a rising star. The artist has roots in Taiwan and Japan, and the gap between her powerful voice and cute baby face is attracting attention from both the music industry and other creative fields. Since the release of her debut song Bloomer in April 2021, she has continued to gain momentum, debuting her first EP omen alongside the music video for MO-MO, a sexy electronic dance hit making waves worldwide.

ASA Wu's highly-anticipated new single Uncolor was released on April 8, 2022, and is currently being featured as a part of the Artiswitch anime project. Artiswitch, a collaborative anime series made by SUNRISE (Mobile Suit Gundam, Love Live!) and ASOBISYSTEM, Kyary Pamyu Pamyu's agency, premiered on YouTube on May 28, 2021. The series brings together a wide range of content pulling from fashion, art, and music trends, especially those found in Harajuku.

MOSHI MOSHI NIPPON recently sat down with Asa Wu to chat about her career, her charm, and to get a closer look at her true self. 

The Artist's Early Interest in Music

"I've been singing since I was a kid. I'd sing at home and put on shows by myself. When we'd sit down for dinner, I'd tell my parents I was going to put on a dinner show. When I lived in Taiwan, before I'd go to bed, I'd ask my grandma to listen to me. But honestly, the praise I got didn't mean much to me as a little girl. I knew a lot of kids who would do their best to help around the house just to get praise, but for me? I just wanted to make everyone happy by singing." ―ASA WU

ASA Wu's journey into the world of music began early in her childhood. As a young girl, she was overjoyed to see her family enjoying her singing, inspiring her to chase a music career. Her family remains her primary motivation to this day. Her voice has a warm quality to it, and it's clear when speaking to ASA Wu that singing comes naturally to her.

Music and ASA Wu

"This might be cliche, but if I had to describe music to myself, I'd say "NO MUSIC, NO LIFE." It's like, when I'm sad or stressed, what do I do? Everyone has their own ways to clear their mind or destress, but for me, it's only music. Music is easy–it can instantly change your mood. It can make you feel happy, it can motivate you. Just listening is such a simple thing to do, but it can really change your behavior and your actions. That's what I aim to do for people with my music."

―ASA WU

For ASA Wu, music is akin to life itself. No matter what troubles or challenges life brings, music is there. Music can conquer stress and offer clarity when her emotions are muddled. When writing lyrics, the singer defaults to taking an emotional approach, drawing inspiration from characters in the stories she writes in her head, or from the life lessons she writes in her notebook each day. Through her music, Wu wants to share feelings that people may have never been able to express before. Just as music has supported her, she only wants her music to support others.

Uncolor Music Video

About the New Track, Uncolor

During the songwriting process for her new track Uncolor, Wu decided to express a world in which darkness and light coexist, utilizing an already-created story and beat. The singer says that her favorite lines in the song are "Feeling Sad, you were in that lonely-colored sky," and "No matter the color, I can't see the Night Sky." When asked why, the singer responded candidly. 

"The sky at night may look black, but depending on the state of a person's mind, it could really look like any color. I just put that thought into words. In the lyrics, I also included the phrase "my friends," because I wanted to reach out to everyone on earth. We're all friends."

During the recording, Wu was conscious of how she could share her feelings through her singing voice. The thought inspired her to darken the room in the hopes that her song could add color to it.

Uncolor is a collaboration between ASA Wu and NANCY SNAKE, an illustrator known for her psychedelic pop worldview that combines realism and romanticism. The collab was made for the ongoing Artiswitch project. 

For ASA Wu, collaboration is a means of discovery, where each artist's individual colors overlap to create something completely new. She also sees it as an encounter with another self–someone new, born from working with another person. Expectations are high for Wu going forward after seeing how much progress she has made as an artist already.

"I hope that I can convey with my voice what I want to convey with my music, and what I feel like so many of my listeners also want to convey to the world," the singer said to those who have listened to her songs.

"When I read messages from fans, I really try to understand what they're thinking. I often empathize with their emotions, and I want to put those emotions into my music," Wu says. "I want people to hear my songs and think "wow, I'm so glad ASA sang this!" I hope to become an artist worthy of all of this praise, and I want people to be glad that they supported me. Look forward to what's coming next!" The artist finished the interview with a wide smile. 

ASA Wu has already inspired an army of fans with her Gen-Z outlook, warm vocals, and one-of-a-kind sound. Try taking a deep breath while listening to her new song Uncolor. Maybe there's a message in there for you.

TEXT: Natalie(MOSHI MOSHI NIPPON)

ASA Wu

Instagram: https://www.instagram.com/asawurarara/

YouTube: https://www.youtube.com/channel/UCodMTlxqMqMr4_EGGY3ilYw

EMOCAL, a Project to Support Japanese Regions, Releases Music Using Local Sound Samples

The EMOCAL project aims to support small-town areas of Japan. As a new initiative in the project, specific soundscapes only found in certain areas of the country have been combined with music to create some unique tracks. A selection of musical artists have collaborated with the project to bring these songs to life!


EMOCAL was created by ZOWA's original label, CatchyStuck. The project supports local regions and communities by using ASMR soundscape videos recorded in each region to convey their particular charms to all of Japan. The sounds recorded in each place are considered to be very valuable and are intended to serve two purposes: to bring tourism back after the pandemic and to provide fans of ASMR a way to experience these areas from afar.



Check out each of these unique ambient tracks created by four up-and-coming musicians! Each song is available on viviON's ASMR platform ZOWA and on Spotify.

Ube, Yamaguchi Prefecture / Ikkyuu x Hige Driver, I Love Ikkyuu

Beard Driver created this ambient track with sounds recorded inside of Ikkyuu, a ramen shop.

ZOWA: https://zowa.app/play/20019
Spotify: https://open.spotify.com/track/1RP4RcpJwMrFzoYQbnfDYm?si=f1f1e816adb14db0


Odawara, Kanagawa Prefecture / Miyuki no Hama x Powerless, Seiren

Powerless created this track, inspired by the sounds of waves crashing at Miyuki no Hama, a seaside recreation area 20 minutes from Odawara Station.

ZOWA: https://zowa.app/play/20016
Spotify: https://open.spotify.com/track/5DkQ9FeM7jQBacUf7Nbuxc?si=c7d771e73ddd44b6

Shizuoka, Shizuoka Prefecture / Wasabi Field x baker, On the silent hill

Utogi in Shizuoka city is surrounded by incredible nature. Known as the birthplace of wasabi cultivation, baker used sounds recorded in the area to create this ambient track.

ZOWA: https://zowa.app/play/20017
Spotify: https://open.spotify.com/track/0oIU4x7MjVKmpouRwEPaXZ?si=04dcb805cea540b7

Ibusuki, Kagoshima Prefecture / Cape Tara x SeA0, Akushu

Cape Tara is a popular spot featuring an 800-meter-long sandbar at low tide. The sounds captured here were used by artist SeA0, and this track is sure to make you miss the water.

ZOWA: https://zowa.app/play/20018
Spotify: https://open.spotify.com/track/1Utz5j0oB4GmSDOMVdUcXU?si=eafa1949b3ea44d0

Kyary Pamyu Pamyu Collaborates with Shelter Nanyo Hall in Yamagata for LOCAL POWER JAPAN Project

Last month, Kyary Pamyu Pamyu performed on the Gobi Stage at Coachella, one of the largest music festivals in the United States. The singer has now returned to Japan for the second half of her 'Kyary Pamyu Pamyu 10th ANNIVERSARY JAPAN TOUR 2022 CANDY WAVE,' seeing the singer performing 30 shows across Japan. The tour will conclude with a solo performance at Budokan in October. 

In conjunction with the nationwide tour, the LOCAL POWER JAPAN Project was launched to energize Japan through the appeal of regional towns and cities and has been attracting major attention. Kyary's newest collaboration in Yamagata has been announced ahead of her concert there on May 13!

The singer will be collaborating with Shelter Nanyo Hall in Nanyo, Yamagata, a small town of only around 30,000 people. The hall is the world's largest wooden concert hall, made entirely from laminated local cedar. It uses the most advanced fire-resistant technology for wood in Japan and was certified as the world's largest by Guinness World Records in December 2015. The multi-functional hall can seat over 1,400 people, and the property also features a Japanese-style tea room, meeting rooms, an open tree-growing space, and more.

"I want the local population to be incredibly proud of this magnificent wooden structure," said Norihito Shimanuki, the hall's director. "Through this concert hall, we'd like to promote Nanyo and Yamagata Prefecture both domestically and internationally." 

The collaboration logo for the newest partnership was inspired by the 'KPP NANDA COLLECTION LIVE in HAWAII' visual. The one-night-only concert was held in July 2014. Since the main focus of this team-up is 'wood,' the visual's palm tree has been transformed into a cedar tree!

A collaborative T-shirt is also on sale featuring the new logo and the singer's 10th-anniversary logo. The shirt is available on the LOCAL POWER JAPAN Project website for two weeks only starting May 12. Support Japanese businesses and pick one up while you can!

Information

Shelter Nanyo Hall Yamagata (Nanyo City Cultural Hall) x Local Power Japan Project

Collaboration T-shirt

Price: ¥3,300 (Tax Included)

Available: May 12 – May 25, 23:59

Where to Buy: 

LOCAL POWER JAPAN Project Online Shop

https://store-localpowerjapan.com/

Shelter Nanyo Hall (Nanyo City Cultural Hall): https://nanyoshi-bunkakaikan.jp

Tour Details: https://kpp10.jp/japantour2022/

Official Site: https://localpowerjapan.com 

*Please allow two weeks to one month after order for product to ship. All items are made-to-order.

*A portion of shirt sales will be donated to local development and social programs. 

Idol Group FRUITS ZIPPER Announces First Solo Concert

FRUITS ZIPPER, a new idol group from ASOBISYSTEM, has a simple concept: "From Harajuku to the World." On May 3, the girls held a free solo concert titled "Find my Cutest Part," attracting tons of new fans and lighting up social media.

Tickets for the group's first concert on April 10 at Shirokane-Takanawa SELENE b2 sold out instantly, and the girls have been looking for a way to give back to their incredibly passionate fans. Sadly, the April 10 performance was postponed after the members and staff tested positive for COVID, so the content was changed and admission was free!



During the show, FRUITS ZIPPER announced that their introductory live show will now be held on July 16 at the same venue. The girls also announced that their first solo concert will be taking place on September 12 at Ebisu LIQUIDROOM.

Stay tuned to see what FRUITS ZIPPER does next!

Kyary Pamyu Pamyu Announces First Solo Budokan Appearance in Six Years Following Success at Coachella

In April 2022, Kyary Pamyu Pamyu performed at the world's largest music festival Coachella, held in California. Following this incredible moment in her career, the singer played a solo concert at the Fonda Theater in Los Angeles. American fans were thrilled to see her return to the states after three years, with any overseas performances canceled due to the pandemic.

During the most recent stop on her domestic tour, Kyary announced that she would be performing a solo concert at Nippon Budokan for the first time in six years. The concert will be the final stop on the singer's 10th-anniversary tour and will be held on October 19, 2022.


The announcement was made on May 7, the first day of the second half of Kyary's current tour. The LINE CUBE SHIBUYA in Tokyo housed the singer upon her return from the states and tickets were sold out with fans excited to see what beloved tracks the Harajuku symbol would perform!

The setlist for the performance featured highlights from Kyary's decade-long career. The artist performed Candy Racer from her new album; Invader Invader, a current smash-hit on TikTok; the ever-popular Harajuku Iyahoi; the Halloween anthem Crazy Party Night ~Pumpkins Strike Back~; and Gentenkaihi, the track celebrating Kyary's special anniversary.

During the MC portion of the performance, Kyary shared details of a certain moment during Coachella that made a huge impact on her. The singer was concerned that no one would show up to her concert, as she was scheduled to perform at the same time as global stars Billie Eilish and 21 Savage.


"Kyary, it'll be fine," one of her dancers said. "We'll be on stage together. You're not alone, so go out there and do what you always do!" Such a powerful message brought Kyary to tears. 

During the second weekend performance, Kyary performed alone for the first time in her decade-long career after her dancers suffered from a sudden illness. She wrote their initials on her hands during her set to keep them with her. She emotionally thanked the audience for coming and said that she would not have been able to perform if the fans hadn't given her the strength to do so.

Starting with a show in Yamagata on May 13, Kyary will tour 16 more cities around Japan. She will then perform at the Second Sky Music Festival hosted by Porter Robinson at the end of October in the U.S. Her world tour, Kyary Pamyu Pamyu 10th ANNIVERSARY WORLD TOUR CANDY WAVE, will start in November.

Advance tickets for the Budokan concert will be available to fan club members until May 16. The official website will begin general sales on May 20. 

©Aki Ishii

Information

Kyary Pamyu Pamyu 10th ANNIVERSARY JAPAN TOUR 2022 -TOUR FINAL-

Date: October 19, 2022

Venue: Nippon Budokan
Doors Open 17:30 / Show Starts 18:30

Tickets: ¥7,700 (Tax Included)

KPP CLUB Presale Tickets
Available until May 16 at 23:59
Join the KPP CLUB here: http://kyary.net/

Official HP Preregistration
May 20, 18:00 – May 29, 23:59
https://l-tike.com/st1/kpp10thfinal-hp

Kyary Pamyu Pamyu 10th ANNIVERSARY JAPAN TOUR 2022 CANDY WAVE
Tour details: https://kpp10.jp/japantour2022/

Kyary Pamyu Pamyu 10th ANNIVERSARY WORLD TOUR CANDY WAVE
Details: http://cw.kyary.asobisystem.com

KAWAII LAB. Group IDOLATER Adds Two New Members, First Live Video with Five Members Unveiled

IDOLATER is now a five-member group after adding two fresh faces! The idol group is part of KAWAII LAB., a project aiming to introduce the world to popular Japanese idol culture. Announced at the group's solo concert 'New IDOLATER' on April 24, Fuuka Oishi and Ririka Satsuki have joined the current lineup, Ayu Okuda, Kurumi Tsukishiro, and Yukino Fushiki. 

IDOLATER was formed after becoming finalists in the ASOBISYSTEM THE AUDITION 2018 competition, and the girls are known for exploring the boundary of music, fashion, and other unique aspects of culture through an idol perspective. 

Ririka Satsuki is a solo artist based in Fukuoka with an incredible husky voice. Fuuka Oishi has previously worked as a model and is popular with creators for her sweet yet listless atmosphere. This is the first time either has worked as a model. 

Check out the group's first performance as five members below!

Swipin' Flickin' – IDOLATER  (Live at Ebisu CreAto, April 24, 2022)

IDOLATER will also begin holding regular concerts at Ebisu CreAto starting in May 2022.


Comments from New Members

Fuuka Oishi

My name is Fuuka Oishi, and I've just joined IDOLATER.

When it comes to singing and dancing, I'm very inexperienced, but with the help of the other members, I'll practice hard each and every day!

The first time I stood on stage, it really hit me–I'm becoming an idol. When I saw the fan's kind faces in the audience, my nervousness turned into fun!

IDOLATER will continue to grow and evolve into something great, so I hope you'll keep an eye on us!

Although I've just started my life as an idol, I have big dreams. I'll do my best to make it to Budokan!

I'll do my best as a member of IDOLATER, a group I love so much.

Please support me!

Ririka Satsuki

I'm Ririka Satsuki, a new member of IDOLATER.

I used to be a solo singer, and this is my first time as an idol. I'm really nervous but also incredibly excited about what the future will bring. The other members are always making me laugh and giving me the strength to do my best. 

If there's one goal that drives me more than anything, it's my dream of performing at Budokan. 

We want our fans to come along too!!!!

I'll do my best, so please continue to support me!

Information

IDOLATER

Upcoming Regular Performances

IDOLATER Performance Vol. 1 "A Certain Woman"

May 22, 2022

Doors Open 14:30 / Show Starts 15:00

Venue: Ebisu CreAto

Ticket Sales

Livepocket: https://t.livepocket.jp/e/idlt0522

Lottery for Priority Tickets: April 25, 19:00 – April 28, 23:59

Announcement of Winners: April 29 

Advance Sales Period: April 30, 20:00 – May 21, 23:59

Kyary Pamyu Pamyu Collaborates with America's Largest Japantown 'Little Tokyo' for LOCAL POWER JAPAN Project

Kyary Pamyu Pamyu recently performed at Coachella, one of the largest music festivals in the U.S. Keeping the momentum going, the singer gave her first solo performance in four years at the Fonda Theater in Los Angeles on April 18, 2022. 


The LOCAL POWER JAPAN Project, launched alongside Kyary's current Japan tour to help energize rural Japanese locales, made its first appearance in America on April 19. Little Tokyo in Los Angeles has the largest number of Japanese people in the United States, making it the perfect place to hold a commemorative event. During the celebration, panels of each participating company and region were on display, and Kyary herself explained the project to the visitors in person.

This initiative aims to bring attention and support to local industries and to inspire more tourism to rural areas. The 30 stops on the new tour include many that Kyary has not visited before, and were chosen based on the singer's desire to perform for fans who may not typically be able to attend one of her shows.

 

Little Tokyo, the largest Japanese town in the U.S., is located in downtown Los Angeles and was established at the end of the 19th century. The collaboration logo with Little Tokyo features a colorful retro theme and is an homage to Kyary's first album Pamyu Pamyu Revolution. Products made in collaboration with the LOCAL POWER JAPAN Project are now on sale for a limited time at several Little Tokyo stores.

A collaboration T-shirt is also on sale, featuring the new logo on the front and Kyary's 10th-anniversary logo and project logo on the back. These are available on the LOCAL POWER JAPAN Project for two weeks starting April 20, so get one before they're gone!

Kyary Pamyu Pamyu Performs at Coachella, the World's Largest Music Festival

Photo by Kirby Gladstein

Kyary Pamyu Pamyu is celebrating her 10th anniversary in the best way possible–by performing at Coachella 2022! The artist played an incredible set at the event in Indio, California starting on April 16, 2022.

The headliners for the 2022 event included Harry Styles, Billie Eilish, Swedish House Mafia, and The Weeknd.


Kyary Pamyu Pamyu was selected to perform at the GOBI STAGE for the performances held on April 16 and April 23, the dates headlined by Billie Eilish. The Weekend 1 performance was streamed worldwide on YouTube.

Photo by Kirby Gladstein

The GOBI STAGE, where Kyary was the closing act performing at the same time as Billie Eilish, 21 Savage, and other popular artists, was nearly overflowing during her set.

Kyary Pamyu Pamyu, who has been a Japanese pop culture and Harajuku icon to fans around the world for the last decade, appeared wearing a dress created for the occasion by the fashion brand MIKIO SAKABE, who the artist has been wearing since high school. The artist performed Candy Racer from her latest album, and even those hearing Kyary for the first time couldn't help but dance along.

Photo by Kyoichi Ichimura, Ocean Photo Studio / WANANN, Inc.

Turning into a beatboxer, Kyary also performed the globally popular track Dodonpa, along with her legendary song PONPONPON which has amassed over 180 million views on YouTube. During her performance, images of the recently announced Metaani x Kyary Pamyu Pamyu NFT flashed in the background.

In total, Kyary performed 10 songs, including the popular TikTok track Invader Invader and Harajuku Iyahoi. 

Photo by Kyoichi Ichimura, Ocean Photo Studio / WANANN, Inc.

This weekend, those with YouTube Premium will be able to watch the Weekend 2 stream. Kyary's performance will be archived for one week, so watch it before it's gone!

A YouTube Premium pre-show will also air on April 23, 2022 on Kyary Pamyu Pamyu's official channel.

MOSHI MOSHI ROOMS HARAJUKU Announces 'My Ty Rooms Harajuku' Collaboration

ASOBISYSTEM, a company aiming to broadcast Japanese pop culture from Harajuku to the rest of the world, has teamed up with Rokuyon Corporation for a special collaboration! Rokuyon manages unique private accommodations throughout Shibuya in Tokyo, and with help from Meteor APAC, the Japanese distributor of Ty's beloved Beanie Baby stuffed animals, a new collaboration room will be available to book for a limited time only.

MOSHI MOSHI ROOMS HARAJUKU, a home-sharing facility produced by ASOBISYSTEM, is offering a Ty-inspired room from April 23 until May 22, 2022. The room looks more like an art gallery than a guest house and was designed by Ty's content director Harris.

Children can enjoy a number of Ty amenities, while adults will enjoy taking home a Ty A3-sized tote bag to remember their unique visit. Those taking the tote bag will be able to fill it with all the Ty stuffed animals they want for only ¥1,650 (Tax Included)!

A social networking campaign exclusively for guests will also be underway soon! Those posting with the hashtag #moshimoshirooms and #ty will receive one free Ty plush toy!

Information

My Ty Rooms HARAJUKU

Available: April 23 – May 22, 2022

Address: MOSHI MOSHI ROOMS HARAJUKU (2-18-7 Jingumae, Shibuya-ku, Tokyo)

Access: 8-minute walk from Meijijingu-mae Harajuku Station on the Tokyo Metro Chiyoda Line/Fukutoshin Line

Reservations: https://www.airbnb.com/rooms/47207073 

W Osaka Reveals Special Menu Inspired by Fashion Duo AMIAYA

Luxury hotel W Osaka will be offering 'ICHIGO AFTERNOON TEA – Dressed up for Spring,' a special menu inspired by the fashion duo AMIAYA, from April 1 until May 31, 2022. The menu items will be available at the Living Room area on the hotel's third floor.

W Osaka Fashion Ambassador AMIAYA

ICHIGO AFTERNOON TEA – Dressed up for Spring

LIVING ROOM

The event will utilize some of the popular strawberry dishes currently popular at the hotel, but will also include some raspberries and orange sweets. Some dishes will be decorated with flower petals, inspired by the vivid fashion of W Osaka's fashion ambassador AMIAYA. The twins have attracted worldwide attention as models and DJs, and they celebrated their first anniversary on March 16. 

Savory options include a Quiche with Sakura Shrimp and Spring Cabbage and Caramelized Onion and Chevre Cheese plate. Guests can enjoy a total of 12 items prepared by the W Osaka chef team, all displayed on a beautiful afternoon tea stand. Each menu comes with a welcome drink and free refills for tea and coffee.

'Alien Artist,' Winner of Best New Director at Kanazawa Film Festival 2021, Released

The Kanazawa Film Festival aims to 'promote Japan's countryside culture to the world.' The event held from September 18 to September 20, 2021 marked the 15th anniversary. In addition to staging special works each year, the festival has an established reputation in the film community for its 'New Directors with Promising Talent' program.

The film Alien Artist was directed by Seiyo Hotani, who took home the promising director award in 2020. Given the excellent critic feedback for the movie, it has been decided that Alien Artist will be officially released this spring. Hotani is a university student studying philosophy at Kyoto University, and his directorial work certainly shows off his knowledge on the subject. The film was entirely shot in Kanazawa and Kaga, Ishikawa Prefecture.

Alien Artist inspired viewers with its bizarre storytelling and display of ideology and philosophy. If you could eradicate all of the 'evil' people on Earth, would you? Who decides who is evil? The movie follows a number of unique characters, each with their own personal stories and motivations, as the world faces destruction and rebirth. 

Alien Artist

Runtime: 90 Minutes
Release Year: 2021
Director: Seiyo Hotani
Script: Hifumi Keihan
Executive Producer: Ikuya Onodera
Cast: Kunihiko Watanabe, Yuuritsu Maruyama, Ryofu Karuma, Rui Kiriyama, Shigeo Osako, Jirou

Information

Channel 47

Channel 47 made a splash at the 2021 Kanazawa Film Festival by producing the short video 'HAKKEN -in Kanazawa Movie Festival.' Check it out at the YouTube link below.

Title: HAKKEN -in Kanazawa Movie Festival-

YouTube: https://youtu.be/ewrScVKQGXY

Digital Fashion, NFTs, and the Metaverse Come Together for AMIAYA x STREET x MetaTokyo Collab

AMIAYA, a twin fashion unit representing Tokyo and signed to ASOBISYSTEM, is diving into the Metaverse! MetaTokyo is teaming up with the models to create NFT photography, open a digital pop-up museum, and provide wearable items for fans' avatars. The collaboration is an official installation for Metaverse Fashion Week held on the global metaverse platform Decentraland. The event began on March 24, 2022.


'AMIAYA x STREET TOKYO FASHION 2021ss' takes center stage in this collaboration. The photobook was made with popular street snap magazine STREET with photos taken by editor-in-chief Shoichi Aoki. The two models are seen wearing the latest Tokyo fashion on the streets of Harajuku and other areas of Japan's capital city. The company is intent on promoting local culture and fashion worldwide as part of the 'Web 3.0 Era.'


SPACE, a pop-up museum built on land owned by MetaTokyo in Decentraland, is now highlighting the AMIAYA and STREET collaboration with an immersive photo exhibition. Fans can also snag AMIAYA-themed wearables for their avatars.

Photos from the AMIAYA x STREET collab are now available as NFTs on OpenSea, the world's largest NFT marketplace. A total of 330 unique items will be available, so don't miss out!