McCafe by Barista to Offer Cookies & Cream Frappe for Winter Season
McDonald's Japan locations with McCafe by Barista installations will begin selling the Cookies & Cream Frappe for a limited time starting December 8, 2021. The McCafe by Barista corner employs full-time baristas serving 'authentic cafe coffee.' 
McCafe by Barista invites guests to enjoy high-quality frappuccinos and smoothies and these locations are offering three unique Frappes this winter. Following the Strawberry Creme Brulee Frappe and normal Creme Brulee Frappe released in late November, the Cookies & Cream Frappe will release soon, filled with rich vanilla sweetness!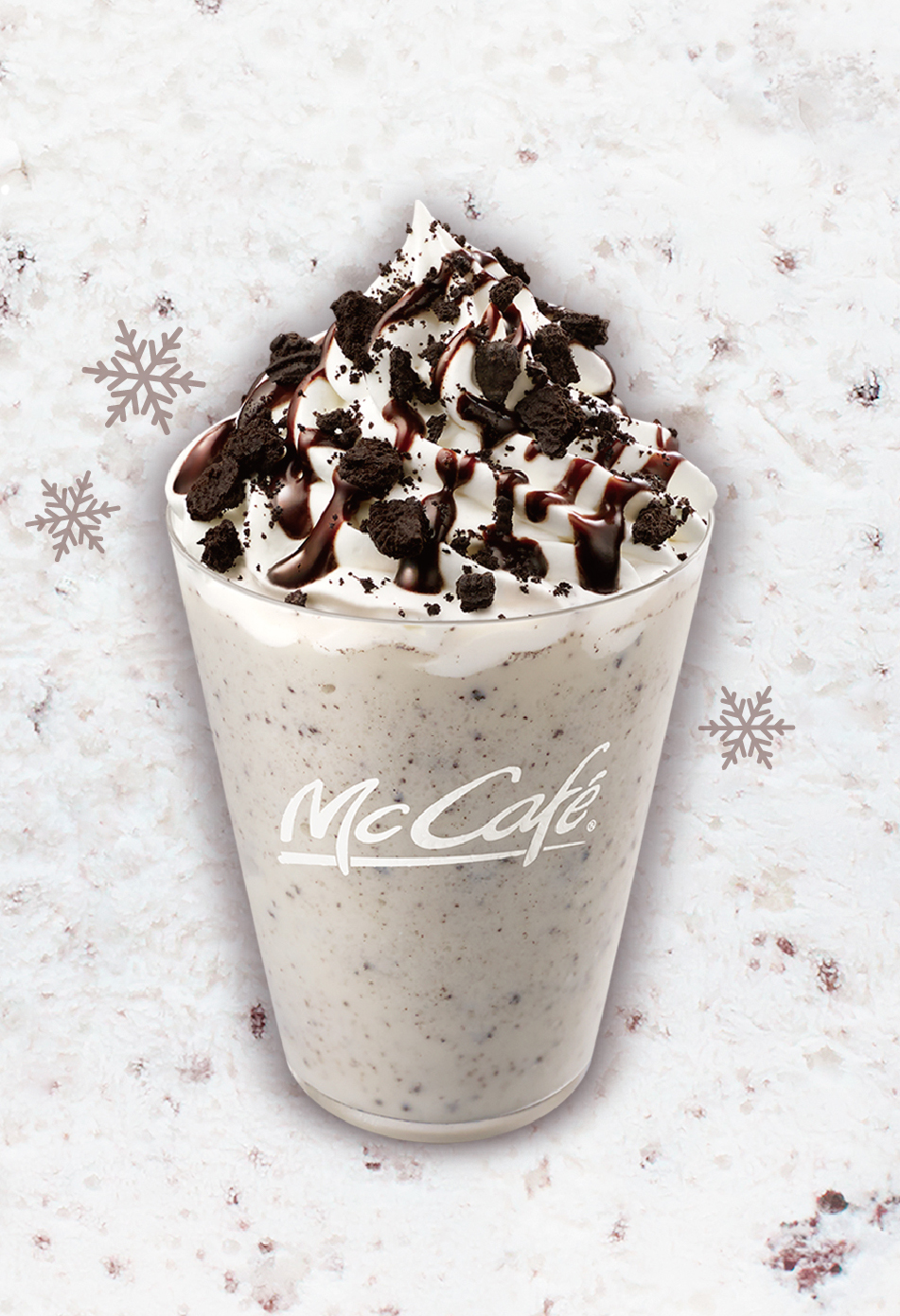 Cookies & Cream Frappe Medium: ¥470 / Large: ¥540 (Tax Included) 
The drink is a rich blend of creamy vanilla made from Madagascar Bourbon vanilla beans, blended with crunchy Oreo cookie bits and topped with whipped cream and chocolate sauce. What's not to love?
RELATED ENTRIES
Curious George and Sumikko Gurashi McDonald's Happy Meals Now Available

McDonald's locations across Japan are now offering Curious George and Sumikko Gurashi Happy Meals for a limited time!

The Curious George set features six different toys that can be assembled and controlled by turning the gears. This year's theme is inspired by creativity, shape recognition, and teaching children how things work. When the colorful gears on the toy are turned, the force is transmitted to the swing, Ferris wheel, seesaw, and other items, causing George to swing and spin! The first set of toys include 'George's Seesaw,' featuring George and the Man in the Yellow Hat, and 'George's Swing,' featuring George happily swinging back and forth. The second set will include 'George's Ferris Wheel' and 'George's Rocket Ride.'

The Sumikko Gurashi includes six kinds of puzzles decorated with illustrations of popular characters. The theme of these toys is color and shape recognition, imagination, and communication. The front side of each puzzle shows Sumikko and Minikko, and the backside displays an illustration of a story related to a particular Sumikko character. By putting the pieces together one by one, children develop their ability to recognize shapes and move their fingers with increased dexterity. The inside of the case that comes with the puzzle is decorated with stories about Sumikko and her friends. To commemorate the 10th anniversary of Sumikko Gurashi, a new character called 'Deshi' will appear on the case as well, and by scanning the QR code on the back of the case, customers can play an original mini-game!

From January 8 until January 10, participating locations will also be giving away Curious George and Sumikko Gurashi stickers with the purchase of each set.

Hotel Made Entirely of Ice Opens in Tomamu, Hokkaido

Hoshino Resort Tomamu, one of the largest stay-and-go snow resorts in Hokkaido, will open a hotel made entirely of ice from January 20 until February 28, 2022. The ceiling, walls, and furniture will all be made of ice, and guests can also enjoy an outdoor ice bath! In addition, a new Ice Dinner will be on offer, where visitors can enjoy a beautiful table surrounded by ice overlooking a forest of white birches while staring up at the starry winter sky.

The seamless dome-shaped ice structure is about 8.5 meters in diameter and 3.5 meters high. Sleeping bags will be provided to guests to keep them warm and comfortable until morning.

Visitors can enjoy a hot spring in the open winter air in Shimukappu Village's Scan Portopia Yunosawa Onsen. 

The aforementioned Ice Dinner features three ice-themed dishes and welcomes guests to sit at a table made entirely of ice surrounded by majestic nature.

The appetizer includes iced vegetables like tomatoes, bell peppers, and cauliflower. Each is dipped in a warm garlic sauce, balancing the sweetness of the veggies, which become more sugary when cold. 

The main course, Iceberg Bouillabaisse, is covered with ice. This begins to melt as the soup pot is slowly heated in front of the guests, revealing gorgeous seafood like cod and shrimp. It's a feast for the eyes as well as the tastebuds!

The frozen fruit dessert mixes strawberries and kiwis with hot wine and a touch of cinnamon. Sweet and sour flavors come together to end the night on a high note.

Information

Ice Hotel

Running: January 20 – February 28, 2022
Price: ¥28,000 per person, per night (Includes tax, service charge)
Check-in: 21:40-22:00 / Check-out: 8:00
Capacity: 1 group per day (Minimum 1 guest, maximum 2 guests)
Eligibility: Must be elementary school age or older and staying at Tomamu The Tower or Hoshino Resort RISONARE Tomamu
Reservations: https://www.snowtomamu.jp/summer/
*Must be made at least 1 week in advance.
Official Site:https://www.snowtomamu.jp

Bandai Candy Releases Second Round of Family-Sized Demon Slayer Tarts

Bandai Candy has begun selling the second round of Demon Slayer-themed tarts! This time, the family-sized treats will feature the taste of two varieties of cheesecake, and will be available at select AEON, AEON Style, MaxValu, and Daiei locations throughout Japan.

Each tart features characters from the popular Demon Slayer anime series with smiles on their faces. With a two-layered structure, customers can enjoy the flavor of baked cheesecake and gelatin cheesecake. Characters included are Tanjiro, Nezuko, Zenitsu, Giyu, Inosuke, Kyojuro, Shinobu, and Kanao.

(C)吾峠呼世晴/集英社・アニプレックス・ufotable

Information

Demon Slayer Big Tart Round Two ~Two Types of Cheesecake~

Price: ¥537 each (Tax Included)

Available Now

Where to Buy: 

AEON / AEON Style (Honshu, Shikoku, Kyushu)

MaxValu (Kanto, Hokuriku, West Japan)

Daiei's Chilled Dessert Corner

※Products only available in limited quantities. 

※Only available at participating stores.

Details: https://www.bandai.co.jp/candy/products/2021/4549660736721000.html 

Alice in Wonderland' Inspired Afternoon Tea Served at Aoyama St. Grace Cathedral for Seven Days Only

For seven days only from January to April 2022, the Aoyama St. Grace Cathedral wedding hall will open its doors to those wanting their fill of Alice in Wonderland-inspired sweets! 'Alice's Tea Party' will be an afternoon tea experience you'll never forget, and reservations are required.

The limited-time-only afternoon tea will feature a variety of adorable sweets that look like they popped out of a picture book, from Berry and Pistachio Bunny Ears Mousse to the Queen's Chandelier Butter Sandwich Cookies decorated like playing cards. Each sweet makes use of seasonal ingredients like strawberries, perfect with chocolate dips, petite tarts, and macaroons.

Information

Sweets Palette Afternoon Tea 'Alice's Tea Party' 

Running:

January 19, 2022
February 2, February 9
March 2, March 9, March 16
April 6 *Reservations Required
Times:

First Seating 12:15-13:45(Open at 12:00)

Second Seating 14:45-16:15(Open at 14:30)
Price: ¥4,500 per person (Tax and Service Charge Included)
Address: Aoyama St. Grace Cathedral Guest House (3-9-14 Kita-Aoyama, Minato-ku, Tokyo)

Access: 3-minute walk from Omotesando Station Exit A1 on Ginza Line / Chiyoda Line / Hanzomon Line
Reservations: https://www.bestbridal.co.jp/guestparty/tokyo/akasaka_aoyama_omotesando/stgrace_aoyama/2022event-10/ 

Peter Pan and Wendy-Inspired Sweets Buffet Comes to Nagoya

The Strings Hotel Yagoto NAGOYA in Aichi Prefecture is holding the 'Strawberry Neverland – Tinkerbell in Love Sweets Buffet' at it's sweets restaurant SCALA Terrace from January 15 until March 31, 2022. These limited-time desserts will use seasonal strawberries and pistachios.

Inspired by Peter Pan, the space will feature cute and refreshing sweets that will make guests think of the adorable fairy Tinkerbell. The 'Tinkerbell in Love – Raspberry Lime Mousse' is covered in the character's fairy dust, and is highly recommended by the restaurants chef patissier. A total of 16 desserts will be available, with some featuring edible flowers and other fantasy-inspired decorations. Those wanting something a little heavier can enjoy slow-cooked Indian Curry and Farfalle Cream Pasta. The space will also feature plenty of photo spots, so be sure to take some pictures with the person you love!

Sheraton Miyako Hotel Osaka to Hold Little Red Riding Hood-Inspired Strawberry Fair

The Sheraton Miyako Hotel Osaka will hold a 'Strawberry Fair' at four of its restaurants starting on January 1, 2022!

Little Red Riding Hood (Mascarpone and Berry Mousse)

Forest Friend (Cream Puff), Friendly Bear Macaroons

Forest Tree Stump (Nuts & Pistachio Cake)

Menu featuring Strawberry Items

Cafe & Gourmet Shop 'Cafe Bell' 

Running: January 15 – February 28, 2022

Sweets

Strawberry Brioche Sandwich / Strawberry Pudding / Strawberry Pistachio / Strawberry Tart / Strawberry Shortcake

Bread

Strawberry Cannelé de Bordeaux / Strawberry & Almond Chocolate Danish / Strawberry and Cream Cheese Flute 

Chinese Restaurant 'Shisen' 

Running: January 6 – February 28, 2022

Strawberry Apricot Tofu / Strawberry Pudding

'Bar eu'

Running: January 1 – February 28, 2022

Strawberry Grasshopper / Strawberry Milk for Adults / Strawberry Mojito

※Menu items subject to change depending on availability.
※Please inform the staff of any food allergies in advance.

Tokyo Gift Palette at Tokyo Station Selling Seasonal Strawberry Sweets

Tokyo Gift Palette, located near the Yaesu North Gate at Tokyo Station, offers a wide selection of unique souvenirs. From December 26, 2021 until January 11, 2022, the location will be holding the Exciting New Year's Fair, with the Strawberry Sweets Fair coming soon after from January 5 until January 25, 2022. 

Konigs-Krone Luxury 'Strawberry Parfait'


Patisserie Ginza Sembikiya 'Strawberry Omelet'


Strawberry Shop by FRANCAIS 'Strawberry Parfait'


*Only available at Tokyo Gift Palette
Tokyo Kaikan 'Reward Parfait ~Strawberry & Chestnut~

Strawberry Shop by FRANCAIS 'Fresh Strawberry Milk Cake'

Oosumi Tamaya 'Strawberry Daifuku'

Oosumi Tamaya 'Chinese New Year Daifuku'

Tokyo Kaikan 'Chocolate & Orange Tart' 

Paq & Mog Terrace 'Calbee and Tokyo Banana Bonito & Kelp Umami Dashi Potato Chips

The New Year's Fair will feature cute cakes and sweets inspired by the Chinese Zodiac, along with traditional Japanese goods. The Strawberry Sweets Fair will see a number of popular goodies on sale, including desserts that won top prizes in the 'Favorite Fruit Survey' conducted by Tokyo Gift Palette on Instagram in June 2021.

Ginza Cozy Corner Launches Limited Edition New Year's Chinese Zodiac Tiger Cake

From December 31, 2021, until January 3, 2022, Ginza Cozy Corner locations nationwide will be selling a limited edition New Year's cake featuring the Tiger from the Chinese Zodiac! 

Chinese Zodiac Tiger Cake

Fortune Cookies (10 pieces)

New Year Madeleines (6 pieces)

New Year's Grab Bag (24 pieces / 40 pieces)

Ginza Cozy Corner began selling a variety of New Year's-themed sweets starting in 2011. Traditionally, families in Japan enjoy a luxurious boxed meal called osechi on New Year's Day, and the company wanted to provide something to satisfy people's sweet tooth afterward! This year is the Year of the Tiger, making this chocolate and banana cake the perfect way to welcome 2022. Shops will also be selling other sweets like fortune cookies and mini Madeleine cakes, so there's something to bring a smile to everyone's face.

Information

Chinese Zodiac Tiger Cake

Available: December 31, 2021 – January 3, 2022

Where to Buy: Cozy Corner Locations Nationwide

Official Site: https://www.cozycorner.co.jp/

Rihga Royal Hotel Kyoto to Hold Strawberry Fair in 2022

From January 4 until April 30, 2022, Rihga Royal Hotel Kyoto will hold a special Strawberry Fair at its cozy lounge.

Those who love strawberries enough to want to drown in them won't want to miss this limited-time event featuring four unique desserts and an afternoon tea set.

Strawberry Parfait 'Drowning Strawberries' 

 

Guests can enjoy pouring warm homemade confiture made from Kyoto strawberries from Uesugi Farm in Yawata City over thin chocolate hidden beneath strawberry ice cream. This is recommended by the patisserie.

'Strawberry Shortcake ~Buried in the Glass~'

 

This limited-edition version of the hotel's strawberry shortcake is filled with white meringue and soft sponge, with cherry brandy flavoring making it light and easy to eat.

'Strawberry Afternoon Tea Set' 

Strawberry Stack Option

The popular 'Afternoon Tea Set' is served in a bamboo box made by Kochousai Kosuga, a bamboo craft manufacturer in Kyoto. This special strawberry version features nine sweet and nine savory items, including strawberry shortcakes and cream puffs. For a limited time until March, guests can add a pile of strawberries to the third tier. Using the special scoop spoon, you'll feel as though you're harvesting strawberries of your own! Be sure to take pictures.

Overflowing Strawberry Gift Box

Although it looks like a present, this dessert is meant to be enjoyed on-site! Overflowing with strawberry mousse, strawberry jelly, and pistachio brulee, raspberry sorbet, and streusel are hidden beneath the white chocolate box. Now that's luxury!

Boutique Hotel TRUNK to Hold Winter Market with Outdoor Comfort Concept

From December 20 until December 26, 2021, TRUNK, a boutique hotel in Jingumae, Shibuya, will hold the TRUNK Winter Market 2021. The theme of the event will be 'outdoor comfort,' and carrying on last year's tradition, the hotel will deliver content aiming to warm the body and soul during the cold winter season. The public terrace will be decorated with fire pits and lanterns, creating a space where visitors can fully enjoy the cozy atmosphere. The limited-time event will offer workshops, food, and drinks to be enjoyed with family and friends.

The food menu includes 'Chicken and Mushroom Pan Stew,' served in a bread bowl and made with fresh ingredients. Guests can also enjoy a 'Cheddar Cheese Crepe with Homemade Roast Ham,' along with plenty of scrumptious desserts. Perfect for the Christmas season, warm eggnog and mulled wine will be served, and kids will love the organic hot chocolate!

Four different workshops will be set up at tents in the public terrace. Kids Gabbeh Painting will teach kids how to design their own Gabbeh, a traditional small fabric woven by nomads in southwestern Iran. After drawing their design, artisans will weave the Gabbeh, and will send it to your home. The 'Socializing Flower Swag' workshop allows visitors to make swag using dried flowers that were upcycled from fresh flowers that would otherwise be thrown away. These will be silk-screened and wrapped for a great souvenir. Outdoor Candle is a workshop where visitors can create original leather candle holders. 




At Campfire Roast Coffee, guests can roast coffee over an open fire pit. Imagine how good it smells! Afterwards, you can take home your spoils.

There will also be a TRUNK Vintage Store on-site, where hotel staff will sell decorations and furniture no longer needed in the hotel, as well as clothes and other goods. 

Egg specialty store TAMAGOYA to launch Strawberry Fair for a limited time in Shizuoka

Shizuoka-based egg specialty store TAMAGOYA is currently running a BERRY BERRY Strawberry Fair for a limited time.

TAMAGO Pudding Parfait

ICHIGP Pudding Parfait


Gigantic ICHIGO Shortcake Parfait

Strawberry-filled Pancakes

The cafe offers pancakes and parfaits made with strawberries from Shizuoka Prefecture. The menu includes the "TAMAGO Pudding Parfait" that looks like a fried egg with fluffy pancakes and pudding as a specialty of egg stores, and the seasonal "ICHIGO Pudding Parfait". The "ICHIGO's Giant Shortcake Parfait," which weighs over 5 kg, is available by reservation only.

Enjoy the harmony of eggs and strawberries to your heart's content.

Information

TAMAGOYA

Address: 1-322, Yasuhisa, Mishima-shi, Shizuoka, 〒411-0815 

Opening Hours: 9:00~17:00/cafe branch 9:30~17:00(L.O15:30)

Official Site: http://izu-tamagoya.com/

New Year's Mini-Cakes Available for Preorder from Ginza Cozy Corner

Ginza Cozy Corner, a popular cake store in Tokyo, has started accepting preorders for its beautiful selection of New Years' mini-cake sets, called Sweets Osechi. In Japan, osechi refers to traditional foods eaten on New Years Day, which come in a special box, not unlike a bento box. Of course, they aren't usually packed with sweets, but these look absolutely scrumptious. 

In 2011, Ginza Cozy Corner started the 'First Sweets' tradition to invite people to welcome the new year by enjoying some sweets after finishing the traditional osechi dishes. This is when the idea of Sweets Osechi was born, sure to put a smile on your face going into 2022!

9-piece Sweets Osechi: ¥2,400 (Tax Included) 

12-piece Sweets Osechi: ¥3,000 (Tax Included) 

This year's selection includes tarts featuring the Chinese zodiac sign of the Tiger and the first sunrise of 2022. Each set will come in a special box in a bright red design perfectly exemplifying the holiday spirit!

Information

Sweets Osechi

Preorders Now Open

*Preorders will close as soon as items sell out. 

*Preorders can only be made in-store. Online preorders will not be accepted. 

Official Site: https://www.cozycorner.co.jp/