【Tokyo Stroll】The cafe that you want to visit to see someone #2 "Nanatsumori"—An Attractive Cafe in Kōenji
I ordered Omurice (¥1,185 w/tax) and a Jumbo Purin (¥625 w/tax) for this visit.
I tucked into my omurice first. But you don't eat omurice with ketchup here. Instead, it comes with a traditional style seasoning. The rice was mixed with beef, burdock, and enoki mushrooms, as well as a salty-sweet seasoning that tasted like shigureni.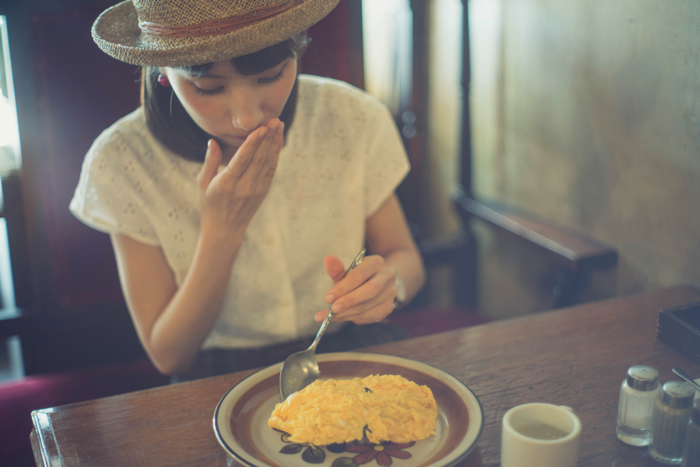 On top of the rice was an omelette that had fresh cream inside. It was wonderful.
The traditional style rice and the sweet-tasting egg went perfectly together! I cleared my plate very quickly.
For dessert, I went with my absolute favourite—custard purin♪
It was served in a cute plate that looked like a goldfish bowl. It looked very photogenic. The purin itself wasn't the soft kind. It was an old-style purin with elasticity and a gentle flavour.
The caramel sauce was delicious too with its ever so slightly bitter taste. I could have eaten more than one. I also ordered black tea to go with it.
The menu has plenty of other homemade sweets too! I definitely want to try ordering something else the next time I go.
Time passes slowly and restfully at "Nanatsumori," with its retro atmosphere. You can spend a happy time there surrounded by its gorgeous interior that makes it seem as if you've stepped back in time.
It made me think "I want to spend some luxurious time here together with someone special."
The next time you head on out to Kōenji, be sure to visit here.
■Information
Nanatsumori
Address: 2 Chome-20-20 Kōenjiminami, Suginami, Tokyo
Business Hours: 10:30-24:00 (Last orders at 23:30)
Holidays: None
Access: 3-minutes' walk from Shin-Kōenji Station / 7-minutes' walk from Kōenji Station
Writer&Model: Ema Tanioku
Profile:Ema and Eri Tanioku are well-known Aomoji-kei twin models that go by their duo name "EmaEri." Their twin-like fashion co-ordination and cute looks have earned them a fast growing fan base. They are officially appointed tourism ambassadors and work both in Japan and overseas to promote Harajuku culture. They work as fashion models in a wide range of areas and have appeared in fashion magazines as well as on TV, in dramas, movies and more. Instagram:@ematanioku
Photograph:Haruka Yamamoto
Design:Yuko Abe(ASOBISYSTEM)
Editor:Sayuri Mizuno(ASOBISYSTEM)
Translation:Joshua Kitosi-Isanga
Related Article:【Tokyo Stroll】The cafe that you want to visit to see someone #1 The popular cafe in Jinbo-cho called "Sabouru" that has retro interior and nostalgic food
Related Article:【Tokyo Cafe】Yonchome, Kouenji – reasonable prices, comfortable atmosphere and great lunch.