Kyary Pamyu Pamyu Explores Tomakomai, Hokkaido in New Tour Video
Kyary Pamyu Pamyu is introducing potential travelers to the charms of Tomakomai, Hokkaido in a new two-part tourism video on her YouTube channel. 
In the new videos, fans can see Kyary in a new light very unlike her onstage persona. Along with her tour guides, she travels for two days around this gorgeous city on Japan's northernmost island.
The first video begins with her visit to a Red Eagles Hokkaido hockey game, quickly followed by tons of outdoor activities like canoeing and horseback riding. The singer enjoys plenty of local dishes and captures some spectacular views of Lake Utonai. 

Who is the one who invited Kyary to Tomakomai anyway? Fans will have to watch to find out. Whether living in Japan or dreaming about visiting someday, these videos are sure to inspire a future trip.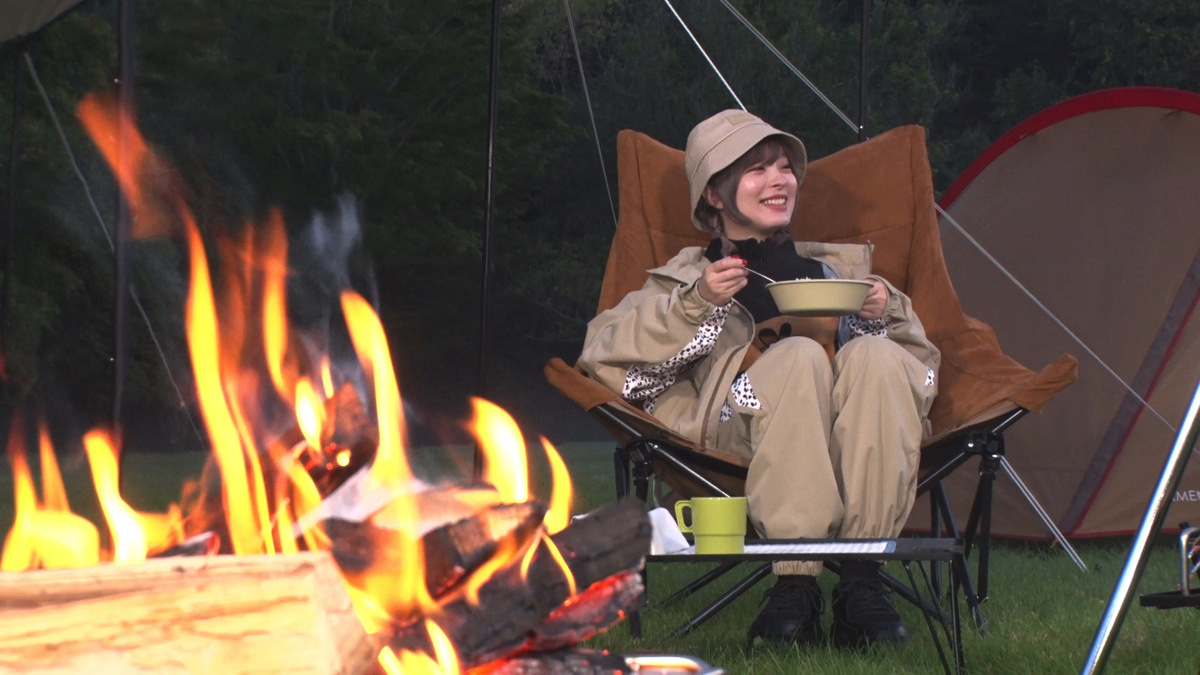 RELATED ENTRIES
Kyary Pamyu Pamyu's First Performance of 'Maybe Baby' Takes Place on First Day of New Tour

Celebrating the 10th anniversary of her major label debut, Kyary Pamyu Pamyu is back in the news. The artist will perform at this year's Coachella, one of the largest music festivals in the United States, and released her first full-length album in three years 'Candy Racer' in October 2021. On January 16, Kyary embarked on the largest tour of her career, 'Kyary Pamyu Pamyu 10th ANNIVERSARY JAPAN TOUR 2022 CANDY WAVE,' which will see the singer performing 30 shows across Japan.

The first show was held at Atsugi City Cultural Hall in accordance with all local guidelines to limit the spread of the Coronavirus. Fans lined up, excited to see the artist for the first time in three years–and when Kyary took the stage clad in a bright green wig and costume, she showed her appreciation for those who have waited to see her again. 

"Long time no see! I'm sorry I made you wait," the singer said as the audience replied with massive applause. "Today, I'm starting my first tour in three years. I want to give you all a performance that will make you glad you came!" 

The artist began by performing her newest track Maybe Baby for the first time. The setlist included 21 songs total including songs from Kyary's newest album 'Candy Racer' and legendary tracks like PONPONPON and Fashion Monster. 

In conjunction with the nationwide tour, the "LOCAL POWER JAPAN Project" was launched to energize Japan through the appeal of regional towns and cities. The 30 stops on the new tour include many that Kyary has not visited before, and were chosen based on the singer's desire to perform for fans who may not typically be able to attend one of her shows. Wanting to show her gratitude, this is also a chance to inspire local industry and tourism, both of which have been hit hard by the ongoing pandemic. 

Keep an eye out for what Kyary Pamyu Pamyu does next!

Hotel Made Entirely of Ice Opens in Tomamu, Hokkaido

Hoshino Resort Tomamu, one of the largest stay-and-go snow resorts in Hokkaido, will open a hotel made entirely of ice from January 20 until February 28, 2022. The ceiling, walls, and furniture will all be made of ice, and guests can also enjoy an outdoor ice bath! In addition, a new Ice Dinner will be on offer, where visitors can enjoy a beautiful table surrounded by ice overlooking a forest of white birches while staring up at the starry winter sky.

The seamless dome-shaped ice structure is about 8.5 meters in diameter and 3.5 meters high. Sleeping bags will be provided to guests to keep them warm and comfortable until morning.

Visitors can enjoy a hot spring in the open winter air in Shimukappu Village's Scan Portopia Yunosawa Onsen. 

The aforementioned Ice Dinner features three ice-themed dishes and welcomes guests to sit at a table made entirely of ice surrounded by majestic nature.

The appetizer includes iced vegetables like tomatoes, bell peppers, and cauliflower. Each is dipped in a warm garlic sauce, balancing the sweetness of the veggies, which become more sugary when cold. 

The main course, Iceberg Bouillabaisse, is covered with ice. This begins to melt as the soup pot is slowly heated in front of the guests, revealing gorgeous seafood like cod and shrimp. It's a feast for the eyes as well as the tastebuds!

The frozen fruit dessert mixes strawberries and kiwis with hot wine and a touch of cinnamon. Sweet and sour flavors come together to end the night on a high note.

Information

Ice Hotel

Running: January 20 – February 28, 2022
Price: ¥28,000 per person, per night (Includes tax, service charge)
Check-in: 21:40-22:00 / Check-out: 8:00
Capacity: 1 group per day (Minimum 1 guest, maximum 2 guests)
Eligibility: Must be elementary school age or older and staying at Tomamu The Tower or Hoshino Resort RISONARE Tomamu
Reservations: https://www.snowtomamu.jp/summer/
*Must be made at least 1 week in advance.
Official Site:https://www.snowtomamu.jp

Kyary Pamyu Pamyu to Perform at Coachella 2022

Kyary Pamyu Pamyu will be performing at the world-famous Coachella Valley Music and Arts Festival in Indio, California this April! Scheduled to perform at the event in 2020, Coachella was canceled due to the ongoing pandemic. Back after two years, the lineup of performing artists has been posted to the official site.

This year, Harry Styles, Billie Eilish, and Ye (Kanye West) will be headlining the event, which also includes artists from around the world. Kyary will perform on April 16 and April 23.

Kyary Pamyu Pamyu is celebrating the 10th anniversary of her debut and is set to begin her largest nationwide tour to date on January 16. The artist will be performing 30 shows across Japan.

Kyary Pamyu Pamyu Releases 'Maybe Baby,' Opening Song for Ninjala Anime Series

Kyary Pamyu Pamyu's new song Maybe Baby has been officially released on streaming services! The track will be used as the opening theme song for the Ninjala anime series. The track was written by Yasutaka Nakata, and is a danceable track for children and adults alike.

Maybe Baby – Kyary Pamyu Pamyu (Opening Song for Ninjala Anime Series) 


Maybe Baby Playback Campaign on LINE MUSIC

The opening video for the anime series is also available on Kyary's official YouTube channel. To celebrate the release, LINE MUSIC is holding a playback campaign until January 22, 2022. The top 50 listeners will receive a Maybe Baby neck strap that is not for sale and was made exclusively for this event.

Shiroikoibito Park in Sapporo to Hold Chocolate Factory of Light and Love Illumination Event

Shiroikoibito Park in Sapporo will hold a special illumination event from December 27, 2021 until March 14, 2022! The 'Chocolate Factory of Light and Love' is perfect for couples to visit during these cooler months. 

A popular event each year, the Shiroikoibito Park Illumination was cancelled last year due to the pandemic. As this event is held inside, it offers some shelter from the cold as guests wander through the 85-meter-long course. An escape game will also be held for the first time at the location, and will involve two participants attempting to solve riddles based on 'love' and 'chocolate.' The room is decorated with luxurious antique items imported from England.

Escape Game! Escape from the Chocolate Laboratory

Running: January 7 – March 14, 2022

Hours: 10:00-16:00

Reservations Available at Ticket Counter

Location: Study Base – Cacao Pod

Chocolate Take-Out

Available: February 11 – February 14, 2022 / March 12 – March 14, 2022

Hours: 10:00 until sold out

Price: ¥500 (Tax Included)

Location: Tudor House 1F Special Event Space

Dessert Set (with Drink): ¥1,700 (Tax Included)

Very Cocoa Set (with Drink: ¥1,700 (Tax Included)

Chocolate & Berries: ¥800 (Tax Included)

One-sided Love Hot Cocoa: ¥550 (Tax Included)


Beef Stew with Hokkaido Beef (served with bread or rice): ¥1,380 (Tax Included)


Chocolate Baumkuchen: ¥1,512 (Tax Included)
Where to Buy: Piccadilly Shop
On sale January 15, 2022 (Valentine's Day Exclusive)

Select Chocolates: ¥648 (Tax Included)
Where to Buy: Piccadilly Shop
On sale January 15, 2022



Inspired by the novel 'Charlie and the Chocolate Factory,' Shiroikoibito Park was opened to bring people together with sweets. How could guests not be happy in such a magical place?

Information

Shiroikoibito Park ~Chocolate Factory of Light and Love~

Running: December 27, 2021 – March 14, 2022

Ticket Office Open: 10:00-16:30 *Tickets available until 16:00

Official Site: https://www.shiroikoibitopark.jp/

Harajuku Girls Magazine Zipper to Return to Quarterly Release Schedule After 5 Years

Popular Harajuku-based fashion magazine Zipper, which ceased publication in 2017, will return in March 2022! The rebirth of the magazine is being spearheaded as a joint venture between DONUTS Inc. and ASOBISYSTEM.

Zipper was first published in 1993 as a way to say "NO!" to traditional style. It continued to inspire creative minds for 24 years until it ceased publication in 2017, and many Harajuku-based celebrities and influencers cite the magazine as a major source of inspiration over the years. Now, this beacon of individuality and fashion is making a triumphant comeback right when the world needs it most.


In addition to the magazine, Zipper will also be available on YouTube, TikTok, Instagram, and Twitter, opening up the brand to fans of Japanese fashion around the world. More details will be announced in the future.


Information

Zipper

Resuming Publication in March 2022

CAPSULE Releases Music Video for New Song 'Virtual Freedom'

The music duo CAPSULE is celebrating 20 years since their major debut, and their third new single for 2021 Virtual Freedom is now streaming. The highly-anticipated music video has also been released. 

Virtual Freedom Streaming Links

https://capsule.lnk.to/virtualfreedom

 

Virtual Freedom takes listeners on a trip through the history of synthesizers and submerges you in layers of interwoven soundscapes.

 

Virtual Freedom Music Video

Director: KENTARO SAISHO 
3DCG supervisor: HIROMU KONNO
Production: Totte.Co., Ltd

 

A song-sharing campaign is also underway! Follow Warner Music Japan's Twitter account and use the Twitter share function on Apple Music, Spotify, or LINE MUSIC to share Virtual Freedom with the hashtag #VirtualFreedomCP. 50 random people selected will receive the original cassette tape photographed for the cover of the Virtual Freedom album! 

Kyary Pamyu Pamyu's Song 'Maybe Baby' Announced as Theme for 'Ninjala' Anime Series

Kyary Pamyu Pamyu has announced that her new song Maybe Baby will serve as the opening theme song for the winter anime series Ninjala, set to begin airing on January 8, 2022. The singer is celebrating the 10th anniversary of her major debut in 2021, and Maybe Baby was featured on her newest album Candy Racer released in October.

Online Fan Meetup

The anime series is based on GungHo Online Entertainment's action video game for the Nintendo Switch. In the past, Kyary Pamyu Pamyu has collaborated with the game, providing her songs Gum Gum Girl and Ninja Re Bang Bang Steve Aoki Remix. 

 

Maybe Baby was written by Yasutaka Nakata and is a danceable track featuring Kyary's light vocals and a catchy beat that will make anyone want to move. 

 

An online fan meetup will also take place on December 18 and will be held exclusively for members of Kyary Pamyu Pamyu's official fan club, KPP CLUB. While last year's 'KPP ONLINE MEETUP VOL.1' was a large online event with about 500 fans in attendance, this time it will be held in small groups of about 25 for multiple periods. 

 

During the meetup, Kyary will give away many of her personal belongings that she has used in the past. Fans of the singer won't want to miss out!

 

To commemorate 10 years of the singer's career, members of the Fanclub will also get some new benefits and privileges including behind-the-scenes vlogs. 

 

Kyary Pamyu Pamyu will start her 10th Anniversary Japan Tour on January 16. This will be the largest tour in the singer's history, and fan club members can enjoy special passes and photo spots. 

 

Comment from Kyary Pamyu Pamyu

"I, Kyary Pamyu Pamyu, will be in charge of the opening theme for the anime Ninjala! I've collaborated with the Ninjala game many times, so I'm very happy to be able to do the opening theme for the anime too. The title of the song is Maybe Baby, and it's a cool song that everyone can sing along to. I hope that this song will be loved by everyone as they watch the series!"

© GungHo Online Entertainment・TV Tokyo

Sailor Moon Store to Open at Paseo in Sapporo, Hokkaido for Limited Time Only

Kiddy Land will be holding the "Sailor Moon store -petit-" at Paseo, a shopping center connected directly to Sapporo Station in Hokkaido, for a limited time only from December 17 to March 27, 2022.

Sailor Moon store -petit- is a traveling branch of Sailor Moon Store, which gathers all the products of Sailor Moon series. During the period, there will be rewards for purchasing the products, so take this opportunity to visit the Sailor Moon Store.


© Naoko Takeuchi
© 武内直子・PNP/劇場版「美少女戦士セーラームーンEternal」製作委員会
© 武内直子・PNP・東映アニメーション

Channel 47 Produces Special Short Video for Kanazawa Film Festival

Highlights from the Kanazawa Film Festival

Channel 47, a company using the power of entertainment and pop culture to convey the appeal of Japan to the world, made a splash at this year's Kanazawa Film Festival by producing the short video 'HAKKEN -in Kanazawa Movie Festival.' This was shown at both the Kanazawa Film Festival and the Tatemachi Film Festival, which were held simultaneously in Kanazawa, Ishikawa Prefecture in September 2021. The video is available to watch on the official Channel 47 YouTube channel. 

「HAKKEN -in Kanazawa Movie Festival-」

The film was produced by Channel 47 to promote both film festivals. The Kanazawa Film Festival aims to 'promote Japan's countryside culture to the world,' and with such similar goals, the two were perfect partners. 

In conjunction with the project, Channel 47 invited AMIAYA and Etsuna (both talents under ASOBISYSTEM) as special guests to the awards ceremony of the Kanazawa Film Festival. The Channel 47 Award was given to MELIA, who also won the Promising New Director Grand Prix. 

The short video highlights some of the best moments from both events and includes interviews with the Director of Eiga no Kai (The Film Association) and MELIA. There's plenty of impressive footage to see, so check out the highlights!

HAKKEN -Discover Kanazawa with AMIAYA-

HAKKEN -Discover Kanazawa with AMIAYA-, also produced by Channel 47, shows off Kanazawa's best pop culture tourist spots. 

HAKKEN -Experience Kanazawa's History with ETSUNA-

The final HAKKEN film produced by Channel 47 shows off the incredible depth of Kanazawa City and how much it has to offer. 

The Kanazawa Film Festival is an ongoing event held by the Eiga no Kai at the 21st Century Museum of Contemporary Art in Kanazawa and at other venues throughout the city. The goal is to help develop the area and share countryside culture with Japan and the world. The 15th such event was held from September 18 to September 20, 2021. In addition to staging special works each year, the festival has an established reputation in the film community for its 'New Directors with Promising Talent' program. This year, 83 films were entered into the New Directors competition, with 11 being chosen to be screened. MELIA came out on top for 'Experimental Tour,' and also won a special Channel 47 award.

The Tatemachi Film Festival is organized by the Tatemachi Shopping District Revitalization Association and is held at the same time. The venue was the rooftop of Tatemachi Parking, a multi-story parking garage in the city also popular for outdoor music festivals. It was held from September 17 to September 19, 2021.

Official Site: https://www.eiganokai.com/event/filmfes2021/kanazawa/

Channel 47 is a project using the power of entertainment to share Japan and its local culture with the world. By getting popular celebrities and public figures involved, the company produces events and content that conveys the appeal of specific Japanese locales and customs to global audiences. 

Official Site: https://channel47.jp/

Contact: info@channel47.jp

Hokkaido's OMO7 Asahikawa Resort Opens Animal Sauna

Hoshino Resorts OMO7 Asahikawa has announced a new 'Animal Sauna,' inviting guests to spend time with cute animals to heal the body and soul. The sauna will be open from March 1 to May 31, 2022. 

Fans of Gashapon capsule toys know that animal sauna figures are popular among sauna enthusiasts. These figures are only about four centimeters big, but during this sauna event, they will be life-sized and placed within the sauna space! These massive figures were made with the help of Bandai. 

Sauna hats protect guests' heads and hair from the heat, and sauna ponchos prevent guests from getting too cold after emerging from the space. Now, these hats feature cute animal ears, and the sauna mats are covered in animal prints as well. These will also be available to rent or buy! 

The lounge space will also be transformed, and a drink bar with animal-themed glasses will help guests to rehydrate after time in the sauna. Yes, the lounge space also features life-sized animals, perfect for nature lovers. 

Gashapon figures will be available to purchase on the first floor, so be sure to grab one as a souvenir! 

ⒸBANDAI

Information

Animal Sauna

Running: March 1 – May 31, 2022

Hours: 15:30-24:00 (Last entry 23:30)

*Only Available to Hotel Guests

Admission: Free

Official Site: https://omo-hotels.com/asahikawa/

CAPSULE to Release Third New Song of 2021 on Streaming Services, Artwork Revealed

Japanese electronic band CAPSULE is celebrating the 20th anniversary of its major debut! The group's two members, Yasutaka Nakata and Toshiko Koshijima, have announced the release of their third new single for 2021, Virtual Freedom. The track will release on streaming platforms on December 10 and follows Hikari no Disco and Future Wave. Cover art for the song featuring an old-school cassette tape has been revealed ahead of the song's release. 

Composer and producer for the band Yasutaka Nakata also serve as the music producer for popular group Perfume and Kyary Pamyu Pamyu. 

Virtual Freedom can now be pre-added or pre-saved on Apple Music and Spotify. Be sure not to miss out on this new song when it drops later this week!