A BATHING APE®️ Releases ROAD STA Sneaker Collection, Blends Classic and Modern
A BATHING APE®️ has announced the new ROAD STA sneaker collection, sure to enthuse shoe heads from around the world. The footwear is now available for purchase at BAPE.COM and at authorized BAPE stores.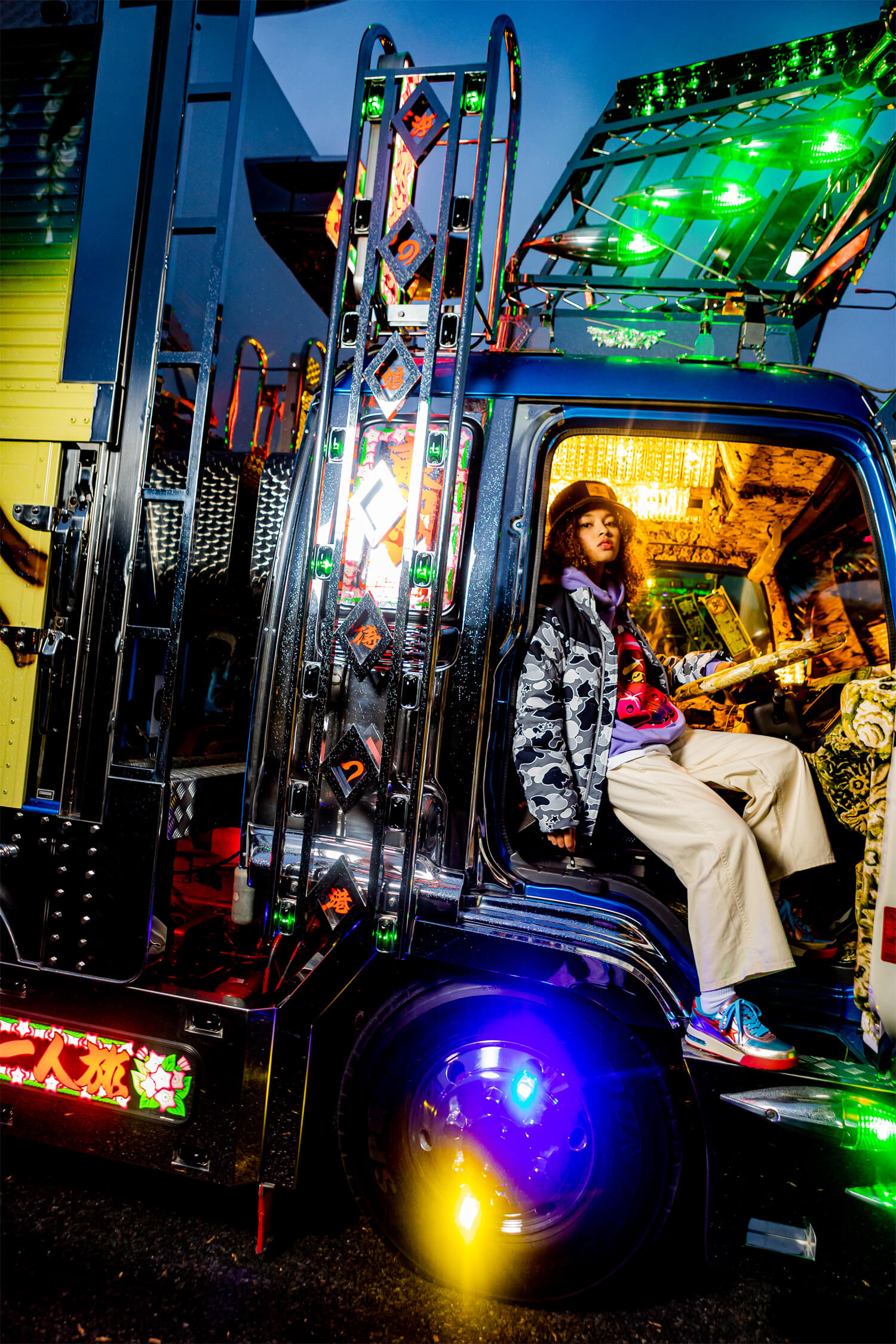 ROAD STA  (NAVY/GREEN/PINK)

The theme for the new collection is 'Classic Reborn,' following closely in the footsteps of the past but with a fresh and exciting twist. Metallic covers have been woven into the original color palette, giving a more alluring shine. Comfortable and perfect for any situation, fans of the popular brand won't want to miss out. 
RELATED ENTRIES
Canada Goose×CONCEPTS×BAPE® Release Collaboration Collection

Long-time partners CONCEPTS and BAPE® have launched collaboration collection which is now available at Canada Goose Sendagaya branch and Ron Herman Kyoto 'Canada Goose' shop in shop.

Line-up

CROFTON HOODY 

CHILLIWACK BOMBER 

EXPEDITION PARKA 

KNIT TOQUE 

DOWN SCARF 

DOWN BLANKET

The collection includes 6 pieces inspired by the heritage of Canada Goose featuring the iconic BAPE® ABE Camo and Snow Camo to take streetwear to the next level.

Characters Peko & Poko Released as BE@RBRICK Figures in Collaboration with BAPE

Japanese sweets manufacturer Fujiya has been in business for over 100 years and was the first to establish a nationwide cake shop chain in the company. Their mascot characters Peko and Poko are loved in Japan and have appeared on merchandise for decades. Now, popular street fashion brand BAPE and BE@RBRICK are collaborating to release some neat Peko and Poko figures for a limited time!

BE@RBRICK BAPE® × Peko & Poko 100% & 400% (4-piece set): ¥28,600 (Tax Included) 

 

The collaboration features BAPE's original camouflage design on Peko and Poko's overalls. The yellow shirt each character is wearing is an original BAPE item, and the two are also wearing BAPE shoes! On the back of each figure, the logo reads 'Milky and BAPE from Fujiya.' 

BE@RBRICK BAPE® × Peko & Poko 1000% (2-piece set): ¥154,000

 

This is the first time a set like this has been released, so be sure to grab it before the chance is gone!

Ⓒ FUJIYA
BE@RBRICK TM & Ⓒ 2001-2021 MEDICOM TOY CORPORATION. All rights reserved.

AAPE x NEW BALANCE Unveil Sporty and Trendy New Collaboration

Trend-leading fashion brand AAPE has announced a new collaboration collection with classic sports brand NEW BALANCE. The collaboration will be both sporty and trendy.

The collaboration pays homage to classic street culture, with camouflage prints and the stylish NEW BALANCE logo colored using earth tones. Based on the 703 sneaker, the mountain trail running shoes have a military vibe while offering maximum comfort and durability.

 

The collection also includes a selection of durable and flexible outdoor clothing, with jackets and utility trousers. AAPE's new spliced camouflage print brings out the practical look even further. You can also pick up some practical gear such as fishing hats and thick mountain socks. 

 

The collaboration items will be available from September 25 at AAPE STORES in Harajuku, Shibuya, Hankyu Men's Tokyo, Osaka, and Lake Town.

 

Be sure to check out this aesthetic and functional collaboration!

 

Information

AAPE x NEW BALANCE Collection

Availability: September 25 2021

Purchase Location: AAPE STORE Harajuku, AAPE STORE Shibuya, AAPE STORE Keikyu Men's Tokyo, AAPE STORE Osaka, AAPE STORE Lake Town

ASICS x A BATHING APE® Collab on Rad New Sneakers

Japanese shoe brand ASICS is teaming up with street fashion brand A BATHING APE® to release a new pair of sneakers. The shoes are modern and sporty, while still rocking an original BAPE® design, and will be available at A BATHING APE® retailers and online starting August 22.

BAPE® x ASICS GEL-1090: ¥19,800 (Tax Included)

Originally released in 2003, the GEL-1090 is a classic pair of sneakers, now updated with modern flair and functionality. The design is reminiscent of the street scene of the early 2000s, as seen through the eyes of the BAPE® brand.

The tiger claw mark on the toe and heel are original to the GEL-1090 design, while the BAPE® style has been fashionably incorporated throughout, including classic camo and shark motifs. Tokyo-based photographer RK was in charge of the look book for the release, and captured the effortless mix of sporty and street-style the GEL-1090s offer.

Do these shoes match your personal style?

Popular BE@BRICK x Transformers Toys Get BAPE® Makeover

Top Japanese streetwear brand A BATHING APE® is teaming up with world-famous toy manufacturer Medicom Toy and Takura Tomy to release a special-edition Transformer toy! The 200% larger (approximately 145mm tall) model will be available at authorized A BATHING APE® shops and online starting August 14, 2021. It will also be available at Medicom Toy stores and the official Medicom online store. 

This uniquely-designed BE@RBRICK can quickly transform into Optimus Prime, the leader of the autobots in the Transformers franchise. If the bright green color looks familiar, it's a reprint of the TRANSFORMERS MP CONVOY BAPE® VERSION released in the past. Fans are sure to love the brand's iconic original camouflage decorating the robot's arms along with the APE HEAD decal!

Whether you want to play with it or display it in your home, this special BE@RBRICK release is perfect for children and adults alike!

(C) TOMY
BE@RBRICK TM & (C) 2001-2021 MEDICOM TOY CORPORATION. All rights reserved.

A BATHING APE® New Collaboration With HAVAIANAS

Japan's top streetwear brand A BATHING APE® has announced an exclusive collaboration with Brazilian lifestyle brand HAVAIANAS.


HAVAIANAS and BAPE® have garnered fans from all around the world with their impactful designs and wide product range. The collaboration pieces combine the signatures from both brands while maintaining a modern yet iconic design, perfect for brightening up your summer wardrobe.

BAPE® X HAVAIANAS TRADI ZORI COLOR: BLACK, WHITE ¥14,300 (Tax Included)

 

The collaboration shoes are available in two styles, the Tradi Zori and the Top sandal. 

The Tradi Zori was inspired by Japanese Zori inspired beach sandal, while the Top sandal is one of HAVAIANS' most popular designs. 

Both models will be available in the BAPE signature ABC CAMO, perfect for a fashionable street aesthetic.

BAPE® X HAVAIANAS TOP COLOR:GREEN,BLUE,PINK ¥6,600 (Tax Included)

Trade Zori is available in white and grey. Top is available in green, blue, and pink.


The collection will be available both in-store and online at A BATHING APE® from August 1, 2021. 

BABY MILO® x HELLO KITTY Collaborative T-Shirt Collection Drops

A BATHING APE's® mascot character BABY MILO® has joined paws with Sanrio's Hello Kitty to release a collaborative t-shirt collection at A BATHING APE® stores and their online store. Hello Kitty first appeared in 1974 and has gone on to become an instantly-recognisable icon and symbol of kawaii culture across the world. Merchandise of Hello Kitty is available in 130 countries globally.

Adult Tees

Shoes

Mug

Kid's Line-Up

BAPE.COM WEB STORE/BAPEXLUSIVE™ Aoyama Branch

BABY MILO® and Hello Kitty have collaborated to fans delight numerous times in the past. This cute collection is actually a re-release and features the same original graphics. There are also some exclusives in the collection along with a kid's line-up.

© 2021 SANRIO CO., LTD. APPROVAL NO. L629192

Dr. Martens x A BATHING APE® x mastermind JAPAN Shoe Collaboration Drops

Three worlds collide as Dr. Martens, A BATHING APE®, and mastermind JAPAN, come together to collaboration on a new shoe collection. The line-up released worldwide on Dr. Martens as well as at BAPE on June 26.

Dr. Martens describes the shoes: "Three worlds collide. Our 1461 silhouette has been reimagined through both A BATHING APE®'s and mastermind JAPAN's creative lens. Screen printed with A BATHING APE®'s 'shark mouth' on one shoe and mastermind JAPAN's 'skull' on the other. Crafted from Smooth leather and detailed with a triple branded dog tag, antique black 'mastermind JAPAN' and 'A BATHING APE®' branded lace charms and a tri-branded sock liner. Finished with instantly recognisable Dr. Martens detailing such as a black and yellow heel loop and yellow welt stitching."

Sesame Street T-Shirt Collection Releases by AAPE BY A BATHING APE®

AAPE BY A BATHING APE® released a new collection of Sesame Street tees and merchandise on Saturday as part of a partnership the brand formed with the American children's television series.

Men's Tees

Kid's Tees

Novelties

The collection features familiar faces Elmo, Big Bird, Cookie Monster, and BAPE's own gorilla character. The tees are available in standard black, white, purple, and for this collaboration, Cookie Monster Blue.

The fun line-up, which brings together the identities of both BAPE and Sesame Street, is offering a special box set of seven Sesame Street key chains to those who spend over ¥43,000 on this collection. An event to promote the collection will also take place at the Harajuku and Shibuya branches of AAPE STORE where Elmo and Ernie will make an appearance to greet buyers.

Sesame Street x BAPE® Second Collaboration Launches

The Sesame Street and BAPE® collaboration continues with pre-sales for the children's line-up having launched at BAPE KIDS® Harajuku on April 29 and the men's collection dropping at all A BATHING APE® stores and webstore on May 2.

This collaboration features familiar faces from the Sesame Street series including Elmo, the Cookie Monster, and Big Bird together with BAPE's own BABY MILO®. It's a fun and colourful collection of stripes tees, tees with big graphics on them, and more for the family to coordinate.

There are also special illustrations in line with Children's Day in Japan which falls on May 5.

Information

BAPE® x Sesame Street

Kids' Collection

Pre-Sales: April 29, 2021

Where: BAPE KIDS® Harajuku / BAPE KIDS® Yokohama Takashimaya / BAPE® Online


Men's Collection

Released: May 2, 2021

Where: A BATHING APE® Stores (Select Branches Not Participating) / BAPE® Online


Product Page: https://bape.com/pages/sesame-street-gw

A BATHING APE® x COMME des GARCONS Launch Second Collaboration

After one year since their first collaboration, A BATHING APE® and COMME des GARCONS released their second collection at BAPE STORE® and COMME des GARCONS OSAKA on April 3 featuring a new line-up that emphasises everything quintessential about both brands.

The collection includes full-zip hoodies, sweat shorts, tapered pants, and more, all branded with BAPE and GARCONS' logos and serving hard, casual vibes. The brands released a look-book as pictured below with a simple yet aesthetic style.

A BATHING APE® Releases Collection in Collaboration With BE@RBRICK

A BATHING APE® turned 28-years-old on April 1. Every year when their anniversary season comes around, the Japanese brand releases some kind of celebratory item. This year, BAPE® is teaming up with MEDICOM TOY to release a special collection in collaboration with BE@RBRICK. The line-up is a collection t-shirts and BE@RBRICK bears in eight patterns which will be released in batches.

The first t-shirt batch will drop on April 3 at A BATHING APE stores and their online store while the BE@RBRICK bears will release at MEDICOM TOY shops and their online store.