Limited Edition "Lipovitan-D×Dragon Ball" Collaborative Bottle Designs on Sale!
Lipovitan is a type of energy drink manufactured by Taisho Pharmaceutical. As a special collaboration, the company has teamed up with the popular anime series "Dragon Ball" to release the first ever limited edition Lipovitan-D drink. Lipovitan-D will be available in bottles featuring 5 different Dragon Ball designs. Sales will begin on August 1st and the bottles will be limited in stock. You'll find them at Lawson, FamilyMart, Circle K Sunkus, NewDays, Seico Mart, and via the Taisho Pharmaceutical Direct Online Shop.
Characters drawn for the campaign include none other than Goku, Vegeta, Trunks, Android 18 and Frieza, names that any fan will be familiar with. The bottles also feature popular lines from the series, including Goku saying "I'm getting excited" and Frieza's description of his power level being 530,000.
But the details in the bottle design don't stop there. If you flip the bottle around you will see Goku performing a Kamehameha into the bar code. The energy beam is also hitting a QR code, which if you scan will take you to the Lipovitan Point Charge Station. 55,000 lucky people also have the chance to win a prize in the "Lipovitan GO!GO! Campaign, so enter the number behind the seal and rack up your points.
There is also a separate sales promotion fair for Lipovitan-D being held at select drug stores and supermarkets where fans can get their hands on must-have original merchandise including one of 12 different limited edition coasters with quotes on them. And if you line up two coasters of the same colour, they will join to reveal Zarama, the dragon god who created the Super Dragon Balls.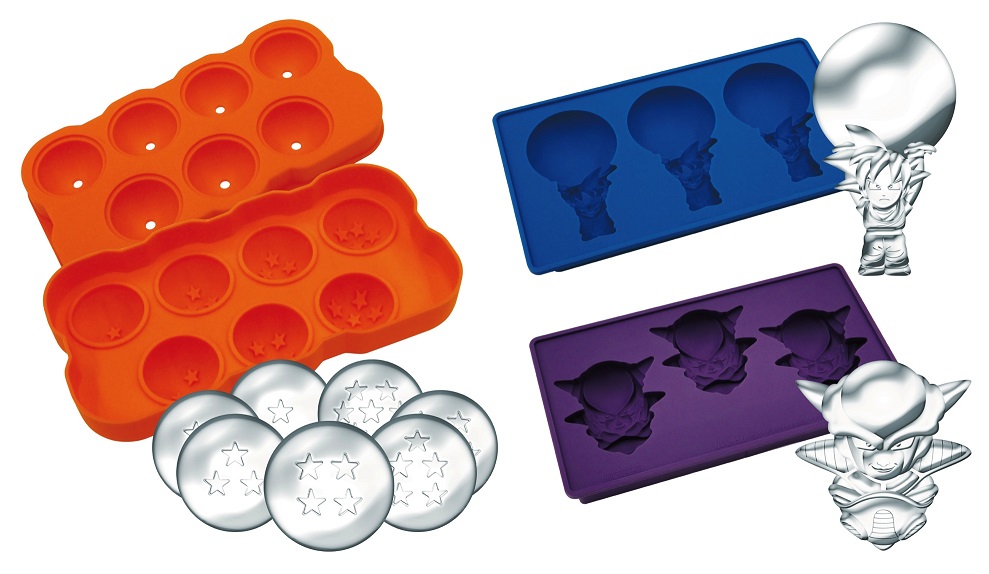 You can also get your hands on a set of original ice cube trays in the design of Frieza and the dragon balls. Perfect to cool down this summer! There's plenty of limited edition goodies to look forward to!
When you want to give something your all and want to be in tip top shape when you do it, then get pick yourself up some Dragon Ball Lipovitan-D!
■Information
"Lipovitan-D×Dragon Ball Limited Edition Design Bottle" (5 types)
Price: ¥146 (one 100ml bottle) / ¥1,500 (ten 100ml bottles) – pre-tax price
On Sale August 1, 2017
Available: Lawson, FamilyMart, Circle K Sunkus, NewDays, Seico Mart, Taisho Pharmaceutical Direct Online Shop
Taisho Pharmaceutical Direct Online Shop:
Campaign Website:
Related Article:Streetwear Brand "XLARGE®" to Release Dragon Ball Z Collaborative Clothing
Related Article:Release of Best Album "God" for 30th Year Anniversary of TV Animation "Dragonball"!
RELATED ENTRIES
A BATHING APE Releases Dragon Ball Super: Super Hero Collaboration Collection

A BATHING APE, one of Japan's leading streetwear brands, has announced a new collection inspired by the new film Dragon Ball Super: Super Hero!


This isn't the first time that BAPE and Dragon Ball have come together for a stylish collaboration. The two have set the standard for what a crossover between streetwear and manga culture should look like, starting with the first collaboration in 2016. From pieces showing the protagonist Son Goku as a young boy to the most recent items inspired by the Majin Buu arc, fans of the series can't get enough.


The latest collection features characters from the highly-anticipated new film Dragon Ball Super: Super Hero set to premiere on June 11, 2022.

Son Gohan, Pan, Piccolo BABY MILO® T-Shirt (Colors: Black, White): ¥9,900 (Tax Included)

Red Ribbon Army BABY MILO® T-Shirt (Colors: Black, White): ¥9,900 (Tax Included)

Popular characters Gohan and Piccolo have been given the BABY MILO treatment along with the new androids Gamma 1 and Gamma 2 and their creator Dr. Hedo from the newly-revived Red Ribbon Army. 

BAPE® X Dragon Ball Super Ape Head Pullover Hoodie (Colors: Black, Orange): ¥28,600 (Tax Included)

BAPE® X Dragon Ball Super Ape Head Totebag (Colors: Black, Orange): ¥8,800 (Tax Included)

Fans of Goku, Vegeta, and Gohan's daughter Pan won't want to miss these stylish hoodies and tote bags complete with BAPE's signature Ape Head!




The collaboration items will be available at select stores throughout Japan and online starting on June 5, 2022, just before the movie's release. 

Information

A BATHING APE® × Dragon Ball Super: Super Hero

Release Date: June 5, 2022

Where to Buy:

BAPEXCLUSIVE™️ Aoyama
BAPE STORE®︎ COMME des GARCONS Osaka
BAPE STORE®︎ DOVER STREET MARKET Ginza
BAPE.COM Online Store

BAPE.COM Special Page:https://bape.com/pages/dragonball-super

A BATHING APE Releases Dragon Ball Z Majin Buu Collection

Japan's top streetwear brand A BATHING APE is releasing a new collection inspired by Dragon Ball Z! The two first collaborated in 2016 starting with imagery inspired by Son Goku's childhood. In June 2020, the company released a collection themed around the Cell arc.

Lineup

The newest collection was inspired by the final arc of the series, the Buu Saga, expressed in the style of BABY MILO.


The main characters from the series–Goku, Vegeta, Majin Buu, and Piccolo–are all depicted in BABY MILO style. In addition, characters such as Mr. Satan and Uub appear, perfect for more hardcore fans wanting to see lesser-known characters represented.


The lineup includes a coach jacket and hoodie featuring newly-drawn illustrations inspired by the final episode. Don't miss this special collaboration!

Information

A BATHING APE x Dragon Ball Z

Release Date: May 21, 2022
Where to Buy: A BATHING APE Authorized Retailers, BAPE.COM Web Store

For Preorder
Coach Jacket

Preorders start May 21, 2022 (Preorders will end when the item is sold out.)
Item to ship in early July
*Regular items and preorder items cannot be purchased in one order.

Official Site: https://bape.com/pages/dragon-ball-z

XLARGE Releases Dragon Ball Collaboration Collection Featuring Popular Characters

Fashion brand XLARGE has announced a new collaboration to commemorate the upcoming release of Dragon Ball Super: Super Hero in theaters. The film will see the return of the Red Ribbon Army, which Gohan, Piccolo, and other popular characters will have to defeat. Check out the collection below–is your favorite fighter in the lineup?

Collection

XLARGE×DRAGON BALL GOHAN S/S TEE

XLARGE×DRAGON BALL PICCOLO S/S TEE

XLARGE×DRAGON BALL CAPSULE CORP JUMPSUIT

XLARGE×DRAGON BALL ANDROID18 S/S TEE

XLARGE×DRAGON BALL BULMA S/S TEE

XLARGE×DRAGON BALL TRUNKS S/S TEE


The collection includes T-shirts featuring Gohan, Piccolo, Bulma, Android 18, and Trunks. Items will be available online and in select stores nationwide!


Information

XLARGE x Dragon Ball

Online Store
https://calif.cc/blogs/feature/220518xl_dragonball

Lottery: May 18, 12:00 – May 19, 11:59

*Winners to be Announced on May 20, 12:00

ZOZO
https://zozo.jp/shop/xlarge/
Available May 21, 12:00~

Available in-store: 

XLARGE locations nationwide, XLARGE/X-girl locations (excluding outlets)

May 21~

*The XLARGE x DRAGON BALL Capsule Corp Jumpsuit will only be available at the calif online store and ZOZOTOWN.

Dragon Ball Super: Super Hero Film Soundtrack Scheduled for June Release

The Dragon Ball Super: Super Hero film is scheduled to release in theaters on June 11, and the original soundtrack will hit shelves a few days prior, on June 8, 2022.

The film has been a hot topic in recent months. The original story, screenplay, and character design have all been handled by Akira Toriyama, with Tetsuro Kodama directing and Chikashi Kubota serving as animation director. 

The music will be composed by Naoki Sato, a composer who won the Best Music Award at the 29th Japan Academy Awards for the film Always: Sunset on Third Street. The musician has composed music for movies, dramas, and animated films such as Masquerade Night, Rurouni Kenshin: The Beginning, and the historical drama Reach Beyond the Blue Sky. The soundtrack will contain 23 background tracks.

Graniph Releases Items Inspired by Upcoming Dragon Ball Super: Super Hero Film

Japanese apparel brand Graniph has revealed two collaborative t-shirts inspired by the upcoming Dragon Ball Super: Super Hero film! The items are available at the Graniph online store and in select Graniph locations in Japan.

Lineup

'Superhero' T-shirt

'Fusion' T-shirt


The Dragon Ball Super film series has been a huge hit worldwide. The first film, Dragon Ball Super: Broly, was released in 2018. The upcoming film features a completely new story, in which the Red Ribbon Army is reformed and threatening the world yet again. Can our favorite fighters stop the bad guys before they unveil the ultimate evil weapon? Be sure to check out the film when it releases in June, and grab one of these t-shirts to wear to the theater!

ⓒバード・スタジオ/集英社
ⓒ「2022 ドラゴンボール超」製作委員会

Information

Graniph x Dragon Ball Super: Super Hero

Release Date: April 22, 2022

Where to Buy:

Graniph Online Store: https://www.graniph.com
Select Graniff Stores (Excluding some locations for kids)

Special Shop to Open in Tokyo and Kanagawa to Celebrate the Release of Dragon Ball Super: Super Hero

A special pop-up store celebrating the upcoming Dragon Ball Super: Super Hero film is coming to four locations in Tokyo and Kanagawa! The film is scheduled to be released on June 11, 2022, and fans can pick up some exclusive merchandise at Shinjuku Station, Kawasaki Station, Ikebukuro Station, and Akihabara Station. The dates are listed below!

Exclusive Products

Special Bonus

Product Lineup

Shop Displays

The pop-up shop will feature exclusive items decorated with popular imagery from the Dragon Ball series. Fans will also be able to grab some home goods themed around the Capsule House where Bulma lives!

As a purchase bonus, customers spending ¥2,500 or more will receive a special holographic sticker!

Each venue will be decorated, so enjoy taking some photos with your family and friends.

Information

DRAGON BALL POP-UP STORE BY FLOWERING

Locations/Dates: 

Shinjuku Station / April 25 – May 8

Kawasaki Station / May 17 – May 24

Ikebukuro Station / June 1 – June 9

Akihabara Station / June 14 – June 23

Official Site: https://www.jr-cross.co.jp/

Oreo Offering Dragon Ball Goods in New Red Ribbon Army Campaign

On April 18, Oreo launched a campaign in collaboration with Dragon Ball, offering fans to grab some cool merchandise! The campaign is celebrating the upcoming Dragon Ball film set to release on June 11, 2022.

The Red Ribbon Army, once destroyed by Goku, is making its return in the new film Dragon Ball Super: Super Hero! A new character featured in the movie is the genius scientist Dr. Hedo, who eats Oreo-style cookies on screen.

By purchasing Oreo products during the campaign period, fans will be entered to win a film poster and script set autographed by the cast, a mug featuring Dr. Hedo eating Oreos, and an original QUO Pay Card design.

In addition, 1,000 people who take the four-question Red Ribbon Army Certification Test on the official Oreo Twitter account (@Oreojpn) and get all answers right during the campaign will be entered to win a Red Ribbon Army Certification QUO Pay Card! This will feature an original design with Dr. Hedo, Gamma 1, Gamma 2, Magenta, and Carmine. The quiz will change every two weeks, with fans having three chances.


Are you excited about the new film coming this summer?

McDonald's 'McCafe by Barista' to Offer Uji Matcha Sweets for Spring

McDonald's Japan locations with 'McCafe by Barista' areas will begin selling special spring treats for a limited time starting April 6, 2022. Customers will be able to grab the 'Strawberry Uji Matcha Frappe' and the 'Uji Matcha Mont Blanc Tart.'

McCafe by Barista invites guests to enjoy high-quality frappes and smoothies. The Uji Matcha Frappe was added to the regular product lineup in June 2021, and features a mellow matcha flavor. The Strawberry variant is coming back for the first time in three years. The Mont Blanc Tart is a new addition, and is a perfect treat to enjoy with this popular frappe! 

Strawberry Uji Matcha Frappe: ¥490

The Strawberry Matcha Frappe mixes together the full-bodied flavor of matcha together with sweet and sour strawberries. It includes both a strawberry paste made from whole strawberries and a strawberry whipped cream at the bottom. The drink is topped with more strawberry whipped cream and a sprinkling of matcha powder. The refreshing taste of the strawberry sauce coupled with the whipped cream serves to elevate the great flavor of the Uji Matcha even more.

Uji Matcha Mont Blanc Tart: ¥390


The Uji Matcha Mont Blanc Tart is made with Uji Matcha batter, Uji Matcha whipped cream, white bean paste, and green tea cream. The refined sweetness is complemented by the mellow aroma and slight bitterness of Uji Matcha.

How would you like to enjoy these treats beneath the cherry trees?

Information

Strawberry Uji Matcha Frappe

Uji Matcha Mont Blanc Tart

Available: April 6 – Mid-May, 2022

Available at Participating McDonald's Japan Locations with 'McCafe by Barista'

Official Site: https://www.mcdonalds.co.jp/

'Dragon Ball Games Battle Hour 2022' Streaming Event to Tease Franchise's Future

Bandai Namco has announced an upcoming global streaming event to highlight both current and upcoming Dragon Ball titles. 'Dragon Ball Games Battle Hour 2022' will take place between February 18 and February 19 in regions around the world. Plenty of updates and announcements will be made during the stream, so you won't want to miss it!

The event was first held in February 2021 and brought together Dragon Ball fans from 23 countries around the world. This second annual event will feature even more popular content and will utilize the latest technology to bring even more excitement to fans of the series.

The world's strongest players will once again be invited to participate in an exciting battle! This year's Games Battle Hour will feature the Dragon Ball FighterZ, the Dragon Ball Super Card Game, and the smartphone title Dragon Ball Legends. Kids can also enjoy the new Super Dragon Ball Heroes digital card game!

On Dragon Ball FighterZ, the World Championship will be held to determine the world's best player among the winners of the Regional Finals, a tournament featuring the top-ranked players from Europe, Japan, and North America. In the Dragon Ball Super Card Game, the winner of the 2021 World Championship will face off against the newest top player. Dragon Ball Legends will also announce a new project. 

A Super Dragon Ball Heroes event will pit six players from Japan against each other, separated into two teams for 3v3 battles. Those who aren't interested in participating in fighting games can also enjoy a trivia competition!

The "DBXV2 Super Fashion Show" will see the top 16 fashion leaders in Dragon Ball Xenoverse 2 showcasing their most creative work. The 'Dragon Ball Art Challenge' will also invite viewers to create their favorite characters using unique mediums like balloons and Rubik's cubes.

The recently revealed multiplayer game, Dragon Ball: The Breakers, will also be part of the event with the game's producer giving an in-depth look and gameplay demonstrations for this upcoming game. 'Dokkan DATA 2022' will look back at the seven years since the launch of Dragon Ball Z Dokkan Battle and will share some data about how players have been playing the game and its exciting history.

Viewers can also take place in a workshop to learn how to best photograph their 'Dragon Stars Series' and 'S.H.Figuarts' action figures. A master of Chinese cooking will also take the stage to recreate dishes from Dragon Ball Z: Kakarot in the special program 'Kakarot Cooking.'


A master sculptor and his protegee will create figures of Goku and Vegeta live during the event as well! Will you be tuning in? 

©BIRD STUDIO/SHUEISHA, TOEI ANIMATION

©バードスタジオ/集英社・東映アニメーション ©BANDAI NAMCO Entertainment Inc.

Information

DRAGON BALL Games Battle Hour 2022
Date and Time: 

JST: February 19, 9:00-14:00 / February 20, 2:00-10:00

PST: February 18, 16:00-21:00 / February 19, 9:00-17:00

EST: February 18, 19:00-0:00 / February 19, 12:00-20:00

CET: February 19, 1:00-6:00 / February 19, 18:00-2:00
※Please note that the end time of the event is subject to change.

Japanese Site: https://dbgbh.bn-ent.net

English Site: https://dbgbh.bn-ent.net/en

*The event will be streamed worldwide (excluding some countries and regions)

Long-Standing Kyoto Tea Wholesaler Yamamasa Koyamaen Opens Cafe in Tokyo

TZEN, a company dedicated to promoting traditional Japanese culture around the world, has teamed up with Yamamasa Koyamaen, a tea wholesaler in business since the Edo period, to open a new matcha cafe in Tokyo!

ATELIER MATCHA, a quick walk from Ningyocho station, is harnessing the concept of 'the third wave of matcha,' serving up premium matcha in a cozy atmosphere. 

MATCHA Cookies & Cream Shake: ¥748 (Tax Included) 

MATCHA with Warabimochi and Red Bean Topping: ¥748 (Tax Included)

MATCHA Jelly Cider: ¥660 (Tax Included)

MATCHA Granola and Yogurt Latte: ¥715 (Tax Included)

MATCHA Cotton Candy Milkshake: ¥748 (Tax Included)

MATCHA Affogato: ¥660 (Tax Included)

MATCHA Shot (Espresso Style): ¥220 (Tax Included) / MATCHA Water: ¥275 (Tax Included) / MATCHA Green Tea: ¥330 (Tax Included)

Supreme MATCHA Terrine: ¥660 (Tax Included)

(This is a partial menu, all prices are for those dining in.)

Matcha is becoming popular around the world. ATELIER MATCHA was created to offer customers a unique experience which showcases the true taste and culture of this beloved tea grown in Japan. 

Yamamasa Koyamaen is a Kyoto institution, cultivating and grinding matcha tea leaves for 160 years. Over 1,000 tea retailers, department stores, domestic and international trading companies and hotels stock their high-grade matcha, gyokuro, sencha, and other specialty teas, making them one of the most recognized and respected names in this traditional Japanese art. The company even prefers to call themselves a 'studio' rather than a 'factory', using the 800-year history of tea cultivation in Uji, Kyoto as a starting point to create their masterpieces. 

ATELIER MATCHA is Yamamasa Koyamaen's first cafe, and also the company's first experience selling directly to consumers. 

Blending the highest-grade matcha with locally made sweets, the cafe hopes customers will enjoy these original creations while surrounded by the relaxing aroma of tea. 

The matcha used in the cafe includes signature Yamamasa Koyamaen blends, including Ogurayama and Tennozan, both varieties often used in tea ceremonies. For a limited time, the cafe is offering a single-origin blend with one rare variety of matcha, as well as a beverage made with tencha, which are the leaves used to make matcha before being ground down in a stone mortar. Visitors can also enjoy gyokuro and hojicha teas, made from carefully selected leaves. 

Pulling recipes from Yamamasa Koyamaen's book 'Kyoto Uji-Koyamaen: Simple Matcha Drinks to Enjoy at Home,' the menu features refreshing drinks blending the traditional with the modern, with unexpected combinations of soda, fruit and yogurt. Seasonal drinks will also be making an appearance, including shaved ice in summer and chocolate drinks in winter. 

The name MATCHA SHOT packs a punch, using matcha instead of espresso for a needed pick-me-up. MATCHA WATER, a refreshing cup of watered-down tea, offers a way to fully enjoy the fullness and more hidden flavors of this popular Japanese tea. 

As expected, ATELIER MATCHA also has a sweets menu set to impress: these sweet treats feature only the best, created with the top 0.03% of total national matcha production. This insanely high-quality matcha is a part of Yamamasa Koyamaen's ultimate matcha experience project, titled "ALL FOR ONE," which provides these rare leaves to some of the country's top professionals in various fields. 

At opening, only limited qualities of the Supreme MATCHA Terrine, made by well-known pâtissier Toshi Yoroizuka, will be available. 

These authentic matcha creations are perfect for a hot summer's day, or as a gift for a friend. When in Tokyo, don't miss it!

Information

ATELIER MATCHA 

Address: 1-5-8 Nihonbashi Ningyocho, Chuo Ward, Tokyo 103-0013, Japan

Access: 30-second walk from Ningyocho Station/5-minute walk from Suitengumae Station

Open Date: August 2, 8:00

Hours of Operation: 8:00-19:00 (Last order 18:30)

Closed on Tuesdays (Open daily throughout August) 

Phone Number: 03-3667-7277

Official Site: https://ateliermatcha.com/

Starbucks Japan Reveals Peach and Pineapple Frappuccinos

Starbucks Coffee Japan is releasing its new summery GO Pineapple Frappuccino® and GO Peach Frappuccino® at all branches on August 4.

Starbucks Japan's first pineapple beverage, plump and sweet

Left: GO Pineapple Frappuccino® | Right: GO Peach Frappuccino® | Tall ¥680 (Takeaway), Tall ¥693 (Have-In)

The two fruity drinks arrive in time for the height of Japanese summer this August. This also marks the first time Starbucks Japan is serving up a pineapple Frappuccino®. The GO Pineapple Frappuccino® is loaded with ripe and fresh pineapple pieces along with a pineapple puree and pineapple sauce. When you've sipped about half the cup, mix in the whipped cream to transform the drink into smooth and milky heaven.

The GO Peach Frappuccino® is also loaded with its titular fruit, making it so refreshing it's like eating a whole juicy peach. Enjoy a combination of fresh peach pieces, puree, and sauce, one which maintains the rich original flavour of this summer-classic fruit.

Reusable Coffee Cup With Changeable Coloured Lids (437ml) | ¥385 (Tax Included)

August 2nd will mark 25 years since Starbucks arrived in Japan, bringing to the country a culture of walking around with your coffee in hand. This summer, the coffee chain is also releasing a new collection of seasonal tumblers, as well a new reusable coffee cup which you can swap out with different coloured lids. While the new beverages are on sale, if you buy one of them together with a reusable cup, you can get a free size upgrade on your Frappuccino®.

Information

GO Pineapple Frappuccino®

GO Peach Frappuccino®

Running: August 4, 2021 – September 21, 2021

Official Website: https://www.starbucks.co.jp/

Sumikko Gurashi Bubble Tea Released by XIE XIE PEARL

Bubble tea shop XIE XIE PEARL is collaborating with San-X and their popular corner-dwelling characters Sumikko Gurashi with a line-up of drinks and merch until August 23.

Fruit is the theme of the collaboration which arrives in a line-up of colourful beverages served in limited-time cups. Each character's drink is loaded with toppings.

Shirokuma's Peach Milk | ¥756 (Tax Included)

Neko's Jewel Berry Lemonade | ¥756 (Tax Included)

Tonkatsu's Caramel Banana Milk | ¥756 (Tax Included)

Penguin's Jewel Mint Lemonade | ¥756 (Tax Included)

Original collab goods

Large Stickers | 4 Designs | ¥330 (Tax Included)

Mini Tote Bag | ¥990(Tax Included)

Mirrors | 5 Designs | ¥550 (Tax Included)

Re-release of previous collab merch

Free novelty stickers and pouch

If you order one of the collab drinks you'll receive a free sticker, and if you order all four drinks, you get an original Sumikko Gurashi pouch. All you need is your receipt to show at the register.

©︎2021 San-X Co., Ltd. All Rights Reserved.

Information

XIE XIE PEARL x Sumikko Gurashi

Running: July 22, 2021 – August 23, 2021

Official Website: https://www.krg-inc.com