VTuber Group NIJISANJII Announces Apparel Collaboration with E-zakka mania Stores
VTuber Group NIJISANJI is collaborating with women's apparel site E-zakka mania for a new collection of merchandise! The collection is now available.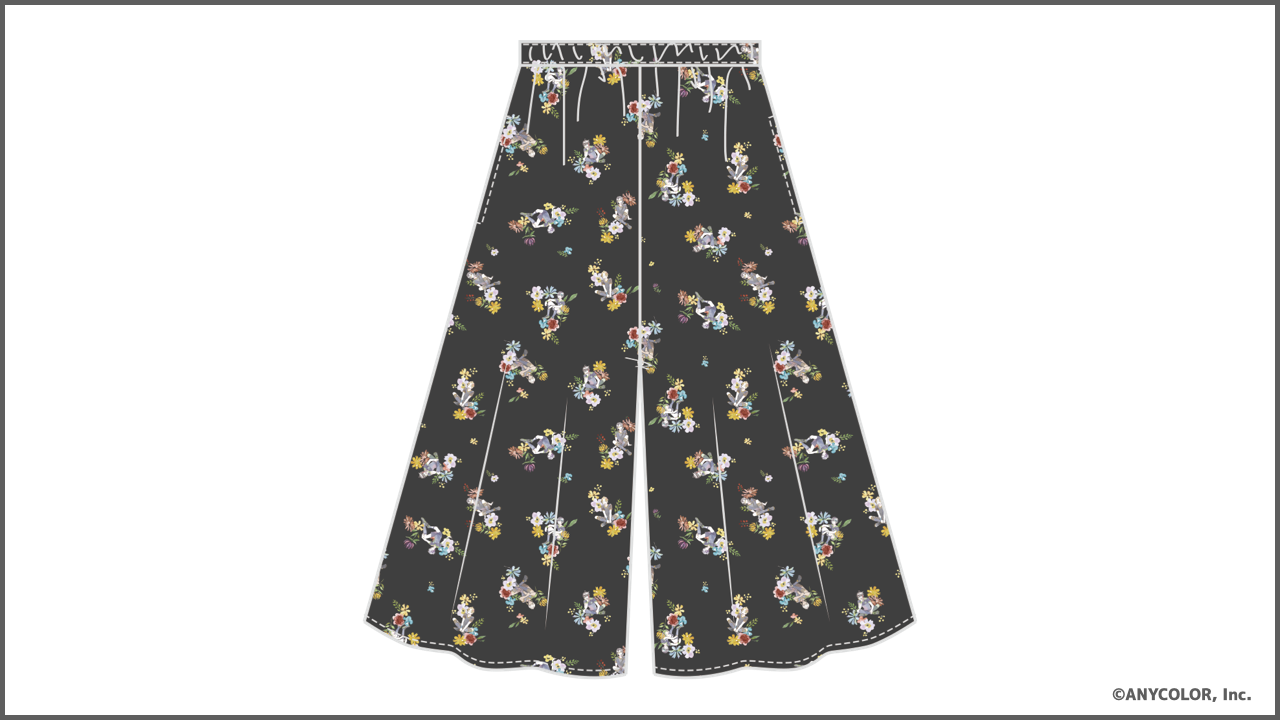 Flower Pattern Pants
Flower Pattern Tote Bag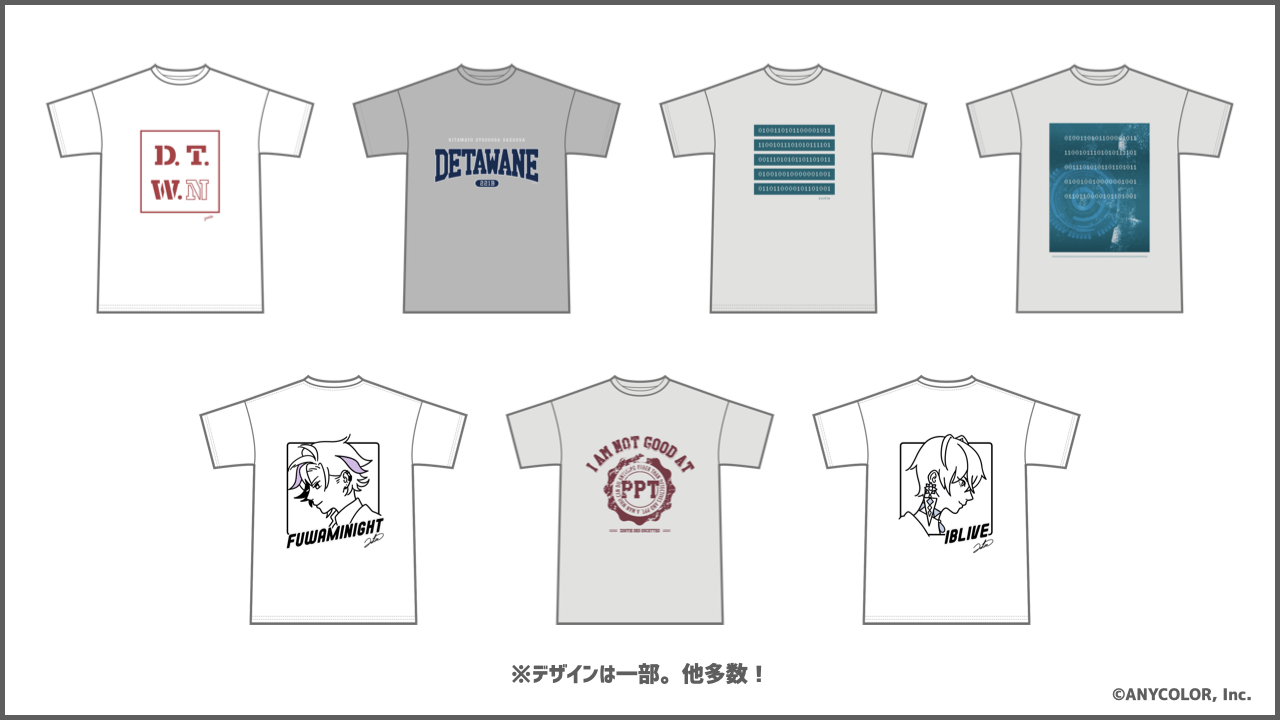 Casual T-shirt
Uniform T-shirt
 Message Towel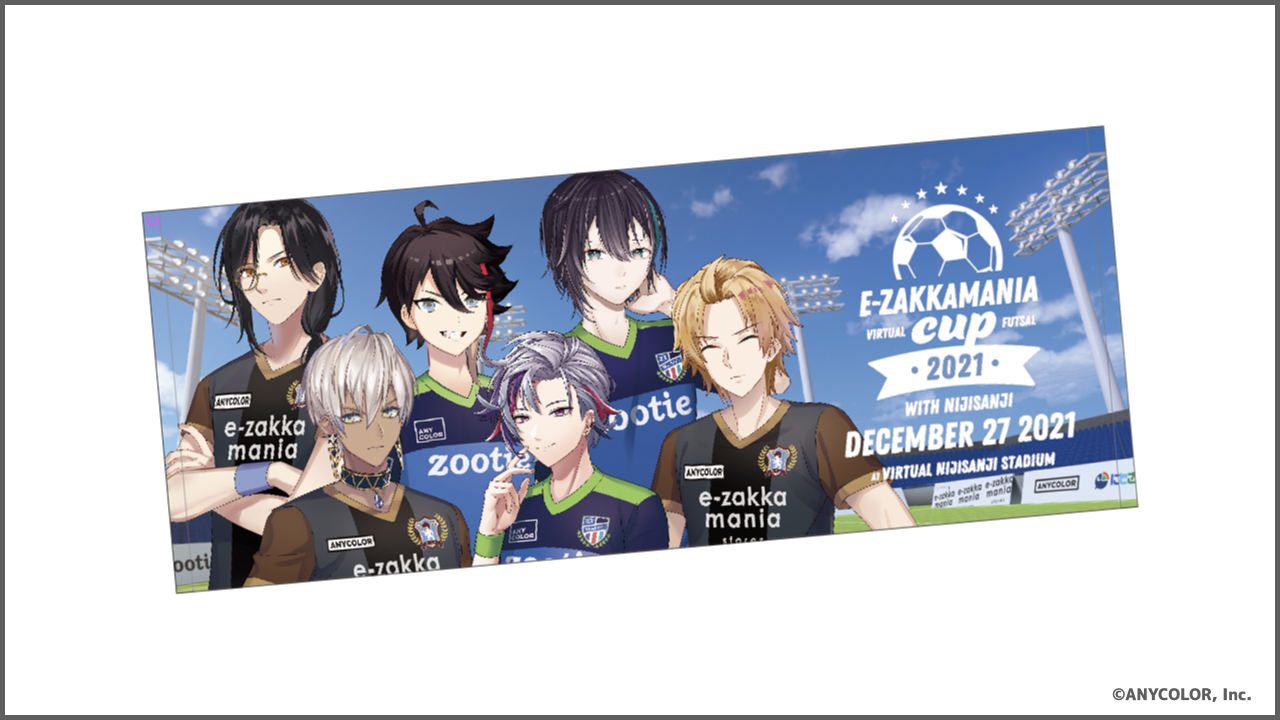 Soccer Field Towel
Member Towel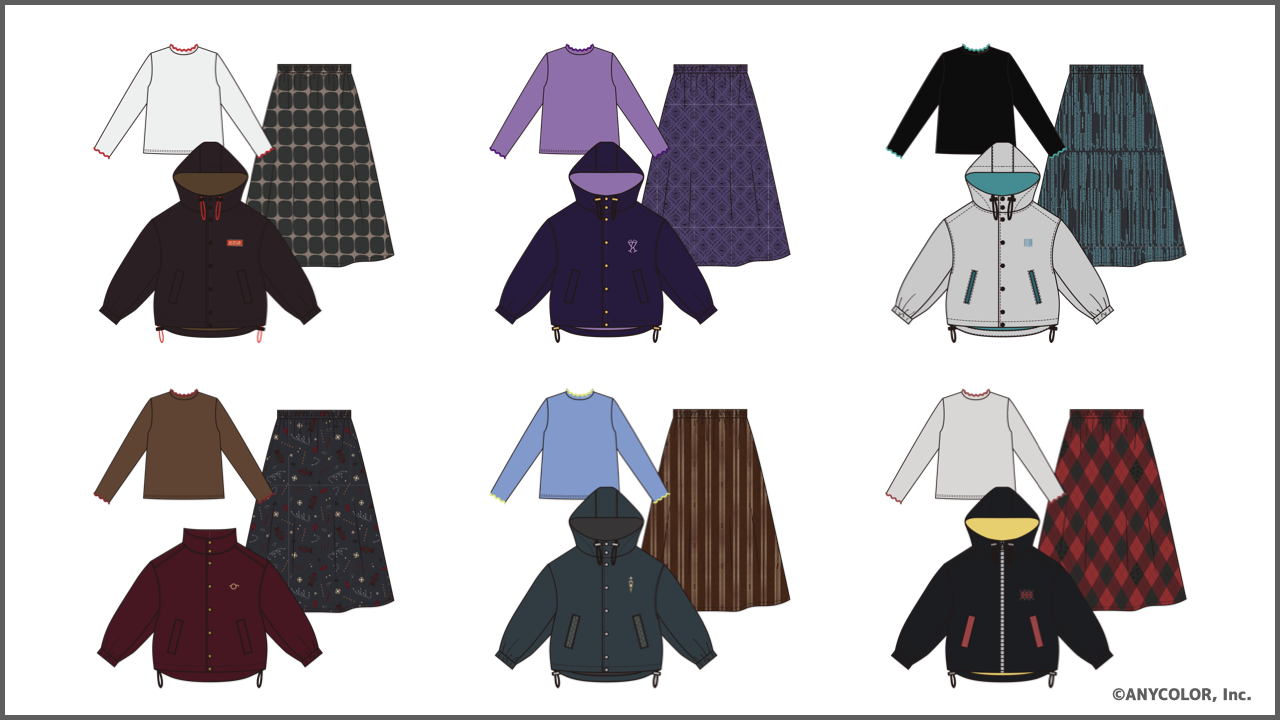 3-piece Outfit Set
A variety of merchandise featuring six NIJISANJI members (Saegusa Akina, Mayuzumi Kai, Minato Fuwa, Shellin Burgundy, Ibrahim, Kanda Shouichi) will be available!
RELATED ENTRIES
NIJISANJI Members Comment on 4th Anniversary LIVE 'FANTASIA' Day 2 Costumes

The NIJISANJI FANTASIA Day 2 event will be held at Pia Arena MM in Yokohama on January 23, 2022, and will feature many of the company's most popular male VTubers. Ahead of the concert, the eight participating members have released comments regarding their matching costumes for the event. General ticket and online ticket information have also been announced!

While many members of NIJISANJI have performed on stage before, this is the first time that all 16 male and female performers will be dressed in matching costumes. Although the costumes are all the same, each performer will be wearing something personalized to make them stand out and to keep their uniqueness and individuality.


Check out the member's motifs and comments below! 

Merchandise

S-seat Bonus: Acrylic Panel with Autographs / PlayPic Card with Voice Messages from the Performers

Performer Comments on Matching Costumes

Touya Kenmochi

Individual Motif: A dagger at his hip


Comment
"I've finally got a real sword! I'm not the same person I was yesterday. Please enjoy the show!"

Kanae



Individual Motif:  An angel wing hair decoration

Comment
"When I first saw these matching costumes, everything felt real. I thought they were so gorgeous!
For my individual motif, I chose a stylish angel wing hair decoration. 
I made sure that my dancing looked cool and that the audience could really see my legs, so enjoy the show!"

Hayato Kagami

Individual Motif: Lapel Pins on his chest

Comment
"Thank you so much for this incredible outfit! Being true to my usual self, I'm ready to venture onstage with my usual lapel pins. (I took off my earrings in the key visual because I was afraid they'd get caught, but I promise I'll be brave enough to wear them in the show!")

Kakeru Yumeoi

Individual Motif: Bodypaint print on his left arm 


Comment
"I chose the bodypaint motif as a sign of love and peace, and a symbol of our passion for the songs we sing at our concerts. I hope you enjoy the costumes, and I hope you enjoy the show!"

Akina Saegusa



Individual Motif: An everyday accessory around his shoulders

Comment
"I really love this costume because it's sparkly and glamourous, but it also has elements of what I usually wear!!!"

Kou Uzuki

Individual Motif: A crown

Comment
"I imagined myself as a king who would soon be standing on a massive stage. I've participated in the VTuber King Ranking in the past, but now I'm ready to go for the gold in this contest of music!"

Shellin Burgundy



Individual Motif: A rose on his chest


Comment
"This is my first time singing on stage, and I hope to be as gorgeous and mesmerizing as the rose upon my chest! Let's raise our voices!!"
 

Kizuku Yashiro



Individual Motif: A gold nameplate on his chest


Comment
"This gold nameplate signifies that I'm operating at a higher state of combat power than usual."

VTuber Group Hololive to Hold Second Collaboration with Joypolis for Lovely Party Event

VTuber group Hololive is holding a limited-time collaboration event with Tokyo Joypolis, an indoor theme park in Daiba, from January 7 until February 27, 2022. The Lovely Party event is the second collaboration between the two. 

Collaboration Ticket with Bonus

Collaboration Goods

※The acrylic stands and tapestries will go on sale on different dates. 

Collaboration Menu

The first collaboration between Hololive and Joypolis took place in January 2021 and was met with huge success. For 2022, Roboco-san and the group's second generation will take part in the festivities!

Collaboration merchandise will also be available to order at the Marui Anime Online Shop after the event concludes.

In addition to attraction collaborations and event-only goods with newly-drawn designs, the Frame Cafe will offer a special menu inspired by these select Hololive members. Those ordering drinks will receive clear coasters featuring their favorite VTubers! A birthday project will be held for Yuzuki Choco, who is celebrating her special day on February 14. 

Tickets bought during the event period will include a bonus case. These are available in eight different designs.

Kizuna Ai Opens Applications for Final Concert Performers Prior to Hiatus

On December 4, 2021, Kizuna Ai announced that she would be going on indefinite hiatus. Prior to her 'sleep,'  the VTuber will hold her final online live event, 'Kizuna AI The Last Live "hello, world 2022" on February 26, 2022. For those wanting to participate in the show, applications are now open!

Ai would like the performance to be held with as many people as possible–not only those who are active as VTubers, but also those who are interested in being active in the virtual space. And, of course, those who have supported her over the past five years!


Be sure to tune in to this final performance filled with virtual talent!



NIJISANJI EN Announces Luxiem Male VTuber Group, New Song

VTuber collective NIJISANJI EN has announced five new male talents debuting under the group name 'Luxiem.' The members began making their debuts on December 17, 2022.

Luxiem Debut Teaser Trailer


Members include Ike Eveland, Mysta Rias, Vox Akuma, Luca Kaneshiro, and Shu Yamino. Each talent's social media outlets and YouTube channels were launched sequentially, and to celebrate their debut, their song Hope in the Dark is now streaming. The track was produced by ChibaNyan, and a music video is available on the Official NIJISANJI English YouTube channel.

Luxiem Members

 Ike Eveland

Category: Novelist
Profile:
A cool novelist who becomes a totally different person when an idea for his next work pops into his head.

Twitter: https://twitter.com/Ike_Eveland 
YouTube: https://www.youtube.com/channel/UC4yNIKGvy-YUrwYupVdLDXA 

Mysta Rias

Category: Detective
Profile:
Known for his eccentric nature, this detective has keen deduction skills that make him a natural-born genius.

Twitter: https://twitter.com/Mysta_Rias 
YouTube: https://www.youtube.com/channel/UCIM92Ok_spNKLVB5TsgwseQ 

Vox Akuma

Category: Demon
Profile:
A deep-voiced demon with great power, Vox is confident with his superhuman abilities. He also loves his loyal followers.

Twitter: https://twitter.com/Vox_Akuma 
YouTube: https://www.youtube.com/channel/UCckdfYDGrjojJM28n5SHYrA 

 


Luca Kaneshiro

Category: Mafia
Profile:
A mafia boss who has a slight temper, Luca is always ready to fight, whether to show his strength or defend the weak.

Twitter: https://twitter.com/Luca_Kaneshiro 
YouTube: https://www.youtube.com/channel/UC7Gb7Uawe20QyFibhLl1lzA 


Shu Yamino

Category: Sorcerer
Profile:
A kind-hearted sorcerer with mysterious abilities, Shu is a force not to be messed with or underestimated.

Twitter: https://twitter.com/Shu_Yamino 
YouTube: https://www.youtube.com/channel/UCG0rzBZV_QMP4MtWg6IjhEA 

Hololive Debuts Sixth Generation of VTuber Talent, Secret Society holoX

The sixth generation of Hololive VTubers have officially debuted! 'Secret Society holoX' features five new members: La+Darkness, Takane Lui, Haiku Koyori, Sakamata Chloe, and Kazama Iroha. 

 

[The Founder] La+Darkness

The one who established Secret Society holoX. Originally known for her vast power and intelligence, most of that is now sealed away. She is vaguely aware of the debilitating nature of her shackles but doesn't remember how they got there. 

 


Character Designer: Kurone Mishima (@mishima_kurone)

YouTube: https://www.youtube.com/channel/UCENwRMx5Yh42zWpzURebzTw

Twitter: https://twitter.com/LaplusDarknesss

[The Manager] Takane Lui

The executive officer of the group. As holoX's point of contact and the one in charge of external affairs, she acts as more of the leader of the group and handles things that La+Darkness cannot. While she seems standoffish at first glance, she's very compassionate and cares for her subordinates. 

Character Designer: kakage (@kakage0904)

YouTube: https://www.youtube.com/channel/UCs9_O1tRPMQTHQ-N_L6FU2g

Twitter: https://twitter.com/takanelui

[The Researcher] Haiku Koyori

In charge of research and development, she studies human behavior and tends to meddle in the other members' affairs. She loves helping people and has a thirst for knowledge. Sometimes, she messes with people on purpose just to see how they react. 

 

Character Designer: momoco (@momoco_haru)

YouTube: https://www.youtube.com/channel/UC6eWCld0KwmyHFbAqK3V-Rw

Twitter: https://twitter.com/hakuikoyori

[The Cleaner] Sakamata Chloe

An intern who acts as a fixer and cleaner. Calm and composed, she carries out her orders without question. She loves music, and though she denies it, she occasionally lets people catch a glimpse of her real thoughts beneath her tough facade. 

Character Designer: Parsley (@Parsley_F)

YouTube: https://www.youtube.com/channel/UCIBY1ollUsauvVi4hW4cumw

Twitter: https://twitter.com/sakamatachloe

[The Bodyguard] Kazama Iroha

The protector of the group, she comes from a remote mountainous area and left her home behind on a journey to see the outside world. She keeps the other members safe from threats and is proud of the holoX's insurance policy. 

 

Character Designer: Umibouzu (@bouzumi_)

YouTube: https://www.youtube.com/channel/UC_vMYWcDjmfdpH6r4TTn1MQ

Twitter: https://twitter.com/kazamairohach

VTuber Project #VERSEⁿ to Hold First Collaboration Stream on December 3

VERSEⁿ, the new VTuber project from Sony Music Entertainment, is picking up steam on YouTube. Each of the five new streamers recently debuted, and on December 3, the first collaborative stream between them will be held at 20:00 JST. Choose your favorite and watch on their YouTube channel!

The project's story was also revealed by Sony recently. The mystery surrounding the reasons behind why these five girls became VTubers in the real world and their stories will be revealed and explained in various types of media in the future. 

There will also be an announcement during the stream, so don't miss it!

Maru Nanamona


A Free-Spirited Girl who Loves her Friends


While shy around strangers, she loves her close friends and likes to do things at her own pace. With a unique worldview, her friends sometimes can't keep up. Despite her laid-back persona, she's very intelligent in many different areas, especially in languages. 

Character Design: Aka Akasaka (https://twitter.com/akasaka_aka)

YouTube: https://www.youtube.com/channel/UCOg01LJmZF9UnwFbly73CVw

Twitter: https://twitter.com/nanamona_mr

Hitoshiro Itsuki


A Reliable and Caring Girl

Serious and hardworking, she's the caretaker of the group. Growing up in a strict household made her a little stubborn, but she's also curious about everything and has the guts to take on any challenge. 

Character Design: raemz (https://twitter.com/weee_desu)

YouTube: https://www.youtube.com/channel/UCi3aT9cC6YyC0BnOpm2XBEw

Twitter: https://twitter.com/itsuki_htsr

Kagase Uno


The Moodmaker of the Group

Happy, innocent, and open-minded, she has a tendency to get involved in other people's problems. Thankfully, she's always sensitive and enjoys helping anyone she can. She plays by her own rules. 

Character Design: Shugao (https://twitter.com/haru_sugar02)

YouTube: https://www.youtube.com/channel/UCLfAsY3iMUAF2vvDxvIjymQ

Twitter: https://twitter.com/uno_kgs

Alba Sera


A Girl That Sings Passionately Even in Tough Times

One of the group's singers, she sings even in lonely and sad times, using her music to channel her deep emotions. Strict with herself and bad at socializing, she also has a sweet and caring side that loves others.

Character Design: Kane (https://twitter.com/Kaneblob)

YouTube: https://www.youtube.com/channel/UCvXsXmpMKthJuX8XHbsnOjQ

Twitter: https://twitter.com/sera_alb

Kashi Otoha




A Girl Putting Everyone's Unspoken Feelings into Song

The other singer on the project, she gives off the air of being carefree and uninvolved, but she's actually extremely thoughtful. She grew up rather spoiled, but she questions the world around her and her own knowledge. 

Character Design: popman3580 (https://twitter.com/popman3580)

YouTube: https://www.youtube.com/channel/UCYcnLc0n1ryBDZeGWQTVJ_g

Twitter: https://twitter.com/otoha_ks

 

All-Male NIJISANJI Unit ROF-MAO Releases First Original Song

ROF-MAO, a new unit featuring male members of the VTuber group NIJISANJI, has released their first original track titled New street, New world. The group is made up of Kagami Hayato, Kenmochi Toya, Fuwa Minato, and Kaida Haru. Despite debuting earlier this month, the boys are already hard at work making music and running their own variety show each Thursday. 

New street, New world – ROF-MAO (YouTube Edit)

The new song also serves as the ending theme of the group's variety show, 'Thursday at 10! ROF-MAO Cram School.' The show airs each week on the group's YouTube channel, so be sure to check it out!

#AppearanceYokohama Concert to Feature Real Artists Beside VTubers

Net label Appearance will hold a special live event on November 28, 2021, featuring popular VTubers and music artists at Yokohama Bronth at the Miratomirai waterfront area in Yokohama. 

Performers

Kyo Hanabasami

Mashiro Ayano

Muon Otonashi

Sifar  

mimiQ_Lyric 

DJ TAMU

The #AppearanceYokohama event will feature Mashiro Ayano, a singer popular for performing tracks for popular anime series such as Fate/stay night: Unlimited Blade Works and Darwin's Game. VTuber sifar is popular throughout Japan for her rock tracks, while cosplay girls band mimiQ_Lyric aims to deliver Japanese pop culture to the world. 

Those interested will be able to purchase streaming tickets through Z-aN, and anyone in Japan can also buy tickets at the venue. The live stream will feature HD multi-angle footage so viewers can enjoy the full range of the show. Performing VTubers will utilize Monolis, a system allowing them to go anywhere and interact with people in their life-sized forms. This is in cooperation with the Wasabi Music School. 

Who are you excited to see perform?

Hololive VTuber Tokino Sora's Solo Concert to be Streamed in Theaters and Online

Tokino Sora, known as the first member of the popular VTuber collective Hololive, will hold her first live show for the first time in three years! RolePlay will be available to watch online, and will also be streaming at two movie theaters in Tokyo and Osaka. 

On-Site Ticket Bonus: Role:Play Original Mask Set

Merchandise

The singer remains one of the most popular VTuber idols, having now appeared on television shows and in magazines. She will celebrate her fifth anniversary in September 2022. The RolePlay concert will have both a daytime and night showing and the singer's third album will be released on November 24, so be sure to support her activities in the coming months!

Information

Tokino Sora Theatrical Cover Live 'Role:Play'

Date: January 22, 2022

Daytime Show: Open at 13:30 / Show Starts 14:00

Night Show: Open at 17:30 / Show Starts 18:00

Location: Ikebukuro HUMAX Cinemas / 109 Cinemas Osaka Expocity

Event Details: https://www.jvcmusic.co.jp/tokinosora/5th/

Tickets

On-site Ticket Sales: https://virtual.spwn.jp/events/22012201-rlroleplay

General Admission Presale Tickets

Available until November 19, 2021 at 23:59

Tickets with Bonuses: ¥9,900 (Tax Included) 

Ticket Bonuses: Role:Play Original Mask Set, Ticket for Aftershow Talk Event (at Theater)

On-site Ticket: ¥5,500 (Tax Included) 

Online Tickets

Available until January 22, 2021 at 23:59

Online Ticket Shop: https://virtual.spwn.jp/events/22012202-lvroleplay

Tickets with Bonuses: ¥9,900 (Tax Included) 

Ticket Bonuses: Role:Play Original Mask Set, Ticket for Aftershow Talk Event (Online)

Tokino Sora 3rd Album 'Re:Play'

Release Date: November 24, 2021

VTuber Group NIJISANJI to Celebrate Four Years with 2-Day FANTASIA Event

The massive VTuber collective NIJISANJI will be holding a special 2-day event to celebrate four successful years! The NIJISANJI FANTASIA Event will be held at Pia Arena MM in Yokohama on January 22 and January 23, 2022. Female streamers will perform on Day 1, and male streamers will take the stage on Day 2. Presale tickets are now available by lottery for certain Fanclub members. 

As of October 2021, there are 107 Japanese NIJISANJI members, and a total of 156 members including the company's English, Indonesian, Korean and Chinese members. The group has over 30 million subscribers on YouTube across all members. The group has held a live event each year to celebrate these massive milestones. This year's event will be held in full-scale 3D collaborative costumes for the first time, and sixteen talents will be taking the stage total.

Who is your favorite member of NIJISANJI?

Information

NIJISANJI 4th Anniversary LIVE 'FANTASIA'

Performers: 

DAY 1: Mito Tsukino, Kaede Higuchi, Saku Sasaki, Yukia Shiina,  Uiha Aiba, Rena Yorumi, Inui Toko, Tomoe Shirayuki

DAY 2: Touya Kenmochi, Kanae, Hayato Kagami, Kakeru Yumeoi, Akina Saegusa, Kou Uzuki,  Shellin Burgundy, Kizuki Yashiro

Dates:

DAY 1: January 22, 2022 / Doors Open at 16:00, Show Starts at 17:00

DAY 2: January 23, 2022 / Doors Open at 16:00, Show Starts at 17:00

Location: Pia Arena MM (https://pia-arena-mm.jp/)

Official Site: https://event.nijisanji.app/4thanniv_fantasia

Ticket Information

Individual Member Fan Club Presale Tickets (Lottery)

NIJISANJI Fan Club (Kaede Higuchi, Saku Sasaki, Yukia Shiina, Kakeru Yumeoi) Presale Lottery Registration

Open: October 31, 2021 20:00 – November 7, 2021 23:59

URL: https://eplus.jp/nijisanji-4th-anniversary/fc/

Fan Club Site: https://fanclub.nijisanji.jp/

NIJISANJI Fan Club Presale Tickets (Lottery)

Presale Lottery Registration

Open: October 31, 2021 20:00 – November 14, 2021 23:59

URL: https://eplus.jp/nijisanji-4th-anniversary/fc/

'Reflexion' Serial Presale Tickets (Lottery)

Open: November 24, 2021 12:00 – December 5, 2021 23:59

URL: https://eplus.jp/nijisanji-4th-anniversary/sp/

*Must purchase NIJISANJI Cover Song Album 'Reflexion' 

Purchase Here: https://shop.nijisanji.jp/s/niji/item/detail/NJSJ-033?ima=0932

VTuber Group NIJISANJI Announces New Unit ROF-MAO, New Regular Program

Popular VTuber group NIJISANJI has announced a new unit ROF-MAO, featuring four extremely popular male talents! These include Kagami Hayato, Kenmochi Toya, Fuwa Minato, and Kaida Haru. The boys will also star in a new regular series titled 'Thursday at 10! ROF-MAO Cram School.' The four VTubers combined have over 1 million subscribers on YouTube. 

The new unit was created with the goal of being popular with both men and women alike. To celebrate its formation, merchandise featuring the four characters will go on sale starting November 27 at the NIJISANJI Official Store and animate stores nationwide. Preorders begin November 1. Details will be announced on social media in the coming weeks. 

Male VTuber Group Holostars to Hold First Live Event

The talented members of Holostars will hold their first live event on December 26, 2021 at J:COM Hall Hachioji in Tokyo! The Vtubers taking part are Hanasaki Miyabi, Kanade Izuru, Arurandeisu, Rikka, Astel Leda, Kishida Temma, Yukoku Roberu, Kageyama Shien, and Aragami Oga. 

Concert Merchandise

Tickets for the virtual event are now on sale on SPWN. Those wanting to attend the physical event can also enter the lottery for on-site tickets. Exclusive merchandise will also be available to celebrate the group's first-ever live show!

Information

HOLOSTARS 1st ACT 「JOURNEY to FIND STARS!!」Supported By Bushiroad

Date: December 26, 2021

Broadcast begins at 17:30, show begins at 18:00

Address: J:COM Hall Hachioji (Southern Sky Tower Hachioji 4F, 4-7-1 Koyasumachi, Hachioji, Tokyo)

Access: 

Directly connected to the south exit of JR Hachioji Station

7-minute walk from Keio-Hachioji Station

On-site Ticket: ¥8,000 (Tax Included, all seats reserved) 

Official Site: https://1stact.hololivepro.com/

1st Advance Tickets (Lawson Ticket) / Lottery

Available to Enter until October 31 at 23:59 (https://l-tike.com/st1/holostars)

*Limited to 2 tickets per person. 

Announcement of Winners/Payment Period: November 4 – November 7, 2021, at 23:00

2nd Advance Tickets / Lottery

Available from November 13 at 12:00 until November 21 at 23:59 (https://l-tike.com/st1/holostars)

*These pre-order tickets are by lottery only. 

Confirmation/Payment Period: November 25 at 15:00 – November 28 at 23:00

General Tickets

Reservation Period: December 4 at 12:00 – Day of Performance (https://l-tike.com/st1/holostars)

Streaming Tickets are available until December 31, 2021

Streaming Tickets + Special Bonus Coupon available until December 31, 2021

*The archived stream will be available immediately after the live performance and can be viewed as many times as you like until January 26, 2022, at 23:59. 

Purchase Streaming Tickets: https://virtual.spwn.jp/events/21122601-jpholostarslive

Concert Merchandise

Available until November 7 at 23:59

Merchandise Details: https://1stact.hololivepro.com/goods

Purchase Goods (from Japan): https://virtual.spwn.jp/events/21122601-jpholostarslive/goods

Purchase Goods (from Overseas): https://shop.geekjack.net/collections/holostars-1st-act

Concert Hashtag: #ホロスタ1stACT (#Holostars1stACT)