The Curry Theme Park "Curry Land" in Asakusa—Stocked With Pouch-Curries from All Around Japan
"I wanna eat curry for breakfast, lunch and dinner all year round!" If you're a curry lover, and a curry lover to that extent, then do I have the perfect article for you. With just my purse, camera and undying love for curry in hand, I, Rinko Murata, am on a mission to find the best curry houses in the city that are approved by both myself and others.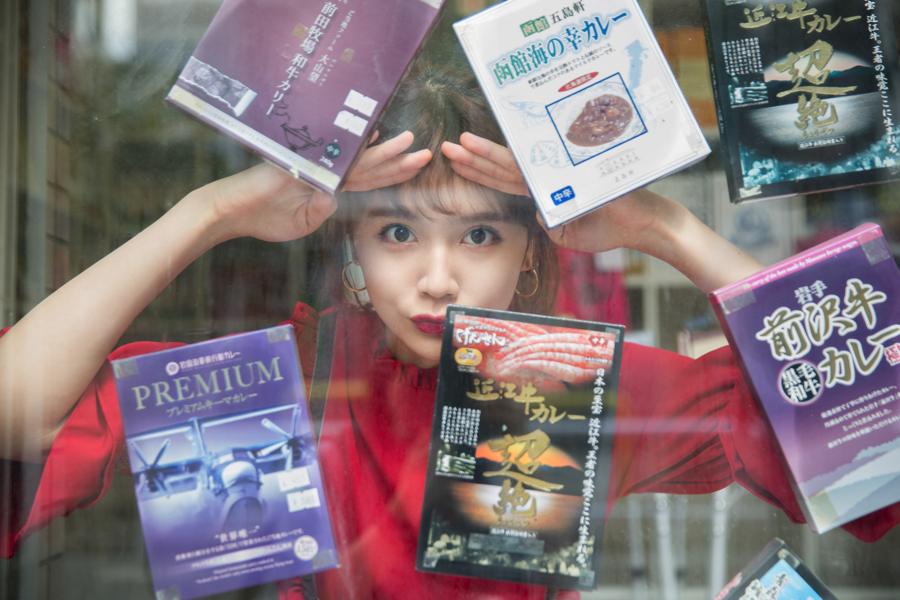 This time, I visited "Curry Land" in Asakusa, a place that specialises in local curry-in-a-pouch! I was guided to the dazzling world of curry by its fascinating owner, where every possible retort-pouch curry, from all times and all places, were collected together!
Asakusa's Kaminarimon—a majestically built gate. I glanced a certain shop out the corner of my eye when I was looking at a group of cute girls in kimono taking a photo in front of the gorgeous gate. I thought when coming here I had entered a quiet residential area, but I suddenly felt something strange in the air around me.
Oooooh! What could this be!
There it was, the striking signboard of Curry Land. Below it, at the entrance, was the shop window—that was completely covered in pouch-curries!
And at the storefront was something I had never seen before… they even had a curry vending machine!
That's right! This time, coming to Asakusa, I have found a place truly spectacular!
For me and other people who cannot contain their love for curry, even the entrance is welcoming at this dream theme park called "Curry Land," with curry from all around Japan there to greet us.

※ The ranking of recommended curry changes every month
The shelves are packed and lined with pouch-curries and divided by the region that they come from. From Hokkaido all the way to Okinawa, they boast an immense selection of curries from all prefectures around Japan!
 >>next page
RELATED ENTRIES
Solve Mysterious in Tokyo While Walking Around Asakusa in This New IRL Game

Japanese IRL mystery game production company Haregake is launching a new game in collaboration with Cosmos Hotel Management who are known for managing the apartment hotel chain MIMARU. MIMARU Tokyo Asakusa STATION, a new branch, is set to open on April 22.

This game will take place around Asakusa in Tokyo and can be played by couples, families, and groups. The event is being carried out with all necessary COVID-19 safety measures in place and aims to get people learning more about the wonders of Asakusa with a game that incorporates elements of the district's traditional buildings, culture, and more. It's a chance to sightsee around one of Tokyo's most iconic areas while solving puzzles at the same time.

The game kit can be bought at the vending machine inside MIMARU Tokyo Asakusa STATION when it opens later this month. It includes the story, which you can read below, and everything you need to get yourself started. There's also no time limit, so players can take as long as they like while they enjoy the sights.

The Game's Story

"I want you to find the treasure of Asakusa for me."

So says the request that finds its ways to you – you, who are a detective.



A certain wealthy individual once resided in Asakusa.

He left a letter behind, and now this letter is in your hands.

"This map – perhaps it shows the location of this treasure."

Will you be able to locate the treasure resting in Asakusa?

Head on out and solve the mystery as you walk around the district.

Information

Asakusa Detective Game: The Secrets of the Millionaire's Forgotten Letter

Japanese Game Name: 浅草街歩き探偵録〜富豪の残した手紙の秘密〜

Start Date: April 22, 2021 (Not a limited-time event, will be held permanently)開

Start Point: MIMARU Tokyo Asakusa Station

Address: 2-20-4 Kaminarimon, Taito-ku, Tokyo, 111-0034

Official Website: https://nazotoki.mimaruhotels.com/

Taste Authentic Japanese Matcha at Asakusa's New Matcha Specialist Shop Kaminari Issa

Asakusa welcomed the newest and third branch of matcha dessert specialist shop Kaminari Issa on October 2, 2020, which opened its doors along Dempoin Street. The shop is just a 3-minute walk from Asakusa Station and 2-minutes from Kaminarimon.

Signature delights on Kaminari Issa's menu include the Okoicha Warabi Latte and Okoicha Gelato. Everything on the menu is made with rich, high quality matcha, from the matcha tea lattes to the matcha beer, parfaits, ice cream, dacquoise, and more. If you love matcha, and you're in Tokyo, this place is a must-visit.


There are plenty of items to get your hands on in this newest store, which also has its own eat-in space, tea leaf display, and more.

They even sell kits so you can make your own Okoicha Warabi Latte and Wakocha Brown Sugar Warabi Latte at home.

Information

Kaminari Issa Dempoin-dori
Address: 2-2-2 Asakusa, Taito-ku, Tokyo
Opening Hours: 10:00-18:00 (until 17:00 on Mondays)
TEL: 03-5830-6948
Access: 3-minutes on foot from Asakusa Station
Official Website: https://www.kaminari-issa.com/

Japan's Hello Kitty Themed Hotel Rooms Open at Asakusa Tobu Hotel in Tokyo

Tobu Hotel Management are set to welcome Tokyo's only hotel rooms based around Sanrio's popular character Hello Kitty at Asakusa Tobu Hotel when the hotel official opens for business on October 8, 2020.

There are two different room types, of which there are three rooms for each for a total of 6 rooms: "Cherry Blossom Maiden" and "Japanese Modern," both centred around Hello Kitty.

The Cherry Blossom Maiden room brings together Japanese cherry blossoms with Hello Kitty dressed as a cute maiden. Decorated in pastel pink, this room is all things kawaii, and even comes with a raised flooring area to add to that Japanese vibe.

On the other side of the kawaii coin is the Japanese Modern room. The design here combines Asakusa-style colours with traditional Japanese elements, resulting in a stylish interior.

Reservations for the Hello Kitty Rooms open on August 24 at 10:00 (JST) via the hotel's official website. If you're staying in Japan anytime after October 8, make sure to book your room ASAP!

Information

Hello Kitty Rooms
Official Website Reservations: August 24, 2020 @ 10:00am (JST)
Telephone Reservations: August 31, 2020 @ 10:00am (JST)

*Other guest rooms already available for bookings
Official Website: https://www.tobuhotel.co.jp/asakusa/
TEL: 03-5809-7320 (Weekdays 10:00-18:00)

Asakusa Tobu Hotel
Address: 1-1-15 Asakusa, Taito-ku, Tokyo
Grand Opening: October 8, 2020

Access

30 seconds on foot from Asakusa Station via the Tobu Skytree Line side

1 minute on foot from Asakusa Station via the Tokyo Metro Ginza Line side
3 minutes on foot from Asakusa Station via the Toei Asakusa Line side
1 minute on foot from Kaminarimon

Rinko Murata Produces Sparkling Sudachishu Japanese Sake 'Awasu'

Liquor Innovation released a new sparkling sudachishu Japanese sake called 'Awasu' over on the Japanese online sake store KURAND today. Available as made-to-order only, the sake will be shipped out to customers in Japan at the beginning of September.

Awasu is a sparkling sudachishu—a type of liquor similar to umeshu—produced by Japanese model and brand director Rinko Murata. The beverage is made with lots of sudachi, a type of Japanese citrus, sourced from Tokushima Prefecture, which adds an extra layer of freshness to the sparkling factor as well as a sour kick. And it's not just the juice of the fruit that is used—the skin is too. Sudachi is an all-purpose ingredient that goes hand in hand with many dishes, whether it be traditional Japanese food, more modern food, or snacks, adding a refreshing taste to them.

Awasu benefits from the amount of vitamin C of the sudachi which is said to be greater than that of a lemon. It also contains honey, which is known for helping to recover from fatigue, making it a great post-work drink.

The concept of Awasu is to be a companion during those times you want to feel indulged. Rinko Murata says that the drink is "A treat for working so hard in the day. It gives you some luxury time without any effort." Awasu is served in a can, so you can easily crack one open and enjoy with ease. The freshness of the sudachi together with the subtle sweetness of the honey will reset your fatigue after a long day.

Information

Awasu – Sparkling Sudachishu
Price: ¥450 (Before Tax)
Available: Set of 6 / Set of 24
Alcohol Content: 6%
Quantity: 270ml
Ingredients: Brewed Liquor / Sudachi Juice / Sweetener / Honey / Seishu Refined Sake / Carbon Dioxide / Flavourings
Manufacturer: Honke Matsuura Brewery
Distributor: Liquor Innovation

Product Details: https://awasu.me

Flower Miffy Juice Garden Asakusa Now Open and Serving Adorable Drinks

The new "Flower Miffy Juice Garden" opened as a permanent addition to Flower Miffy Asakusa on July 21, 2020. Flower Miffy is a Miffy-themed flower and merchandise shop.

Colourful Jelly Soda – Gerbera/Tulip/Sunflower/Lavender: ¥580 Each (Before Tax)

Four new Miffy drinks are being served for the opening of Flower Miffy Juice Garden. Each is a soda beverage is filled with colourful jelly, elderflower syrup made from real flowers, and a soft, bouncy kind of jelly. Each drink itself looks like a colourful bouquet.

Miffy Cream Soda: ¥680 (Before Tax)

Flower Miffy Juice Garden will also introduce the "Miffy Cream Soda" on Saturday August 1 which is a colourful jelly soda topped with ice cream, a Miffy wafer, and flower-shaped chocolate.

Lemonade: ¥480 (Before Tax)


Apple Juice: ¥480 (Before Tax)

Other available drinks include sweet and sour lemonade made using lemons grown in the Seto Inland Sea, 100% apple juice, and other cute delights.

Information

Flower Miffy Juice Garden Asakusa
Address: Aiso Bldg. 1F, 2-19-7 Kaminarimon, Taito-ku, TOkyo

Opening Hours: [Weekdays] 11:30-18:00 / [Weekends & Holidays] 10:30-18:00

Official Website: https://www.benelic-flower.com/
*Please note that the opening hours of Flower Miffy Asakusa and Juice Garden Asakusa are different

KAIKA TOKYO by THE SHARE HOTELS: Asakusa's New Artist Lounge and Hotel Fusion

KAIKA TOKYO by THE SHARE HOTELS is set to open on July 15, 2020 as the 8th branch of THE SHARE HOTELS, a chain of renovated hotels which aim to find and share new beauty of the local area.

KAIKA TOKYO is renovated from a 7-floor 1966 warehouse building and is comprised of an artist lounge and a hotel. It aims to become a new hub for contemporary art in Japan.

The name "KAIKA" is derived from several Japanese words, all of which are read as kaika: "開架" which means open-access i.e. giving open access to the warehouse, "開化" which means enlightenment i.e. to spread and make known Japan's art culture, and "開花" which means blossom, i.e. to bring out the talent of future artists.

Sumida is a city popular amongst local and foreign tourists for its many art and cultural facilities. It is a promoter of art and culture in many ways, and KAIKA Tokyo aims to be a part of that process. One way in which it will do this will be with the new "KAIKA TOKYO AWARD." The judge for awarding the prize is Yūji Akimoto—the director of and lecturer at Tokyo University of the Arts—and Japanese artist Noritaka Tatehana. The prize itself will be having your art piece displayed inside KAIKA TOKYO. To commemorate the grand opening, an exhibition by Noritaka Tatehana himself entitled FORM AND COLOR will be displayed until August 16, 2020.

The downstairs lounge which is accessible to guests will include the art storage area as well as the KAIKA TOKYO AWARD winning pieces. There are also appliances and amenities for guests to freely use too, like kettles, microwaves, plates, cutlery, washing machine, and a vending machine.

Rooms have a relaxed vibe to them thanks to the colours and materials used. There are 73 rooms in total split across 10 different types which can cater to 2, 4, and even 6 people.

The 1st floor bar lounge is open to non-guests during the evenings where they sell Japanese tea cocktails, coffee, Japanese finger food, and more. The coffee served uses single-origin beans from a local cafe in Sumida, Tokyo. The bar is open 19:00 to midnight, with last orders ringing in at 23:30.

Information

KAIKA Tokyo by THE SHARE HOTELS
Grand Opening: July 15, 2020
Address: 2-16-5 Honjo Sumida Ward, Tokyo
Access: 8-minutes on foot from Asakusa Station / 9-minutes on foot from Honjo-Azumabashi Station / 9-minutes on foot from Kuramae Station

Official Website: https://www.thesharehotels.com/kaika/

Tokyo's New Sake Ice Cream Shop Launches Crowdfunding Campaign to Ship Ice Cream Around Japan

SAKEICE is an ice cream shop that offers a new kind of ice cream experience, combining Japanese sake and alcohol together with the frozen treat. The shop opened in Akusaka, Tokyo in March this year.

However, due to the outbreak of the COVID-19 pandemic, the store has had to close temporarily. SAKEICE wants to cheer people up during these turbulent times with their ice cream, and has therefore announced the launch of a crowdfunding campaign so they can set up a website where people can order ice cream in Japan and have it delivered to them.

I tried out their ice cream

Otokoyama / Nihonshu Ice

SAKEICE's ice cream is laced with lots of Japanese alcohol. I tried the Otokoyama and the Nihonshu Ice, the latter of which is an original ice cream flavour exclusive to SAKEICE. They both contains around 4% alcohol. I were curious exactly how they would taste.

I started with the Nihonshu Ice. The moment the ice cream hits your tongue, your taste buds are met with its smooth texture, and your nose is filled with the full bodied flavour of nihonshu. The velvety texture on your tongue as it melts is to die for. The Otokoyama has a refreshing kick to it when compared to the Nihonshu Ice. It's creamy, but the aftertaste is refreshing, so we recommend it for people who aren't a fan of sweet treats. Both are sure to leave you feeling satisfied, and maybe a little flushed afterwards.

These ice creams contain alcohol, so keep that in mind when coming here with minors, kids, pregnant women, or if you're driving.

 

They have non-alcoholic flavours too!

Matcha / Cherry Blossom

Of course, they have non-alcoholic options too. I tried out the matcha and cherry blossom flavours.

The matcha one has an irresistible bitterness layered inside the sweetness. You get that real rich matcha taste too. The cherry blossom ice cream is a cute light pink colour and has a subtle sweetness to it. If you don't like alcohol then you'll definitely want to try one of delights.

mūya: Tokyo's New Cafe Opening by 'Bread, Espresso &' Serving Fluffy Mū Bread

Bread, Espresso & is a cafe chain with 17 branches in Japan, including Omotesando. The company is set to open an entirely new cafeーspecialising in Bread, Espresso &'s popular mū breadーcalled mūya on April 17, 2020 in Asakusa Mizumachi.

Bread, Espresso &: https://www.moshimoshi-nippon.jp/254815

Mizumachi is a new shopping centre also opening on April 17, 2020. It's near Solamachi in Tokyo Skytree Town, and sits betwixt Kaminarimon and Tokyo Skytree.

mū

Mū is an original bread recipe baked up by Bread, Espresso & that's made with lots of butter, giving it a rich taste. The word means "soft" in French. When you break a piece off the fluffy loaf, that rich buttery smell fills your nose.

inside the cafe

The mū loaf is a cube shape, and the interior of the shop has cube designs all over it.

Customers sit at tables with chairs that stack up like cubes – a unique and original design.

French toast

Mū is the main dish at mūya, which can be served as it is, as a sandwich, as French toast, or even in a parfait.

When you're passing through Asakusa, be sure to pop into mūya to try the famous mū bread of Bread, Espresso &.

Information

mūya

Address: 1-2-12 Mukojima, Sumida City, Tokyo 131-0033
Opening Hours: 8:00-20:00
No Fixed Holidays

TEL: 03-6240-4880
Homepage: http://www.bread-espresso.jp/

Japanese Tea Crepe Cafe OCHABA Opens Second Branch in Asakusa

OCHABA opened its first branch in Shinjuku in March last year as the first cafe in Japan specialising in Japanese milk tea. The cafe has announced that it will open its second branch in Asakusa on February 22, 2020. The new cafe will introduce a new item to the menu: crepes. The chewy wraps are made with matcha and Japanese tea and filled with mascarpone and fresh cream.

Plain Tiramisu – ¥600


Kogashi Houjicha Puree – ¥650

Strawberry Daifuku – ¥730

The cafe will also serve OCHABA's famous Japanese milk tea topped up with warabimochi, made using carefully-selected tea leaves from Maruzen Tea, a Shizuoka-based tea company with a history spanning more than 70 years.

If you love Japanese tea, you'll love OCHABA's desserts made using all different kinds of teas.

Information

OCHABA Asakusa

Address: Asakusa Orange Street, 1-39-14 Asakusa, Taito Ward, Tokyo

Opening Hours: 11:00-19:00

Official Website: https://ochaba.net

Asakusa's New Conveyor Belt Sushi Chain Kura Sushi Offers a Traditional Japanese Space

Muten Kura Sushi opened the first of its its all-new chain of "global flagship" sushi restaurants in Asakusa BOX on January 22.

This kaitenzushi restaurant, or "conveyor belt sushi," aims to promote Japanese culture. It wants people, both Japanese and foreign, to rediscover the wonders of kaitezsushi, and what better place to open its first branch than Asakusaーone of the biggest tourist hot spots in Tokyo?

The restaurant's design and decor takes on a more traditional approach, drawing inspiration of Japan's Edo period with classic ukiyo-e paintings and paper lanterns adorning the walls, amongst many other things. This classic image of Japan has found its way to the dining space itself too, with flat tables made from plain wood and chairs topped with tatami. This gives it that air of grace and beauty which is typically associated with traditional Japanese culture, as well as a relaxed atmosphere.

The logo used on the restaurant's paper lanterns, crockery, staff uniform and elsewhere was designed by Japanese art director and creative director Kashiwa Sato. It was created for the brand to be used on all future branches, including all Japanese restaurants and those planned for the US and Taiwan.

The restaurant even has several Japanese festival games for customers to play, like target practice and ring toss. They can win coupons that can be used in the restaurant, and kids can win toys too.

Some of the staff can speak foreign languages too, and tablets that you order food from are available in 4 languages.

Staff also carry a "Langogo Genesis," a speech translation machine, to allow for smooth customer service. It's connected to an AI language server which can speak and translate quickly in 104 languages.

This global flagship restaurant also has a self check-in and payment system. Using touch screen, customers will be shown their seats automatically. The AI also adds up how many plates you have used by scanning their QR codes, and this is used to determine how much you need to pay. This means you needn't wait for someone to bring the bill, you just head straight to the till.

There's also a smartphone app (called スマホでくら) which you can use to book a table and makes for easy checking in when you arrive at the restaurant.

Head to Kura in Asakusa, Tokyo to enjoy Japan's longtime affordable and delicious fast food: sushi.

Information

Kura Sushi Asakusa ROX

Address: Asakusa ROX Floor 4F, 1-25-15, Asakusa, Taito Ward, Tokyo)

Opening Hours:

January 22-26 @ 12:00-21:00 (Last Orders 20:30)

From January 27 @ 11:00-23:00 (Last Orders 22:30)

Official Website (English): http://www.kura-corpo.co.jp/en/

8 Delicious Breakfasts to Enjoy in Tokyo's Traditional District Asakusa

Asakusa is one of the most touristic spots in Tokyo and enjoys its traditional temples as much as its modern scene. If you're up early with a day of sightseeing and shopping ahead, starting your day with a good breakfast is the best way to make the most of it. To help out, we've got a list of eight recommendations for breakfast in Asakusa which includes both Japanese and western-style foods – bon appetit!

Pelican Cafe 

Pelican Cafe runs the old bakery called Pan no Pelican which was established in 1942. This delicious menu is not available anywhere else. The scrumptious breakfast menu includes five different meals to choose from. The picture above shows the Ham Katsu Sandwich – a filling breakfast sandwich containing a thick slice of Asakusa ham.

Pelican Cafe 

Address: Floor 1, 3-9-11, Kotobuki, Tokyo

Opening Hours: 

Breakfast: 9:00 – 11:00

Regular Menu: 11:00- 17:00 (Last Orders)

Closed: Sundays, National Holidays

Closed for summer holidays and the New Year's Period

Official Website: https://pelicancafe.jp/index.html

February café

We've previously visited February café for their scrumptious french toast and now we're back for seconds. You can order the breakfast bread set (Asa Pan Set) from 8:10 am to 11:00 am. The bread used for the set is actually Pelican no Pan bread. This is ideal for those of you who want to enjoy breakfast near Kappabashi.

February café

Address:1-7-8 Kaminarimon, Taito, Tokyo 

Opening Hours: 8:10-19:00 (Last Orders: 18:30)

No Regular Holidays

Official Website: http://www016.upp.so-net.ne.jp/February-Cafe/

Coffee Lodge Akaishi

Coffee Lodge Akaishi is located behind Asakusa Kannon and is open from 9:00 am to 4:00 am. This place is loved by everybody from tourists to locals. Their top dish is their Ebi Sando – a sandwich that contains battered shrimp, tartar sauce, cabbage and sauce. The old traditional-style interior provides the perfect relaxing atmosphere to catch your breath between sightseeing and shopping. 

Coffee Lodge Akaishi

Address: 3-8-4 Asakusa, Taito, Tokyo

Opening Hours: 

Tuesday to Saturday: 09:00 – 04:00/ Sundays and National Holidays: 09:00 – 01:00

Closed: Mondays

Tabelog: https://tabelog.com/tokyo/A1311/A131102/13058004/

Misojyu

Misojyu's popular breakfast set includes miso soup, one onigiri, a delicious half-boiled egg, and pickled vegetables. Misojyu is committed to using organic vegetables in their miso soups for healthy and balanced meals so this is the perfect way to start your day. 

Misojyu (Miso Soup Shop)

Address: 1-7-5 Asakusa, Taito, Tokyo

Opening Hours: 

Breakfast: 8:30 – 10:00

Regular Menu: 10:00 – 19:00

No Regular Holidays

Official Website: https://misojyu.jp/

SUKE6 DINER

SUKE6 DINER serves up delicious brunches from the morning and homemade sausages and smoked fish dishes in the evening. The breakfast menu is available from 8:00 am to 11:00 am and serves up homemade granola and bread freshly baked on the third floor of the diner. You can also enjoy their scrumptious sandwiches which are topped with meat and vegetables.

SUKE6 DINER

Address: Ayumi Building Floor 1-2, 1-11-1, Hanakawado, Taito, Tokyo

Opening Hours: 

Tuesday – Friday: 8:00-22:00

Lunch:10:00 – 17:00

Weekends and National Holidays: 8:00 – 21:00

Closed: Mondays

Official Website: http://suke6diner.com/

SaboAsaichi

If you're near Inarichō then pop into Sabö Asaichi for a delicious breakfast, shokupan or Okara bread that is made from bean curd lees. Toppings include red bean paste and butter, honey and butter and red bean paste and cream cheese. Besides bread, you can also add an onigiri and miso soup to your meal so you can enjoy both a western-style and Japanese-style breakfast in one go.

SaboAsaichi

Address: 6-1-15, Higashiueno, Taito, Tokyo

Opening Hours: 8:00 – 20:00 

Closed: Sundays and Mondays

Official Twitter: https://twitter.com/saboasaichi

SUKEMASA COFFEE

If you're looking for a good latte or espresso to start your day then SUKEMASA COFFEE got your back. A unique feature of the café is that the staff are all dressed in kimonos. The picture above shows the café's Red Bean Paste and Butter Dog. A rich filling of red bean paste and butter is sandwiched inside crispy bread.

SUKEMASA COFFEE

Address: Kimizuka Bldg. 102, 2-29-2, Asakusa, Taito, Tokyo

Opening Hours: 8:00 – 19:00

Closed: Tuesdays

Official Website: https://sukemasa.tokyo/

MIMOSA

MIMOSA's morning menu sees toast, sandwiches and the best of Asakusa's delicious breakfasts. The star of the show is the Big Hotcake (¥720 After Tax) which is a five-layer pancake topped with Calpis butter and a side of whipped cream. You'll want to savour the nostalgic flavour forever. If you cannot finish your meal, you can take it away with you.

MIMOSA

Address: 4-28-6 Asakusa, Taito City, Tokyo

Opening Hours: 8:00 – 17:00

Closed: Mondays

Tabelog: https://tabelog.com/tokyo/A1311/A131102/13088749/

 If you're an early bird in Asakusa, treat yourself to a hearty western or Japanese breakfast at one of these cafés and you'll be sure to have a fantastic day. 

*The cafés and restaurants may update their opening hours and menus at any time so please check their official websites and social media for the most accurate information.

WASHOKU: Asakusa's Newest Restaurant For Experiencing Japanese-Style Cuisine

Asakusaーone of the hottest spots in Tokyo for sightseeing, ever-bustling with Japanese and foreign tourists and travellers alike. This ancient district is famous not only for its sights, like Sensō-ji (the oldest temple in Tokyo) and the Nakamise-dōri shopping street leading up to it, but for its bountiful offering of gourmet restaurants.

Today, we're taking a look at Taikenkei Dining -WASHOKU-, a restaurant which opened in Asakusa on November 19 this year. If you're looking for the full package when it comes to experiencing Japanese food culture, WASHOKU has customers covered. Not only do they serve food, like traditional Kyoto obanzai, but they offer cultural experience plans too where you can learn to make sushi or dress up in a kimono and walk the old streets of Asakusa.

WASHOKU's concept when it comes to both lunch and dinner centres around enjoying Japanese-style food that is colourful. And that rings tantalisingly true with their kaleidoscopic obanzai, which is formed of 12 vivid bite-sized delights. Obanzai is a traditional style of Japanese cuisine that comes from Kyoto, made up of mostly seafood and vegetables. The obanzai served at WASHOKU was conceived under the guidance of nutritionists, and so is packed full of healthy nutrients for the body. Not only that, the ingredients selected are all domestic to Japan, and are of a very high quality.


The obanzai I ate included fried beni haruka sweet potato which is sourced from Ishida Farmsーa sweet potato growerーin Katori, Chiba. It had a moist texture and rich sweetness. When I sank my teeth into it, I was flushed with feelings of the fall season.

Other foods in the assortment included sashimi, scallop and yuzu, saikyo-yaki Kyoto-style grilled fish, and more. Each mouthful of the selection offered its own distinct and unique flavours.

The obanzai is served with miso soup too with which you get to choose a miso ball from a variety of flavours to put into your bowl. I went for the sesame seed miso ball.

The miso ball is made from miso paste and various ingredients. Once placed into the hot water, it melts and turns into miso soup. The sweet light-brown miso was perfect for warming up my chilly self.

Dinner also features a dessert menu, as well as courses with an all-you-can-drink option, so I recommend these options for people who want to relax and take their time with their dining experience.

As I mentioned earlier, WASHOKU also offers a variety of experience-based plans. This includes a sushi class where you can learn to make your own hand-rolled sushi.

There are two types of "temari" hand rolled sushi you can make: the regular type, which makes use of tuna, salmon and other classic sushi toppings, and the high quality type, which uses more high-end ingredients like uni sea urchin eggs, caviar, gold leaf, and more. And for foreign customers, the restaurant has prepared a handout detailing the history of Asakusa and recipes, as well as souvenirs for them to take home.

The MMN team of course had to have a go at making our own sushi, but it proved quite difficult. You have to get the right amount of sushi rice to roll, then actually roll it perfectly into a ball before topping with your ingredients. But the sushi I made was actually really delicious! To attend this class you have to book in advance, so if you've never tried making your own sushi before or have an need some guidance, then we can't recommend it enough.

As well as food-related experiences, WASHOKU provides customers with three different plans to experience Japanese culture. The first of these is the rickshaw ride, where you board a rickshaw pulled by a runner and are taken around the various sites of Asakusa. The 'Excursion Around Asakusa Course' takes you to the most popular spots around Kaminarimon, while the 'Sky Tree Course' takes you all the way to the Sumida River, and you also get to see Tokyo Skytree and various other attractions in Asakusa.

The Edo Kiriko plan gives you the opportunity to cut your own Japanese glass to drink from. You can drink from your glass if you reserve the plan with lunch or dinner.

Finally, you can rent a kimono. Select your favourite from the shop and have a professional dresser get you readyーwith both your kimono and your hair. After you're dolled up, you can take a stroll around Asakusa to get a real feel for Japanese culture.

All three of these plans are just ¥3,500 per person, and all require reservations which you can book online.

So, if you're looking for a taste of Japanese food and culture, why not take a trip to WASHOKU when visiting Asakusa for an all-in-one experience?

Information

Taikenkei Dining -WASHOKU-

Address: 2113 Kaminarimon Bldg. Floors 5F-6F, 2 Kaminarimon, Taito Ward, Tokyo

Opening Hours: Lunch 11:00-15:00 / Dinner 15:00-17:00

No Fixed Holidays

Access: 1-minute on foot from Exit 4 of Asakusa Station via the Tokyo Metro Ginza Line / 2-minutes on foot from Exit A3 of Asakusa Station via the Toei Asakusa Line

Official Website (English): https://washoku.site/en/