Trio Ohashi to Perform Theme Song for Fruits Basket -prelude- Anime Compilation Film
A new trailer for the upcoming Fruits Basket -prelude- compilation film is highlighting the movie's theme song, set to be performed by Trio Ohashi. The film will release in select theaters on February 18, 2022.
The film will center around Tohru's parents Kyoko and Katsuya. The theme song, Niji to Kaito (Rainbow and Kite) will be sure to pull at the audience's heartstrings. The track will also be included on Trio Ohashi's 15th-anniversary album scheduled to release on February 16, 2022.
Trailer: https://youtu.be/G3W_3EEzzSg
Fruits Basket initially ran in Hana to Yume magazine from 1998 until 2006 and was written and illustrated by Natsuki Takaya. The manga series has sold over 30 million copies worldwide. In April 2019, a new anime adaptation was broadcast on TV Tokyo, running for three years. A Fruits Basket stage show is scheduled to start on March 4, 2022.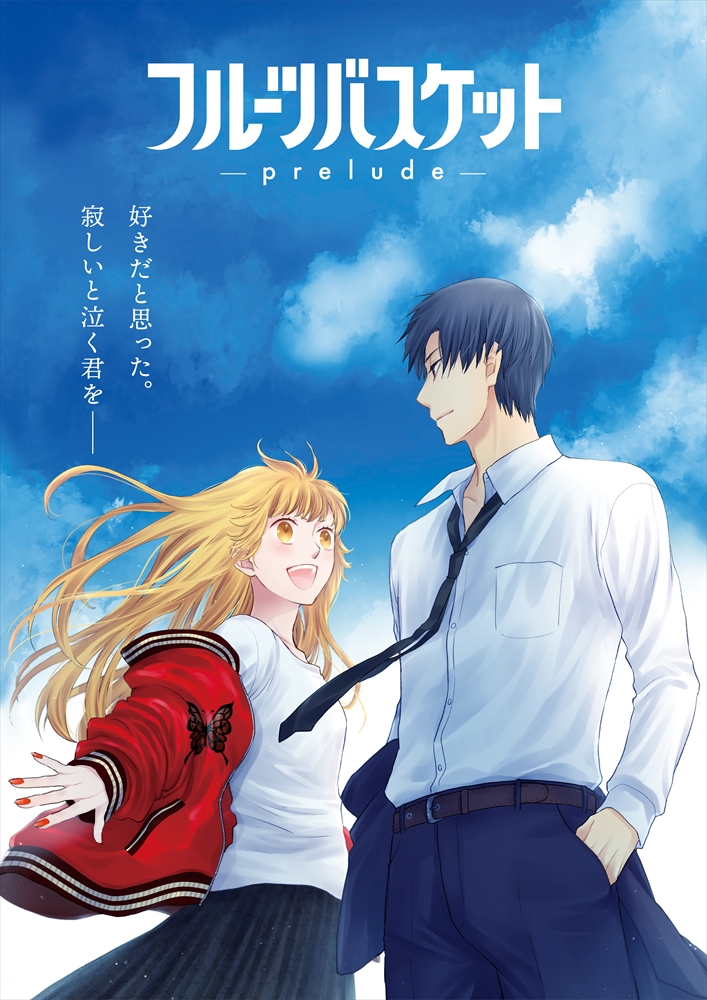 Ⓒ高屋奈月・白泉社/フルーツバスケット製作委員会
RELATED ENTRIES
WARPs UP Chinese Members Share Chinese Self-Cover of Fruits Basket Opening Theme

Japanese-Chinese boys collective WARPs UP's Chinese members LANGYI and MINGJUN have started covering songs in Chinese. The project has started with a self-cover of Pleasure, the opening song for the Fruits Basket The Final anime that was announced in April.

 

"You, yourself, can change the future, regardless of your destiny or environment" is the theme of the original song, which has been transformed into an acoustic version, centring around on the piano. The arrangement has been adjusted to add a summery vibe, allowing the listener to imagine a warm and bright future.

 

The music video has been shot in a similar style to LANGYI's WARPs UP Vocal Club cover in May, focusing on the two members singing into their microphones.

The video reflects the original meaning of the song, filmed carefully to capture a midsummer feeling.

The music video premieres on the WARPs UP YouTube channel on August 12, at 22:15.

「Pleasure (LANGYI & MINGJUN ver.)」Music Video

Pleasure (LANGYI & MINGJUN ver.) will be available on streaming sites from August 12th. The trilogy of acoustic covers being released this summer is made up of songs specially selected by the two Chinese members, covered in Chinese. The second and third songs are confirmed to be covers of hit songs that everybody will recognise.

Fruits Basket Themed Cafe to Open in Tokyo This Spring

The anime-themed cafe brand OTA★LAB CAFE will open its first permanent cafe, "Cheer fancle cafe," in Awajicho, Tokyo on April 1, 2021. The cafe's first collaboration will be with the hit series Fruits Basket whose manga has sold over 30 million copies worldwide. It will run from April 1 to May 9 and will feature a range of dishes and drinks inspired the series as well as merchandise, new and exclusive artwork drawn by the author Natsuki Takaya, and more.

Original Merchandise

Cheer fancle cafe Original Fruits Basket Pins (30 Designs) | ¥495 (Tax Included)

Cheer fancle cafe Original Fruits Basket Acrylic Stands (15 Designs) | ¥1,430 (Tax Included)

Cheer fancle cafe Original Fruits Basket Mini Acrylic Stands (15 Designs) | ¥1,000 (Tax Included)

Cheer fancle cafe Original Fruits Basket Acrylic Key Rings (15 Designs) | ¥715 (Tax Included)

Cheer fancle cafe Original Fruits Basket Postcard Sets (30 Designs/2 Included) | ¥385 (Tax Included)

Food Menu

Veggie Pasta ¥1,320 (Tax Included) / Omurice ¥1,320 / Egg Sandwich ¥880 (Tax Included)

Niratama Donburi ¥1,100 (Tax Included) / Hamburger ¥1,320 (Tax Included)

Dessert Menu

Strawberry Shortcake ¥990 (Tax Included) / Pancake ¥1,100 (Tax Included)

Coffee Milk Jelly ¥990 (Tax Included) / 3 Dango Set ¥880 (Tax Included)

Limited-Time Drinks Menu ①

Serving: April 1, 2021 – April 20, 2021

Onigiri White Smoothie ¥715 (Tax Included) / Starry Sky Latte ¥715 (Tax Included)

Cassis Berry Soda ¥715 (Tax Included) / Berry Drink ¥715 (Tax Included)

Limited-Time Drinks Menu ②

Serving: April 21, 2021 – May 9, 2021

Orange Soda ¥715 (Tax Included) / Milk Tea ¥715 (Tax Included)

 

Matcha Milk ¥715 (Tax Included) / Blue Soda ¥715 (Tax Included)

Present Campaign

Win one of two possible signed coasters

Three lucky customers who collect all five stamps at Cheer fancle cafe can win one of two possible coasters signed by the author of Fruits Basket.

Arrival Campaign

All customers who go to the cafe will receive one of 15 possible original book covers.

Dining Campaign

For every menu item order, customers will receive one of 32 possible coasters. There are 15 chibi designs, 15 completely original designs drawn by the manga author, and two rare designs.

Spending Campaign

For every ¥2,500 spent at the cafe, customers will receive one of 15 possible postcards.

Additionally, those who follow OTA★LAB CAFE on Twitter and retweet the campaign Tweet that will be posted on March 29 will have the chance to receive a set of all the above campaign items. This is available for five people from March 29 to April 5.

©高屋奈月/白泉社

Interview: Ohashi Trio Discusses His 'Milk and Sugar' Duet Music Video With Mone Kamishiraishi

Ohashi Trio released a music video on his YouTube channel on Tuesday (February 16) for Milk and Sugar duet with Mone Kamishiraishi. The song is taken from his upcoming new album NEW WORLD which is set to drop on March 3, 2021.

Ohashi Trio – "Milk and Sugar duet with Mone Kamishiraishi" Official Music Video

Ohashi Trio – "NEW WORLD"

Ohashi Trio and Mone Kamishiraishi in the recording booth

The music video features the actual footage of Ohashi and Kamishiraishi recording their respective vocal sections for the duet. We get to see the two artists' faces in a more relaxed and natural environment. It's also layered with cute animated illustrations and artwork which express the content of the lyrics. The song is a refreshing, up-tempo number that captures the beauty of both singers' voices. It's also available to listen to right now worldwide on all major music streaming and download services.

Stream & Download Here

An official interview with Ohashi Trio and Mone Kamishiraishi was also released where they talk about Kamishiraishi's involvement on the song, both of their thoughts about it, and more. It's a must-read for fans, and MMN Has translated it into English for our readers.

Ohashi Trio and Mone Kamishiraishi Interview

"I'd go as far as to say that breaking something down can lead to great things" (Ohashi)

──I had the opportunity to peek into your recording session not long ago, it seemed like a very positive, harmonious atmosphere.

Ohashi: Because she's great <looks towards Kamishiraishi>. I'm usually not like this.

Kamishiraishi: <Laughs>

──I interviewed you last year where the two of you were talking about performing together, and here we are already. Could you talk again about what originally led you to working together?

Ohashi: "My first time being involved with Mone was on her album 'note.'"

Kamishiraishi: "I was already a huge fan of his, so I thought, I'll give it a shot, and asked him to come on board."

Ohashi: "You make it sound like you never stood a chance <laughs>. I wrote the song 'Little Birds' [for the album], and at the recording session, she was really kind and said, 'I'm a huge fan.' I remember thinking how great of a singer she was. After that, I thought about what we could do together if I invited her on my own album. Since it was the actual writing of a song that I did for her, I made sure to respect her style, but I was inviting her to my side, so I'd go as far to say that I decided to break all of that down. I thought by doing that, it could lead to great things. So I sent her the offer. She was super busy with shooting a drama series and other stuff but she was kind enough to make time each day."

 Kamishiraishi: "Not at all. It was very kind of you."

I thought, "Aw yeah, a challenge!" (Kamishiraishi)

──So things were broken down this time, Kamishiraishi.

Kamishiraishi: That's what happened <laughs>. When I heard the instrumental, I thought, "Aw yeah, a challenge!" It had a kind of melody that I'd never had the chance to sing over before, same with its overall feel. It felt like a step up, like I was discovering a new way of singing, which really excited me, so I really sang my heart out prior to the recording."

Ohashi: "You were so involved, you prepared so much despite being so busy. You're great. Hard-working."

Kamishiraishi: "I'm a fan, so when you release a new song, I memorise it straight away. This felt like the same thing. LIke I'm the first to hear it and learn it. So it didn't feel like work needing to learn it, but when I first heard it, I thought, 'He's been kind enough to drawn attention to my new parts.'"

 Ohashi: "It makes me happy hearing that."

"I don't think I've seen someone like this girl before" (Ohashi)

──What do you like about Kamishiraishi's voice, Ohashi?

Kamishiraishi: "Thank you for asking that <said quietly to the interviewer>."

Ohashi: "<laughs> I thought, this character is someone who puts 100% of herself into the songs she sings. And that image I had held true when I met her, plus she has real talent. Her songs are great. I thought, I don't think I've seen someone like this girl before."

Kamishiraishi: "Wow… <speechless>"

Ohashi: "It was the same during 'Little Birds.' She's so busy, and yet I really got from her that she's going all out to put her all into it. She was so quick to respond to the request too. She has real physical strength as a vocalist. There are people out there whose songs are good, but rarely do I meet someone who can adapt as well."

Kamishiraishi: "You're too kind. I don't really have things said like this about me while having the opportunity to sing, so I'll lap up everything that's said here today and take it home with me. It will be engraved in my heart."

 Oashi: "No, no, I should be saything lots of wrong things anyway."

"You won't find someone like Ohashi out there even if you looked" (Kamishiraishi)

──What do you like about Ohashi's music, Kamishiraishi?

Kamishiraishi: "First of all, I love his voice. I really like his melodies and how the instruments sound in his music too. You won't find someone like Ohashi out there even if you looked for them."

Ohashi: "Wow, that makes me happy."

Kamishiraishi: "He has a warmth, sense of style, and coolness about him that you won't find in other people. I get the feeling that you'll find all of those things in every one of his albums, and I love that about him. He invited me to one of his shows recently. It was the first time seeing him live, and, well, he was just super cool! The show title said "Ohashi Trio Live," but every single one of the band members there felt like one of the main cast. There were too many amazing things to see and point out, but unfortunately I don't have enough eyes for them all <laughs>. I wanted cameras to be recording each one of their parts! It made me realise how amazing music is. It was testament to the fact that your ears can forever be happy as long as you're listening."

──What a great comment!

Ohashi: "You've conveyed everything I've always thought I wanted to have. I'm super happy."

Interview/Original Text: Hiroshi Takaoka

English Translation: Joshua Kitosi-Isanga

Be sure to check out the music video for Ohashi Trio and Mone Kamishiraishi's duet on Milk to Sugar ("Milk and Sugar").

Information

Milk to Sugar duet with Mone Kamishiraishi

Japanese Song Title: ミルクとシュガー duet with 上白石萌音

Released: February 17, 2021 (Digitally)

Ohashi Trio Official Website: http://ohashi-trio.com/

TV Anime Fruits Basket Opening Theme 'Chime' Gets Remixed by AmPm

Masked music duo AmPm released a remix of Ai Otsuka's song Chime on music download and streaming services, along with a music video, on Wednesday (October 7).

Since August, Ai Otsuka has teamed up with music producers and track makers of various genres to release a remix of one of her songs per month. Chime comes as the third of hers to receive a remix. The first was PEACH which was remixed by Tomggg and the second Kingyo Hanabi by ANIMAL HACK. AmPm have produced music for a whole range of Japanese artists such as V6  and Ken Hirai, and have remixed for the likes of Afrojack and Nicky Romero outside of Japan.

Chime is used as the second opening theme for the first season of the 2019 TV anime adaptation of Fruits Basket. The song is hugely popular within anime community both inside and outside Japan.

Check out the colourful music video for the remix below which is inspired by the fairy tale The Ugly Duckling.

Ai Otsuka – "Chime (AmPm Remix)" Music Video


AmPm | Comment

"We've had the chance to remix a lot of different songs, but this one was the hardest to remix. The original track is fast-paced, and Otsuka's voice is persistent. We went through a lot of trial and error which is unusual for us. We wondered things like, 'Can we tamper with this part' and 'Have we finished?' The original song was written as the second opening theme for season one of the Fruits Basket anime, but this remix feels more like and ending theme. If the original is the chime to start the day, then the remix is the one to signal the end of it. But we want people to think of it more as an ending that connects to tomorrow, rather than a cut off. We also think that although it's the same song, you can take the lyrics differently between both versions, so we hope that makes the existence of a remix more fun for people so they can listen and compare!"

Asako Toki's Fruits Basket Second Opening Theme 'HOME' Music Video Released

Asako Toki posted her music video for HOME over on her official YouTube channel. The song is the second opening theme for the ongoing TV anime series Fruits Basket.

The warm ballad was written for the anime series itself and sings of things that are close to home for people, like family, friends, and lovers.

The music video showcases Asako Toki at home using items that belong to her like her Korean book, cosmetics, records, character merchandise, and more. There are also scenes of Asako recording for the radio show she appears on in Hokkaido. It has a real sense of 'home' to it, giving fans a peek into Asako's life.

Check out the music video below where we can once again enjoy Asako's warm and gentle vocals.

©Natsuki Takaya・Hakusensha / Fruits Basket Production Committee

Fruits Basket Opening Song 'Home' Unveiled on Asako Toki's YouTube Channel with Anime Video

Fruits Basket Season Two started on July 6, 2020 in Japan and is broadcasted at midnight. The new season two ending theme song HOME by Asako Toki was released on digital music services on July 7, 2020.

The official music video, which includes the Fruits Basket opening anime video and lyrics was posted on Asako Toki's official YouTube channel today.

This song was specifically written for the Fruits Basket anime. Filled with warmth, HOME depicts the relationships between family members, friends, and lovers. It signifies the home within your heart.

The music video shows the Fruits Basket characters embracing the song's loving message – something that fans just cannot miss.

©Natsuki Takaya, Hakusensha, Inc./ Fruits Basket Production Committee

Fruits Basket Ending Theme 'Eden' by MONKEY MAJIK Released On Spotify & Other Digital Platforms

This year marks the 20th anniversary of pop rock band MONKEY MAJIK whose song Eden which they wrote as the ending theme for season two of Fruits Basket, which began playing in the series July 6, has been released on all major digital music platforms including Spotify, iTunes Store, and Apple Music.

Fruits Basket is a shojo manga series written and illustrated by Natsuki Takaya. It is recognised by Guinness World Records as the best selling shojo manga series of all time. The new anime adaptation began airing in April 2019. MONKEY MAJIK has written theme songs for many Japanese dramas, movies, and anime before, but this is their first time writing a track for a shojo series.

MONKEY MAJIK | Comment

"It's an honour to have been able to write an ending theme for a series loved by so many people. In coming to write the song, we went ahead and watched the anime itself. We felt that it's full of unforgettable words and scenes. It wouldn't be an exaggeration to say that it's a series filled with things that we want to cherish in life. We wrote this song will picturing what the characters feel, so we hope you enjoy listening to it alongside the anime." *Translated by MMN from Japanese

MONKEY MAJIK – Eden (Fruits Basket Season Two Ending Theme)



MONKEY MAJIK are set to hold an online fan meeting on July 11 to celebrate their 20th anniversary. They originally had a concert scheduled for that day for the commemoration, but it had to be cancelled due to the COVID-19 pandemic. The band will go live from their social media accounts.

Fans can also check out their special 20th anniversary website which features comments from a host of prominent musicians who have close ties with MONKEY MAJIK, such as Sandwichman, Kazumasa Oda, Junichi Inagaki, and more. The website also features the "Music Video Gallery" where you can watch all 45 of the band's music videos after they signed to a major label.

ⓒNatsuki Takaya・Hakusensha / Fruits Basket Production Committee

THE CHARM PARK's Fruits Basket Ending Theme Lyric Video Released

THE CHARM PARK is the next generation pop maestro who is enjoying great success right now in the scene. He has written music for a host of big artists in Japan like ASIAN KUNG-FU GENERATION, V6, and Sandaime J Soul Brothers vocalist Hiroomi Tosaka.

THE CHARM PARK's new song ad meliora is being used as the ending theme for season two of Fruits Basket which will began airing on April 6, 2020. Today, an official lyric video was released for the track.

THE CHARM PARK / ad meliora (Lyric Video)

The video makes the lyrics even more heartwarming than they already were. The song has a gentle melody and vocals, something which THE CHARM PARK is known for, and is sung entirely in Japanese. It's a song about believing in people and wanting to protect them.

ad meliora is a popular song right now for drawing out and elevating the story and world of Fruits Basket's second season. Be sure to check it out if you haven't already.

©Natsuki Takaya・Hakusensha / Fruits Basket Production Committee

Information

ad meliora

Released: April 7, 2020

Download/Stream: https://lnk.to/the_charm_park

THE CHARM PARK Official Website: http://thecharmpark.com/

Fruits Basket – Season 2

Initial Broadcast: April 6, 2020

2nd season Opening Theme: "Prism" by AmPm feat. Miyuna

2nd season Ending Theme: "ad meliora" by THE CHARM PARK

Fruits Basket Official Website: https://fruba.jp/

AmPm's Fruits Basket Opening Theme Lyric Video Released

Since dropping their debut track Best Part Of Us feat. Michael Kaneko in March 2017ーwhich has over 33 million plays on Spotifyーmasked music duo AmPm have garnered fans worldwide. They wrote the opening theme song Prism feat. Miyuna for season two of the ongoing TV anime series Fruits Basket which began airing on April 6.

Fruits Basket is an internationally celebrated series, with the manga having sold over 30 million copies worldwide. A lyric video for the opening theme was posted on the official avex YouTube channel which features clips from the anime series.

AmPm – "Prism feat. Miyuna"

This is the first song with full Japanese lyrics to be composed by AmPm, a group with global following. The chill music fuses beautifully with the warm embrace of Miyuna's vocals.

©Natsuki Takaya・Hakusensha/Fruits Basket Production Committee


Information

AmPm – "Prism feat. Miyuna"

Release Date: April 8, 2020

©℗ A.S.A.B / PLAY RECORDS

Stream AmPm: https://ampm.lnk.to/ampm

 

Fruits Basket – Season 2

Initial Broadcast: April 6, 2020

2nd season Opening Theme: "Prism" by AmPm feat. Miyuna

2nd season Ending Theme: "ad meliora" by THE CHARM PARK

 

Fruits Basket Official Website: https://fruba.jp/

THE CHARM PARK's Fruits Basket Ending Theme Song Gets Anime Music Video

THE CHARM PARK is the next generation pop maestro who is enjoying great success right now in the scene. He has written music for a host of big artists in Japan like ASIAN KUNG-FU GENERATION, V6, and Sandaime J Soul Brothers vocalist Hiroomi Tosaka.

THE CHARM PARK's new song ad meliora is being used as the ending theme for season two of Fruits Basket which will begin airing on April 6, 2020. The song has a gentle melody and vocals, something which THE CHARM PARK is known for, and is sung entirely in Japanese. It's a song about believing in people and wanting to protect them.

ad meliora was released digitally on April 7, 2020, together with a lyric video and new visual.

THE CHARM PARK / ad meliora – "Fruits Basket" Season 2 Ending Theme


©Natsuki Takaya・Hakusensha / Fruits Basket Production Committee


Information

ad meliora

Release Date: April 7, 2020

Download/Stream: https://lnk.to/the_charm_park

THE CHARM PARK Official Website: http://thecharmpark.com/

 

Fruits Basket – Season 2

Initial Broadcast: April 6, 2020

2nd season Opening Theme: "Prism" by AmPm feat. Miyuna

2nd season Ending Theme: "ad meliora" by THE CHARM PARK

Fruits Basket Official Website: https://fruba.jp/

AmPm to Perform Fruits Basket Anime's Season Two Opening Theme 'Prism' feat. Miyuna

Since dropping their debut track Best Part Of Us feat. Michael Kaneko in March 2017ーwhich has over 33 million plays on Spotifyーmasked music duo have garnered fans in worldwide. And it's now been revealed that they will perform the opening theme song for the upcoming second season of the TV anime series Fruits Basket.

The song is entitled Prism and features Miyuna on vocals. Miyuna is a 17-year-old Japanese singer who gained fans across Japan last year for her incredible singing talent. This will also be AmPm's first song sung entirely in Japanese. The track will be released on April 8, 2020.

Fruits Basket was serialised in Hana to Yume, published by Hakusensha, from 1998 to 2006. The entire 23-volume series has sold over 30 million copies worldwide. The original 26-episode anime adaptation by Studio Deen ran in 2001 from July to December. A new series with new cast and staff began aired from April to September last year. Its long-awaited second season will return next month on April 6. The season two ending theme ad meliora will be performed by THE CHARM PARK.

Hear both Prism and ad meliora tie together the highly anticipated second season of Fruits Basket when it airs on April 6.

©Natsuki Takaya・Hakusensha/Fruits Basket Production Committee

Information

AmPm – "Prism feat. Miyuna"

Release Date: April 8, 2020

©℗ A.S.A.B / PLAY RECORDS

Stream AmPm: https://ampm.lnk.to/ampm

Fruits Basket – Season 2

Initial Broadcast: April 6, 2020

2nd season Opening Theme: "Prism" by AmPm feat. Miyuna

2nd season Ending Theme: "ad meliora" by THE CHARM PARK

Fruits Basket Official Website: https://fruba.jp/

THE CHARM PARK to Perform Fruits Basket Anime's Season Two Ending Theme

THE CHARM PARK is the next generation pop maestro who is enjoying great success right now in the scene. He has written music for a host of big artists in Japan like ASIAN KUNG-FU GENERATION, V6, and Sandaime J Soul Brothers vocalist Hiroomi Tosaka.

It has been announced that his new song ad meliora will be used as the ending theme for season two of Fruits Basket which will begin airing on April 6, 2020.

The song is described as having a gentle melody and vocals, something which THE CHARM PARK is known for, and is sung entirely in Japanese. It's a song about believing in people and wanting to protect them. The track will be released digitally on April 7, 2020.

Fruits Basket was serialised in Hana to Yume, published by Hakusensha, from 1998 to 2006. The entire 23-volume series has sold over 30 million copies worldwide. The original 26-episode anime adaptation by Studio Deen ran in 2001 from July to December. A new series with new cast and staff began aired from April to September last year. Its long-awaited second season will return next month on April 6.

THE CHARM PARK commented the following with regards to the announcement: "I was recommended Fruits Basket by those around me when I was in high school in LA. It's a series that really warms your heart, at times makes you a little sad, and one that you never forget. The song is about how I still treasure every day as I did back then, but wanting to work even harder. It was  inspired by the theme songs from the series back then which I love. A small homage."

©Natsuki Takaya・Hakusensha / Fruits Basket Production Committee

Information

ad meliora

Release Date: April 7, 2020

Download/Stream: https://lnk.to/the_charm_park

THE CHARM PARK Official Website: http://thecharmpark.com/

Fruits Basket – Season 2

Initial Broadcast: April 6, 2020

2nd season Opening Theme: "Prism" by AmPm feat. Miyuna

2nd season Ending Theme: "ad meliora" by THE CHARM PARK

Fruits Basket Official Website: https://fruba.jp/