Kyary Pamyu Pamyu Bento Sold as Part of LOCAL POWER JAPAN Project
Celebrating the 10th anniversary of her major-label debut, Kyary Pamyu Pamyu is back in the news. The artist will perform at this year's Coachella, one of the largest music festivals in the United States, and recently released her first full-length album in three years 'Candy Racer' in October 2021.  On January 16, Kyary embarked on the largest tour of her career, 'Kyary Pamyu Pamyu 10th ANNIVERSARY JAPAN TOUR 2022 CANDY WAVE,' which will see the singer performing 30 shows across Japan. In conjunction with the nationwide tour, the "LOCAL POWER JAPAN Project" was launched to energize Japan through the appeal of regional towns and cities. This exciting project is popping up all across the news! 
Following a T-shirt collaboration with a 156-year-old kamaboko shop in Kanagawa, Kyary has teamed up with Gunma-based ekiben maker Oginoya, known for their famous Toge no Kamamaeshi–a pot of iron-kettle-cooked koshihikari rice soaked in a special sauce, chicken, shiitake, quail eggs, and chestnuts. That's right–the singer now has her own tasty bento!
The special Kyary Pamyu Pamyu Toge no Kamameshi is packaged in an adorable pink clay pot with a paper cover boasting a new collaborative logo in the style of the singer's 2011 single Tsukematsukeru. The new bento boasts more of the artist's favorite foods, including extra chicken, mushrooms, edamame, bamboo sprouts, and pickled ginger. The signature quail eggs were given a cute pink hue by being slightly pickled, and some sour umeboshi were added–one in the bento and one on the side. 
The bento was sold at the Gunma show, and currently, all items sold on the Local Power Project (with the exception of the bento) have completely sold out. Talk about a major success!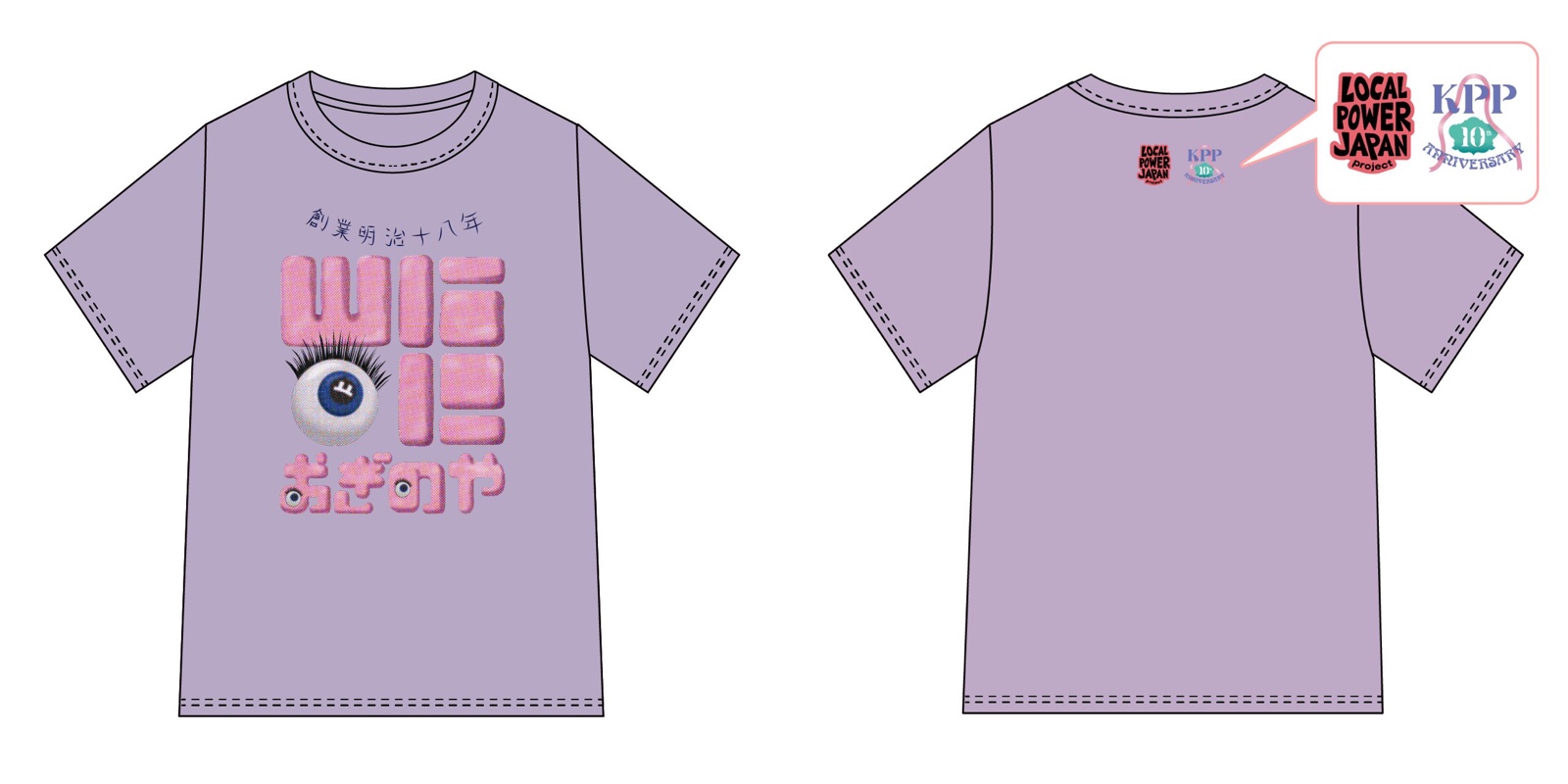 A new T-shirt collaboration has also been announced, featuring the new pink and purple color scheme and Kyary's 10th-anniversary logo. 
Information
LOCAL POWER JAPAN Project × Oginoya's Toge no Kamameshi
Collaboration T-shirts Available until February 11, 2022
T-shirts / Official Site: https://localpowerjapan.com
RELATED ENTRIES
Kyary Pamyu Pamyu to Perform at UNIK Asia Festival 2022

Kyary Pamyu Pamyu will perform at UNIK Asia Festival 2022, a massive music and fashion festival to be held at a large outdoor space in the middle of Hong Kong on December 10 and 11, 2022. 

UNIK Asia Festival 2022 will bring together a number of Asian artists for live performances and fashion shows. JAY B, leader of the popular Korean boy band GOT7, will also perform, along with all former members of 2NE1–CL, Minzy, Park Bom, and Sandara Park.

Also slated to perform are Feng Ze, Taiwanese band 831, rapper Tyson Yoshi, Jer and Jeremy from the idol group MIRROR, and many more international artists. 

Kyary Pamyu Pamyu and Travis Japan, who made their world debut last month, will represent Japan. Kyary has performed around the world many times, appearing at Coachella in April, and recently performing with Katy Perry at THE CONCERT 2022. 

In December, Kyary will reenact her Coachella performance with shows in Osaka and Tokyo. Tickets are available now, so grab them before they're gone!

Information

UNIK Asia Festival 2022

Dates: December 10 – December 11, 2022

Hours: 13:00-22:00

Venue: Central Harborfront, Hong Kong

Official Site: https://www.unikasiafestival.com/

Kyary Pamyu Pamyu Special Live 2022 ~Back to Coachella~

Osaka Performance

Date: December 20, 2022

Venue: Nanba Hatch (Osaka)

Contact: Kyodo Information 

https://kyodo-osaka.co.jp/ / 0570-200-888

Tokyo Performance

Dates:
December 21 – Setlist from Week 1 of Coachella

December 22 – Setlist from Week 2 of Coachella

Venue: EX THEATER ROPPONGI (Tokyo)

Contact: HOT STUFF PROMOTION

https://www.red-hot.ne.jp/ / 03-5720-9999

More Details

Kyary Pamyu Pamyu Returns to America to Perform Only Half a Year After Coachella

On October 29, Kyary Pamyu Pamyu took part in Porter Robinson's Second Sky Music Festival in Oakland, California. The following day, the popular singer also appeared at Porter Robinson + Friends, an afterparty event held in San Francisco. American fans are finding their excitement at a fever pitch as the Harajuku-based artist continues to perform abroad!

Kyary Pamyu Pamyu recently made headlines when she performed an unprecedented 62 songs at Nippon Budokan on October 19 during the final stop on her 10th-anniversary tour. Following this impressive feat, Kyary performed at yet another festival in Japan before hastily returning to the United States following her show-stopping performance at Coachella half a year ago.

Porter Robinson's Second Sky Music Festival was hosted by and featured performances by internationally acclaimed DJ and producer Porter Robinson. Other important figures in the dance music scene also appeared including SKRILLEX and RL GRIME.

The event took place in a large parking lot adjacent to the Oakland Coliseum, home of the Oakland Athletics MLB team. Since the show took place close to Halloween, plenty of decorations could be found, and fans lined up from the early morning to get inside.

Although Kyary's performance was scheduled for quite early in the day, the audience sprawled out as far as the eye could see. As DE.BA.YA.SHI. 2021 began to play, fans began to excitedly call out Kyary's name. In Japan, regulations are in place to stop the spread of the coronavirus, meaning that audience members are forbidden to yell during concerts–but no such precaution exists in the U.S. It was clear that Kyary was beyond excited to hear the audience's enthusiasm, and as the show began, the artist called out "Second Sky," to which the fans responded with excited cries. 

The audience danced wildly to Candy Racer and Dodonpa, two of Kyary's most peppy tracks, which played in succession. The singer did her best to speak English. "Hello! I'm Kyary Pamyu Pamyu from Japan," she began. She then complimented a fan in full Kyary cosplay. "Wow! Nice costume! PONPONPON costume, so nice," she said.

During CANDY CANDY -Remix-, the audience raised their hands high in the air as they followed Kyary's instructions to jump, swaying from left to right. As the audience moved in sync, a number of hit tracks began to play, including Harajuku Iyahoi and Tsukematsukeru. However, nothing could match the excitement of the moment that the intro to PONPONPON began to play. Porter Robinson, who was watching the live performance from the side of the stage, was moved to tears, and everyone could feel how big Kyary's presence was for local fans.

Kyary's performance at the Coachella Valley Music and Arts Festival in April of this year became a hot topic, showing that Kyary is still incredibly popular in the U.S. ten years after her major debut.

In addition to her largest national tour to date, Kyary has made numerous appearances at music festivals in Japan and abroad in 2022. The artist's first overseas performance during her 11th year as a performer was an incredible success and bodes well for Kyary's future.

<Setlist>
2022.10.29 "Second Sky Music Festival"
OP. DE.BA.YA.SHI.2021
1. Candy Racer
2. Dodonpa
3.Invader Invader
4. CANDY CANDY –Remix-
5. Ninja Re Bang Bang –Steve Aoki Remix-
6. Harajuku Iyahoi
7. Tsukematsukeru
8. PONPONPON –Extended Mix-
9. Fashion Monster

2022.10.30 "Porter Robinson + Friends"
OP. DE.BA.YA.SHI.2021
1. Candy Racer
2. Ninja Re Bang Bang
3. CANDY CANDY
4.Crazy Party Night-Pumpkins Strike Back-
5. Kira Kira Killer
6. Isshin Doutai
7. Harajuku Iyahoi
8. Fashion Monster
9. PONPONPON

Information

Kyary Pamyu Pamyu

KAWAII LAB. Report #13: FRUITS ZIPPER ~From Harajuku to Thailand~

FRUITS ZIPPER, a new idol group from ASOBISYSTEM's KAWAII LAB project, has a simple concept: "From Harajuku to the World."

This summer, the group's track Watashino Ichiban Kawaiitokoro took off on TikTok with the music video racking up over 500 million plays, propelling the girls into the idol spotlight. Along with regular monthly performances, tickets for the girl's first solo concert in September and their second solo concert in November were sold out immediately. FRUITS ZIPPER is scheduled to go on tour in Tokyo, Nagoya, and Osaka in February 2023, and even the fashion industry has become obsessed, with the group serving as the seasonal ambassadors for Samantha Vega starting in August 2022.

Only six months after its debut, the members of FRUITS ZIPPER are already taking their first steps outside of Harajuku. Their first overseas trip was to Thailand, called the land of smiles. 

FRUITS ZIPPER performed as one of more than 50 artists representing Thailand and Japan at the THAI-JAPAN ICONIC MUSIC FEST 2022 from October 21 to October 23. The music festival was held to commemorate the 135th anniversary of diplomatic relations between Thailand and Japan.

Four different stages were set up during the event, and FRUITS ZIPPER managed to attract fans not only from Japan, but from Thailand, Malaysia, Hong Kong, Myanmar, the Philippines, and other Asian countries. Many guests even knew the choreography to a number of FRUITS ZIPPER songs, including, of course, Watashino Ichiban Kawaiitokoro. The audience was thrilled when the members addressed them in Thai, and a collaboration interview video shot with local idols was also taken. It's now available on FRUITS ZIPPER's TikTok channel, so check it out!

We sat down with the seven members of FRUITS ZIPPER to hear about their best memories from Thailand!

-How did you feel about your first overseas trip to Thailand?

Noel Hayase

"It was our first time performing in Thailand. Not many people knew who we were and we were far away from home, but people welcomed us with open arms. So many people came to watch us, and I was happy to see the audience dancing along to the songs!"

Yui Sakurai

"When I became an idol two years ago, Thai fans really supported me. Back then, I told them I'd love to come to see them, but I never got the chance.


I'm happy that I was about to finally achieve that goal, or my dream, I guess, of going to Thailand to meet all of those fans. There were so many more people waiting for me than I could have imagined, and even though we couldn't communicate very well with the language barrier, we could easily communicate through music. I was so happy."

Karen Matsumoto

"So many non-Japanese fans came out to support us! Even though they didn't speak Japanese, they did their best to tell us they were rooting for us, and that they loved us. I was so happy, I can't wait to go back!"

Mana Manaka

"This was my first visit to Thailand, and part of me felt a little uneasy since everything felt so different when compared to live shows in Japan. I was allowed to take pictures and to really use my voice, and the stage configuration was really confusing. But everyone in Thailand was super welcoming and kind, and I was so happy to see them trying to learn Japanese. They'd listen to me talk and nod, looking me in the eyes, even if they didn't understand what I was saying. It was a wonderful trip that reminded me how excited I am to travel abroad. I hope I can see everyone in Thailand again, thank you so much!"

Luna Nakagawa

"Even though I've been an idol for a while, this was my first trip overseas. Going to Thailand had always been a dream of mine, but at the same time, I was nervous. I didn't know what kind of fans I'd find there, or if there would be any fans at all. But the Thai people were so unbelievably kind.


During our performance, a girl held up a board that said 'Lunapi' and waved a purple penlight. She shouted that she was looking so forward to meeting me, and it made me so happy.

We started to share information with the Thai people after our performance was decided, but it seemed that they had known about us before that. I felt that so many people had been excited about coming to see us, and now I just want to go to Thailand again to see everyone a second time. Kob kun kaa!"

Amane Tsukiashi

"This was the first time I had visited Thailand, and I thought it was so beautiful. Seeing ICONSIAM was unbelievable–the biggest building I'd ever seen! I was so happy to see the fans, and so many told me that they had been waiting to meet us. Thank you so much."

Suzuka Chinzei

"Before going to Thailand, I wondered how many local people knew about FRUITS ZIPPER and how many would actually come to see us. When we actually took the stage on the first day, there were so many Thai people, and Japanese people too! Since I was able to use my voice to the fullest in Thailand, I was thrilled when the audience could sing along with the 'Ne, ne, ne' part in Watashino Ichiban Kawaiitokoro! This live show was so unique to Thailand, and it felt so much freer than live shows are in Japan right now with all the restrictions. Since there was a language barrier, I wanted to put all of my feelings and emotions into my performance. I felt like I could communicate with the audience with my eyes, and those three days of performances were so unforgettable. We'll be back and we'll be even stronger, so wait for us until then! Kob kun kaa!"

FRUITS ZIPPER is on course to become a smash hit not only in Japan, but around the world.

Gastropolis Kobe, Featuring Kyary Pamyu Pamyu, Now Available to Watch

Kyary Pamyu Pamyu is now starring in a series of promotional videos for Gastropolis Kobe, a project aiming to share the city's incredible food culture with both domestic and international travelers. The project began on November 3, 2022.

[Kobe Beef Version] https://youtu.be/-HrNq6JGO3A

In the new videos, Kyary experiences the wonders of Kobe beef as well as local sake and desserts while exploring the city's best sightseeing spots. T

The main video will be aired on a massive screen near Shibuya Station in Tokyo starting in mid-November, and will also be available to watch online.

[Nada Sake Version] https://youtu.be/cd9_f59NWIw

[Kobe Sweets Version] https://youtu.be/Sx9B1ZdAvlI

To celebrate the campaign, four popular restaurants in Tokyo will participate in the Gastropolis Kobe Fair, inviting guests to enjoy cuisine from the capital of Hyogo Prefecture.

Interview with Kyary Pamyu Pamyu

Q: After filming, what was your impression of Kobe? 

A:  "I took pictures in all kinds of places, but honestly, they were all so close to each other. It was easy to get around and see everything–it only took between 15 and 20 minutes to get somewhere, and shooting went smoothly, so I was really able to enjoy every second!"

Q: What's your overall impression of Kobe's cuisine?

A: "There was so much amazing food. Everything was delicious and I ate and drink so much…because of how much drinking was involved in this shoot, I felt like food and alcohol were really connected in Kobe. Even between takes, the staff would ask if I wanted to try something or have another drink. I was so moved by the warmth and kindness of the people I met. This trip was filled with love and hospitality."

Q: You traveled around Kobe, right? What was your favorite place? 

A: "I love fashion and history, and Kobe had so many incredible historical buildings. I wanted to have tea at a place like that, and the view at night was unbelievable. I thought it was a great date spot or even a place you could spend time with your family and friends. I loved watching the big boats in the harbor." 

Q: There are only two months left in 2022. Is there anything you still want to do? 

A: "I've been on my Japan tour since January, so I'd finally like to relax a little bit. Maybe eat some good food and go to a hot spring. 

Q: Do you have a message for the readers?

A: "The two days of shooting in Kobe were incredible. The weather was perfect, the food was delicious, and the drinks were divine. I'd love to return on my own trip! I hope everyone enjoys the videos!"

Information

Gastropolis Kobe Web Series

Streaming: November 3, 2022 at 0:00

Gastropolis Kobe Fair

Running: November 3 – November 9, 2022

*Shiseido Parlor Harajuku will be closed from November 7 until November 10

Participating Venues: 

・TAVERN by the green

Address: THE STRINGS Omotesando 2F (3-6-8 Kitaaoyama, Minato-ku, Tokyo)

・Shiseido Parlor Harajuku

Address: WITH HARAJUKU 8F (1-14-30 Jingumae, Shibuya-ku, Tokyo)

・Ginza Onodera

Address: Il Palazzino Omotesando (5-1-6 Jingumae, Shibuya-ku, Tokyo)

・Tokyo Jugatsu

Address: Ohararyu Kaikan B1F (5-7-17 Minami-Aoyama, Minato-ku, Tokyo)

Atarashii Gakko! Releases New Song 'HANAKO'

On October 31, the dance and vocal unit Atarashii Gakko! released their new song HANAKO via 88rising.

Atarashii Gakko! made their world debut last year through the record label 88rising. This year, the group held a successful solo concert at Zepp DiverCity in May, followed by two sold-out solo concerts in the U.S. and a five-show U.S. tour including an appearance at the Head in the Clouds festival organized by 88rising. In a relatively short time, Atarashii Gakko! has become a smash hit with fans abroad.

The new song HANAKO is based on the classic Japanese school horror story Hanako-san. The urban legend tells the story of a young girl who haunts school toilets. Manny Mark produced the song, following his involvement in the group's previous tracks. The lyrics were written by Atarashii Gakko! themselves and the track has a bizarre yet cutesy vibe.

The lyric video for HANAKO was released at midnight on October 31, with the music video dropping at 13:00 on the same day. The unintentionally chilling, ghost-story-style video set in an elementary school is also sure to make an impression.

Comment from the Members

"HANAKO is the perfect spooky song for Halloween and we're happy to release it on October 31.

The song was actually being made concurrently with SNACKTIME, which we released last year! (With Money Mark, of course.)

The four of us would have meetings about the melody and lyrics while we were in LA. We stopped working on the song when it was still in the demo phase, but when we went to LA this summer, we worked with Money Mark to evolve it into something new. As we continued to build it, it became creepier and creepier.

It's a ghost story. It's all about being terrified, but also about being curious. Hanako is a popular urban legend in Japan about a ghost that haunts school bathrooms. In the legend, if you say the ghost's name three times, it might respond…or even appear in front of you."

Information

HANAKO – Atarashii Gakko! (Digital Single)

Release Date: October 31, 2022

Available to stream on streaming services worldwide

Listen & Download:

Japanese Artists to Perform in MetaTokyo Area at Metaverse Music Festival

Metaverse Music Festival will feature a MetaTokyo area this year! The event is being organized by Decentraland, a global Web3 Metaverse platform. A number of Japanese artists will perform, including Edo Lena, MISOSHITA, and Atarashii Gakko! 

In the special MetaTokyo area, a giant Metaani x Kyary Pamyu Pamyu character will be dancing to the beat. The popular collab appeared in April of this year and was an instant hit with NFT fans around the world. Those with an interest in Japanese culture can also enjoy some unique content streamed in the area. The Metaverse Music Festival will be held from November 10 until November 13, 2022.

Participating Japanese Artists

According to a recent announcement from Decentraland, Ozzy Osbourne, Soulja Boy, Dillon Francis, SNH48, and others will perform at OZZFEST, a festival organized by Ozzy Osbourne. Atarashii Gakko! will perform on the main Tower of Babel Stage.

The festival area will also feature special stages and areas in collaboration with a number of partners. MetaTokyo is one such partner sure to be a hit with audiences around the world!

Within the MetaTokyo area, Metaverse diva and artist Edo Lena and Metaverse creator MISOSHITA will perform. Other J-pop artists are scheduled to perform for audiences worldwide.

Giant Metaani x Kyary Pamyu Pamyu 

A giant Metaani x Kyary Pamyu Pamyu will appear within the Metaverse. First appearing in April 2022, guests will be treated to Kyary's popular song Dodonpa when they first enter, and will be able to take selfies with the huge character in a way not possible in the real world.

Information

Metaverse Music Festival

Date: November 12, 2022 at 2:00AM (JST)

How to Participate: 

Visit the pre-registration page below and click "WANT TO GO." 

https://events.decentraland.org/event/?id=7148716b-ff25-4d5f-8267-55fed7ab15bc

*Only the PC version of Chrome is supported.

*Visitors entering the event as a guest won't need to have a virtual currency wallet. 

*Some restrictions apply

Admission: Free

Limited Edition Kyary Pamyu Pamyu Crocs Announced

The casual footwear brand Crocs has announced a limited-edition shoe made in collaboration with Kyary Pamyu Pamyu. The exclusive model will go on sale on November 18, 2022.

Using the shape of the popular Crocs Classic Fur Sure model, the new design combines Kyary Pamyu Pamyu's unique style with the comfort that Crocs has become known for with both children and adults worldwide.

The new collaboration was inspired by the concept of "what if?" Warm and comfortable, the chic and relaxed shoes are perfect for the fall and winter months and can be worn with both casual and formal attire. The faux fur top and original leopard print give the Crocs Classic Fur Shure Clog a bold new silhouette. The inner lining is also packed with soft and fluffy material to provide comfortable cushioning and to keep feet warm even on the coldest of days.

Kyary Pamyu Pamyu's logo appears on the rivets found on the back strap, with eight Jibbitz holes appearing on the front strap. These exclusive charms can be found on the official Crocs website.

Information

KPP x Crocs Fur Sure Clogs
Release Date: November 18, 2022
Price: ¥11,000
Size: 22cm~30cm
Where to Buy: Crocs Official Online Shop (https://www.crocs.co.jp), in select stores

Kyary Pamyu Pamyu and Katy Perry to Perform Together for the First Time at True Colors Festival THE CONCERT 2022

The Nippon Foundation has been supporting people with disabilities in Japan and abroad for over fifty years. To mark this incredible milestone, True Colors Festival THE CONCERT 2022 will be held on November 19 and 20 at Tokyo Garden Theater. The performance aims to inspire fans to express their uniqueness. 

Kyary Pamyu Pamyu will perform as a guest performer on both days of the concert, which stands to be one of the largest live events in the world put on by artists with disabilities.

Kyary became a smash hit with audiences worldwide after Katy Perry praised her PONPONPON music video on Twitter, and the two are said to be fans of one another. This will be the first time that the two pop icons will perform on stage together. 

"I'm looking forward to performing with so many unique artists from around the world," Kyary said in a statement. "I'm so happy that I'm going to live my dream of performing with Katy!" 

Information

True Colors Festival THE CONCERT 2022 

Venue: TOKYO GARDEN THEATER (2-1-6 Ariake, Koto-ku, Tokyo)

Dates: 

November 19 / Doors Open at 16:00, Show Starts at 18:00

November 20 / Doors Open at 15:00, Show Starts at 17:00

Official Site: https://truecolorsfestival.com/jp/program/the_concert/

Kyary Pamyu Pamyu Concludes 10th Anniversary Tour with Spectacular Performance at Budokan

On October 19, Kyary Pamyu Pamyu celebrated her 10th anniversary as an artist in the best way possible–by holding her first Nippon Budokan concert in six years. The conclusion of her national tour, the show was mysteriously titled 'UMA 105.' 

Kyary's special performance was also streamed to a worldwide audience via Zaiko Connect, with the video available to stream through January 2023. The stage itself reflected Kyary's unique style, with a UFO sporting disco ball legs on the ceiling, a brightly-lit pyramid with eyes in the center, and mushrooms and octopus legs dotting the sides of the stage.

While many fans in the audience were expecting the same set list used during the rest of the tour, they were shocked to find it completely redesigned. The singer performed a whopping 82 tracks, blending full versions, short versions, and medleys, giving fans a chance to relive the past decade of her career. All five of Kyary's full albums were represented: Pamyu Pamyu Revolution (2012), Nanda Collection (2013), Pika Pika Fantajin (2014), Japamyu (2018), and Candy Racer (2021), along with her first mini-album Moshi Moshi Harajuku (2011). The groundbreaking performance also included a cover of a CAPSULE track–the duo is also managed by ASOBISYSTEM, and due to her love of their music and her working relationship with Yasutaka Nakata, Kyary decided to sign to the same agency.

During the opening video, Kyary appeared in a stunning pink dress and mask to address everyone's question–what does 'UMA 105' mean? This refers to 105 unidentified organisms, or 105 songs, that have been released by the singer so far. Suddenly, it was also announced that filming was permitted, and the concert began with two of Kyary's most popular songs, Invader Invader and PONPONPON. Utilizing the incredible power of 12 additional speakers on the Budokan floor, the sound quality was stunning.

While the performance conjured memories of Kyary's earlier days as a performer, it also showed the evolution of the pop star over the past decade. Beloved by audiences abroad, it's no wonder that the singer was invited to perform at this year's Coachella, one of the world's largest music festivals. The dancers at Budokan had been active as KPP dancers since they were children, growing up with Kyary and her music. Understandably, this made the show even more emotional. 

"Good evening and welcome to Nippon Budokan," Kyary yelled during the first MC portion. "Welcome to the finale of my tour! The title of the show, UMA, means 'unidentified organism,' and 105 refers to the number of songs I've released so far. How would you like me to perform most of those songs tonight?" A number of fans at the venue were dressed in Kyary costumes from past releases and concerts, and with glowsticks in hand, the audience became a sight to behold.

The music scene has undergone major changes over the past decade. Kyary Pamyu Pamyu's debut signaled a huge shakeup in the industry, with the artist becoming a leader in both Harajuku and Kawaii culture upon the release of her PONPONPON music video a decade ago. The video spread like wildfire around the world, trending on YouTube and catching the attention of major stars like Katy Perry, Lady Gaga, and Charli XCX, all of whom have been greatly influenced by Kyary's works.

The nineteenth track to be performed was the popular Tsukematsukeru. Created with producer Yasutaka Nakata, the song is known by many as the heart of Kyary's identity, with her colorful outfit and over-the-top dance moves. Goosebumps appeared on my skin when the intro rang out, and the show continued with a medley from the Nanda Collection album. Kirakira Killer, Mondai Girl, and Crazy Party Night ~Pumpkin no Gyakushu~ rang out in perfect succession, and the audience was enthralled.

The dancers were dressed as four different types of monsters, each with unique characteristics. Kyary decided to use four dancers all from different dance backgrounds: Okapi, playing Flat Woods Monster, performed an amazingly technical ballet; SHO→TA, playing the Yeti, utilized his height to put on a powerful hip-hop show; Randy, playing the Mothman, dazzled the audience with his stylish voguing; and brown, playing the Chupacabra, showed off his House moves. 

During the intermission, the dancers were given the stage to show off their unique styles and personalities while performing to Kyary's songs. Kanzen Keitai was paired with ballet, Kimi no Mikata was paired with hip-hop, Slow-mo was paired with voguing, and Jumping Up was paired with House in rapid succession. 

To start the second half, the show moved into EDM mode with DE.BA.YA.SHI. 2021 and Candy Racer. The GASH Crew, comprised of three dancers chosen as winners in the Adobe DANCE VIDEO FES dance video contest in August, performed during Dodonpa, and fans couldn't help but move along.

Fashion Monster, a song loved by audiences around the world, continued to lead the charge, and fans were impressed by the variety of tunes being played in such quick succession. The track was followed by the Pamyu Pamyu Revolution section, paying homage to the legendary album that made Kyary famous. This blended into a unique medley of CAPSULE cover songs. 

If one were to look back on Kyary's success over the past decade, it was largely due to her gaining popularity in the West. Over the past year, PONPONPON and Cherry Bonbon have seen a resurgence in popularity due to TikTok users in Thailand, Korea, and other countries. 

The venue exploded with excitement as the EDM track Harajuku Iyahoi began before flowing in the mellow pop track Kamaitachi. In colorful style, Kyary Pamyu Pamyu gave a full–and very danceable–performance of Gum Gum Girl, and another medley began, this time from Japamyu. Things felt like a 24-hour TV marathon, with the energy starting to reach a fever pitch and the audience in a complete frenzy. Even as Ninja Re Bang Bang and Sai & Co rang out, fans were already begging for an encore.

As the seemingly endless applause continued on and on, Kyary changed into a new outfit. Of course, her signature ribbon was in place on top of her head. 

Her emotional MC segment began, with fans giving their undivided attention. 

"My voice is worn out…I think I really might have sung too much," Kyary began with a strained laugh. "Thank you for coming out to the finale of my 10th-anniversary tour. I fell in love with fashion when I was in high school, and at the time, people would giggle at me when I walked down the street. They'd look at me like I was just some weirdo. I was just some odd girl with a big ribbon on her head. But for me, it felt normal. Soon after, I started my career as Kyary Pamyu Pamyu. That was a spur-of-the-moment name, and I really didn't think I'd still be using it a decade later. It's all thanks to the staff members and fans who have supported me. You're why I'm standing on stage at Nippon Budokan today."

Through tears, Kyary continued. "Thank you, from the bottom of my heart. I never thought I'd be able to perform at Budokan, let alone three times. I want to keep going, and I want to do my best for another 10 years. I want to become someone who can change nothing into something in this world. Thank you, I'm so happy," the artist said with a flourish. 

"I wanted to push the envelope for my Budokan show. There are things that might seem impossible, but you might be surprised by what you can achieve if you just try. That's what I wanted to embody with my dancing today. I'm happy that I sang so much that I'm losing my voice! I don't think I'll be able to wake up tomorrow, and I'm pretty sure I won't be able to talk either, so I'm just going to take a break," Kyary said with another laugh. Striking a pose, it seemed like the unidentified creature was Kyary Pamyu Pamyu herself. 

 

The show was a culmination of the artist's growth over the past decade. The last ten years have seen the world of entertainment change dramatically due to the internet, allowing fans from all over to experience music and culture from artists around the world. 

 

Before performing her new electro-pop song Isshin Doutai, Kyary spoke about her accident this summer, in which she cut her leg while swimming in the ocean resulting in ten stitches. "I bought a swimsuit during the tour, and was happy to finally go to the beach, but I really got hurt. It's healing really well, but I want to love this scar because it's a part of me. Be sure to watch the music video–I made the scar sing!" 

 

The final song was Chan Chaka Chan Chan, which also served as the final song for other stops on the tour. Rather than saying 'goodbye,' the lyrics were changed to 'see you soon,' bringing certain members of the audience to tears. After this performance, it's easy to see that Kyary is continuing to level up. This legendary performance showed off the best of the Queen of Harajuku and was a delight from start to finish.

 

In November, Kyary will appear at True Color Festival THE CONCERT 2022, the world's largest music festival focusing on diversity and inclusion. This will mark Kyary's first collaboration with Katy Perry, who helped make the artist popular worldwide. We wish Kyary success over the next decade.

 

Text: Fukuryuu (Music Concierge)

Photo: Aki Ishii

 

[Archived Stream]

10th ANNIVERSARY JAPAN TOUR 2022 -TOUR FINAL- UMA 105

Available to stream worldwide on Zaiko Connect

Stream Available: October 19, 2022 – January 9, 2023

URL: https://connect.zaiko.io/e/kpp10

 

[Concert Information]

[True Colors Festival THE CONCERT 2022]

November 19, 2022 – Doors open 16:00 / Show starts 18:00

November 20, 2022 – Doors open 15:00 / Show starts 17:00

Venue: Tokyo Garden Theater

 

Contact: 

True Colors Festival THE CONCERT 2022 Office

Phone: 050-5541-8600 (9:00~20:00 daily)

 

[Kyary Pamyu Pamyu Special Live 2022 ~Back to Coachella~]

Date: December 20, 2022

Venue: Nanba Hatch (Osaka)

 

Date: December 21 and 22, 2022

Venue: EX THEATER ROPPONGI (Tokyo)

ASOBISYSTEM Begins Auditions for New Idols Aiming for Global Popularity

A leader in the world of Japanese pop culture, ASOBISYSTEM has announced a new idol audition under the KAWAII LAB project, launched in February to introduce Japan's popular idol culture to the world.

Those looking to apply will need to meet a few requirements. The project is searching for females between 10 and 22 years old who are not only good singers and dancers but also have unique personalities and charm. Whether an applicant has never set foot on stage before or has been an idol for years, anyone is welcome to apply. 

Those who pass the audition are scheduled to debut in 2023, either as part of a new idol group, as solo artists, or as VTubers, all with the aim of global expansion.

Applications will be accepted until November 13. If you've always wanted to become an idol, now's your chance!

KAWAII LAB. AUDITION 2022

Application Period: October 14 – November 13, 2022

How to Apply: Submit an application through the official LINE channel

Applicant Requirements:
・Female, age 10-22
・Some experience is preferred, but newcomers welcome to apply

・Must be able to take lessons and perform live in Tokyo

・If you are currently under contract with another firm or label, please apply after obtaining proper permission from your firm or label.

Perks: The office will cover the costs of all activities (lessons, costumes, recording time, transportation, lodging, etc.)

Application Procedure: After adding the official audition LINE account as a friend from the official website, please send us the following information: a photo (one full-body and one close-up), and a 30-second self-introduction video explaining why you should be chosen.

KAWAII LAB. Affiliated Artists

FRUITS ZIPPER

Under the concept of 'from Harajuku to the world,' FRUITS ZIPPER shares what they call 'NEW KAWAII' from Harajuku, an area known for fashion and individuality, to their soon-to-be global fanbase.

Twitter:https://twitter.com/fruits_zipper
Instagram:https://instagram.com/fruits_zipper
YouTube:https://www.youtube.com/channel/UCW8Q9LBGGBgK6a-u0C0h95A
TikTok:https://vt.tiktok.com/ZSen7dJAT/

IDOLATERThis CULTURE HOLIC  group explores the boundaries of music, fashion, and other unique aspects of popular culture through a unique idol perspective.

Official HP:https://note.com/idolater
Twitter:https://twitter.com/Official_IDLT
Instagram:https://www.instagram.com/idolater_official/
YouTube:https://www.youtube.com/IDOLATER

KAWAII LAB. Report #12: Idol Perfect Makeup Tips from FRUITS ZIPPER

FRUITS ZIPPER, a new idol group from ASOBISYSTEM, has a simple concept: "From Harajuku to the World." Ready to transmit what they call 'NEW KAWAII' from Harajuku, an area known for fashion and individuality, to their soon-to-be global fanbase, the group consists of seven members: Amane Tsukiashi, Suzuka Chinzei, Yui Sakurai, Luna Nakagawa, Mana Manaka, Karen Matsumoto, and Noel Hayase.

We sat down with Karen Matsumoto, Yui Sakurai, and Luna Nakagawa to chat about all things makeup!

What cosmetics do you want to use for the rest of your life?

-Yui Sakurai

Yves Saint Laurent Radiant Touch.

It gives this incredibly natural-looking 3D effect!

Powder and stick highlighters are great sometimes too, but when I really want to look glamorous, this is my pick! Only Radiant Touch can give you that natural look without being too heavy.

And when you look tired, it can really brighten up your face. It gets rid of things that your concealer can't erase, like dark circles and lines. 

-Luna Nakagawa

I'd choose Canmake's Marshmallow Finish Powder! I have sensitive skin that gets irritated really easily, so I can't use foundation, but this powder is great. I can wash it off easily, it's free of additives, and it's fragrance and alcohol-free. I want to use it for the rest of my life because it makes my skin look so soft and fluffy🥺

-Karen Matsumoto

Bobbi Brown's glitter!

When I use it during concerts, I get compliments from so many people, even backstage! I like using it beneath my eyes!

Tell us something non-negotiable about your makeup. What is something you always do?

-Yui Sakurai

Shading and eye shadow!

Shading and contouring give me a special kind of depth. I consider it something like magic, something that gives me my ideal look, so it's something I have to do!

When I'm doing my idol makeup, putting on eye shadow is something I really cherish.! I've been experimenting with different ways to apply it. It's something that can really make an impact, and depending on how you do it, people can have a totally different impression of you. I'm doing my research to make it as cute as possible!

-Luna Nakagawa

I have to use eye shadow beneath my eyes!

I like using a darker color, like Bordeaux, to make my eyes really pop!

-Karen Matsumoto

My eyelashes! I can really only beat the others makeup-wise with my eyelashes, so I always curl them and make them look their best! ♡ 

Also, I like to apply a bolder pink blush to my cheeks! ♡

What's something readers can do to emulate your look?

-Yui Sakurai

Focus on the puffiness under your eyes! I've always gotten compliments on my puffy eyes since I was a kid, so I try to use that to my advantage when applying makeup!


To plump them up, I add a little liquid liner, concealer, and glitter, and BAM, perfection! (laughs)

-Luna Nakagawa

It's all about using eye shadow under the eyes…but I have almond-shaped eyes, so it's not something that everyone can do!

-Karen Matsumoto

Eyelashes!!

You're about to be stranded on a deserted island. What are the three makeup products you take along with you?

-Yui Sakurai

Lipstick, concealer, and eyebrow powder.

I thought that as long as I had these three things, I could still do a basic face. (laughs)

I wanna bring more!! (laughs)

-Luna Nakagawa

Eyebrow pencil, La Roche-Posay Primer, and Marshmallow Finish Powder!

-Karen Matsumoto

An eyelash curler, blush, and lipstick!

Did you enjoy learning more about the member's favorite cosmetics? Their tips might help you to become an idol someday!

Next week's KAWAII LAB report will focus on IDOLATER, so be sure to check it out!

Kyary Pamyu Pamyu's Performance at Nippon Budokan to be Streamed Online

Zaiko's new subscription service Zaiko Connect will officially launch soon, and Kyary Pamyu Pamyu will be the main feature!

The Event Pass, which will provide streaming access to concerts and other live experiences, will stream Kyary Pamyu Pamyu's first solo performance at Nippon Budokan in six years. This will be the final performance of the singer's 10th anniversary Japan Tour and will be held on October 19.

Digital ticket stubs, or Digitama Stubs, and exclusive merchandise will only be available during the stream, including NFTs of Kyary's photos taken during the performance. Those purchasing Digitama Stubs will be able to participate in a chat session where they can communicate with Kyary online after the show.

For more information, visit the Zaiko Connect website.

Information

[Zaiko Connect] Kyary Pamyu Pamyu 10th ANNIVERSARY JAPAN TOUR 2022 – TOUR FINAL

Stream Available: October 19, 17:30 – January 19, 2023

Price: Free for Zaiko Connect members

Tickets: https://connect.zaiko.io/e/kpp10

<About Zaiko Connect>

Price: ¥2,900 / 6 months

*Current Zaiko Premium members can get Zaiko Connect for ¥600/month. If you want to change your subscription, you must first cancel your current membership. Your Zaiko points will be reset once your membership is canceled.

Zaiko Connect Website
https://zaiko.io/connect