Japanese Cosmetic Brand "Makanai Cosmetics" Introduced in French Department Store "Printemps" in Paris
Japanese cosmetic brand Makanai Cosmetics, based in Kagurazaka in Tokyo, currently has its products for sale in the French department store Printemps located in Paris. The display was introduced to the store just last month on July 17th.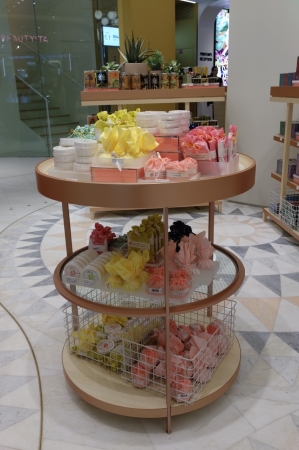 Makanai Cosmetics was established over 100 years ago by female workers in the gold leaf foundry. They worked in extremely hot and dry conditions and needed a way to protect their skin from their work environment, and so they made their own cosmetic brand. The brand went back and forth through trial and error to create the best product possible, and so the brand itself is packed with expert knowledge that has been handed down for over a hundred years.

Printemps is France's representative department store with a history spanning more than 150 years and one that has continued to be updated. Makanai Cosmetics is the next line to be introduced to the shop. They are serving up their selection in BEAUTYSTA inside the three floor shopping complex, a beauty space lined with the most gorgeous latest and best carefully selected products to evoke the fun that comes with beauty and shopping.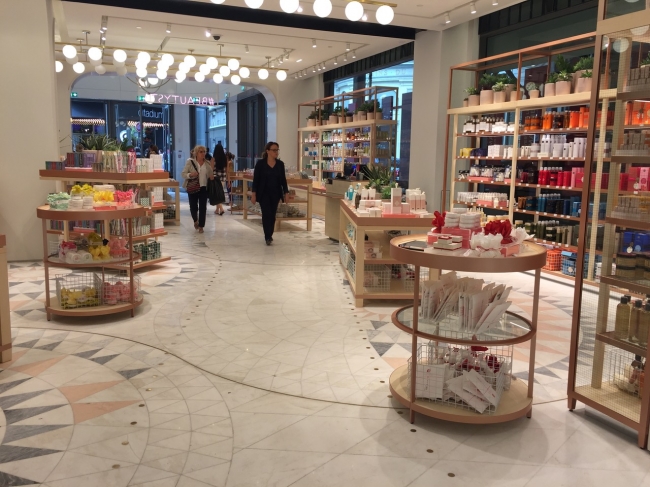 Makanai Cosmetics can be found on the first floor, which can be called the face of the store itself, ready to greet customers with cosmetics all the way from Japan.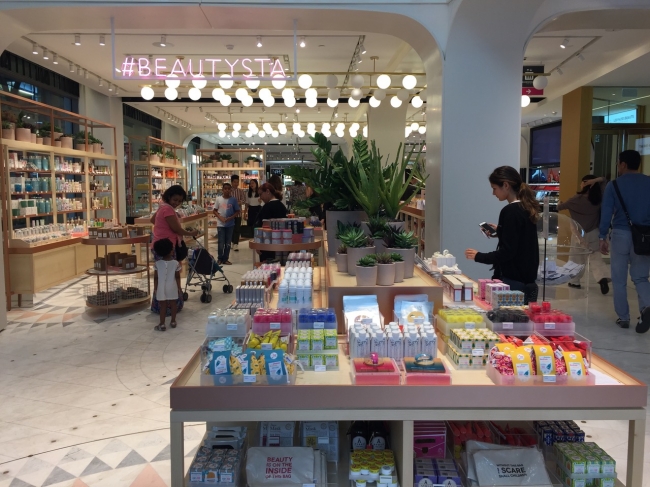 Printemps is a designated historical site that consistently draws attention from all over the world. That means Makanai Cosmetics is sure to thrive being in such a prominent location.
Related Article:Seal Your Makeup With One Spray of "Majolica Majorca Wonder Fixer"♡
Related Article:Cosmetic Brand CANMAKE to Release New Line-up of Nail Polish Colors—2017 is Mermaid Shades!
RELATED ENTRIES
Help Me Choose! Japan's Trending Makeup #2: Yurippa's Repeat Cosmetic Pickups♡

This is my first ever series I've ever been put in charge of as a writer and model.

As long as you're stocked up on these items, you're good to go. In this special edition, I will showcase cosmetics that I'm a repeat buyer of and would definitely buy again.

▽Skincare

The first thing I should mention is my skin type.

・I have tough skin and so it doesn't blemish easily

・It becomes dull when I have lack of sleep

・With my combination skin, it's easy to spot oily areas (T Zone) and dry areas (around the eyes, U Zone)

Like this.

Using my knowledge of various cosmetics and methods I have tried I would like to showcase my recommendations. (Don't worry if you don't have the same skin type as me as some of the items I have picked can be used with other types too, so be sure to take a look.)

Finally, you'll be happy to know that these can be used during all seasons.

So, ready to give it a go?

▶︎Dior Capture Youth Series

Quickly and actively delays the appearance of signs of ageing. This series was created to retain youthful looking skin. There are six serums to choose from which cater to different skin conditions. Each can be used on their own or in combination with your own serum products. I've made a custom serum for myself by combining two different types.

1. Intense Rescue Oil (30ml) – ¥12,420 *Photo is my own. Price shown is as was on the day of purchase.

(Effective against dry skin and helps maintain moisture. Supplements lipids.)

2. Glow Booster (30ml) – ¥12,420 *Photo is my own. Price shown is as was on the day of purchase.

(Rich in Vitamin C. Leaves skin glowing and feeling invigorated.)

For face lotion, I use 3.Enzyme Solution. It has a refreshing water-like texture and leaves skin moist. Good to use on skin that favours serums in this series.

Enzyme Solution (150ml) – ¥7,452 *Photo is my own. Price shown is as was on the day of purchase.

For cream, I use 9.Capture Youth Creme. It doesn't remove the face lotion or the serum and doesn't feel sticky.

Capture Youth Age-Delay Advanced Creme (50ml) – ¥12,420 *Photo is my own. Price shown is as was on the day of purchase.

It's safe to say that after using this series, I don't even know what dry skin is anymore. It really is that effective!

▶︎FEMMUE

5. Lumière Vital C  (30ml) – ¥8,000 (Before Tax) *Photo is my own. Price shown is as was on the day of purchase.

6. Ideal Oil (30ml) – ¥6,000 (Before Tax) *Photo is my own. Price shown is as was on the day of purchase.

FEMMUE is a really popular brand right now from the hub of beauty, South Korea. Firstly, it's steeped in fragrance. It's rich in floral scents like perfume. Simply holding the bottles fills you with a feeling of satisfaction. It leaves your skin feeling clear, smooth and glowing. And though it's a thick oil, the skin absorbs it extremely well. 10/10 from me!

I might recommend it to girls who've just stepped into adulthood, girls who want to look sexy, and those who want to be popular! It's perfect for skin that blemishes easily.

▶︎dear mayuko

7. Innocent Skin Serum (20ml) – ¥8,424 *Photo is my own. Price shown is as was on the day of purchase.

This serum contains sericin which comes from silkworm cocoons. Sericin ensures your skin is moist and is gentle on the skin. Despite being a beauty product the texture of this serum is really silky (like water!) and will leave your skin soft and healthy.

Personally, I recommend using it as a booster serum! It's an easy way to nourish the skin before putting on any makeup. It will also help things like face lotions and milky lotions soak in better. The serum itself soaks into your skin nice and quickly so it won't ruin your makeup. Its warm matte texture and colour will leave you looking soft♡

▶︎Kiehls

4. Kiehl's Ultra Face Cream (49g) – ¥4,000 (Before Tax) *Photo is my own. Price shown is as was on the day of purchase.

This cream spreads lightly on the skin. It's also very clear to see that it lets no moisture escape…! That's how dense this cream is, it's like it adds a cover to your face. It also doesn't clear away face lotion or any beauty essences. It reaaally moisturises your skin. This is my 5th or 6th time buying it.

8. Kiehl's Ultra Face Cleanser – ¥2,800 (Before Tax) *Photo is my own. Price shown is as was on the day of purchase.

This can be used on any skin time. (It's also good for people with eyelash extensions!)

It's a gel-type cleanser. What's good about it being gel-type is that cleans off better than oil and yet doesn't take in unnecessary moisture from the skin. You also don't get that stretched feeling after you wash your face. This can really be used all season and by anyone. I haven't used any other cleansers the past three or four times. It's one I can trust.

▽Cosmetics

Be sure to check out my recommended lipsticks from last time too!

https://www.moshimoshi-nippon.jp/183569

▶︎CANMAKE

8. Quick Lash Curler (Transparent Type) – ¥680 (Before Tax) *Photo is my own. Price shown is as was on the day of purchase.

I often use this as a top coat. It makes it harder for your eyelashes to sag and can be used with any kind of mascara. You get a great product for a cheap price, so there's no need to feel guilty about picking up something cheap. You'll end up picking it up multiple times a day, and the cosmetic pouch one stick comes with is sure to come in handy too!

▶︎BIODERMA

2. Sensibio H2O – ¥1,200 (Before Tax) *Photo is my own. Price shown is as was on the day of purchase.

This is a cleansing water to be used with sensitive skin. Pour some onto a cotton pad and simply wipe to remove your makeup without any unwanted excess being left on. It's a super convenient product to have during those times when your makeup need a quick fix up. It's often used in makeup shoots too! They have both small and large bottles, so try starting from the handy mini size first ☺

▶︎M.A.C

1. Strobe Cream Peachlite – ¥4,500 (Before Tax) *Photo is my own. Price shown is as was on the day of purchase.

A glittery pink cream that feels comfortable on the skin. When used as a base for your makeup it will brighten your skin, or when used as a highlight it will glimmer in the light on your shiny skin. It might be nice to add to the décolleté or when you are exposing skin too to add a little something. This item has many different uses!

▶︎Primavista

3. Long Keep Base UV – ¥2,800 (Before Tax) *Photo is my own. Price shown is as was on the day of purchase.

This product can won't blemish skin at all even if it's been working all throughout the day. It goes on gently and soaks up quickly. This means it can be used when you don't have much time, such as when you're in a hurry in the morning. It feels so light it makes you wonder whether you've even put any on! It also holds up well against sweat and oil so I highly recommend it for the coming season! (It's been a No. 1 best seller for 9 years in a row.)

As a footnote, I'll just add that I'm actually a model for Primavista's products and I'm really glad I discovered them.

▶︎YSL

5. TOUCHE ÉCLAT BLUR PRIMER 1 – ¥6,300 (Before Tax) *Photo is my own. Price shown is as was on the day of purchase.

This is a makeup base that has gold pearls in it. It fixes the uneven parts of the skin to make it uniform making it perfect for foundation. It has a semi-matte consistency and the goal pearls give your skin a gorgeous gloss.

10. LE CUSHION ENCRE DE PEAU B30 – ¥7,500 (Before Tax) *Photo is my own. Price shown is as was on the day of purchase.

This is the covering power, moisturisation and texture I wanted! It feels very light on the face, so much so that it feels like you have none on, but it's the opposite of useless―it covers the face completely. As expected of them. It's easy to put on too, just pat it onto your face with a sponge. It's very durable too!

▶︎MIMURA

4. Smooth Skin Cover – ¥4,200 (Before Tax) *Photo is my own. Price shown is as was on the day of purchase.

This too is a makeup base and evens out the odds of your face. It's silky and makes you look extremely beautiful so it's the perfect accompaniment to makeup. It also thankfully contains SPF20 and PA++ and is free from ethanol, colouring agents and synthetic fragrances, making it kind to skin. I would also recommend it to people with weak skin. This is my second pot ♡

▶︎LANCOME

6. Grandiôse Mascara (Volume Type) BK – ¥4,200 (Before Tax)

The rose design of the cap is so cute! This is the No. 1 easiest product to coat. The shape of brush has been carefully calculated to curve with your eyelashes. It does nothing short of bolstering the volume of them. It has also received high praise for how easy it comes off with hot water. But it doesn't blot either. This one's for those who want to emphasise their gaze♡

▶︎CLINIQUE

7. Lash Power Mascara Long-Wearing Formula BK – ¥3,780

We can all relate to mascara becoming clumpy. This formula entwines with each eyelash hair to give big, beautiful eyes. It makes you feel good when applied. Though this is my third time buying it it never fails to make me say out loud to myself, "Wow, how beautiful." You don't have to worry about sweat or oil either, plus it comes off easily with hot water♡

▶︎MAYBELLINE

9. Hyper Sharp Liner BK – ¥1,200 (Before Tax) *Photo is my own. Price shown is as was on the day of purchase.

I have loved and used MAYBELLINE since I was a high school student. I've used many different eyeliners but always end up returning to the same place. The Hyper Sharp Liner is easy to draw with, doesn't smear, and the tip of the brush is thin and soft, so drawing on cat eyes is so much easier now. It's perfect! Get it ASAP!

What do you think of my list? The categories are a bit jumbled, but I have listed all the items I highly recommend.

A lot of the items I've presented are expensive, but even if they are pricey, the quality is good and the effects they have really work! I wonder if the reason for people in their teens and 20s focus so much on skin care is because they have seen the speed at which you can revitalise your skin, or have the power to 'rebirth' oneself.

My skin is changing entirely now compared to back when I thought it was okay to not take care of it. I want to make more recommendations to people at my age and invest in my future self.

Be sure to reference this last, and thank you for reading! Until next time ☺

Writer / Model  Yuri Suganuma
Photographer  / Hikari Shibata

Translator / Joshua Kitosi-Isanga

TALENT PROFILE

Yuri Suganuma

Yuri Suganuma is a model with a high fashion sense that has been picked up by various magazines. She receives much love and support from girls of the same generation as her to whom she is known by her nickname "Yurippa." She has a huge influence across her social media. Recently, she has stepped into other fields outside of modelling, such as appearing in TV shoots and in music videos. She is skilled in make-up and involved in the development of cosmetics.

18th Century Paris to be Brought to Life at 'Innocent Rouge' Manga Musical Showing in Paris and Tokyo

A new musical based on the popular Weekly Young Jump/ Grand Jump manga series Innocent Rouge will be performed at HULIC HALL Tokyo from 29th November ー 10th December and will arrive in Paris, France in February 2020. The script was written by Kensuke Yokouchi and directed by Amon Miyamoto.

The title is the French word for "innocent" (which is also "innocent" in English but just pronounced differently). The manga featured in Weekly Young Jump's 9th 2013 issue and made a constant appearance until the 20th issue featured in 2015. Now, the sequel Innocent Rouge is currently being featured in Grand Jump. A total of 884,000 copies have been sold.   

The manga presents the story of Charles-Henri Sanson; the Royal Executioner of France during the reign of King Louis XVI in the 18th century, and his younger sister Marie-Joseph Sanson. The artistic presentation of execution and other extreme concepts is what made this manga gain popularity not just in Japan, but all over the world.

This is is the first time that Amon Miyamoto has ever produced a musical based on a manga. The first musical tickets will be released in late May by the musical project sponsors and there is a plan in place that allows members of Innocent's fanclub to get first dibs on the tickets. Further information on the cast of the musical, the Paris tour and much more will be announced when known on the official website. All we can do is wait in excitement!

Marie-Joseph Sanson © Shin-Ichi Sakamoto/Shueisha

Information

Innocent musicale

Dates: Fri 29/11 ー Tues 10/12/2019

Location: HULIC HALL Tokyo Yurakucho Marion 11th floor, 2-5-1, Yurakucho, Chiyoda, Tokyo

Ticket release: End of May 2019

Official website: http://jnapi.jp/innocent

Help Me Choose! Japan's Trending Makeup: #1 Lipsticks Loved by Everyone!

This is my first ever series I've ever been put in charge of as a writer and model.

Moshi Moshi Nippon is where I start!

To briefly explain my makeup history, I first became interested in makeup when I was in elementary school after I went to a drugstore and saw cosmetics all lined up. After entering middle school, I was an awkward girl hooked on eyeshadows. I realised in high school that unique people get a lot of attention, and so I wanted to learn more about makeup. Every week, if I had a free moment, I'd pop down to the department store and little by little, deepened my knowledge about cosmetics. At around the age of 22 or 23, I achieved my certification as a "Cosmetics/ Skincare Meister". (There's still a lot to learn though…)

At 23, I started writing a series of my own about makeup!
Even if it's just a little bit, I want everyone to feel like they can use my articles to help themselves find their favourite cosmetics.

As this is my first ever business, I was obviously quite nervous about a few things.

As the impression that makeup leaves, and everyone's individual tastes can always completely change in an instant, I made this report which puts the spotlight on lipsticks that are suitable for a range of people!

These are recommendations by Yurippa!

These lipsticks are perfect for spring and summer!

If you're looking for stylish yet affordable lipsticks, join me and take a peak of my world of makeup through my eyes!

▽ Yurippa's recommended lipsticks!

・3CE  MOOD RECIPE MATTE LIP COLOR #909 ¥2160

Feels like a cream when you spread it on your lips.

A matte finish colour that sticks to your lips.

Very good colouring

Slightly deep red coral…

Gives an adult-like impression!

Coordination ideas: Perfect highlight for an all black outfit or a white shirt, or all navy look. I think it would make a great contrast with blue!

Suitable for all skin types (yellow base, blue base)

No matter where you go, you'll be complimented for your lipstick coordination ♡

To buy this, search for "3ce" lipstick

It'll be somewhere around the 4th or 5th link down. Look out for the product number #909.

This is a very popular lipstick!

・another item・

・M・A・C

(Left)Dubonnet ¥3240

Matte finish wine purple colour.

Deep with an edgy finish.

M・A・C lipstick colours are very defined and difficult to rub off!

You don't even need to top up very much throughout the day.

(Right)Chili (MINI size) ¥1404

This is an orange brown matte lipstick.

There are many models these days who use this colour.

If you are not sure what colour suits you, you can play it safe with this.

All these lipsticks smell like vanilla.

※M・A・C lipstick is sold at some stores.

・CHANEL Rouge, Allure, Velvet series ¥4536

These are also matte lipsticks.

If you compare the feel of 3CE and M・A・C lipsticks, you'll find they both have a different matte texture.

You can really feel the moisture in this!!

A smooth, matte finish.

I'm way too keen on this series. I mainly have lipsticks from the colour version.

The texture, quality of colour, and the exquisite choice of colour is what makes this lipstick so addictive!

(Left)No.58 Rouge Vie

Deep, strong red

(Right)No.61 La Secrete

Salmon pink

▽2019 Perfect for spring and summer Lip

・ADDICTION  Lipstick Sheer 003 cherry cherry ¥3024

Finally here's a non-matte lipstick that I like! Haha…

But despite I love matte lipsticks so much, this lipstick just has the cutest texture! I fell in love with it at first sight.

The transparency is perfect for the shade of red.

Despite the strong red colour, it is rather transparent, giving a "pop" look.

The more you apply, the cuter your lips!

How about wearing a white shirt to match your red lips?

…or a patterned shirt, woven bag and denim bottoms??

Allow yourself to be driven by the wild feeling of spring and summer fashion. This lipstick is a must for your handbag!

I really want to wear cherry earrings to match the lipstick!

・shiro ginger lip butter(lip gloss)9C06 copper brown  ¥4104

A matte brown-orange.

This is quite a fashionable colour that will make you appear more like an adult.

A lip balm and gloss in one! No need to apply a balm as a base to stop your lips from drying out.

The shade is rather nice and the colouring is perfect.

The small touch of gloss will make you seem more adult-like ♡

It has a smooth texture and spreads smoothly!

The natural scent of ginger makes it seem just like an organic cosmetics product like "shiro".

Look no further for a lipstick you can use all year round!

The new colours came out on 7th March as a product not just for spring and summer, but also autumn and winter.

・Celvoke  Enthrall gloss 03 ¥3024

Orange/brown, glossy and plenty of moisture.

This will give you the plump lips that every girl wants!

As the colour is quite toned-down and dark, use a subtle amount of eyeshadow,  give your cheeks a matte finish and your lips will become the glossy accent to finish your look!

▽ Stylish yet affordable!

・CANMAKE Lip Tint Matte 03 rose ¥650

This is a rather girly rose pink.

Although this is a strong-coloured lip tint, it holds moisture so you don't have to worry about your lips drying out.

Spreads completely over your lips perfectly.

You would look so cute if you combined this with a floral outfit or gingham checks♡

01 coral

04 Terracotta red

・INTEGRATE Silky Matte Lip(Lip/cheek colour)PK384 ¥1296

Bright coral with a slight glossy semi-matte finish.

This is a fresh colour which will brighten your face.

Enjoy the light texture as you apply it.

As you can colour both your cheeks and your lips with this lipstick, this is perfect for those of you with busy mornings or those of you who are not good at makeup and are uncertain of how to balance colours!

This is an easy way to achieve a balanced look!

~ <Extra!> If you get your hands on this you should celebrate! ~

Pat McGrath is a hair and makeup artist. She owns the makeup brand "Pat McGrath"♡

She still hasn't been to Japan.

She is involved in famous fashion show brands and collections and is a hair and makeup specialist.

From the packet design, these products overflow with cuteness!

The smooth matte lipstick is absolutely perfect when it comes to durability and colour.

This high-quality lipstick is a leading lipstick ー no doubt about it!

Just how people buy CDs because of the awesome CD designs, you might end up getting this just for the packaging!

・Pat McGrath MATTETRANCE LIPSTICK

Elson 2  (The Perfect Red) ¥4752

Omi (Mid-tone Rose) ¥4752

(The packaging and the lipstick are just so beautiful!)

You can purchase these online.

I don't think there's many people who use these lipsticks!

If you have them, you can boast about your fashion to others! ☺︎

That's all!

…and that wraps up my personal lipstick report!

I didn't even realise that I wrote an entire report…

I want to continue with a second and even third series!

I aim to write these reports in a style that creates a close connection with my readers.

If you want to ask questions or need advice, I'm making an advice corner where you can reach me personally!

Let's be friends!

Writer / Model  Yuri Suganuma

Photographer    Haruka Yamamoto

Make & Hair      Yusuke Hashimoto

Switching on my silky-smooth and dazzling self with makeup

Makeup is the habitual routine I use to affirm myself every morning. I borrow just a little magic that cosmetics offers to add to my natural self. Let's all start a healthy makeup schedule together―one for the women out there so they can go about silky-smooth.

The rising root of strength from within

Just a spoonful of wildness – without overdoing it. Those nonchalant, accidental gestures so beautiful as to be enticing. Natural but strongly attractive. Having skin that will make anyone spontaneously want to touch it.

Dignified, feminine

No soft spot left unturned. By relaxing your face, that gentle femininity will flow out.  That simple and cool girl smile without anything put on will inspire with its transparency.

Make up your face with highlighter, using no foundation. Bring out a wildness using a grey mascara base with fibres on your eyebrows. For lips, make them look healthier with gloss.

Clockwise from the top left: ①ADDICTION Sheer Pressed Powder,②Dior Addict Lip Maximizer, ③THREE Pressed Eyebrow Duo, ④Elegance Eyebrow Slim, ⑤RMK Super Basic Liquid Concealer, ⑥FLOWFUSHI Mote Mascara, ⑦ADDICTION Tint Lip Protector

Source:https://asbs.jp/archives/33688(Japanese)

Limited edition lipsticks presented in a book-box from clé de peau BEAUTÉ

The lipstick is presented in a book box, accompanied by an original story, with illustrations by Aiko Fukuda.

Their corporate logo is an illustration of a key to "Unlock the power of your radiance" for women who wear their genuine lipstick. Two special lipsticks from their collection, selected by texture and color, will be available in this gift set.

This makes for a gorgeous gift for your loved ones or yourself. Have a wonderful holiday season with lipsticks of clé de peau BEAUTÉ

Information

Clé de peau BEAUTÉ rouge à lèveres

Release date: November 21 (Wed) 2018

Stores: GINZA SIX, Omotesando Hills

Price: 6,000 (without tax)

Color: n5(Camelia), Cachemire103(legend)

Clé de peau BEAUTÉ brand site: http://www.cledepeau-beaute.com/?rt_pr=trc30

Ukiyo-e Soap On Sale at SOLEIL TOKYO Pop-up Store in Shinjuku NEWoMan

A brand of Ukiyo-e themed soap by Hinata Hina is currently on sale at the SOLEIL TOKYO pop-up store in Shinjuku NEWoMan, a huge shopping mall packed with fashion boutiques, food shops, cafes, bakeries and restaurants, and more. The soap is available until August 16.

The soap was created with the Edo period in mind. There are two different gift packages being sold in addition to three new designs available in early limited stock before they go on general sale.

The soap is a fusion of original lactic acid bacteria which enables a luxurious marshmallow-like foam when lathered that's gentle to the skin, opening your path to looking beautiful like those in the ukiyo-e illustrations.

The soaps are made in Japan and are made using only the necessary ingredients. They are made simply, use no synthetic surfactant and are odour-free. This is all replaced with natural ingredients like plant lactobacillus, yeast, honey, and olive oil.

They make for a perfect souvenir for Japanese, so be sure to check them out if you're in Shinjuku.

■Information
Ukiyo-e Soap

Shop Name: SOLEIL TOKYO Pop-up Store

Available: July 23, 2018 – August 16, 2018

Location: NEWoMan lab. 1F (4-1-6 Shinjuku, Tokyo)

Official Sales Page:  http://hinatahina.com/ukiyoe/

Namie Amuro Promotes New Visee Product for the First Time in 20 Years

The ALL TIME BEST Project is a project set up by KOSÉ to celebrate Namie Amuro, whose existence has given strength and courage to women everywhere.

Namie Amuro has been selected to promote the third new product from the popular cosmetic series Visee – their Color Impact Liquid Liner.

This is the first time Namie Amuro has worked with Visee as the face for their commercials in 20 years, the first being back in 1997. At the time, girls who yearned to have the same make-up as her filled the streets, and became known as Amura's (アムラー) i.e. young girls who imitate the style of Namie Amuro. Blue eyeliner was one of the looks especially popular with Amura's.

Fast forward to almost 20 years today, and the colour decorating Amuro's eyes now is a light pink, which gives an energetic, spicy and sexy transparent look. It's different from back in the day and instead cute in a more devilish way. It's also faithful to her as a person today.

The new product to go on sale is the Color Impact Liquid Liner, solid one-brush colours which serve to give your eyes a striking look.Because it's easy to draw with thanks to the thinness of the brush, as well as its durability, you can draw everything from intricate lines to cat lines without it smudging. In addition to the 6 standard colours, there's also limited edition orange and khaki too.

The ALL TIME BEST Project website will continue to release lots of content about Namie Amuro until the day of her retirement in September. Be sure to check it out.

■Information

Namie Amuro×KOSÉ ALL TIME BEST Project

Visee Color Impact Liquid Liner

On Sale: May 16, 2018

Price: ¥1,000 (Pre-Tax)

Namie Amuro×KOSÉ

http://www.kose-amuronamie.jp/

Namie Amuro Official Website

KOSÉ Official Website

Naomi Watanabe Appointed Brand Ambassador of "Shu Uemura" Cosmetic Line

The vivacious and colourful Naomi Watanabe, whose career spans a wide selection from acting to comedy and fashion designing, has been appointed as a brand ambassador for Shu Uemura, a make-up artist brand that hailing from Tokyo.

Naomi Watanabe is an entertainer that thinks outside the box. She enjoys make-up and fashion freely in her own way and continues to promote positivity. She loves herself for who she is and cherishes her individual beauty. Her overwhelming performances also do not fit into a single mold. She brings new ideas to the table and breaks down stereotypes. All of this has garnered her much attention and she has captivated not only the people of Japan, but around the world. Through its future collaboration with Naomi Watanabe, Shu Uemura – which pursues the question of make-up that brings out the individual beauty of people with its free-thinking – wishes to further advocate the limitless possibilities of beauty that doesn't fit the standard.

For their first project, they have teamed up with French jewelry and accessory brand Yazbukey to create the Mattitude Collection, an evocative range of limited-edition lipsticks set to release on April 27. By wearing matte lipstick, they will draw out a girls' real qualities, which they theme as 'Sexy,' 'Lovely,' 'Funky' and 'Edgy.' Naomi Watanabe helped design these four looks. Putting on any one of these lipsticks will change a girl's appearance entirely.

Naomi Watanabe Comment:
"Shu develops a wide selection of colours. Their passion for cosmetics really shows, so normally even I go and buy from them as a customer. They really have a lot of colour usages, so I'm always excited when I go to the shop. Like 'Hm, let's try combining this and this next.' To me, make-up is something that I can use to express myself by combining things together. I challenge myself to different combinations. I want to draw out an individuality ¬¬¬¬¬that suits me. So I want everyone to try lots of different make-up for themselves too!

Make sure to check out Shu Uemura and Naomi Watanabe's collaboration!

Collaborative Japanese/French-style restaurant produced by a Michelin chef was opened in the Paris airport

Japan and France marked their 160th anniversary of establishing diplomatic relations this year and the airport in Paris was renovated to become "Destination/Paris 21 districts." This airport will offer experiences related to shopping, gourmet and culture.


The airport is now planning to open more than one restaurant produced by a Michelin Star chef in each international terminal so that visitors can enjoy full-fledged French dishes. They announced that they will open the Japanese/French-styled restaurant, "Teppan" produced by the Michelin Star chef, Thierry Marx.


In 2016, the restaurant, "I Love Paris" produced by Guy Martin which was the first restaurant of the project, was selected as the No. 1 restaurant in "the world's best airport restaurants" and Martin has been working with the airport in Paris based on the keyword "Bistronomy." He also opened a restaurant named "The French Taste" in the 2nd terminal of Charles de Gaulle Airport. The restaurant was designed by Charles Zana, a French architect.


And in April 2018, one of the most famous French chefs, Thierry Marx opened a French/Japanese-styled restaurant named "Teppan" in terminal 1. I am sure that visitors of France will spend a wonderful time dining at this restaurant before going back to their home countries.


<Comments from Thierry Marx>

"France is known as a country that has lots of delicious foods. I think this is a wonderful project because many people can enjoy superb French dishes in their transit airport before leaving France. I would like to say thank you to the airport for offering me the chance to participate in this wonderful project."

Be sure to visit this restaurant when you visit France.

■Information

Charles de Gaulle Airport

Asakusa cookware store Kamaasa Shoten opens a branch in Paris

Kamaasa Shoten is a cookware shop located in Kappabashi, Tokyo. The establishment was launched in the year Meiji 41 (1908) and is devoted to producing the finest cooking equipment. This year, the business will be celebrating its 110th anniversary, opening its first overseas branch in Paris, France.

With the desire of spreading Japanese cooking equipment, the shop decided to open a branch in the one city where many famous chefs gather to create delicious food – Paris. Saint-Germain-des-Prés is one of the administrative districts of Paris. There are many cafes, curios, contemporary art galleries and much more dotted around the area that are often visited by writers, artists and philosophers.

It is here that the elegant Japanese cooking equipment of Kamaasa Shoten will be sold, aiming for customers to acknowledge this wonderful cooking equipment as culture and to firmly root into Paris.

If you are ever in Paris, please stop by to experience this elegant cooking equipment.

Kamaasa Shoten, Paris

(釜浅商店パリ店 KAMA-ASA)

Address:12 Rue Jacob, 75006 Paris, France

Open from: Monday 14th May 2018

Opening hours:Monday — Saturday(excluding Wednesdays) 9:30 — 12:00 and 13:00 — 18:00

Wednesdays: 13:00 — 18:00 (Closed: Sundays and national holidays)

Email address: contact@kama-asa.co.jp

Kamaasa Shoten, Tokyo

(釜浅商店 KAMA-ASA)

Address: 2-24-1, Matsugaya, Taito, Tokyo

Opening hours: 10:00 — 17:30

Open all year round(closed during the New Year's period)

URL:www.kama-asa.co.jp

Kyoto & Paris Celebrate 60-Year Friendship With Noh Fashion Show in Paris

This year marks the 60th anniversary of Paris and Kyoto's friendship covenant.

Kyoto first twinned with Paris as a sister city back in 1958. Since then, half a century has passed, and their exchanges have deepened greatly.

To celebrate this year's milestone, a delegation of Kyoto city will visit Paris in June, where both cities will hold a commemorative ceremony.

The event will host a fashion shown combining noh and fashion so that Kyoto and Japanese culture can be spread through Paris.

International designer Junko Koshino, who was selected as a person who has made outstanding cultural contributions in 2017, will produce the show.

Don't miss out on this special opportunity to see traditional Japanese noh theatre and fashion come together in an extraordinary show created by Junko Koshino.

◼︎Information

Noh×Fashion Show

Location: Paris

Date: Tuesday June 19, 2018

Discover the latest Japanese cosmetic trends at @cosme Beauty Awards 2017

The @cosme Beauty Awards 2017 have been announced, bringing together the latest beauty trends in Japan.

One of the main areas to draw attention to is the Best Cosmetic Award which is based off the products with the most support from public comments as featured on the make-up & beauty website @cosme.

The desire to buy more female beauty products shot up this year, so the winning trends granted their wishes by releasing lots of items that enable one to look beautiful without trying too hard.

The grand prix winner of the best cosmetic category went to the lip product brand OPERA for their "Lip Tint" which received overwhelming praise. Their lip tint is moist, vibrant and comfortable.

Multiple items shined in first place with a total of selected to win the same award, including the high quality yet inexpensive base make-up item "Radiant Cream Concealer" from the charming NARS and the "Colour Stay Make-up" liquid foundation from the colourful Revlon.

Detailed information on the best cosmetic rankings and each award can be found on the official @cosme Beauty Awards 2017 webpage, so use it for reference and get up to date with the latest in Japan's cosmetic trends.