Tokyo Revengers Animate Fair to Open This Spring
The Tokyo Revengers Animate Fair will be held at Animate locations nationwide and online starting April 9, 2022!
Fair Preorder Goods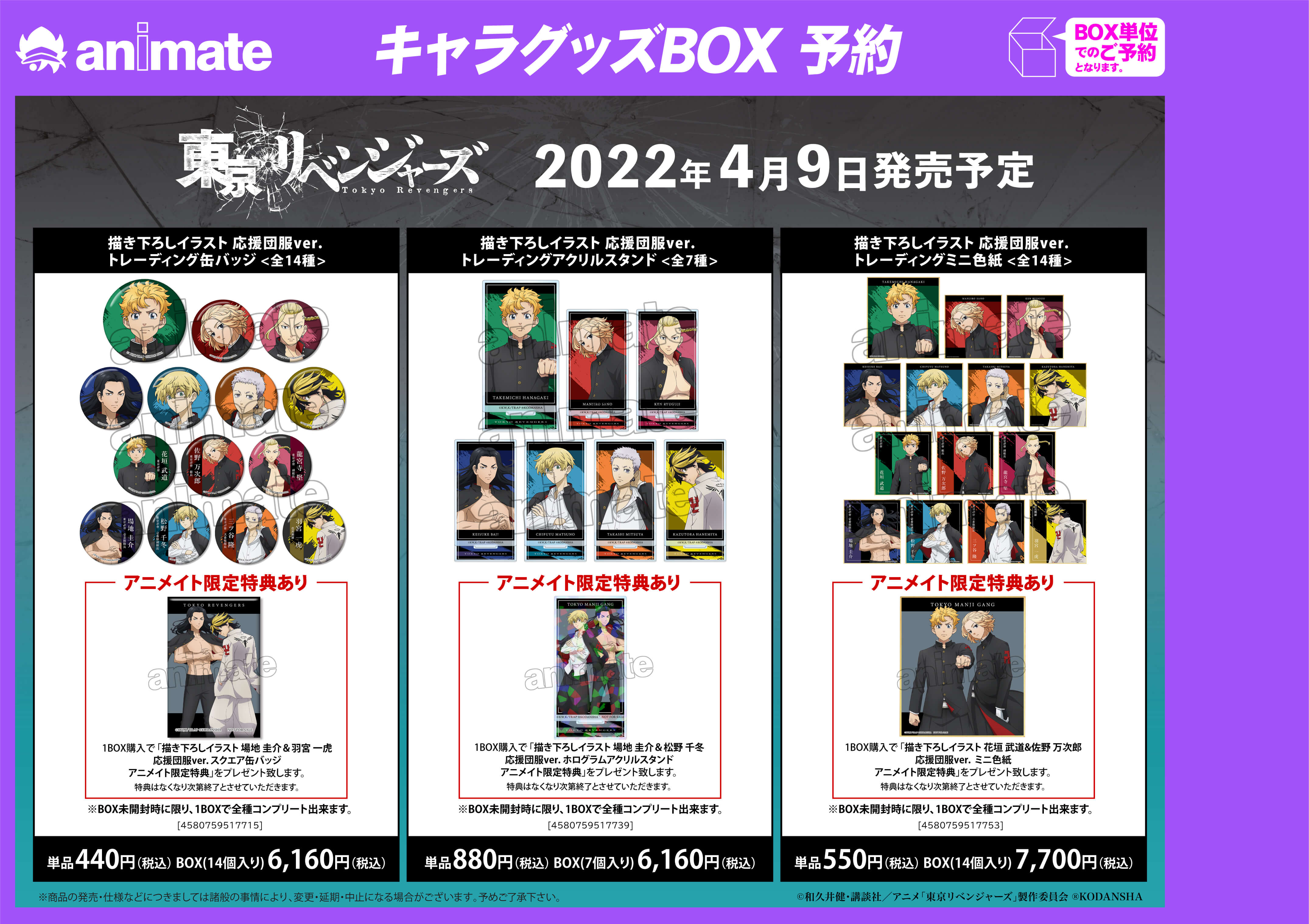 Bonus for Purchasing 1 Box
Oendan Ver. Pin (14 varieties)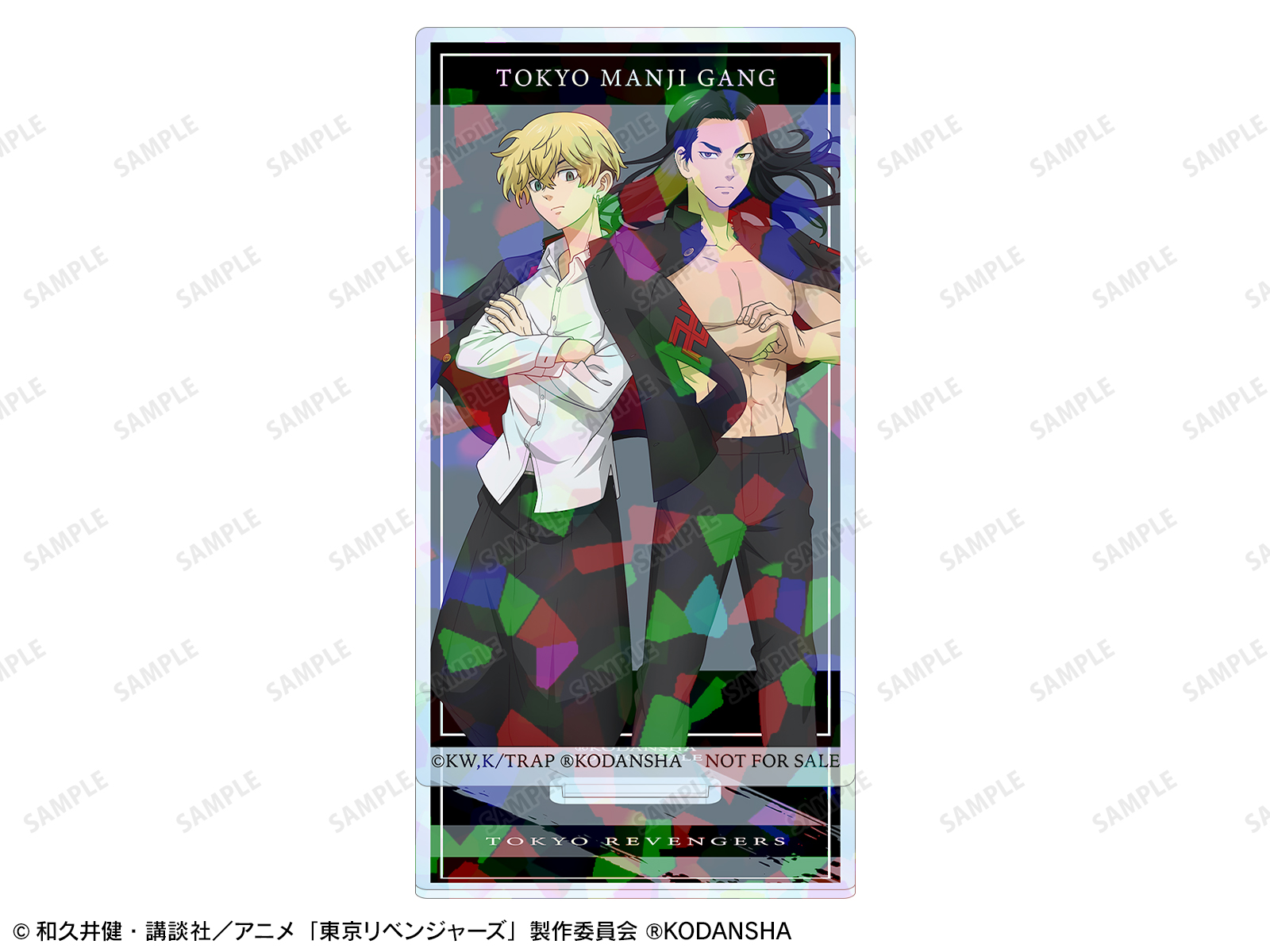 Oendan Ver. Acrylic Stand (7 varieties)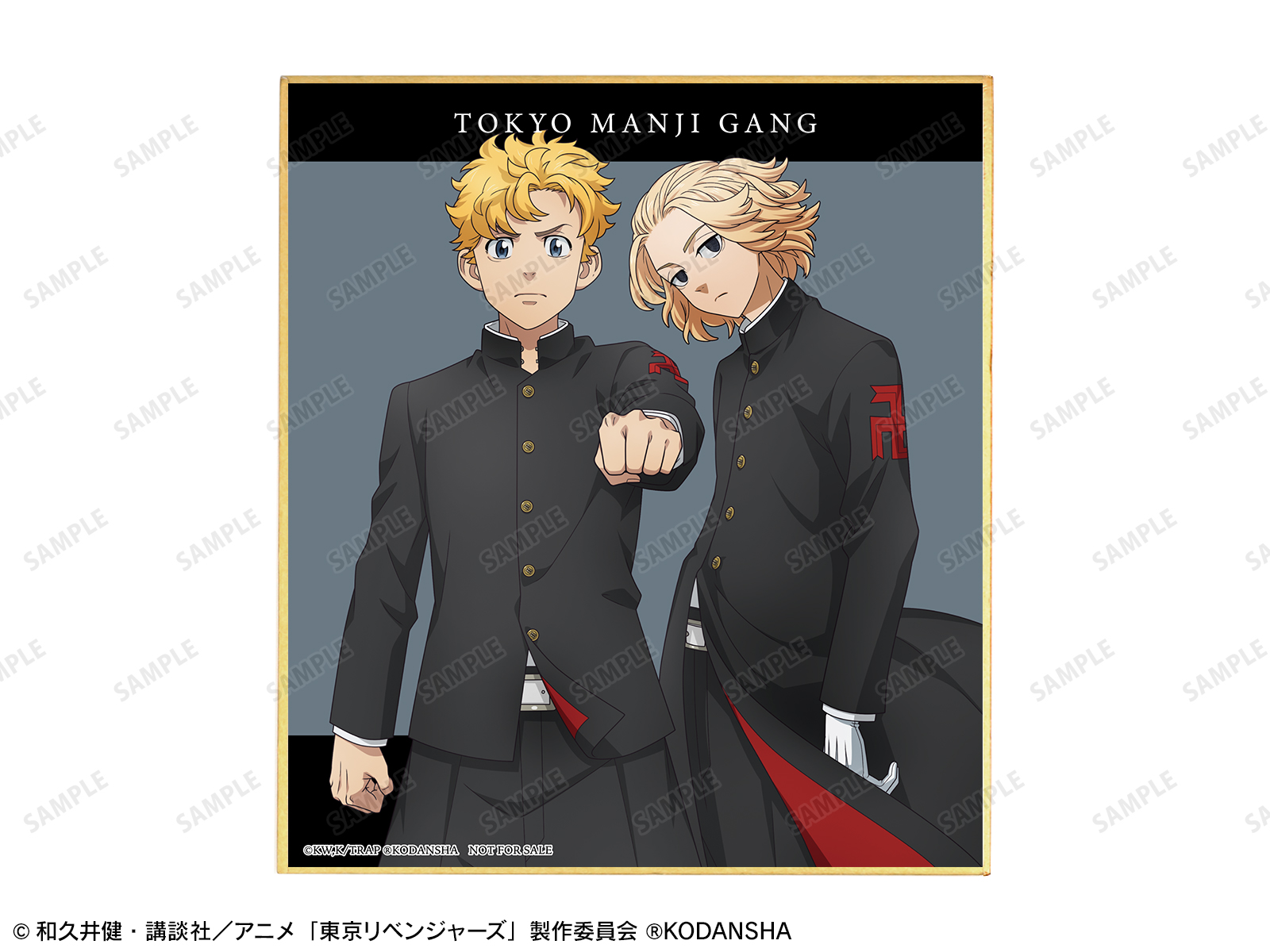 Oendan Ver. Mini Signboard (14 varieties)
Preorder Campaign Bonus: 1 Limited-edition Bromide (7 varieties, random)
Purchase Campaign Bonus: 1 Postcard (7 varieties)
Tons of new Tokyo Revengers products with newly-drawn illustrations will be on sale ahead of time, and other special offers will pop up during the fair. A preorder campaign is currently underway at the Animate online store, and the in-store purchase campaign will take place from April 9 until April 24.

©和久井健・講談社/アニメ「東京リベンジャーズ」製作委員会 ®KODANSHA
Information
Tokyo Revengers Animate Fair 2022 Spring
Preorder Campaign
Running until February 15, 2022
Available on the Animate Online Shop 

Purchase Campaign
Running: April 9 – April 24, 2022
Where: Animate Stores Nationwide (Excluding Animate Online)
Details: https://event.amnibus.com/tokyorevengers-animate/
Official Site: https://amnibus.com

RELATED ENTRIES
Tower Records Cafe to Collaborate with Tokyo Revengers for Special Menu

Tokyo Records Cafe will hold a special Tokyo Revengers cafe in three cities around Japan–Tokyo, Osaka, and Nagoya. Fans of the series won't want to miss this special collaboration menu inspired by popular characters from the series!

Menu

Collaboration Menu

Phase 1 (Top): Takemichi and Chifuyu's Omurice / Tokyo Manji Gang Team Pasta

Phase 2 (Bottom): Chifuyu's Tonkotsu Rice Bowl / Tokyo Manji vs. Black Dragon Sandwich

Collaboration Desserts

Phase 1 (Top): Inui's Cocoa Pancakes / Hina's Apple Pie

Phase 2 (Bottom): Holy Night Cake / Mitsuya and Hakkai's Sweets Plate

Collaboration Drinks


 Tokyo Revengers Latte

Collaboration Drinks (Phase 1)

Collaboration Drinks (Phase 2)

Exclusive Happy Birthday Sweets

Take-Out Menu

Tokyo Revengers Original Take-out Bottle (Phase 1/Phase 2)

Cafe Reservation Bonus: Sticker (Phase 1)

Cafe Reservation Bonus: Sticker (Phase 2)

Menu Order Bonus: Postcard (Phase 1)

Menu Order Bonus: Postcard (Phase 2)

Bonus for Customers Spending ¥4,000 or more: Name Card (Phase 1)

Bonus for Customers Spending ¥4,000 or more: Name Card (Phase 2)

The collaboration menu is inspired by the story and characters of the globally-popular anime and manga series. Guests can enjoy special offers, exclusive goods, and illustrations drawn exclusively for this event. Who is your favorite?


Information

Tower Records Cafe x Tokyo Revengers

Tower Records Cafe Omotesando
Address: Imon Harajuku Building 2F (6-3-9 Jingumae, Shibuya-ku, Tokyo)
Running: October 7 – October 31, 2022
Phase 1: October 7 – October 19, 2022
Phase 2: October 20 – October 31, 2022
Take-out Drinks are available from 13:00-18:40
Twitter: https://twitter.com/trc_omotesando
◇Omotesando Time Schedule
① 11:00-12:20 ② 12:50-14:10 ③ 14:40-16:00 ④ 16:30-17:50 ⑤ 18:20-19:40

Tower Records Cafe Nagoya Sakae Skyle
Address: SKYLE 9F (3-4-5 Sakae, Naka-ku, Nagoya)
Running: October 22 – November 14, 2022
Phase 1: October 22 – November 2, 2022
Phase 2: November 3 – November 14, 2022
Take-out Drinks are available from 13:00-18:40
Twitter  : https://twitter.com/trc_nagoya
◇Nagoya Sakae Skyle Time Schedule
① 11:00-12:20 ② 12:50-14:10 ③ 14:40-16:00 ④ 16:30-17:50 ⑤ 18:20-19:40
 
Tower Records Cafe Umeda NU Chayamachi
Address: NU Chayamachi 6F (10-12 Chayamachi, Kita-ku, Osaka)
Running: October 7 – November 6, 2022
Phase 1: October 7 – October 21, 2022
Phase 2: October 22 – November 6, 2022
Take-out Drinks are available from 13:20-19:00
Twitter  : https://twitter.com/TRC_NUchaya
◇Umeda NU Chayamachi Time Schedule
① 11:20-12:40 ② 13:10-14:30 ③ 15:00-16:20 ④ 16:50-18:10 ⑤ 18:40-20:00
 

Buy Collaboration Goods: https://tower.jp/revengers-goods

Details:  https://tower.jp/revengers-cafe2

Tokyo Revenger Voice Actor Yu Hayashi Performs King Gnu's 'Sakayume' for CrosSing Cover Song Project

In March 2022, the cover song project CrosSing was launched. Amassing instant popularity, tracks featured as part of the project have pulled in hundreds of millions of views. The project has featured popular voice actors Maaya Uchida, Kana Hanazawa, and Akari Kito. 

 

On July 13, voice actor Yu Hayashi took to the stage to perform a cover of King Gnu's Sakayume.

Yu Hayashi is a popular voice actor and singer who is well-known as the voice of Manjiro Sano in Tokyo Revengers and Ino Takuma in Jujutsu Kaisen. He's also member of the vocal unit SCREEN mode. The song the artist chose to perform, Sakayume, was used as the ending theme for the Jujutsu Kaisen 0 film. The actor commented that he put all his energy into his singing, as he has special feelings for the work, having performed in the film. The exquisite balance of Hayashi's powerful vocals and delicate expressions create something that shouldn't be missed.

A special video showing the artist recording the track has been uploaded to YouTube.

Sakayume (from CrosSing) – Yu Hayashi (Recording Movie)

Exclusive behind-the-scenes footage has also been posted to the official CrosSing TikTok page. A special interview will be released on July 15 at 20:00. 

 

Two campaigns have also been announced. The first is a follow and retweet campaign, and two lucky winners will receive Yu Hayashi's autograph! To enter, just follow CrosSing on Twitter and TikTok and retweet the selected tweets. 

A LINE MUSIC Playback campaign is also underway, and those playing the song over 300 times in the first two weeks will receive a special autographed image. More details will be posted to Twitter, so keep an eye out!

 

The compilation album CrosSing Collection Vol.1 will be released on September 21, 2022. In addition to many of the songs performed as part of the CrosSing project, Rain by Kana Hanazawa will be included as a bonus track. The song was used as the ending theme for Makoto Shinkai's film The Garden of Words. There are no other plans for this song to be released in any other format, so be sure to snag this CD! Preorders are open on the Canime online shop.

 

Keep an eye on CrosSing as the 2nd Season continues to heat up!

Attack on Titan-Themed Tea Time Event to be Held at Animate

From September 17 until October 2, Animate will hold the 'Soldier's Tea Time' collaboration event with popular characters from the Attack on Titan series.

Goods

Animate Exclusive Box Purchase Bonus

Pin (8 varieties)

Mini Signboard (8 varieties)

Acrylic Stand (8 varieties)

Event Purchase Bonus – Bromide (8 varieties)



During the event, fans can purchase tons of exclusive items featuring newly-drawn illustrations of Levi, Eren, Erwin, and Jean. Purchase bonuses will also be given to those snagging merchandise.

Come have a cup with these handsome soldiers!

©諫山創・講談社/「進撃の巨人」The Final Season製作委員会 ®KODANSHA

Tokyo Revengers Real Escape Game to Open in Shibuya in Fall 2022

SCRAP, a company designing unique escape games, will be opening a Tokyo Revengers real escape game in Shibuya this fall! 

The Tokyo Revengers manga series has been hugely popular, selling over 50 million copies and inspiring an anime series, films, and stage productions. The first Tokyo Revengers real escape game was held in February 2022, with two months of tickets selling out immediately after the event began.

The new escape room will be held this fall, with events happening all around Shibuya–the main location of Tokyo Revengers. Fans of the series will have a blast running around the streets of Shibuya, solving puzzles, and cooperating with characters from the show!

To commemorate the start of the event, a SCRAP x Tokyo Revengers stamp rally will be held around Shibuya from July 1 to July 24, 2022. Fans will need to find the members of the Tokyo Manji Gang by solving clues and collecting stamps as proof of their success. Anyone can participate in this free event! By finding every member, fans will receive an illustration card with an exclusive design. 

More details on the real escape game will be released on August 17, so stay tuned!

Information

Escape From the Never-ending Tokyo Revengers Conflict

Opening Fall 2022

Special Event Site: https://realdgame.jp/revengers-shibuya/

Stamp Rally Project – Find the Members of the Tokyo Manji Gang in Shibuya!

Running: July 1 – July 24, 2022

Stamp Rally Card Distribution Locations:
MEGA Don Quijote Shibuya / Shibuya MODI / Shibuya PARCO / Village Vanguard Shibuya / Animate Shibuya / Shibuya Tsutaya / HMV&BOOKS Shibuya / Shibuya LOFT / Bic Camera Shibuya East / Miyashita Park (2F 'The Shibuya Souvenir Store')

Special Site: https://realdgame.jp/revengers-shibuya/stamp-rally.html

Tokyo Revengers Christmas Showdown Arc to Premiere in January 2023, First Key Visual Unveiled

On June 19, the anniversary of the Tokyo Manji Gang's formation, new information regarding the future of the Tokyo Revengers anime series was revealed.

The biggest announcement was that the series will return for the Christmas Showdown Arc in January 2023. The first key visual was also revealed. Takemichi looks particularly powerful, with Chifuyu standing diligently nearby along with the other fan-favorite characters.

The first season of Tokyo Revengers will be rebroadcast in Japan starting this July, and a special event will be taking place at Bellesalle Shibuya Garden in Tokyo on June 19! This will include photo spots, exclusive merchandise, and more. Those unable to attend in person will be able to purchase tickets to watch the event online. 

Advertisements featuring characters from the series appeared at several train stations around Tokyo on June 13 and excitement for the next season is starting to grow. Keep an eye out for more information coming soon!

©和久井健・講談社/アニメ「東京リベンジャーズ」製作委員会

Tokyo Revengers to Hold Collaboration Event in Shibuya's RAYARD MIYASHITA PARK

From June 17 until July 10, the anime series Tokyo Revengers will inspire a number of special events at RAYARD MIYASHITA PARK in Shibuya!

The new campaign will feature photo spots, an original broadcast only viewable on-site, and a raffle to win exclusive original collaboration merchandise. 

MIYASHITA PARK PARTY, a Special Summer Bargain

Special promotions available during the event period include discounts at participating stores, lucky bags, and more, promising to make this a happy summer for fans. For more information about the MIYASHITA PARK PARTY including participating shops and bargains, check out the special campaign website.

Win Tokyo Revengers x RAYARD MIYASHITA PARK Collaboration Goods!

Guests presenting a reciept for ¥3,000 or more (tax included) during the event period will be entered to win Tokyo Revengers x RAYARD MIYASHITA PARK collaboration goods. 

A Photo Spot and Original Stream!

Guests will find three unique photo spots within RAYARD MIYASHITA PARK featuring nine characters from the series. Original broadcasts featuring Takemichi Hanagaki and Manjiro Sano will be aired on-site.

▶Photo Spot

Available: June 17 – July 10, 2022

Locations: 2F South in front of L'ÉCHOPPE (Takemichi Hanagaki, Manjiro Sano, Ken Ryuguji)

2F South in front of THE SHIBUYA SOUVENIR STORE (Chifuyu Matsuno, Keisuke Baji, Kazutora Hanamiya) / 3F South in front of MINOTAUR INST. (Takashi Mitsuya, Haruki Hayashida, Ryohei Hayashi)

▶Original Stream

Running: June 17 – July 10 (Broadcast every 30 minutes during business hours.)

Don't miss this special campaign filled with bargains, exclusive merchandise, lucky bags, and plenty more!

Tokyo Revengers Characters Appear on Posters at Tokyo Train Stations

Posters portraying several characters from the Tokyo Revengers anime series have been placed at several Tokyo train stations! These will be available to see from June 13 until June 19, with Mikey, the leader of the Kanto Manji gang, appearing at Shibuya Station. Fans of Mikey, Takemichi, Draken, Keisuke Baji, Chifuyu Matsuno, Takashi Mitsuya, Haruki Hayashida, Ryohei Hayashi, and Kazutora Hanemiya will want to go on a quest around Tokyo to see them all!

▶Participating Locations

Manjiro Sano (Mikey): JR Shibuya Station (Near the Hachiko Exit ticket gate)

Takemichi Hanagaki (Takemichi): JR Yokohama Station (Inside the North ticket gate, near the bottom of the Yokosuka Line platform)

Ken Ryuguji (Draken): JR Tokyo Station (In the North Underground Walkway)

Keisuke Baji: JR Ikebukuro Station (Near the Central Ticket Gate restrooms)

Chifuyu Matsuno: JR Shinjuku Station (In the central underground passageway, near the Chuo Line Express platform)

Takashi Mitsuya: JR Harajuku Station (Near the Takeshita Exit ticket gate and Omotesando Exit elevator)

Haruki Hayashida (Pa-chin) / Ryohei Hayashi (Peh-yan): Kichijoji Station, Keio Inokashira Line (Platform 2)

Kazutora Hanemiya: JR Ebisu Station (Inside the West Exit ticket gate, near the Saikyo Line elevator)

©和久井健・講談社/アニメ「東京リベンジャーズ」製作委員会

*Please do not contact station staff regarding the posters. 

Banana Fish Event Celebrating Ash Lynx's Birthday to be Held at Animate

Animate stores nationwide will celebrate Ash Lynx's birthday starting August 6, 2022! The main character of the Banana Fish anime series is a fan favorite, and visitors will be able to see new Ani-Art illustrations from the series. Certain illustrations will be available to preorder!

Merchandise

Animated Exclusive Box Purchase Bonus

Animate Online has started a preorder campaign prior to the in-store event. The in-store campaign will run from August 6 until August 21, 2022.



Don't miss this special event and a chance to celebrate Ash's special day!
 

©吉田秋生・小学館/Project BANANA FISH

New Tokyo Revengers Merchandise Available at Tower Records

From June 3 until June 18, five Tower Records locations and Tower Records Online will be offering new Tokyo Revengers merchandise!

Lineup

Bonus Bromide

The Tokyo Revengers pop-up shop will appear at the Shibuya, Sendai PARCO, Nagoya Kintetsu Pass'e, Umeda NU Chayamachi, and AMU Plaza Hakata Tower Records locations. A selection of merchandise featuring newly-drawn illustrations from the popular anime series Tokyo Revengers will be on sale, showing everyone's favorite characters battling the heat–and each other–with water guns!



During the event period, customers spending ¥2,000 or more will receive a special bromide as a bonus gift. Those not able to attend one of these five locations in person can also grab the new items at the Tower Records Online store, so don't miss out!

©和久井健・講談社/アニメ「東京リベンジャーズ」製作委員会 ®KODANSHA

Tokyo Revengers and Rascal the Raccoon Collaboration Goods Coming in August

This August, collaboration merchandise between the popular series Tokyo Revenger and the character Rascal the Raccoon will be available at anime and hobby shops nationwide and Chugaionline. Preorders are open now!

Pin (12 varieties)

Acrylic Stand – Mini Character Ver. (6 varieties)

Acrylic Figure Stand (6 varieties)

Stuffed Animal Phone Strap (6 varieties)

Masking Tape

Stickers

Rubber Heart Keychain (6 varieties)


The new collection includes adorable items featuring newly-drawn illustrations of everyone's favorite characters spending time together. Fans won't want to miss grabbing items with their favorite Tokyo Revengers character dressed up as Rascal!

©和久井健・講談社/アニメ「東京リベンジャーズ」製作委員会
©NIPPON ANIMATION CO.,LTD.

Animate to Release Embroidered Dr. Stone T-shirts in July

Fans of Dr. Stone will be able to grab some embroidered T-shirts at Animate locations starting July 29, 2022!

Kingdom of Science

The Kingdom of Science shirt features Senku, Gen, and Chrome standing tall.

Empire of Might

Fans of the Empire of Might will want to grab this shirt featuring Tsukasa, Hyoga, and Ukyo.

©米スタジオ・Boichi/集英社・Dr.STONE 製作委員会

Tokyo Revengers Cafe to Open for Short Time at Mixalive TOKYO in Ikebukuro

A Tokyo Revengers collaboration cafe will open for a limited time at Live Cafe Mixa located in the Mixalive TOKYO entertainment complex in Ikebukuro. Fans can enjoy a menu filled with items themed after popular characters from June 1 until June 18, 2022.

Menu

Just like the inside of Pah-chin's head?! Crispy Pie

Massive Teriyaki Burger

If You're Hungry, Just Eat Fried Rice

My Favorite Machine (Mikey)

My Favorite Machine (Mitsuya)

Mikey

Baji

The popular manga series Tokyo Revengers began serialization in Weekly Shonen Jump in 2017 and has sold over 50 million copies. The event, titled "Tokyo Revengers Formation Eve Rally," will be held to celebrate the series' anniversary. The venue will feature new visuals of the founding gang members, and original menu items based on each character will only be available here.


Live Cafe Mixa has collaborated with other popular series in the past such as Attack on Titan and A Couple of Cuckoos, making a huge splash on social media.


Enjoy plenty of dishes based on your favorite character!

©和久井健・講談社/アニメ「東京リベンジャーズ」製作委員会