Create Your Own Traditional Japanese "Yosegi-Zaiku" Craft at a Hot Spring Ryokan
The 'onsen' (hot spring) chain "Ichinoyu" introduced a new overnight 'yosegi-zaiku' plan in Hakone on August 9th for people to experience and appreciate yosegi works and even visit yosegi museums. 'Yosegi' is a traditional type of Japanese parquetry that uses wood to create beautiful mosaic pieces that come in a range of different colours and shapes.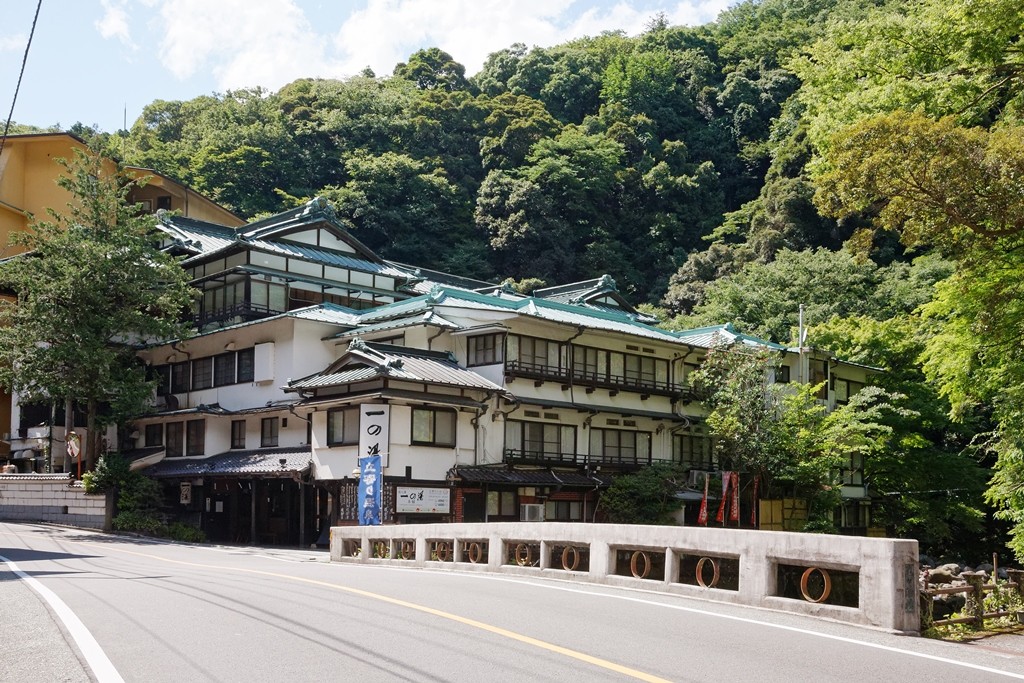 Mount Hakone stands alongside Arashiyama in Kyoto and Mount Daisen in Tottori as a location home to one of Japan's most dense forest regions. In Hakone style Yosegi,
people take advantage of the nature's colours in the trees and shrubs against the backdrop of this blessed environment. They create all kinds of different pieces that are triangular, square, round and more with the finest and most detailed geometry, producing small boxes, trays and much, much more.
Its history begins with Jinbei Ishikawa (1790-1850) who lived in Hatajuku and who first established Hakone parquetry ware during the closing years of the Edo period. It was appointed as one of Japan's traditional crafts in 1984.
"Ichinoyu" have introduced a woodwork workshop plan for people who stay overnight where they can experience making their own traditional-style yosegi coaster.
You will have the opportunity to create your own original coaster using yosegi parts. The session will last approximately 40 minutes, and once you have made your coaster, you'll be able to take it home with you. The plan also gives people the chance to visit a yosegi-zaiku museum where woodworker Noboru Honma has delivered 200 different pieces over many years including parquetry pieces and damascene ware.
So that this Hakone onsen and yosegi-zaiku service can be delivered to people both in Japan and tourists coming from overseas, the sign-up page on the website is also available in English.
If you're coming to Japan, then don't miss this opportunity to delve into a truly traditional Japanese artform and make your very own original yosegi piece.
■Information
"Tonosawa Ichinoyu Honkan"
Plan Booking (Japanese): https://directin.jp/?y=A2XP95
Plan Booking (English): https://directin.jp/?y=A2XPA2
[Overnight Accommodation Dates]
August 28, 2017 to November 30, 2017 *based on the company's calendar
[Running]
August 9, 2017 to November 15, 2017 (applications accepted up to 14 days before overnight stay)
*Plan may be subject to sudden cancellation should circumstances cause it
[How to Apply]
You can reserve and book your plan from the membership page of the Ichinoyumi website.
*You will need your credit card when booking. It is also recommended that you arrive by car, but you can also use public transport.
Yosegi Museum Website: http://www.yoseki-honma.com/
Tonosawa Ichinoyu Honkan Website: https://www.ichinoyu.co.jp/honkan/
Related article:The 3rd wave of artists announced for "KAGA MUSIC FESTIVAL 2017" including tofubeats, Maki Nomiya & more!
Related article:Got plans for this summer? How about staying at one of the most highly ranked travel lodges or villas in Japan?
RELATED ENTRIES
Yamaha's LovePiano Street Pianos to Appear Along the Hakone Ropeway

The colorfully painted street pianos seen around Japan are set to make an appearance in Kanagawa Prefecture! Two of Yamaha's upright LovePianos will be installed at two stations along the Hakone Ropeway from September 12 until September 25. During this time, anyone can freely play these pianos at Sounzan Station and Togendai Station. From the five distinctly designed LovePiano designs, numbers 1 and 2 will be installed for this event.

LovePiano #1

LovePiano #2

The Hakone Ropeway connects Sounzan Station and Togendai Station, a distance of about 4 kilometers, in 25 minutes. Those travelling this unique cable car line can catch glimpses of Mount Fuji and Lake Ashinoko along the journey.

From March 18 until March 31, one of the LovePianos was installed at Sounzan Station to massive crowds and fanfare. Yamaha Music Japan has continued installing pianos in open spaces such as train stations, airports, and other facilities as part of the LovePiano project, which promotes activities to get the masses interested in piano playing. So far, LovePianos have popped up at over 60 locations, including Shinjuku Station, Shinagawa Station, Sapporo Station, and Osaka International Airport.

LovePiano will also be installed at Odawara Sannomaru Hall and Umemaru Square in the HaRuNe Odawara underground shopping mall from September 5 until the 17th.

Would you want to play one of these pianos in public?

Information

LovePiano

LovePiano

LovePiano Unit 1

Hakone Ropeway, Sounzan Station, 2F cu-mo Hakone

(1300 Gora, Hakone-machi, Ashigarashimo-gun, Kanagawa)

Running: September 12 – September 25, 9:00-16:00

LovePiano Unit 2

Hakone Ropeway, Togendai Station, 1F Event Space
(164 Moto-Hakone, Hakone-machi, Ashigarashimo-gun, Kanagawa)

Running: September 12 – September 25, 9:00-16:00 (September 12, 12:00-16:00)

Official Site: https://jp.yamaha.com/products/contents/pianos/lovepiano/

Experience Japan's Rainy Season Hydrangea With This Special Hotel Plan

Hoshino Resorts KAI Hakone has announced a special hydrangea-themed hotel plan for Japan's rainy season which will run from June 12 to July 4.

Hydrangeas bloom before guest room benches

At KAI Hakone, there is a special guest room with an outdoor bench seating area which looks out into the green forest. Hydrangeas will bloom, providing a gorgeous backdrop as guests enjoy the sounds of the Sukumogawa River.

Hydrangea accessory kit

Guests will be given an accessory kit in their rooms to make their own flower accessories from hydrangea leaves and wooden mosaics. These accessories can be fitted to yukata, used as piercings, and more to serve a Japanese summer vibe.

Enjoy hydrangea sweets and shaved iced

Guests can turn their rooms into a little tearoom with the wooden mosaic plaques provided on which they can tuck into a range of hydrangea-flavoured sweets and desserts along with a cup of matcha. The shaved ice is a KAI Hakone-original made with jelly and syrup coloured purple with hydrangea.

The hydrangea is perhaps the most celebrated flower in all of Hakone, arriving in early summer. It's hailed in a variety of ways, one of the most popular being the Hydrangea Train, a nickname given to the train that runs from Odawara Station to Gora Station. Passangers are treated to an incredible view out the train window as their vision is filled with vivid hydrangea flowers.

This year marks the second that KAI Hakone is offering its seasonal hydrangea plan. If you're able to visit during this time, don't miss out.

Neon Genesis Evangelion Escape Game Has You Dodging Lasers

Hakone Kowakien Yunessun, a hot spring amusement park in Hakone, began teaming up with Neon Genesis Evangelion on July 1 for a series of events. The newest event to be announced is the "Evangelion Laser Trap" escape game which is set to begin on July 23. The park's cave baths are also taking on a theme inspired by the Second Impact in Evangelion with special lights and sounds.

Evangelion Laser Trap Escape

Guests must become Evangelion characters and use their knowledge, experience, and whole body to make it through the dark room and avoid the red lasers. Those who clear the room will receive an original Evangelion sticker.

Second Impact Cave Baths

The cave baths will be illuminated with bright red lights inspired by the Second Impact cataclysm from Evangelion.

Evangelion themed food and drinks will be served at the event, and fans can get their hands on exclusive merchandise.

Information

Evangelion Laser Trap Escape
Running: July 23, 2020 – August 23, 2020
Location: Hakone Kowakien Yunessun

Opening Hours: 09:00-19:00 (Last Entries 18:00
Entry Fee: General ¥2,500 / Children (3-12 Years) ¥1,400

Participation Fee: ¥500 per person

Second Impact Baths

Running: January 10, 2020 – September 30, 2020

Location: Hakone Kowakien Yunessun

Opening Hours: 09:00-19:00 (Last Entries 18:00
Entry Fee: General ¥2,500 / Children (3-12 Years) ¥1,400

Participation Fee: Free

Official Website: https://eva-hakone.com/

See 3,000 Rhododendrons in Full Bloom at the Tsutsuji Garden by Lake Ashi in Hakone

May is the most colourful time of the year at Hotel de Yama near Lake Ashi in Hakone, when a total of 3,000 rhododendronsーcomprised of 30 different typesーbloom their beautiful flowers in the large Tsutsuji Garden, where one can enjoy a great view of Mount Fuji and Lake Ashi.

Tsutsuji Garden at Hotel de Yama

"Tsutsuji" is the Japanese word for rhododendron. The Tsutsuji Garden at Hotel de Yama was once the villa of Koyata Iwasaki, "the fourth and last president of a unified Mitsubishi." During that time, numerous varieties of rhododendrons were planted in the garden, which have since been maintained. There are plants amongst them that are over 100-years-old, ones that tower over the human stature, and more; with petals that bloom pink, red, purple, and white.

A combined view of the kaleidoscopic rhododendrons and Mount Fuji

The staff who are experts on the garden have set up two photo frame stands in two of the best spots in the garden for taking picturesque photos. Snap some Instagrammable and memories with the colourful rhododendrons and Mount Fuji together.

Rhododendron Desserts: Saison a colorier – ¥1,634 / Tea Set – ¥2,360 (Before Tax)

Salon de thé Rosage, the dessert restaurant that sits in front of the hotel, is serving up a new special dessert called "Saison a colorier" in line with the full bloom of the rhododendrons. It captures the colourful pink, red, white, and purple appearance of the flowers, and looks like a mini version of the hotel's garden on your plate. The main part of the dessert is the tea mousse, which has a bright red colour as it is coated beautifully in a strawberry puree nappage. The tea used in the mouse is an original rhododendron blend exclusive to the restaurant.


The white rhododendron dessert is a macaron that's filled with raspberry sorbet. The red which contrasts with the white is a rhododendron milk tea cream and fresh raspberries. The rest of the plate is adorned with pink jelly and edible flowers. The perfect afternoon tea to finish off your time at Tsutsuji Garden.

Evangelion Second Impact Hits Hakone Kowakien YUNESSUN Spa Resort

If you're looking for a unique onsen experience in Japan then spa resort Hakone Kowakien YUNESSUN is for you. From Japanese sake to coffee, there are a range of unique baths for you to enjoy a soak in. The resort is also home to a number of water attractions for those looking for a splash of fun. From January 10 to June 30, 2020 the resort will be doubling up the excitement by collaborating with Evangelion. The upcoming Second Impact no Yu event provides a chance for Evangelion fans to discover the exciting world of Evangelion while soaking up the spa goodness.

The Second Impact no Yu event is being held in cooperation with the Evangelion Hakone 2020 MEET EVANGELION IN HAKONE project run by the Odakyu Group. As the first step of this project, the Evangelion series' global catastrophe "Second Impact" will be invading the swimsuit area of the Yunessun spa. If you're looking to plunge straight into some thrilling action, make sure to head to the cave bath and water slide.

From the inside to the outside, the resort has been completely invaded by Evangelion-themed decoration. More details on the collaboration event contents will be released on the resort's official website so make sure to check it out if you are interested.

Information

Second Impact no Yu

Running: January 10 – March 31, 2020

Location: Yunessun Swimsuit Onsen Outside Area 

Opening Days and Times:

Weekdays:10:00 – 18:00

Weekends and National Holidays: 9:00 – 19:00 (Last Entry: 1 hour before closing time).

Prices:

Adults: ¥2,500, Children (3 y/o – Primary School-Aged): ¥1,400 (Tax Included) 

* You must be over 110cm tall to enter Rodeo Mountain.

Resort Evangelion Decorations

Running: January 10 – June 30, 2020

Location: Hakone Kowakien Yunessun

Opening Hours:

Weekdays: 10:00 – 18:00

Weekends and National Holidays: 9:00 – 19:00 (Last Entry: 1 hour before closing time)

Hakone Kowakien Yunessun

Address: 1297 Ninotaira, Hakone, Ashigarashimo District, Kanagawa

Collaboration Website: https://eva-hakone.com/

ONSEN GUEST HOUSE TSUTAYA to Open in Hakone This November

ONSEN GUEST HOUSE TSUTAYA is a new hot spring and guest house facility set to open in the town of Sokokura in Hakone on November 26. The building is being renovated from an old guest house that has enjoyed a long history of hot springs since the Edo period.

Sokura Onsen is about a 90 minute car drive from the city centre and is considered one of Hakone's "7 Hot Springs," a list that has been around since the Edo period. The place is said to have been used and loved by many military commanders back in the day for the high water yield gifted by the water source.

When the building was first constructed it was known as "Tsutaya Ryokan" and became a famous guest house with not only locals but travellers who would arrive all the way from Tokyo. ONSEN GUEST HOUSE TSUTAYA combines history of both Sokura Onsen and Tsutaya Ryokan.

The renovated building was built 29 years ago. Though it has been revamped, it still maintains a nostalgic air to it in the style of a traditional guest house. It's home to 6 spacious ryokan-type rooms and 46 compact rooms.

There is a space where one can gaze at the river after taking a dip in the hot springs, as well as a lounge with tables which encourages you to socialise with people you have just met. There are male and female open-air baths and indoor baths as well as a cooking space and laundry service for those looking to stay longer.

 The facility offers a retro environment in which each guest can relax and enjoy their own time as they please. Throughout the guest house is original old-fashioned furniture that has been upcycled, including kotatsu tables and shelves, to give that sense of traditional Japanese culture. This has been combined with contemporary art to create a fusion of the old and new.

It is a harmonious combination of a traditional Japanese hot spring ryokan, or inn, and a guest house, which means travellers from abroad will be able to enjoy the beauty of the country's traditional culture.

Escape the noisy city and enjoy peace and tranquillity surrounded in the colours of autumn at ONSEN GUEST HOUSE TSUTAYA

Information

ONSEN GUEST HOUSE TSUTAYA (Sokokura no Yu Tsutaya Ryokan)
Address: 240-1 SokokuraHakone, Ashigarashimo-gun, Kanagawa 250-0403
Arrival: 10-minutes on foot from Miyanoshita Station or 12-minutes on foot from Kowakidani Station, both via the Hakone Tozan Line 
Grand Opening: November 26, 2019 (Bookings begin in late October)

Official Website: https://hakone-tsutaya.com/

New Hotel Renovation Hakone Yutowa in Gora Caters to Millennials and Families

Hakone Yutowa is a new hotel in the town of Gora, Hakone that opened on August 11, 2019. This hotel renovation is aimed at millennials (those in their 20s and earlier 30s) and families, offering various different rooms include your typical hotel-type as well as condos. There are also multiple shared public spaces full of fun and relaxation.

Part of the enjoyment at Hakone Yutowa is getting to walk around the site leisurely finding all the little things it has to offer, from the hot spring with its own hot spring source to a communal room so stylish you can't help reaching for your camera to snap photos. The hotel aims to offer guests "an experience in remote Hakone you can't get anywhere else" and it does so by presenting a new style of hotel accommodation.

Hakone Yutowa is about a five-minute stroll along a flat-level path from Gora Station, which is accessed via the Hakone Tozan Railway, meaning it can be accessed easily by those without a car. "Yutowa" is has a combination of meanings: the yu in Japanese means "hot water" which conjures up not only the hot springs but also a warm and welcome stay at the hotel. It is also word play with the word "you." The to means "and" in Japanese and wa is "circle" like a circle of friends. In other words, at Hokone Yutowa, you'll be spending a nice time together with someone special.

The hotel is split into three buildings: the East Wing, West Wing, and Condominium Wing. Each offers "a new style of travel accommodation."

New Style ①

Spa Lounge Nakaniwa and Lively Lounge are two public spaces in the hotel that anyone is free to use at their leisure. Nakaniwa is home to a footbath at the outdoor wooden deck which makes use of the hotel's natural spring source, as well as an open-air fire. Lively Lounge houses around 700 books which guests can pick from before finding a little spot to sit down and relax.

New Style ②

There are two types of rooms: Hotel and Condominium. The Condominium rooms are the first hotel rooms of their kind to be offered in the Gora area. These fancy rooms have their own hot spring bath with a beautiful view. The water in the bath flows directly from the hot spring source.

New Style ③

The all-inclusive plan includes breakfast and dinner as well as free drinks and free use of the communal spaces. Guests do not need to worry about any extra fees as everything is included. There are also other baths available in the hotel including one that makes use of colourful lights.

If you're looking for a hotel with freedom in Japan then take your family, friends or loved one to Hakone Yutowa.

Visiting Hakone? Pick Up A Freshly Baked Hakone Basque Cheesecake

A brand new Basque Cheesecake shop called Hakone Cheese Terrace opened on July 26th. The carefully balanced rich flavour and smooth texture of these cheesecakes makes them the perfect Hakone souvenir! Basque cheesecake is a type of burnt cheesecake that originated from Basque, Spain.

Hakone is home to a large number of Japan's popular tourist spots as well as relaxing hot springs and beautiful nature. Located just 1.5 hours from Tokyo, Hakone has an extraordinary atmosphere which will heal both your body and mind. Hakone Cheese Terrace opened to enhance the appeal of the nature surrounding Hakone resorts and to contribute to the fascinating culture of the area. 

The basque cheesecake comes in a mini cup so customers can enjoy this delicious treat while on the go exploring the local area. This is also the perfect souvenir size.

The cheesecakes at Hakone Cheese Terrace are made mostly from locally sourced ingredients. For a creamy, fresh taste, milk sourced from the south of Hakone is combined with high-quality cream cheese. An original recipe blend is used for a rich flavour and smooth texture.

The cheesecakes are baked fresh at the shop so you can enjoy your cheesecake at its most delicious stage. Rock salt, black pepper and soy sauce are available as toppings for customers to discover a new flavour.

Come enjoy the flavours of Hakone to your heart's content at Hakone Cheese Terrace. 

Information

Hakone Cheese Terrace  

Address: 54 Motohakone, Hakone, Ashigarashimo-gun, Kanagawa

Access: 3-minute walk from Motohakone Minato, 1-minute walk from Hakone Jinja Iriguchi (Hakone Shrine entrance), Hakone Tozan Bus.

Opening Hours:  9:00 ー 16:00

Official site: https://hakone-cheese-terrace.com/

Hoshino Resorts KAI Sengokuhara one of the few luxury hotels worldwide to be hand-picked by American travel magazine AFAR.

Hoshino Resorts KAI Sengokuhara was one of the 27 hotels worldwide to be specially selected for "The Stay List" in the April 10th 2019 edition of American travel magazine AFAR.

AFAR is targeted at upper-class North American travellers. "The Stay List" is the name of the magazine's list of hotels that are recommended by the magazine's writers and editors. The April 10th edition of the magazine's Stay List consists of just 27 hand-picked hotels from countries worldwide and Hoshino Resorts KAI Sengokuhara was one of them. KAI Sengokuhara was praised for its location amidst abundant nature whilst being close to the city. The magazine also admires its inspiration to the guests.

In July 2018, KAI Sengokuhara became the 15th hotel set up by Hoshino Resorts. With the concept of a "studio room-style hot spring" in mind, the hotel was built in the midst of the vast and magnificent nature. Each guest room was designed with an open-air bath with a large window through which the guests can enjoy the beauty of each season. The room design fuses western and Japanese-style designs with the tatami flooring and sofa combination. In addition, each room has pieces of art on display, each inspired by the surrounding nature. Guests can thoroughly enjoy food sourced from the mountains and the sea such as beef and abalone shellfish. Every night, there is a special event that the guests can get involved in called Go touchi gaku which involves decorating and colouring hand towels.

This hotel is highly rated by both the Japanese and foreigners. So, how about treating yourself?

Information

Hoshino Resorts KAI Sengokuhara

Address: Sengokuhara 817-359, Hakone, Ashigarashimo District, Kanagawa Prefecture 250-0631

TEL:0570-073-011

URL:https://kai-ryokan.jp/sengokuhara

Price:From ¥32,000 per night (price per guest in a 2 guest room, tax, service charge, dinner & breakfast included)

Access: 15-minute drive from Gōra station, Hakone Tozan Railway

Visit the Pola Museum of Art in Hakone to witness the Masuda X Monet "Point-Rhythm World 2018- Monet's Microcosm" exhibition!

The Sebastian Masuda X Claude Monet Point-Rhythm World 2018 – Monet's Microcosm" exhibition opened on Sunday 22nd July at the Pola Museum of Art in Hakone, Kanagawa, and will close on Sunday 2nd December.

Sebastian Masuda's peculiar art style is a fusion of different coloured materials. Now, a large art piece inspired by Claude Monet's "Water Lilies" has been installed at the museum. Masuda has recreated a brand new version of the French Impressionist's painting by using materials rich in texture, replacing key features with his own style of art and adding touches of the colours used in Monet's original piece.

Visitors can become part of the exhibition with its interactive feature. Thanks to the help of Teruaki Tsubokura, the room's exhibition cameras capture the movements of the visitors and display them through projection mapping. In addition, there are several areas that play music by Sakana Hosomi, which changes subtly depending on the time and the movements of the visitors. This interactive exhibit invites visitors to become a part of its world. 

The restaurant/cafe inside the museum even sells a colourful menu of desserts inspired by the exhibition. 《Water Lilies (Suiren) (Alone:¥1,080/With Coffee or tea:¥1,440). Besides this, there are many other ways in which water lilies are represented at the museum!

Masuda has created a new image of Monet's work using modern materials. Come discover whether this new exhibition is a new way to enjoy Monet's art!

■Information

Sebastian Masuda X Claude Monet "Point-Rhythm World 2018 – Monet's Microcosm"

Location:Pola Museum of Art Kozukayama-1285 Sengokuhara, Hakone, Ashigarashimo District, Kanagawa Prefecture

Open:Sunday 22nd July 2018 ~ Sunday 2nd December 2018 (No closing days)

TEL:0460-84-2111
Entry fee:Adults ¥1,800 / University/ high school students: ¥1,300 / Middle/ elementary school students: ¥700 (Free on Saturdays)

Official site:http://www.polamuseum.or.jp/
※ The Monet Water Lily exhibition will be displayed at the Redon's dream exhibition (Redon Hirakareta Yume) during this period.
※ The Redon Hirakareta Yume exhibition will be closed on Thursday 27th September to change the exhibition.

5 Day-Trip Sightseeing Spots Close to Tokyo

For this article, we've compiled a Top 5 list of great places to visit in Japan within just one hour of Tokyo. The commute is short, so they're perfect locations for day trips if you're staying in Tokyo. We've also included the easiest routes to get to them.

Nikko (Tochigi Prefecture)
Nikko is a popular site for tourism, home to the famous Toshugu Shrine which is a registered World Heritage Site. It has great access with Asakusa, making it a perfect location for shrine visits.

Recommended Spots: https://www.moshimoshi-nippon.jp/tag/nikko

■Asakusa Station (Tobu Nikko Line) → Nikko Station

Travel Time: 2 Hours 10 Minutes

Price: ¥1,360

Mount Fuji (Shizuoka Prefecture / Yamanashi Prefecture)
Mount Fuji was registered as a World Heritage Site in 2013. Its graceful, sempiternal beauty has made it an unmistakable symbol of Japan throughout the world.

Be careful when traveling there, as the closest station to the mountain isn't Fujisan Station ('Mount Fuji Station'), but Kawaguchiko Station. There is also a direct bus there to and from Shinjuku.

Recommended Spots: https://www.moshimoshi-nippon.jp/87612

■Tokyo Station (JR Chuo Line / Ome Line / Itsukaichi Line) → Mitaka (JR Limited Express Kaiji) → Otsuki (via Fuji-Q)

Travel Time: 2 Hours 33 Minutes

Price: ¥3,560

■Shinjuku Bus Terminal (Express Bus) → Kawaguchiko Station

Travel Time: 2 Hours

Price: ¥1,750

Kamakura (Kanagawa Prefecture)

Kamakura is famous for its old-fashioned streetscape and shrines. It's also close to other popular tourist spots such as Enoshima, a small island off the coast, so you can have a lot of fun there with plenty of things to do no matter how many times you visit. If you're a travel lover, then we also recommend boarding the hugely popular Enoshima Electric Railway.

Recommended Spots: https://www.moshimoshi-nippon.jp/tag/kamakura

■Tokyo Station (JR Tokaido Main Line) → Totsuka Station (Yokosuka Line) → Kamakura

Travel Time: 57 Minutes

Price: ¥910

■Shinjuku Station (Odakyu Line) → Fujisawa Station (Enoshima Electric Railway) → Kamakura

Travel Time: 1 Hour 31 Minutes

Price: ¥886

Hakone—Japan's leading onsen, or 'hot spring' spot. Hakone Shrine is known for the red torii archways which sit on the bank of Lake Ashi. The town is also known for being home to countless nearby ryokan with hot springs, so you can enjoy hopping from one to the other. And to get there, you can take the direct Romancecar train from Shinjuku which goes straight to Hakone Station.

Recommended Spots: https://www.moshimoshi-nippon.jp/tag/hakone

■Shinjuku Station (Limited Express Romancecar) → Hakone-Yumoto Station

Travel Time: 1 Hour 25 Minutes

Price: ¥2,080

■Shinjuku Station (Odakyu Line) → Odawara Station (Odakyu Line / Hakone Tozan Line)

Travel Time: 1 Hour 45 Minutes

Price: ¥1,190

Chichibu (Saitama Prefecture)
Chichibu is appealing for its rich natural environment. Those who love the outdoors will be enticed by this city. As will anime-lovers, since this is the place where Anohana: The Flower We Saw That Day is set. They even sell maps of where all the places in the series are located, as well as souvenirs of the characters.

■Ikebukuro (Seibu Ikebukuro Line) → Hanno Station (Seibu Chichibu Line) → Seibu-Chichibu Station

Travel Time: 1 Hour 48 Minutes

Price: ¥770

Did you like this list?

You might enjoy stretching your legs and branching out to see what else Japan has to offer during your time in Tokyo.

【TRAVEL Q&A】From Shinjuku to Hakone Hot Spring via Odakyu "Romancecar" Line!

Hakone, Kanagawa is one of the most popular "onsen" (hot spring) towns in Japan. The area is popular among both Japanese people and tourists from foreign countries since it is close to Tokyo and has many sightseeing spots such as Ahinoko (lake), Owakudani (valley) and Hakone Chokoku no Mori Museum.

There are several ways to go to Hakone but I recommend using the "Odakyu Romancecar" (limited express train) run by Odakyu Dentestu which departs from Tokyo. It takes about an hour and 40 minutes and you can go to Hakone direct. In this article, I will inform you of how to ride on the "Odakyu Romancecar" to go to Hakone.

1: How to ride Odakyu Romancecar?

Let's get tickets first. The tickets you must buy are "Joshaken (normal fare)" and "tokkyuken (limited express surcharge)." The "Joshaken" is an Odakyu Dentetsu limited ticket and the fare differs according to the station that you will get off at. "Tokkyuken" is a ticket you must buy when riding on a limited express train which means you must buy this ticket in addition to the "joshaken." There are three ways to buy these tickets.

1) Making a reservation/purchasing the ticket via the Internet

2) Making a reservation/purchasing the ticket at a ticket counter/ticket vending machine

3) Making a reservation on the telephone.

Making a reservation by telephone is not recommendable for those of you from foreign countries since English-speaking staff are not available.

2: How to but a ticket via the Internet?

Using e-Romancecar is recommended when using the Internet to buy a ticket. As a matter of course, you can use a credit card on this web site. You can ride the Romancecar by just by handing out the printed sheet or showing the screen of your smart phone to the staff at the ticket counter. If you are planning to just make a reservation (not paying the fare) on the web site, you must pay the fare by using the ticket vending machine or at the ticket counter before getting on the Romancecar. It is recommended that you buy your ticket beforehand if the date that you are going to Hakone is decided.

3: How to buy a ticket/make a reservation via the ticket counter at the station?

The ticket counter is normally open from 6:30 to 21:00. The ticket vending machines can be used any time (except for when the trains are not running) but credit cards cannot be used. You can purchase tickets for up to 8 persons at once using the vending machine. So, those of you who are planning to go to Hakone with a group of more than 9 people you must purchase your tickets at the ticket counter.

4: Let's get on to the Romancecar!

Now let's learn how to get on a Romancecar. There are several types of Romancecars available – MES (Type 6000), VSE (Type 50000), EXE (Type 30000) and LSE (Type 7000). The fares for all types are the same. You can eat a limited-"bento" (box lunch) if you make a reservation 3 days (AM) before you ride the Romancecar.

Why not experience a ride on the "Romancecar" and enjoy the hot springs in Hakone. Wishing you a pleasant trip! MMN will introduce to you many kinds of "Q&As in Japan."

If you have any questions, feel free to send a message to MOSHI MOSHI NIPPON's FB account!